Title: Muck Monsters
scythemantis - February 9, 2011 10:35 AM (GMT)
http://bogleech.com/scrapbook/muck.html
Somehow it took me eight hours to assemble all this material on poop and vomit monsters.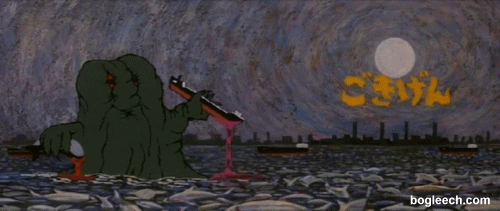 Nematode - February 9, 2011 01:45 PM (GMT)
I'm actually in the midst of creating an oil fake. I also have some radiation-based creatures, but it's not completely apparent.
Jesus lizard - February 9, 2011 03:37 PM (GMT)
I'm a tad surprised (and disappointed) that we didn't see the smooze on that list.

Great article, I love how zealously and scientifically you described Hedorah's short existence on Earth.
That was probably the best entry on the list just because of how much you love it.
xolta - February 9, 2011 06:21 PM (GMT)
Hedorah finally geting some respect. I wish he was in finale wars a little more. Fun fact beside being a foe of godzilla's hedorah is also a foe of Al Gore
dodoman1 - February 9, 2011 08:53 PM (GMT)
Possible best article ever, no exaggeration.

I learned a lot from that list. I had only heard of like four of them, max.
Viergacht - February 9, 2011 11:11 PM (GMT)
The Shadowrun RPG had toxic earth spirits, which were elementals corrupted by pollution, and the Werewolf: the Apocalypse had several monsters like this, if I remember correctly. I can track down my books and scan the pix if you'd like.
MacGyver - February 10, 2011 04:32 PM (GMT)
I like these "Top 10 Monster X" lists, and hope you continue do more of them in the future (howzabout a skeletal undead creature one?). I posted a link to this Muck Monster list over at Figure Realm in the hopes that it will inspire some of the members for this month's slime critter contest.