Character Information
Name: Aisu, Tenshi
Alias: Frosty
Gender: Male
Age: 17
Height: 6'5''
Weight: 135lbs
Village: Yukigakure no Sato
--------------------------------------------------------------------------------
The Character
Personality: His hobbies include self-mutilation and being in dark places such as caves or forest. In his spare time he can be found playing a guitar or writing poetry. His favorite thing is catching snowflakes on his tongue. His favorite season is winter, not because it makes his jutsu easier with the snow, but he believes winter kills off all the superficial aspects of life revealing the truly beautiful will of the creatures; how they soldier on and survive when the very planet seems to be trying to kill them. He has no respect for his family or their traditional ways. He dislikes people in general. He is very picky when it comes to dating. He has a few quirks; he likes the taste of blood and he never goes anywhere without a knife. He hides his true inner pain with disrespect and anger. He takes a long time to start liking people and even longer for him to open up to them and share his feelings. He doesn't truly trust anyone anymore still suffering psychological trauma from his squad dying. He works as a lone wolf doing everything on his own. He doesn't fit in well so he stands back and hides in the shadows. While he doesn't like many people, he would put his life on the line for those he does care about. He puts his all into his training so he can protect them refusing to let those he cares about die like his last squad did.
Strengths: Hes rather intelligent. However knowing the right thing to do and doing it is too different things which is apparent in him habit of self mutilation and lack of eating. He's also rather inventive using his water and wind natures to make ice.
Weaknesses: He has issues coping with stress. When overwhelmed he lashes out trying to hurt others to make them leave him alone. When he finally is alone, he cuts himself imagining all his stress and troubles flowinging away as the blood leaves his body.
Appearance: Tenshi has ice blue eyes, a bright blue ring on the outer edge, fading into white near the pupil with deep blue streaks throughout making his eyes look like cracked ice on a lake. His hair is as black as the inky darkness of the caves he spends so much time in. His black hair is long as is most members of the Aisu clan however, where most men wear it put up, he lets it hang down over his face and he only lets his hair grow to chin length. In water his hair looks like a drop of ink in a cup of water. With skin as pale as the freshly fallen snow Tenshi's black avenging angel Kanji tattoo stands out like the moon at night. Being prone to under eating has led Tenshi's body to being underweight, and gangling looking. While his muscles are defined, because of the lack of fat, they do not provide much strength, as his body slowly eats away at them from being underfed. With the body of a gymnast, slender and quite flexible, Tenshi rarely goes without long sleeves, and pants, due to the multiple scars left from self inflicted wounds. His snake bite lip piercings are not the only thing that draws attention to the Chuunin's mouth, because, like many of Kirigakure's ninja, Tenshi has very pointed, fang like teeth, though his canines are the only teeth that are this way.
Clothing: He wears a custom made black button down shirt for formal occasions such as dates or funeral. His casual garb is a long sleeve black shirt, a studded black leather collar, black skinnies and black combat boots. He also has a black leather jacket, his clan's crest sewn on to the back by his mother. His sword hangs on his waist in a scabbard made of leather which hangs on his headband which is worn as a belt. He wears two 1' by 6'' bandages wrapped, one wrapped on each forearm. His kunai holster is tied around his right bicep. He always wears black fingerless gloves or arm warmers when he's out in public. His fingernails are black. On missions he wears black fingerless gloves and a white under shirt, his leather jacket worn over top. He leaves his choker at home recognizing it as a liability.
Picture: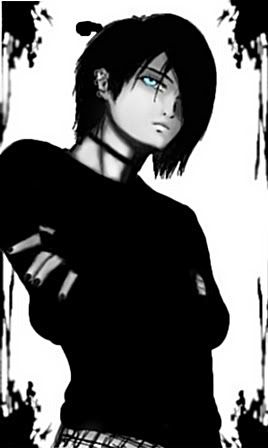 --------------------------------------------------------------------------------
The History
Bio: In the academy, Tenshi never fit in. He preferred to be alone and in the dark. Though he was rather intelligent he wasn't keen on exerting himself and so focused solely on his jutsu his other skills suffering from it severely. He has poor physical strength is lacking.
He scared his fellow classmates with his behavior. He developed a taste for blood in the academy. He would bite during his fights to taste the blood of his opponents, quickly learning which spots produced the most bleeding and which spots were easier to puncture with his teeth. He would use the blood as a distraction technique the opponent usually trying to stop the flow of blood, the blood loss weakening them making them dizzy. While he scared them, some of the kids thought he was cool.
His distancing at school carried over to home and public places. His parents began to worry and every time they asked if he was okay, he'd yell at them, and tell them to leave him alone. He didn't go out into public places as often, instead went out alone to dark forest or caves where he could be alone without being disturbed. His relationship with peers and family both deteriorated slowly. By the time he graduated he had no friends and hated his parents.
He'd started cutting to make himself feel better, having developed masochistic qualities. After a close call, in which he nearly bled to death, he decided to take up studying medical jutsu so he wouldn't kill himself. Since then there has been a couple of times hes had to use chakra stitching to seal up veins that he cut too deeply. He started wearing long sleeve clothing and arm warmers to hide his scars and cuts from his teachers, peers, and parents. He would go out of the village and find isolated areas he where could cut himself without being disturbed or interrupted.
He has this dark aura or presence that others could just feel something wasn't quite right with him. Most people avoided him just because he freaked them out. However there are a few people that tend to be drawn to him, not those that want to help him, but people like him. They are drawn to him like he's a symbol of their feelings, their pain. These people he mostly ignored.
As a genin, he warmed to his comrades slowly. After a few missions he began to trust them. His best friend and rival gave him the nickname Frosty after accidentally stepping on him while Tenshi was lying down in the snow shirtless barely visible. Even their sensei laughed, saying it was fitting as he was as pale as snow, and used hyouton jutsu.
Shortly after his chuunin exam, most of his squad was wiped out on a mission, leaving him the sole survivor. Knowing medical jutsu, he blames himself thinking if he'd studied harder he might have saved them. He was rather depressed and though he was underage started drinking heavily. Every night he would be haunted by their faces. Akira, the female member who he had started to crush on. Haru his best friend and rival. Even his sensei, his uncle Masaru.
After nearly killing himself Yukiko, the girl in his new squad, slaps him. She yells at him asking if he really thought this was the best way to honor their sacrifice. It snaps him out of his depression and he puts more effort into becoming a better medical ninja so he''ll never lose another comrade. After this he and the female member of his cell get close and start dating.
--------------------------------------------------------------------------------
Faction:
Faction: Shinobi
-Rank: chunin
Chakra type:
water
and
wind
Style Focus: Ninjutsu and Taijutsu
Weapon: a Black Damaskus Ninjato located in a scabbard on his waist- dimensions:
Blade 72 cm
Overall 100 cm
Handle 28,5 cm
Width 3,01 cm
The kunai holster around his right bicep holds his 6 kunai
Sword: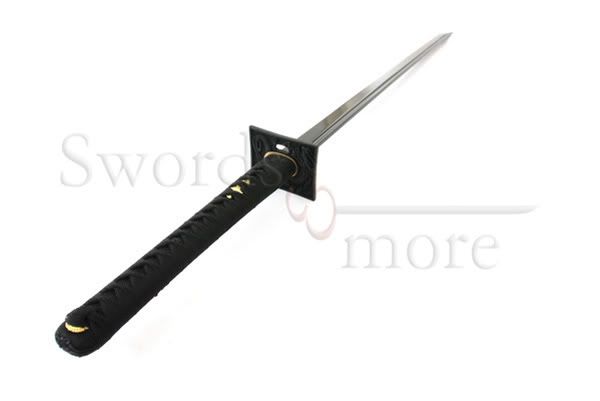 Items:2 1' by 6'' wrap bandages wrapped on arms.
Stats
Health:
Chakra:
Strength:
Speed: