My First Real Kill.
So I downloaded the trial of UnReal World a few days ago, and after playing it through a few times I loved it. It had pretty much every aspect that I was looking for in a survival game. Knowing my character had a 10 day lifespan I didnt try anything too serious, just getting the feel for how to do menial tasks like fishing, starting fires, interacting with other people, and the basics of tracking and hunting. The largest game I managed to hunt down were just squirrels and birds.
So I went and registered myself the Major Version one.
Started up a new life, and decided "well I do like fishing", and I couldnt use this scenario in the trail, so I picked I want to be a fisherman.
Found myself a nice spot along a lake with plenty of trees around for resources, cast my nets, put up a shelter.
I was pretty determined to find a settlement someplace near to have someone to trade with, so I made myself a primitive bow and 5 arrows for "just in case", a couple Javelins I could hopefully use to trade and spent the next couple days fishing up an ample food supply just in case me journey took me far.
2 days later I pulled up my nets to get an even larger cache of food and took everything with me, which included almost 40 pounds of fish! (In hindsight maybe I should have put some traps down with some of these fish)
I was on the task to track something down in the wild so I figured, lets just get this out of the way. Not far from my camp I found some very fresh reindeer tracks, continuing the task list for an encounter I followed the reindeer and entered the area.
Now here is where the "Just in case" with my bow actually paid off! Not thinking I would be able to do anything serious with this bow I fired off a quick arrow at the reindeer and Im not sure who was surprised more, me or the animal when the arrow viciously struck it in the next causing massive bleeding.
"Alright!" I thought to myself, "The chase begins!" The reindeer quickly took off but a couple hundred meters away following the trail of blood and tracks I found it collapsed on the ground in a pool of blood. "This should be easy, I guess it was a good idea using my greet the spirits ritual for the task list!"
Turned out it wasnt so easy, about 10 meters away the reindeer got back up and began to take off. Hoping my mediocre archery skills would be enough, I let loose the other 4 arrows I had. 2 missed, 1 struck it in the shoulder, the other in the skull.
"It cant have much strength left in it after all that!" Boy was I wrong, the chase went on for what had to have been almost a kilometer, picking up arrows that missed as I went. The massive fish haul I had on my back wasnt helping me keep up either. I was tempted to drop most of it, but there was no guarantee I would be able to catch this Reindeer so I didnt want all these Fish to go to waste.
Eventually I got the beast cornered. Screen below.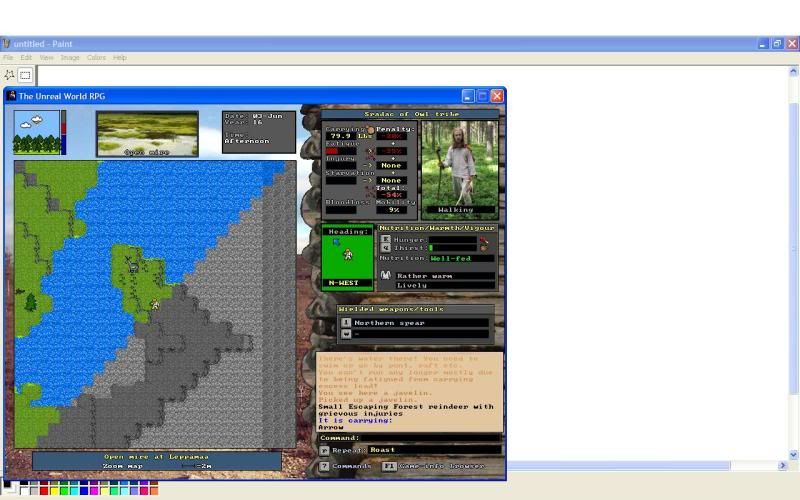 The hunt was comming to a close, I knew it. my last 2 arrows found their marks, 1 more in the shoulder and another in it's knee yet the beast still persisted. I almost wanted to let it go, showing so much strength and determination I had a new found amount of respect for this animal. But it was far too wounded for that, it was either I end this now or waste this kill and have it wander off alone and scared to be taken down by wolves or some other predator.
I chased it back and forth for quite a while, missing several times with the 2 javelins I brought along for trade. Eventually I had it cornered in another spot. A javenlin to the thing brought the animal down. I was able to get right next to it but it got back up "Oh no you dont!" I said and lunged with my spear to its legs, taking the animal down one more time.
"It's over my friend, rest now. You were truly valiant."
A final thrust from my spear to the neck, and it was finished. Picture below.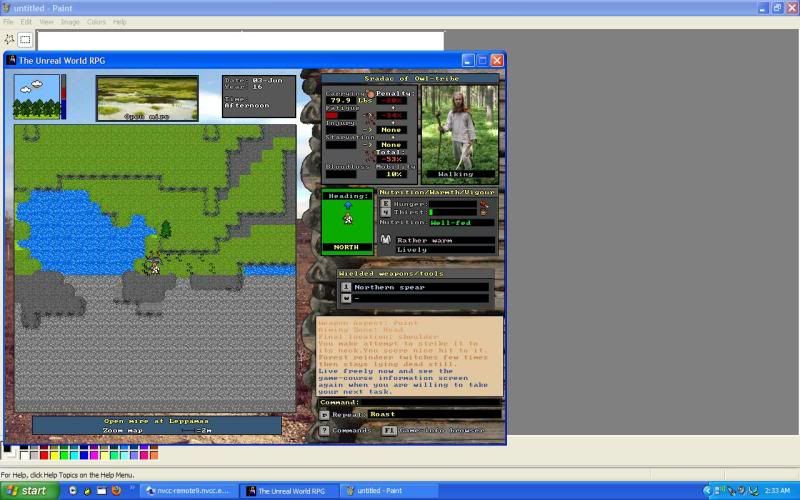 I must say I havent had that much thrill from a single kill in any other roguelike, probably any other RPG as well! Now...what to do with all of this meat! Lucky for me I have water here to prepare the skin. 86 pounds of meet from it. It feels like such a waste, I know its not going to make it to a settlement to smoke it.
Although I do agree with others, animals should provide more fat. Less than a pound of fat on a reindeer, even if it is a young one seems silly.