Blog
I thought I'd post my little project out of my boredom. It's a Super Mario platformer RPG. You know, like Super Paper Mario, with out the Paper Mario. Anyway, I used Hello's third open source engine as a base for my project (built in GM6 pro). I found it's blend of features very useful to this genre. So far I have basic HP, damage, and leveling up through score. I only have 1 tutorial level complete as well. Some assorted fun stuff is the Classic Mario Bros. minigame. It goes forever, so use it to level up later. :) I'm open to all suggestions and comments. Thanks.
Screens: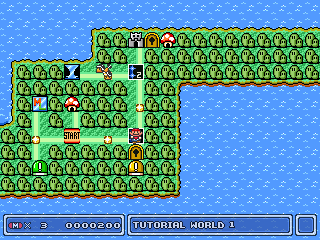 This map isn't very special. I'll leave you to speculate on it.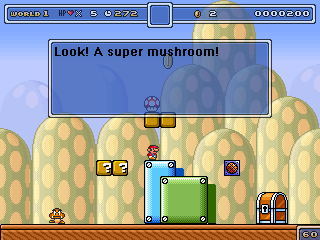 One time messages that tell you about items, like in Super Paper Mario.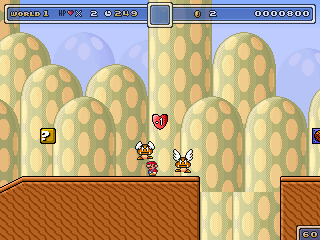 Oof, damage! I lost my power, and some HP as well. What will I do!?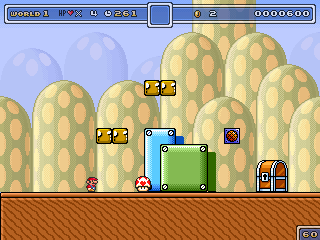 I'll grab a helpful
lifeshroom
and restore 10 HP. I wonder if there others that heal more?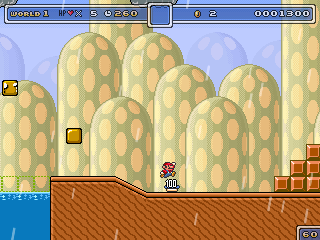 Poison mushroom do the same thing they do in SPM, even squashing them. That'll teach 'em!
The new HP HUD. Pretty spiffy now.
Power-ups (my favorite things to do):
Ice flower- Same as fire Mario really. However, you can turn enemies into ice blocks, which you can carry and kick
and
freeze the tops of water. There is a drawback, your friction is lowered.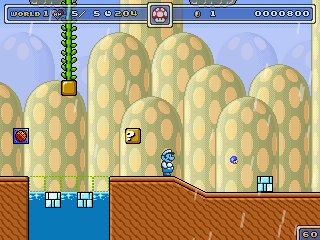 YEAH. IT'S REAL GUYS.
Ghost Mushroom: Boo mario, similar to it's use in Galaxy. This will be the hardest to execute. Most commonly seen in Ghost Houses (yeah, they'll be in the game).
Bee Mushroom: Same as Galaxy. Maybe a honey ball throw for defensive needs.
Mighty Flower: Permenant attack +1.
Defenshroom: Permenant defense +1.
Holy Mushroom: Heals 20 HP, and adds +1 ATK and DEf temporarily. Worth 5000 points.
Experience Medal: Worth 10000 points.
Other assorted items that don't affect mario directly. Mostly stat altering. Let's see if I can execute all of these, they shouldn't be too hard.
Update for Bonus Stars:
Because grabbing them in level was very annotying, there's a star shop. I'll let you know that the red coins are still involved though. Think blue coins in Super Mario Sunshine.
Badge Book:
I may change it to a sticker book. You get these badges by completing some events in game, such as reaching 999 coins, or using an item a certain amount of time. Some unlock new features on the menu (like a sound test). You can view the book from the Badge Book selection on the menu.
Shops, Inns, Towns, and NPC:
Some out-of-the-way shops and inns can be found on the map. However, they are in found in town levels. Town levels are just normal towns. There's no time limit or enemys (above ground at least) so feel free to explore. NPC's can be triggered by hitting "Z".
I thought I'd show you some substance for the badge book. :U