Please note this is finished now.
Name:
Alexia
Age:
21
Height:
5 foot 8
Build:
thin, not very muscular.
Power:
Lucky beyond belief: Alexia is the luckiest person alive. She cannot fight and does not have awesome powers but damn she is lucky. Whole rounds of machine gun fire can miss her head by inches. Alexia is not one to exploit this gift though. She first discovered it when her family won the lottery twice in a row (Alexia chose the numbers).
Cancer: In one way Alexia is extremely unlucky. Her luck is what got her family killed. Because of this unlucky turn of events she ended up smoking. This helped her when in the slums as it is an anti-depressant and reduces hunger. Eventually look started looking up to her and she gained money again. Then it spiralled down when she found out she had cancer. This cancer has progressed far within her system, she has no tuma's but coughs up blood and pukes a lot. Only she doesn't know there is something dark in the cancer.
Looks: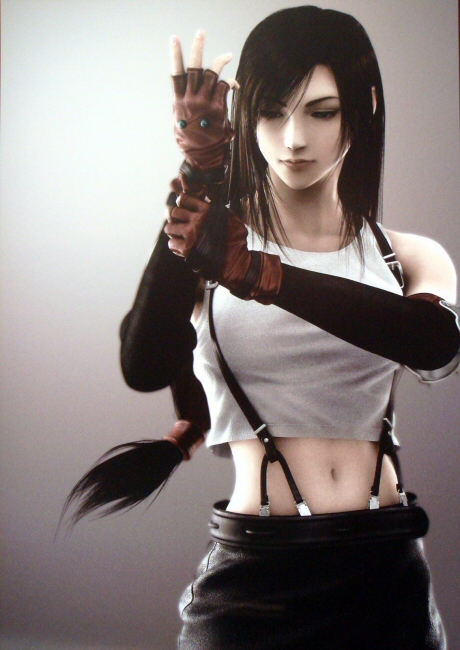 Black hair to her shoulders then a pony tale that is much longer. She has a small sleeveless top on that reveals her stomach. She wears black baggy jeans usually. She wears brown leather gloves that have two emeralds attached to it.
History:
Untill she was 9 she never noticed how lucky she was. Her parents didn't notice till she was 11. At 9 years old her parents put some money on some race horses. Her parents also put money on a horse of her choosing and if she won money it would go into her bank. Ofcourse her horse won and she won about £60. She thought she was the luckiest girl alive. At 11 it was christmas day and the family had all bought a lottery ticket each, her parents had bough her one and she had chosen her numbers herself. She won and about 40 million pounds. Her parents made her try it again and she won again. Her family moved into a huge house and she became the happiest girl alive. Ofcourse her parents used her again, and again, and again. Eventually people got suspicious of this one family winning over and over, why should they be in a big mansion while everyone else was in the slums, was their thoughts. When she was 16 they broke into the mansion and killed her parents. Ever since then she wondered the nether, without money, using her luck to live.
Race:
human
Religion:
Chrisian
Friends:
none yet
Weapons:
Fists