Title: Gilgamish
Survuse - March 1, 2009 01:57 AM (GMT)
Name: Gilgamish
Age: 57
Height: 7'4"
Build: Strong, muscular
Powers: Evil essence (This power is what transformed Gilgamish into the evil being that he is. This ability gives him his horns and he can manipulate his bone to make a blade made of jagged bone stab out through his skin. He can use these two pieces of bone as extra blades and as a shield over his hands. He can also use these as an extra pair of swords.)
Blades of Woe (Soon after getting these two double edged blades he felt a great lust for death. While in best form he still feels the lust. Gilgamish soon took control over the lust but some times it breaks free and he has no control. These blades make Gilgamish extremely fast)
Beast inside (Every full moon Gilgamish turns into a large monstrous demon that kills everything. In this form he is so vastly more powerful that even other demon hosts would have great difficulty trying to hurt it. He looks like this when he is a beast: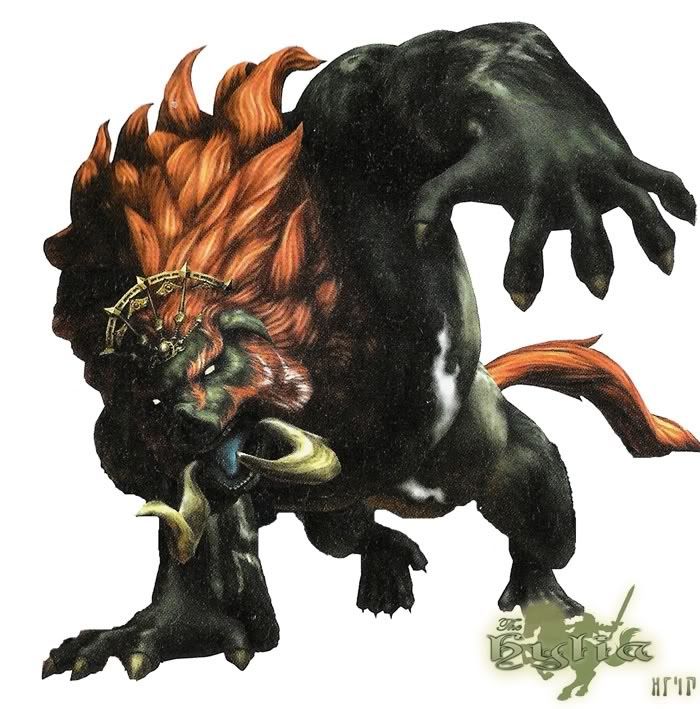 )
Supreme Strength (Gilgamish has such a great source of strength that he finds punching a hole in a metre thick wall of concrete with quite easy. He has enough strength to beat twelve men in a strength competition.)
Demonic wings (Gilgamish's wings can easily carry three times his own weight. These wings have sharp talons on them which can extend into two four foot blades of razor sharp bone which he can use in a fight as an extra pair of swords.)
Shattered mind (Trying to read Gilgamish's mind is nearly impossible to disyfer what he is thinking. This is because his mind is totally destroyed by becoming a werewolf before the minds had decided who would be the controller. Thus introducing a new mind. A mind of a beast, a mind of a greater demon and a mind of a simple child. This mixture of minds fell apart into a heap of nonsense.)
Looks: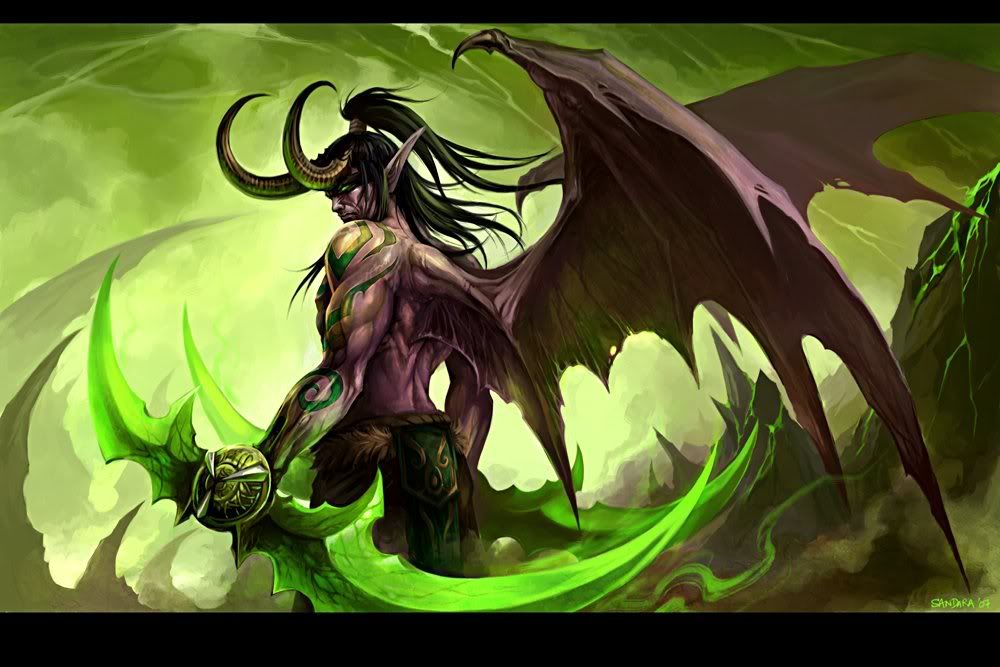 The swords glow red not green and the horns are straight but other wise… that's him.
History: When Gilgamish was young he was caught by a Satanist who possessed him with a greater demon. The binding spells were in such detail that the demon that possessed him wasn't able to find a way around them, so the Satanist forced them to do his bidding. Eventually the demon found a way around the binding spells. With his new found power Gilgamish used it to slaughter the Satanist, but he couldn't relieve himself from the demon inside him. The demon slowly fought its way into his mind and started taking over. Bit by bit his body started to transform until he became a human with demon aspects. His demon personality took over and sealed Gilgamish in his head. The demon started to destroy everything he came across. Until Gilgamish managed to break free and take back control of the mind. Because the immense power that the two minds released when they fought for control the power overflowed into their body and every full moon the power gets triggered and he mutates into an uncontrollable beast. Because of this transformation both the demon's and Gilgamish's mind were practically destroyed. Eventually they rebuilt themselves into each other. The outcome was demon mind full of lust for death and the taste to kill and the mind of the beast. Gilgamish's mind was far to weak to compare with the Demons mind now that it found out how to control the power and drowned out Gilgamish's mind. Now every full moon Gilgamish turns into a demonic beast. It would rip and tear everything in it's path before retreating into a forest to transform back into a demon. If it can't find a forest it will rip up people into shreds before sleeping on the large pile of blood, flesh and bone.
Race: Demon host
Religion: none
Weapons: two large Blades of woe. See picture.
Barrez - March 1, 2009 03:00 PM (GMT)
Not approved. Having a creature that is immune to mundane, magical and mind attacks would effectively render it invincible. To then have a power that would only make an already overpowered character even more powerful is unacceptable. Thirdly, a cross breed between two of the more powerful races is my final reason for not approving this character. Survuse, this will need a massive overhaul.
Survuse - March 2, 2009 06:27 AM (GMT)
I have edited and taken out the over powered powers. Although what is wrong with having a demon host and a werewolf? A werewolf is hardly one of the most powerul creatures on the Nether. I will make the fact that he can transform 2 powers if you want?
EternNull - March 2, 2009 03:07 PM (GMT)
I am saying not approved. I am tired of people taking powers too far, such as strength and speed. Flicking a finger, and knocking through a meter thick wall is way too strong, tone it down. Even Agony had his limits, and HE was a cheap character...

The other powers seem fine to me, but his race may still be an issue. CAN demon hosts even reproduce?
Icarus - March 2, 2009 04:45 PM (GMT)
Erm... Not sure. I did re-write the daemonhost race as a differnet one because it was going to be removed, but I'm pretty sure that the answer is no.

Ok strenght is ok... because he is a daemonhost and therefore very suceptable to blessed weapons. I have no problems with the wings.

Shattered mind: Sorry, you cant have that. what you could say is that his mind is so broekn thanks to all the abuse its taken that it is not impossible to read, just increadiably hard to discern any kind of snesible thing from it.

Bone thing: not too bad, but remember that they cant be too long

The Blades of woe.... erm, I'm gonna say that they can increase his speed, but no soul stuff ok? We had soul stealing before and it caused no end of trouble. sorry.

Ok, history. The problem here is that the human personality would have to be so twisted and unimaginably evil that it would be able to resist the demon, and at that point you have to ask why not just make an evil human. Daemonhosts were designed to not have any empathy, so its a bit of a conundrum.

Just fix those things and I'll approve it ok?

Survuse - March 3, 2009 06:58 AM (GMT)
Strength toned done.
Shattered mind fixed.
History changed.
Icarus - March 3, 2009 07:33 PM (GMT)
Hmm... ok, but bear in mind as the strenght and speed are single powers they still wont be as strong as a person who has multiple examples of them.

Other than that, unless anyone has any quibbles about the Daemonhost/werewolf aspect, I pronouce this approved! :P
Icarus - March 4, 2009 04:46 PM (GMT)
Ok, I'm sorry, but after significant discussion with An Admin and the 'creator' of daemonhosts in a science lesson (XD), I've decided that (probably along with the rest of the staff) A daemonhost is so strong that a were-wolf would be like a plush toy to it, and therefore would not have a chance to infect it. Sorry. You can keep the mutation power, but remove the thing about the werewolf please.
Survuse - April 16, 2009 03:24 AM (GMT)
Sorry for the late reply but it is fixed now.
Lilith - April 16, 2009 03:29 AM (GMT)
Eh heh...plushy doggy..... :P
Icarus - April 16, 2009 11:47 AM (GMT)
Ok, I see you've taken out the bit about werewolves but its still in the race decription. Just to stop confusion change please.

apart from that.... ok approved but admins may decided against it so use it wisely.
Vayne Sera - April 16, 2009 08:37 PM (GMT)
What's the issue? If it can be summarised to one clear line it would rock. But its not impossible that the body of a demonhost would become a werewolf. Quite interesting even, how it would take this...
Survuse - April 17, 2009 12:09 AM (GMT)
Icarus - April 17, 2009 12:31 PM (GMT)