Name:
Ashni (Lightning)
Age:
15
Height:
4'5"
Build:
see pic.
Power:
1 Electrical barrier (Ashni is surrounded by a veil of high voltage electrons. These electrons are normally harmless and people can pass straight through them but they have a small chance of getting a tiny static shock. Ashni can make these electrons turn on when she wishes so that if anything things tries to touch her it will get zapped. This ability also works against mind attacks. To her she sees through this current to her everyone has a different current so she can tell someone's personality just by looking at them)
2 Minor lightning bolt (This ability allows Ashni to send a lightning bolt from her hand. This lightning bolt is not a proper 1 gigavolt lightning volt it only has enough volts to paralyse someone for a couple of seconds. Before she uses this power her arms become all jittery and get pins and needles feeling)
3 Drain power (Instead of eating or drinking Ashni sucks her energy from anything that has an electrical current through her palm of her hand. This includes all living things although when she does this on a living creature it makes her feel very sad and it paralyses them because they can not send information to and from the brain.)
4 Electric daggers (Ashni has a pair of daggers that are charged with an electrical current. If she hits someone with these dagger they suffer electricity burns and becomes paralysed for a couple of seconds)
5 Dark electricity ball (A ball of black lightning appears in her hands. She can through this ball or morph it into any shape she wishes)
6 Blue thunder (Ashni gets surround by visible blue thunder that crackles around her and revolves around her. She can control this thunder like an extra four limbs. She can stretch them out and use them to sap people, grab people or use it for what ever she really wants.)
7 Thunder storm (Ashni can create a huge thunder strorm that sends down 1 gigavolt thunder bolts for as long as Ashni is casting the spell. Although this spell drains energy from her and the thunder bolts are very in accurate.)
Looks: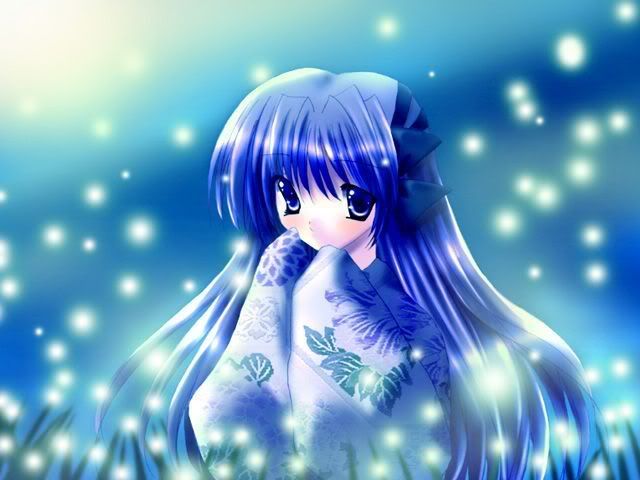 Only her hair is worn in a large elaborate bun and her face is a lot less inocent. Also she will normally wear a black or blue dress, not the light blue robe she is curently wearing.
History:
Ashni lived a normal life (although she is very shy) and her parents loved her and treated her very well. Un fortunately on her eight birthday she was struck by lightning while playing outside in the rain. Everyone was very surprised because it was just a sun shower and not a cloud in the sky.
When Ashni was hit by lightning she turned into an angel but her parents didn't believe it and thought she was a ghost. Lonely and scared Ashni was forced to leave home and find a place to live. On her way to a nearby town she was attacked by a bear. The bear tried to swat Ashni with it's paw but when it was about to collide with her the bear took a sudden shock and ran away limping and whining. This event bothered Ashni for quite some time but a year later she thought nothing of it until one day when she was getting teased by some older girls at her school. (She got a job as a waitress in a pub and paid for her own tuition) She got so angry that she felt her limbs get really jittery and constantly twitched when suddenly all the girls got a sudden shock and they all started crying. Finally realising her new found power she ran away from that town as well and then she found the Nether.
Race:
Angel
Religion:
none
Friends:
Weapons:
electric daggers
This character will come in once The Avenger is dead