Title: Painting River Trolls - Especially Bases
Description: Anyone do anything cool?
Groznit Goregut - December 6, 2011 01:34 PM (GMT)
Hi All,

I'm painting some River Trolls from GW and I'm actually following their web guide on how to paint them. Well....trying for the most part. I'm coming along with the painting, but realizing I will need to get the basing done soon. For such a cool unit, I was hoping to do something neat. Has anyone done anything interesting for their River Trolls?

Looking in the Gallery I can only see Kurgan's awesome pirate trolls. He's done a great job of adding in extra bitz and making them piratical. There are no other examples of River Trolls, though.

I'm especially curious what to do about the basing. The rest of my army is done in a Badlands theme with desert and scrub and rocks. So, having the River Trolls is a bit out of character. I've thought about doing some sort of murky pound that they are stepping out of, but I'm not sure if that's the best method. Even Kurgan just had his on sand, but he had enough other stuff going on. I can always add in a few interesting bitz on the base and add a few neat things to the trolls. Is that enough? Or should I go with some super cool basing? Then again....I am trying to finish before end of year for NY Resolution. Maybe I need to keep it simple?

I've also got the gloss effects from GW. I thought about where to add it. Maybe even put a lot of it on the trolls....as they are suppose to be slimy. Well, the GW instructions say to just add it to a few bits like teeth and claws. Hmmm....maybe covering the whole model will just make it look shiny.

Other ideas on making River Trolls cooler? Without breaking the bank or taking too much time?

Thanks!
BorkBork - December 6, 2011 01:38 PM (GMT)
well for river trolls i always love bases looking like they are emerging from the river/swamp.

But i think that is particullary hard to do with the current models. You might end up with beached whales instead of trolls.
WarbossKurgan - December 6, 2011 02:12 PM (GMT)
:yarr!: Thanks for the props mate!
I always think that basing ties an army together, so no matter how varied the rest of the models are if the bases are all the same they will look like an army.
I would say though, if you want to add a stagnant pond, water effects (from GW or anywhere else) over a sludgy brown/green base colour would be pretty easy to do. You could make it really pop by adding some grass tuffs (made from DIY paint brush bristles) before the water effects would look great.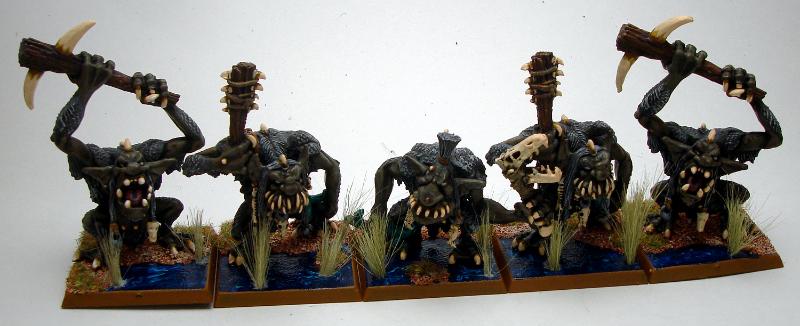 I don't like the blue, but with a different colour maybe?
These are cool - logs and stuff!
Another "left over bitz" extra Troll.
Groznit Goregut - December 6, 2011 03:15 PM (GMT)
Wow! I love those water effects. I think it's brilliant use of the left over bits from the Troll box to make those extra trolls. I thought about buying just the torsos for the back rank and making them walking out of deeper water and only the waist and above sticking out. I went with getting all of it, though. If I was getting the torsos, I might as well get the legs too!

Maybe the front ones have rocks and sand at the front of the base and form the beginning of a pool? Have the back ones in the pool. The ones on the edges have the pool edge? I might try it. I'll have to see how much time I have left in the year.

How do you keep the water effects on top of the base? My experience is that they seep where they seep. I figure you need to build walls or something around the top of the base. What did you do?
ProteanSun - December 6, 2011 03:16 PM (GMT)
I have had a lot of experience with Water Effects on my 40k models. The best I can suggest is to color the bottom of the water "pool" whatever color you want, use a little bit of water effects to cover the area, then let it dry. I then pour a little more water effects to create some more depth, but at this point you can tint the water (I prefer using the citadel washes for this). The biggest part of this is practicing on junk until you have achieved the look you want.

There is nothing to say that your trolls can't be on the same bases as the rest of your army, perhaps the troll's river has dried up and they joined the warband in attempt to find another source of water. If you did that you may want to create some troll "footprints" on your bases and maybe just use a little paint on gloss varnish to give the impression that their feet are wet and soaked the ground behind them.

Just some thoughts without requiring extra bits. One thing to consider is if you painted up the trolls to look amazing you may want to go for a simpler base so it avoids looking too "busy".
Groznit Goregut - December 7, 2011 03:44 PM (GMT)
@ProteanSun: Thanks for that. I especially like the foot print idea. Brilliant.

Does anyone know how to paint the troll vomit? I don't have a clue other than the myriad colors of brown with some reddish thrown in.
ProteanSun - December 7, 2011 06:18 PM (GMT)
I would pick a contrasting color for the vomit, it will help it stand out. Yellows and Greens are reasonable choices, but who knows what goes on in a troll's digestive system?

I suppose a lot of it would be based off what they eat, have you decided on a particular diet for your trolls? :P

Edit: As for your question on the seeping effect of water water effects if you use a thin enough layer of water effects it should not seep unless it's watered down (it's pretty viscous stuff.
ProteanSun - December 7, 2011 07:58 PM (GMT)
Just had another thought concerning basing your trolls. I saw some chariot sized bases that had a "lava" effect, where there were large flat stones with little channels running between them for lava.

Well I was thinking you could do sort of a dried up river, with the little channels being the moist areas (a darker drown with perhaps watered down 'ard coat (or similar gloss varnish) to make it look wet. Might work well with the wet footprint idea.
Morkmillian - December 7, 2011 09:03 PM (GMT)
just make an orc holding some fish on the end of a stick and thats good enough reason for them to be anywhere!!!!!!


i really like the use of the troll head and arms in those pics to get extra trolls!