Orctastic II The Last Waaagh!
Dis is da direy of Ugbash the Stomper, mighty shaman under the mightiest of Warbosses Grotsmeg skullsmasher, leader of the northern plains, slayer of dwarves, lizards smiter and slayer of dragons. Today we joined with three other Warbosses who fought they were bigger and harder than da boss and we wanted to prove him wrong. Grotsmeg took his banner boy GrashNagg and took the lead in the centre of his big black orc unit I joined a mighty hoard of boyz, when we arrived at the battlefield the other Warbosses were already on the battlefield and we had to push our way in on the left flank. Eyeing Kurgan's hoards to our left.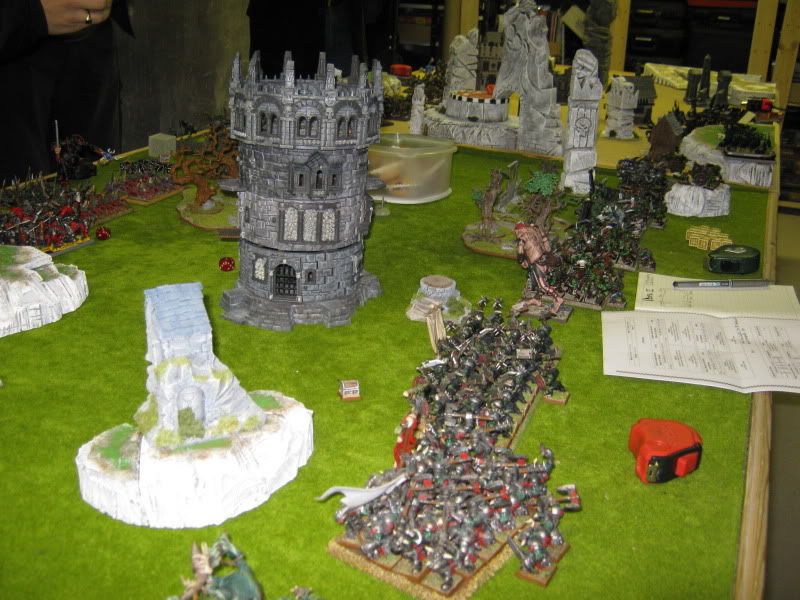 On our right we could see Meggagobs hoards next to Kurgan's and Dazza's hoard had disembarked at the port on our left flank. Opposite our army we could see the hoard of warboss Jimmee riding a wyvern and the goblin warboss Kniggit, if one could be called such. They had placed their war machines at the front of the army on a hill giving a target for our goblin wolf riders. I eyed up the wizards tower wondering what treasures laid within, that could be a personal goal if the battle permits such self gratuity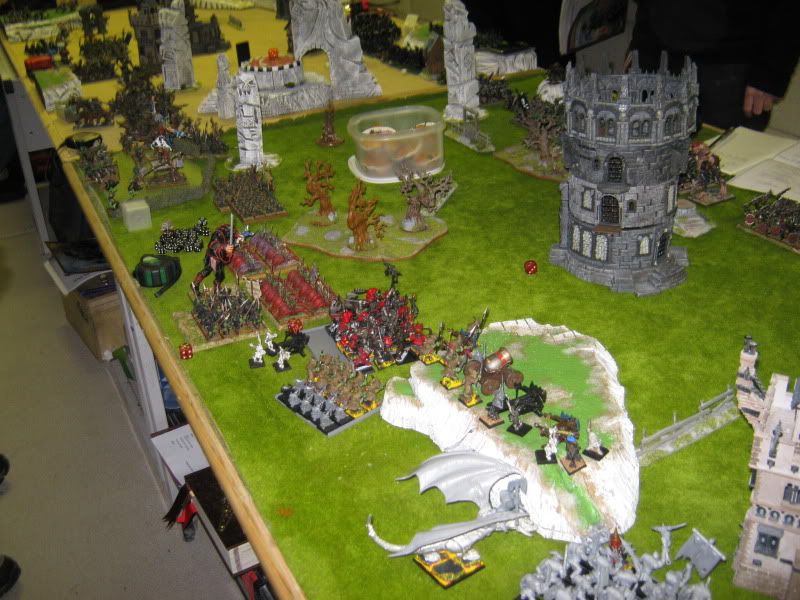 On the beach we could see Ug's! Savage orc warband, the Neanderthal nation of Ug how they even managed to locate their way here is beyond me, but it's just more of our enemies to crush under our feet. Beyond them at the far end of the field could be seen Vik Tors Hoard, If we managed to meet face to face on the battlefield, then many greenskins would have fallen beneath our feet.
I smiled to see plenty of giants around the battlefield that would help focus the shots of our allies war machines. I joked to the boyz that I would take that giants pirate hat and use it as the hide for my own Hogan.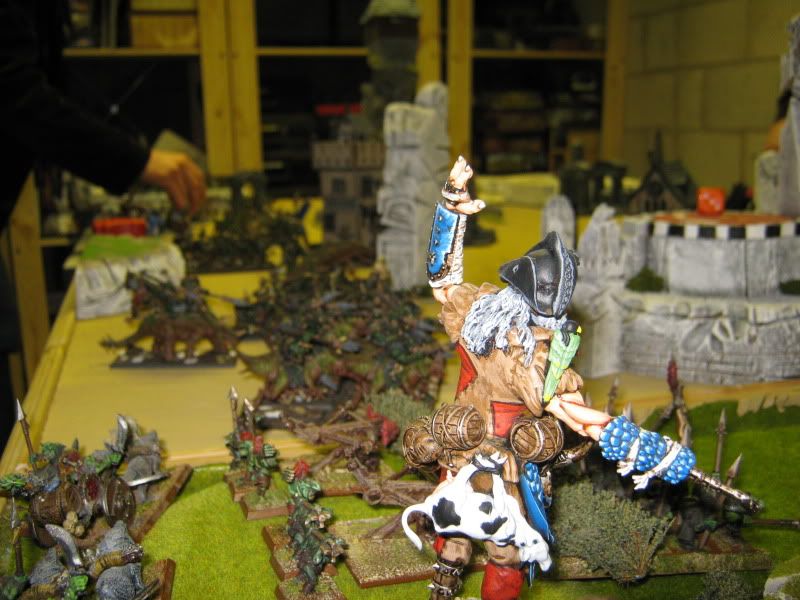 Our scout wolf riders returned from their scouting missions and we were ready to march off to war, today would be a good day to cause death.
Our scouts informed us of the biggest single goblin hoard known to orc and we hollered and howled that even though it was our ally it was more likely to cause our enemies to laugh the way we were than actually win a combat, but if the enemy laughed as we cut their necks open then the happier we would be.
I beheld a vision from Gork and a plan was revealed to me, I was careful to keep this plan to myself, but I knew that our ally next to us would suffer greatly at the hands of our enemies on the opposite side of the battlefield.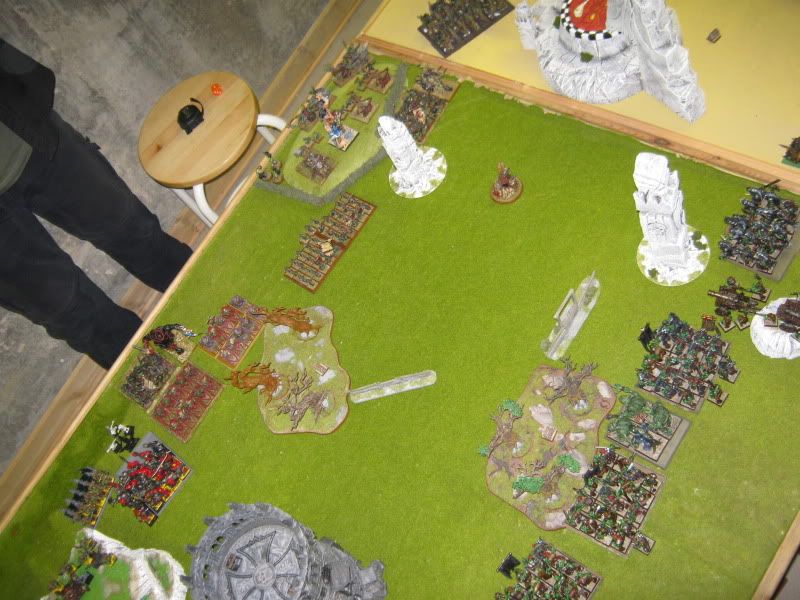 The vision wavered and changed as another scene of the battle revealed before my shaman's mind's eye. The army before me must be beaten down and they could not hold before our might, and we were ready for battle.
Before our savage orcs and trolls we saw a measly group of wolf riders just coming round the human building and in the distance was spied a fearful rabble of underfed orcs, our trolls would make easy meat of them.
Leading the black orcs forward Grotsmeg was eager to lead his unit into battle.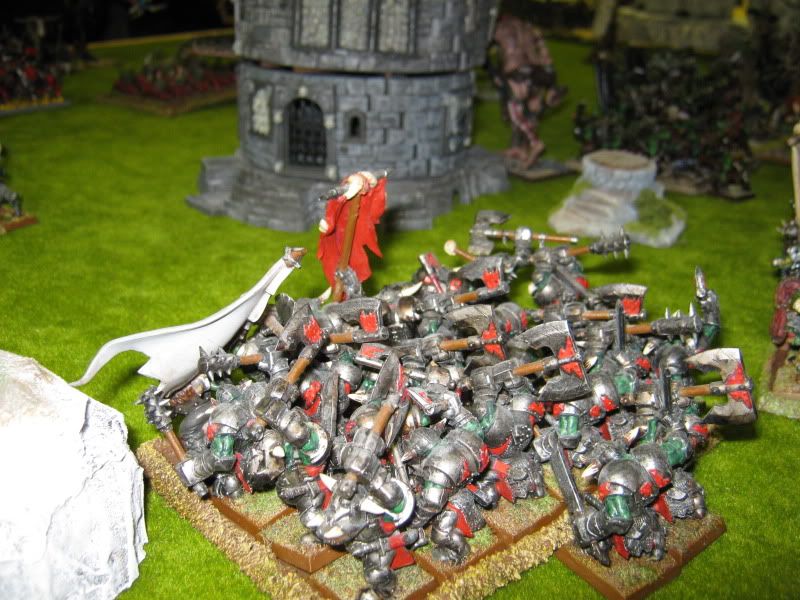 Grotsmeg sent forward his wolf riders to hunt down the enemy warmachines, the only task he thought they had use for, but also one of the treasure chests lay in their path.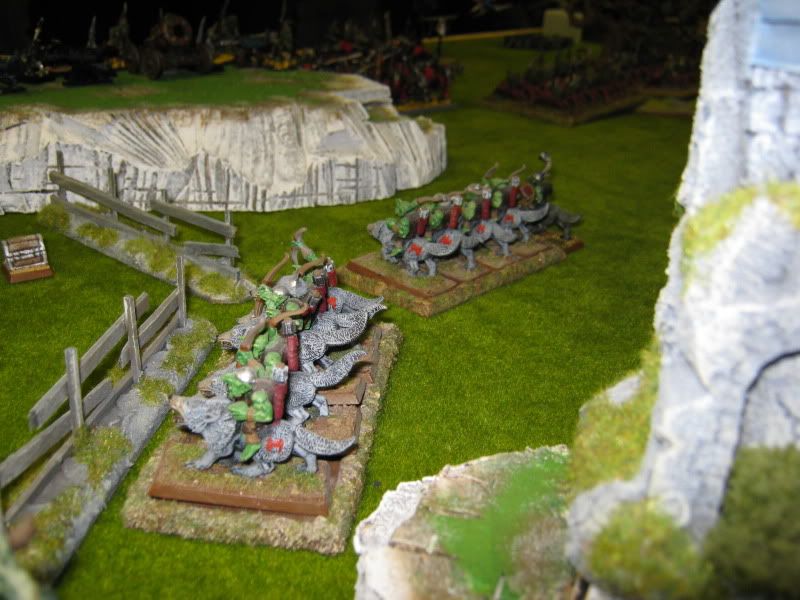 In the distance we heard the creaking of ropes and the straining of wood and one of the enemies rock lobbers was smashed to pieces in a shingle might hit, that would be one less rock heading our way.
The large savage orcs ran forwards full of waaagh Energy, almost fully across the battlefield, taunting and goading the enemy to join the battle.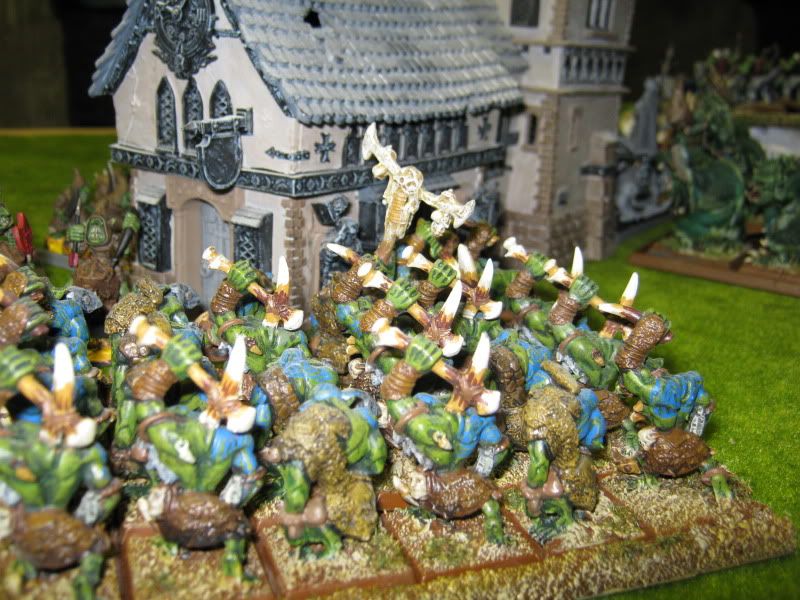 The normally stupid trolls were feeling battle hungry after one of them was shot down by an enemy bolt chukka and charged full tilt into the sickly looking orcs in front of them. Safely out of danger of being used as a pin cushion and safetly into mortal combat with a weaker enemy.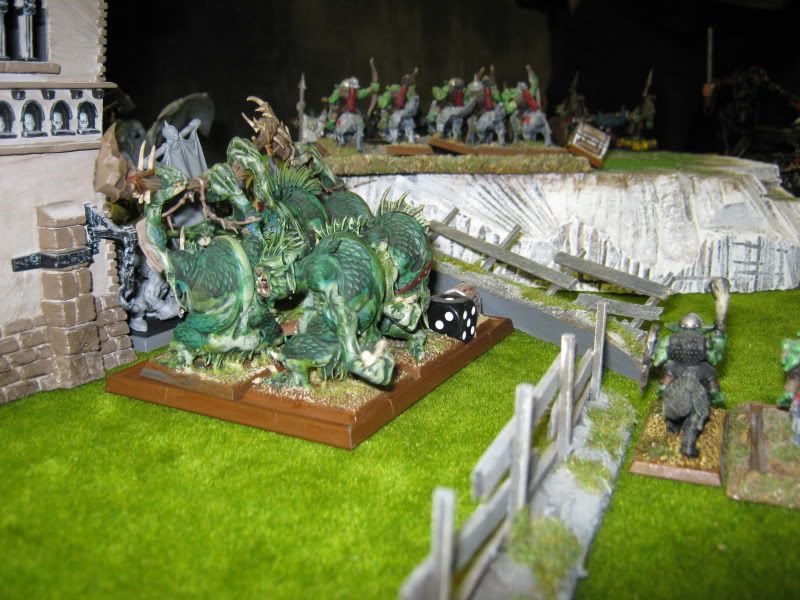 Kurgan's orcs stomped forwards looking for other orcs to match up to in battle as the giant lumbers forwards spying a unit of enemy black orcs approaching from the flank. Ahead a black clothed giant lumbered forward into the fray.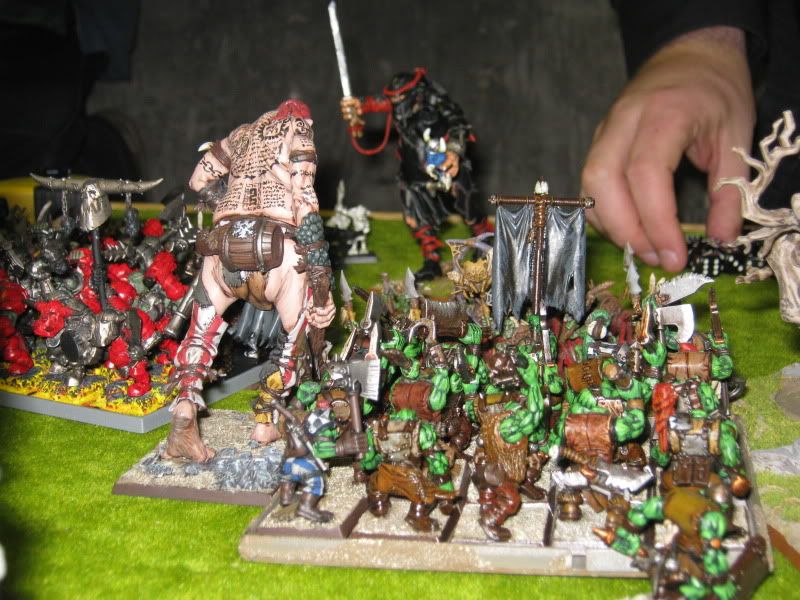 Kniggits goblins were eager for the fight and charged across the battlefield racing against a pump wagon desperately trying to be the first into combat against Kurgan's fishy orcs. But also we new that ownership of the magical idol would add more to our waaagh! Magic.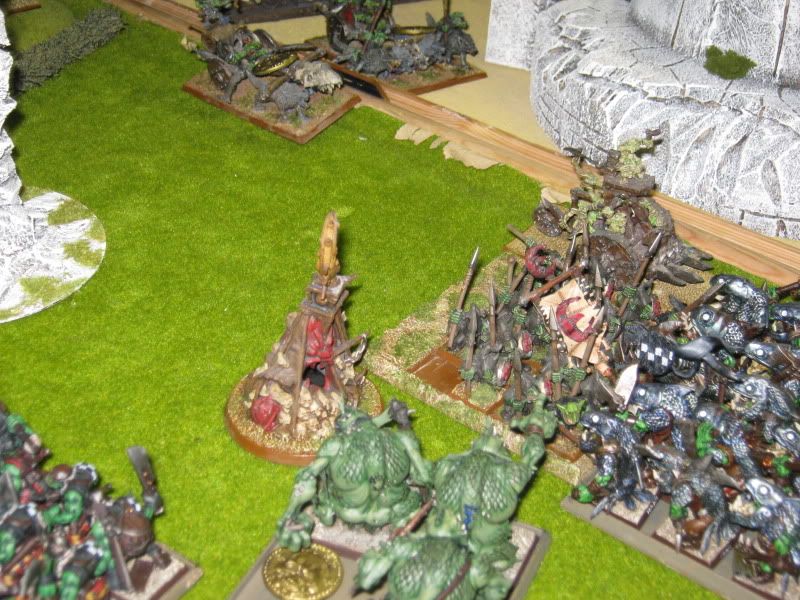 Word from the other side of the battlefield a cheer came up as dazza's orc boyz piled into a unit of arrer boyz showing them that the choppa is mightier than the bow.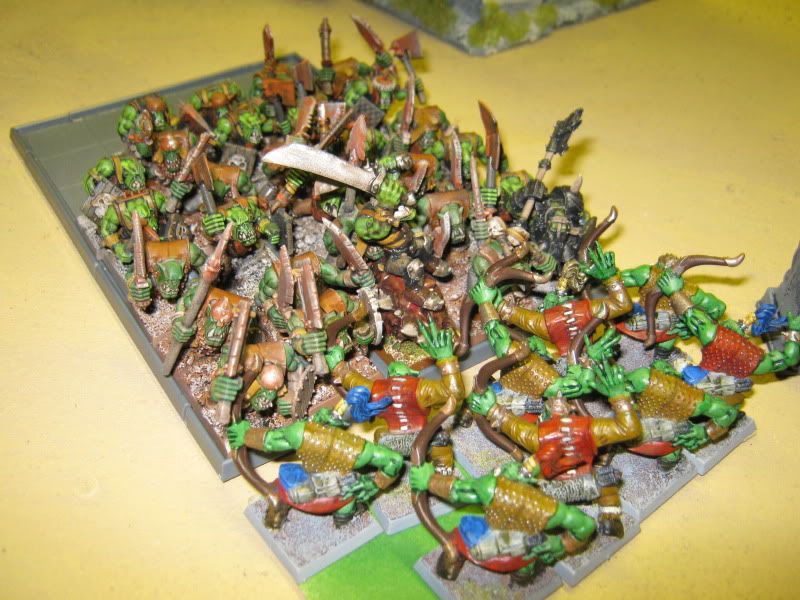 Whilst he and his black orcs took possession of the other wizards tower.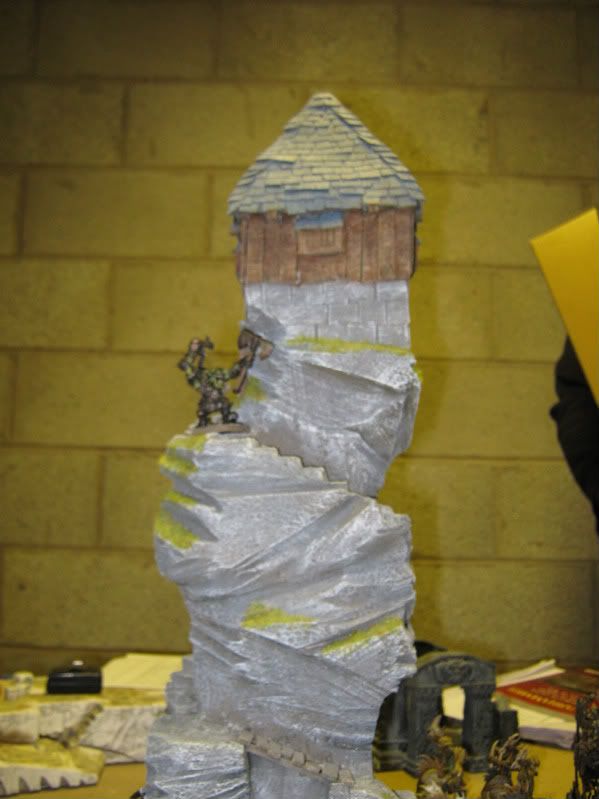 A unit of trolls decide that spiders should be on the menu as they scrap over the centre of the beach.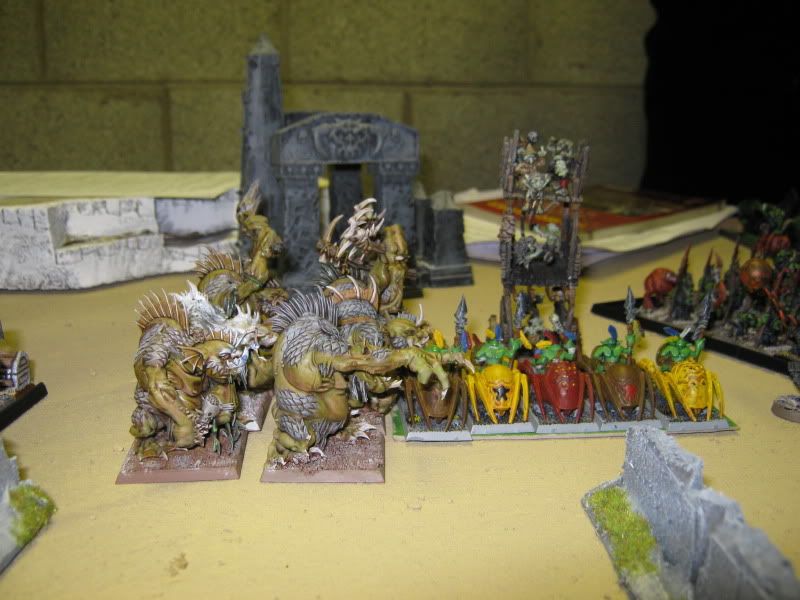 And meggagobs orcs soon find themselves in battle against a lean but very angry large group of trolls.
But nobody seems interested in engaging the uber hoard of goblins
Grotsmegs savage orcs charge the goblins in the building and after giving them a good thrashing their warboss will not allow them to leave the building so the savage orcs are pushed back out of the door. The trolls make good of causing much damage to the orcs but again the howls of their warboss take any idea's of fleeing from their minds.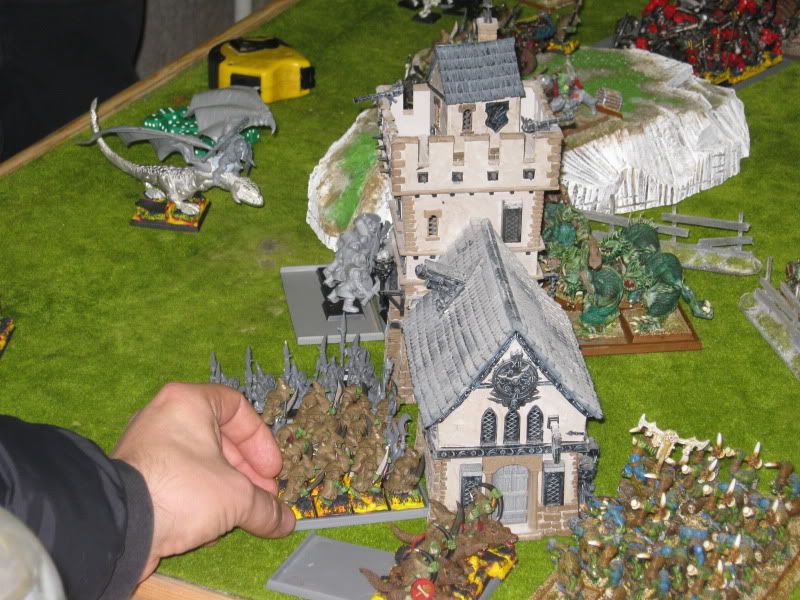 Chaos ensues in the middle of the battlefield as giant, goblins and orcs collide, and kniggits night goblins poisoned attack reap havoc in Kurgan's units
The might hoard of goblins are hit dead centre by a rock and then to add insult to injury followed by a doom diver catapult, seeing over 20 of their fellows slain in a single volley they decide they are in the wrong part of the battlefield and run from the deadly warmachines. Goblins it seems don't even need to get into combat before they run away.
This left a big gap in the plans of our allies on the beach, putting great doubts as to the ability of our current allies, are we really on the right side.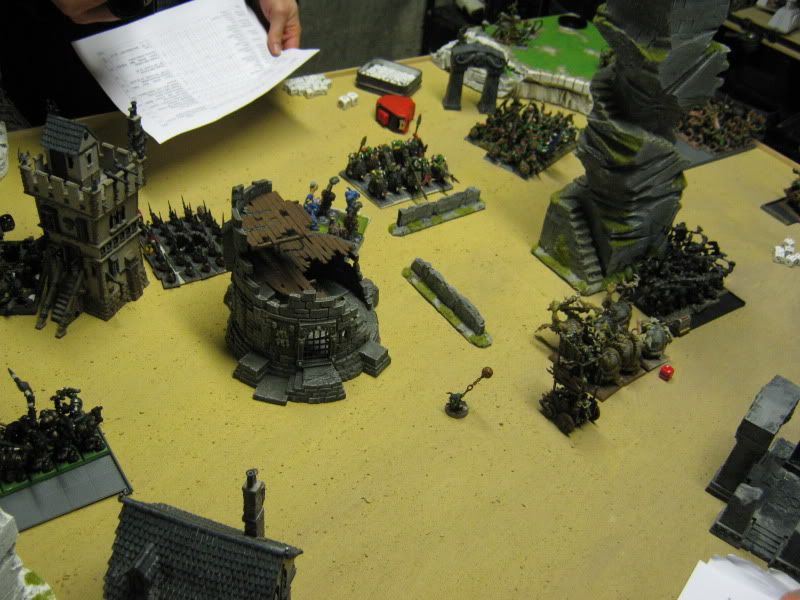 Marching forward the ugs see little in front of them to cause them danger as they start to run amuck.
Still with our allies on the other side of the board proving useless I must start to question grotsmegs reason for choosing who to throw his lot in with.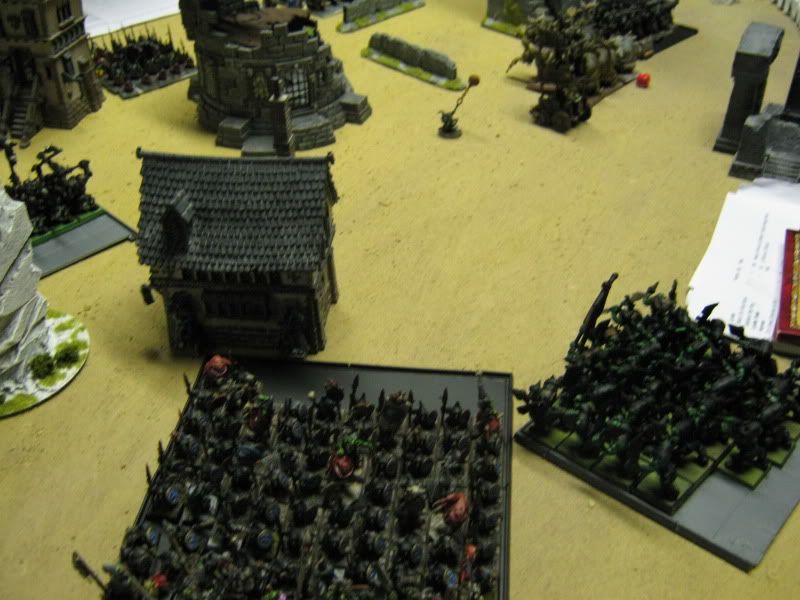 My greatest ally Kurgan who seems to be holding his own and is charging successfully across the battlefield but it is usually at this time when success is at hand that mork snatches victory from gorks hands. And after giving jimmee's army a good spanking and showing him who was boss and just at the point when the little part of his army he has ready to be cast down, a nod and a shake his given and suddenly what was once our enemy is now our ally and we turn ready to face our new enemies.
Although far from the enemy our trolls are eager to join into the battle and charge forward attempting to assist warboss Jimmee against our former ally kurgan.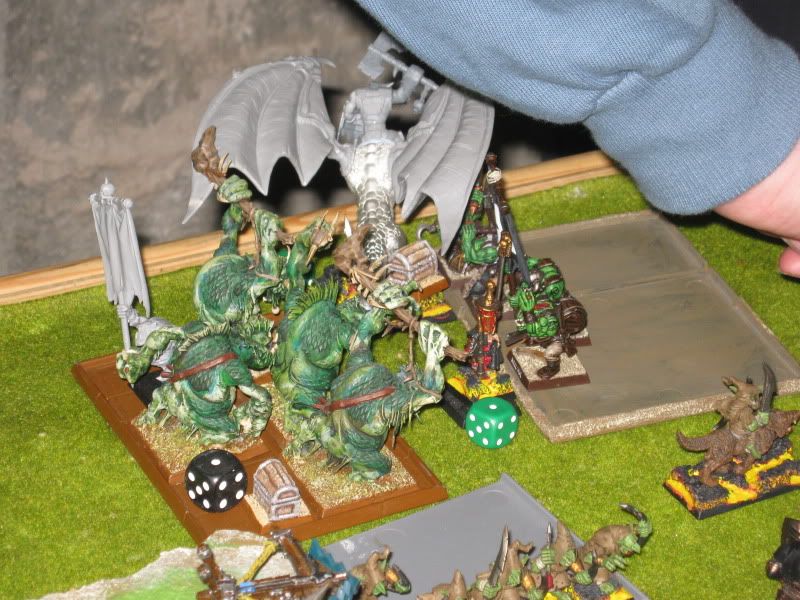 Interestingly it was also at this time that we cast out the savage ug! So he could throw his lot in with his former enemies and my former allies.
I send the hoard of orcs forward to assist in the battle but as we approach our enemies seem to be cast down before us. As much as I asked gork and mork for favours I couldn't grant the wings to our boyz to get into combat.
Charging through the woods Kurgan himself met Grotsmeg face to face and using the stolen human runefang, Kurgan wounded greatly the mightly warlord, but Grotsmegs armour kept him alive and the black orc swung out with his Great Axe and Kurgan was down and the rest of our entourage wiped out Kurgan's bodyguard.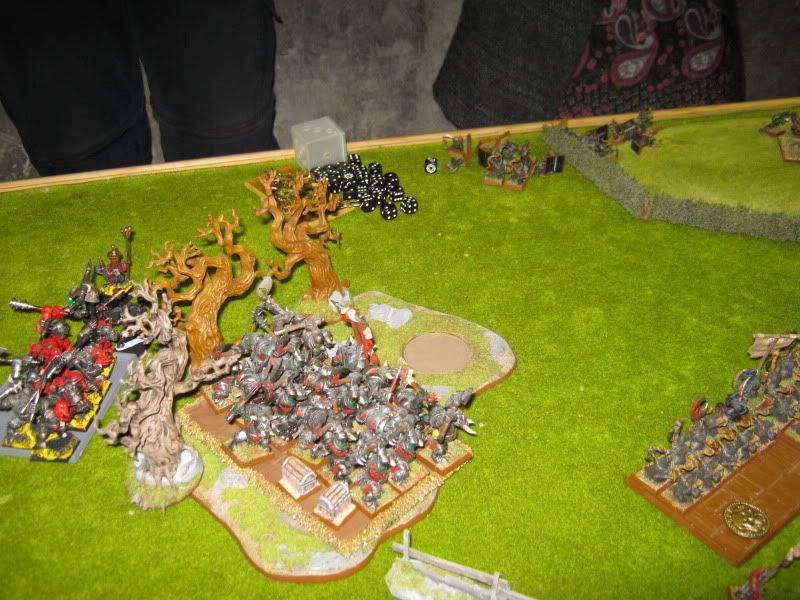 The green fields were ours and on the beach the turning of our new allies on the ugs! Laid those savages down and we were totally victorious,
Much of our army was still whole and we were pleased with the battle and our army alone had laid low three enemy hero's and the warlord Kurgan, we had proved to all present that we was the greatest warlord and they should all join our hoard, however Jimmee had managed to retain the treasure chest and glories would also be laid upon him.
Now what new battles will await us and what great and mighty challenges await. Whatever lies ahead Gorks wind of change will ensure that our armies will never see such a hoard as today and this was one of the greatest Waaaghs ever.