Title: This Looks Fun, Arrrr.
Description: Gonna Build me a Ship
Sir Cai Leonas - January 7, 2010 07:05 AM (GMT)
So anyone who's been around the animosity campaigns knows something about my Bretonnian Git self... they also know that sea battles have become a nice and large part of those Animosity campaigns. So I took a look at sea themed battles, some Man of War... and I have to say, Seahammer in its incarnations got my attention.

You gotta have a ship first...

My first thought was of course to do a Bretonnian Warship of some type... until I realized my hard core fluff self would have 8 kinds of fits about Bretonnians using cannon. In the midst of this Fluff impasse I realized that I had about 1,000 points of dwarves doing nothing but looking short next to my knights, and collecting dust.

Problem solved, bring on the guns, and the ALE!...

In doing the research for this project I got MOTIVATED to turn this into more than just a passing fancy average model, but to throw out the stops and have some serious fun.

I decided early on that I didn't want a Dwarven Ironclad... Steampunk rocks, but its really not my thing. So I focused upon early Renaissance style sailing ships and found a few designs I really liked.

But... what about the Fluff?

Simple... Ranger Ship. Ironclads are about a sea worthy as a cement block, and can't venture to far into trouble waters... besides they'd run out of fuel right quick... far better for the rust buckets to stay close to home and do their dirty work keeping the hold safe. Sailing ships however, have near infinite endurance, can get supplies just about anywhere in the old world, and repairing a wooden vessel is as easy as finding the nearest grove of tall trees and having a few axes about.

"Old Iron Amber" is thusly born...

The Cannon are ordered, the old dwarves dusted off, fresh cold beer opened, and my local supply shop is running low on balsa wood... Time to build.

Draig - January 7, 2010 01:44 PM (GMT)
Oh the AUDACITY! Can't wait to see this, it's a really nice idea. I'm guessing she'll be built for speed and a fast strike rather than the usual Dwarven approach. How big are you thinking?

Bretonnian ships are difficult, no doubt about it. Using cannon is wildly against WH fluff, like you say, but the Man O War ships have batteries of the things. Seahammer is a bit of a different beast though. I see it as a bit of a derivation from Warhammer in some ways. Yes it's the same world, but there are different rules. Lots of people here play Orc Pirates, with cannon, mainly as it's just pretty standard fare. Still, the Orc ships in Man O War have chukkas so it is doable.

I'm hoping to build one myself this year, based around a Man O War Hulk, but it's definately on the back burner until the army is done!
WarbossKurgan - January 7, 2010 04:39 PM (GMT)
A Dwarf Ranger sailing ship is a very interesting idea! I like your thought process here Sir Cai Leonas!

I'm really looking forward this following the project. :yarr!:
Viera - January 7, 2010 05:12 PM (GMT)
Sir Cai Leonas - January 7, 2010 08:05 PM (GMT)
I fear that my dwarf army doesn't have any slayers, though I may add a few as "marines" but first... before I start on crew, I need to see how the ship comes out.
Bretonnians and Cannon
The logic fail there is the fact that Bretonnia doesn't make cannon, they grudgingly make Trebs and even then its peasant built (quality you KNOW you can trust). The only major foundries in the old world that come to mind are the Empire's Engineer's guild, and the Dwarf Holds. To equip an entire fleet with cannon requires a serious investment, and to buy cannon from the empire or dwarves seems extraordinarily costly, and somehow I don't see either the Empire or Dwarves selling THAT many cannon to a major seaborne rival...
The orcs have that lovely characteristic of looting whatever is needed for their ships, and it makes perfect sense.
Bah with semantics, back to da SHIP!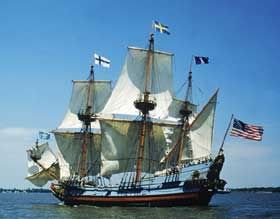 This Real life ship is called the Kalmar Nyckel, and she's a beauty. She has the lines I want. I managed to find a good rigging and side profile schematic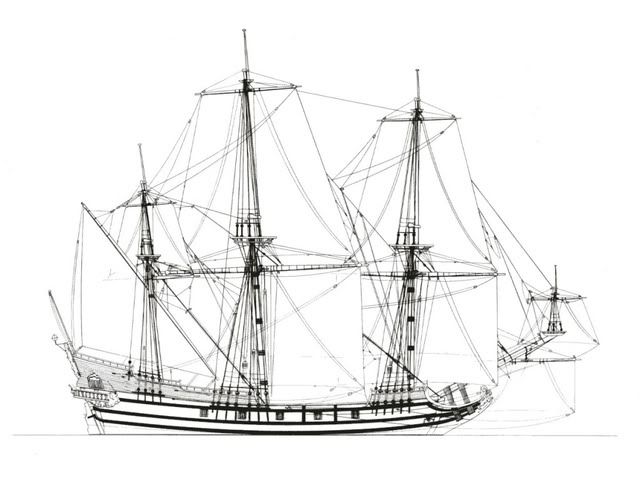 Now for the fun...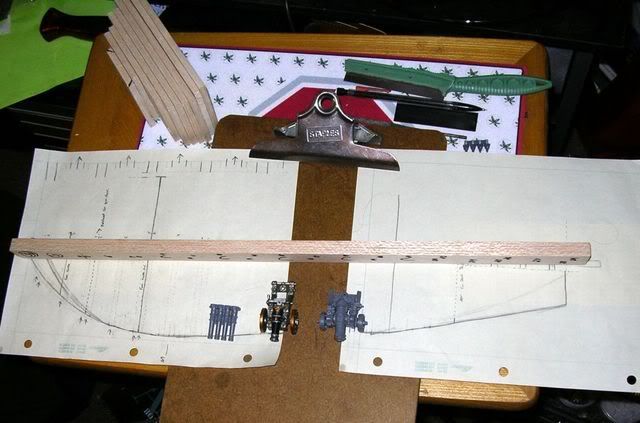 I sketched out a top view of the lines I wanted, taking into account the gun battery she would need, and the miniatures I would be using for her crew. It took a while to get the spacing right for the horizontal "rib" spars that I could slide cannon perfectly between main joists, and have enough to properly plank the hull.
She started off with a 17inch keel, and the keel you see laid down and marked off in the photo is 21 inches. I did lay in some fudge room on either end of the Keel to make sure I had plenty of room to work with. She'll prolly end up between 19-20 inches along the Keel.
The stack of wood in the top left are the first cut ribbing planks.
The thought was indeed to have her built for speed and firepower in the classic 1797 American Frigate mindset of "Outfight what you can't outrun and outrun what you can't outfight." But she's turning out to be more Ship of the Line than Super Frigate... not that I mind..
:yarr!:
Her main battery will consist of 10 cannon arranged in broadsides of 5. I found some of the Skull Pass dwarf cannon and crew on ebay that are the perfect look for a naval cannon, and a nice price.
Her secondary battery is still in flux, as I want to see how the lay of the ship starts to develop.
Some thoughts I had were :
1. Historical: Bow and Stern Chase cannon with a number of "swivel guns" possible a "long tom" pivot gun on the second deck behind the main-mast.
2. Dwarf war machine fun: Organ Guns.
3. Ranger Dwarf tactics; Blackpowder cannon makes a lot of noise... Bolt Throwers don't.
I have to say that I am leaning towards the Organ guns atm, they will fit better on the secondary deck and Forecastle, and can be obtained economically. Plus the new plastic models just look cool
WarbossKurgan - January 7, 2010 09:21 PM (GMT)
Whatever configuration of artillery you go for I would recommend having four or fewer pieces that can fire in any given direction. The weight of metal that too many guns can throw out will shorten games to a really disappointing and unsatisfying single broadside!

Even with this limit we have doubled the number of hull points listed in the General's Compendium rules in order to allow proper slugging matches and some boarding actions before a game ends!



Looking good so far though matey!
:yarr!:
Sir Cai Leonas - January 8, 2010 06:29 AM (GMT)
The Irony of this whole build comes now to the fact I was looking to build a mid-range ship, thinking that a 5 gun broadside would be "smaller"

It may actually work out better modeling wise if I make it a 4 gun broadside, means I can ensure she drops back to being a 17 inch keel.
Sir Cai Leonas - January 9, 2010 10:26 AM (GMT)
Everyone loves a picture
Final plans are drawn out, sparring is set, keel is locked in at a robust 17.5 inches, her beam is at 6.5 inches, which by one father Fernando Oliveira, (
http://nautarch.tamu.edu/shiplab/01George/Oliveira.htm
) is perfect for a ship of my size and in line with historical building practices.
The C's denote approximate Cannon Positions, the lovely Longbeard Champion (One of my few other fully painted models) is there for size comparison.
The fore and aft main posts are up, giving an approximate height for the forecastle, and aftcastle decks.
Further construction is on hold until the cannon arrive (got the notice they have been shipped out (hur hur hur) and will be here in 2-5 days). once they arrive I can gauge height for them and their crews so I know how tall... err..... short to cut the decks. Once I know that, I can start knocking down the spars.
I also took an inventory of my dwarf miniatures and decided I needed to augment for this build. I got a box of miners, as I really liked their accessories, their general armored look, and that they are ready to weild great weapons. Perfect Convert to Ranger Fodder in my book... I just forgot to get the green stuff I will need to make their helms more seaworthy (hur hur hur)
I also did some further reading into Dwarven Rangerdom and it struck me that a ship of this size could be a "mobile hold" for an entire small ranger clan. Which started giving me my first truely grand ideas for how to detail this thing, including a small forge and anvil (Anvil of doom set perhaps....) tucked away on one of the decks.
Viera - January 9, 2010 02:43 PM (GMT)
I can't wait to see this complete mate. Looks like it's going to be good! Let me know if you need any spare dwarf parts, I have a ton sitting around.
Arrgberg - January 9, 2010 10:20 PM (GMT)
Great thread Sir Cai! Glad to see another shipyard.

Which Seahammer rules set are you planning on using?

For ships of the size you are building I really like the General's Compendium (because I like big crews). Of course we upped the number of cannon available...

:yarr!:
Sir Cai Leonas - January 11, 2010 10:00 AM (GMT)
I am trying to get my hands on a G.C. to actually read the rules so described, but the prices out on Ebay are abit much, and I haven't finished scavenging the used book stores in town yet.

I am also waiting for the Warhammer Ahoy site to come back online. Truth be told, I am leaping before I look in this build and trusting to the fact that the ship I am building will be adaptable to whichever game system I do end up using.



Build news:

Cannon should arrive tomorrow. (Monday)

Frame spars are being built, two part process. Involving bending 1/4 inch square balsa wood to set curve and then gluing the curved timber to the framing spar. This adds both shape and superior strength to the sparring. (soon as I knock out a few more I will post a pic.)

I have only managed to super glue my fingers together twice so far!

fauthsie - January 11, 2010 05:07 PM (GMT)
Looks great mate. Can't wait to see how it progresses....
WarbossKurgan - January 11, 2010 07:48 PM (GMT)
QUOTE (Sir Cai Leonas @ Jan 11 2010, 10:00 AM)
Truth be told, I am leaping before I look in this build and trusting to the fact that the ship I am building will be adaptable to whichever game system I do end up using.

We've always tried to fit the rules to whatever ships people have built - after all it's a lot of investment of time and effort just to be told you have the wrong number of masts or something!

You can always leave a gun off or add a gun on deck to balance things out. :yarr!:
Draig - January 12, 2010 01:29 PM (GMT)
Just a thought, is it possible to pin, rather than glue, the masts? You could use heavy duty magnets and maybe make covers for the canon as well. That way the same ship can represent several different confugurations with a little swapping. Probably wouldn't work but my brain always suggests things like this!
WarbossKurgan - January 12, 2010 02:12 PM (GMT)
Not a bad thought actually Draig!

My masts (and Goomb's too I think) are removable - a length of plastic tube (just bigger than the mast dowling) fixed flush with the deck works quite well.
:yarr!:
Groznit Goregut - January 12, 2010 07:17 PM (GMT)
Wow! This is really cool. I did get a new playmobile ship for Orcmass that I need to convert. I need to really finish painting the Black Pearl that I have. Ugh. There is a GT coming up and I am not sure how much time I'll get for other projects.
Sir Cai Leonas - January 12, 2010 09:32 PM (GMT)
I have been giving thought to how I wanted to do my masts, considering that I am approaching the time that I need to lay down the foundation posts for them.

The pros and cons pretty much go down the line of:

Removable masts make for easy packing, travel, and help protect the model. Plus it allows for adaption, and mast replacement if need be.

Removable masts however, prevent a level of modeling detail from being done, as you cant have intricate rigging.

I don't think I am quite to the point where I am ready to commit to one way or another on my masts yet.


Guns however, are another thing... the main battery is pretty much fixed, because its placement determined how the internal spar structure was laid out. I could remove a gun, and close its gun port... but I can't add a gun on that deck. However, the secondary batteries are gonna be highly flexible and adaptable, since they are pretty much gonna be sitting on an open deck.

Picture update to come later today...

Sir Cai Leonas - January 13, 2010 06:16 AM (GMT)
I promised an update, and by god there shall be one!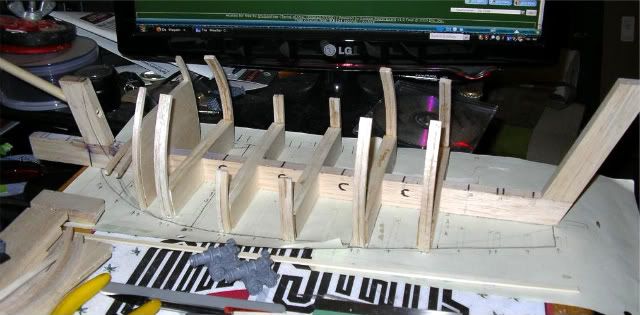 most of the main frame spars are up and ready, they are not yet glued to the Keel.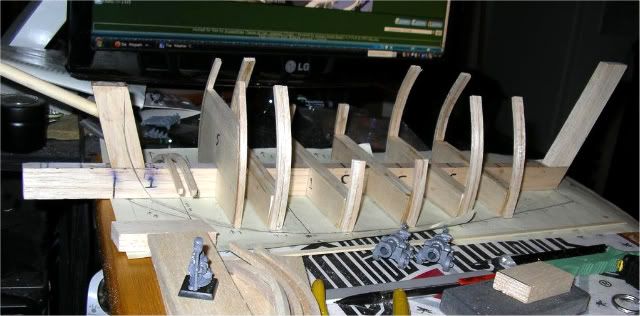 Preview of the Broadside Battery:
AUDACITY!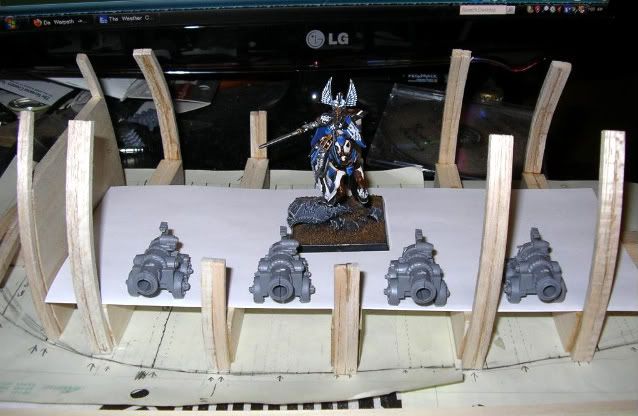 WarbossKurgan - January 13, 2010 09:41 AM (GMT)
Brilliant so far! Nice "tumblehome" going on in the hull shape. :yarr!:


QUOTE (Sir Cai Leonas @ Jan 12 2010, 09:32 PM)
Removable masts however, prevent a level of modeling detail from being done, as you cant have intricate rigging.

I recommend not having much in the way of rigging! It may look fantastic but it just gets in the way during games.
Draig - January 13, 2010 01:40 PM (GMT)
:D

Lovely to see someone going all out with the curves too. Often ships look nice but very straight and angular. Fantastic work Cai.
Viera - January 13, 2010 02:18 PM (GMT)
Oh wow, ok. This is fantastic! I agree with Draig, it's nice to see someone making a curved ship for once, oh the AUDACITY!
Skartooth The Third - January 16, 2010 07:28 AM (GMT)
Wow your making it like you would a real ship Thats Awesome :lol: . Good Luck with the rest mate. So far it look good :D

Skar (2c)
Sir Cai Leonas - January 17, 2010 09:27 AM (GMT)
I like my ships like I love my women.. Curvy.

Work is biting hard into my build time atm... but I have been working on planning out the details of the bow. I had left room on the keel for a possible ram, but I think at the end of the day, I will forgo it, and stick to a traditional sailing ship lay out. After all, she's not meant for ramming, but firepower.


Sir Cai Leonas - January 21, 2010 12:16 PM (GMT)
Few days off... so there has been some progress on the fine Iron Amber.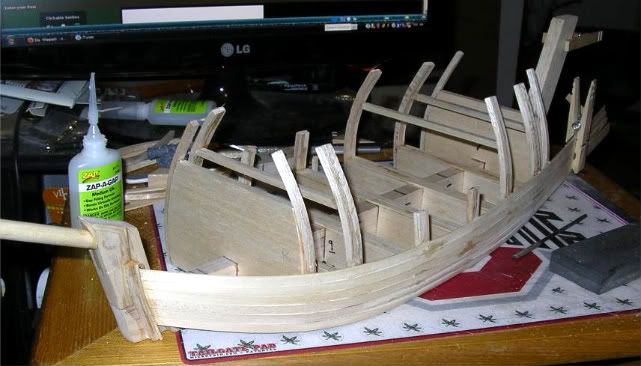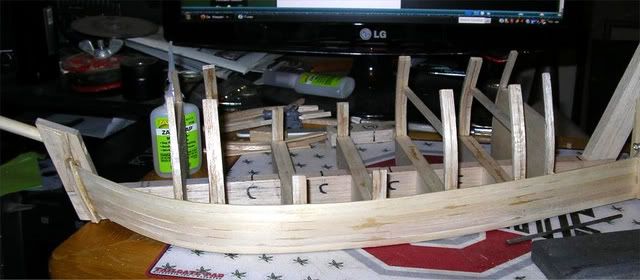 Port size planking is going up, starboard to follow soon, just the first six planks per side, mostly to get the final stern spars set and cut, and to work the bowsprint to its final form.
At this point in the build its no longer a matter of planning but one of "lets try this... " So far so good though. Only thing seems to be that some of the hull curve is being lost to the planking, but I figure with some sanding that the shape will be restored.
Viera - January 21, 2010 01:37 PM (GMT)
ooh, you're really motoring with this one! Do you have any idea's on a colour scheme yet? Going to darken the wood with wood stainer? Or are you waiting till the thing is built first.
Draig - January 21, 2010 01:43 PM (GMT)
The curving on the hull really seperates this from a lot of ships you see. She's looking sturdy and seriously nice as well. Damn well got me wanting to build one! This is going to be a monster when the sails and planking are down. Any plans to overly Rangerify it, or is it going to be pretty generic?
WarbossKurgan - January 21, 2010 02:38 PM (GMT)
Wow. This is looking so cool!! :yarr!:


QUOTE (Viera @ Jan 21 2010, 01:37 PM)
Do you have any idea's on a colour scheme yet? Going to darken the wood with wood stainer? Or are you waiting till the thing is built first.

I'd recommend a standard undercoat and paint rather than stain - any glue on the wood would stop the stain from soaking in.

Sir Cai Leonas - January 21, 2010 10:06 PM (GMT)
Color schemes and details..
Definitely gonna paint the hull, Was thinking a mix of off-white and Green as the main scheme. Alot of the details are prolly gonna be a mix of painted and stained. Figuring I would pre-stain the deck planks before I laid them down, considering how Sloppy I can be with glue.
The other major element will be the Copper Sheeting. A historical touch that fits perfectly in with the Dwarven theme. Hulls would be sheathed in copper to prevent a type of wood eating worm from infesting the ship, it would also prevent marine growth from building up on the hull and slowing down the ship. I figure I might extend the sheeting beyond just the waterline, and incorporate it through elements of the whole ship. But alot of this depends on how obnoxious the stuff is to work with...
As for ranger tricking out the ship... Oh it will be. I have a Reaper Dwarf Valkyrie (
http://www.chaosmailorder.com/products/Gwy...ie-2781-79.html
) on order to be the bow ornament, shields in the works (Thanks again Viera), and many other bits in route. Can't say for sure the final shape of things, but there will be no mistaking this thing for anything but a dwarf ship. I've also chosen to arm the upper decks with Bolt Throwers.
Sir Cai Leonas - January 23, 2010 11:24 AM (GMT)
Dueling Planks...
Sighting down the bow part 1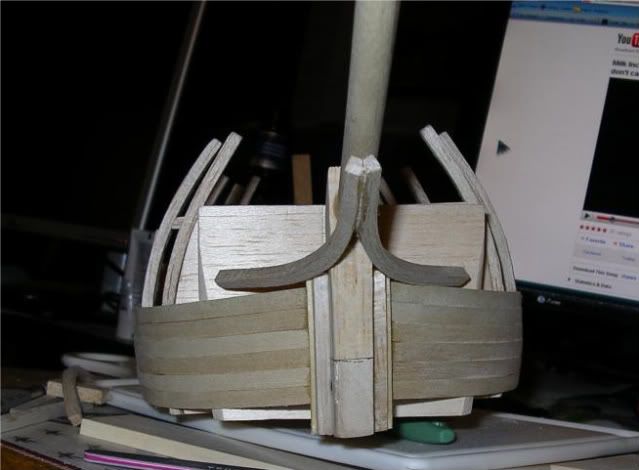 Sighting down the bow part 2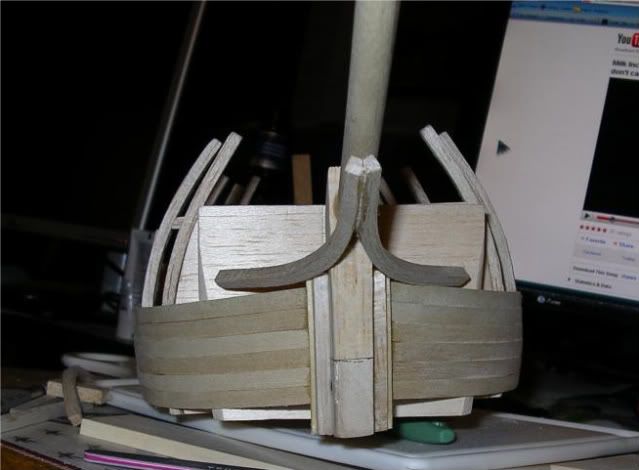 Bit of an action shot down the starboard line...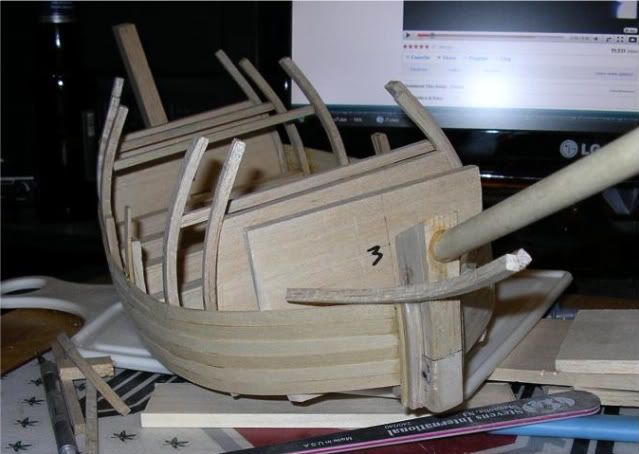 Top view of the work in progress, note the tear drop shape to the lines. Believe it or not, this is built to historically documented aspect ratios.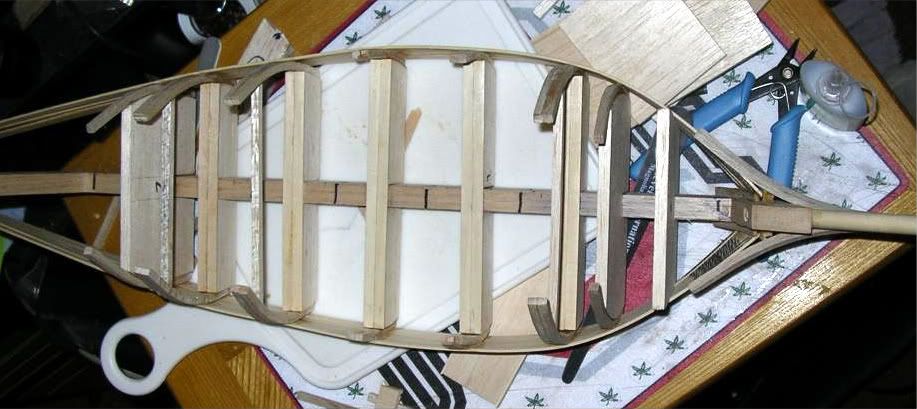 Close up of the port size planking after some decent sanding:
My wife saw the ship in this state, and put in Master and Commander... exclaiming "She must be Yankee built!"
Next step is to finalize the stern, and get the planking tacked down completely, then turn back to the bow.
jamaicanmole - January 28, 2010 03:03 AM (GMT)
This bat is simply amazing, well done!
Sir Cai Leonas - January 28, 2010 06:23 AM (GMT)
Update!
Assistance from the Cat on selection of building materials always helps.
I can't tell you all how many times I have glued a finger to this thing...
Top view of the gun deck, major planking is in and secured, now just detail stuff to do.
Close up view of the two cannon I have detailed some. There is a brass tube insert to make the cannon look more realistic, and give it a perfect bore look.
Behold!: removable masts. Brass piping allows for quick set and removal of both the bow sprint mast, and the main mast.
And finally: Look at the stern so far:
Viera - January 28, 2010 06:44 AM (GMT)
Goomb - January 28, 2010 07:03 PM (GMT)
WOW!

This is REALLY coming along and looking quite ship-shape. Cai, my friend, you are kicking some serious butt and taking names with this model. I am inspired and amazed.....

I will be sticking with foamboard for my ships, but wow.....that is stunning. I am loving this thread. This is all balsa, right?

Awesome work!

Goomb
Sir Cai Leonas - January 28, 2010 09:32 PM (GMT)
The Frame, and curved spars are balsa, while the planking on the sides and decking is bass wood (sold next to each other in my hobby shop).

the bass wood gives the whole ship a good durability and strength on areas I hesitate to use balsa wood simply because of the amount of wear and tear it would have to endure.


Goomb - January 29, 2010 10:42 PM (GMT)
I hear ya. Balsa is pretty fragile at certain thicknesses. Good work, man, keep it up.

Good grief, Cai, you are going to copper hull this bad boy? My Gork, you are ambitious!


Goomb
Sir Cai Leonas - January 30, 2010 09:08 AM (GMT)
QUOTE (Goomb @ Jan 29 2010, 10:42 PM)
Good grief, Cai, you are going to copper hull this bad boy?  My Gork, you are ambitious!


I am not ambitious, my good sir... I am in fact....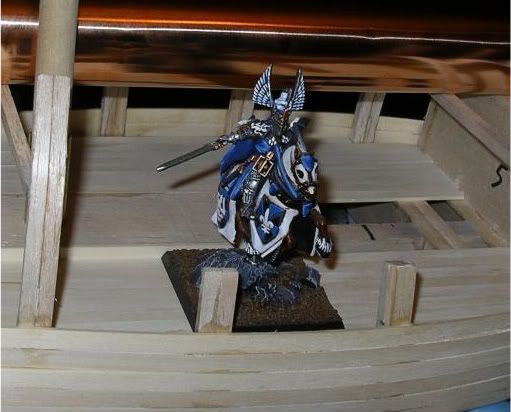 AUDACIOUS!
Roba-Fett - January 30, 2010 12:40 PM (GMT)
Thought this might spur you on, I've added this thread's link to my gaming blog :)
http://honestgamingprose.blogspot.com/2010...s-ship-for.html
Sir Cai Leonas - January 31, 2010 10:23 AM (GMT)
Wow, that's awesome. Thank you. Its definitely keeping my motivation through the roof for this build to have so many people interested in it.


Alas that I have to work damnable hours this week, or I would have something new by now to share. Days off are a bit away, so expected a pretty good update on or about weds.


In the meantime, if any of you have questions thus far on "how did you do that?" or "What's next?" or really any question... Fire away!
Sir Cai Leonas - February 4, 2010 11:40 AM (GMT)
Update, Feb 4th (I think... time is hazy right now)
I wasn't able to complete as much as I had hoped to. I really wanted to have the gunports boxed in by now, but alas... time and space were not kind to me.
Here is the view right now of the port side gun deck in the raw.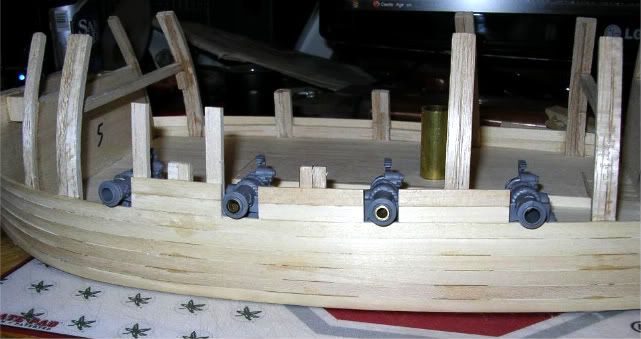 Same view, different photo... I couldn't decide which one was better looking
Looking down at the 98% completed gun deck planking. still a few small wedge bits to fit to the corners.
Detail of the gun ports in the raw, tried to show some of the detail work, camera isn't as co-operative as I hoped..
Looking down the deck, a good shot that does show some of the detailing. Look especially to where the deck meets the sides of the hull. I sanded to glove fit deck planks to match the curve of the hull, then laid down the reinforcement beams.
a good shot.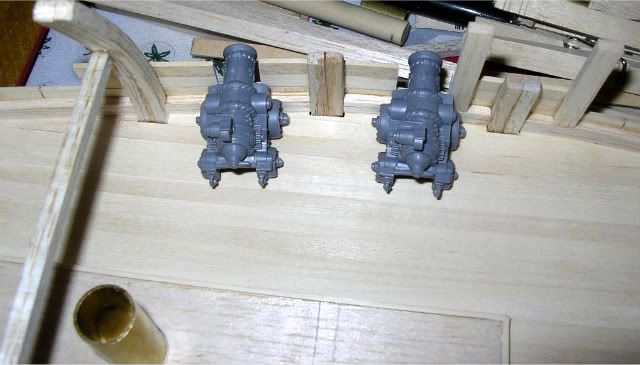 Very Raw look at work in progress on the Bow. Sparring to support the hull planks in place and reinforced, augments to the prow set... it will look alot nicer once the hull planks are laid.
So that's where I'm at right now. Enjoy, I know I am.
WarbossKurgan - February 4, 2010 01:28 PM (GMT)
QUOTE (Sir Cai Leonas @ Feb 4 2010, 11:40 AM)
So that's where I'm at right now. Enjoy, I know I am.

:wub: :wub: :wub: :wub: :wub:
:yarr!: :yarr!: :yarr!: :yarr!: :yarr!:

That about sums it up for me!