Title: The Seal Of Sigmund
Description: Flame On campaigning in Vercuso
WarbossKurgan - February 11, 2009 12:31 PM (GMT)
Yes it's true! The Flame On forum ran aground, broke a mast and burned to the water-line.
But we are back like a Phoenix from the flames, and setting sail for Sartosa once again. Andy (Formerly Known as "Sizzling Gromril") is in the GM's seat this time so the weekly reports and summaries are bound to make great reading!
Pull up a chair mates!

QUOTE ("Andy")
The Seal of Sigmund - Week One

Okay. Since some of you slippery rubberneckers are crossing swords tomorrow we might as well get the ball rolling.

The setting is Vercuso, but not as we know it. It's 2459, fifty years before all that malarky with Nethrag and his scurvy-ridden lot. Nobody on the island has ever heard of a 'beastman', but that still doesn't mean everyone's getting on. Pirates are just as much a nuisance, sea monsters are still lurking in the salty depths and the place is still a dump. And now, to make it worse, a shiny new artifact has turned up on our fair shores.

Over the coming weeks, eight of them to be precise, there'll be fights, big fights and even bigger fights. Alliances will be forged, then broken, then forged again. Heroes will rise and fall, and if there's an undead warband taking part, they might rise again.

The aim is simple: have fun, weave some grand tales, model some groovy conversions and lay down your smack. But also, as purpose and direction seem to be in fashion, we'll set an overall goal for the campaign. The Seal of Sigmund - whoever has possession of it at the end of the eight weeks will be the grand winner. Of course we'll have to make up some sweet scenarios and crazy rules for aquiring it, as it might get a bit stagnant if we sit around waiting for someone to roll 10+ on the Seal Table.

So get out there, grab the nearest fishwife, and carve a name for yourself in the crumbling ruins of Vercuso. And don't forget to get your buckles swashed before you do.



The Seal of Sigmund was glimmering now, radiating brilliant light between the bloodstained fingers that gripped it.

"You'll never get the seal" barked Kasper van Dandt. He staggered back against the wall, left hand pressed against his opened side, gore streaming over the holy relic. A bent sword quivered in his right. The ghoulish figure in the shadows gurgled.

"Look at yourself, boy. Mortally wounded, struggling to stand up. You can't even hold your sword. You overestimate yourself".

In quick response, Kasper's blade flashed out. One of the necromancer's fiends sagged back, head bouncing wildly across the stone tiles of the hall, cracking as it went. Still more rotted guardsmen shuffled forward.

The brave captain was at the window now. His skin was pale and gangrened, his eyes puckered and brown. The sorcerer's foul arts were ravaging his flesh. Another monstrous creature lurched at him and he lunged out. His longsword cut into its putrid stomach and the innards sloshed out like pig slop.

Then Kasper felt his mouth go instantly dry and his tongue lolled out, stretched beyond any sane size, and detached itself. It hit the floor with a wet slap. His clumsy screams came out like a madman's dirge.

"Give me the Seal" hissed the shrivelled old thing in the shadows. "I will spare you a long death".

Kasper's sword clattered to the floor, his palsied fingers no longer able to clasp it. He considered the shambling cadavers trudging his way, and the hideous conjurer deep in the darkness. The Seal of Sigmund must never be taken, quoth his father upon his death bed. And so, as his wrecked flesh dribbled from his bones, he flung himself, seal and all, through the window, into the blasted landscape below.



QUOTE
The Seal Table

At the end of each game, instead of sending a hero to search for Wyrdstone you can send him to look for the Seal of Sigmund. Roll 3d6. If you roll a double, you may roll another 2d6 and consult the Seal Table.

2 – Aah, Zombies!: Uh-oh. Looks like you've stumbled across a cluster of the shambling dead. This doesn't look like it's going to end well. Take an Initiative test to see if you've got the cat-like reflexes needed to escape the horde. If not, the warrior misses his next game.

3 – Dead Body: Don't worry, this one has no head, or at least some other debilitating wound that'll stop it getting up and biting you. Unfortunately, it also doesn't have much money on it. You find d6 gold coins.

4 – Search Party: You're not the only one looking for the Seal. One of the necromancer's scavenger teams staggers across your path. It's okay, they haven't seen you, but one of them seems to be carrying a map of sorts. The warrior can flee, or he can charge the zombies to try and get the map. If so, there are d6 of the rotten sods. As they are so slow the warrior attacks first in every turn of combat against each zombie. If he can kill all of them he finds the map, which allows him or any member of his warband to roll an extra dice when testing whether he can search for the Seal next time. So instead of 3d6, he'd roll 4d6. Also, no xp is gained from slaughtering zombies.

5 – Creeping Fiend: You've perhaps travelled too deep into a cave or ruined house, and whatever is in there doesn't seem to like visitors. Fight a close combat against the creeping fiend, rolling to decide who charges. The fiend has the same statline as a Possessed. Roll on the serious injuries table as appropriate, treating the dead and captured results as a full recovery. Luckily for you the monster isn't hungry or in the mood for company.

6 – Weapon Cache: It looks like some arms dealers have been using this place as a cache. You find d6 daggers and d3 swords automatically. On a 4+ you find d3 bows and on a 4+ you find one suit of light armour. Nice.

7 – Storm: While you were searching a heavy tempest descended on the island. You'll have to stay where you are and ride it out. The warrior misses his next game unless he can pass a strength test and push his way through the howling winds.

8 – Ghost: Spectres, phantasms, disembodied souls. Call them what you want, just not to their face because there's one standing over there. Take a leadership test or miss your next game due to crippling fear.

9 – Nothing: You've found the most common thing on the island – debris. It's worthless.

10+ – The Seal of Sigmund: You've found it. It's the relic that thousands of men have died for. The van Dandt family died defending it, and now it's fallen into your lap. You may give it to any hero in your warband. For as long as he has the Seal, he may use prayers of Sigmar and can choose to add prayers in place of skills, in the same way as a warrior priest or matriarch. When receiving the Seal, the hero is assigned one random prayer. If the hero is evil, the Seal corrupts at his very touch, blackening in the palm of his hand. The hero may use Chaos rituals and can choose to add rituals in place of skills, in the same way as a possessed magister . When receiving the Seal, the hero is assigned one random ritual. The hero also gains +1 strength, +1 initiative, +1 weapon skill and +1 leadership. However, if the hero is taken out of action, roll a dice at the end of the game. On a 3+, the Seal is lost, and again falls into the ruins, to be found by another eager adventurer.



Right guys. This is the first campaign I've tried to organise, so it's probably going to be filled with inconsistencies, plot holes and general bad things. Any help or feedback is greatly appreciated. I don't want to be the Grand Overlord of the campaign, where what I say is taken as law. It's all about the players; so if people don't agree with the direction this thing is going, then please don't hesitate to put me in my place. Thanks a bunch, and have fun.
WarbossKurgan - February 11, 2009 12:32 PM (GMT)
QUOTE ("Godfather Viktor")
Da Skullbashas (mis)adventures in Vercus

First thing first: the warband

Uglhog 'eadkraka (Boss): sword, shield
Gormug, Voiz o' Mork (Shaman): axe
Oggut Bonemangla (Big 'un): axe, shield
Skar Maddog (Big 'un): axe, sword
Da Stinky Gitz (3 Boyz): bows
Da Sneaky Stikkas (5 Goblins): spears, shields

Band members: 12 [b=red]Starting WBR[/b]: 120

And now, some fluff! (Bear with me, it's not that easy writing fluff in a language that's not your native one! ;))

On a ramshackle encampment hidden on the southern heights of Sartosa, Oggut was bored, so he was bending over a gobbo. Suddenly green flashes blew off the shaman's hut from the inside.

Dat'z goin' be truble! Oggut thought, releasing the panting gobbo's neck.
Gormug was floating in the air, yellow sparkles  and burned wood shards scattering all around.

"Me, da Voiz o' Mork, iz speakin'! Da most 'itty trinket iz kloze! Ya must grab it, Uglhog!"

Da Boss stared at the shaman. He'z skared, bad, bad fin'. Oggut couldn't figure what will come next, but he didn't expect anything good.

"Da piratez, dey knows!" barked the floating shaman.

"Ya 'eard da shaman, ladz!" roared Uglhog finding his guts again "We'z gonna bash zum oomiez 'till dey tellz where da trinket iz! Verkuzow, 'ere we come!".

A mighty Waaagh! erupted from the boyz' throats, sending Gormug spinning all around to set on fire the surrounding trees.

Bashin' oomiez, dat'z good! Oggut thought, enthusiastically running behind da Boss.
Yet, the flashes cracking from da Shaman's head still worried him.
Dey ain't no rite! Dere'z gonna be truble…

*****

Couple of days later Da Skullbashas, as da Boss had named them, were searching for loot around Vercuso docks.
No oomie knew anything worth about da trinket, but there where good fights in town, as good as brawling with the red haired stunties up in the mountains, so they stayed there.

Oggut was bashing some old caskets in a crumbling building when a gust of chilled air forced him to turn. A strange, big and scary oomie was running toward him. Long, blood dropping fangs jutted out from his mouth. The thing smashed Oggut against a wall and kept running ahead.

When the big 'un come back to consciousness there were spooky oomies all around. A pack of them was pushing da Shaman into the dirty harbour waters. Up on a walkway the big scary 'un and another pack of spooky oomies were munching the bones of one of the stinky gitz, their arrer boyz. A couple of hunchbacks just kicked another stinky git down a roof top, while an old oomie was clubbing the senseless body of the last one.

Oggut saw Uglhog at the bottom of a staircase leading to da big scary oomie. He was looking around in fear.

"Damn gobboz!" Uglhog shouted out "They'z never 'round when ya needz 'em! They needz teachin' a lesson! Let'z go, ladz!" and quickly packed away.
Oggut dragged himself on the ground, following in the trail of his boss and away from da spooky oomies.

Me knew dere'z truble inna 'ere!

And so, after been ambushed by Dave's Undead :o I've lost one of the Stinky Gitz :(, earned a single piece of loot and gained an advancement for Gormug (+1WS) :).
New situation, then:
Members: 11 New WBR: 126

All in all, a great lunchbreak! :cool:
Could'nt wait for next one! :D
WarbossKurgan - February 11, 2009 12:33 PM (GMT)
QUOTE ("Davespaceman")
Vampire Raziel

Couldn't sleep so got to writing some fluff for the undead warband not sure how good it is as it's now 4 am so I'll let you have a read and you can let me know what you think.

He had a life before but it is of little consequence as the day he was turned from the light is when his real life began.


Raphael was a tall and handsome as was Dumah for many a lifetime these two companions wandered the world learning what they could of the arts, the cultures and the women of the old world.

When they would arrive in a new town late of an evening or on a misty day dressed in the finest clothes they would soon become well known even liked by those they met for they had a way about them that was alluring to both men and women they had no trouble being invited in to the houses and mansions of the townsfolk to tell tales of the sights they'd seen or merely to share an ale and their charm was the undoing of many a young woman's virtue but lusts of the flesh rarely held more than a passing distraction to the two as they were only truly satisfied by blood for they had forgone mortal life long ago and blood was their desire , their life. So although they were welcomed most places they visited the trail of death that accompanied them soon forced them to move on.

Of course sometimes they spent too long in one place and became hunted fortunately their blood lust had given them strength and skill to deal with most problems be it pitchfork wielding villagers or crusading witch hunters they never seemed to come away with more than a few minor wounds which healed in no time due to their dark gift.

As the years passed the two became stronger one would develop an ability usually soon followed by the other but after time it seemed that Raphael was always the first and the gap between his change and Dumahs' grew ever longer.

Some time in to their third century of travel they were aboard a ship returning from Cathay when the sailors became nervy and huddled together away from the passengers whispering to each other. When questioned they revealed there had been a corpse found below deck mutilated like he'd been set upon by a pack of animals this perplexed the two as they were always careful when feeding on voyages as there was no where to escape should the heavily armed vast numbers of sailors become suspicious. The two requested to the captain could they question the crew and passengers feigning they had some history of upholding law he agreed what more could he do there was a murderer or murderers on board and he was a sailor not an inquisitor.

They questioned the crew and the passengers a scurvy disreputable bunch they were but none seemed to be touched by the dark like the two. It was later in the evening when Raphael went to the cabin of a young lady Named Helena after questioning her menservants he was allowed in to her room. instantly he could feel it he could smell it, it was feint and had been cleaned well but he could smell it the unmistakeable aroma of blood their eyes met without words each knew the other they discussed the situation and agreed to blame one of the other passengers. They went to his room where they slaughtered and fed upon his room mate in an orgy of blood and sex they returned to her cabin and cleaned themselves they then reported to the captain their findings and the poor "murderer" was thrown overboard and they continued on their way.

By the time the ship arrived in dock Helena and Raphael were in love Dumah had become distant it would seem he was uncomfortable with sharing his companion with another the three now travelled as lords as Helena was rich and had many servants all vying for her attention to be bestowed with the gift. They settled in a land whose name and location is long forgotten to this author. They had money power and now vast lands over which to rule. This held little interest for Raphael he wished only to relax and enjoy himself but Dumah basked in it becoming ever more obsessed with power shutting himself off from his companion He now had a counsel of men all skilled in black magic all now closer to him than Raphael. Raphael began to worry for his friend for when ever he went to see him he was always turned away by one of his counsel. Even when Helena left leaving only a note of farewell his friend would still not see him.

After many years of this he could take it no longer he burst in to his chambers to find Dumah surrounded by hundreds of men chanting and in the middle with Dumah upon an alter was Helena she was chained, gagged and impaled upon it. Furious Raphael tore through the men; their resistance was no match for his strength and rage. He fought his way to the centre where he stood face to face with Dumah. Whereupon he was hit with a mighty blow which sent him across the room as he recovered he saw Dumah coming towards him. Raphael had always been the stronger of the two but it seemed this was no longer the case.

It seemed Dumah had also loved Helena and when he could not have her he plotted with his men to make her love him. He took her and kept her prisoner as he could not allow her to be with Raphael as due to his greater evolution in to vampirism he had grown to hate him.

Raphael rose to his feet and fought back the battle went for days but Dumah was energised by his men Raphael was alone and broken hearted by Dumahs' betrayal. By the end of the fifth day Raphael stood over a beaten and bloodied Dumah he raised his hand to deliver the final blow when he saw his companions face and instead reached out to him as he pulled him up and held him he felt the sharp pain of a blade enter his side. He had been stabbed before but this was different he felt an energy surge through him then a coldness he fell to the floor, his body spasm out of control, As he lay there he saw his hands change to claws he felt his body change his thoughts began to slow his life his love all fading from his memory.

His body was cast out upon the steps and the doors closed on him.


He fled his mind now little more than that of an animal.

Centuries passed….

A few years ago he was found by a powerful necromancer feeding on animals and dregs. The necromancer sensing the power within him took him in and gave him shelter using his knowledge he restored some of his mind he knows none of his past life but for two things. He was wronged and the name Dumah.



So now till the necromancer has the power to restore his memory fully the beast that he has become searches for anything to help him remember his past

That is the history of the Vampire now known as Raziel.
WarbossKurgan - February 11, 2009 12:34 PM (GMT)
Kommodore Deffgit and The Seal of Sigmund
The
Hopeless Anchor
inn, Vercuso, Sartosa.
An elderly, one-eyed, bearded Orc pirate looked wistfully down into his empty grog-glass and sighed. He had run out of drink and run out of gold. There was only one thing for it…
"Gather round mates, and I'll tell ye a tale of days gone by." said Kommodore Deffgit in a louder-than-absolutely-necessary voice.
The assembled Orc and Goblin pirates looked up and started to move chairs and stools closer to the smoky fire. The Kommodore gave a significant glance at his glass and the nearest Goblin rolled his eyes but stuffed a hand in his pocket: he knew how this worked. A drink was ordered for the old Orc and the crowd settled down to listen.
Deffgit took a sip of grog and leaned back in his chair.
"This was back in the days before them beasts came to the island," he began "back when the air was cleaner and the merchant ships were heavy with loot and ripe for plunderin'. They was heady days back then but deadly too; a crew'd follow their cap'n into the jaws of a squig-whale if'n they thought there was loot in it's belly. But their wasn't so much unity between the pirates here-abouts: There wasn't no common enemy y'see?"
The crowd nodded to each other sagely.
"There was always a rivalry between the various cap'ns – whether it was for the best prizes when afloat, or the best drinkin' hole ashore – but it came to a head back when some fool said he lost a magical hoo-jib in Vercuso at the end of the winter of 2459. Nigh-on fifty years ago! There was mayhem for a couple o'months while crews from all over the island, and further afield, came here lookin' for it and the promise of power it held."
Deffgit paused for a while, lit a pipe, and stared into the middle distance. After a few minutes the crowd began to shuffle and cough impatiently and the Kommodore seemed to remember where he was. He cleared his throat and continued.
"It was about this time when the crew of the
Ogresun
, the old Ogresun you understand – not the slab-sided gunboat you all know now but me first ship. Ah, she was a weatherly craft and no mistake. Trim lines, sharp sailing and solid built too…"
At this point Deffgit rambled on for half an hour about the sailing qualities and speed of his old command before he was steered back on course by the persistent questioning of three Goblins and the purchase of another glass of grog.
"Aarr, it was about this time when the crew of the old Ogresun were searching the ruins around Southgate, near where the river comes through the old town walls, and we stumbled upon a bunch o'them wretched Halflings,
Cormorant Rams-Eye
's lot I think, they was robbing the empty houses by the river while we was securing the vacant properties by the wall."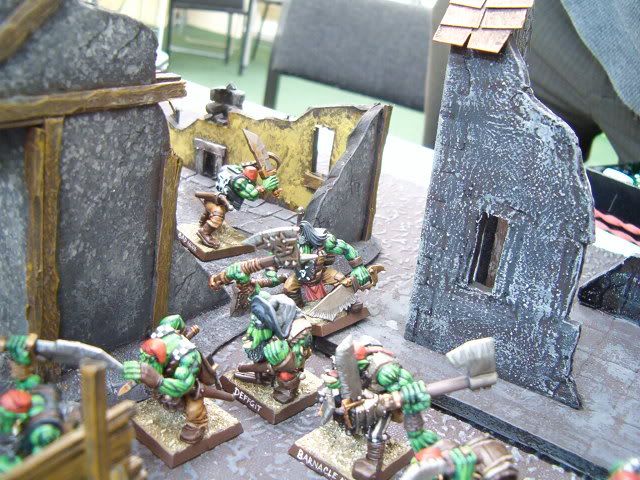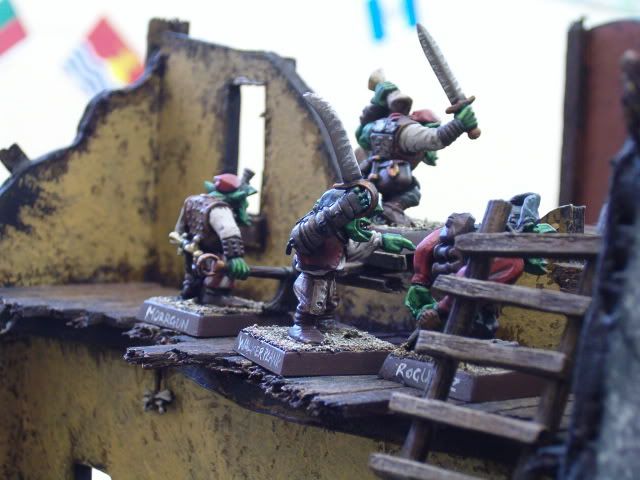 "We had gone though most of the houses on our side when the miserable little gitz spotted us and started running. We hadn't any firearms with us so we relied on Hogbreff to throw firey death at them. As usual the death was somewhat lackin' from his fiery throwings." Deffgit chuckled "No offence Hogbreff!" in an aside. Hogbreff held up his mug and wobbled a bit to show none was taken.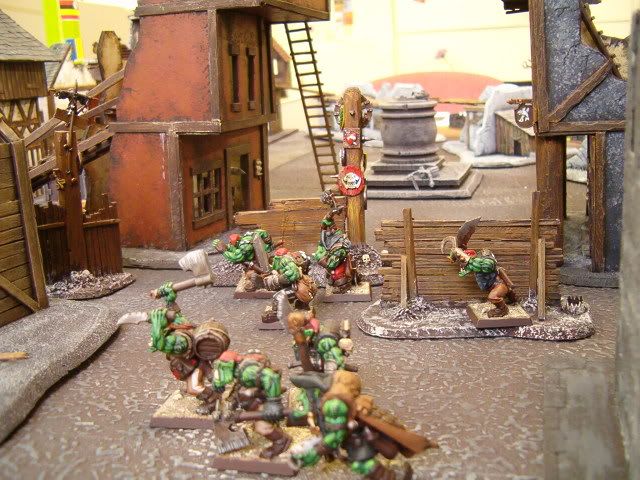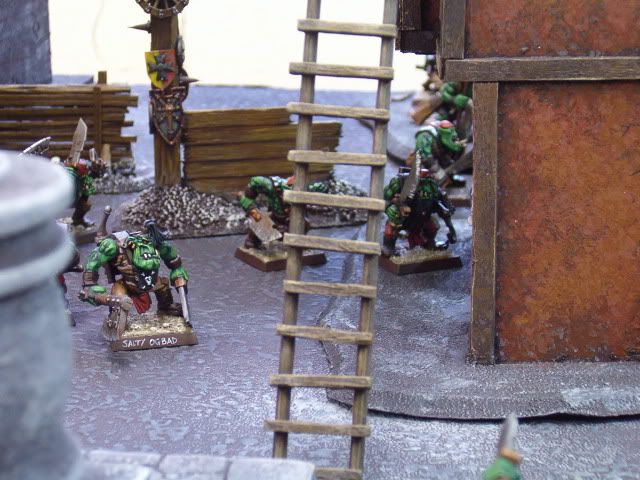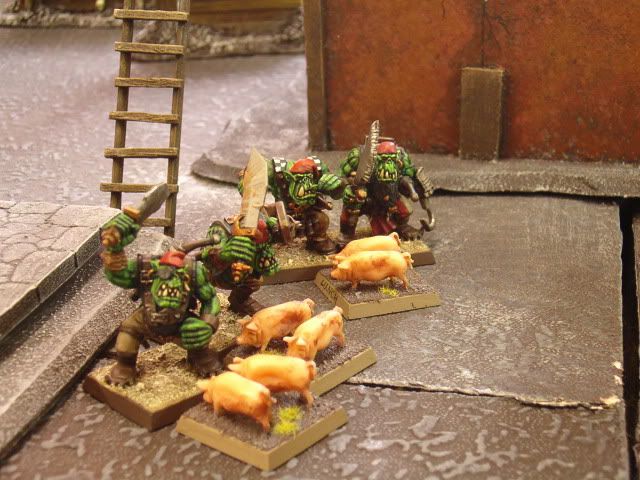 The Kommodore went on "As usual it was their vicious pigs what did most harm. Fishgutz got a nasty bite on the leg which took an age to heal proper. They had a small chest with 'em and they seemed keen to be keepin' it from us. While they was fleein' they was chatterin' and swearin' about this magical wassname – which was the first we'd heard about the damned thing mind. We'll that started a chain of events… which I'll tell ye about tomorrow."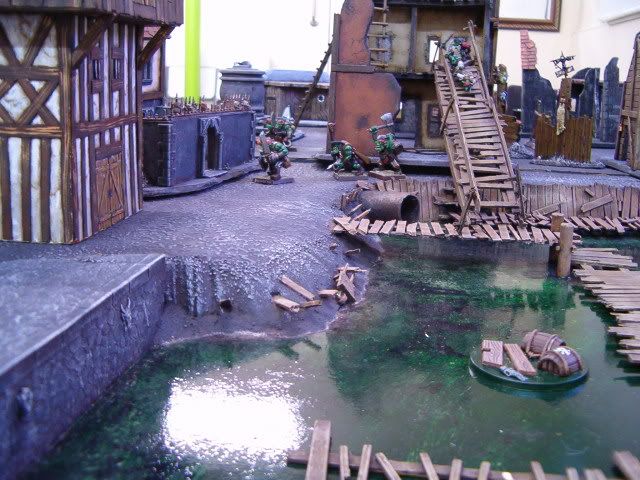 Deffgit finished his drink and left his audience wanting to buy him more. He grinned as he climbed the stairs to his room: tomorrows drinks would pay for themselves, and maybe the rest of the week if he could string out the tale of the Seal of Sigmund for long enough!
Goomb - February 11, 2009 05:43 PM (GMT)
YAR! :yarr!:

Looks great, guys! My compliements to the Flame On! gamers. Great stuff. So, as I read over the posts, I have a couple of comments:

Davespaceman's Raziel story was interesting, but I was shocked by the length of some of his sentences. Stunning and amazing sentences, to be exact. Check this one out:


QUOTE
When they would arrive in a new town late of an evening or on a misty day dressed in the finest clothes they would soon become well known even liked by those they met for they had a way about them that was alluring to both men and women they had no trouble being invited in to the houses and mansions of the townsfolk to tell tales of the sights they'd seen or merely to share an ale and their charm was the undoing of many a young woman's virtue but lusts of the flesh rarely held more than a passing distraction to the two as they were only truly satisfied by blood for they had forgone mortal life long ago and blood was their desire , their life.


I had to stop and take a couple breaths to read it! Davespaceman would benefit from a few periods, and it would not take away from his story.

Godfather Viktor did a good job. Not too many comments there, although it looks like he got pummeled by dead uns. Good to see another greenskin player in there.

Now, the last question/comment I had was: did you win, WBK? Seemed like it from the text, but I wasn't quite sure. Looking over the gits in the photos, looks like there are some new ones in there. They look great!

Can't wait for the next update.

Goomb
Arrgberg - February 11, 2009 07:59 PM (GMT)
I asked the same thing on another forum...
:unsure:

I'll not spoil his reply here though...
:o
Warboss Dragoneye - February 11, 2009 11:52 PM (GMT)
'tis a fine tale, Kap'n! I love the great scenery you always have for these.

A quick rules question-did Andy remove the option of searching for warpstone entirely, or can you just not look for the seal with the same hero? Resupplying could be tricky if it's the former...
WarbossKurgan - February 12, 2009 09:17 AM (GMT)
QUOTE (Goomb @ Feb 11 2009, 05:43 PM)
Now, the last question/comment I had was: did you win, WBK?  Seemed like it from the text, but I wasn't quite sure.

Here's the answer I gave Arrgberg on Tom's forum:


QUOTE ("WarbossKurgan")

You don't think Deffgit is going to tell a pub full of pirates that the Hobbits won do you?!   :yarr!:

To be honest the game was fun but rather light on action! We searched all but two building, then we knew that whoever searched their nearest building next would loose (as the last un-searched building automatically has the loot) so Phil chose to wait and watch me roll. I rolled, didn't find it, and he grabbed the chest and ran. The Pigs vs. Fishgutz fight was pretty much the only thing that happened!
:lol:
QUOTE (Warboss Dragoneye @ Feb 11 2009, 11:52 PM)
A quick rules question-did Andy remove the option of searching for warpstone entirely, or can you just not look for the seal with the same hero? Resupplying could be tricky if it's the former...

Yeah, the single hero that searches for the Seal can't look for wyrdstone. The rest of your heroes still can.

Godfather Viktor is from the "Real World Equivalent" of Sartosa (Sicily), so he's in character all the time!
WarbossKurgan - February 16, 2009 10:09 AM (GMT)
QUOTE ("Andy")
The Slippery Fishwife - Issue One


Welcome, dear readers, to the inaugural issue of The Slippery Fishwife, your soon to be one-stop-shop for all information, rumours and secrets around Vercuso. We're hoping to succeed in a market where others have failed; others such as Treasures and Tentacles, Mad Mango's Briny Broadsheet and The Slippery Jack Appreciation Society's Weekly Newsletter.

Strange figures have been seen lurking in the alleys and sewers of our pleasant town. Some witnesses report rotted faces behind tattered hoods, bones jutting from battered armour and of grinning skulls in the night. Others speak of strange creatures loping across the sands of Dead Ship Bay, of fleeting shapes in the periphery of their vision. Most reports are unfounded, coming from crackpots and vagrants, but one or two tales have been told by respectable members of the public.

The town magistrate, the notable Viktor Bansant, talked of his startling encounter with a heinous beast in the twilight hours. He spoke of noises in his house, and of investigating them, sabre in hand ready to fight off what he assumed to be a cat burglar. He called to the raider, and when it turned, Bansant tells of its grotesque features, its distorted face, haired body and apish limbs. He screamed and the thing retreated into the street.

Some say these ghoulish happenings are connected with the rumour that the Seal of Sigmund has landed upon our shores, but only the gullible and the foolish believe it is actually here. We encourage any dimwits to cease such talk, as it tends to attract unwanted guests.

And speaking of unwanted guests, fame-hungry warbands are already turning up on our vibrant shores, stalking silently up the docks in the night or announcing their arrival with as much fanfare as is affordable. These incalculable rogues are already causing havoc, and numerous skirmishes have been reported in the streets. A little fat halfling named Cormorant and his cadre of little fat troublemakers allegedly launched an unprovoked attack on a band of wandering greenskins. The area of Southgate was left in a mess, more so due to the after-fight outburst of the greenskin's deaf captain than from any inter-gang violence.

A local shopkeeper had this to say: "Bloody ingrates. I've had this net shop for longer than I can remember, and now it's trashed. If I don't see that Deffgit for another fifty years I'll be a very happy man!"

There is no end to the violence. Another brawl broke out around the harbour. The gentleman scholar Raziel was unlawfully assaulted by a feckless mob of brutish orcs. The poor fellow was minding his own business when he and his retinue were jumped. Such disregard for order is an atrocious affront to all this newspaper stands for and must not be tolerated. We are legally obliged to tell you that some rabies-ridden, pox flustered, syphilitic imbeciles have speculated that Raziel may be a vampire or a werewolf. But these are merely ravings that do nothing but despoil his aristocratic name.

So, dear readers, until next issue we can only say this: Stay safe, stay indoors, and avoid these inbred so-called 'adventurers' like the plague; knowing them they probably carry it. After all, we have no idea what disease choked wasteland they're coming from.



WarbossKurgan - February 17, 2009 09:26 AM (GMT)
Da Skullbashas (mis)adventures in Vercuso


QUOTE ("Godfather Viktor")
Bad luck, bad luck and more bad luck! That was all da shaman's vision had brought him so far. Yet Uglhog was too scared of the worse luck that can be brought by not listening at da shaman's words.
The brawl with the spookiez had had a horrible effect on the ladz, especially since Oggut didn't stop groaning about the troubles they were having in Vercuso. Even the lesson on the gobos didn't help cheering 'em up.

Maybe the loot carried by that bunch of oomies, da expendable somefin' were they called, would do. So he bellowed to advance, and rushed ahead of the ladz, just to notice they were not the only ones after da oomies' loot.

Bad luck, bad luck and more bad luck! And so thinking Uglhog spit toward each of the others band encroaching toward the oomiez. A group of fatty lit'l 'uns was taking position on a high building on his left, while a pig herd was rushing towards his gang. He'd heard bad stories 'bout those pigs and the fatty 'uns from Deffgit, dat untrustworthy sea scum.

In front of them, past the oomiez, some skinniez were approaching. On the other side a bunch of shambling figures was emerging from the darkness.

Suddenly three oomiez charged the Sneaky Stikkas, calling on their god, while the rest of them turned toward the skinniez.
The gobbos ganged against the yelling madmen, just able to halt them.

Gormug and Skar passed him, ready to stomp onto two more oomiez shooting at the skinniez, when suddenly the pigs were on him. Screeching and biting they pushed him back, but they ain't tough as the boars he was used to deal with. A few well placed slaps of his choppa and two of them were down, enough to scare the rest away.

He turned back, ready to join da shaman against da oomie, but Gormug had already beat him down with his waaagh clubba. Uglhog spitted toward da shaman, just to be sure no bad luck will spill from the magic weapon and attach to him.

Both da shaman and Skar were now stripping the oomiez of their loot, while the Sneaky Stikkas and Oggut were still kicking the madmen.

Good, bad luck iz gone away! and so thinking Uglhog turned toward the rest of the oomiez, now fighting the skinniez. There was more fight and more loot there!

"Da spookiez! Dat'z truble!" that was Morkdamn Oggut screaming from the other side of the street. But he was right, the old oomie wiz was coming toward 'em with a pack of spookiez.

Da boss kicked a couple of gobbos. "Keep 'em away or me'll teach ya anoder lesson!"
The Sneaky Stikkas stood where they were, the spookiez being a better alternative to da boss attentions.

"Al rite, ladz! Let'z run!"
"Wait, ya boss!" Badjaw, one of the Stinky Gitz was dragging an oomie behind him.
"Me found dat 'idding! Sure he knowz 'bout da trinket!"
"Ya klever, boy!" Uglhog grinned at him "Tonite ya'll got zum extra brew!"

It seemed bad luck was really goin' away…yet Uglhog thought it was time to make himself a lil't lucky trinket.

And so it is. Another glorious Luncheim! :D
I still have to do some trading and recruiting, but surely Da Skullbashas had a boost from that fight! B)
New stats!
Members: 11 WBR: 145 Treasury: 110gc
One of the Sneaky Gitz is now an hero and I've also got a Straggler during exploration (double 4). ;)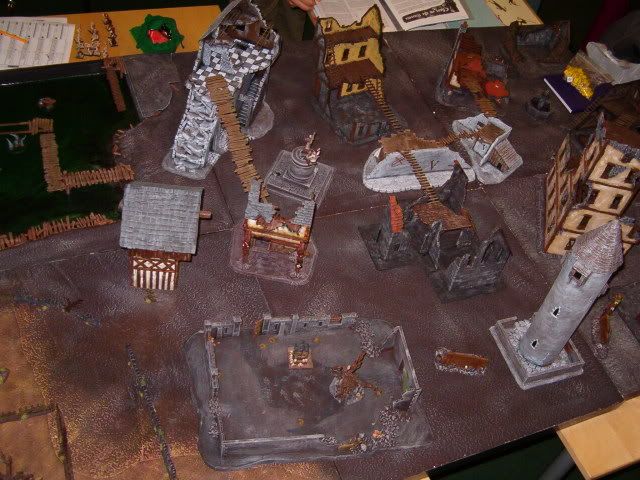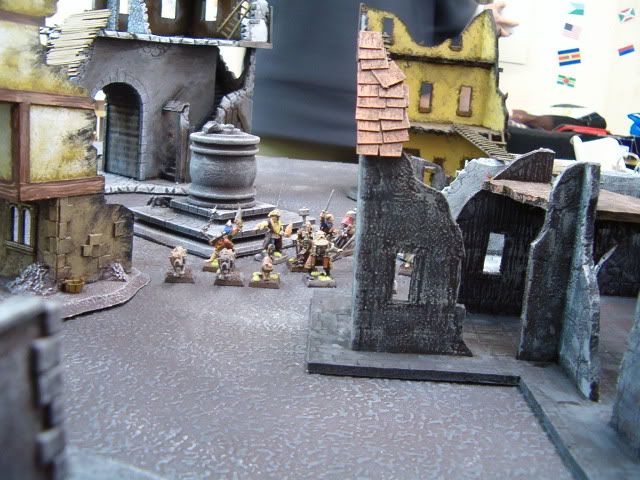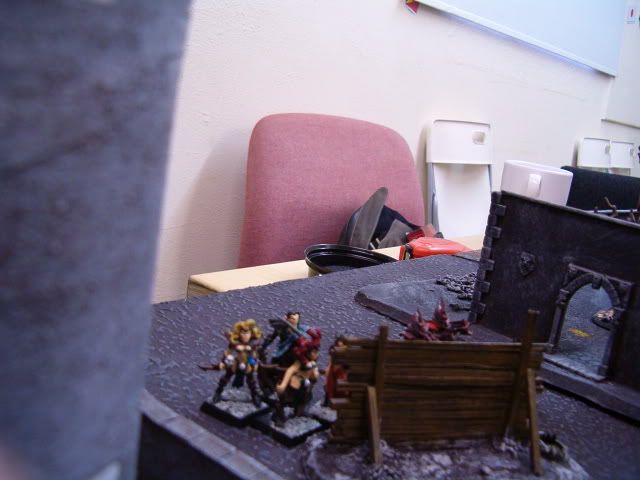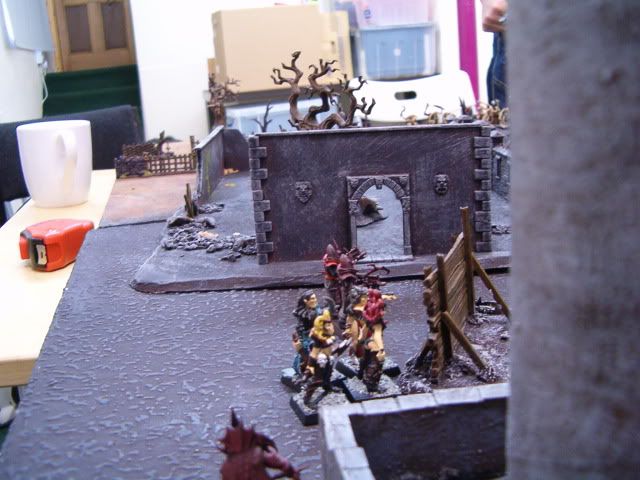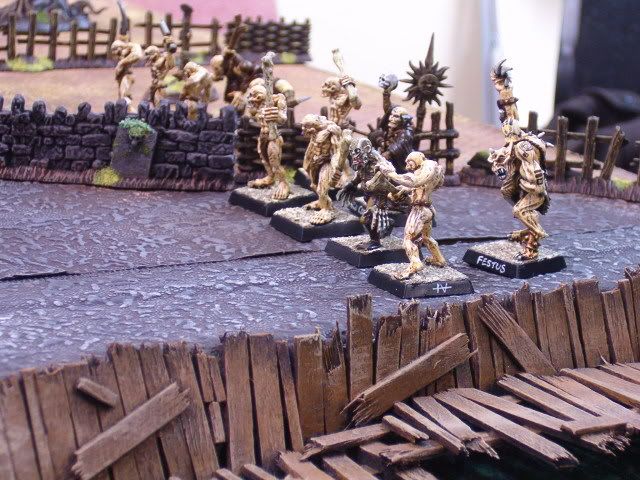 WarbossKurgan - February 17, 2009 09:36 AM (GMT)
QUOTE ("Andy")
Ok, I spent the entire game trying to come up with a piggy pun, but with no luck. It's just hit me now: I was ham-bushed. Zing! :lol:
QUOTE ("Davespaceman")

Thats "hog"wash you came up with the hogs of war quote thats nothing to "snort" at.

Pictures and film will be up loaded soon.
QUOTE ("Godfather Viktor")
So...how the ham-bush ended?
QUOTE ("Andy")

Dave made off with every single piece of Wyrdstone, so I guess that makes him the winner. The halflings were the only ones left at the end of the game to contend with the undead.

The vampire was sold to the pits, as was one of my witch hunters, and they both managed to win their fights. Phil sent Leon the Pig Farmer to look for the Seal of Sigmund, but he got trapped in a storm and is missing his next game.

Tim's dark elves didn't fare well on the injury table.

All in all a great game.
QUOTE ("zelophahad")
QUOTE ("Andy")
Phil sent Leon the Pig Farmer to look for the Seal of Sigmund, but he got trapped in a storm and is missing his next game.

Actually, we realised a bit later that I didn't - because he was taken out of action, he wasn't allowed to look for treasure! (But he may miss the next game anyway, thanks to his 'Old battle wound'! :rolleyes: )
WarbossKurgan - February 17, 2009 09:40 AM (GMT)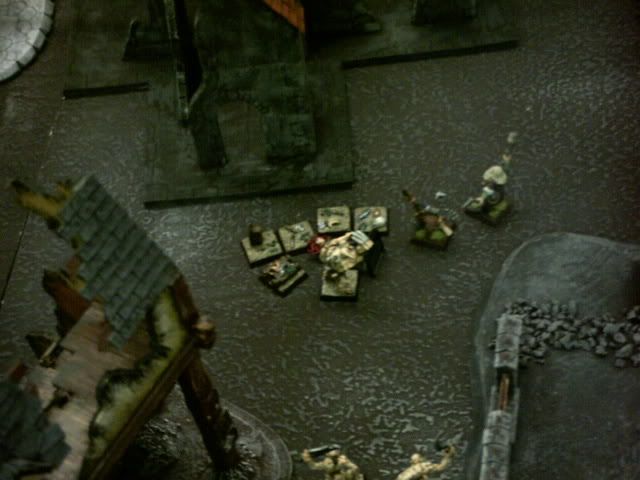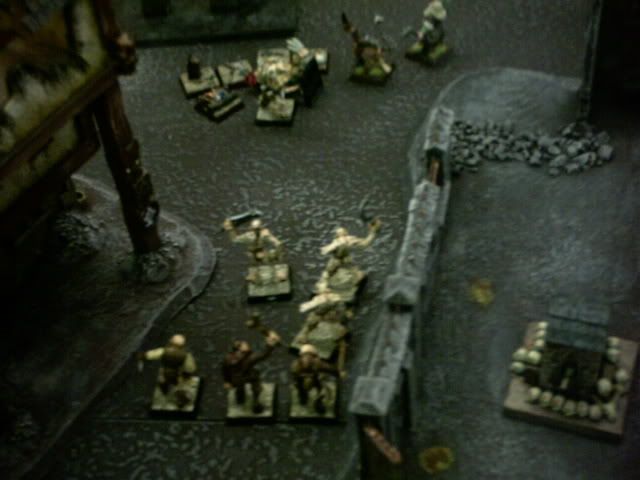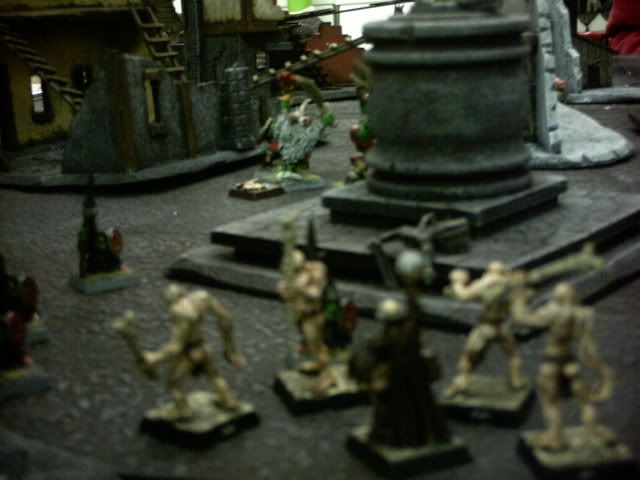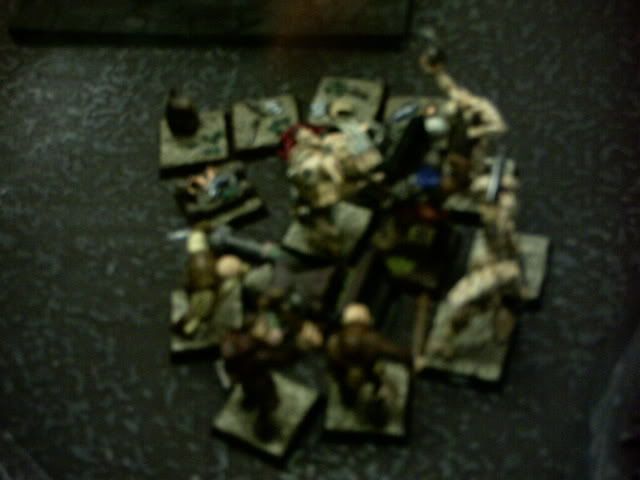 WarbossKurgan - February 18, 2009 10:46 AM (GMT)
QUOTE ("zelophahad")
After the five-way madness of Monday Luncheim (in which I feel the halflings acted with an admirable concern for self-preservation ;) ) I lost only another piggie (a second other piggie escaped the pot, and Leon got away with a recurring injury). Here's my updated list:

The Rhyme of the Ancient Marinader

HEROES
Cormorant Rams-Eye (elder, uncle of Gordo) - leader, quickshot, dagger, bow, hunting arrows, sword, buckler, helmet
Harry Haricot (chef) - master chef, cleaver (axe), tenderiser (mace), pairing knife (dagger);

now T3!


git Turnip (theif) - infiltrator, pick locks, cutpurse, sword, dagger, crossbow pistol, rope & hook
Oliver (youth) -

scale sheer surfaces

, dagger, hammer, bow
Leon (youth) - dagger, hammer, bow,

old battle wound



HENCHMEN
The Rampant Lions (

5

halfling scouts) - dagger, bow, hunting arrows;

now BS 5!


The Trotters (4 piggies: Breakfast, Lunch, Tea and Dinner)

Rating = 134 (14 members)


The Expendables


QUOTE ("Andy")
Ludwig the Extremely Brave jangled his key chain again and the baby pawed at them madly. It was rubbery and grossly overweight, and as devoid of hair as its father was, with a head as smooth as a billiard ball – a family trait.

"Little Ludwig" sang the father. "One day you'll grow to be quite a man. I reckon the enemies of righteousness with fear your very name. I fathom the daemons of the deepest dark will tremble as you pass. Ha, yes. Ludwig the Brave they'll call you". The baby merely gawked at the keys with vapid eyes, gurgled a bit.

The burly warrior priest rose, dropped the fat little child back into its cot, strode to the door.

"I'll be away for a while. Keep the house safe while I'm gone, my little champion of light". The baby burped.

* * *

There was a monstrous crash and voices rose from every direction. From behind, a guttural howl tore through the night. To the east, a squawking of goblins. To the fore, the mindless chirping of Moot folk. To the west, a mad cackling, as of elves from the darkest reaches of the world.

"Ambush! Ambush!" hollered Ludwig the Extremely Brave. "Break formation! Find your own targets! Kill all you can! In the name of Sigmar I command you to kill".

The witch hunters scattered like a pack of wild dogs. The priest's oratory had filled them with a blood hunger, a need to slay in the name of their god. The hounds went slavering forward in a blur of fur and teeth. The street lepers, even though crippled, their limbs ravaged and atrophied, staggered onward, gobbets of flesh sailing from them with each sudden movement.

"Kill! Maim! Kill!" mumbled Hansel, the half-wit, the clumsily appointed captain. His axe went thudding into something huge and brutish, and for a moment it looked as though he had gotten the better of it. And then it roared, seemingly spurred on by its pain, and pulled him down with tree-trunk arms.

Sunny Yellowbrook, the hired halfling guide, was sheared in two, then three, and his mangled carcass was tossed to a gaggle of squabbling goblins. A shame; Ludwig was beginning to like the fellow.

The priest had found his prey: a thin woman, wild haired and wielding a pair of thin blades.

"Die you hellish witch" he bellowed, and thundered towards her. His hammers were slow and were easily avoided. He saw the female move, but then it went black.

* * *

The bag was torn from Ludwig's head and he gasped for air. His brow was caked in blood and he was sweating wildly. A man stood there, thin as a wick, with a sallow complexion and jagged armour. Another man, this one hideously fat, seemed to be appraising the priest.

"Let me look at his teeth. You can tell a man by his teeth" he wheezed. It seemed speech itself was an effort for this man. A pair of cruel hands grabbed Ludwig's jaws and pulled them open. He tried to bite down, but was weak and beaten.

"I'll take him" struggled the bloated man. And Ludwig was dragged away, into a life of servitude or combat or some other hellish nightmare.
Warboss Dragoneye - February 18, 2009 12:14 PM (GMT)
Gah! The puns...the puns!

These reports always put me in the mood for a good game of Mordheim; yer doin' 'em right, Kap'n!
WarbossKurgan - February 19, 2009 12:25 PM (GMT)
QUOTE
Slippery Jack, the Monster of Vercuso



Long have the murky waters around Vercuso harbour been terrorised by the creature known as Slippery Jack. The massive, many-tentacled beast is a universal presence in the harbour, and always seems to be watching and waiting when he senses warbands near the water's edge. Rather than risk a watery grave (or worse) Vercusians often leave treasure floating on the surface of the waters, ripe for the picking of those brave or foolish enough to dip their toes in the harbour…

The Murky Waters

Slippery Jack's presence in the waters of Vercuso causes unpredictable and dangerous currents and undertows. The following rules apply to the harbour waters when Slippery Jack is in play:
• Difficult terrain (move at half speed)
• Soft cover (-1 to hit for missiles)
• To climb out of the water, a model must pass an Initiative test or it cannot move.
• If a model is knocked down while in the water, it cannot move at all or do anything until its next recovery phase.
• If a model is stunned while in the water, it must immediately take an armour save: If the save is passed the model has sunk beneath the waves into Slippery Jack's clutches! Otherwise the stunned model is affected in the same way as above.
• If a model is taken out of action while in the water, it automatically passes into Slippery Jack's clutches (see below).

Slippery Jack

The beast has many tentacles blindly probing the murky depths of Vercuso harbour, but when they sense movement in the water they swiftly move to drag their unfortunate prey to its doom.
• The Slippery Jack counter starts in the centre of the water board and then moves D6" in a random direction at the start of every player's turn. It will pass under floating objects, or move along the shore.
• If any model goes in the water, Slippery Jack immediately moves 2D6" directly towards it. If the model is trying to go into the water and then out again, it may complete its movement only after Slippery Jack has been moved. Thereafter, Slippery Jack will move 2D6" directly towards the nearest model in the water at the start of every player's turn.
• If Slippery Jack comes into base contact with a model, the individual is automatically taken out of action. No fighting back, no saves, no excuses. The victim has been pulled down into Slippery Jack's clutches in the briny/brackish depths (see below)!
• If two or more models are in combat in the water, they attract more attention than individuals attempting to be stealthy. The Slippery Jack counter will always move 2D6" towards a combat in preference to individuals (of course any individual passed through to get there will find themselves in his clutches too!). If Slippery Jack touches any model in combat, all models in the combat will automatically be pulled down into his clutches, although if any models in the combat were not actually touching the water, they will escape if they can pass an Initiative test.
• After taking a model, the Slippery Jack counter disappears until the start of the next player's turn when he reappears in the centre of the board and acts as above.

Flotsam and jetsam

All manner of wondrous treasure is left floating on the water in fear of Slippery Jack.
• The floating treasure counter starts in the middle of the water board and then moves D3" in a random direction at the start of every player's turn. It cannot pass under other floating things but will move along them (or the shore).
• A hero may search the treasure by making base contact with it, but must be in the water to do so. The floating counter is worth D3-1 treasure (roll when searched), and also contains a clue to the whereabouts of the Seal of Sigmund! Place a normal treasure counter by the hero, which may be passed on to or picked up by other heroes as per usual rules. Whichever hero has the counter when the game is over may roll an extra dice when testing to search for the Seal after the battle.

 
Slippery Jack's Clutches (alternative Serious Injury Chart)

If a henchman falls into Slippery Jack's clutches, roll for injuries after the game as normal. But if a hero suffers this fate, roll a D66 on the following chart instead of the normal heroes' serious injury chart:

11-15 Drowned
The hero and all his equipment are devoured by Slippery Jack. Remove him from the warband's roster.

16-25 Disappeared
The warrior has vanished beneath the murky waters. He will miss his warband's next game. At the end of the missed game roll again on this chart adding +1 to the roll (cumulative if this result is rolled again).

26-31 Washed up
The hero is found by his companions, naked and semi-conscious on the beach. All his equipment, weapons and armour are lost but he is otherwise unharmed.

32 Psychological scars
The warrior won't talk about his experiences in Slippery Jack's clutches, but they've affected him deeply. Roll a D6: 1 = stupidity and frenzy ; 2-3 = stupidity;  4-5 = frenzy; 6 = -1 Initiative

33-34 Fear of the waters
The terrors of the hero's experience beneath the murky waters have affected him to his very core. Whenever the warrior finds himself within 6" of the murky waters, he must take a Leadership test as per an All Alone test (page 22 in Mordheim rules). If he fails, he will always run for the nearest point on the table edge he can get to without moving closer to the waters.

35-37 Nemesis complex
The hero's experiences have left him with a psychotic hatred of Slippery Jack which drives him on a foolish, futile (and probably terminal) quest to wreak his revenge on the monster. From now on, whenever he is within line of sight of the murky waters and not able to see any enemies, he must move directly towards the waters as fast as possible.
If within charge range of the water he must charge into the water in the direction of the Slippery Jack counter even if he can't reach the monster himself.
Once in the water, the hero must pass a Leadership test at the start of his next turn to recover his senses. If he fails, he will continue to try and charge Slippery Jack! Of course, should he come into base contact with his 'nemesis' he will instantly be taken out of action and have to roll again on this chart at the end of the game!

41-55 Full recovery
Whether by luck or skill, or by tasting repulsive, this warrior is not destined to be Slippery Jack's dinner… this time.

56-57 Fighting chance
The hero has found himself wrestling among the tentacles of the sea monster and may be able to fight himself free! Fight a combat with Slippery Jack's tentacles using the Chaos Spawn profile. The fight is a swirling, thrashing melee under water so neither side counts as charging, but are locked in combat from the outset (i.e. no shooting!).
If the warrior looses, roll again on this chart, re-rolling results of 41 or above.
If the warrior manages to win, he automatically gains +1 experience and then rolls again on this chart, re-rolling results of 36 or below (yes, he can end up fighting again!).
The outcomes of these fights have no effect on Slippery Jack – he's a big monster with plenty of spare tentacles!

61 Sunken treasure
Having been sucked down into the depths, the warrior has not only found, but has somehow managed to escape the waters with a rusting, barnacle-ridden chest containing D6 pieces of treasure. He also gains +1 experience.

62 Hardened
The hero has survived unimaginable terrors at the hands of Slippery Jack and nothing can scare him anymore. From now on he is immune to fear and all alone tests, and adds +1 to his leadership. He also gains +1 experience.

63 Swimmer
While struggling against Slippery Jack in the murky depths, the warrior was delivered by the beautiful forms of the mer-people (or hideous forms of the sea-daemons, as appropriate!) who have shared with him their own affinity for water. From now on, the hero may move at normal speed in all water and counts it as hard cover (-2 to hit). Furthermore, he can choose to be 'invisible' to Slippery Jack when in the water (i.e. the model is ignored when determining the monster counter's movement). He also gains +1 experience.

64 Aura of the depths
The hero's experiences have left him with a terrifying self-confidence. He causes fear and hates all enemies from now on. He also gains +1 experience.

65 Secrets of the depths
No one is quite sure exactly what happened, but the hero appears to have gone through some kind of mystical experience. If he was a magic-user, he may choose an additional spell from his normal spell chart (or choose to cast one of his current spells with a +1 modifier).
If he was not a magic-user before, he becomes one, using the normal spell list for his warband (or something appropriate if his race's rules don't include magic-users). He starts with one free, randomly generated spell. He also gains +1 experience.

66+ The Seal of Sigmund
You've found it! Deep beneath the waves, in the clutches of the great monster, the warrior discovers the artefact everyone is looking for! See the 10+ result on the Seal Table. He also gains +1 experience.

…or, if the location of the Seal is currently known (i.e. someone already has it):

Veteran of Slippery Jack
The warrior emerges triumphant and glorious from his watery encounter. In addition to +2 experience, he gets a free roll on the hero's advancement table, and is allowed to re-roll any of the dice rolls involved (remember you can never re-roll re-rolls).
WarbossKurgan - February 19, 2009 10:39 PM (GMT)
Cormorant's Quest (The Rhyme of the Ancient Marinader)


QUOTE ("zelophahad")
'What the fudge is this?' muttered Gordo Rams-Eye as the papers fell out of the cookbook and fluttered to the floor.

His uncle, old Sam Tailor-Coal, had gone travelling many years ago. All of him that had returned was a battered old trunk containing, amongst other things, the cookbook which Gordo was now eagerly thumbing through in the hopes of uncovering the secret of his uncle's famous marinades.

The adventure-seeking young Gordo hero-worshipped the reputation of his uncle Sam, although no one knew him by that name any more of course: the trunk was marked 'Cormorant Rams-Eye'. Gordo had proudly adopted part of that nickname as his own, although he was still unsure where the 'Cormorant' bit came from. His uncle's travelling companions who had brought the trunk back – Harry, Olly, and Leon – seemed reluctant to talk about their adventures, although there were mutterings about a 'Seal' of some kind, and a town called Vercuso on the island of Sartosa.

Gordo picked up the yellowed papers from the floor. They appeared to be a copy of a very long poem, written in his uncle's unmistakable scrawl. The title page read:

The Rhyme of the Ancient Marinader
by Sam Tailor-Coal
(also known as Cormorant Rams-Eye )
'Fudge…' breathed Gordo as he quickly scanned the poem. His uncle was certainly no great poet – not in the same league as the likes of Will Shake-Stick or Rob B. Buns – but this would make fascinating reading nonetheless: It appeared to be his own account of his adventures since he went travelling all those years ago…



To be a sous chef on a ship
Is not for the faint hearted
But that was where I found myself
And where this rhyme is started

Bretonnians love the Moot's fine food
And pay a handsome salary
And so we sailed from harbour safe
With flour and oil and celery

It was not long before supplies
Of meat began to lull
And so I took my trusty bow
On deck to shoot a gull

With my short-bow I shot
A bird so large I could not miss
I thought it was a cormorant
But they call it 'albatriss'

We marinaded it for days
In wine and herbs and spices
And served it in the captian's mess
In tender dainty slices

'What meat is this?' the captain asked
'Its taste is new to me'
'Tis cormorant' said I, 'that flies
Above the surging sea'

But sailors know their seabirds well
And what the portents say
'This is no cormorant!' they cried
'Its pinions are grey!'

'Thou hast served up an albatross!'
Cried captain, mate and crew
'Disaster on us all you brought
when albatross you slew!'

'Ah, wretch' said they, 'the bird to slay
that made the breeze to blow!'
And as they warned, the sea was calmed
And the ship it did not go

Day after day, day after day
We stuck, nor breath nor motion
As idle as a painted ship
Upon a painted ocean

Bread ran short, and fruit and veg
And wine and ale and water
And as we sat becalmed and still
Supplies were getting shorter

Water, water, everywhere,
And all the boards did shrink;
Water, water, everywhere,
Nor any drop to drink.

The halfings' hunger was intense
Our poor starved tummies rumbled
For by my eager archery
We all alike were humbled

At last the currents drew us near
The island of Sartosa
And there the captain had his men
Cast all the halflings over –

– board. We swam ashore to find
An old and dirty quay
Vercuso was the harbour's name
A haven from the sea

The tides and currents split us up
We knew not who was saved
When my small group was washed ashore
Upon the murky waves

I found myself with Haricot
The best cook on the ship,
Young Oliver and Leon and
The thief called git Turnip

We also had two hobbit scouts
Who'd saved their precious bows
And soon we found a herd of pigs
With piglets, boars and sows

Gordo wasn't overly impressed with his uncle's poetic style, but he was gripped. Grabbing a pot of tea, a large fruit cake and a bowl of apples, he sat at his kitchen table and read on…



'Report' on my first two battles:


No sooner had we come ashore
Than orcs and goblins found us
We fled among the buildings while
The piggies fought them for us

Gordo hesitated, frowning. Dismayed he looked still further down the epic poem:

Four other bands we came across
Orcs, men, elves and undead
We hid up in a building tall –
I did not lose my head!

We sent the pigs to fight their dogs
A wall we hid behind
The scouts shot true from high above
'Gainst vampire and his kind

Gordo wiped the fruitcake from his mouth and tears from his eyes and the shocking realisation hit him: 'Cormorant Rams-Eye, my uncle, my hero, was a fudging coward!'
WarbossKurgan - February 23, 2009 09:24 AM (GMT)
QUOTE ("Godfather Viktor")
Uglhog loudly sucked the marrow out of the pig bone. Sure the fatty lit'l 'uns were not good fighters, but their pigs tasted good. He tossed the bone into the fire and farting stood up. It could go and make his new lucky trinket, now. But first he needed another gulp of brew. Skar had the horn, and he was barking about how good he had been carrying away more loot than anybody else.
Da Big 'un was getting to mouthy…good, it was time teachin' him a lesson!

Sneaking behind him, Uglhog placed a strong blow with both his huge fists just between Skar's shoulders. As the big 'un went face down on the ground a burst of guttural laughs erupted from the rest of the band.

Bending down to pick up the brew horn, Uglhog growled at Skar: "Got says sumfin', lad? Ya better fink wo's da Boss inna 'ere!"

Laughing and drinking da Boss made his way to the drops. He had a whole load to lay down and mould it into his lucky trinket.

Skar stood up, watching Uglhog with barely restrained hatred. Not yet, but soon da Boos would have seen who was da best!

"Wo d'ya laf at?" roared Skar at the gobbos and grabbed the closest one.

*****

Someday later Uglhog had taken them to the harbour. It seemed the shaman's vision trinket was floating there, but no one wanted to pick it up because of a beast in the water.
Da Boss now had a dung Mork face dangling from his shield.
Ya'll see the luck me gives ya!, thought Skar while entering a warehouse. Behind him a couple of gobbos were shouting at each other while the veteran Stinky Git shot his bow at his new companion.
Skar growled in disgust and moved ahead. He had just noticed a figure scuttling from cover to cover on the quay when a familiar screech claimed his attention. Da fatty lit'l 'uns and their hogs again!

Gurmug and Uglhog were reached first. Once again the boss slapped the animals down and moved toward the halfling hiding in front of them. The shaman, instead, was overrun and a couple of gobbos moved on to attack the pigs.

The Stinky Gitz decided they had to establish who was better, completely forgetting about their bows and rushing ahead toward the halflings emerging from a building on the other side of the quay. They aimed their bows at Uglhog and the boss was taken down by a salvo of hunting arrows.

Hiz lucky trinket don't works much! And now ME iz in charge! and roaring Skar charged headlong toward the figure hiding on the quay. In a while all that was left of the sneaky lit'l 'un was just a bloody mess.

On the opposite dock Skar saw three more little figures getting ready to jump into the water, when some strange movements halted them. There was really something in the water, zumfin' big!

One of the halflings dived in and suddenly a bunch of huge, viscid tentacles erupted from the water in a shower of blackish foam. When the foam cleared there was no trace of the halfling nor of da big tentacley fing.

The fatty lit'l 'uns at this point had enough and packed away.
Skar turned to the boyz: "Badjaw! Ya takez da Stinky Gitz and goes find dat prizoners ya oomie sed uz. We'll make sum teef out of 'em! Me'z goin' searchin' da 'itty trinket!" and he started toward the nearest building.
Suddenly it stopped and triumphantly grinning turned to da gobbos.

"Take da Boss to da kamp…he needz sum rest!"

Not great photos - no macro on my phone!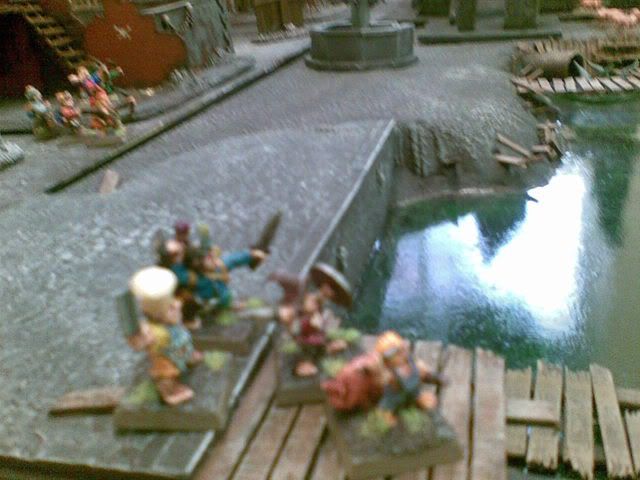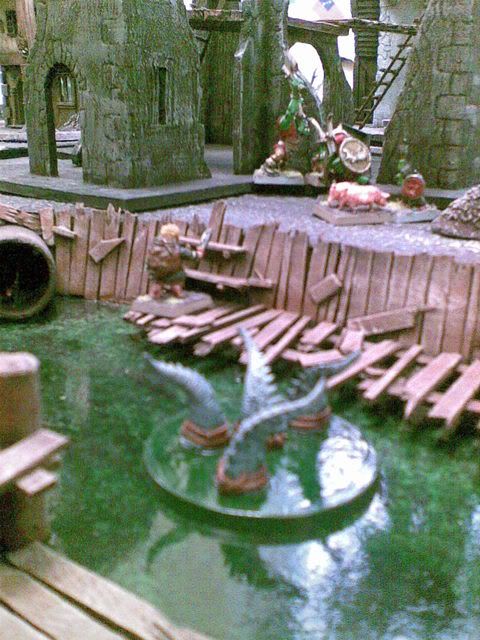 Warlord Ghazak Gazhkull - February 24, 2009 09:33 AM (GMT)
Lovely read Kurgan, like always I love these campaigns.

Greetz
G
WarbossKurgan - February 24, 2009 11:03 AM (GMT)
Kommodore Deffgit and The Seal of SigmundBriny Beasties and Mauling Mastiffs
Deffgit leant back in his armchair, stretched out his legs and laboriously placed both feet onto a low stool near the fire. He drained his glass as an eager goblin brought another, full one. Looking round the bar of the Hopeless Anchor inn with his one good eye, he deemed the early evening crowd was ready to hear his continued tale.
He turned to Salty Ogbad and chuckled, "Remember that time when you was mauled by that big dog?" Ogbad looked uncomfortable but Deffgit carried on "you was out of action for a week after that, we laughed so hard!"
"Wasn't that the same time that you was brained by a Pit Fighter, Kommodore?" said Ogbad, growing slightly annoyed.
"Hum, yes I think it may have been mate!" laughed the bearded Orc, "No wonder I don't remember getting home that night – I'd assumed it was the grog."
He turned to the packed bar and began the tail from the beginning, much to the relief of the bemused pirates.
"We was still searching for that blasted magical thing-a-me-bob, the Seal of Somebody, and the ship's company had gathered by the harbour to examine the flotsam and jetsam that the morning tide had brought in. Rumours of a shipwreck in the night always brought a crowd to the docks but there was a singularly unsavoury bunch in Cheapside that day:  A Witch Hunter and his cronies, a band of landlubbin' Orcs and Goblins and a foul host of dead'unz: a Ghoul-King and his court.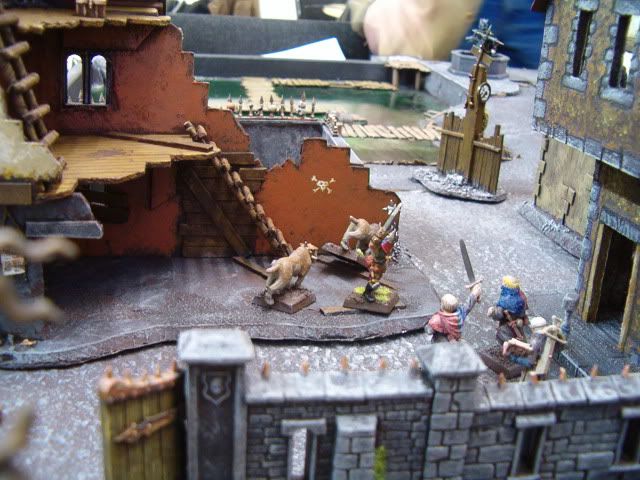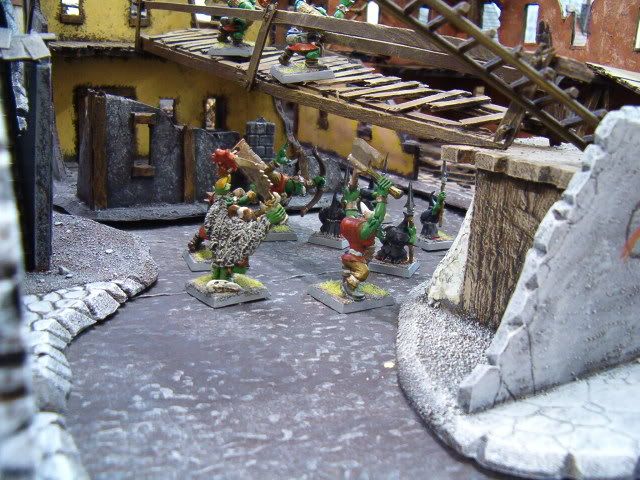 We were bunched up to begin with with the 'Hunter on our port side and the Ghouls on our starboard. I'd sent a couple of hands up into the roof of the nearest house to take pot-shots at the dead'unz as I didn't fancy the chances of the Grotz standin' their ground against 'em!
I should have worried more about the Sigmarites though: they came storming down the alley with a the Pit Fighter hired sword at their fore and a pack o' hounds at his heels. Dubloon Dreg was taken down by a couple of Zealots and Ogbad here was mauled by the doggies – they made a right mess o' his arm. Hogbreff torched a Ghoul with his wyrding fire but the ladz up-top couldn't hit nothing.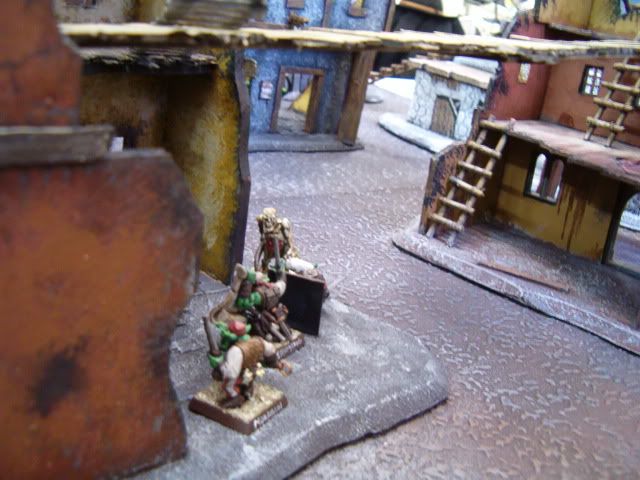 Then we heard Uglhog's Boyz shoutin' that the 'loot' floating ashore was just useless rubbish – empty barrels and the like – so we were about to leave 'em all to it. But then old Slippery jack showed his squirmy tentacles so we decided to stick around and laugh at someone getting ate.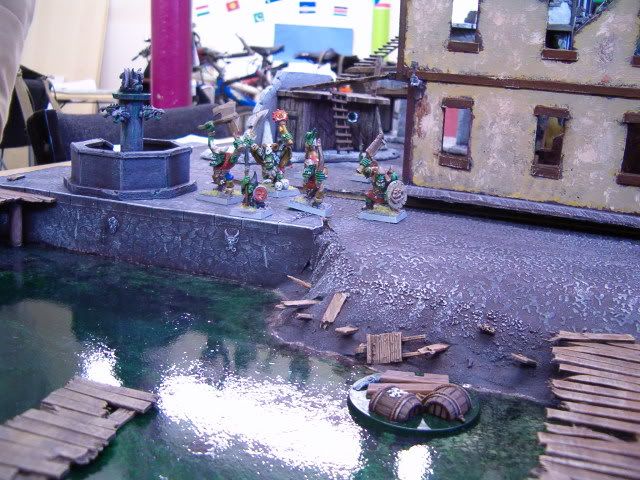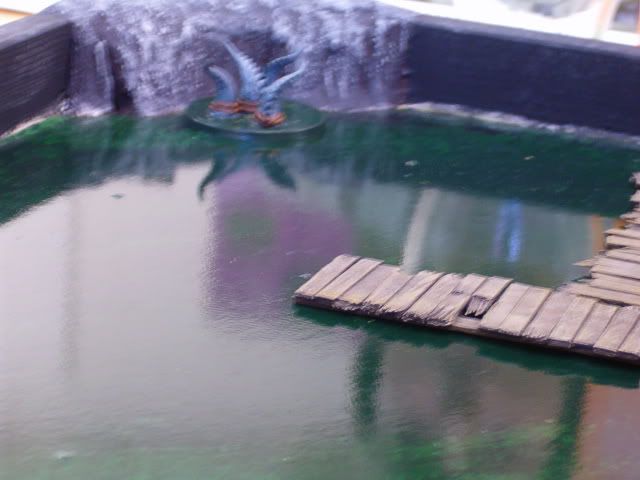 I guess that was when the Pit Fighter knocked me over the noggin and the lads must have carried us off."
Kommodore Deffgit finished another glass off grog but he had lost count of how many he'd had. The old Orc started to ramble about the
old Ogresun
again then he dozed off. The customers of the inn got bored and found someone else to entertain them long before in the usual rounds of singing crude sea-shanties and fighting over imagined insults.
SeloneOrc - February 24, 2009 01:12 PM (GMT)
brilliant models, brilliant story, briliant terrain!

:D
WarbossKurgan - February 24, 2009 05:03 PM (GMT)
QUOTE ("Andy")
The Slippery Fishwife – Issue Two


Alas, dear readers, our efforts are thwarted, our attempts at revolution stymied. These no-good rogues still swarm about our blissful isle. Rise up, we say. Grab your pick hammers, your fish hooks, your crab claws and your marlin spikes and toss them back into the briny deep. But, in the meantime, serious journalism is on the cards.

More macabre goings on are making the headlines. That festering tower at the heart of Vercuso, that eyesore, that blister upon the flawless heel of our land, is once again the talk of town. Housewives gibber of wild eyes in the night, and of creepers spilling from the base of the spire. Leathery, membranous wings can be heard flapping in the night, an occasional scream, and hacking laughter.

Three people have been reported missing this week: A common roper, a candlemaker's wife and a gravedigger. Quite strangely, witnesses reported that the latter wandered through the streets the night before his disappearance, vacant faced, eyes wide, shambling forwards on broken ankles, moaning softly. These fables are most outrageous and we can say with one-hundred percent certainty that they will be the ravings of beggars and miscreants.

Such disturbances are not unique. Rampant brawling has spilled out onto the streets of our glorious port town. A wild skirmish erupted earlier this week. The notorious half-wit, Hansel, and his band of vapid, useless bounders were ambushed whilst delivering a hoard of treasure to the island's governor. After the battle, whilst clutching a wounded head, he remarked that it was to buy weaponry and food for his men, but the Fishwife staff believe his reasons to be a little sneakier. And we are always right.

The ambushers, a motley assortment of sadistic elves, tubby halflings and vicious undead clashed at the heart of our town. The as yet unnamed elf was ousted first, and was seen running girlishly away with a man-sized bundle behind him. Cormorant, the fat devil, and the bestial thing from the netherworld butted heads. The outcome was predictable and very costly to the denizens of Vercuso.

In other news, a mysterious figure came to our offices this morning, cloaked. We could not see his face and he spoke in naught but a whisper. He insisted, note – at the tip of a blade – that we inform all of the 'glorious' adventurers about Vercuso, that he holds a wondrous trinket for those who impress him most.

So rise, fair citizens, and get these troublemakers off of our island.





Sorry for the delay, guys. Was at a BB tournament all weekend and didn't have a chance to write it.
Warlord Ghazak Gazhkull - February 24, 2009 06:04 PM (GMT)
I enjoyed reading this update, but get working on that stompa again. You do to many things at one time, and the scary thing is that it looks great or is an amusing read.

Keep it up :yarr!:

Greetz
G
WarbossKurgan - February 25, 2009 09:03 AM (GMT)
QUOTE ("zelophahad")
Rumours I heard of treasure bright
And a famous magic seal
And so I sent young git Turnip
To hunt and find and steal

Afloat upon the waters dark
Was many a treasure sack
But all alike were guarded
By the fearsome 'Slippery Jack'

Yea, slimy things did crawl with legs
Upon the slimy sea
But git was quick and Slippery Jack
Did not have him for tea

But that raging band of greenskins
That we had met before
Caught the young Turnip as he hid
Upon the muddy shore

Oh git Turnip, oh git Turnip
The pigs they came too late
To save you from the goblin and
The orcs that sealed your fate!

Leon looked darkly at Gordo Rams-Eye from over the sow's shoulder, his face half covered in pig slurry. 'Yea, oi remember that day, but oi've already told yer, oi don't wan'na talk 'bout it.'

'But look Leon – this poem is Uncle Cormorant's memoires,' said Gordo, 'I just want you to fill in some gaps. See, this bit's all about how you disappeared into the clutches of Slippery Jack!' Despite filth obscuring his face, Leon's complexion visibly paled, but he said nothing. The piglet he was holding squealed as his grip tightened.

'At least let me read it to you and see if it jogs your memory…

Meanwhile the bold young Leon
As brave as any boar
Cast 'self into the waters
To treasure for to score

But Slippery Jack was terrible fast
And sensing swimming prey
A dozen mighty tentacles
Reached out in plume of spray

The splashing stopped, the waters stilled
And that was the last I saw
Of the brave young halfling Leon
Of whom I heard no more

So, what happened next Leon?' begged Gordo.

'Oi became a pig farmer, young master Gordo, that's what,' said Leon with a trembling voice. 'No be off wiv ya.'
QUOTE ("zelophahad")
Updated rosta after last week's game against Viktor:

The Rhyme of the Ancient Marinader

HEROES
Cormorant Rams-Eye (elder) - leader, quickshot, dagger, bow, hunting arrows, sword, buckler, helmet
Harry Haricot (chef) - master chef, cleaver (axe), tenderiser (mace), pairing knife (dagger); now T3!
Oliver (youth) - scale sheer surfaces, dagger, hammer, bow
Ned (youth) - dagger, hammer, bow

HENCHMEN
The Rampant Lions (5 halfling scouts) - dagger, bow, hunting arrows; BS 5
The Trotters (4 piggies: Breakfast, Lunch, Tea and Dinner)

Rating = 125 (13 members) (...going down :( )
WarbossKurgan - February 25, 2009 09:07 AM (GMT)
Da Skullbashas (mis)adventures in Vercuso


QUOTE ("Godfather Viktor")
New band stats after the Slippery Jack's madness on Monday!
After 4 games that's how Da Skullbashas look like:

Uglhog 'eadkraka (Boss): new sword and new shield (since he was robbed), 'ard 'ead and horrible scars (yeah, he now causes Fear...Raziel, get ready!)
Gormug Voiz o' Mork (Shaman): axe, clubba, +1WS, +1A and because I'm a chump :rolleyes: a new advancement to be rolled next time we meet
Oggut Bonemangla (Big 'Un): axe, shield, helmet, +1T and again I'm a chump, so one more advancement. He will miss the next 2 games :(
Badjaw da Klever (Boy):bow, club. Promoted after the ambush on the Expendables (and for the third time I'm a chump, another advancement for him too!)
Kutnoze Slugchewer (Big 'Un): mace, shield. He takes the place of Skar, eaten by da big tentacley fing (robbing me of a nice plot I intended to develop :/)

Da Sneaky Stikkas (4 Goblins): spears, shields, +1I :D Fart has been killed by Belch (I love animosity :lol:)
Da Stinky Gitz (2 Boyz): bows, clubs

Members: 11 WBR:: 163 Treasury: 30gc

Fluff about their second, unfortunate encounter with Raziel's court to come soon!
WarbossKurgan - February 26, 2009 05:03 PM (GMT)
The Expendables


QUOTE ("Andy")
"So what do we know so far?"

The fusty old man scrabbled at the tower of papers filling his desk. The wood was bending beneath their gargantuan weight. A bony finger probed into the mass and pulled out a mouldering sheet.

"Well, er, your grace, there has been, er, ahem, very little, er, news regarding the efforts in, er, Vercuso" fumfered the equally ancient second man.

"Aha – jackpot" giggled the first as he drew a crumbling bit of parchment from the pile. A lesser stack of papers went tumbling to the floor like a felled siege tower. "Then tell me what you do know".

"Er, yes, of course, your, er, grace. We received a, er, letter, from Damocles. He says the population are, er, resisting our efforts to further the reach of, er, what's his name, er, Sigmar".

"Ah, here it is" croaked his grace as another bundle went crashing from the desk. "Continue, you buffoon" he snapped.

"Ah, yes, of course. Damocles tells of a, er, beast from the depths of the water. He tells us of his investigations, for this creature is no doubt a, er, manifestation of, er, Chaos, or, er, a witchery of sorts. Well, your grace, it seems that the man you, er, sorry, we, put in charge – Hansel, the Half-Wit – thought it a good idea to investigate this creature from the, er, deep".

His grace had seemingly fallen asleep. The storyteller cleared his throat and he woke.

"Well, you imbecile. Carry on!"

"Er, yes, your grace. It seemed the, er, esteemed captain went for a bit a bit of, ahem, a swim".

"What?" whispered his grace. "Everybody knows that fool is the worst swimmer in the Empire".

"Er, ahem, yes, your grace. Well, it seemed that after a few moments our esteemed, er, colleague, disappeared beneath the waves. He hasn't shown up since".

"And what of this Damocles Moriarty? Is he competent?" mumbled his grace as he extracted a sheaf of papers from the mountain.

"Er, ahem, well. It's all a matter of opinion. Some say he's a little, er, reckless".

"Excellent! Promote him, and then come and help me with these documents".

"Yes, your, er, grace".
GRIMZAG BLOODTHUG - February 27, 2009 08:58 AM (GMT)
Brilliant, interesting and amusing read.

Looking forward for the next update
Goomb - February 27, 2009 06:59 PM (GMT)
Top notch, mate. Top notch. My compliments to all the lads at Flame On! for writing such wonderful fluff. I like the characters these gits have developed. They are pretty colorful, and the poem is great.

Hats off to all! Any ship battles coming, WBK?

Goomb
WarbossKurgan - March 2, 2009 09:38 AM (GMT)
Da Skullbashas (mis)adventures in Vercuso


QUOTE ("Godfather Viktor")
"C'mon, ladz! Dis time dey ain't goin' beat uz!"
Skar knew the sight of da spookiez in the nearest street had upset the gang so he started forward. Let'z show 'em wo'z da Boss!
Passing Fart, he heard the gobbo cursing against his mates. "Ya better…"
"Shut up!" that was Belch, clearly offended, springing forward and skewering Fart at the back.
A glance and Belch understood. They had no time for squabbling. So the gobbo freed his spear and kicked Fart dead body. Back in line, good!
Da spookiez and da bloodsucker were quickly approaching the quay, so he order the Stinky Gitz to shoot at them. He wanted to nick da loot in peace. To much movement and da big tentacley fing would have come back.
But the voice that da 'itty trinket was in the harbour had spread. Skar saw Deffgit's crew getting ready to jump onto da spookiez. Diz filthy sea zkum'd be helpin'!
The Expendables on the other side of the harbour were no problem, they had beaten them already, and they seemed more interest on having a talk with the Ogresuns. Yet two of them dived in and started swimming toward a bunch of loot.
Little waves suddenly appeared on the water surface, pointing straight to da oomiez and pushing the loot away from them, close enough to be grabbed!
"C'mon, Oggut! Da loot iz comin'!" and da tentacley fing iz goin' for da oomiez!
Both Big 'Uns jumped into the harbour while Gormug led the gobbos against da spookiez.
Oggut was first to reach the loot.
"Der's nofin' inna 'ere!" he shouted, while grabbing and throwing away the a big cask.
Water splashed loudly.
"Ya better…"
Skar couldn't finish warning his mate. A trunk sized tentacle enveloped his head and dragged him away, silently as he had come.
"Dat'z truble!" whispered Oggut and out of fear easily climbed the dock. There he saw da Shaman and da gobbos surrounded by da spookiez. They were not having a good time. And more were coming as the Ogresuns were packing back, mocking the big 'un for the useless scrap he was carrying.
Oggut turned to Badjaw just in time to see the boy suddenly halt, the little cleava trembling in his hand.
Oggut had no time to wonder what had scared the boy that da bloodsucker was on him. His halberd swung and the big 'un fell to the ground.
[center]*****[/center]
"Dat'z da best ya can do, Skar?" roared Uglhog seeing his battered gang returning to the camp.
The Sneaky Stikkas cried loudly and run for hide. The now horrible boss face, crossed by fresh scars, was too much for their already shook nerves.
Gormug overcome his fear and surprise at the new boss face and spoke.
"Gork an' Mork beaten' 'im for sneakin' yoors place, mity Boss! Da tentacley fing in da water took 'im"
"Wot 'appened to ya, den?"
"Da spookiez, Boss…da spookiez again…"
"Dat bloodsucker! Time me iz gonna deal wiv 'im…"
WarbossKurgan - March 3, 2009 10:22 AM (GMT)
Da Skullbashas (mis)adventures in Vercuso


QUOTE ("Godfather Viktor")
Things were getting from bad to worse. Badjaw could clearly see it.

That morning he had track down da bludsucker's runts scuttling around Vercuso cemetery, as Uglhog had order. And as da Boss ordered, at dawn they were on the hunt for da spookiez. It had become a personal matter for Uglhog. As soon as they were in sight he had charged a pack of spookiez, quickly putting down a couple. Still there were too many of them and only the gobbos stood between da Boss and the hungry spookiez.

Gormug was doing better, the mauled dreg at his feet now looked scary as da spookiez. But there were too many others coming forward, Badjaw could hear their groans and moanings. And da bludsucker was climbing the wall toward him and the Stinky Gitz.

It was time to get away and save what little they had looted. No worry 'bout da Boss, once again he had to spend some time in his hut.

*****

"Da spookiez!" shouted one of the new Shaman's boyz.

After their last fight with da spookiez Gormug had had another vision: da 'itty trinket had been found by zum skinniez, he had said. And they were gonna sneaky it. If da Boss and da Big 'Unz had to stay at the camp, he would have got some more boyz.

And so he did, sure that skinniez were not as hard as da spookiez. But again there they come.
"Ya fool! Dey ain't problem!" said the other boy and clubbed his mate senseless, just to encourage him.
"All rite, ladz! Let'z make mate wiv da skinniez! We teaches a lesson to da spookiez and den uz is gonna sneak da trinket!" barked Gormug.

Kunnin' plan! Badjaw thought and climbed a wall to join an elf shooting the approaching ghouls.
Down in a big yard some of the Sneaky Stikkas, Gormug and the new boy rushed forward.

Then da Shaman halted. The oomie he had mauled the day before was coming toward him, rage painted on his disfigured, dumb face.

Suddenly the oomie wiz appeared at the gate of the building on the other side of the street. Badjaw shut and miserably missed him, failing to stop his jesturing. A gobbo screamed, his body dried and a greenish haze floated toward the wiz.
Far away the skinny females sliced trough a bunch of spookiez and get ready to jump onto the rest.

The spookiez finally esitated, then da bludsucker roared and rushed to the skinny boss, and all of his ladz shambled forward.

The dumb oomie was on the scared shaman and gave him a really good payback. Some spookiez overwhelmed the skinny females. The oomie wiz didn't make to the gobbo and was quickly surrounded by the Stinky Gitz, clubbing furiously at him.
Thinks were not that bad, after all. Badjaw aimed at the bludsucker and nearly hit him.

The vampire looked in raged at him, made short work of one more skinny and moved ahead.

Let da skinniez fink of 'im!
Badjaw scuttled away. After all there was a reason if he was called da Klever.
[/i]

The Seal has been found and once again Dave's Undead won the day :o
That was fun today :cool: still my hatred for ghouls is growing bitter and bitter :mad:
New stats, then!

Uglhog 'eadkraka (Boss): sword, shield, 'ard 'ead and horrible scars
Skrag da Skavvy (Shaman): axe
Oggut Bonemangla (Big 'Un): axe, shield, helmet, +1T, 'ere we go!
Badjaw da Klever (Boy): bow, club, +1BS, scale sheer surfaces, quick shot
Kutnoze Slugchewer (Big 'Un): mace, shield, helmet

Da Sneaky Stikkas (4 Goblins): spears, shields, +1I , +1WS
Da Stinky Gitz (2 Boyz): bows, clubs, +1BS, +1I
Da Smashas (2boyz): maces, shields

Members: 13 WBR: 179 Treasury: 1gc
WarbossKurgan - March 3, 2009 10:54 AM (GMT)
Kommodore Deffgit and The Seal of SigmundElven Ambush? Pirate Pounding!
"Haha!" laughed Kommodore Deffgit, "Nog, do ye remember the time that Dark Elf what called himself
Darth More
tried to ambush us near the
Hook and Line
inn?"
Barnacle Nog took a long pull on his pipe and thought hard for a minute or two before the glimmer of a smile crossed his craggy green face.
"Aye, I do too! We was scattered all over searching for that blasted Seal when five of 'em started shootin' at us." said Nog through the clouds of pipe smoke that swirled around him. "First thing we knew was Blind Fug getting hit and fell off the old town wall (I don't mind admittin' I laughed a bit) I was up in the bedroom of a ruined town house then."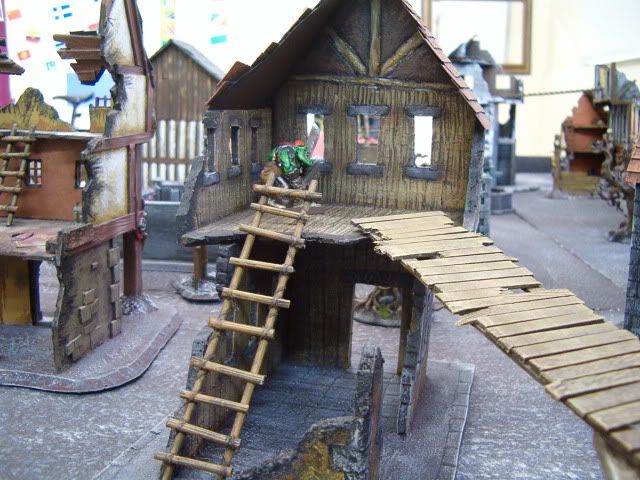 "Bad Hook was caught in the walled garden and he yelped like a Grot caught by a Facebiter Squig and ran back towards Hogbreff..."
".. 'caus two of the Skinnies came right towards 'im."
"Yeah," said Deffgit "I was upstairs an' all. I jumped down sharpish and headed towards ye..."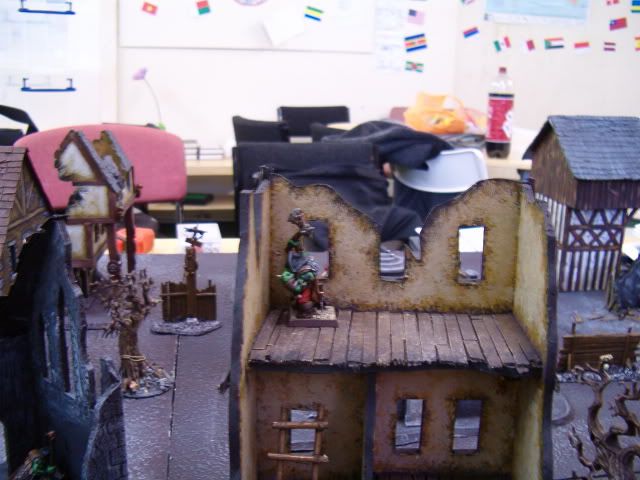 "... and I collected Bad Hook on the way. I gave 'im a clip round the ear and he saw sense. I think them lead-swingin' Goblins was preoccupied with swattin' each other as usual!" the Kommodore continued. "The shooty Elfs was tryin' to sneak round us and the
should
have been dealin' with 'em..."
The crowd in the bar was listening intently know, keen to hear the gory details that Barnacle Nog was well know for relating.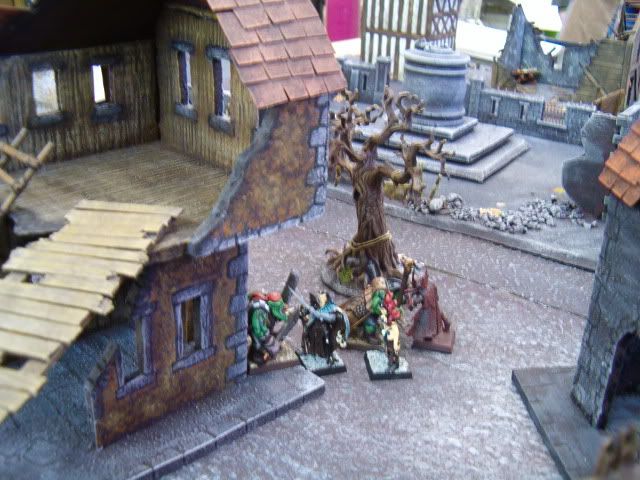 "It didn't last long mind" said Nog, with a nostalgic look in his one beady red eye, "Once I tricked a bunch of 'em into charging me I dealt with 'em cold-like." he chuckled, "the Boss-Elf was all full of himself so I planted a steel toe-cap in his unmentionables and knocked him on the noggin as he doubled over. Then his she-Elf had a pop at me and I gave 'er a taste o' cutlass. It didn't quite seem sport after that, there only being three of 'em left."
"Ahhhh... good times!" sighed Deffgit.
WarbossKurgan - March 3, 2009 10:59 AM (GMT)
QUOTE ("Andy")
Cry to the heavens. Lock up your daughters. The Seal of Sigmund is found. Tim's dark elves have it in their possession. We're all doomed! :o
Goomb - March 3, 2009 05:37 PM (GMT)
Waaaaaait, didn't you just knock the Druchii gits in the "unmentionables"? Did you grab the Seal then, mate?

<waits with baited breath - oh, I need a breathmint>

Goomb
WarbossKurgan - March 3, 2009 06:09 PM (GMT)
No, they played Davespaceman's undead right after me. They found the Seal in the exploration phase after that game.

I will be trying to beat the snot out of 'em again though, I'll nick the Seal then. :yarr!:
WarbossKurgan - March 4, 2009 12:41 PM (GMT)
QUOTE ("Frog")
I have some photos of us lot, just thought i would load up some of the best. :D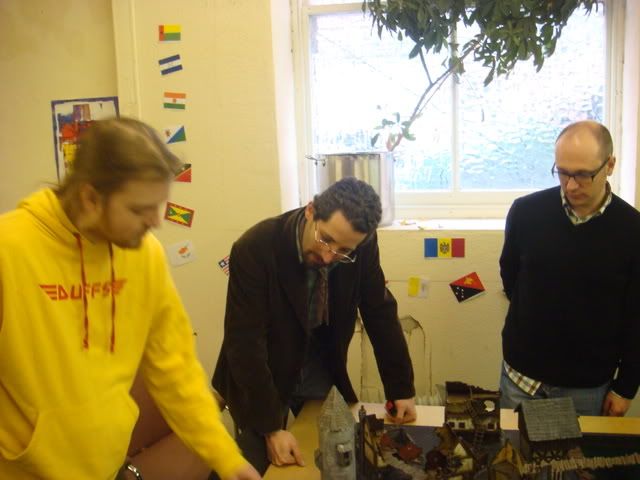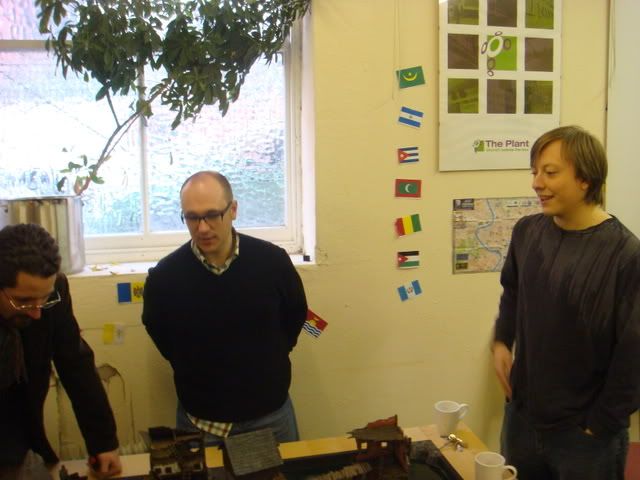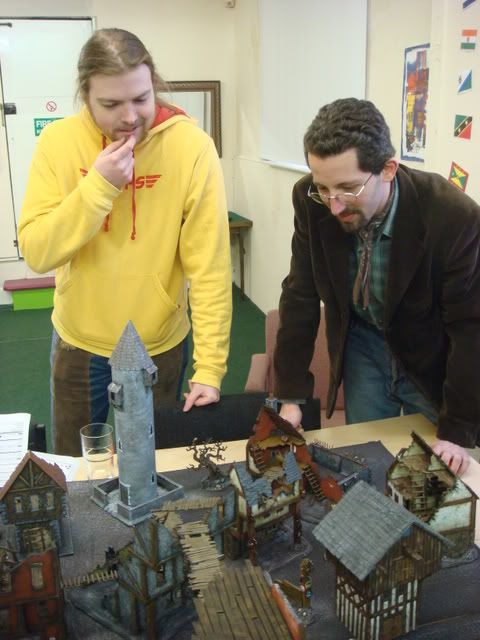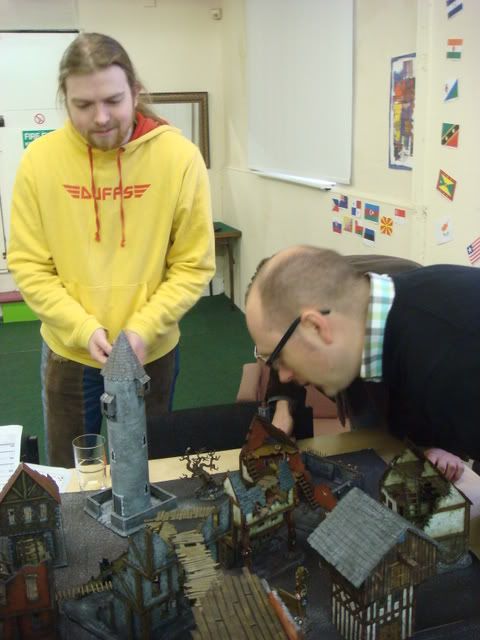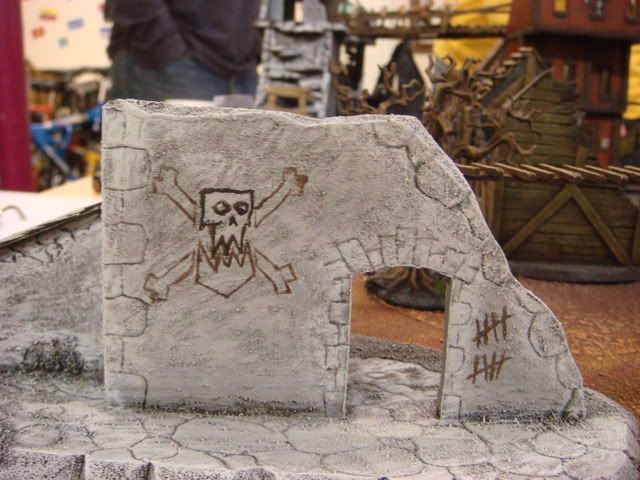 WarbossKurgan - March 4, 2009 12:45 PM (GMT)
Da Skullbashas vs. Twilight Feast


QUOTE ("Frog")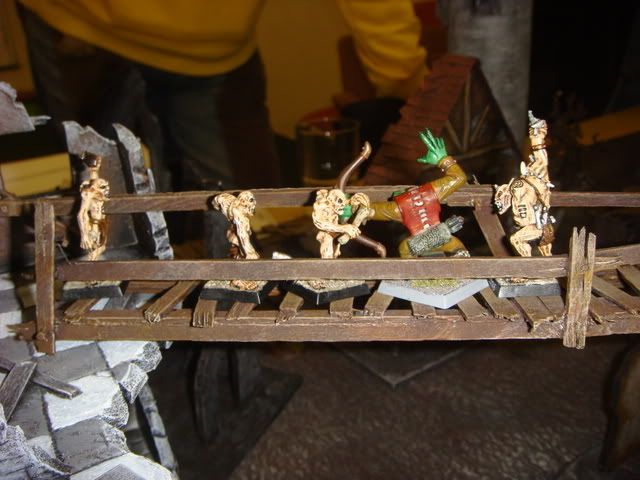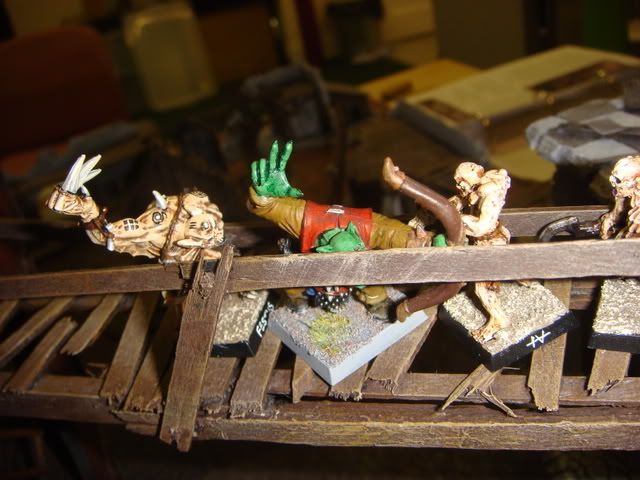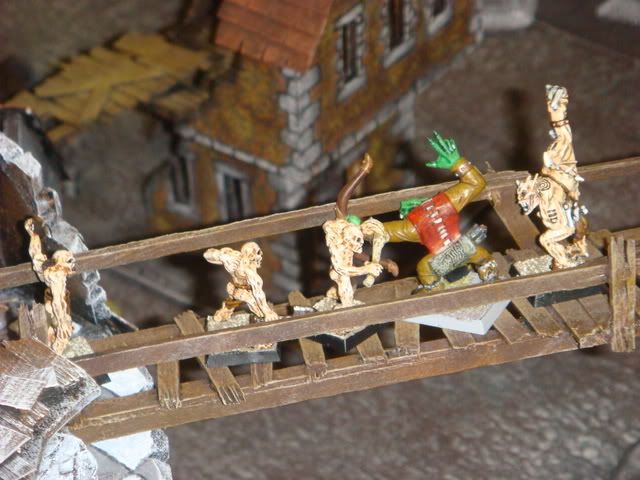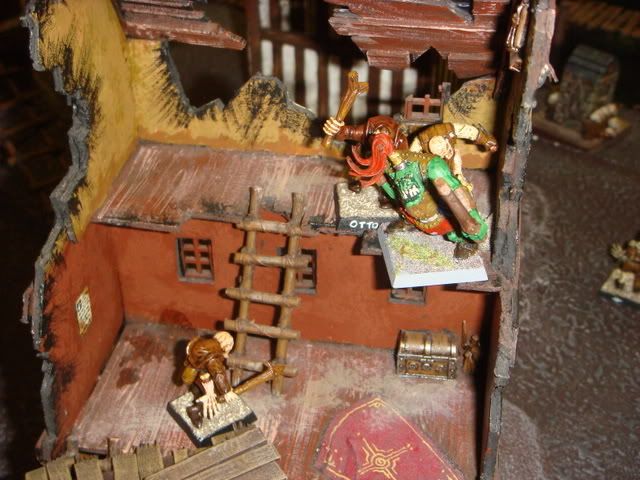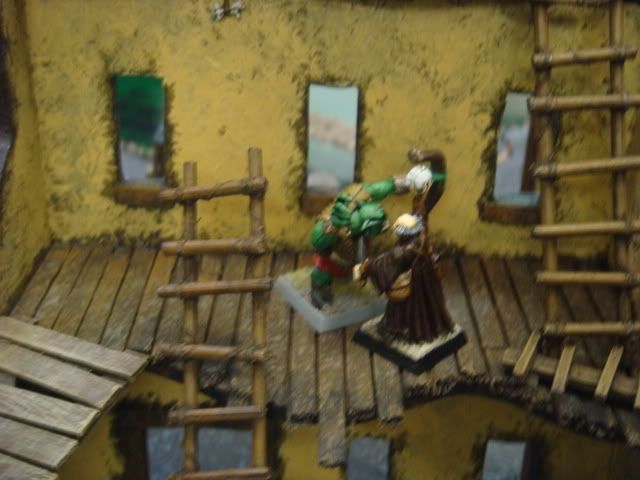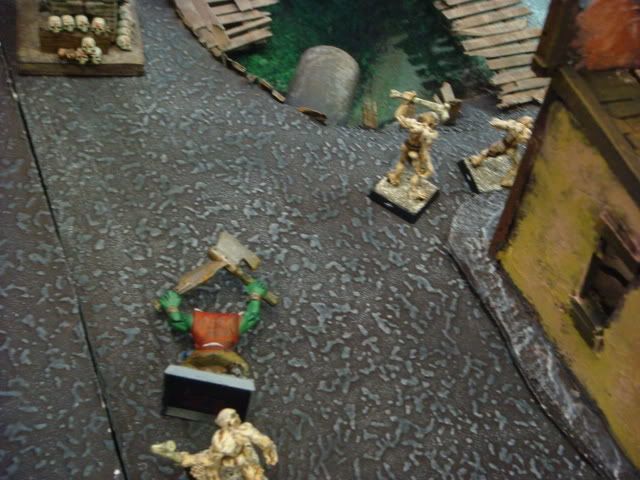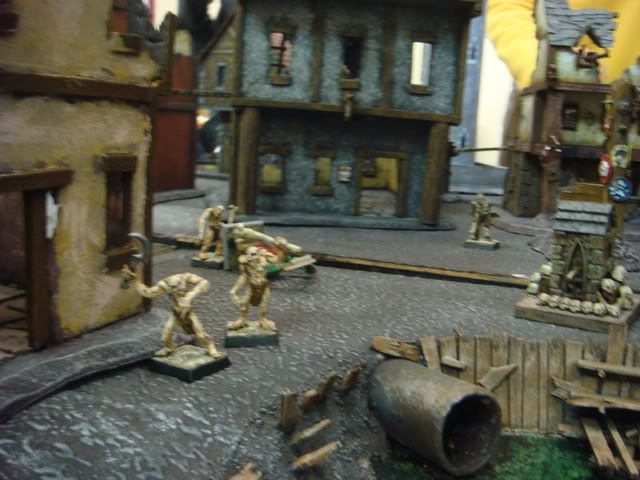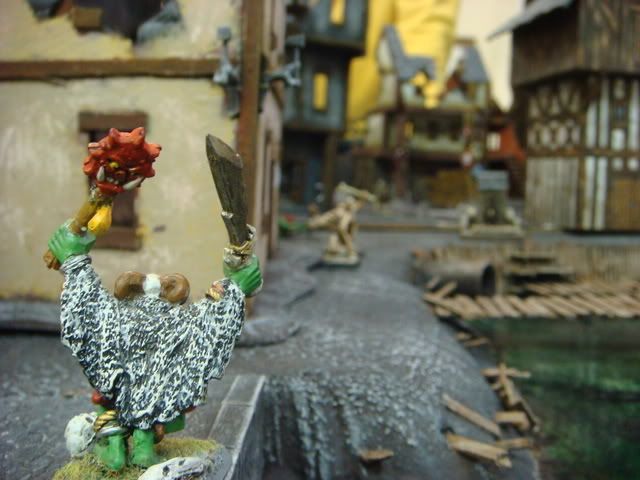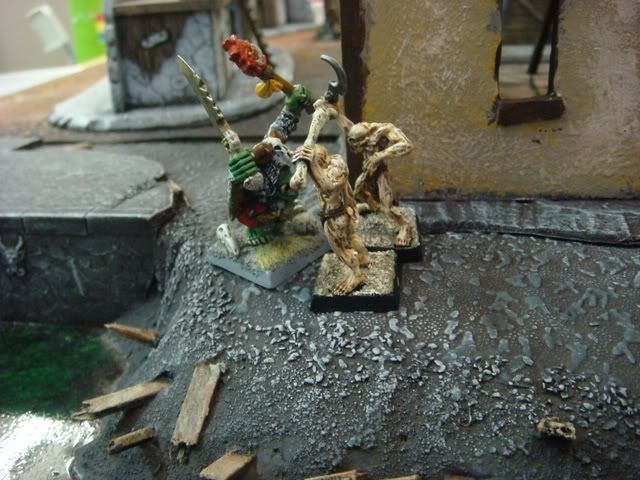 And as normal you kicked ass! :D:D
Goomb - March 5, 2009 04:33 AM (GMT)
Looks like the brain-suckers won another one (unless my eyes are playing tricks on me - which is totally possible)!

Goomb
WarbossKurgan - March 5, 2009 07:45 AM (GMT)
QUOTE (Goomb @ Mar 5 2009, 04:33 AM)
Looks like the brain-suckers won another one (unless my eyes are playing tricks on me - which is totally possible)!

Goomb

Nope - your eyes are true mate. Davespaceman is undefeated so far in the Seal of Sigmund Campaign. Especially gauling since he's using my Undead warband! (painted about 8 or 9 years ago).
WarbossKurgan - March 10, 2009 11:49 AM (GMT)
Kommodore Deffgit and The Seal of SigmundThe Battle of Dumplington
Deffgit woke up with a start, sloshing grog from his mug and shouting; the twenty or so patrons of the
Sunken Chest
inn looked around with a mixture of surprise, trepidation and annoyance.
Not realising he was in a completely different pub, and three days had passed since he started his tale, he continued to recount the battle with Cormorant Rams-Eye and the Catering Corp.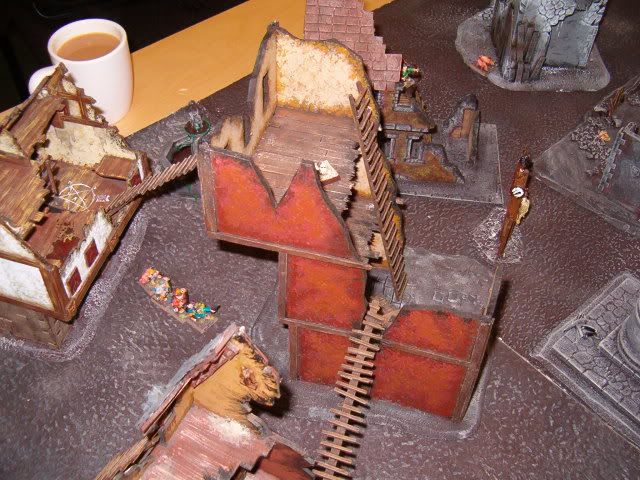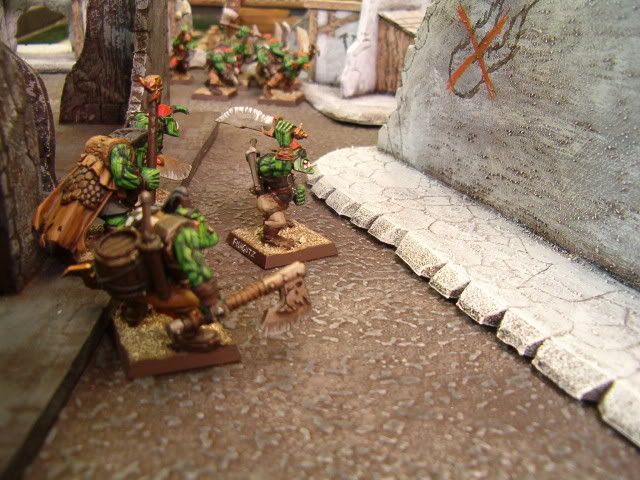 "We was determined to take a slice o' the riverside neighborhood the walking lunch-boxes called
Dumplin'ton
. The scuttlebutt was that there was plenty of supplies, food an' the like, tucked away be them diminutive devils." he said. "We went in mob-handed. The crew was in fine spirits after given that Elf a bloody nose and they didn't fear no-one. Especially not a bunch a minnows!"
He thought for a minute, his one eye rolled around erratically. Then he snapped his gnarly green fingers and pulled a long clay pipe from within his voluminous beard. Once he'd packed and lit the foul-smelling tobacco, molasses and gunpowder mix he continued.
"They was hiddin' in the upper stories of several of the choices buildings. We figured that they must be were the stores was hid, so after securing a warehouse we made in that direction."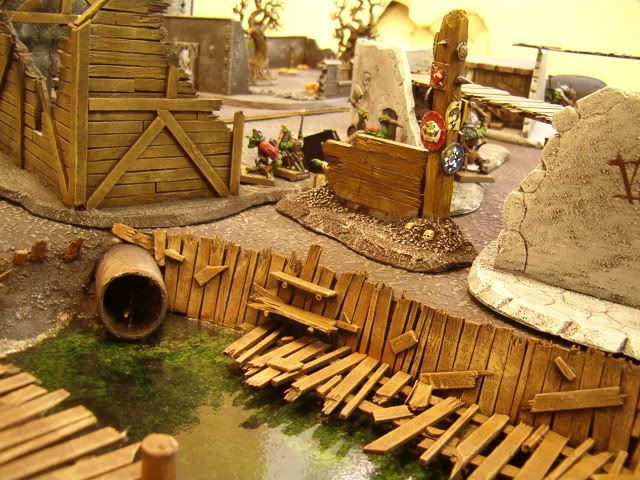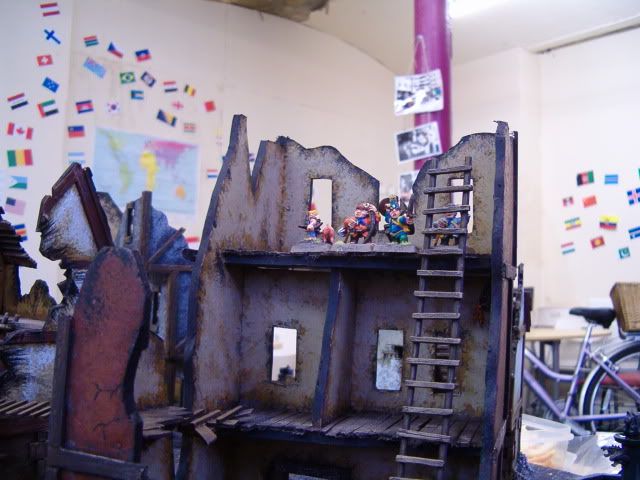 "The little bilge-rats was wedged in like limpets and, what with all their arrows rainin' down on us like a storm of the coast o' Lustria, we couldn't shift the blighters..." he tailed off slightly, staring into the dark rafters above and puffing on his pipe.
"Not even close." he muttered.
WarbossKurgan - March 10, 2009 11:53 AM (GMT)
QUOTE ("Andy")
"Call me Fishmael".

Hansel was naked now, dripping wet with all the particulars on show.

"Jack. Jack. Jack. Beansprouts. Jack."

"What's he on about?" asked Eyeball. He, too, was completely naked.

"I don't know. Ever since he got taken by that thing in the water he's had a screw loose" said Klaus. Luckily, Klaus was fully clothed.

"Jack. Jack. Jack. Jack". Hansel was spinning now, arms flailing about him like a whirligig. "Take me out to the harbour. I want to see the fishes. Jack. Jack" he sang.

It had been a hard day for the Expendables. They had gone toe to toe with those terrible elves from Naggaroth, again. And again they had been bested.

"You see, the way I see it" blurted Eyeball, "is that there aren't enough of us". Klaus merely shrugged.

"Jack".

"What we need is a recruitment drive".

"Yes" moaned Klaus. "And what shall we pay them with? Pebbles? Good cheer? And I'm sure half of us being naked will really help things".

"Okay. Then we'll need money. I hear there is a library on the other side of the island. Book always go for good rates. Or there's that haunted wreck. Many treasures down there I reckon. Or we could rob the market".

"Yes" Klaus gurned. "And pigs can fly. We can do jack-all while we are so few".

"Jack? Jack? I kill him!" barked Hansel. The word seemed to have whipped him into a frenzy. He was raging now, capering round the camp. He hoisted a rock from the sand and lobbed it into the fire, sending sparks fluttering away. "Jack! Jack! I'll kill him!"

And so, naked as the day he was born, Hansel went prancing away into the town.



Hansel catches a glimpse of the murky waters that Slippery Jack calls home

The two hateful enemies meet for the second time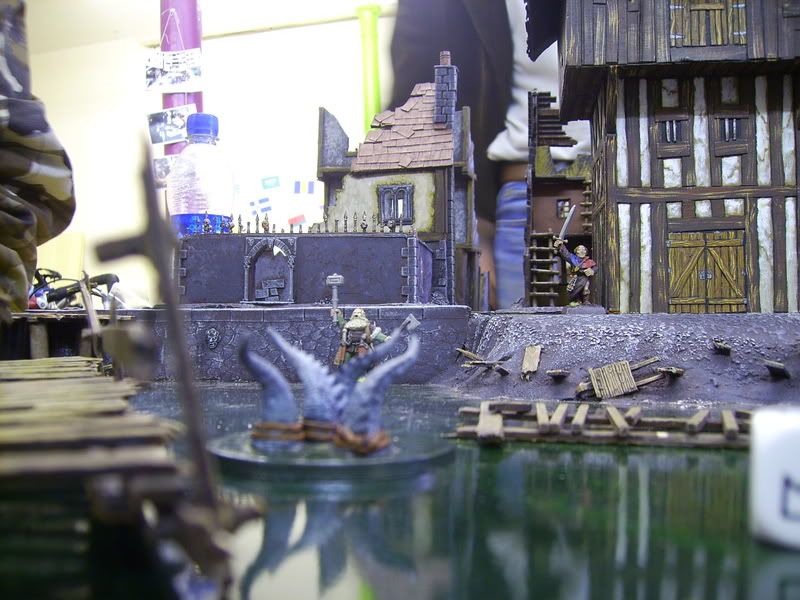 No quarter will be given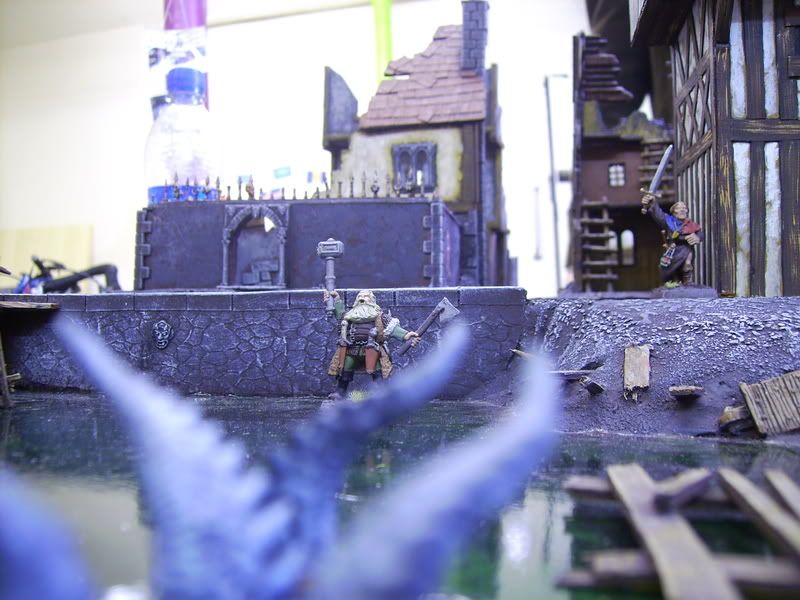 Fuelled by the fire of his faith, a loyal servant of Sigmar charges...
...and fails
WarbossKurgan - March 11, 2009 11:19 AM (GMT)
QUOTE ("zelophahad")
After Friday's game against Saul (which I won thanks to the careful application of stealth pigs):

The Rhyme of the Ancient Marinader

HEROES
Cormorant Rams-Eye (elder) - leader, quickshot, dagger, bow, hunting arrows, sword, buckler, helmet; now

BS7

! (that's max - I rolled +1BS twice! :P)
Harry Haricot (chef) - master chef, cleaver (axe), tenderiser (mace), pairing knife (dagger)
Big Ronnie (theif) - infiltrator, cutpurse, pick locks; pistol, two daggers, rope & hook
Oliver (youth) - scale sheer surfaces, dagger, hammer, bow; now

2W

(young hobbits die hard)
Ned (youth) - dagger, hammer, bow

HENCHMEN
The Rampant Lions (5 halfling scouts) - dagger, bow, hunting arrows; BS 5
The Trotters (4 piggies: Breakfast, Lunch, Tea and Dinner)

Rating = 152 (14 members)






Gordo Rams-Eye was sitting at his kitchen table flicking through the epic poem again. It was mostly recipes involving pork. He'd tried a few of them, but being written in poetry (and not particularly good poetry at that) had made them rather tricky to follow. But now Cormorant was back to his story telling…

Another band of orcs we met
Their captain he was deaf
I climbed up into building high
And shot them all to death

Gordo wondered whether his uncle was taking a little too much credit there, but he had heard that Cormorant had become a prestigious archer during his time in Vercuso. He read on…

After the fight we retired to eat
And drink at The Laughing Pig
And in that pub we hired the thief
The locals called 'Ronnie the Big'

Gordo let slip the leg of mutton he was eating with a thud. Cormorant had used the services of the notorious, pistol-toting, halfling gangster 'Big Ronnie'!? There was no doubt about it – his uncle was in with the halfling underworld: lock, stock and barrel!