Title: Watching Paint Dry - Wanting Comments For My Blog!
Description: random stuff now
Groznit Goregut - January 22, 2009 03:35 PM (GMT)
Someone started a thread about New Year Resolutions and painting projects. It encouraged people to announce what they wanted to do for the year and try to really make it happen. I posted and said that I had a few projects that I wanted to get done with. So, I figured that maybe a blog would be a good way to help me get stuff done. I had a blog for my chariot racing arena and it really helped motivate me. The positive feedback was always a way to keep me encouraged.

What I actually said in that thread was this:

QUOTE
1) Finish those black orcs.
2) Actually paint those 40 or so night goblin archers.
3) Touch up that unit of 25 orcs that was my first unit
4) Finish my giant.
5) Paint my doom diver.
6) Maybe get around to making a unit of orcs w/ choppa and shield out of those 6th Ed starter set orcs w/ 2 choppas and/or arrer boyz (I've got way too many of those guys).
7) If I get crazy, I might cut up the arms of 25 of those arrer boyz and learn to re-position them in a unit that will actually fit together.
8) I might even put some of those Empire figures together.
With this in mind, I have a few projects I want to move ahead with. There is my Pirates of the Caribbean ships that I want to turn into proper Seahammer ships. I am waiting to meet with a guy from the local shop and inspect how he converted his ships to get an idea of how to do it with mine. I also let my kids play with them and I think they might have lost a few masts. So, I might have to order some parts for them. That will happen in time.
My first priority, though, is to finish a Christmas gift to a friend. He surprised me by getting me something for Christmas. So, I had to scramble to get him something. He had started a Doombull Beastmen army and also played a Beastman chariot in the chariot races, so I thought a beastman chariot would be a good gift to get him. I found an old one on ebay for a pretty good price. He left to visit family and I thought I could get it painted for him while he was gone. He's not a painter and it would never be painted if I didn't do it for him. The only problem came in when family took away all my spare holiday time and I didn't finish his chariot yet.
When I started the chariot, I had read
Silver's thread on using washes.
I figured I could do most of the chariot with washes. The only thing that isn't a wash is the horns, the teeth, metal bits, and the leather straps on the chariot. I was surprised at how easy it was and the great results that I got.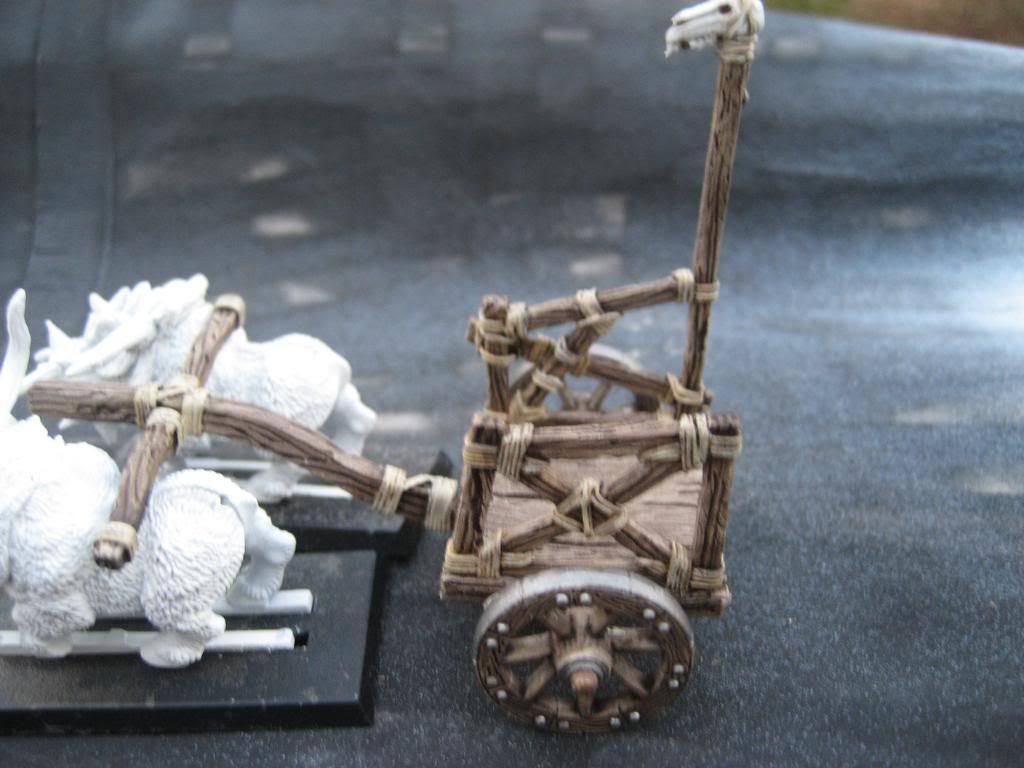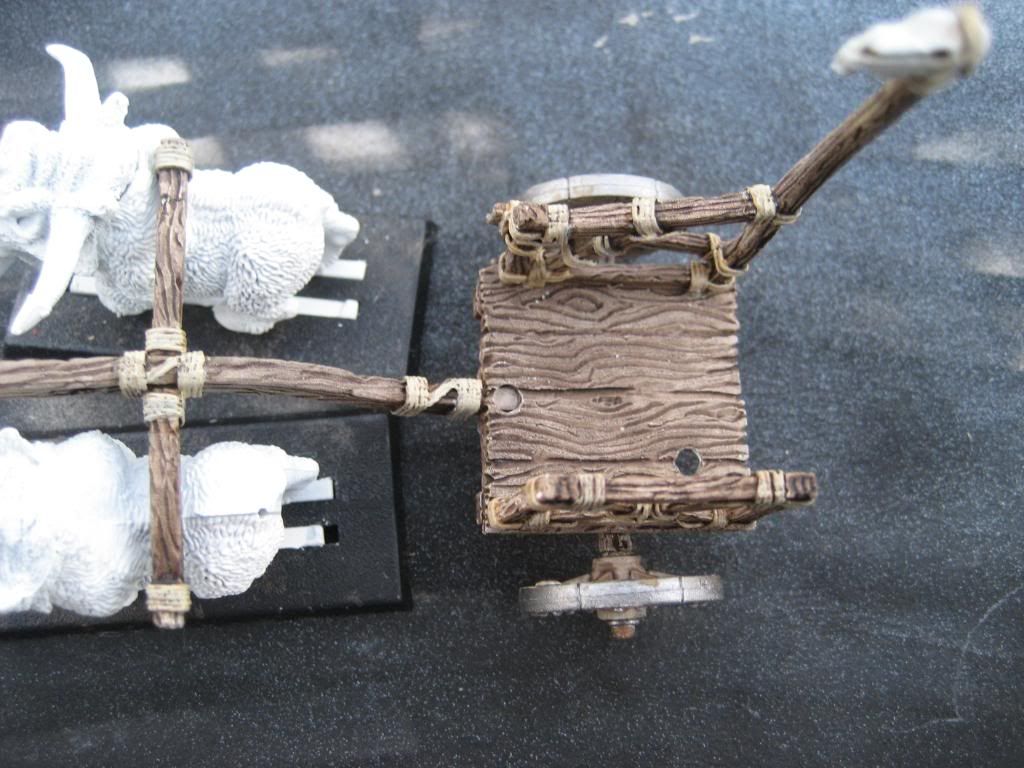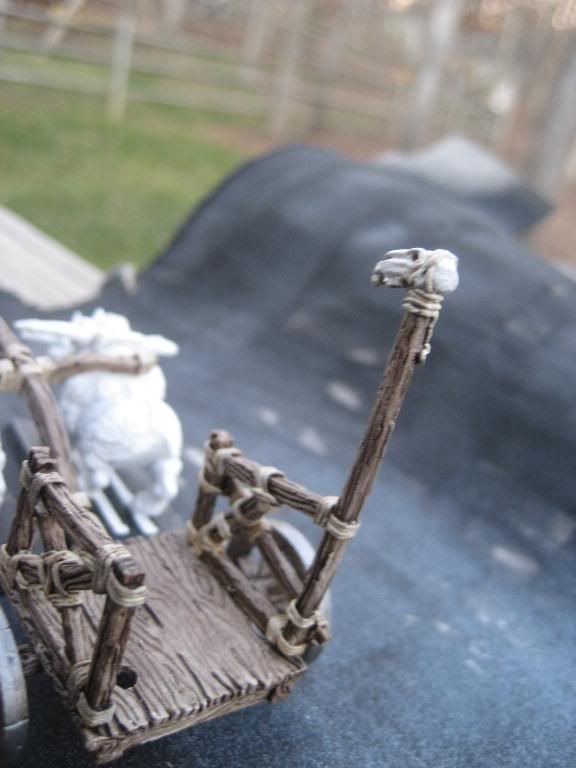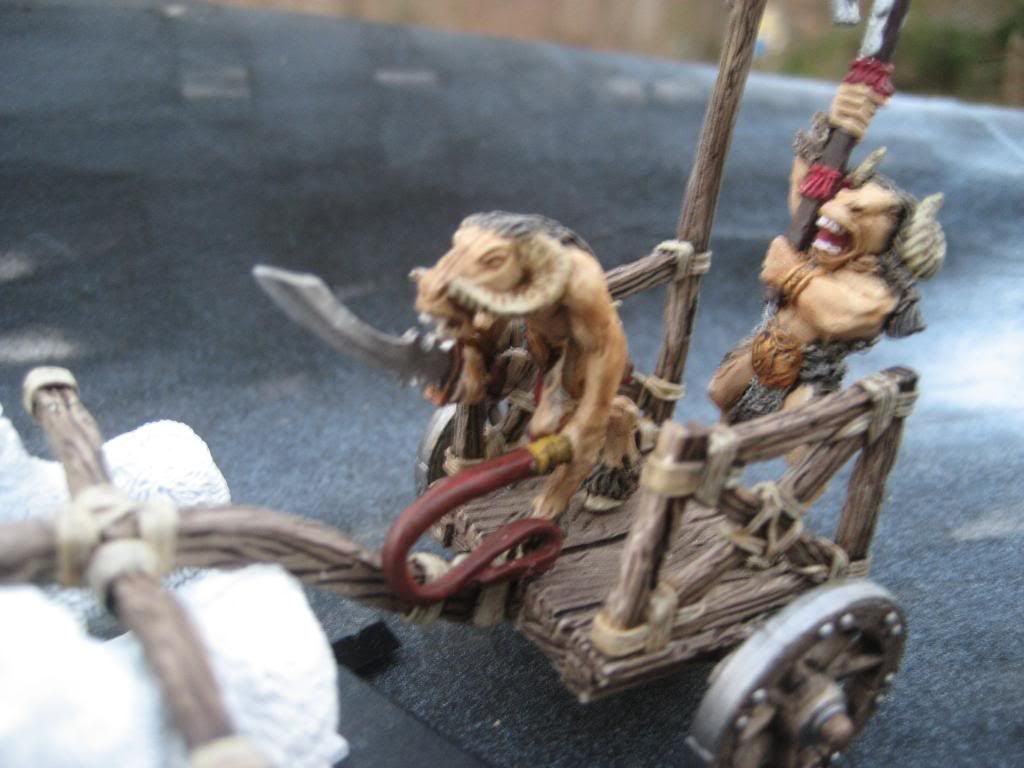 I need to do the Tuskagors next. I've been staring at them for a while now. Every time I try to work on them, something comes up. I figured that I would do a flesh colored wash for the lips and nose and then do a black wash for the fur. I might dry brush the edges of the fur if I am not happy with it. I will paint the horns and teeth normally. I have high hopes for them.
While I had the washes out, I also worked on my Doom Diver at the same time. Why not if I have the brushes and washes already out? So, I followed it exactly like Silver said and I really like the results. I think I found my new favorite way to paint wood.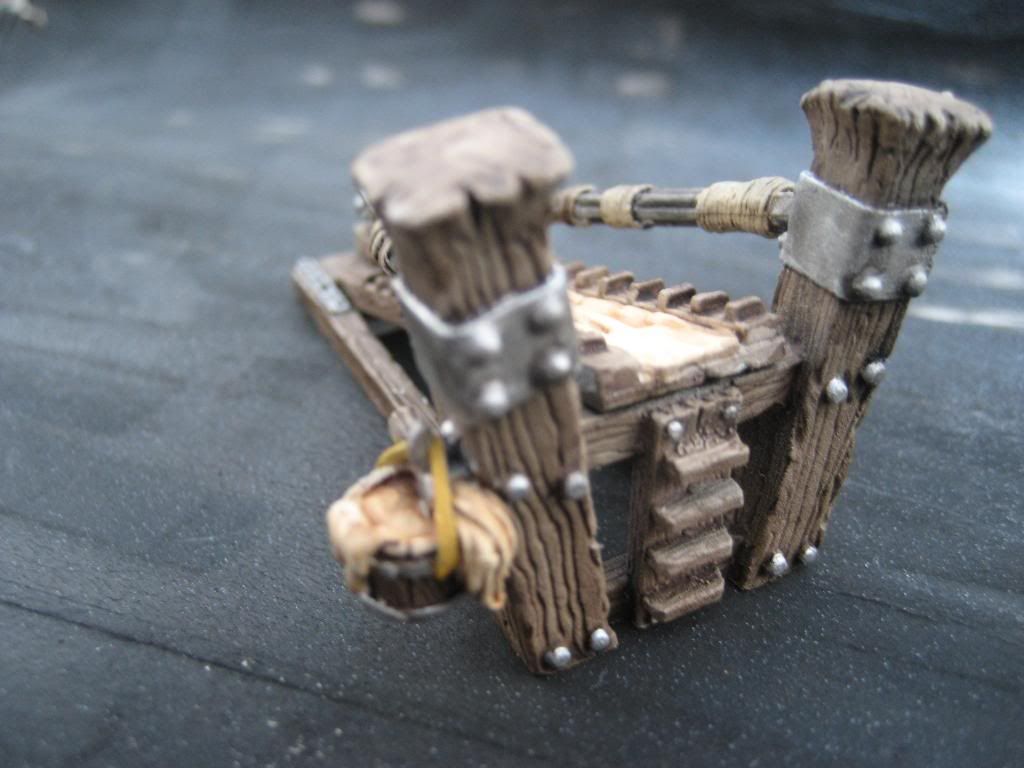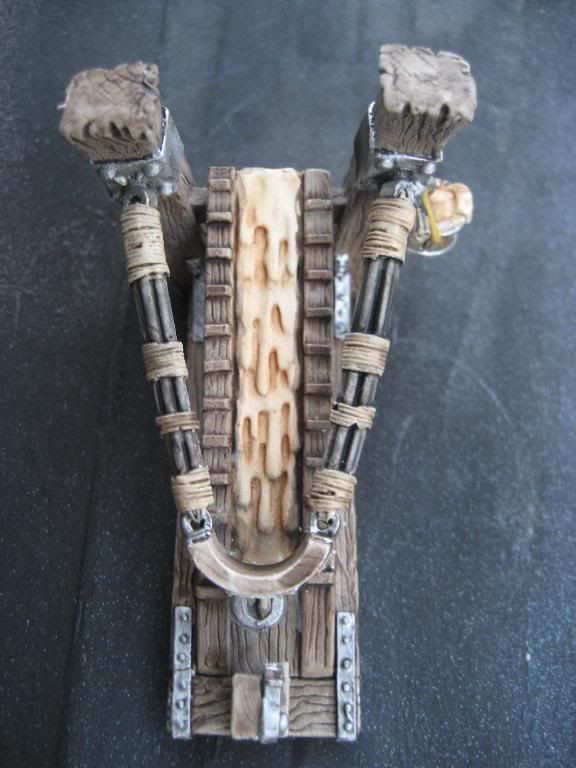 Before the chariot, I had pulled out my old black orcs. I have rarely used them since I've been doing an All Mounted list for almost every 7th Ed battle. I had painted them with one coat of dark angles green for skin and then chainmail for the armor. I did the weapon shafts beastial brown. They didn't look impressive and I hadn't even gotten around to painting that one coat of skin on all of them. I've been thinking of building an army list like
GreenskinPower's Ultimate Tournament List
and that means I need to redo a lot of infantry, including my black orcs.
So, I started off on the skin. I did a few layers, but didn't do too many highlights as I wanted them to look darker than regular orcs. I think the lightest I went was a layer of garnoc green on highlights.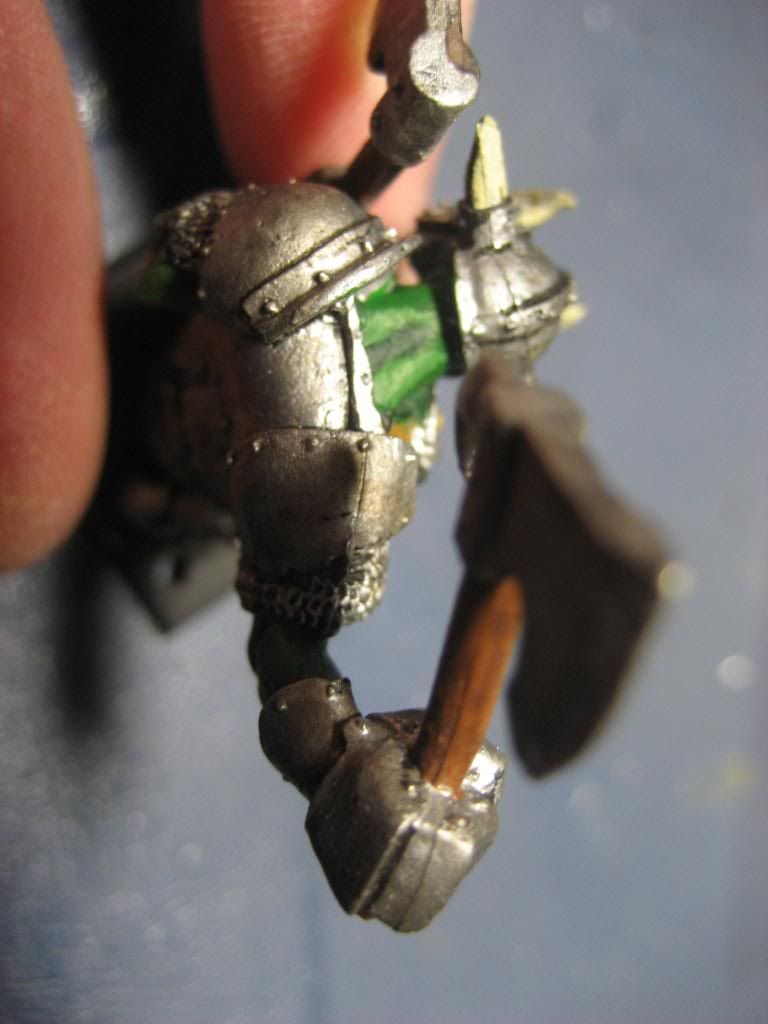 I then did a black wash and a brown wash on all the metal bits. I touched up the weapon edges with mithril and I think the weapons look a lot cooler now. The rest of the armor looks good, but I worry that it's too dark. I think I need to go through them all and touch up various bits with mithril or at least chainmail. At least on their faces. I just think it looks too dark.
I am definitely going to redo the leather straps as it's just a single coat of snakebite leather. I think I am going to use some bubonic brown to lighten it up a bit. All the horns and teeth have a really crummy coat of bleached bone that I will redo. I will do it proper and layer it up from scorched brown to bleached bone. Also, I had painted a lot of the little skulls and decorative heads in gold, but I want to tie this unit back into the main army some. I am thinking of painting over it in scab red, which is the unifying color of the rest of my army. I need to redo the main banner, which I had painted gold. It will also look more like my avatar.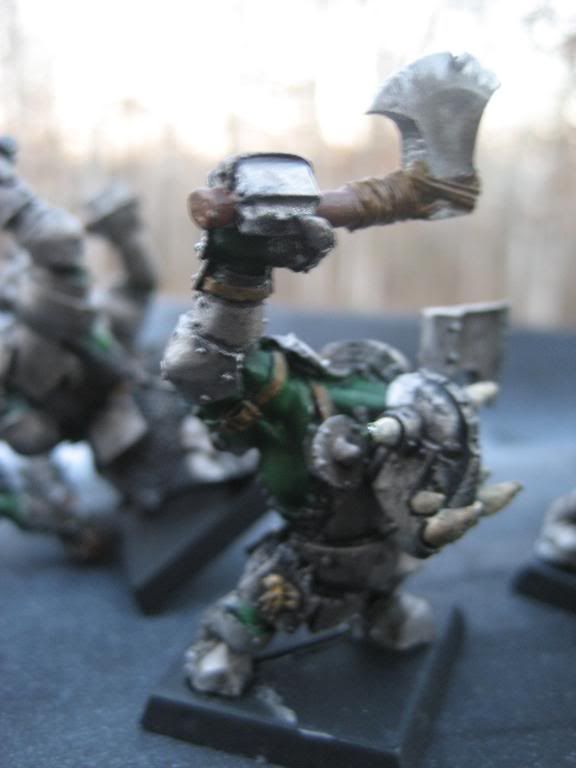 Besides that, I was working fast and furiously to get my army up to standards for a local tournament in Oct or so. I had painted enough of my giant to get by and I never did finish him. I wasn't ever fully happy with the skin. It was before I had gotten the washes and I think I will be trying out the washes on the big lug, as well as a few other washes on the rest of him. There are a few bits that are still white, like leather straps on the feet and all. I need to do some more layering on various bits such as dragon jaw bone and the paints.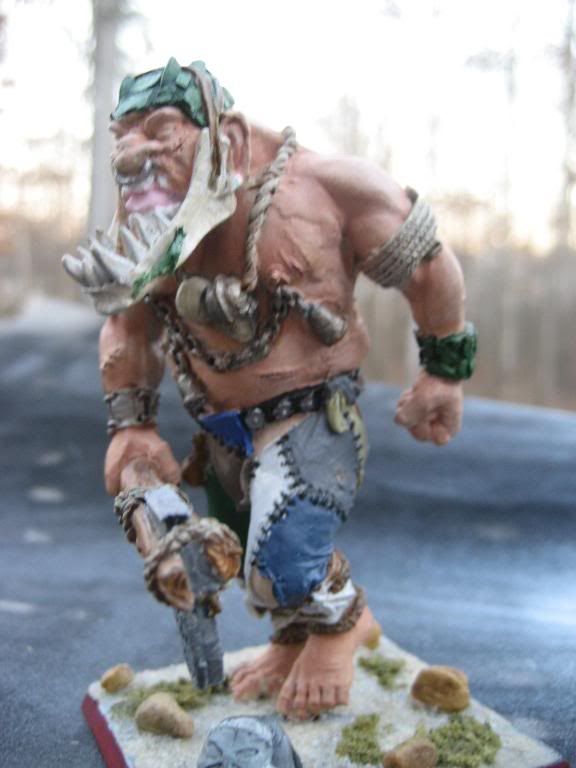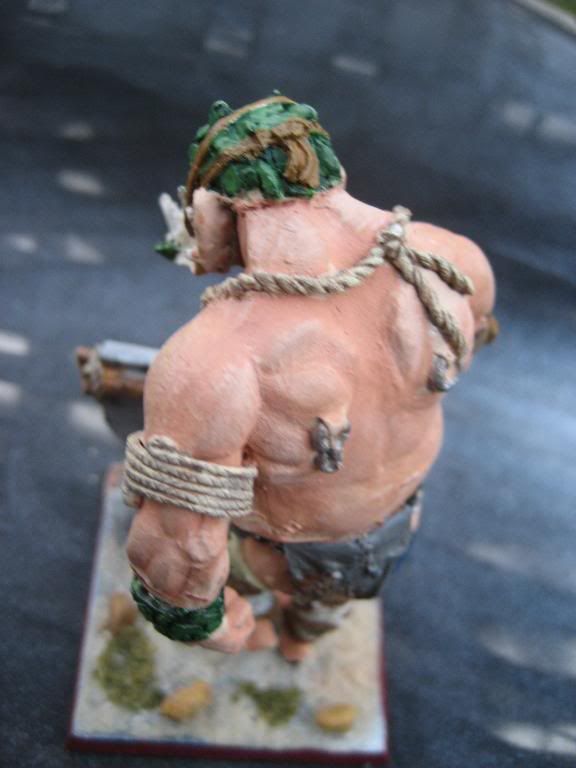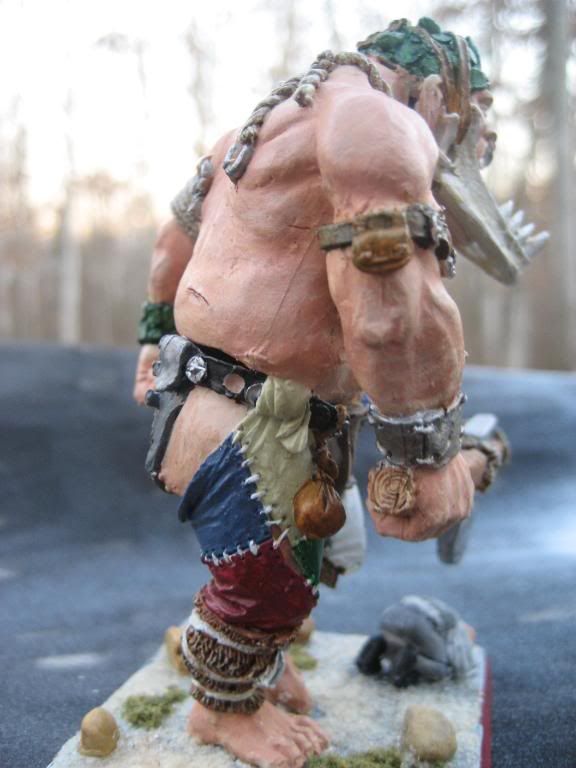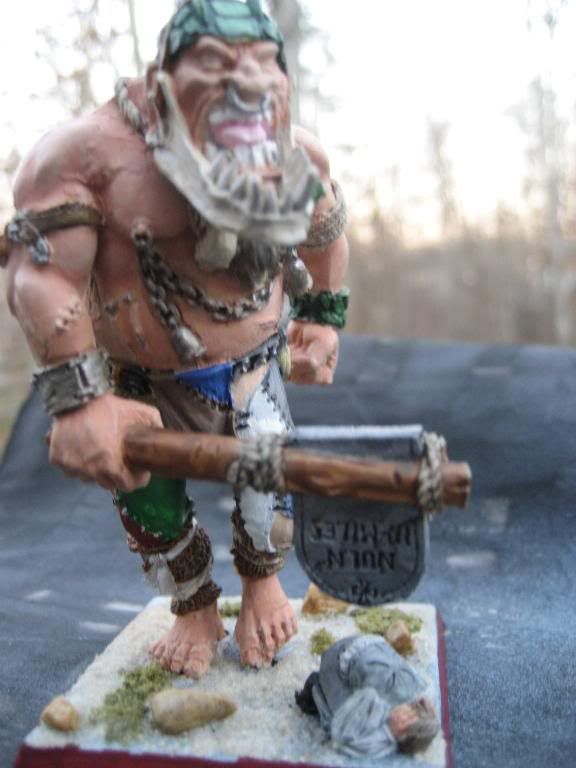 Lastly, I was working on these plastic savage orcs from
Inch High Games
, which has since closed their doors. I got them last spring, but was finally starting to paint them last fall. I got 20 of the savage orcs, but no command, since I have a few command groups from the GW metal minis. I'm not so sure now, though, b/c the GW ones are so much bigger next to these guys. Oh, well, what can you do? These little blighters were real savages to work with. I had to pin all their hands to their arms on all 20 of them. Well, I was using a guide that someone had posted on Da Warpath for 40k orc skin on a HowTo for an ork burner model. I liked the results and was using these guys as my first attempt. Well, I have 8 models left that I have not done the last coat of highlights on the skin. At least I think it's the last highlight level. I might have to go back and do a little bit of very fine highlighting of a brighter color on these guys, but I have to admit that I only started to take painting my minis seriously this past year. So, I don't know. I've got most of them done, but only the skin. Nothing else on the mini is done at all. I'm pretty happy with the results of the skin tone, though.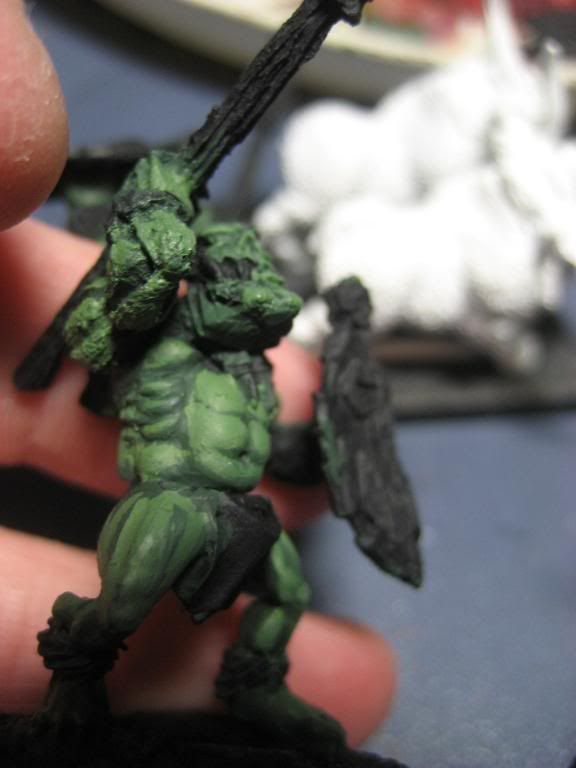 Here is one guy that has the last coat and another that doesn't.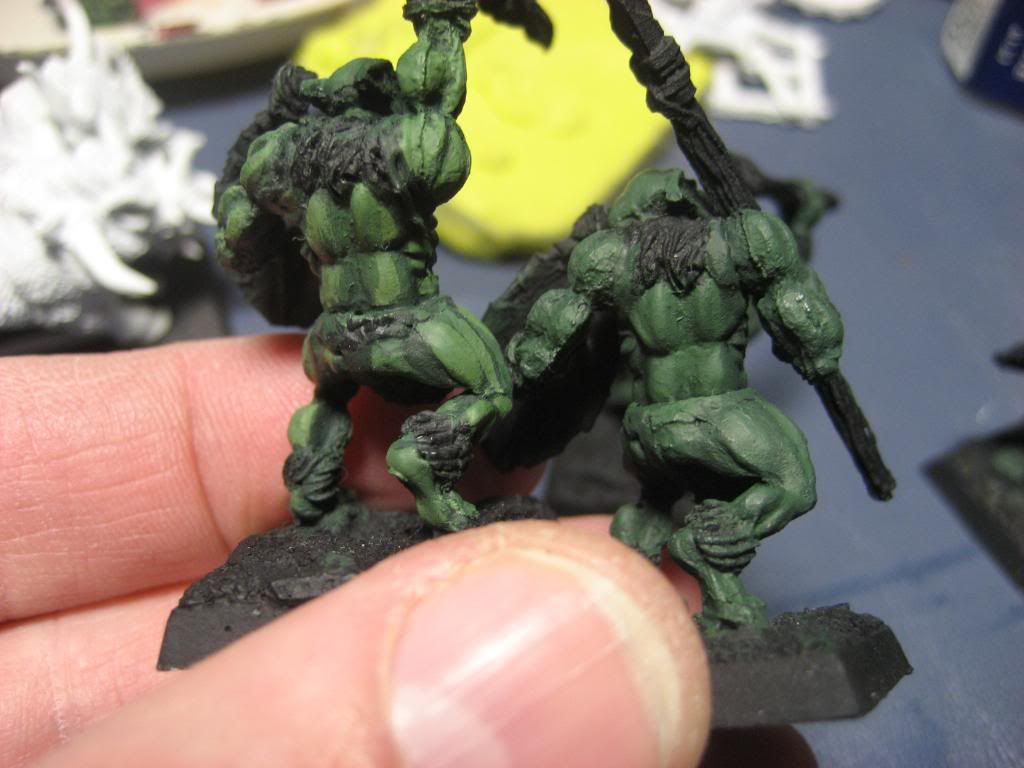 Let me know if you think they should get another coat beyond what I have there.
So.....this is the beginning of my blog. It's a long winded blog, I fully admit. I find I have more spare time at work to think about these things then I do have time to paint or even actually play a game of WHFB :o
I'm open for advice as I would like to get better. Encouragement helps me get motivated. Expect updates to be slow.
Dave Bednarek - January 22, 2009 04:15 PM (GMT)

What washes and in what order did you apply them for the chariot? It looks great. And what was the base color you used?

-Dave-
Groznit Goregut - January 22, 2009 04:23 PM (GMT)
I just used the GW Mud Brown wash (that is the new brown wash color, right?) on the chariot that was primed white. It had nothing else on it before I started to paint. I did do a few coats of it. At least 2 coats, but three in some parts. After the 2nd coat, I just touched up where I thought needed it. After that, I painted boltgun on the wheels. I did a coat of bleached bone on the leather straps on the chariot. I did a coat of gryphon sepia on the bindings, but was displeased with the color. I re-did a coat of brown on the wraps. I then kind of dry brushed bleached bone on top of the wrappings again. I say "kind of" as it's hard to really use a dry brush at some of those angles and just did the best I could.

If I had to do it all over again, I would just paint the leather straps right after priming it (well, let it dry first) and then just wash the whole thing in the brown wash. Touch up the straps after you put all the coats on that you are comfortable with.

I do say that Silver said he didn't put more than one coat on his doom diver, but mine really needed it. He said it must have been how he paints it on or something. So, your efforts might be better than mine and not need more than a coat.

Personally, I am extremely pleased with how the chariot and doom diver came out. It was very easy to do and I am lazy.
Goomb - January 22, 2009 06:55 PM (GMT)
Impressive, to say the least. Those look really good there, and I really like how your Doom Diver and the Chariot turned out. After getting some encouraging words from WGG yesterday (ahem, some good natured kicking in the pants), I am considering jumping back into Da Dust Devils.

Ok, Groznit, inquiring minds want to know:

Are you replacing dipping with GW washes?

Goomb

Groznit Goregut - January 22, 2009 07:47 PM (GMT)
@Goomb: I would have to say that I am done with dipping! I liked dipping and I did start that whole thread on it. I kept getting different results, though, when I had to get a 2nd can of dip. Some of it was better and some of it was not as good. Still, though, when I compare dipping to the washes, it's an easy choice. The washes are A LOT easier to do then dipping. I cannot stress that enough (though I sure try with the italics and bold print). With dipping, you have to paint everything first and then you dip it. You have to shake it off and ensure it doesn't pool. Then, it takes a while do dry. The washes? You just prime it white and go! I found out it's better to start with the smaller areas first and then wash the larger ones. Or maybe it's wash the lighter areas first and then the dark ones. Or both if you can. Anyways....you just put a couple of coats of the wash that you want on the mini and it dries in minutes! Well, maybe a couple of hours to settle into the final color.

I cannot take credit for the effort, though. I was only following Silver's experience of him using the washes. He came up with the idea of just using the washes and he figured out what colors to use for the doom diver. I only copied him. Full credit goes to him.

I do have to say that it's pretty cool to actually use my art degree for something, though. I'm talking about getting serious on the skin tones for the orcs. I've been utterly lazy about painting for a few years and my early orcs look like such crap compared to what I know I can do. I like doing a much better job on minis these days. I did spend some $$$ and get a nice set of brushes, the wet pallet, and a wider range of paints, too. I have a good friend that is a good painter and he encourages me to actually use my talents.

I'm always impressed by people who have a specific army list in mind and build/paint their minis for it. I think I am going to go that route. I've got hordes of greenskins, but just painting up a unit of regular orcs or goblins that I am not even sure if I am going to use the minis in an army seems too boring. I like the idea of people who spend the extra effort to modify a number of rank and file troopers, just to make a unit more interesting. It always seemed too big a scope for a horde army, but we don't have to be a horde army any more and I feel more inspired to spend a bit of extra effort to make a unit I am going to use stand out more. Does that make sense? I like to build towards what I am actually going to use.
Goomb - January 22, 2009 10:55 PM (GMT)
<sputter, cough, cough>

No dipping?

I just swallowed my water wrong, by the way. Yikes! There must be something to this wash thing! :blink:

I understand where you are coming from about converted armies and whatnot. I am constantly blown away by the creativity and skills displayed by people on Da Warpath and other forums. It is just amazing what some people can do with some green gluey gunk, some plastic bits and paint!

Well, Groznit, I might have to break down and try this....My Dust Devils are needing some love, so this might be a pretty good method.

Goomb
Warlord Ghazak Gazhkull - January 23, 2009 07:35 AM (GMT)
That wood work looks really awesome, I must find that recipe. I will use it for my warmachines I think.

@goomb, get started on those dust devils.

Greetz
G
Paiant Slapah - January 23, 2009 03:21 PM (GMT)
I'm diggin' the chariot and doom diver.
That's it, I'm gonna have to visit the local shop and get wome washes.
Good looking stuff.
Keep up the good work and keep us updated.
Bidiot Dwarf Stomper - January 27, 2009 06:44 AM (GMT)
Awesome stuff mate.

I think everyone has said what I think about the wood. Really nice.

Also like your black orc skin too....

Glad to see you have moved away from the dipping scene. I've never really liked that. Although as dipping goes your stuff was always some of the best out there.

Bidiot. :D

PS. Better go dig you out one of those blog badges. :)
Groznit Goregut - January 28, 2009 02:05 PM (GMT)
Thanks for the comments, guys! I really appreciate it, especially from you big 'uns.

I've got the boars almost done. I used the black wash on the skin, but had to do a few coats. I'm still not 100% it's enough. I might want to dry brush the tips of the fur as they are still showing a bit white. I will post here when I get a chance.

I did the sepia wash on the teeth, hooves, and horns. I did the flesh wash (for the first time) on the nose and face. Those came out great! I just need to paint the eyes and paint the metal cap on the horn.

I will show my friend what I've done tonight. It was a Christmas present for him, so I really want to finish it. I'm not sure what to do for a base, though. I've got one last chariot base that I've been saving, but I kind of want to save it for myself. He doesn't really care how his minis look. I've found these cheap balsa wood sheets that are a little bit bigger than chariot size. I don't have the power tools to cut it down to size and hand tools are just too rough (I've tried). I do want to make a proper base for him, though, and base it up. He would probably be happy with just the base on the boars, though.

I need power tools... :yarr!:

@Bidiot: Thanks for the comments on the black orc skin. I was really trying to do the layering affect. I didn't want to go too light, as they are black orcs. My friend, who is a better painter, was telling me he likes to blend his layers a bit better. I'm thinking that I kind of like it a bit more noticeable on these guys. It looks better at a distance and makes the muscles "pop" out more.

The dipping was great, but I had problems when I lost my first can of dip and started to use a different one that I had laying around. It also took too much effort. Using the washes is a lot easier then even dipping! So, you can say I am simultaneously moving to doing stuff easier and more complicated.
Groznit Goregut - February 14, 2009 03:35 PM (GMT)
Well, I haven't been to get my camera or access to my pc at home. Yesterday, though, my boss let me out with a 1/2 day, so I went home to work on minis. A friend of mine suggested that I get all my minis out and take a picture of them. So, I did.
The reason for this, though, is that there is suppose to be a MEGA battle at the local store on Feb 21st. Three guys have 18k pts of Dogs of War and are going to take on all comers. We have been told that pictures we take will make it into a future White Dwarf. So.....we can only bring painted minis. I hope to bring my best ones, at that. Of course, when you see my army, you will see 1/2 of them unpainted. So, I am trying to see what I can get painted and bring in before the 21st.
I don't want to bring my giant, wyvern lord, or my All Mounted list. I can only bring 2k of troops and if I am all mounted, then I will show up too soon and get blasted piecemeal. So, I am trying to see what infantry I have. I'm not sure on fanatics, though, as they will either work great, or really bad and go through our entire lines.
So, I tried to get my black orcs to a good point. I wouldn't say that they are fully done. I would like to work on the horns some more and maybe touch up various parts of the armor with a lighter metal. Still, though, I think they are done. I tried to make their banner look like my avatar, but wasn't super successful.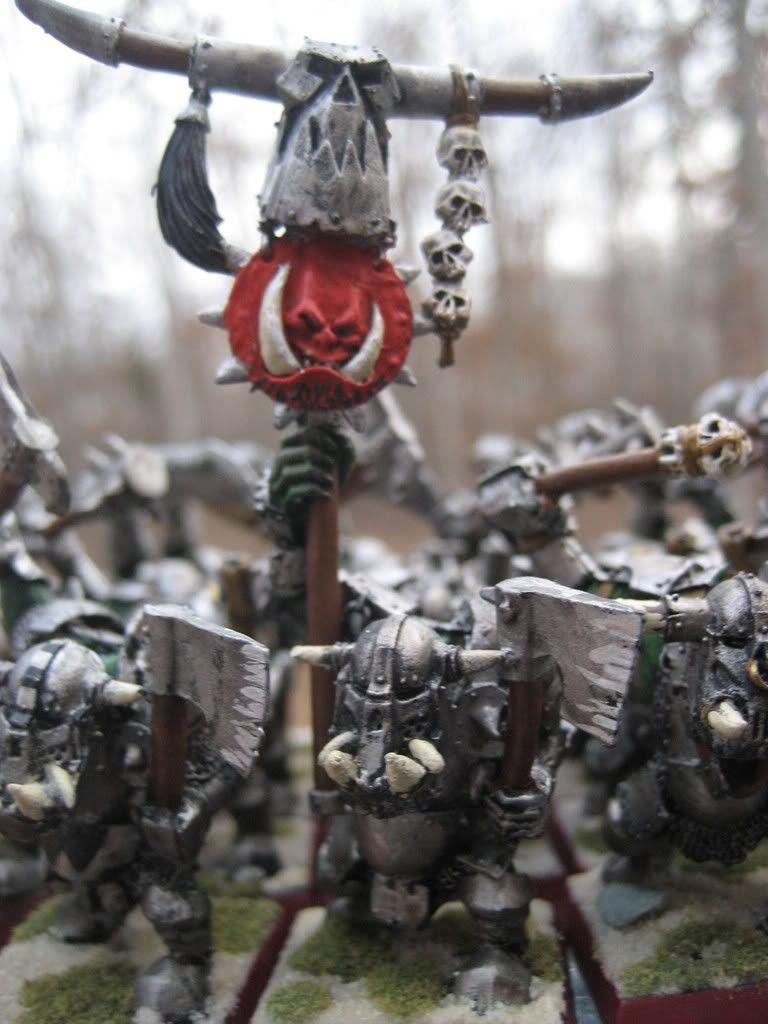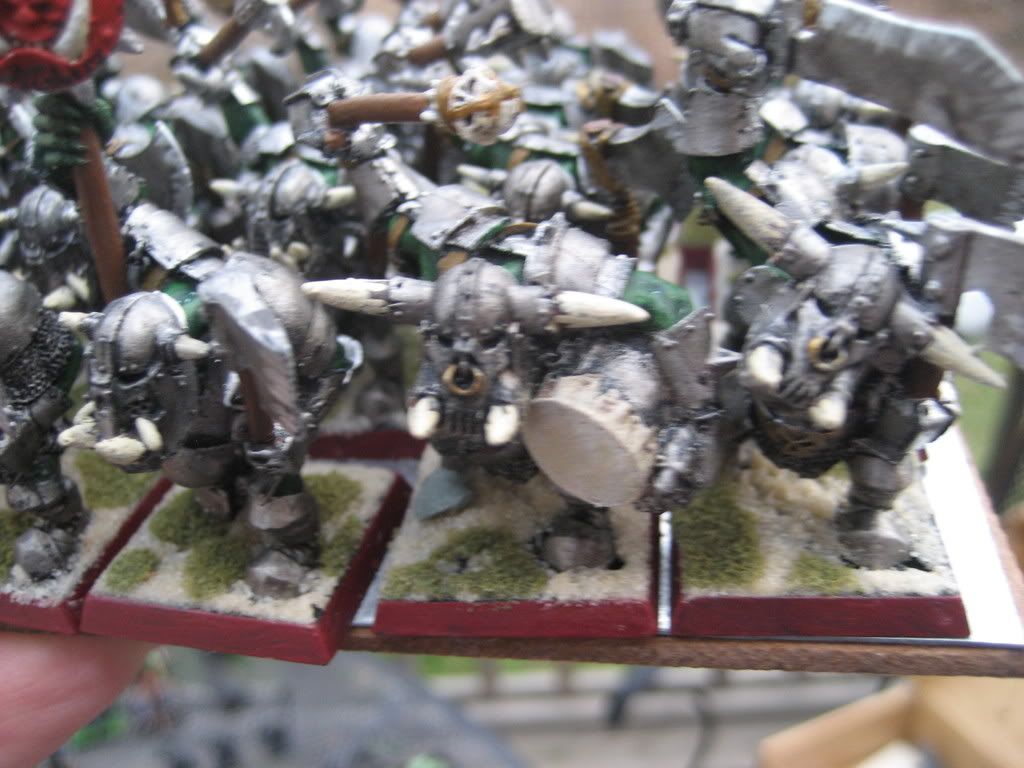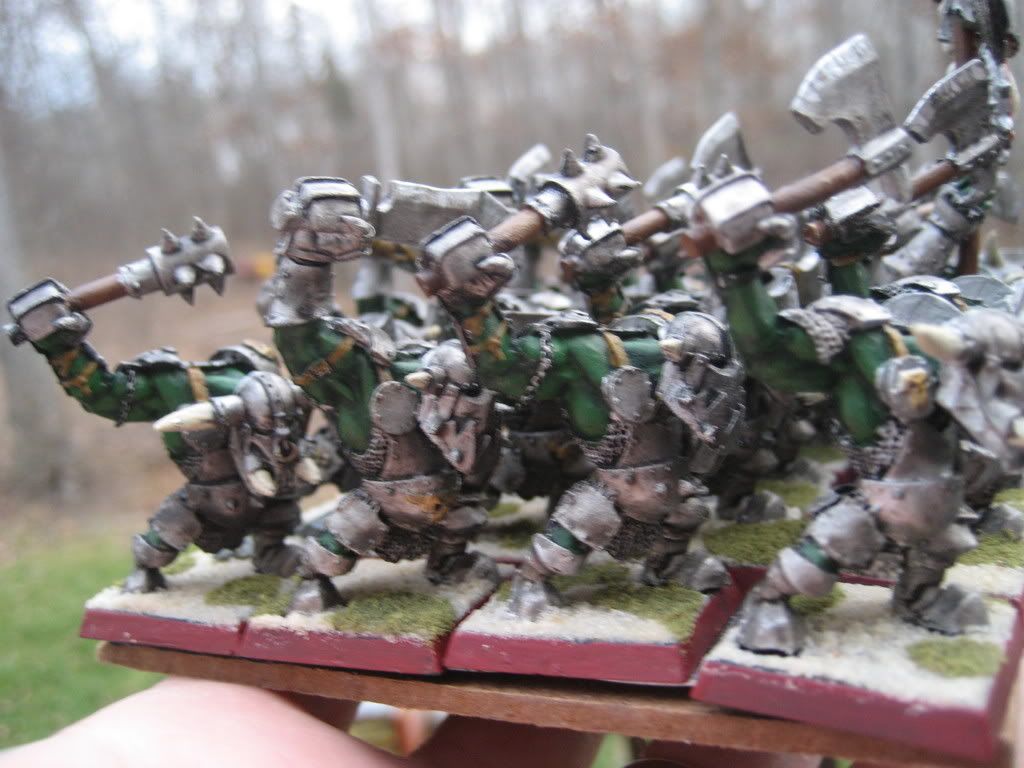 Now, I went and got almost everything I could find on short notice. I didn't dig through everything. I know I have a bunch of wolves and boars somewhere. I have a number of things on sprues. I also have a few things in boxes that aren't open. Here is what I have put together (that I could find) in one shot: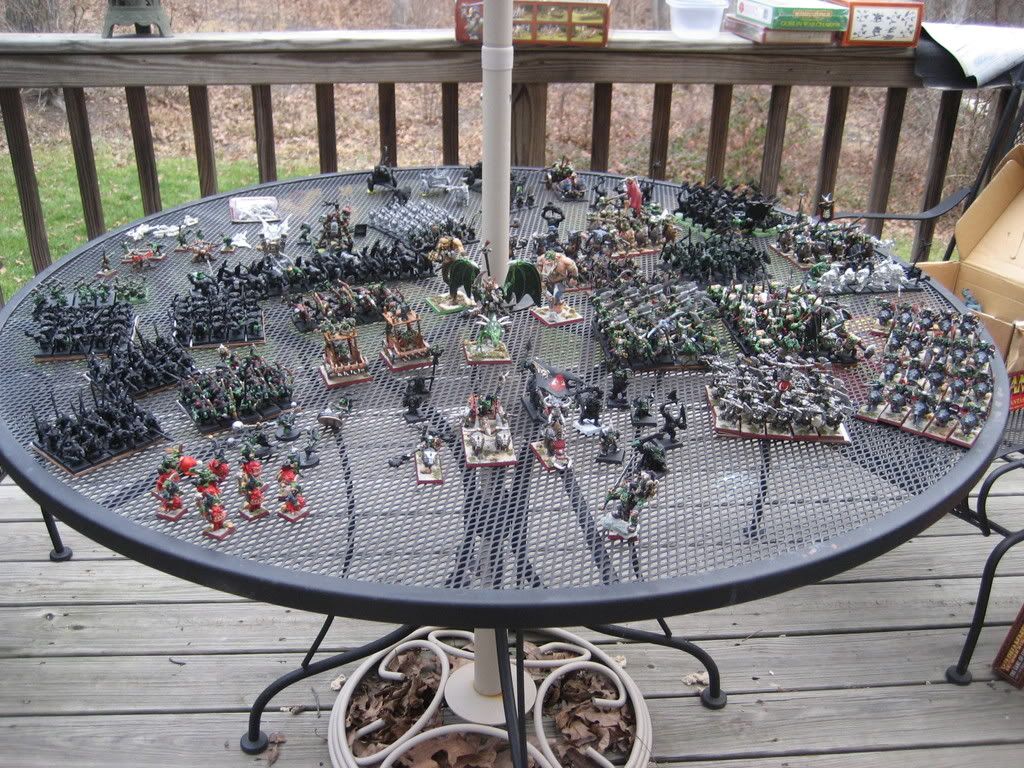 Some pictures of my heroes are: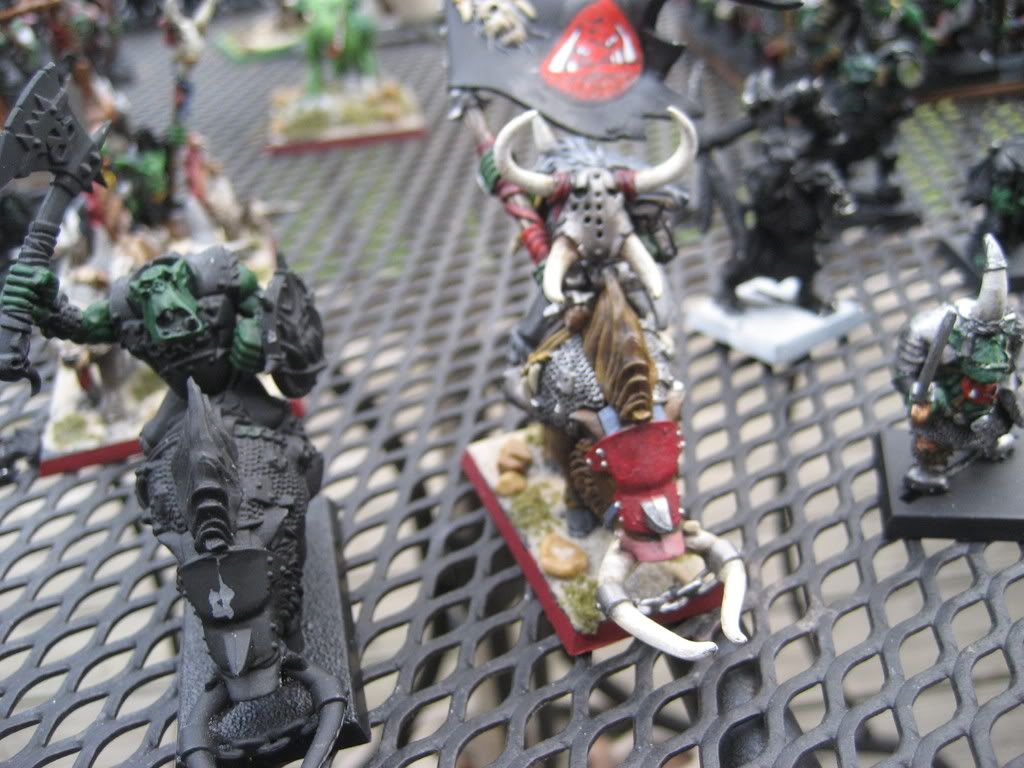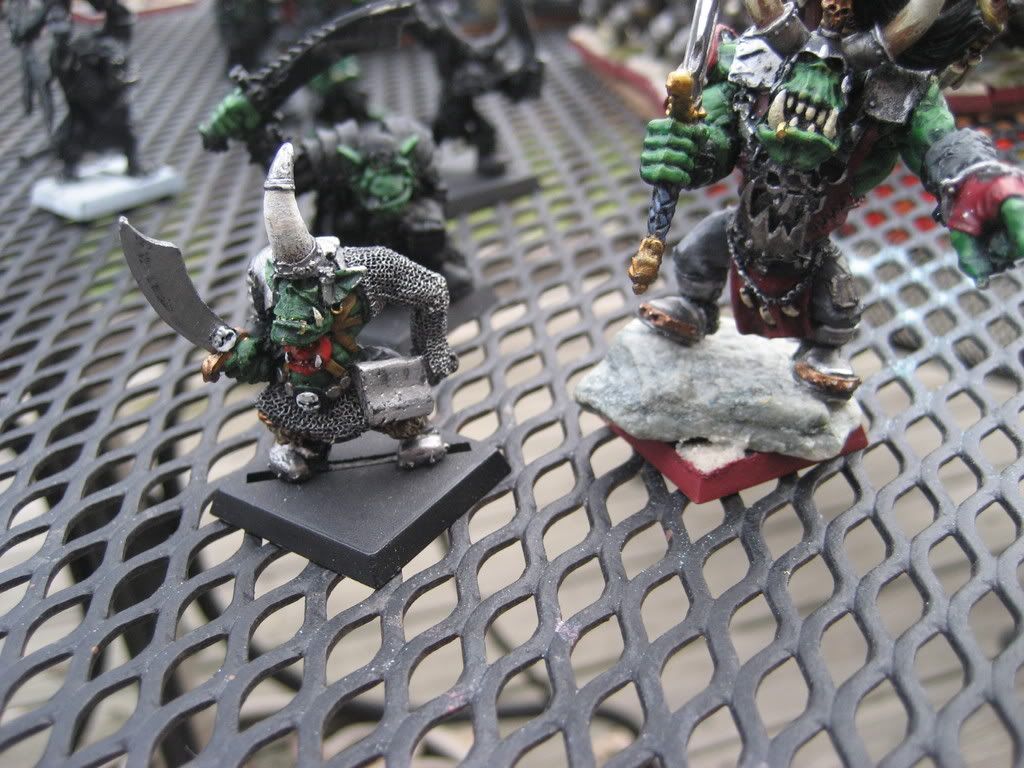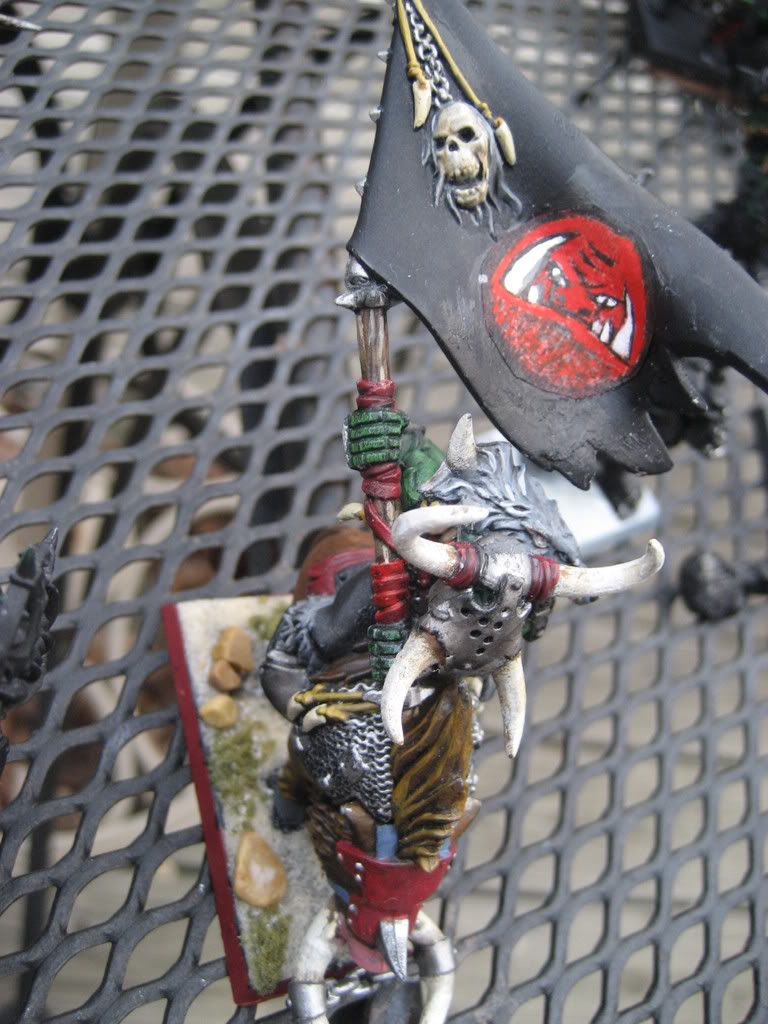 I know that these are kind of crummy shots. I had to watch the kids in the backyard as I took them and I didn't have the sun. Also, I needed to hurry up before I took my wife out for dinner, so I didn't have time to mess with the settings to get the best shots. I barely had enough time to get them all out, photo them, and then put them away.
Here is the left side of the table. I tried to keep it to goblins.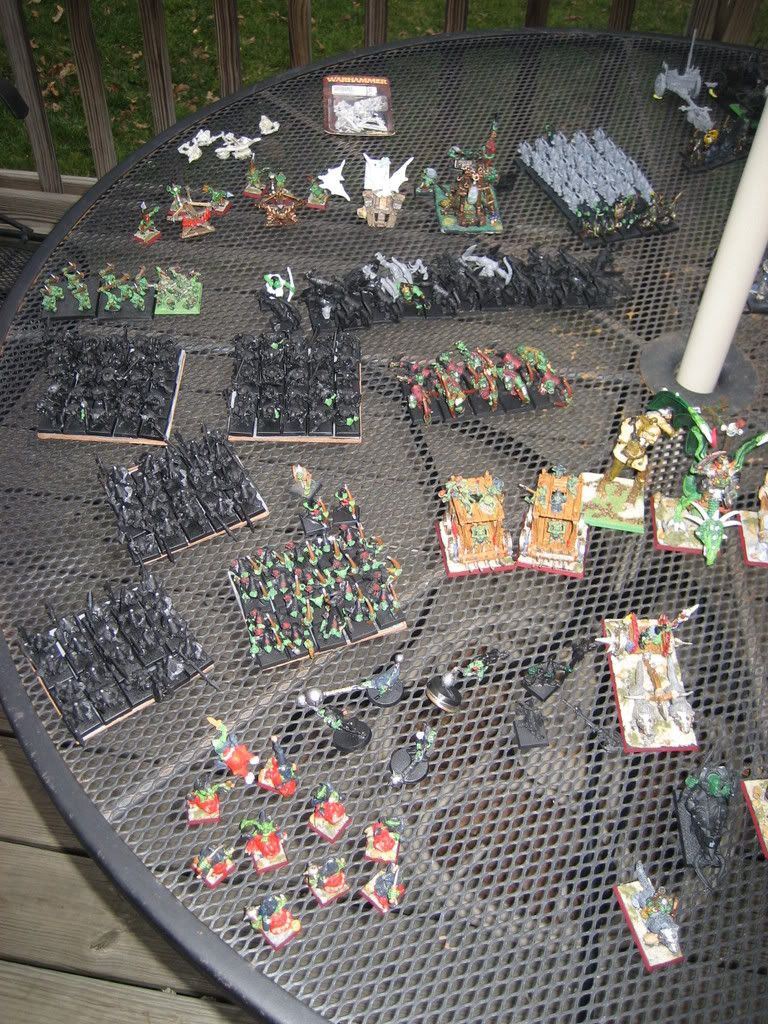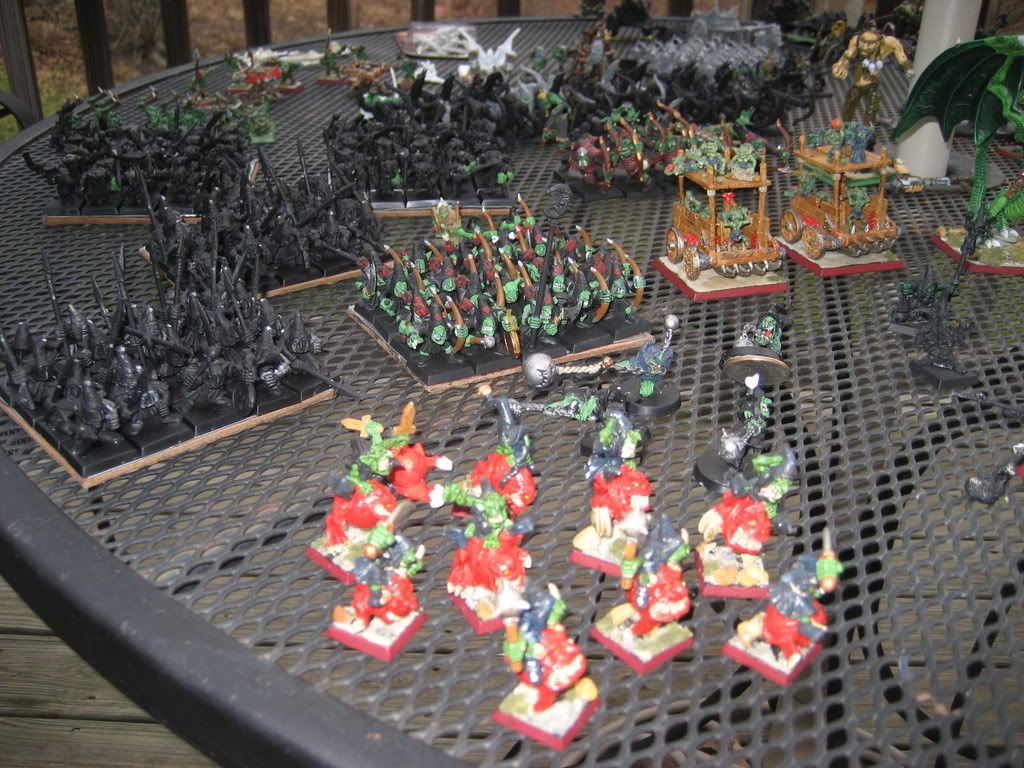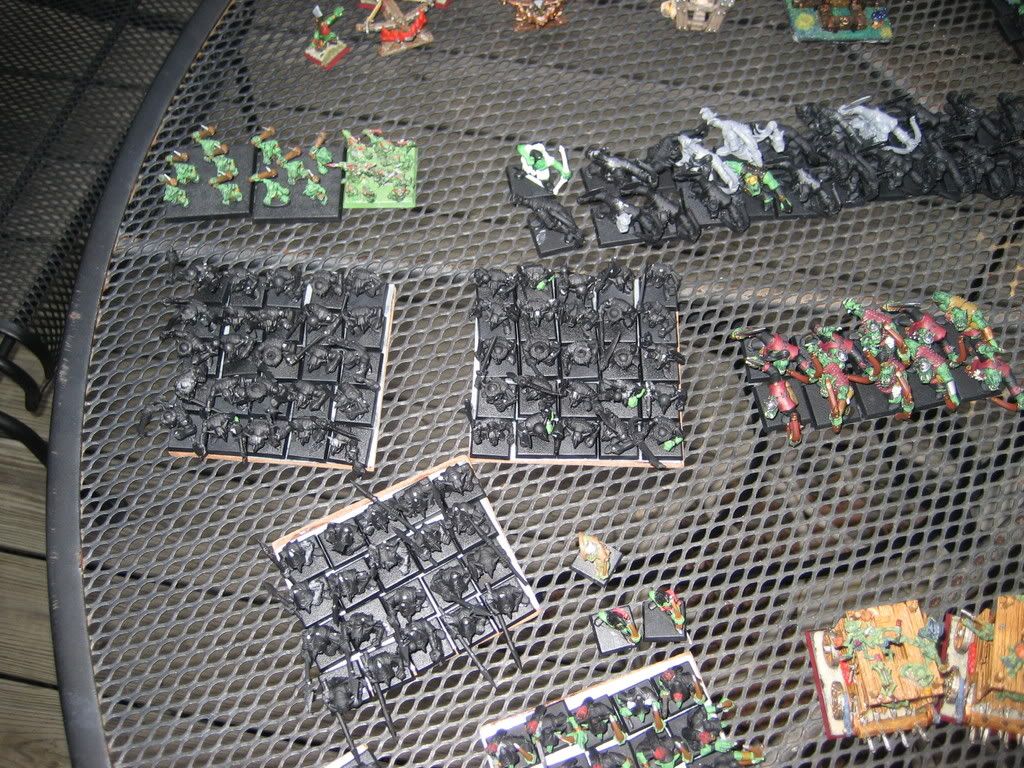 What I have are the old 6th Ed gobbos. I have 2 x 20 night gobbo spearmen that aren't painted. I have 20 NG archers. 2 x 25 common goblins that have all been converted to have hand weapons. I've had all of these units for years and never got around to painting them. You can see my love for goblins.
I've also got 10 arrer boyz painted and about 22 more unpainted behind them: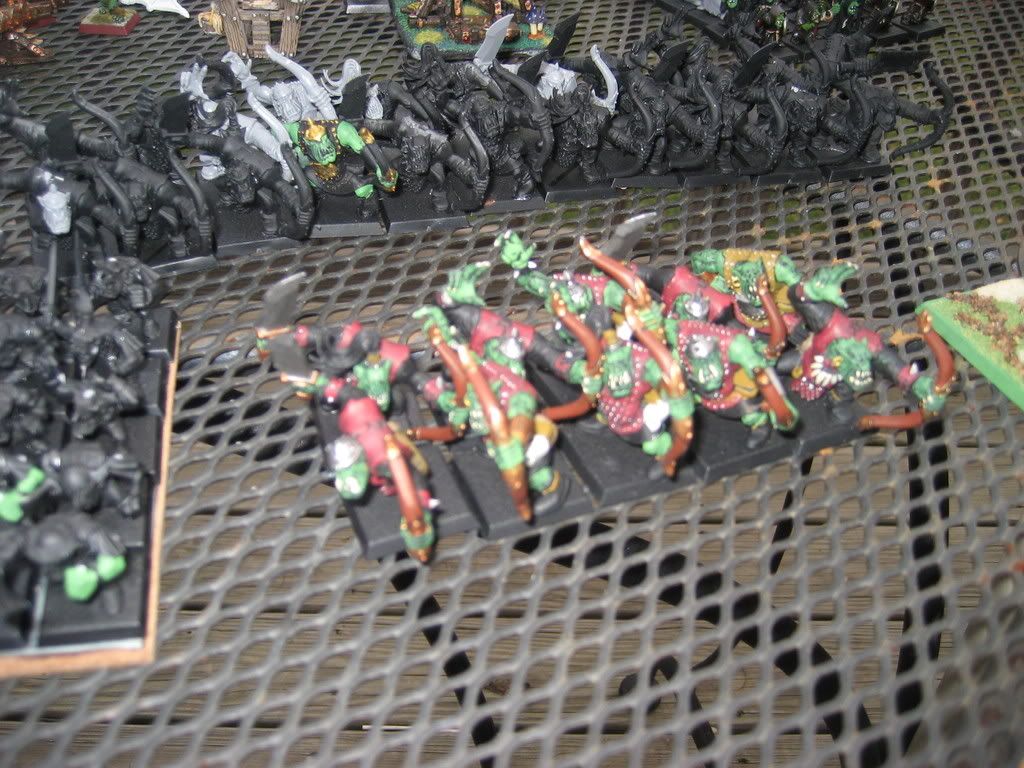 I've got 4 spear chukkas. One is still in blister and the other is an old orc bolt thrower that I haven't put together. There is a finished rock lobba and 1/2 finished doom diver.
Two snotling pump wagons: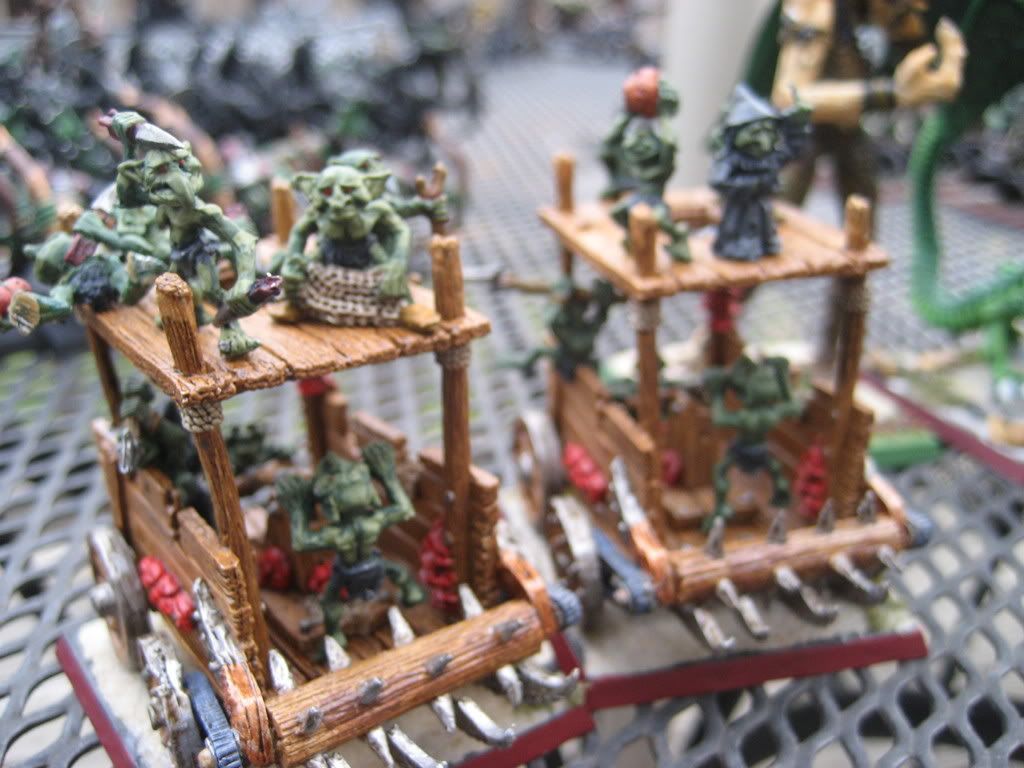 Two giants and my wyvern lord. The Albion giant needs his arm repaired somehow: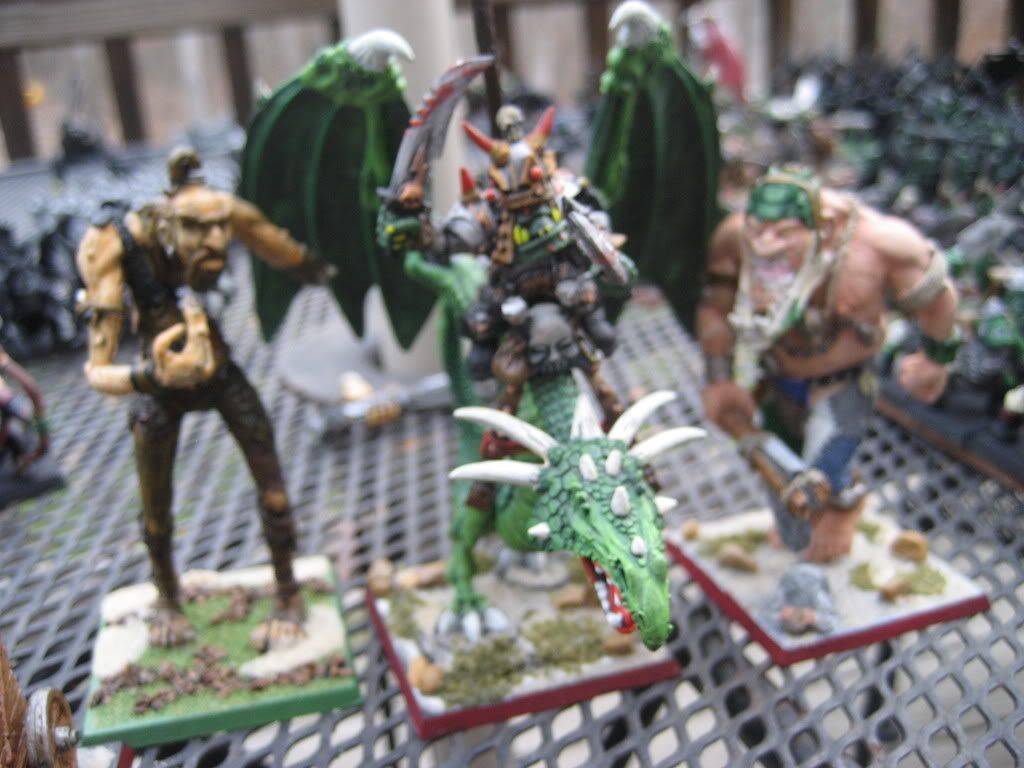 Two x 5 spider riders with 4 stone trolls behind them. I know I have at least 10 more spider riders scattered around that I couldn't find or on sprues: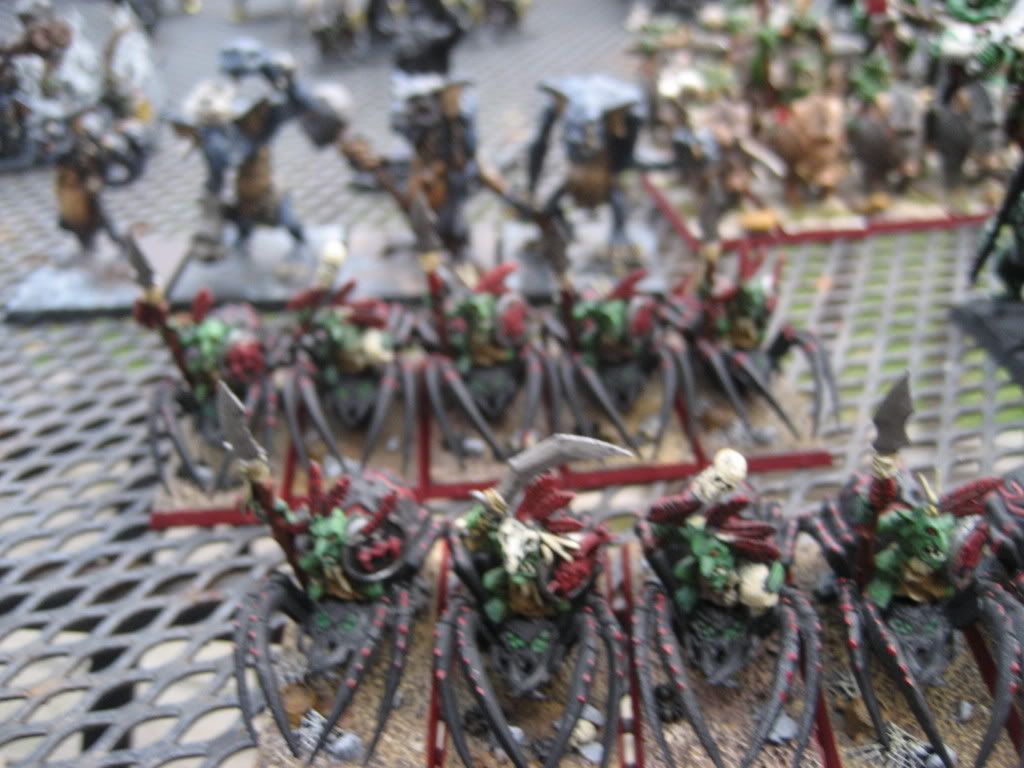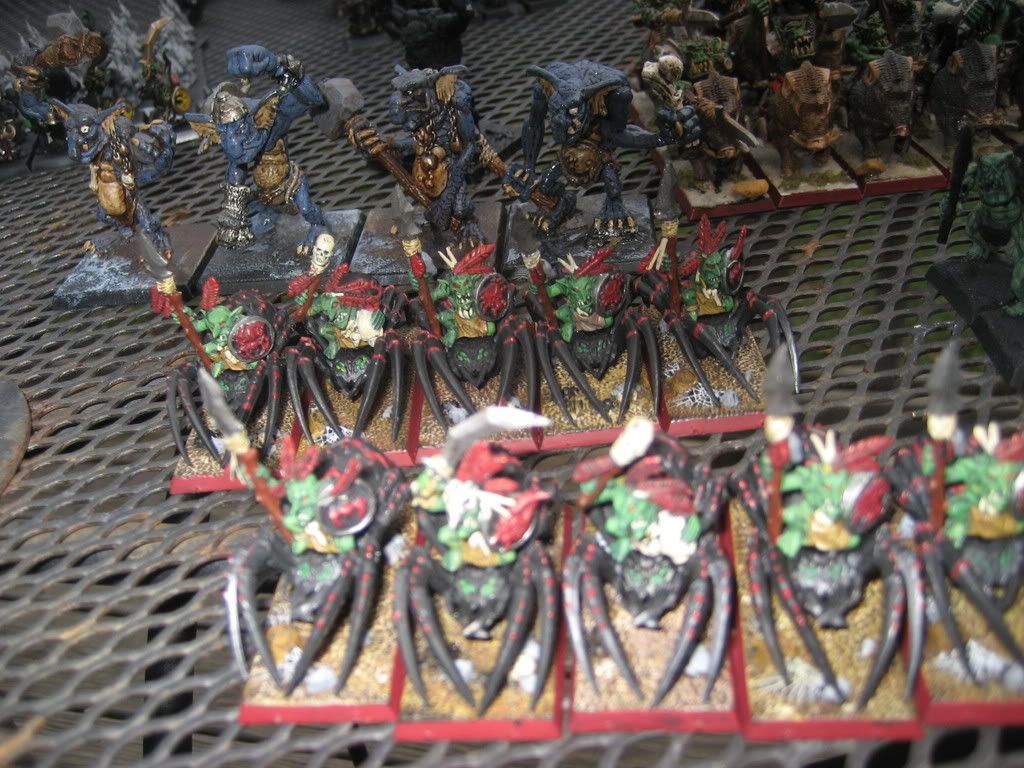 Groznit Goregut - February 14, 2009 03:36 PM (GMT)
The right side of the table. I've got 4 x 5 wolf riders creeping up the flank: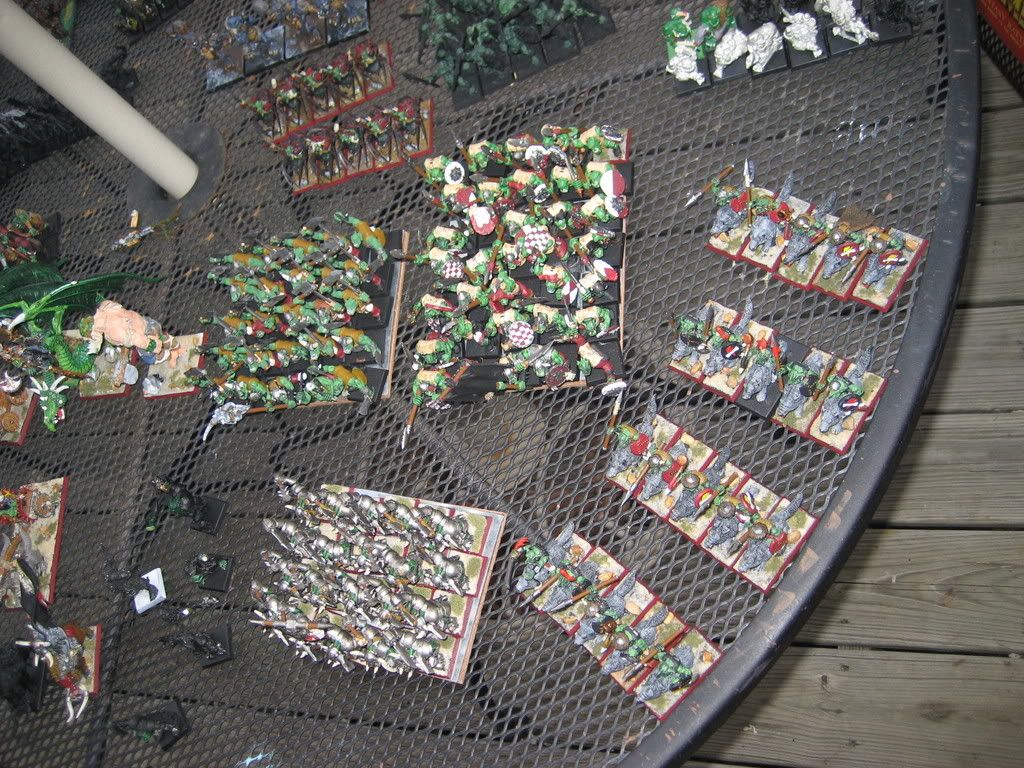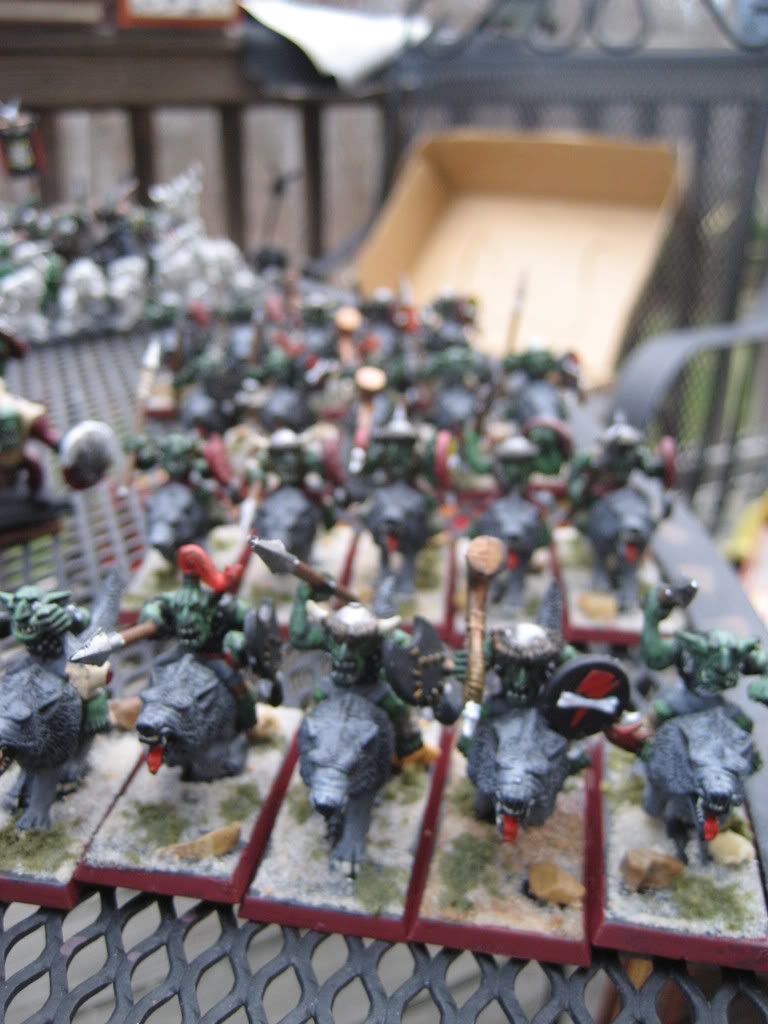 25 6th Ed starter orcs with banner (that is probably tilted too much)
This unit started off as 25 spear orcs, but when 7th Ed came, I made some more choppa + shield orcs to turn 51% of this unit into that type. So, I have a total of 35 orcs with a mix of spears and choppas.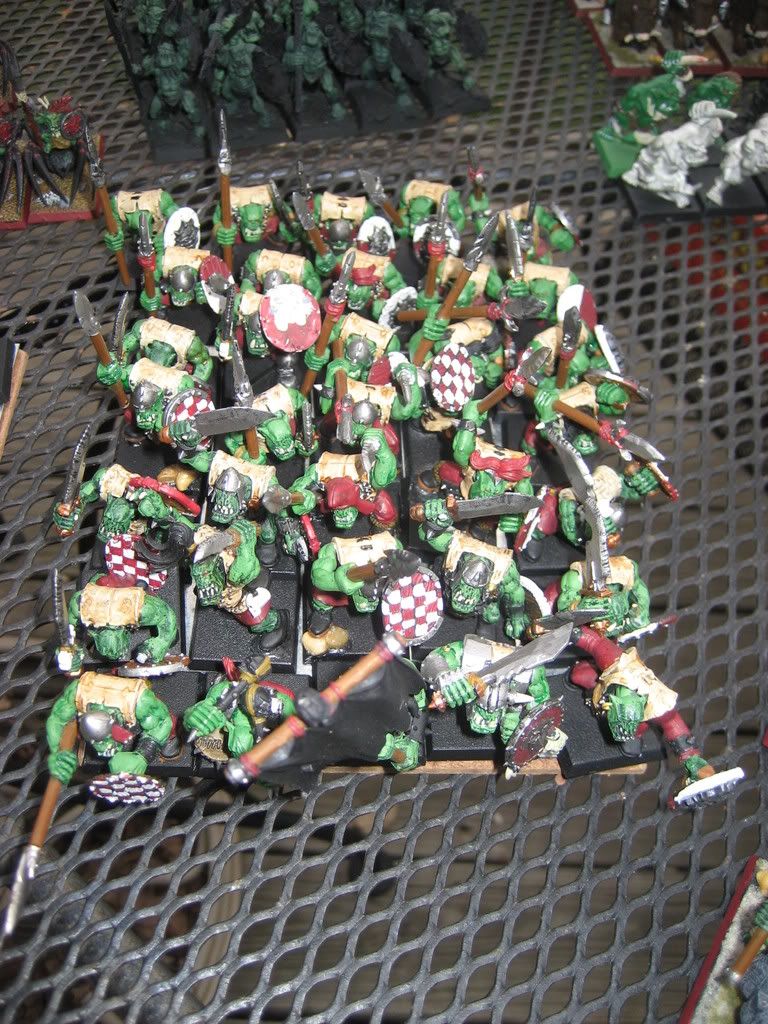 The back half of the table:
I've got a dozen or so of the metal savage orcs, including two command groups. I also have 20 Inch High Game "wild orcs" and I was planning on using the metal command group to work with these guys, but I am not sure if they will work together. The real ones are really big.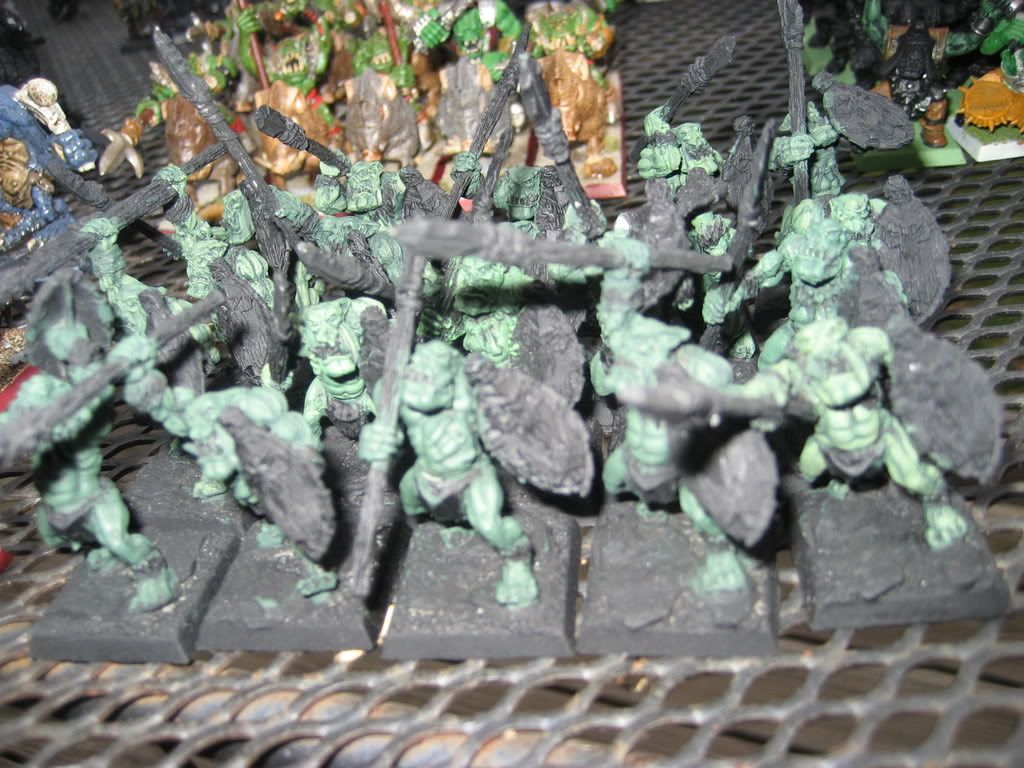 I've got two units of 11 boar boyz. I figure one day I will strip the paint on them and try them again, but for now, they are some of the minis that are actually done. Not the best paint job, but they are actually painted!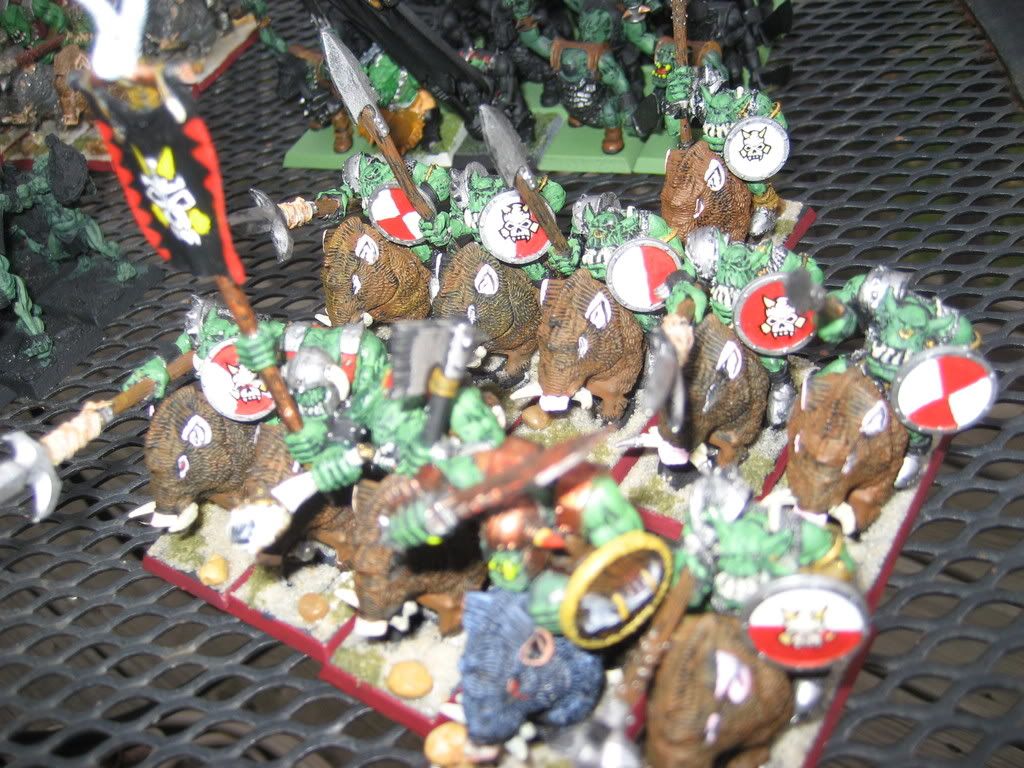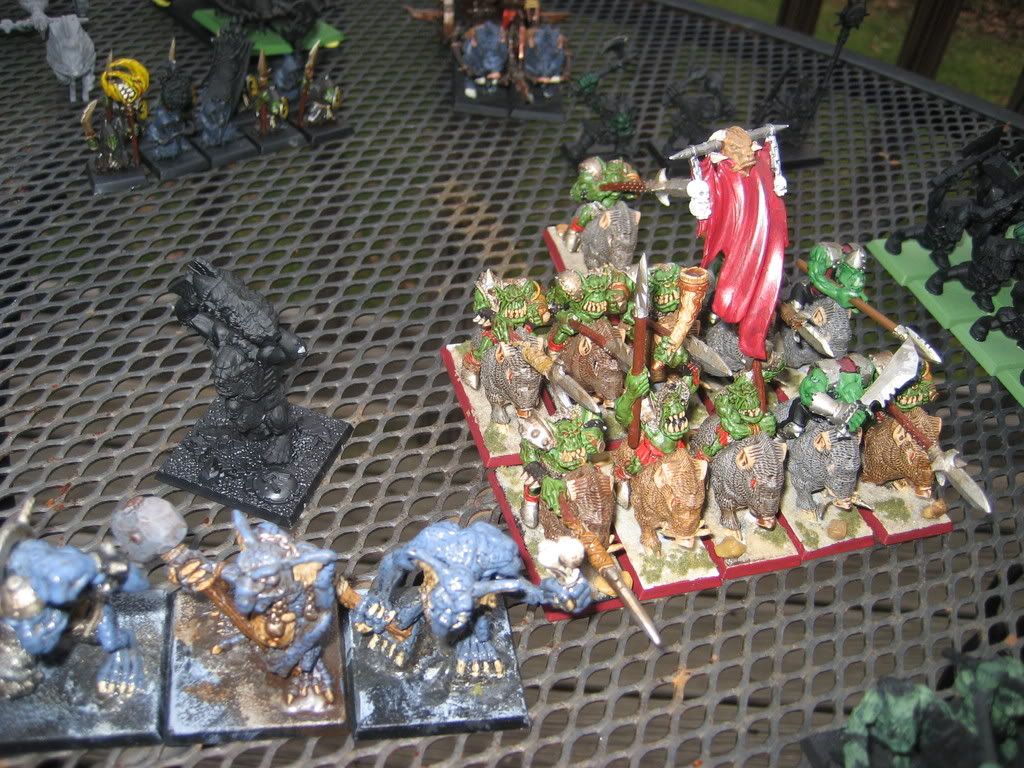 I had also forgotten about another whole unit of the 6th Ed starter orcs that I had in some side box. I got some of them pre-painted, but need to start them again. I figure that I will try to convert a lot of these guys into unique models and switch out the arms.....one day.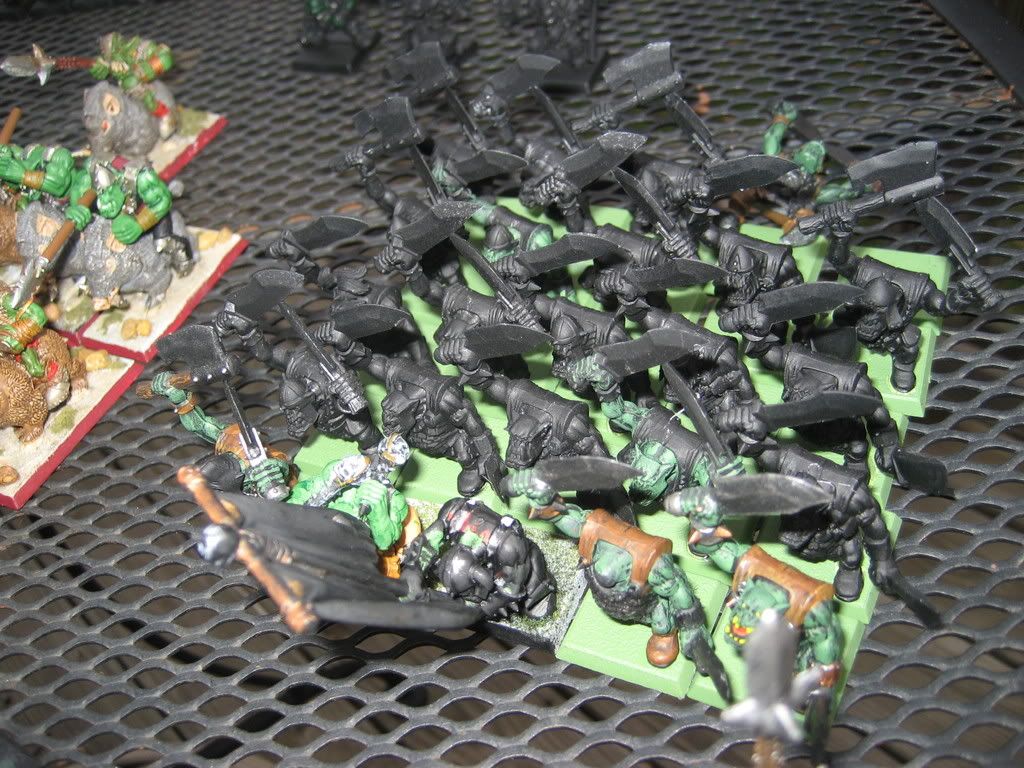 I found an older edition command group that I had gotten that I couldn't find before. I figure that they will be the command group of the unit that I eventually convert up and figure they might be Big 'Uns.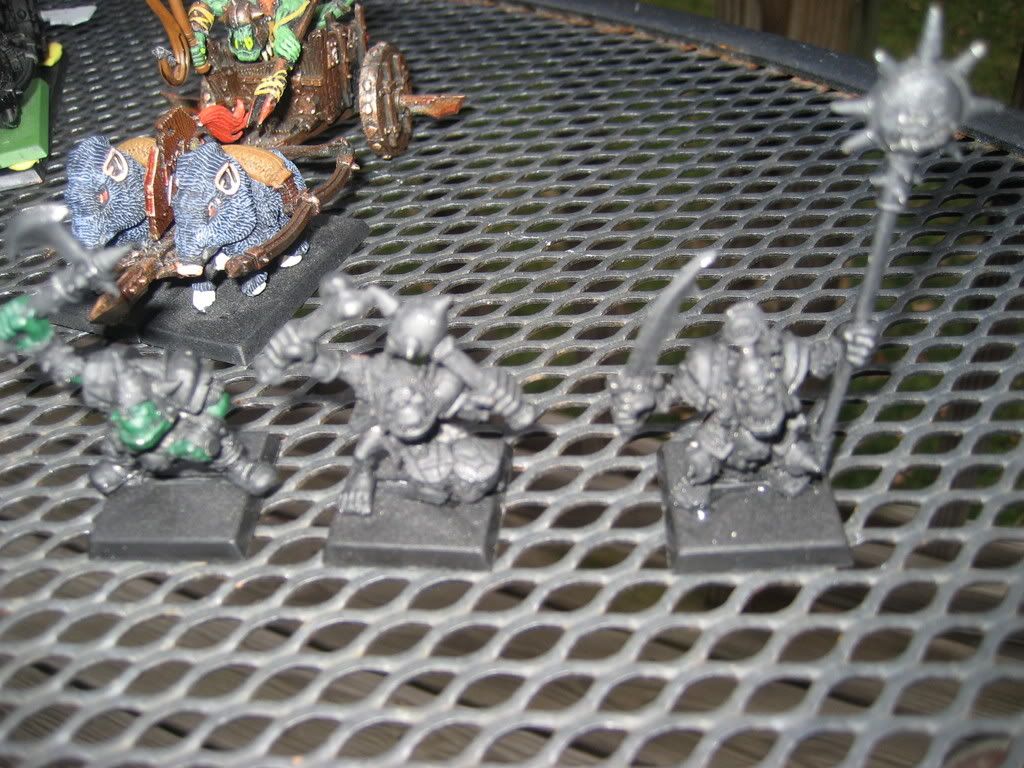 I have a total of 5 boar chariots. One is still on sprue. Only one is fully painted. The other two are here and I used them in my chariot games as other race chariots.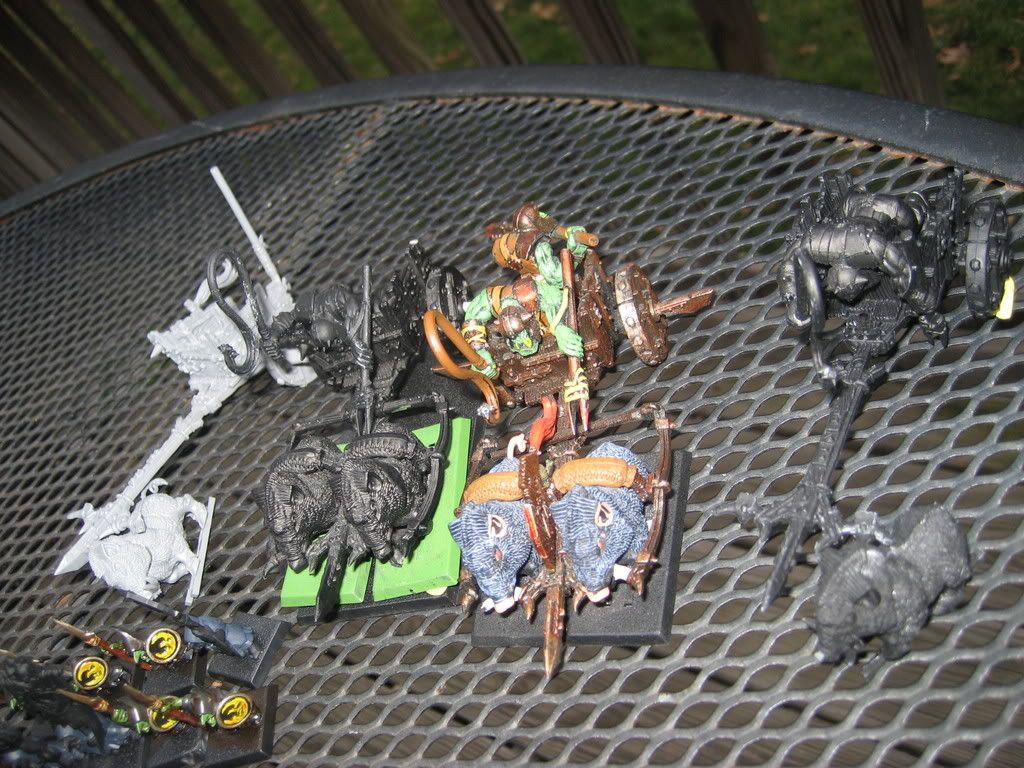 I did get my hands on two boxes of the Battle for Skull Pass. Here are the archers from them:
I can't find my BfSP spearmen beyond these. Well, some are on sprues, but I know I have taken a bunch off. I figure I will find them one day, but it's not like I actually need them or anything.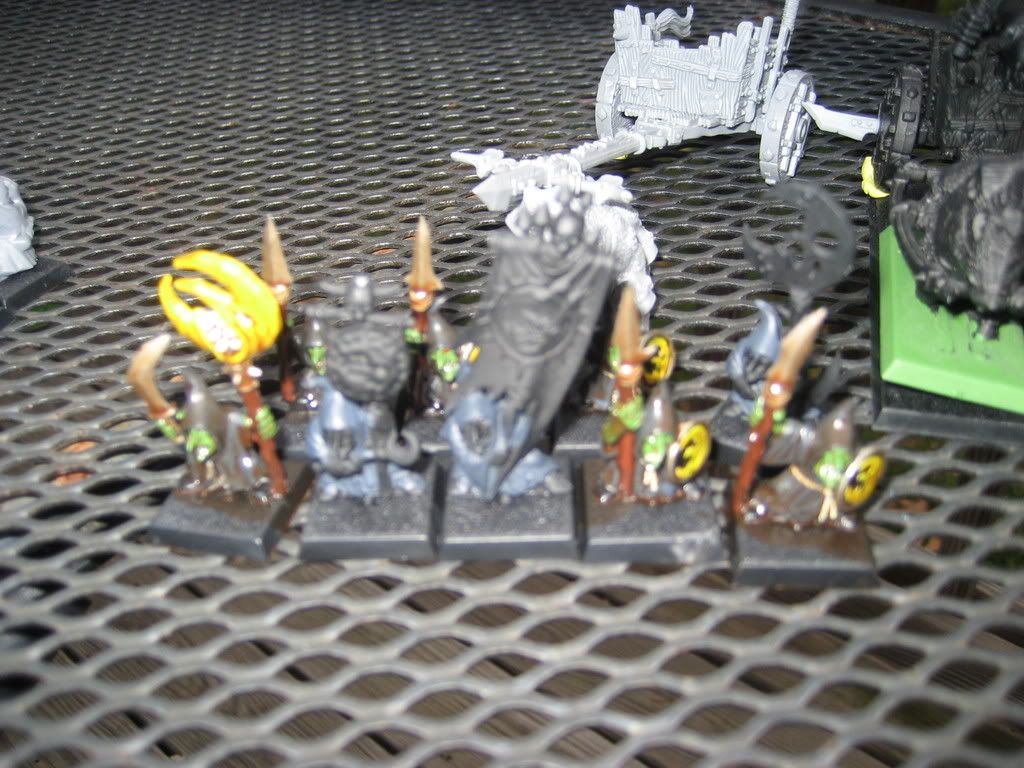 OK....One last look at the whole table.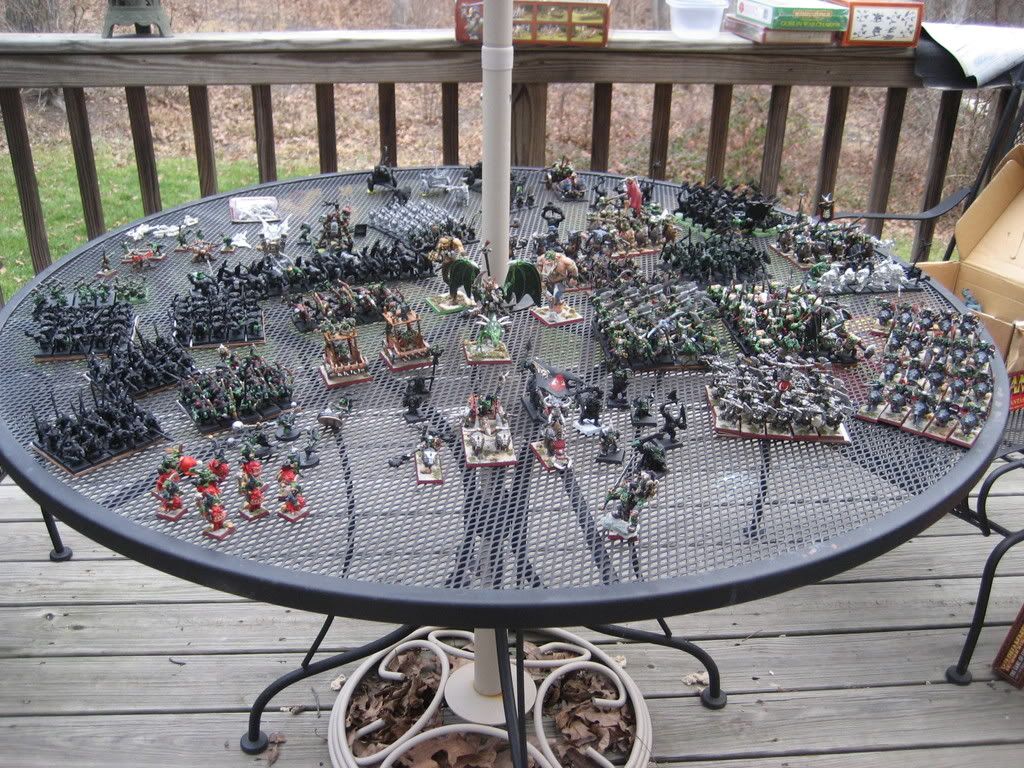 These are the sprues that I have yet to deal with: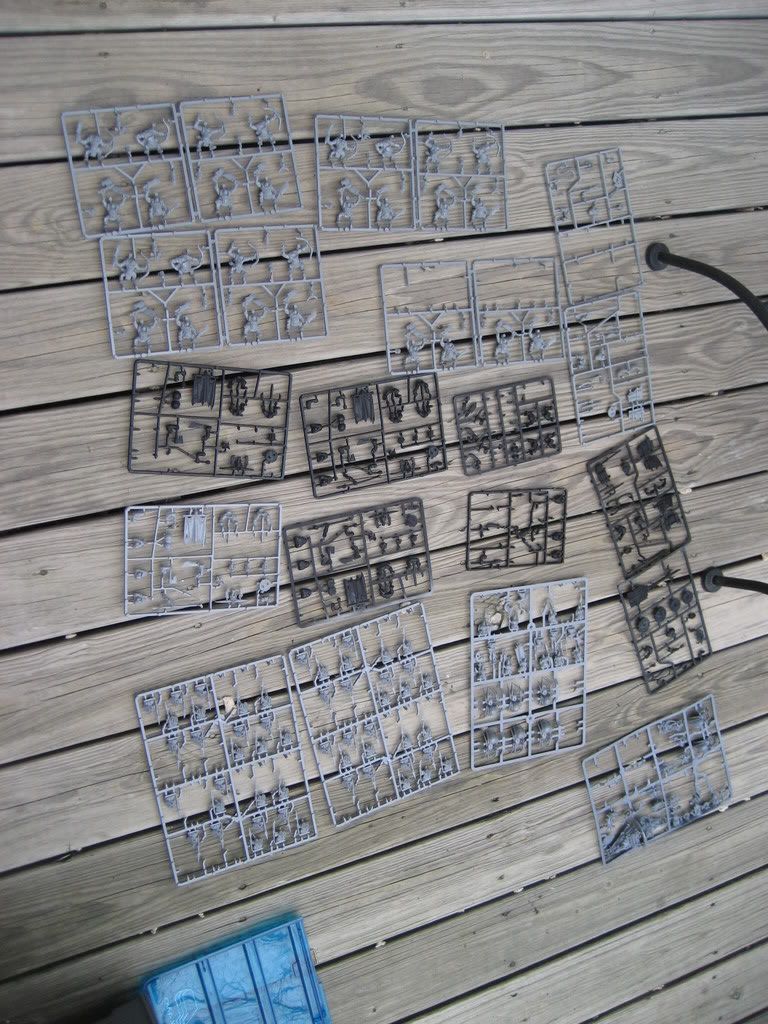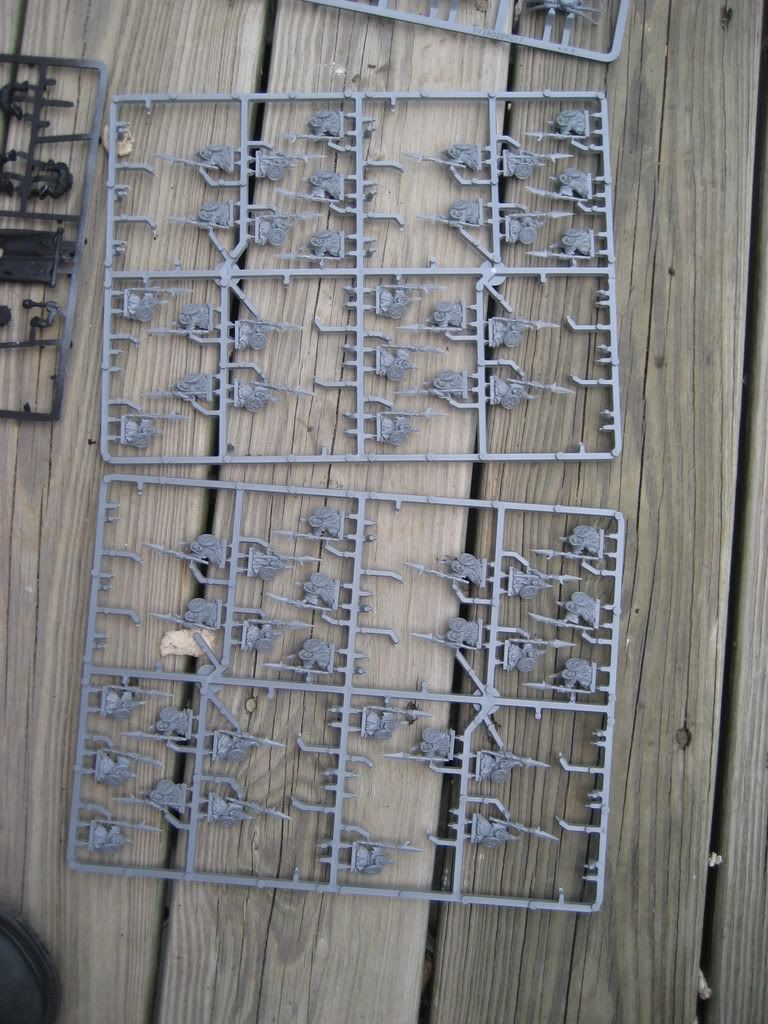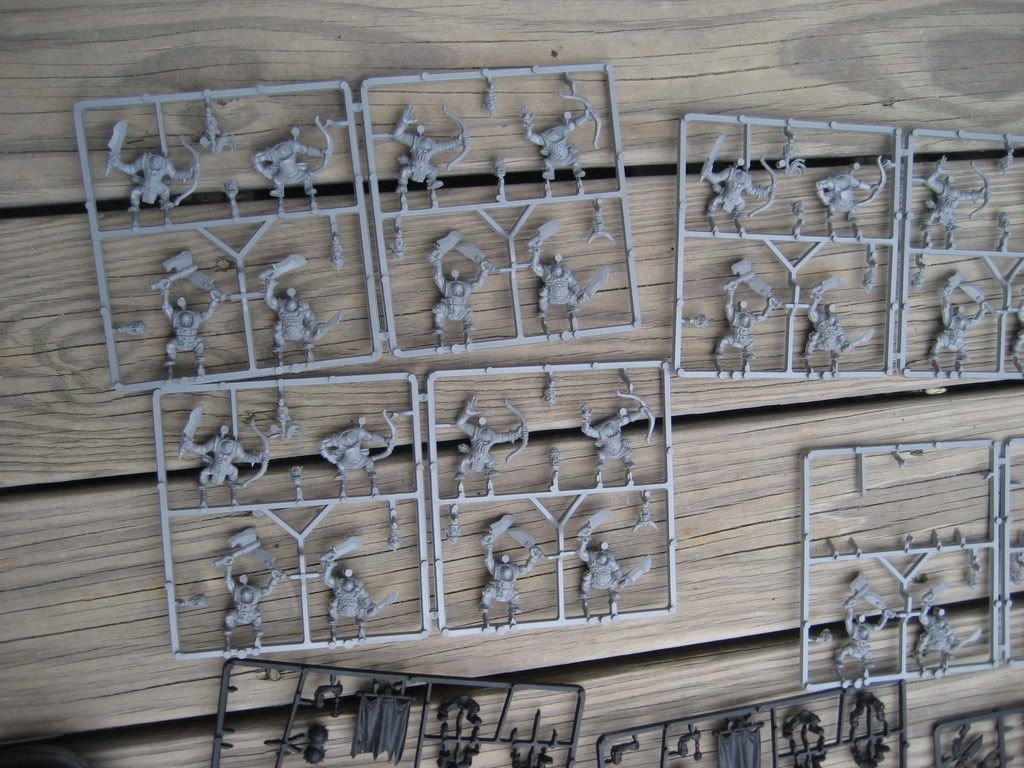 Also, I didn't get to take pictures of these:
- Grom the Paunch in his chariot (still in box)
- Wolf Chariot (still in box)
- box of common goblins (still in box)
- enough snotlings to make somewhere between 5-7 units of them. Some of them are lose. Some are on bases, but 1/2 of them are on the wrong size bases.
You can tell that most of my minis were gotten as cheap as possible as people sold off the 6th Ed boxed sets. It's cheaper to get the bitz and convert them. I've got a lot of work to do if I ever want to finish them all. I also know I've got some minis stuff in corners somewhere that I've forgotten.
Now, the trick is to figure out what I can quickly get looking good by Feb 21st?
baldy orc - February 14, 2009 04:08 PM (GMT)
Warlord Ghazak Gazhkull - February 14, 2009 07:22 PM (GMT)
You call that an army, It looks puny mate :). Just kidding. It looks awesome to see so many greenskins arrayed on a table. Altough it would be much cooler if the where arrayed for a battle. I really like those old school pumpwagons. Still much painting work left I see.

Greetz
G
Groznit Goregut - February 14, 2009 08:24 PM (GMT)
Haha! Well, some of us don't have 10,000+ pts! I'm just happy to have as much painted as I do now!

The last post to get the 2nd half of my army also pushed me up to 3,000 posts! Boar chariot is all mine!

I did a short army list for what to bring for the 21st and I just have to do some touch-ups! I've spent the morning gluing sand on a large number of bases. Not much time left!
NICKELass - February 15, 2009 01:10 AM (GMT)
Wow, that will certainly keep you busy :)
But i gotta say; judging from the pics above, once its finished, Im sure the army will look spectacular !!!


Groznit Goregut - February 24, 2009 02:06 AM (GMT)
I finally did get my guys painted for the game on Saturday. The game, itself, was a bit disappointing. I know someone was going to do a write up of it with pictures. I figure I can link to it when done. I was pretty proud of a few minis that I did in that quick time. I finished up the doom diver crew and hand painted a banner for a unit that I've been meaning to paint for a long time.
Let me start with the Doom Diver crew: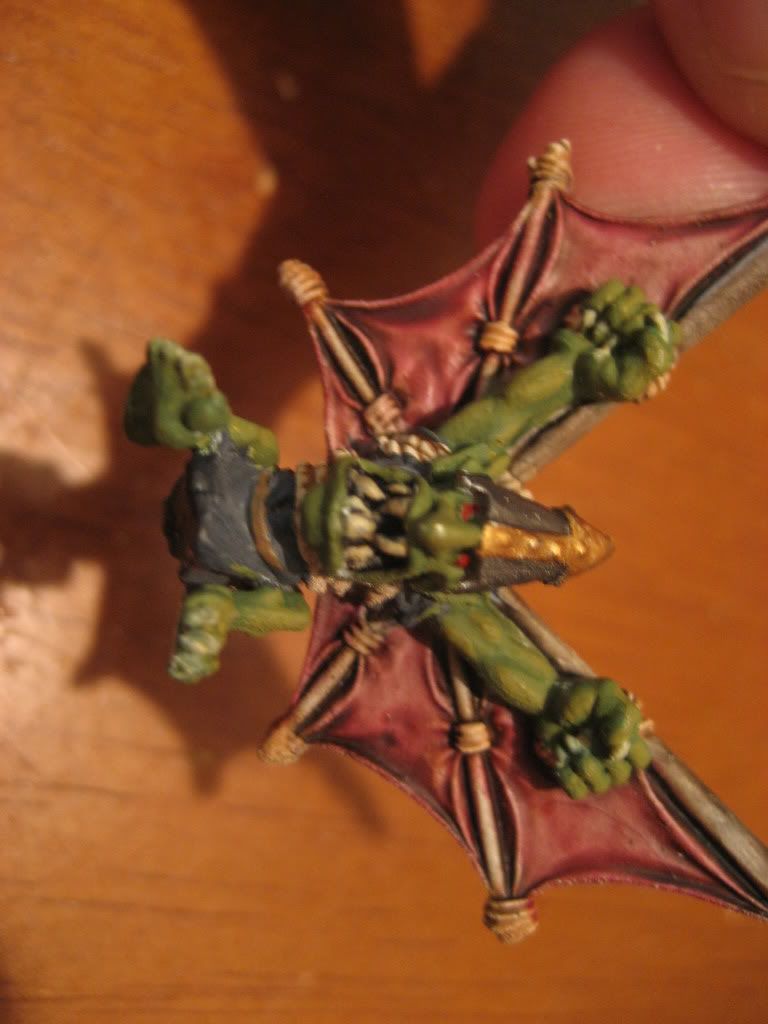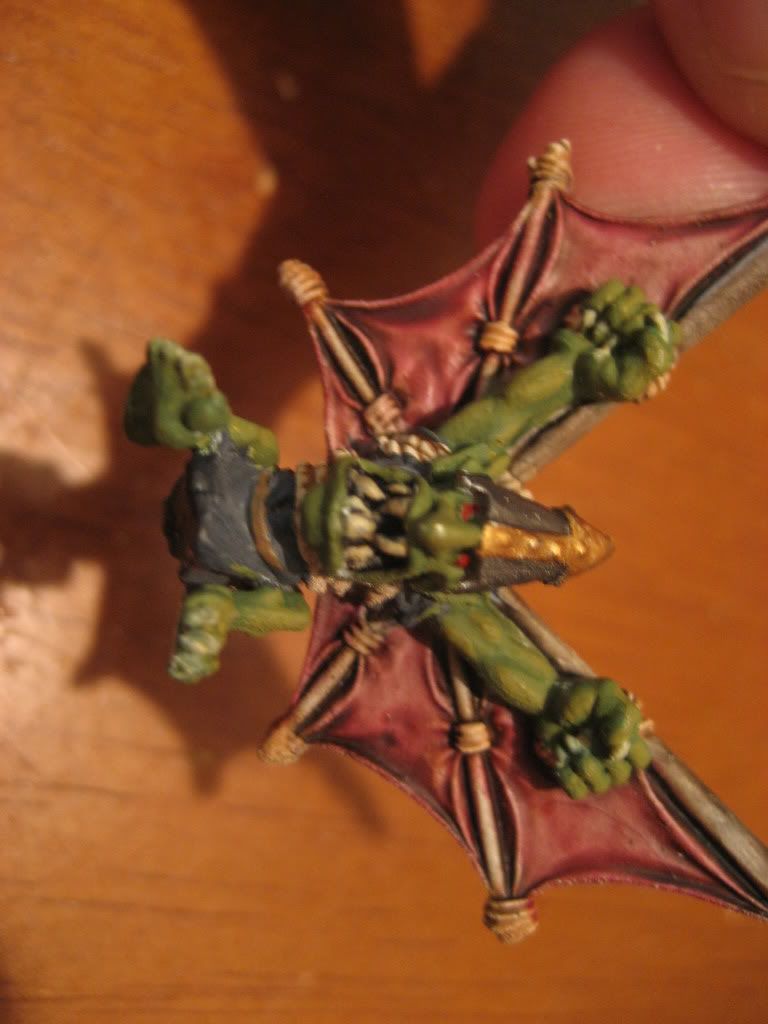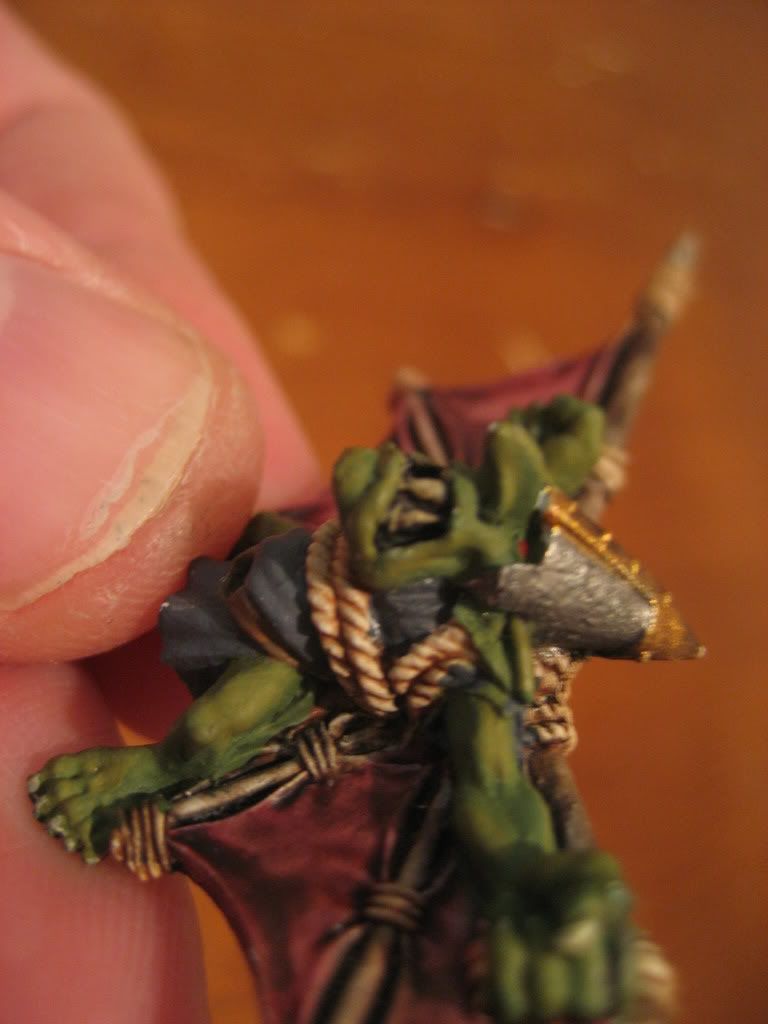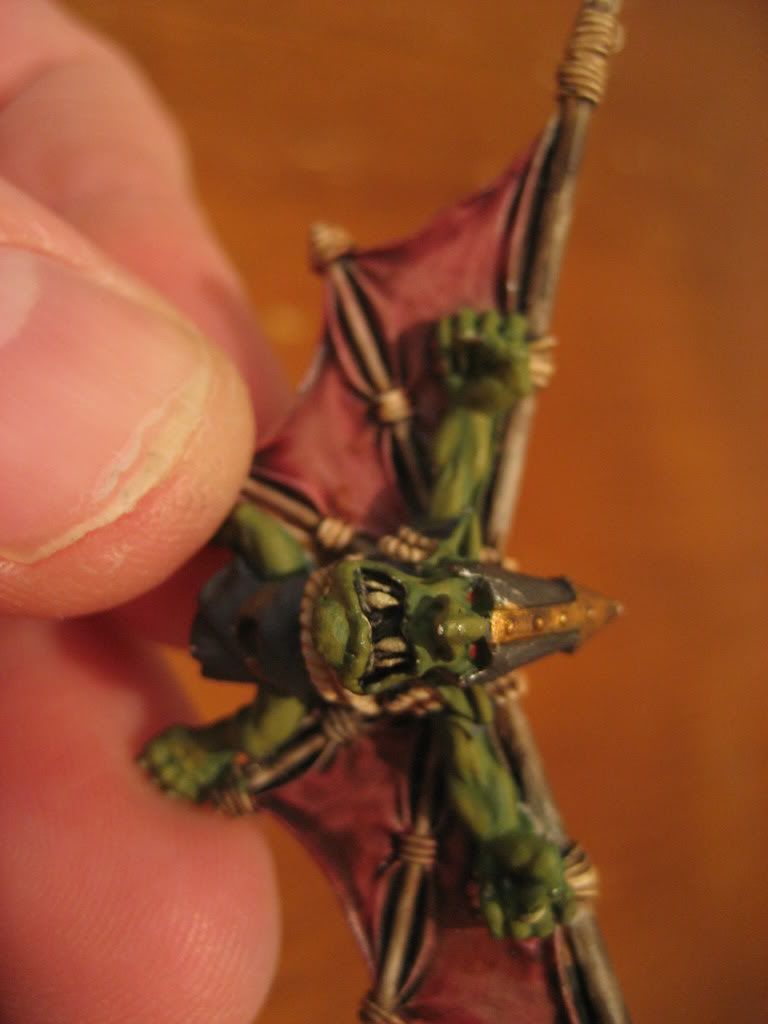 I tried to base these guys in a rush job and I ended up getting glue all over them. It made a mess, but I cleaned most of it off. One guy's teeth are all screwy and I am not going to show them. I think I did a good job on their skin, though, and I think I've got a good formula for black orcs, orcs, and goblins.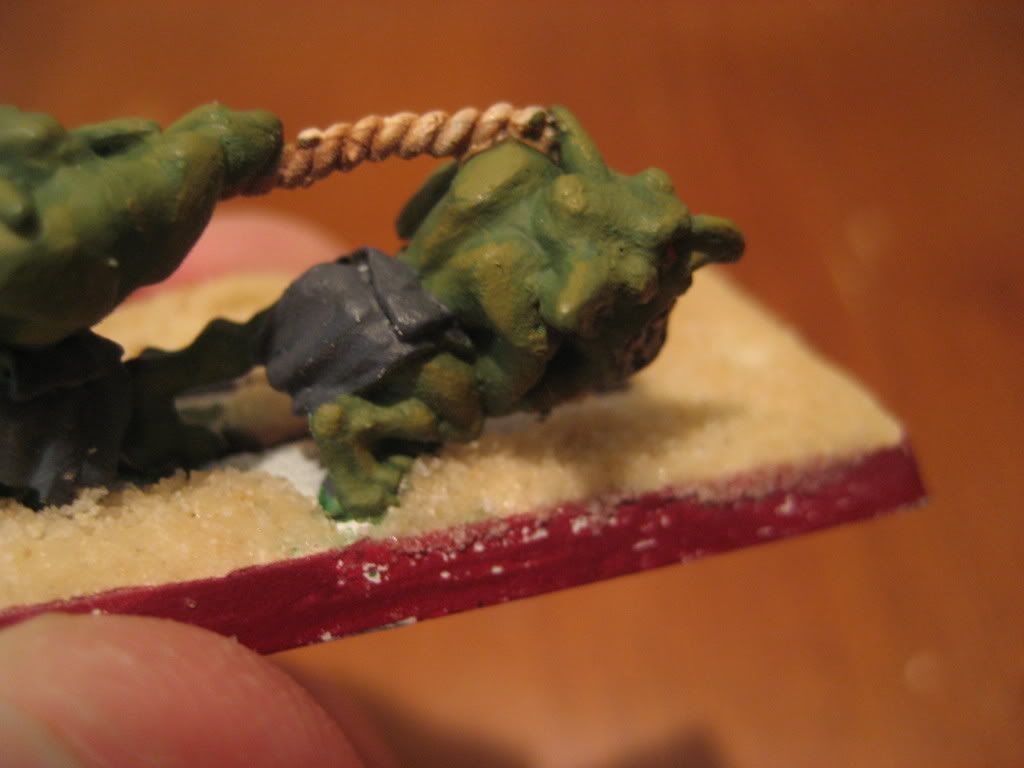 Last, is the banner guy. I really like the banner, but I want to put some dags on the side. I was copying one from the main OnG GW website. They have some bleached bone dags, which would make it look cool and keep it in theme with my army. Here is what I was able to finish before the game: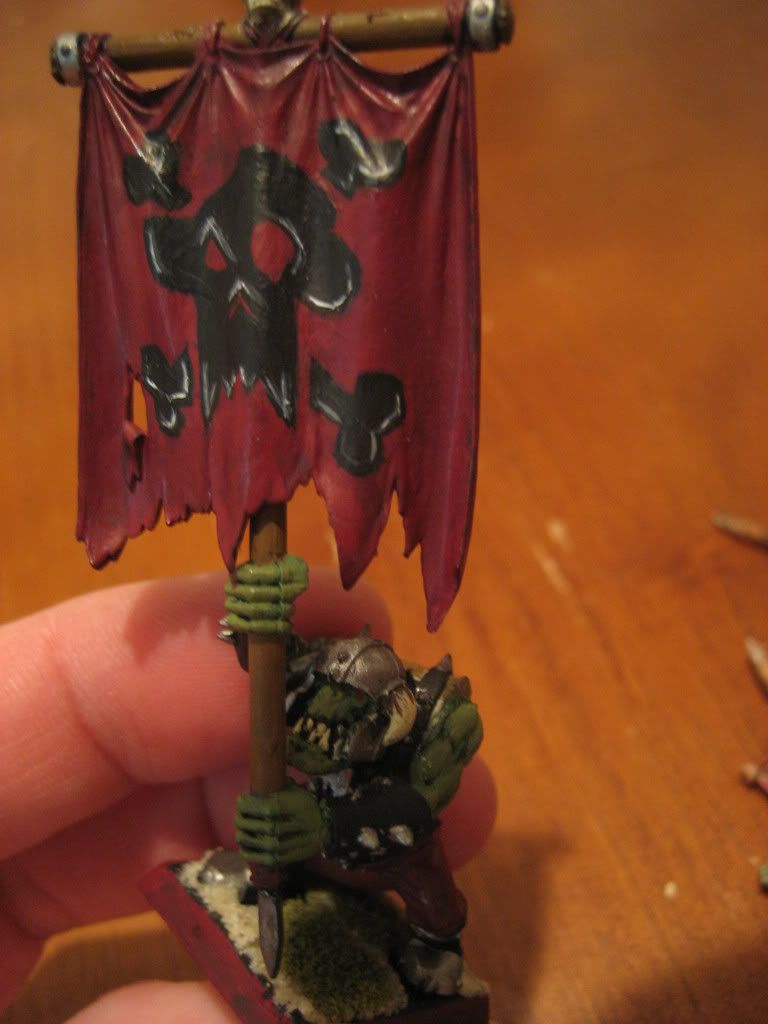 I also touched up his skin from the bad job it was before: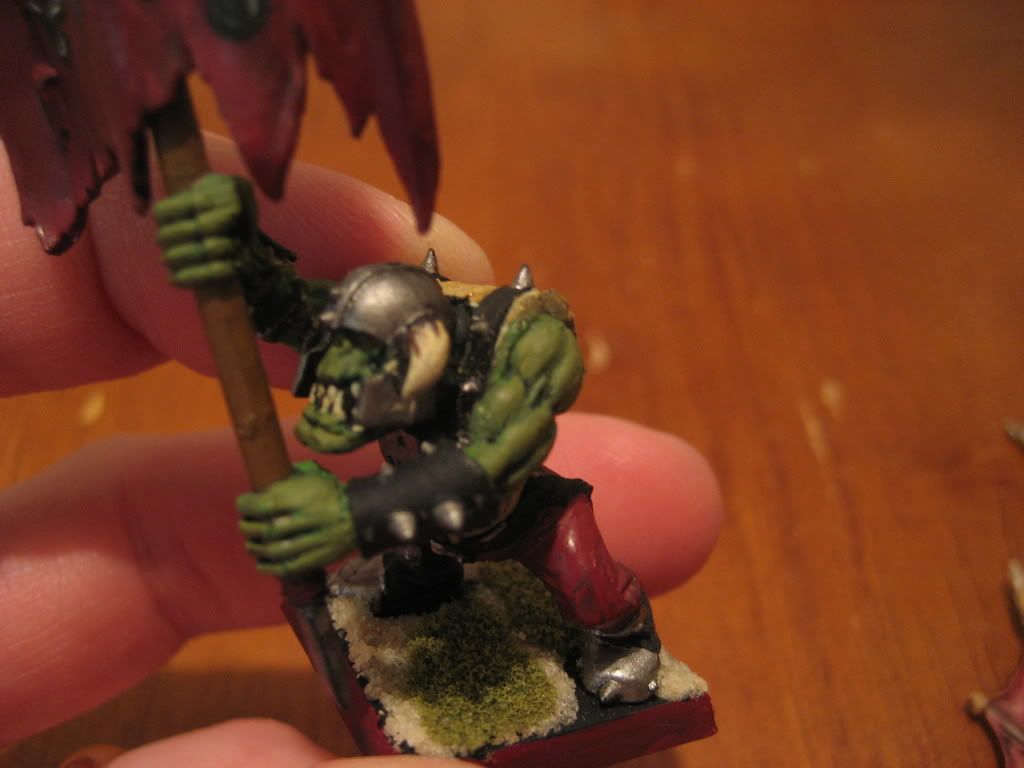 Opinions?
Groznit Goregut - February 26, 2009 03:09 AM (GMT)
Wow...I have to admit that it's discouraging to put up what I think are some of my better minis and not even get a comment on them in a couple of days. I mean, they aren't great, but I thought I did pretty well with the skin tones on those goblins. Maybe I am impatient, but I know I will get buried at the rate of posts in a couple days.
Barney - February 26, 2009 07:34 AM (GMT)
they all look pretty cool to me :)
Though I´m a fan of darker orcz, myself (I mean, darker skintone)

What I love most is the banner. Did you pait the skull by hand, or did you have some sort of pattern or decal?
GRIMZAG BLOODTHUG - February 26, 2009 08:55 AM (GMT)
Groznit they are good looking models too me.
Clandestine - February 26, 2009 10:30 AM (GMT)
They look nice. Banner look great and I like the Doom Divers wings a lot.
Groznit Goregut - February 26, 2009 12:05 PM (GMT)
Thanks! I do appreciate the comments, even if I am rather impatient to hear anything. :unsure:

@Barney: I usually do a darker skin tone for my orcs, but I had painted this banner man a few years ago and was trying to touch it up. I had the goblin skin color mixed up and I just used it as a highlight on what was already there. I was in a hurry.

I did do the banner freehand. I copied one of the ones designs off the main GW site. If you look under the OnG section for Articles, you can see one for banners. I really wanted to do another one with a big skull on it, but I just didn't have time. As it is, I didn't have time to put the dags on the sides of the banner. I can get around to it, though, now that the Mega-battle is over.
Barney - February 26, 2009 05:10 PM (GMT)
QUOTE (Groznit Goregut @ Feb 26 2009, 12:05 PM)
I did do the banner freehand. I copied one of the ones designs off the main GW site. If you look under the OnG section for Articles, you can see one for banners. I really wanted to do another one with a big skull on it, but I just didn't have time. As it is, I didn't have time to put the dags on the sides of the banner. I can get around to it, though, now that the Mega-battle is over.

In that case, you get extra bonus point from me :D
Seriously, I find myself unable to draw any emblem or logo, not even the easiset ones :ph43r:

Great work,though
DrogDrogDrog - February 26, 2009 07:45 PM (GMT)
Very impressed with your painting skills. I feel like your basing could use some work tho. look at some online tutorials, it wouldn't take much, a simple basing "upgrade" would really bring out your awesome painting skills.

Drog
Groznit Goregut - February 26, 2009 11:44 PM (GMT)
Thanks guys!
Yeah, the basing was a rush job. We had a mega battle at the store that required painted minis and there is a chance that pictures will make it in a future White Dwarf. So, I was trying to get all my minis based. The doom diver crew was really rushed. It is all messed up and I got sand glued all over the place. Not the best basing job in the world, but at least it was done!
This is the original banner:
I still need to do the dags on the side.
Here is the banner that I wanted to do, but didn't have enough time:
InsideReticle - March 17, 2009 05:00 AM (GMT)
Doing checkerboard like that would take forever...
Groznit Goregut - March 17, 2009 04:37 PM (GMT)
Wow! Someone checked the threads down enough to read my blog! Cool!

I don't think that the checkers would take that long to do. I've done some shields with checkerboards and it didn't take too terribly long (bah, I tried to find some pictures of them, but can't). I've done white and red checkers and it's just a matter of layering. The hard part is not overdoing the white squares as it's hard to get things white again. That's even gotten easier for me as I bought some white gesso. That's the liquid primer that some people use. I will be able to fix any mistakes pretty easily. Now that I think about it, it will be a lot easier than those shields, as those checkers aren't nearly as small as the ones I did on my shields!

Though I am lazy, I have recently started to really try to paint well. While I normally am about doing as little as possible, I have been trying to put more effort into it. Now that I've started trying to layer things, everything seems a lot easier than that!

On another topic, are my photos alright? My latest camera has a "micro" option that I have been using on taking pictures of minis. It works well, but maybe too well! I always notice little mistakes that I have a hard time seeing with the naked eye. I'm wondering if maybe it takes pictures too close? I think my minis would look better if I didn't zoom in so much on them!

If any of the better painters out there can give me pointers on metal, I would really appreciate it. I think I got weapons down, as you can look at my black orcs and I did the edges pretty cool (well, it looks good in real life). If you look at these helmets for my doom diver crew. I just painted chainmail on most of it and dwarf bronze on the nose ridge / cone top. I did a black wash on it all. I am thinking that I should do more to make it look better. Any suggestions? I'm sure there are better layering techniques I could use.

What about bases for war machines? Anyone do them? I haven't done any yet and I am thinking that spear chukkas are probably not worth it. A doom diver, though, would be cool to make a base for. How many people make bases for their war machines? Is it easier to travel with? What do you use? I've got the bottom of a spindle for blank dvd's that I could use. I can fill in the hole in the middle and it's raised up. How do you do the top? I've seen some people use a thin layer of styrofoam from a package. Prime it and then add sand and flock. You can cut out the squares that the crew would stand in so they can be taken off as casualties or fight. Do you use bases and how do you do them? What would be good to add to a doom diver base? I've never used any of my night goblin mushrooms from the old boxed set and can add them in.

Any opinions greatly welcome.

Oh, I am finally finishing up that chariot. I am basing and glueing the last bits this week.
Goomb - March 19, 2009 03:44 PM (GMT)
Hey, I saw your post and questions and started to write a reply, but I have to dash to a meeting. Will post something later today. :D


QUOTE (GG)
I don't think that the checkers would take that long to do. I've done some shields with checkerboards and it didn't take too terribly long (bah, I tried to find some pictures of them, but can't).


You can see some of them on the previous page where you are showing off your whole army, G! :D


QUOTE (GG)
That's even gotten easier for me as I bought some white gesso.


Liquid primer? Hmm, never heard of this stuff. Where did you get it? Can you get it at Hobby Lobby or Walmart?


QUOTE (GG)
On another topic, are my photos alright?


Your pictures are good. I would try not holding the minis since the camera is focusing on your finger rather than the mini (which leaves the mini a little blurry). I would say that your skin tones and style is improving with each mini that you are creating. The Doom Diver and crew are really nice! You are perfecting the WBK technique of layering, it appears. Good work! Many of your minis in your army look good too.

I REALLY like your banner. Did you freehand that thing? I am impressed, mate, and if you added checkers to it.....wow. That would be like putting a big bunch of whip cream on the top: not needed but really awesome if it is there.

As far as your basing goes, I would paint the sand with a mud color then drybrush it. I use a cheaper hobby acryllic called "mushroom" and then drybrush it with a khaki color. I think it looks pretty decent.


QUOTE (GG)
How many people make bases for their war machines?
Wel, I did make a base for my boar chariot. I saw something in White Dwarf a while back (during the new dwarf release) that showed a cannon crew and a foamcore base. I took a piece of foamcard and cut out slots for the wolf bases. I then glued plasticard to the bottom and the sides of the foamcard (the plasticard finishes off the base somewhat). I then added sand and painted/drybrushed it to match the rest of the army. Here is a couple of pictures: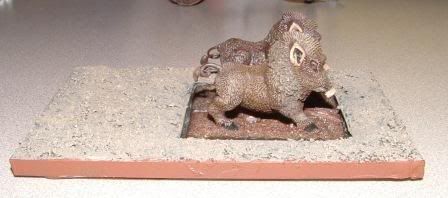 It is pretty easy, G. I think you have more than enough skill to get it done!
Goomb
Groznit Goregut - March 20, 2009 12:29 AM (GMT)
Hiya Goomb! Thanks for the reply.

The liquid primer is called "gesso". I do believe that I did get mine at Walmart. Liquitex brand, but there are others (not at Walmart). You can also get them at any hobby store (like Hobby Lobby or Michael's). A lot of people like gesso as it goes on thinner and hides less of the features. Most times it comes in black or white. I found it pretty good at touching up spots that I messed up on (especially the lighter colors).

Yeah, not holding the mini would be good. Thanks for the tip!

Yes, I did paint the banner free hand. Thanks for the opinion! I have to admit that I did get a degree in Painting at University, but I just don't really do anything these days. I'm more of a gamer than a painter and have been too lazy to actually try anything. Painting banners, though, is something I know how to do as it's just regular painting. The whole layering on a mini and trying to paint something 3D is different. I would really like to add the checkers or dags, but who knows when I will get around to it? I do appreciate the compliments.

Hmmm....I haven't tried painting the sand once it is down. I've usually just glued the sand on and left it sand color. If I was going to paint the sand, I could seriously glue it down and not worry about it coming off. The paint would hide the extra glue.

Foamcore. That's something I haven't explored yet. Isn't it kind of expensive? I guess I should start with that. I was hoping ot use the thin packing foam. Maybe I should try that first. I can glue the same do it and then paint it!

Thanks for the pics of the chariot. It helps. Well, I wonder when I will get around to things? I leave for Disney in 2 weeks and I will have to see what I can get done.
Groznit Goregut - March 29, 2009 09:08 PM (GMT)
Well, I have been trying to work on my original list of what I want to get painted. I noticed that my giant has been almost done for a long while now. I finally decided to actually knock the big guy out. Here's the pictures I took.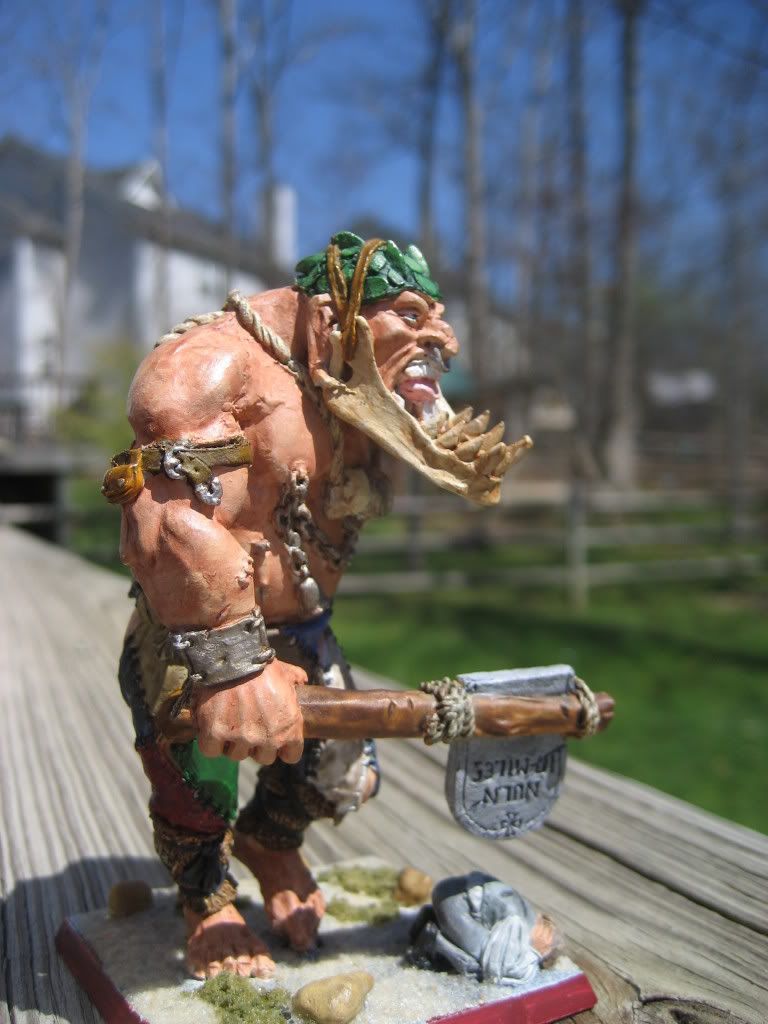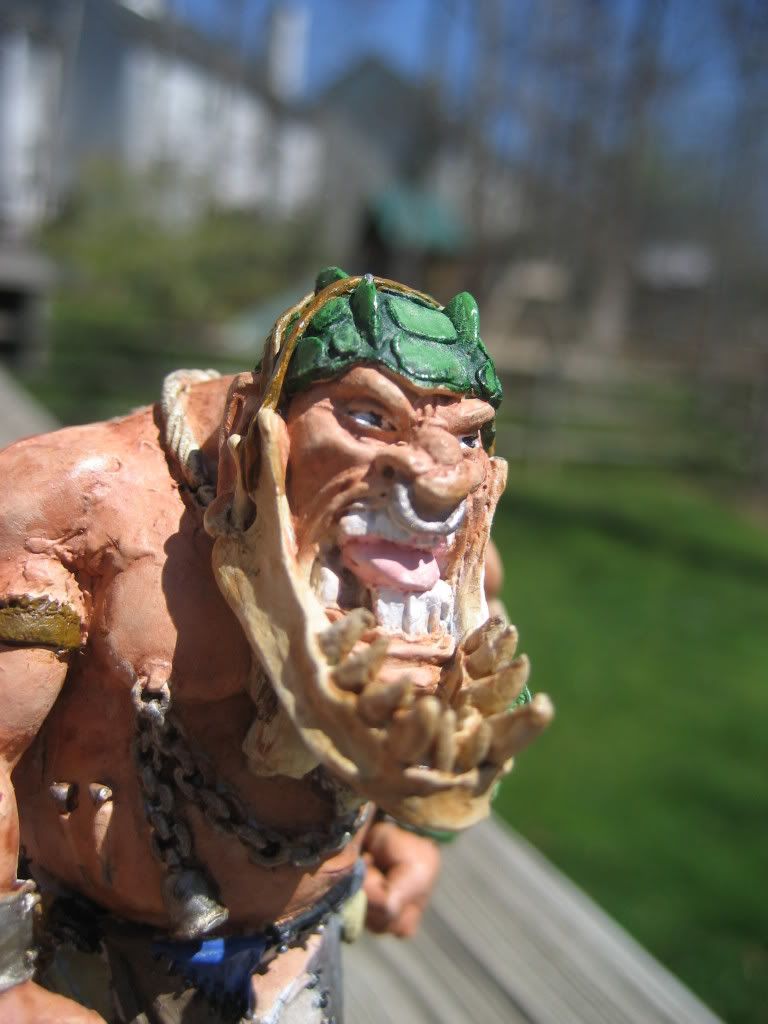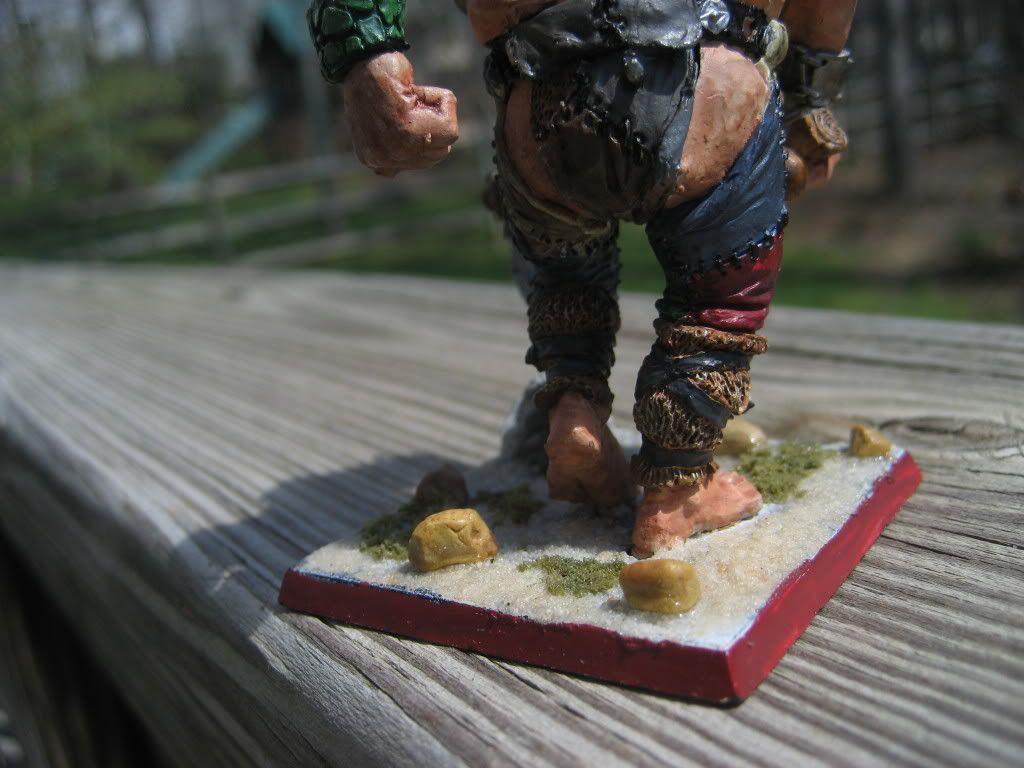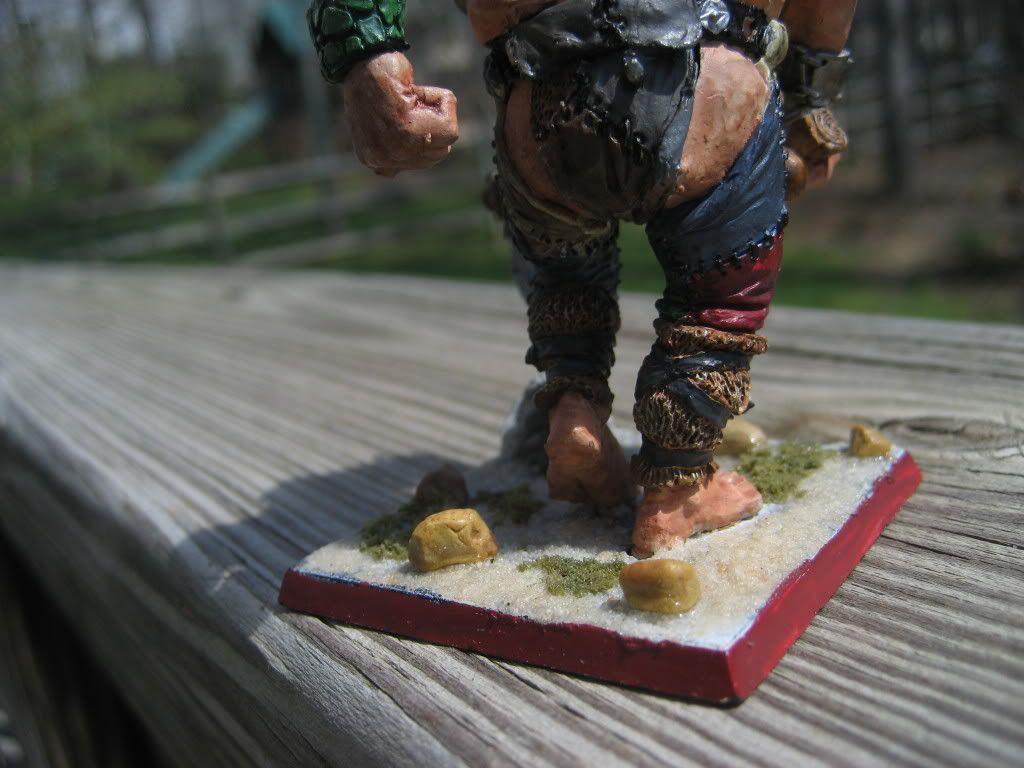 Paiant Slapah - March 29, 2009 09:39 PM (GMT)
Looks like that giant is ready to do some clobbering. Nicely done.
GRIMZAG BLOODTHUG - March 31, 2009 01:53 PM (GMT)
Groznit nice looking giant.

Now get him on the battlefield and do some stomping.
Groznit Goregut - March 31, 2009 04:22 PM (GMT)
Thanks for the encouragement guys! I really do appreciate it.
Well, I won't be getting any games in for a while. I am heading to Disney this Saturday for a week. Then, on the 21st, I will be in surgery and living on the sofa for a week after that. I don't think I will have much time to game in April.
I did play a couple games in the past week or two.
I wrote up the Battle Reports here.
Not good for me, actually.
I did get some painting done this weekend, though. I did buy some of the MegaBlock "Pirates of the Caribbean" ships off Craigslist last summer. There is a guy in my local area who does ShipHammer. He used these and made some really awesome conversions. I got my ships and figured I would bump into him again soon and figure out how he did it. Well, I never got the chance to see his ships again and I've been hanging on to these suckers for a while. Other things keep jumping in front of me and I have been working on them instead. Well, this guy told me that TONIGHT he was going to do a naval battle with a few other guys at one of the local stores. I am going to participate and take a lot of pictures of his ships to figure out how he did them.
Here are some pictures of my ships: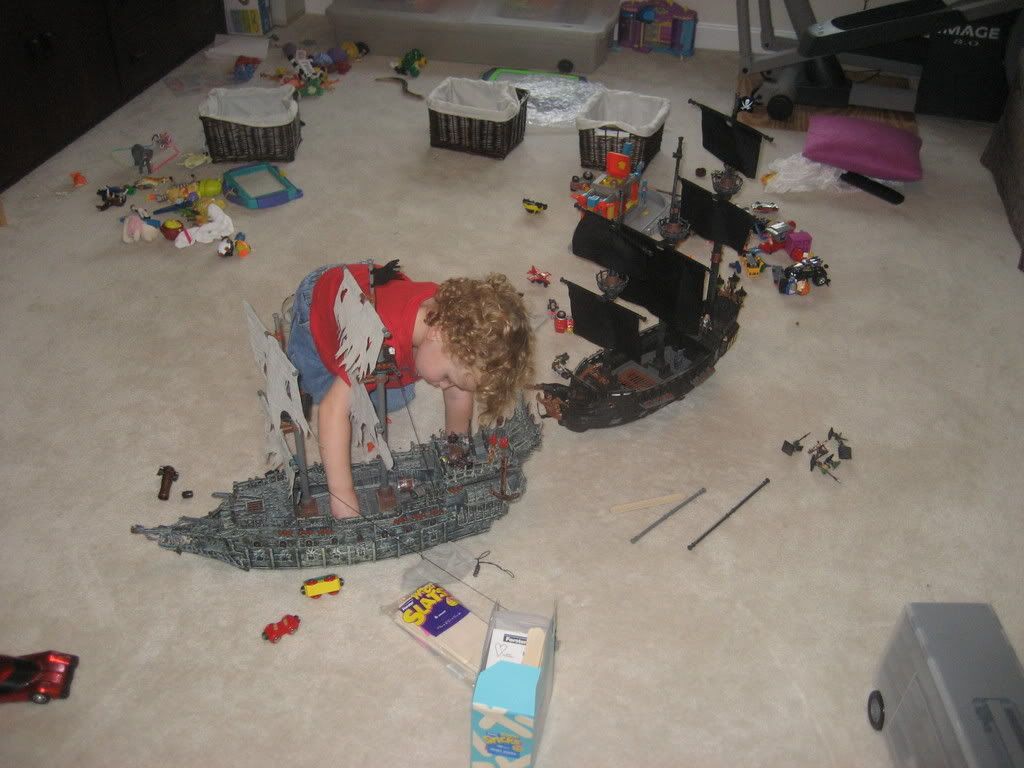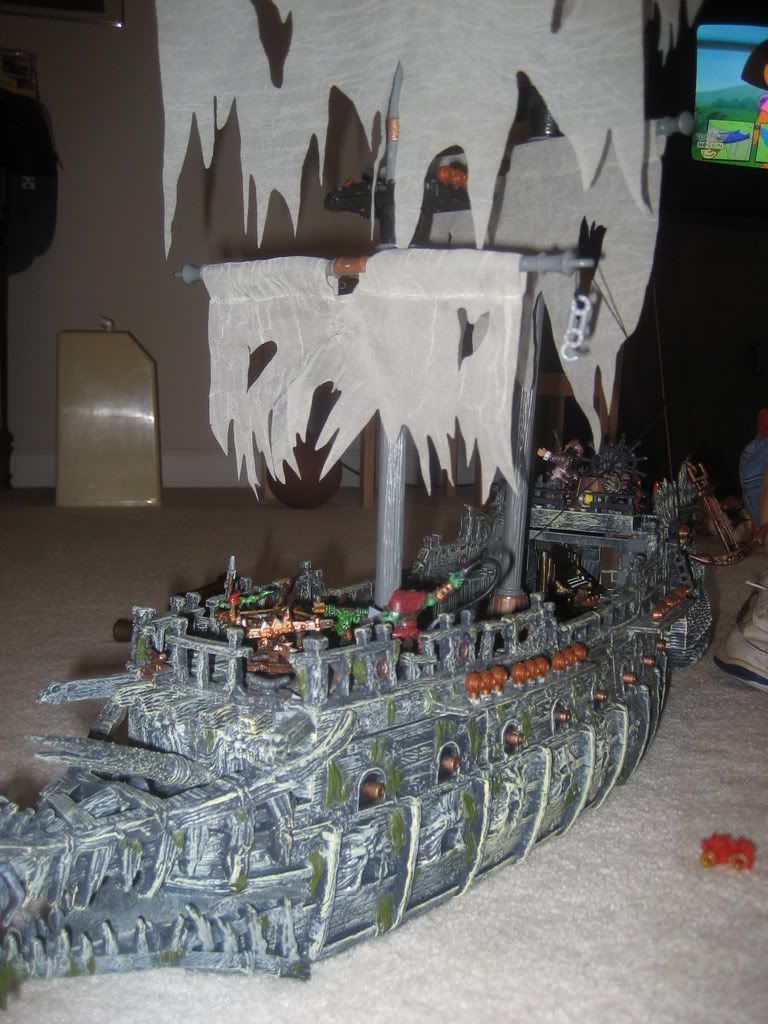 So.....what does that have to do with me painting this weekend? Long story longer, the local guy said I should bring 16 goblins, 5 orcs, and 2 black orcs as the crew for one of the ships he is going to let me use. Well, back in 6th Ed I had converted two large units of 25 goblins to have hand weapons. I never got around to painting them, though, and with 7th Ed, there isn't much of a need for them. Well, I figured I should give a stab at trying to paint some of these guys before the game tonight. I knew I would be taking pictures, so it might look nice.
When I pulled the guys out, I noticed that I never removed the mold lines on these guys. So, I go through and do that to about 20 of them. I had also used some skaven arms for some hand weapons and ground off the fur on their arms. I then noticed that I was out of black primer. They were already primed, so I had to use black as it wouldn't look right to prime parts black and others white. Anyways, when I finally got the primer, I noticed that it was Silky paint, which is way too shiney. I also think it was a bit thick, too. Well, anyways, I would have had more done, but I only had one day to do it. I DID get their skin done, though, which I was happy to do. I haven't had a chance to take a 2nd look at the skin or to even take pictures of it as I was packing and cleaning for the Disney trip last night. I should, though, take pictures of my goblins tonight to post on here (if I get the chance to post before Disney).
Groznit Goregut - April 1, 2009 12:42 PM (GMT)
So, I went to the Warhammer Ahoy game last night and had a blast! I did take some pictures of my cabin grotz that I painted up this weekend. The results vary a bit. Some of them have enough contrast. Most don't. I think it's b/c I put too much water into the mix with the paint and it blended it too much. Bleh. I might have to try a wash on some of them. Some came out, though.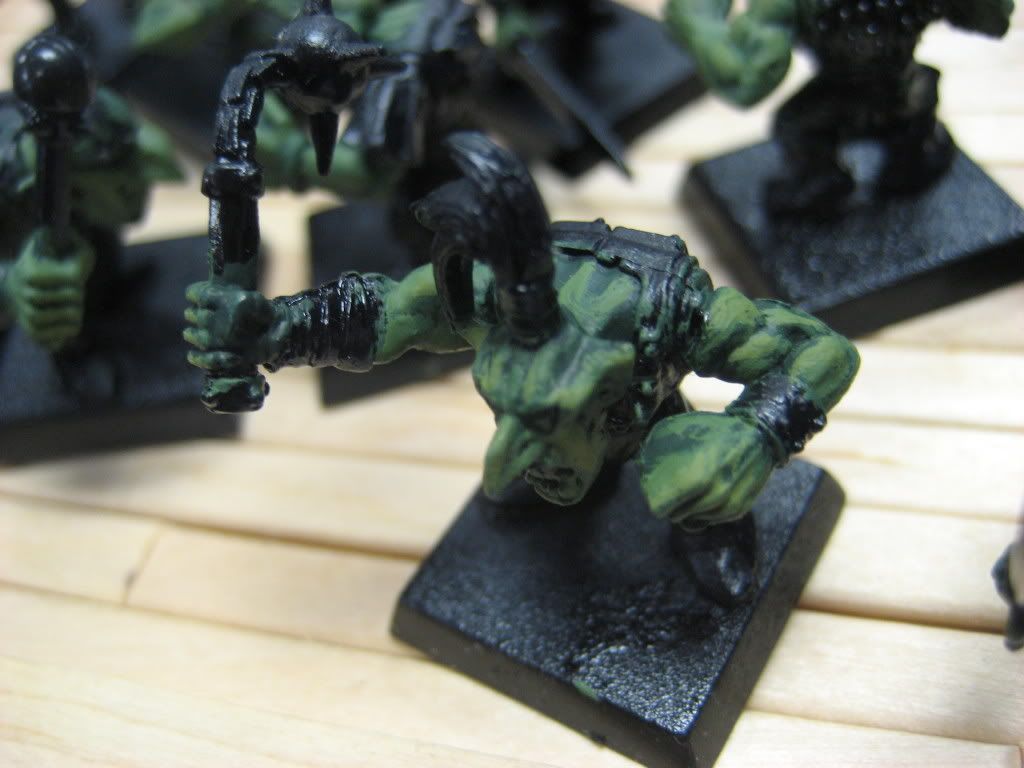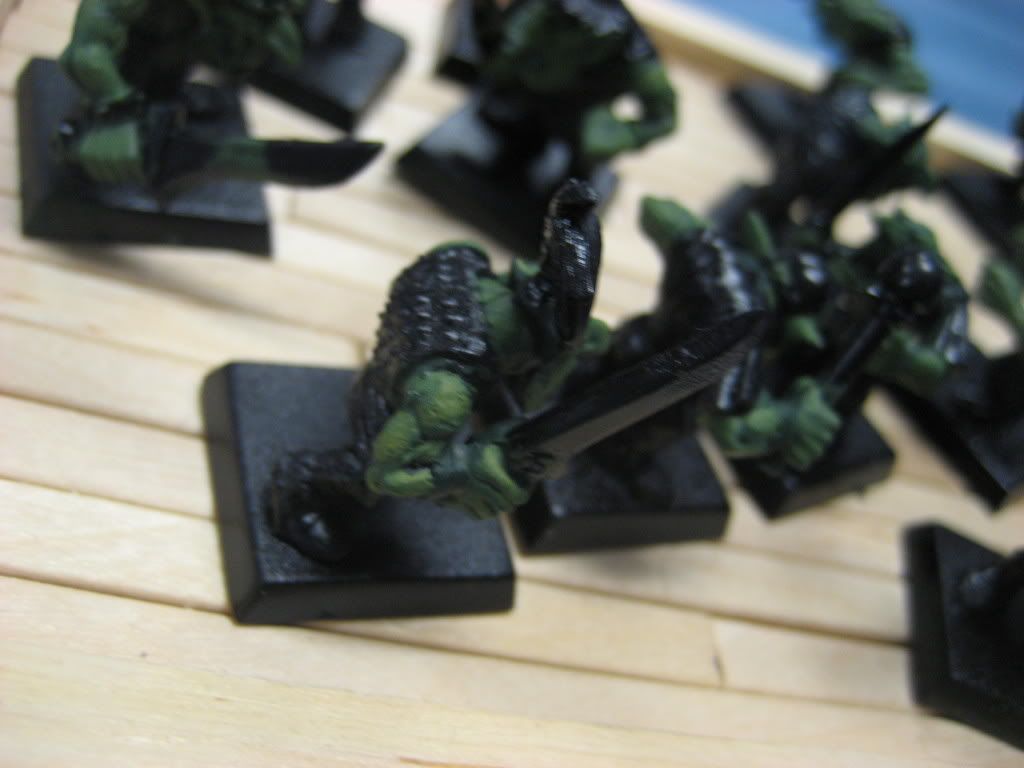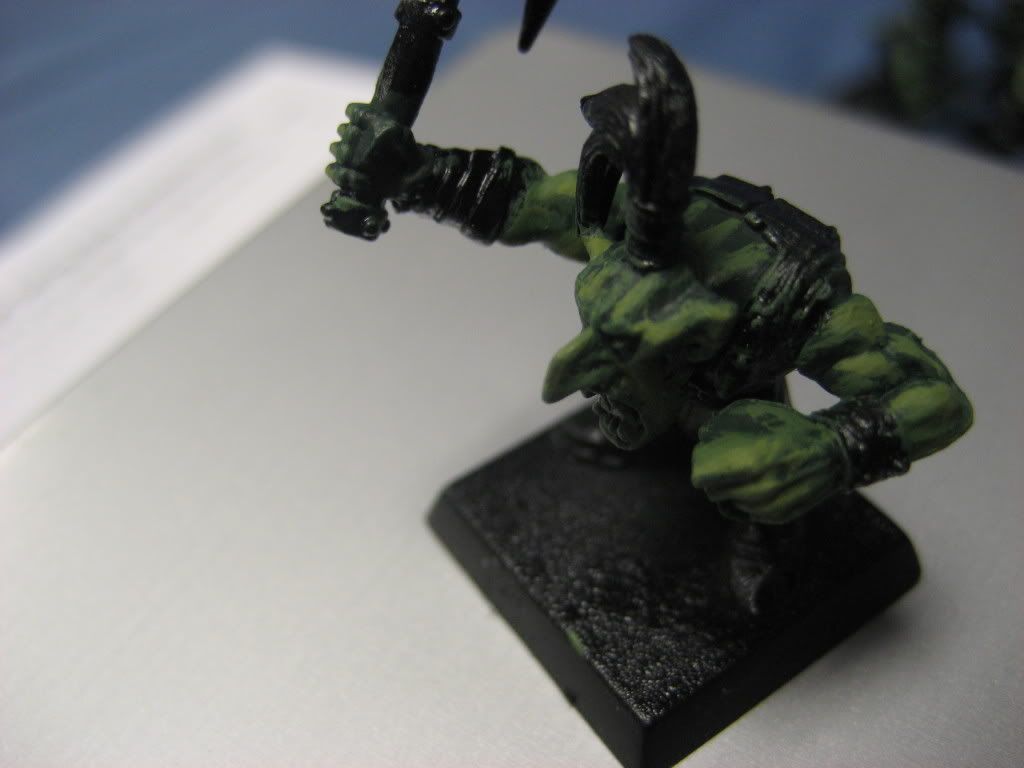 I was late to the game, though, as I had my first eye doc's appointment in 14 years. Well, it turns out that I need glasses! If you don't like my painting, I'll blame it on this fact. ;)
This is probably my last photos for a while as I do Disney and than my ankle surgery.
Groznit Goregut - April 30, 2009 09:36 PM (GMT)
Well, I finally got off the sofa and spent 30-60 minutes painting some minis. I finished off those dags on the banner I've been meaning to complete. I know it's a bit messy, but it's orcs, right?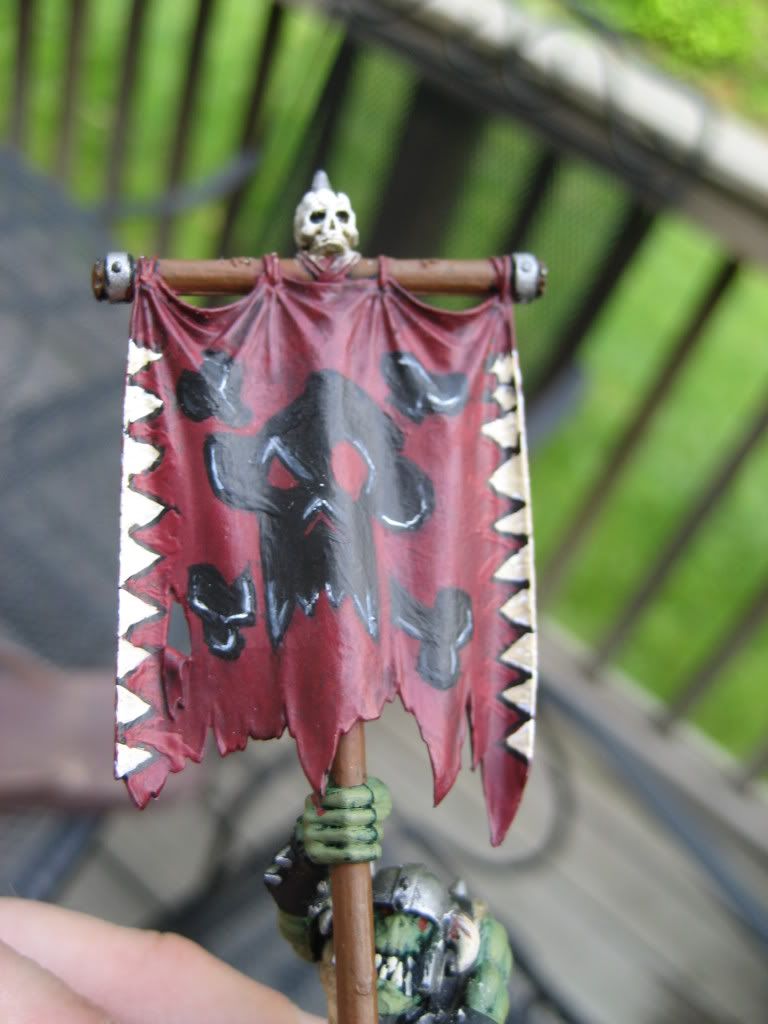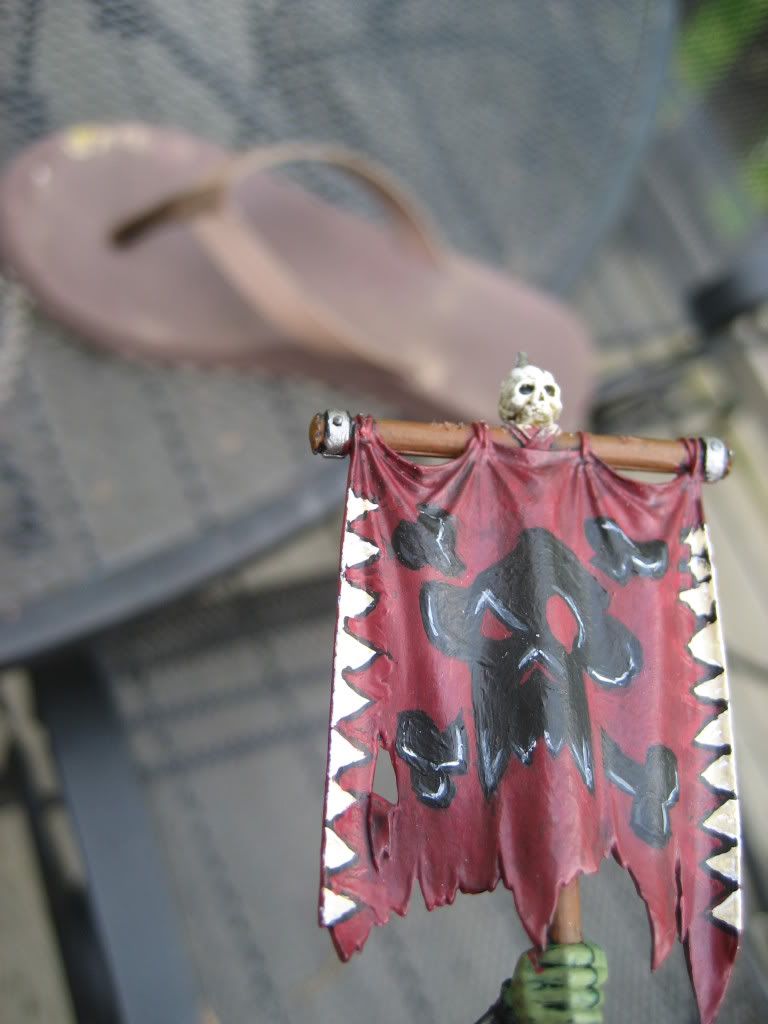 It's hard to get a good picture without some sort of glare.
I also painted on teeth, claws, and eyes on 22 common goblins that I've owned for years and never painted. They are the same as the pics above. I didn't think it was worth it to take a picture of just them.
I also mean to work on my Seahammer ship soon.
Warlord Ghazak Gazhkull - May 1, 2009 07:51 AM (GMT)
The banner looks good :), keep up the awesome work.

Greetz
G
GRIMZAG BLOODTHUG - May 1, 2009 09:44 AM (GMT)
Groznit looks good enough to me.
Groznit Goregut - May 1, 2009 05:57 PM (GMT)
Crap! I lost the banner guy!

OK...I was worried about making sure I had enough new posts to keep my blog relevant and I rushed that banner dags. I wanted to take a picture of him, so I took him outside and took the pictures. I can't really carry anything since I am on crutches after my surgery. I have these nifty crutch bags on my crutches. Well, I put the banner guy in one of these pockets and continued on. I FORGOT about him! I just was emptying the pockets and found the base....and then the body....and no banner! I've lost the banner! Crap. I am still looking for it, but I hope I find it somewhere. I just freakin' spent some time on it......
Groznit Goregut - May 4, 2009 05:55 PM (GMT)
Hey! I found the banner! I had taken a whole bunch of swaps on sticks that I took from the Dr's office to use as oars for some boats. Well, the banner had broken off the mini and was crammed in with them. I'm quite happy that I found it.

Besides that, I've been working on my gobbos. I'm finally at a point after my surgery that I can sit up without it hurting too much. I've gotten the skin done, as you can see above. I already mentioned that I did the eyes and teeth. I did the paints and leather tops. I've got a lot of metal to do, furs, and odd bits and ends. Overall, though, they are coming out nicely.

I've also worked on the Black Pearl. I clipped off all the leggo bits and glued all the parts together. I'm stuck. I don't have plasticard to put across the deck so I can glue down coffee stirrers. I've never worked with plasticard and have no idea where to get one locally. I'm no where near a hobby store and not sure if it would even have it. The local game stores don't carry it. I think I will have to order from The War Store. I might pick up an orc raider, too, while I order.

More should come. I am working on things.
Groznit Goregut - May 7, 2009 02:15 AM (GMT)
OK....so I got a little bit more work done on my goblins. I have the pants and chests done on these guys. I still want to do a brown wash on the leather. I painted the sleeves gray, but I need to put a coat of white on them. I haven't done any of the metals yet. I'm sure that they will really spark them up, especially the metal studs.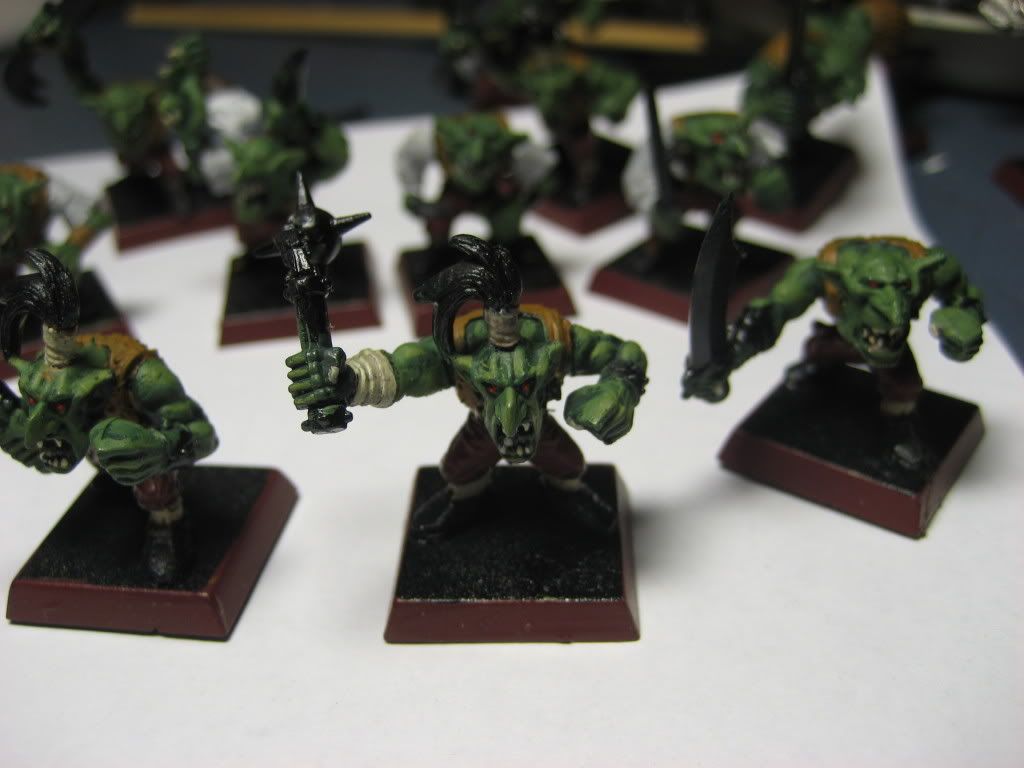 I've also started work on the Black Pearl. I glued all the sections together and I clipped off all the leggo nubs. I figure I can use this blog for my bit-by-bit.
Here's what the Black Pearl looks like now: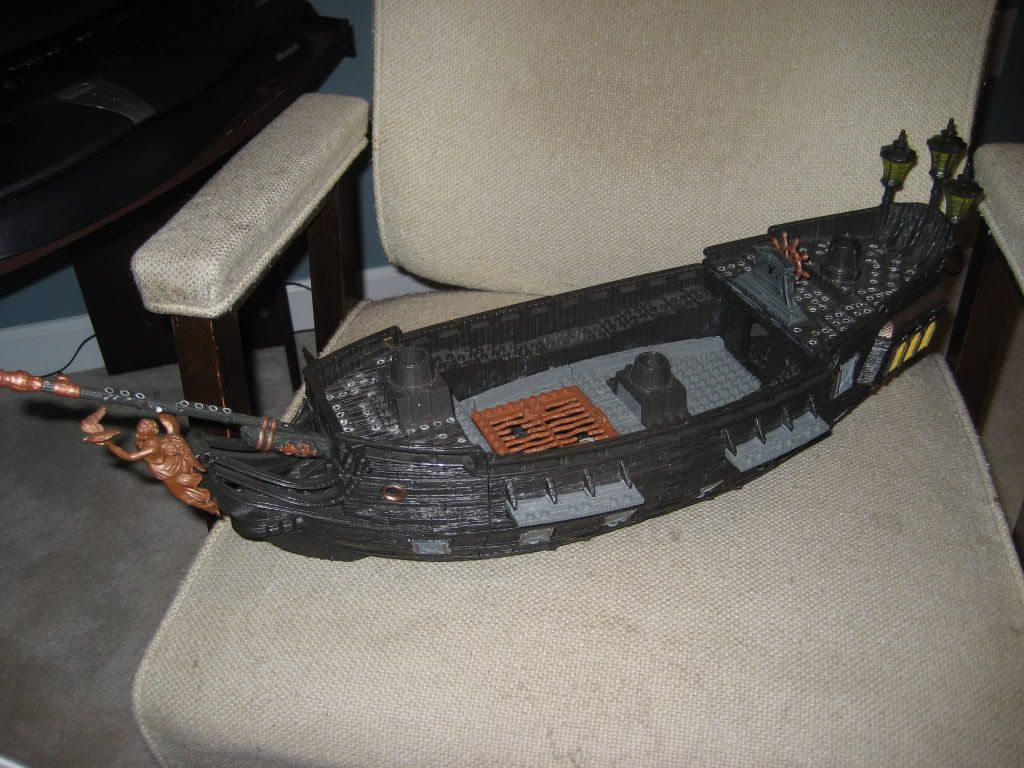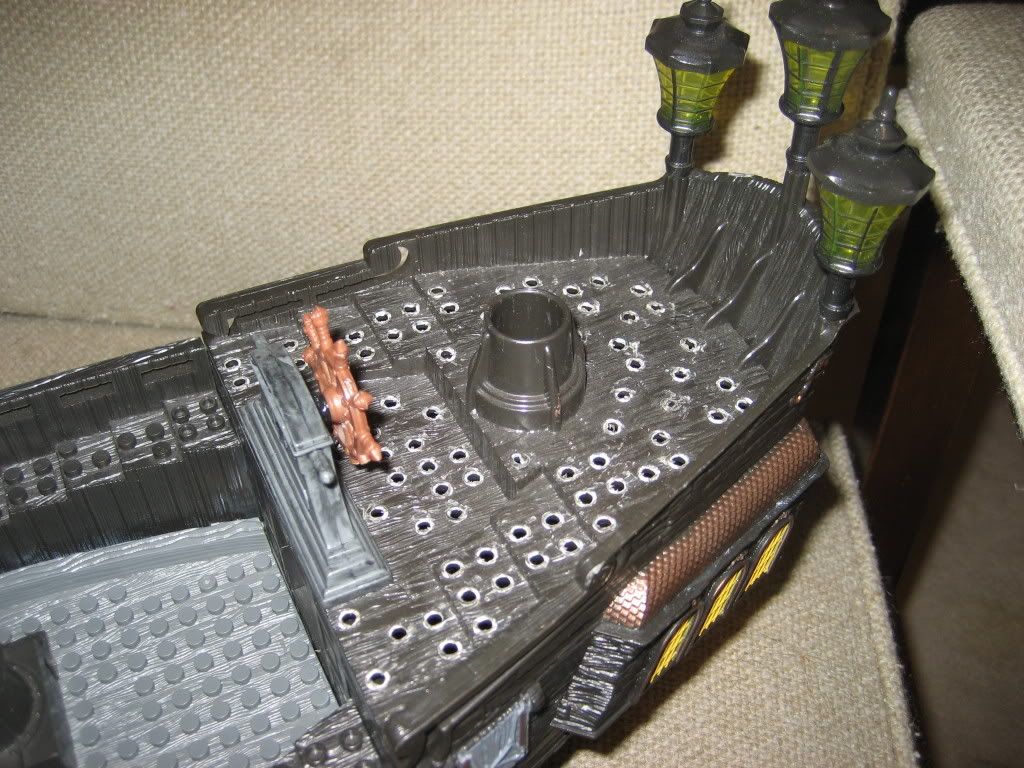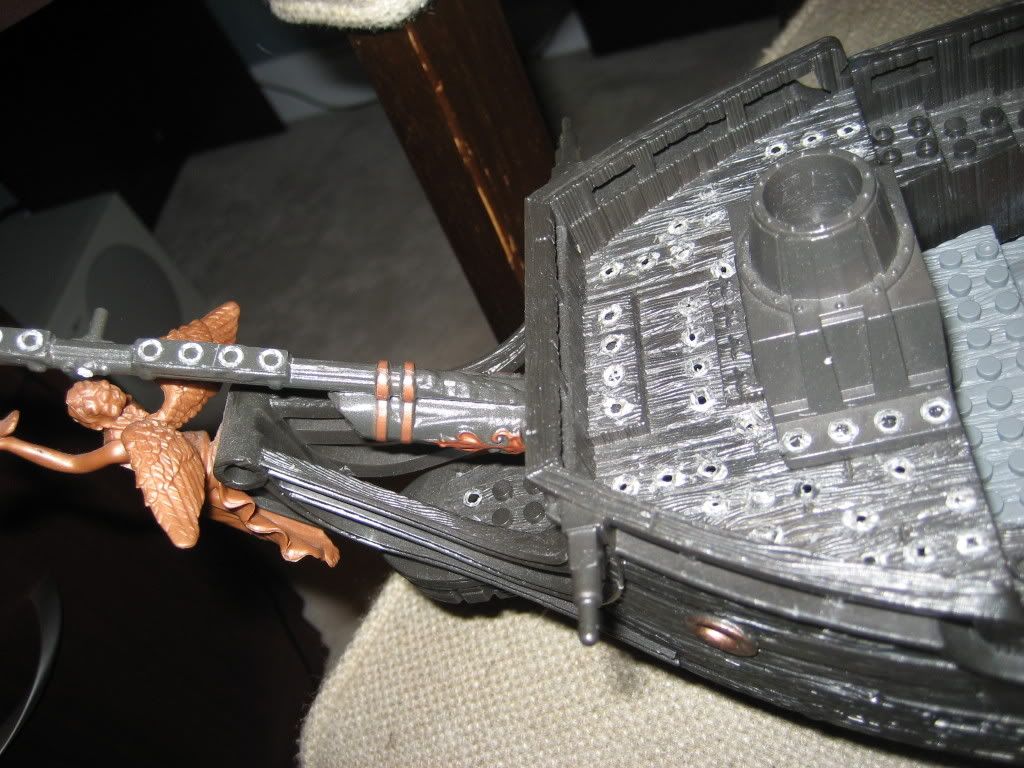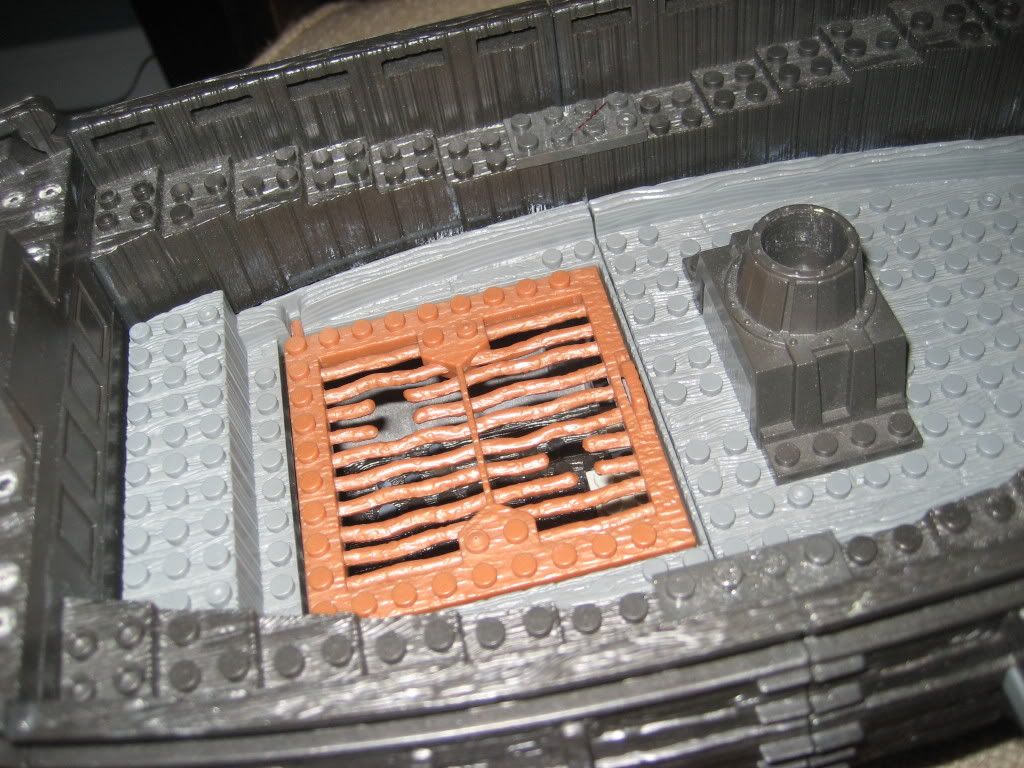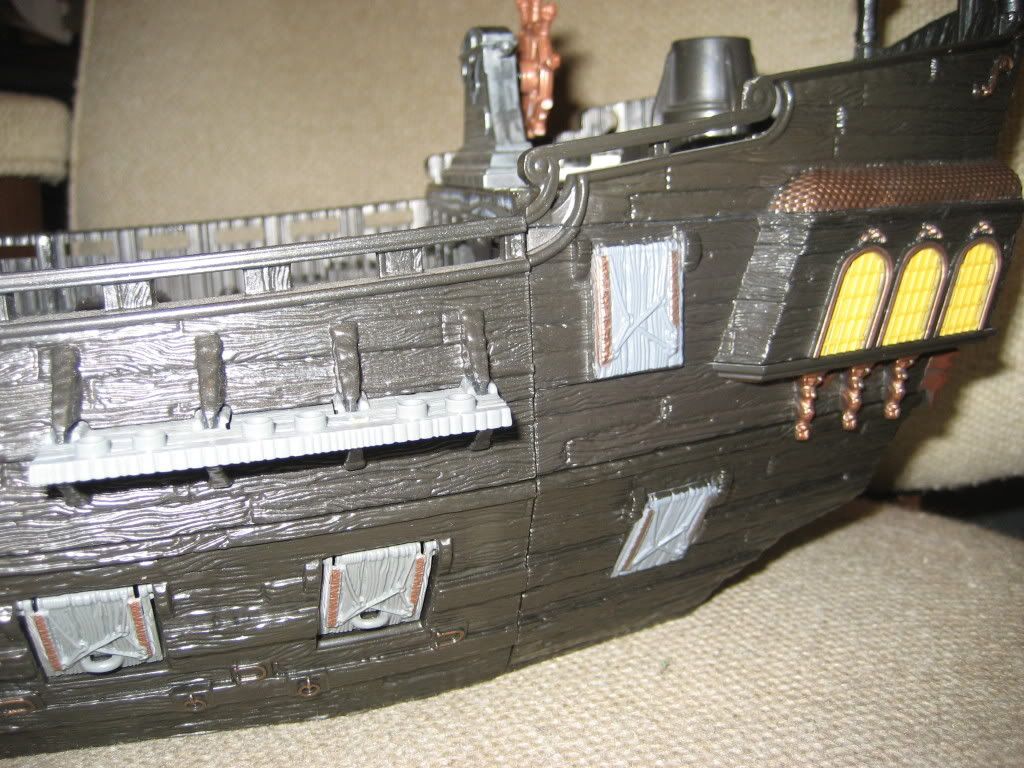 I need to get some plasticard to form the base for the deck. I want it to be the same level all the way across. I will cut the plasticard out to fit the deck and I will need to put some support underneath it. After that, I will glue wooden coffee stirrers onto the plasticard to be the deck. I will spray paint the whole thing black and then begin to paint it.