QUEST TREASURE BOX: NEED-TO-KNOW'S
The Quest Treasure Box is a special quest here in MyRO that spawns in the middle of PVP Morocc at 11 am and 11 pm. Players may complete the quest by breaking the treasure box. Since it spawns in PVP Morocc, player usually band together and form teams that have specified roles whether it be breaking the QTB or defending the breakers. The Quest Treasure Box used to reside in Abyss dungeon level 3 but it was recently moved to PVP Morocc to encourage more players to participate in PVP.
It currently has 400k HP and is immune to all skills. Every single one.
Image by Shoti
You can only break the box via hitting it with normal attacks. Skills will miss and the box cannot be healed. It drops the ff:
Lif Doll Hat 36%
Valkyrian Shoes 14.40%
Magic Eyes 10.80%
Yellow Bandana 34.20%
Crown[1] 50%
Gold Bullion 70%
Cygnus Helm 3.38%
(Type @mobinfo 1845 to view drop rates in game)
Some of these drops like the
Cygnus Helm
is needed for the
Mask of Ifrit
god headgear.
Other drops will soon be added for future quests.
It usually spawn in this location. Please refer to the map at the top right section of the screenshot:
When this screenshot was taken, the QTB was affected by Thorn Traps.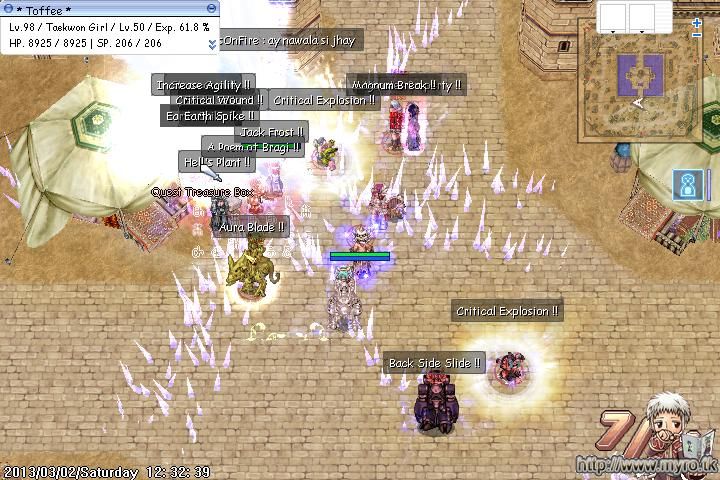 Image by GM * Toffee *
You can get to PVP Morocc by warping to the map after entering the PVP Arena via the PVP Arena NPC or you could simply talk to the Quest NPC in MOA. Continue talking to him until you reach an option saying something like "Can you take me there?".
The Morocc PvP map is in PvP mode with "Guild Unions" in effect but only during QTB time and is lifted right after. This means that players of the same guild will not damage each other. This was to promote better guild strategies on guild vs. guild feuds.
Oh and here's a little something for you guys. Here's a picture of what was QTB then and now: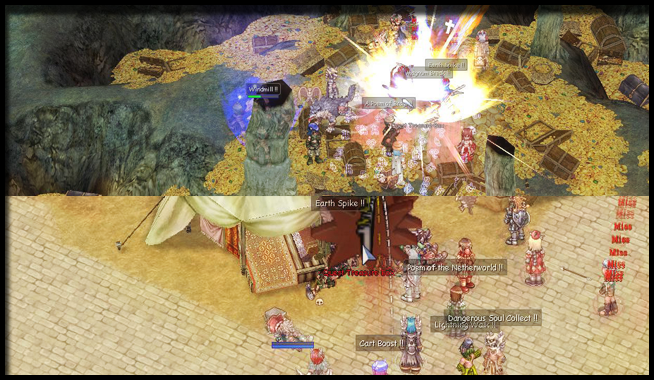 Thank you for taking time to read my guide. Enjoy everyone!
Screenshots by Ayhan and Jaru Bop Pop