Title: KERRICH, Tirza
Tirza Kerrich - October 6, 2008 09:36 PM (GMT)
What has come over me
What madness taken hold of my heart
player name/alias» anya
age» twenty something :P
contact info» PM works best
other characters»just this one for now
---
The source of my recovery
Sweet shadow taking hold of the light
full name» Tirza Calah Kerrich
nickname/alias» Tirra, Tizzy… but she mostly goes by her first name
birthdate» October 26th 1915
age» 93
occupation» Professional ballet dancer
sexuality» bi-sexual (life's too long to be picky)

race» vampire
species» n/a
affiliation» Mondragon
position» Demetri's concubine
born/converted» Born
---
For saving me from all they've taken
Letting my armor fall again
likes»
+ Feeling protected
+ Ballet
+ High fashion clothing
+ Helping others whenever possible
+ Demetri
+ Literature (her favorite novel is Wuthering Heights)
+ Italian coffee
+ Snow
+ Bright colors
+ Sex
+ Fuzzy slippers (they feel good on her tired feet)
+ Classical, jazz and reggae music
+ Red wine (Pinot Noir is her favorite variation)
+ Audrey Hepburn movies
+ Strawberry smells
+ Sword fights

dislikes»
+ Hunters
+ Any other clan
+ Being alone
+ Not feeling secure
+ Pork
+ Small animals
+ Guns (they're loud and not graceful at all)
+ Loosing people she cares about
+ Not getting to perform frequently enough
+ The German language
+ The smell of roses

fears» Tirza has only two great fears one of them is loosing more people she cares about in the clan like she did before. The other is getting kicked out of the clan and forced to be on her own, she likes feeling secure in a clan. Another thing though is Tirza has always battled stage fright since she was a kid, but that's more a superficial feeling.

habits» When she's annoyed Tirza will drum her fingers on the nearest surface area and when she's backstage before a performance she always has to have a cup of Italian roast coffee to sooth her nerves. She has a tendency to speak Polish when she's flustered or nervous and Russian when she's being sexy and seductive.

psychological description»
Tirza isn't your average vampire; a lot of females are cold, cruel, cunning or bitchy. She however doesn't fall into this category at all, her heart is rather large. One thing that Tirza can't stand is watching people around her suffer, so she will always be the first lined up to help a fellow clan member no matter the circumstance. It's a running joke that she should give up the ballet to become a psychologist but back when Tirza was growing up that was looked at as a faux pas and she loves dancing too much to give it up. However she will lend an ear to anyone who wants to get things off of their chest. There isn't a day that goes by that she hasn't given her shoulder to someone to lean on, and Tirza will gladly give you the shirt, pants and underwear off of herself for you any day if you need it.

Another big part of Tirza is her compassion towards the humans. She has this as she puts it 'icky' feeling about draining a human totally. She understands completely why she needs to feed but she doesn't see the reason to drain a human to the point of death. In fact she's very coddling when she's feeding and always makes sure that her meal gets to a hospital to get that blood back. Obviously Tirza catches a lot of flack for this but it's just something that will never change in her, she really can't stand the thought of being the reason someone dies. That is unless of course it's a hunter and she's in a duel with them, that's in her eyes an honorable. Once in a while she will drain a human to death but that's usually when she hasn't fed in a while so she's ravenous with hunger, but don't doubt that Tirza feels really horrible about it when that happens.

One thing about Tirza is she's rather needy; she needs to constantly feel protected. Having her clan picked off and seeing her birth family die in front of her is the reason behind that. She needs to know that people will be around to support her no matter what she's doing. One thing she fears so much she has nightmares about is being kicked out of the clan for something or another. The odds of that happening are slim but Tirza's other fear of something happening to them is possible so she's a bit 'in your face' with concern at times which can get suffocating. It doesn't matter to her though because she just wants to make sure everyone is always safe and well looked after.

Under the needy, compassionate, understanding vampire lay the soul of a ridiculously sexual woman. Tirza is like night and day when the bedroom door is closed, and even when the door is open she still oozes sexuality. Just taking one look at her and its almost instinct to think she's like that. That image is one that Tirza doesn't mind at all, she finds it flattering that people would consider her in such a light. Being a concubine has always been something she enjoys because she loves sex, even though she's with Demetri she does enjoy the site of women too. Tirza feels like being immortal she should be allowed to be greedy as time goes on forever, so why not sample a bit of everything. Not that she would betray Demetri, but she's not blind after all.

skills/abilities» Tirza has a few skills which come in handy with being a vampire. The first and foremost is her insane flexibility from being a dancer. This girl can wiggle in and out of the tightest spots and bend her body in ways you've only seen in movies (you pervert!). This has advantages elsewhere, but Tirza does use this to her advantage when hunting. Also she is very light on her feet obviously from so much dance experience.

Another thing that Tirza loves to dabble in and picked up really well is the art of the sword. She loves a good practice duel and has been known to fence, but mostly she loves working with medieval style swords. Even though she was born in an era with guns she likes the old school weapons.
---
This self discovery
Redemption taking hold of my mind
play-by» Megan Fox
picture»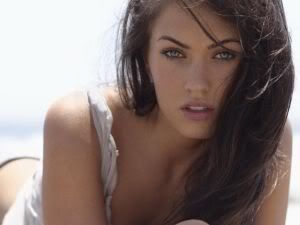 physical description»
The first thing that you notice about Tirza is her piercing blue eyes. They're the kind of blue that most people would die for and eventually pay for in the form of contact lenses. Hers however are au natural, and Tirza knows how to use them to her advantage. They stand out even more because she has very dark brown hair, it appears black in some lights but it's actually just plain old brown. She does however keep it styled long and layered for easy styling. Her face just screams SEX, her lips are usually found in a natural pout position and her thick eyelashes around her blue eyes just accent them that much more. Oozing sexuality can be a bit intense for some people but Tirza has gotten used to her unusual brand of physical attributes.

Being a dancer has kept her body lean and trimmed. Her stature is rather short though she stands at only five foot two inches which can again be an advantage but can also be a disadvantage. One of Tirza's favorite things about herself is her skin as any blemish that she had disappeared when she was transformed. Her legs are like steal bands and she could probably kill a man with them if given the opportunity. One thing Tirza can't stand though is her feet; even though she's blemish free her toes are all crooked and deformed from dancing. Rarely will you see her in flip flops or bare feet, which is another reason she wears slippers when she's home.

((sorry that's kinda lame *sigh*))

transformation description»n/a
---
Dark maiden take ahold of my hand
Lead me away from hibernation
family»
Biological family
Mikhail Kerrich- Father (deceased)
Calah Kerrich- Mother (deceased)

The rest of the Kerrich Clan but she felt closest to Rose Kahowski

homeland» Warsaw, Poland
history»

Sometimes when we're born you're expected to lead a pretty average life. It seemed like Tirza was going to go down that road, her birth was an easy one for her mother. There was no great disaster going on when she came to existence, and the weather had been rather calm for October. The only difference between Tirza and most other baby girls was she was born a vampire, to the head vampire Mikhail Kerrich of the Kerrich clan. Her parents were actually thrilled with her birth finally having a child as they had been mates for over five hundred years and never producing offspring. Things were going pretty swimmingly but World War One was raging outside of Poland threatening to come into the city of Warsaw. Not wanting to risk his clan to hunters who had joined the army just to find his kind easily they went into hiding.

Now being in hiding to a three year old is dreadfully boring. Tirza was no exception, with no siblings or younger vampires to play with she was a constant terror. Finally unable to take it anymore one of the elder clanswomen taught her the fine art of ballet, having been a ballerina since its invention a few hundred years before. The clanswoman Rose was a stern but patient teacher to the child and began to groom her at just the right years. The younger you start the better and she was pleased with how well Tirza was doing, how fast the child caught on. Rose knew that after the war was over she would talk to her Lord and Lady into enrolling their daughter into an academy just for vampires for ballet. Knowing it would be a difficult request as the parents were very protective of their daughter Rose began to train Tirza a little bit harder knowing if they saw the potential they'd let her go. Then finally the war was over after three long and sometimes stifling years in hiding the Kerrich clan went back to their manor in Warsaw. All except Triza now aged eight, who was going to Paris to study at the exclusive vampire only ballet school.

It was a rather hard transition for Tirza to make (and her parents too), she had never been away from her family before so homesick was a common feeling for her. Another problem that she faced was the attitude of a lot of the girls at the academy. They were catty, cold and snobby; they didn't take to Tirza at all making her feel rather alone. One girl did become her friend but in her downtime you could usually find her curled up with a great work of literature instead of with a group of girls. It was also at the academy that Tirza discovered something about herself she had no idea existed; stage fright. In hiding she only did tiny performances for her clan, at the academy she had to get on stage in front of thousands it was really unnerving for her. More than once Tirza would have some sort of anxiety attack having to ignore the snickers of the other girls. When she was old enough (around thirteen) though she discovered Italian coffee and its ability to sooth her jangled nerves so before each performance Tirza enjoys a cup to prep.

When she was eighteen the ballet school grad went home and joined the company in Warsaw with good recommendations from her past teachers. Tirza loved dancing and loved how happy her mother was each time she performed, her father looked so proud when she would be on stage. It was a nice lull before the chaos, before World War Two. Germany invaded Warsaw on September 27th 1939 and stayed there. It was a horrible time for the Polish people; the German Nazi's were relentless killing people constantly. Unlike World War One the Kerrich clan didn't have enough warning to go into hiding so they did their best. One by one clans people began to get killed off when running errands, or just going outside to get some fresh air. Hunters had found their manor so they fled, many escaped, many did not included Triza's closet friend Rose. It was a horrible blow to the young vampire but she knew she had to carry on.

They found salvation only for a short while as their hiding place was soon discovered by Rouge vampires, and a rival clan the Donovans. Tirza managed to escape and was the only one of her clan to do so, as she ran she heard her mother scream as she was being killed. It was a sound that has haunted the vampire to this day. She knew that Poland was no longer safe for her so she fled to Muertan for salvation and maybe a new life, knowing two powerful clans resided there. It was a long hard journey for her though she had to plan her routes to the T to avoid the war, hunters and other creatures like werewolves and werefelines. It didn't help that she was still so young in vampire years at only nineteen she still had a lot of growing up to do.

When she arrived at Muertan it wasn't like there was a welcome mat on the countries line. Triza still lived in constant fear of being hunted like her family and didn't know where to go. She would go into town and listen to stories at the local pubs and markets. Whispers filled her ears and she also learned at that age to use sex to get information, all for her safety. It wasn't something she was overly fond of but Tirza was a survivor (sort of) but was slowly loosing it. Finally salvation came in the form of Demetri and his clan, her story apparently was enough for him to take the young girl in. Though very wary at first she was rather flattered the master had chosen her to be one of his concubines. It was a rather hard transition at first but deep down she finally felt safe. Demetri made her feel like nothing could happen like it had in her past and she is thankful each day for being taken in. Though she knows it's not her original family over time she feels like they could become her new family. Tirza after a few years' hiatus from being on the run returned to doing ballet and since has readjusted to her new life with the Mondragon clan.
---
Stare into the night
Power beyond containing
other» She's fluent in Polish, Russian and English. However her accent is on the Polish side even though her mother was Russian.
custom member title» rusty (halo)
rp sample»
QUOTE
Excitement was the understatement of the moment. Peyton was over joyed to be slipping on the form fitting black leotard, her white tights and her favorite bright blue pointe shoes. In the locker room she dressed as quickly as she could then walked the short distance to one of the rehearsal rooms. She walked by the first one and looked in the window, noticing it was taken Peyton continued on her way down the hall. After peeking in the second window the room was vacant. A small squeak of excitement brewed in her throat as she pushed open the door and stared at the wide open room.

The mirrors gleamed, the hardwood floor was just begging to be danced across. Peyton felt the same surge she always did when she set foot in a studio. Home. There was always an overwhelming feeling of being home and it was the most glorious feeling in the world. As fast as she could move she set up her radio and rosined up the tips of her shoes. The music pumped out classical for her warm ups at the barre.

Peyton flowed through her barre exercises easily as she had done them for so many years before. Then she did her warm up floor exercises, the stretches and anything else to keep her muscles loose and ready to move. Since Peyton had arrived back at Walt with all the unpacking and what not she had hadn't had a chance to get in here. Once she was satisfied with her muscles being ready to take a beating she began to move. Time stood still as she began to just let the music flow through her and guide her.

A small bead of sweat trickled from the back of Peyton's neck, it traveled the entire length of her long neck disappearing down her leotard. Another tiny bead of sweat joined the one from her neck only this one traveled from her temple all the way between her chest. Peyton paid no mind to them however and just kept moving in time to the music.

The tiny girl moved across the wood floor as if she were gliding across air. Years of dedication made this seem easy but it wasn't. Peyton had been in the small studio for about an hour now just keeping on her game. She was alone and the music was tuned to an upbeat salsa tune on her portable Sirius radio. Peyton had a love for mixing genera's in her ballet never keeping it the same. A few routines she wrote down that she felt could be something when she achieved what she always wanted to do. Open her own studio and create her own school of ballet.

While doing classic moves she was adding in a bit more hip movement, and her arms resembled something of a flamenco dancer. Peyton had a rather big smile on her face as she moved watching herself in the room length mirrors as she went. When she did something that didn't meet her standards she just didn't keep going, she would stop and start all over again. Even though she wasn't being graded Peyton believed that making mistakes alone then not correcting them just lead to more trouble.

Even with some mistakes the joy of getting back to the dancing studio couldn't shake the natural high Peyton was feeling. Dancing was her ultimate escape from anything that was going through her head, she could drown any sorrow with a pirouette, relieve any stress with a leap. When it came to dance nothing could bring her down. Even with mistakes, critiques and not getting a solo she longed for it was always worth it. The blood, the blisters, the sore knees and strained muscles were what motivated her to do better.

When Peyton looses herself in dance a nuclear bomb could go off and she wouldn't even notice. With the music picking up pace she matched it turning en point, doing leg extensions all while throwing in the salsa hip movements. So far she was loving this new combination and made mental note to write this down in her book. She wasn't ready to stop now, even though she could feel her feet starting to get sore. That was just a sign to her to keep pushing to toughen herself back up.
Jen - October 7, 2008 04:19 PM (GMT)
Thank you and welcome to Luna de Sangre!
pwetty ^^
* Hosted for free by InvisionFree