Title: REAGAN, Jason
Description: human/pet
Jason Reagan - September 8, 2008 11:32 PM (GMT)
What has come over me
What madness taken hold of my heart
name»J
age» sixteen (I've been warned)
contact info» pm
other characters» ----
---
The source of my recovery
Sweet shadow taking hold of the light
full name» Jason Tyler Reagan
nickname/alias» Jay, Jaybird
birthdate» October 24, 1984
age» twenty-four
occupation» Professional thief
sexuality» bi

race» Human
species» -----
affiliation» mondragon
position» pet
born/converted» ----
---
For saving me from all they've taken
Letting my armor fall again
likes»
Sweets/junk food
Reading
Working
Being right
Spending time with Emil
Listening to music
Sneaking into concerts
Traveling
Photography
The internet
Beating Harumi at board games
dislikes»
Being yelled at
Disappointing Emil
Most vegetables
Not having any control over a situation
Failing a job
Jobs that are too easy
People who waste his time
Harumi
Most humans
People who talk to much
Being away from Emil
fears»
Not being sired
Something bad happening to Emil
habits»
Singing/humming to himself
Answering questions in a different language
Dancing while he's walking if nobody's around

psychological description» Jason is a perfectionist but usually laid-back in a 'I don't even have to try' cocky kind of way. He adores a challenge, and will never back down from one. A few times this has led him to get way in over his head, but he always manages to pull through, sometimes with a bit of help. He hates asking for help, though, like most perfectionists. He feels it's 'cheating' if he can't get it done himself. He feels insulted if a too-easy job is offered to him, and feels it is a mockery of his talent. He'll never accept a petty job, but one way to maybe convince him otherwise is to challenge him. This only sometimes works though.

Jason doesn't generally like humans, and he didn't really like them before he fell into the world of vampires. He badly wants to me immortal, and it upsets him that Emil doesn't think he'd ready. He can be very immature sometimes, but when it comes to his 'job', he gets serious fast. Jason tries to stay on good terms with Harumi, because she is a valuable tool, but he thinks she is stupid to follow Julian so openly and blindly, but on the inside he is afraid he does the same, and that Emil only uses him. But at the same time he really wouldn't mind, just as long as he got to be around the vampire.

skills/abilities» Jason is a genius at strategy and planning. He spends most of his time planning his next job. He gets maps of the area, detailed information on anybody and everybody who has access to the area, diagrams of security cameras, the works. He only goes in when he feels fully prepared, though it generally don't take long. He's also a good actor, which comes in handy the few times he gets seen on a job, or when he needs something from Harumi.
---
This self discovery
Redemption taking hold of my mind
play-by» Elijah Wood
picture»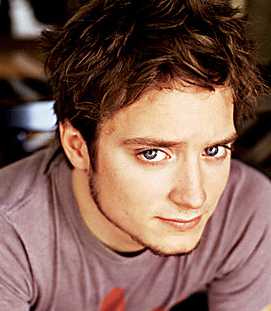 physical description» Jason is on the slight side. He isn't very muscular, but is physically fit, a must for his job. He's a bit short, but his size has never bothered him. His eyes are brilliant blue, and his hair color ranges from dirty blond to dark brown depending on lighting and the season. Sometimes he dyes it, as well. His hair is always a messy-chic, usually done with gel. His jaw line is traced by brown facial hair that helps him to look older, but he'll shave it occasionally.

He likes to dress in comfortable tees and jeans, but when he goes out to clubs or just a night on the town, he likes to dress up. Dressing up to him is maybe a suit or just something other than jeans, with a hat or tie to add a bit of color. All together, on the outside he appears to be a genetic college guy. Just excuse the bite marks.
transformation description» ------
---
Dark maiden take ahold of my hand
Lead me away from hibernation
family» Sophia Marie Reagan, mother. Very kind but always spent more time at work than home. Had a fondness for gambling that put the family in near debt a couple of times, but has gotten better at controlling herself.
Mark Jason Reagan, father. Stubborn, and never very found of kids. He has worked with the same construction company since college, and when he's not at work he's usually at a bar.

homeland» UK
history» Jason was born and grew up in Bristol. His parents only married after his mother became pregnant, and his father never had any interest in kids. His mother was not maternal, and often went out to gamble, so Jason was left alone a lot during his youth. He spent little time at home once he reached the appropriate age to do so, going out with school friends. He was drawn to anything illegal; graffiti, shoplifting, breaking and entering. He often times did this alone, but occasionally with a group. He wouldn't necessarily call these others friends, but they got along reasonably well.

When he was fifteen a man who went by 'X' saw him shoplifting and took Jason under his wing, teaching him all he knew about professional stealing. It took a week for X to actually convince Jason that he wasn't just a weirdo, and his secret training lasted two years, after which X disappeared, leaving behind a few clients for Jason to get started with. Before he left, X also told him everything about vampires and werewolves, and the wars between them. Jason didn't truly believe him until he met Emil when he was eighteen.

Jason had just completed a job, but the building he'd robbed was in the middle of nowhere, and it was too dangerous to use a car that could be easily tracked. So he risked the darkened woods, and ran into Emil, who was thirsty. Jason knew exactly what Emil was as soon as he saw him, and it was then that he truly believed X. He knew from what X had told him that Emil was thirsty, and intrigued, he aloud the vampire to drink form him. It was only a few months after that Jason officially became Emil's pet, with a promise to turn him one day.

Now Jason generally stays with Emil and the vampires. He still does jobs, and quiet often. It seems X continued to recommend him to clients all over the world. He's traveled to over 10 countries on jobs, stealing things ranging form government secrets to rare pieces of art. He has never failed a job, a feat he is quiet proud of. As a thief he generally goes by the codename 'Actus Reus' which translates to 'wrongful act' in Latin.
---
Stare into the night
Power beyond containing
other» He speaks English, German, Italian, and some French, Portuguese, Chinese and Latin. He is constantly extending his knowledge of languages.
custom member title» Actus reus
rp sample»
QUOTE
A smile spread over the Mystic Man's lips as his favorite business partner made his appearance. The man looked stressed, but that was normally how the dealer saw him. The man saw him, as expected, and Mystic stood elegantly to take his place across from the man. He chuckled lightly as the man spoke, brushing none-existent dust off of the table.

"My friend, when do I not offer you only the newest and best?" he asked with a smirk. It was true that Mystic had held back on selling to some people if he thought Lockjaw would be more interested. If you have a good thing going, it is always in your best interest to keep it that way. Mystic and Lockjaw where both business man. They understood and respected each other on that level, and therefore their transactions where always conducted smoothly and efficiently. They had yet to have a disagreement about anything in their deals.

He looked at the bartender, folding his hand on the table in front of him. "I'll have an Aboslut Pleasure, no sprite." He only drank mixed drinks that involved vodka these days, though he avoided the drink straight. Mystic preferred to be high over drunk.

"Now my friend, I come forward with something new and dare I say revolutionary. It's my own special treat, only been on the market for six months." With a grin, he pulled an antique pillbox out of his pocket. Mystic disliked using baggies. His drugs deserved a prettier container. He held out the pillbox to Lockjaw on the palm of his hand, but as the man started to reach for it, he pulled it back. "But first a riddle." This was where Mystic's supposed 'insanity' came out. "Get it right, I give you a special discount." He smirked, knowing no business man could resist half-priced goods. As he resisted the rhyme, he moved the pillbox from palm to palm, then pressed both palms together, showing them again, empty.

"I am just two by two. Sometimes I am hot. Sometimes I am cold. I am the parent of numbers that cannot be told. I am a gift beyond measure, a matter of course. I am given with pleasure always of course. What am I?" He smirked as he finished his sleight of hand and placed his hands palm-down on the table to wait for Lockjaw's answer.
[LS] Admin - September 9, 2008 01:23 AM (GMT)
Thank you and welcome to Luna de Sangre!

* Hosted for free by InvisionFree