Title: Into the south
Description: Night and Arc
Night - January 3, 2009 11:59 PM (GMT)
((Note: This has been approved
Here
. All my supplies can be seen in that thread.))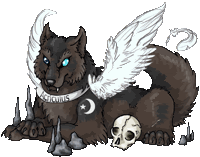 Acriculus Orion Aetherius
(Arc)
Night pulled herself up onto Arc's back, carefully aranging herself so that the packs on her back and the ones under her holding Arc's supplies wern't digging into the vulticus's back.
You ready to go?
She asked the vulticus silently. He wagged his tail, causing it to beat against her back as if reasuring her.
Have been for a long time.
He laughed back, eyes twinkling as he looked over his shoulder at his companion. Night chuckled and nudged him forward with her knees, causing him to start off at a jaunty pace out of the gates of the ranger station.
They hadn't traveled long before the stark wilderness became visible; it was much different from the labs themselves. She liked it; it felt more like the home she had lived in during the times before she had lived at the labs and after she had run away from her parents house. It was peaceable, in a way. But also made her weary; what could be lurking in teh dark, just beyond her vision? Surely not much, as the shadows were still flickering in the mid-day sun. The times when they would really have to worry were before them, when the sun set and night fell.
Arc, seeming to register her thoughts, gave a half-shrug; He didn't want to knock her from his back.
I'm sure we have nothing to worry about. We've always been able to take care of ourselves before. I dont see why this would be any different.
He reasured her, causing her nerves to calm some but not completely.
Night stroked his ears from her possition just behind his shoulders, smiling slightly.
I know. But... we're facing the unknown here. Arn't you worried?
She asked, perplexed. Usually Arc was the rational side of things, while she was the loose one that desired nothing more than adventure and no human contact.
No. Should I be?
The way he said it made Night re-asses her nervousness. Did they really have a reason to be afraid?
I guess not.
She amended after a few moments silence, in which they walked steadily onward. Night checked the possition of the sun, making sure they were heading due south. Confirming their direction, she urged Arc to turn a little bit to the right and they continued.
Night - January 4, 2009 12:31 AM (GMT)
It wasn't that long before the forests and wilderness became thick; it was quite clear that human habbitation had never really been through this area. How you holding up? She asked Arc, curious to make sure he was alright.

I'm fine. He said, bobbing his head in some kind of strange nod. Not even tired yet. He added. Well, he wouldn't be; they had just barely started off. BUt he thought it would be a good idea to make sure she knew this.

Okay... but just tell me when you need a rest and I'll walk. She lovingly pet the side of his neck, laying the fur down over his collar.

M'kay. He chuckled back, ears flicking back in contentment. So, how far until you want to stop and set up camp for the night? He said, looking around at the thick underbrush already digging at his legs.

Night thought for a few moments. I dunno. Maybe when we find a suitible place? I know not at least until.... She looked at the sun once more. I'd say as soon as the sun reaches about there. She remarked, pointing to a place in the sky just a few inches from where it would be when it was sinking behind the hills in the distance. That will give us about half an hour before sunset to set up camp. She nodded smartly.

Arc stepped over a particularly large bush, it brushing the bottom of his stomache as he passed. Night lifted her feet so her legs wouldn't get caught up in it. Its pretty wild out here already. Can't imagine what the jungle looks like... She frowned, fiddling with the sword on the belt of her jeans.

He nodded once more. Yeah. Do you think anyones ever been out here? He mused alloud curiously.

Maybe... but its been a while.
Night - January 4, 2009 12:59 AM (GMT)
Looking behind them, the Ranger's Station was still just barely visible in the distance. Though they had been traveling for about 30 minutes now, the trees had yet to become too increadibly thick around them. The building looked small, however, which meant they had so far been making good time. You winded at all? She knew he probably wasn't, but she was very protective of the large vulticus. Though he probably had more ground in his protectiveness over her; she was small and vulnerable and he was huge and muscled. The differences between the two were almost comical. But the love was visible around them, almost like an aura that simmered just below the surface of their skin.

I'm FINE. He assured her, almost exasperated but not able to find the part of him that could bear to be irratated at his companion. Really. If I get tired, you'll know anyways. He joked, refering to their unnatural link in both mind and feelings.

Well... yeah. She allowed. She couldn't keep the grin from surfacing on her face as they finally steered out of sight of the solitary building behind them. Now, more than ever, she felt the stirrings of excitement in her. There was no turning back now...

Would you actually want to turn back? He asked her, following the train of her thoughts. She just shook her head; this was an opportunity that was far to amazing to pass up. And she was going to take every leap she could before she had to go back to the simple life she lived at the labs.

Understanding her need to think, Arc sauntered on in silence for a little bit. He dodged several trees, weaving through them easily. Night took the honors of assuring their direction; they were still going south, it seemed, if her direction was not wrong.

Her tail twitched with eagerness. What do you think we're going to find? She finally burst out when she could stand the silence no longer.

WEll... what are the possibilities? He retorted almost imediatly, though there was the slightest of pauses in which he had gathered his thoughts.

There are so many! I mean... there are Dash-claws, like Sindri, She named one of the creatures back home in her kennels. She had gotten her roommate to feed her creatures while she was away...And then the creatures that they have tamed. Dev had one of both; some kind of Dash-claw dog, and then something like a smaller version of a real dash-claw. Or maybe we'll discover a completely new species! She was almost bouncing up and down in sheer pleasure; she would be most happy if they found something totally new.
Night - January 4, 2009 01:35 AM (GMT)
As he walked, Night stroked his wings. They were interesting; she still wasn't sure what had caused their sudden growth, but it amazed her. The two great appendages stretched from him and easily covered her legs as they lay across them. They seemed as though they themselves were drawn on, each feather fine and having a light grey outline like a pencil mark. Eraser marks here and there... she found them amusing, in a way that said she could simply trace the featered shapes for hours without being bored.

What are you thinking about? The vulticus asked her, peering over his shoulder and very narrowly avoiding hitting a tree as consequence.

I dont know, really. There's just... there's jsut so much to take in. She responded, casting a glance around at their surroundings. The forest was becoming thicker around them, casting them into an eiry greenish half light. It was enjoyable; easy on the eyes, at least. And it was easy to see that the sun was making its way across the sky steadily by the way the shadows were slowly slooping to one direction; it was getting later.

Arc yawned; it had been a long day, somewhat, and he was starting to get tired. Do you want me to walk? She asked him.

No. I can carry you. He assured. Night heard the edge of weariness that lurked beneath his words, however, and slid off to continue their voyage on foot.
Night - January 4, 2009 02:27 AM (GMT)
After another hour of walking in silence, Night caught a glimpse of the sun behind the trees. It was steadily heading towards the east, and only a few more minutes remained before it would slowly start to sink. That gave them roughly... an hour.

She pointed this out to Arc, who was at this point barely awake and just following the sound of her voice. Coming to a break in the shrubbery, she halted her friend and appraised the land before them.

It was relitivly flat, with large trees on all sides, the sun barely visible above them. The ground itself was fairly dry, and Night decided it wouldn't be a horrible place to stop for the night.

Clearing the dense brush that covered every expanse of forest floor would be a challenge. Sighing, she took the sword from her belt and began to cut and hack at the roots of each large weed and plant.

It was a few more minutes before they had a suitible sleeping space. It was a large, almost perfect circle; just big enough to house both her and her companion, along with a fire to keep warm. They wern't yet very far south of their starting place, and therefore it would still be cold as the night wore on. The frost would no doubt be there when they awoke; they should do their best to prevent freezing in the night.

Turning to Arc, she prodded him from his slumber; he had fallen asleep on his feet. Time to set up camp, bud. She told him with a grin. He grumbled something inintelligable, causing her to snicker at him. Then, she pulled her pack from her back and started rummaging through it. Not finding what she was looking for, she untied Arc's load and continued looking, finally coming up with a box of matches before getting up to search for kindling.
Night - January 4, 2009 03:36 AM (GMT)
Finally she managed to get a small fire going. It had taken long enough; alot of the wood she had found was damp from the trees dripping on them, or from a recent rain. It must rain alot here, she thought. Or else the plants wouldn't have grown so big.

She was too tired to eat, and judging by the state Arc was in she figured they woudl both hold over until morning. After all, it had been a long day and they had alot to look forward to in the morning.

She lay the damp wood around the fire, surrounding that in large rocks that she had managed to dig up. When she was finally satisfied that the fire would be contained, and that it was warm enough to keep them from freezind and bright enough to keep any encroaching beasts away, she finally settled down next to Arc.

Looking up at the sky, as little as she could see of it through the leaves, she vaugly registered that it was clear. No point in setting out the tarp, or even the bedroll. It was nice and cozy here by the fire, after all....

She snuggled closely into Arc's side. Goodnight, Arc.

Humh? OH. Goodnight. He yawned back, clearly not registering what he was talking about. Night managed to laugh once at this before she drifted peacibly off to sleep, dreaming about adventures to come.

_---------------------------

The next morning, she woke to an odd rumbling noise. Arc was still sleeping, snoring rather loudly, but that hadn't been what had woken her. She was quite used to it, really. She opened her eyes to find she was curled practically underneath the vulticus, having his tail and one wing laying over her protectivly. He must have woken in the night to change possitions.

No, what had woken her had been the very loud rumbling of Arc's stomache right beneath her ear. She couldn't control the fit of giggles that it brought on, no doubt doubled because she had just woken, and eventually the noise woke the vulticus up. Wha's so funneh? He said, looking at her bleary eyed and slurring his words. He wasn't completely awake yet.

Are you hungry, Arc? She asked him, barely containing her smile. It really hadn't been that funny, but something about it made her want to burst out laughing again.

Finally fully in the present, Arc had to think. Yes! He suddenly exclaimed. Night chuckled to herself and got up, not bothering to change clothes, to make breakfast.
Night - January 4, 2009 09:33 PM (GMT)
Cutting a large chunk out of a steak and laying it before him, Night then turned around to make her own breakfast. There wasn't a whole lot to chose from, but enough that she had a hard time making a choice. She finally decided on just a simple cheese and crackers meal, and proceeded to eat.

When they were full enough to carry on, she began to pack up camp. Having no thumbs or anything else that could help out, Arc sat down by the fire and watched his companion, offering advice here and there when she seemed caught up in something. The camp slowly made its way back into the packs, and she tied the smaller of the two securly to the vulticus just as it had been yesterday.

The last thing to go was the fire, emptying her canteen over it so that it wouldn't be a hazard to the wildlife. She found a nearby stream running through the deep heart of the woods around them, making sure the water was clean before filling all three water jugs. Appeased that their camp was all packed, she pulled herself onto Arc's back using the packs as leverage. The final of their luggage, Night's own backpack, rested across her own shoulders.

Well, I think that's everything!' She said happily, eager to set out on their second day of adventure. She would be the first to admit that their first day had been rather uneventful, but it didn't matter much. They were deeper into the untamed wild now, and surely they would see something interesting today!

They set out, moving in the same direction as they had the day before. Night could easily tell how to do so; the path they had stumbled along last night was still visible in the meager morning sunlight.So, how do you like being an adventurer so far, Arc? She asked suddenly, hoping he would be just as cheerful this morning as herself. Arc wasn't usually that much of a morning person....

Oh, its fair enough. Though the creatures are bound to get bad the farther south we go... He replied. Night hadn't thought about that.... that was a very good point. But... they would get over that bridge when they came to it, she decided. No point in fretting over something so trivial.

Well, I have you. What more could I need? She asked. I know you'll always be there, and I'm sure that's all the protection I could ever want. She smiled.

Just think of me as a guardian angel! He said happily. After a few moments of silence, however, he added, Or a stalker. Night laughed at this; a stalker indeed! The creature had followed her since she had found him abbandoned years and years ago. Hadn't let her out of his sight since.

If we say your the first, we wont get as many strange looks.... She told him, meaning when they got back to civilization. Arc nodded and chuckled, taking another step forward and taking them further and further away from the place they had called home just the day before.
Night - January 5, 2009 03:03 AM (GMT)
Arc's point of veiw
It was strange; the grasses were so tall in places that they were almost in my face, no small feat for someone my size. I paced in silence, listening to Night scribble away in her journal as she sat upon my back. I barely registered the weight; she weighed about as much as a girl her age should, but i was also much larger than her and used to carrying her. It was almost enjoyable, actually, knowing that I was keeping her safe and making her life easier.
I could imagine how her face is now; eyes squinted at whatever she was sketching, hoping to finish before I walked by. Tounge stickign out... it was quite funny to watch Night sketch. I stretched my wings, making sure to pull them down instead of up so as not to obstruct her vision, and continued walking.
It was an interesting treck; we saw a number of things, from strange and new bugs to a herd of what appeared to be galabex running away from the noise my heavy paws made. They were amazing, completely unchanged by people and therefore larger than would be normal... Night hurridly sketched one, then leaned down to show me.
Look about right?
She asked.
I pretended to be offended.
Oh, right. KNOWING I cant see and all,
I tried to keep a strait face, but couldnt' keep the grin from escaping on to it. She was just so genuinly oblivious to everything! It was sweet, in a way.
I think it looks fine.
I assured her, after having to tell her I was joking to stop the flow of rushed appologies. I could still somewhat see, after all, and from what I could glimpse it looked almost exactly like the strange deer-like creatures that had rushed by just moments before. She must have started drawing as soon as she noticed them...
Around midday, we had to stop to eat. Night seemed unhappy about this, but agreed that we must have some kind of food or we would pass out in the growing heat. Getting farther south, the climate was starting to change. We couldn't have traveled more than 14 miles from where we disembarked this morning, but already the sun seemed hotter and the bugs just a little thicker, as if they were grouping up more the farther we went. They probably were.
As I ate my steak, I watched Night nibble at her food and write in her book. She wanted to record everything from this adventure; she had told me before we left. I didn't blame her; no doubt it would be amazing.
Soon as she noted I was finished eating, she scrambled over to me and we proceeded, stepping further into the forest. It showed no signs of thinning, and it would be hard to find our way back. No doubt it would be strait north, or at least fairly strait up, but I asked about it anyways.
How will we get back?
I asked her, my eyes squinching together in what seemed to be worry.
I've been drawing a map according to the possition of the sun and our surroundings.
Came her answer. I laughed; so thats what she had been getting down! I knew she couldn't have been writing THAT much. She would probably save the log until the end of the day.
After all, what use is knowing how to make a map if I'm not going to use it? this way we dont have to lay a trail of breadcrumbs.
She snickered at her joke, a refferance to a childs tail that she had once told me. i joined in on the laughter, and we proceeded.
Night - January 8, 2009 11:30 PM (GMT)
There was very little daylight left at this point; their second day was nearing a close and they would have to stop for camp very soon. Night sighed, scanning the now fairly dense vegitation surrounding them. As the sun was peaking just barely from the hills far in the distance, they found themselves entering a wide area that had already been cleared of growth; a riverbed, no doubt, or at least it used to be. A long, almost trench-like hole was cut from it, though fairly subtly suggesting the use of water. There was no doubt that a great river had once flowed here; maybe it still did, when it rained. But for now, Night figured, it would make a wonderful spot to stop and camp for the night.

Arc wandered over to a jutting rock from the riverbed, legs stiff enough that he didn't want to bow in order for the human to slip from his back. Night clammoured off of him, unbuckling the packs from his back as she went so that, by the time they finished camp, she wouldn't have to worry about undoing the buckles in the dark.

A fire was first and foremost important, though it was now becoming more humid and hot as they sauntered further down the country. They were making good time, judging by how far it seemed they had gone looking at the map that she had made.

Gathering firewood was much less of a hastle; the open area surrounding the forelorn and forgotten riverbed made the sun much more likely to hit the ground, drying out anything that would normaly be soaked from the trees above. It was interesting, though, searching the place. Fossils of all sorts speckled the ground, and Night itched to grab one and keep it, but left well enough alone in fear that she would get over excited and weigh them down more than they were already.

Finally, enough kindling was dug up that they could get a meager flame going. This was all the light they needed as they prepared their evening meal; a cut of meat for the vulticus and crackers, cheese, and jerky for the humanish. They ate in companionable silence, as though if they talked it would ruin the magic of such a place.

not that it would alloud; that would give away their possition to any strange creatures lurking in the brush, and they certainly didn't want that to happen. And there was also the fact that Arc didn't actually have the ability to speak. But ya know... small minor details, In Night's oppion.

Looking up at the sky as she lay out her sleeping arangements. (A small bundle of blankets and a pillow, oftentimes called a bedroll.) It was darker than the night before, and one or two clouds blotted a few of the stars from veiw. Never the less, the sky was amazing this far from civilization with no city lights to dim the scene. Night loved it; though it may rain, she thought after a minute.

Arc was just happy that Night was enjoying herself; so rarely was his companion happy these days that the scant times she was it always elated him. His tail beat against the ground as she pulled herself to her feet, grumbling under her breath as she wrapped the tarp around the supplies; she didn't mind getting a little wet, but if the supplies were soaked they would have to turn back, and she had no intentions of doing so.

At last, she fell down and lay her head against Arc's side, looking up at the sky. One shooting star, zooming alone out in space, lit up the sky for a few moments. Make a wish, buddy. She muttered to Arc in her mind.

Its already come true. He replied; but she didn't hear. She had already drifted peaceably off to sleep.
Night - January 11, 2009 04:52 PM (GMT)
Night's Dream
It was dark; not yet nighfall, more dreary and shadowed like just before it rains deep in the woods. Whispers of leaves agaisn't one another in the wind; it would rain soon, they foretold. They spoke of the future.

Someone was coming.

Night sat in the middle of the clearing, her tail around her as she faced the path. Arc was nowhere to be found. NO telling where he had gone off too; perhaps to hunt. Or maybe she just couldn't see him. He was behind her?

In the dream she could see behind her without turning. Actually, she could see herself. Some kind of omnipotent point of veiw, maybe? Arc lay behind her, looking the same direction she was.

Someone stepped through the bushes in front of them; a dark figure, cloaked in shadow. She couldn't see their face, but the way they walked seemed familiar. Night stood. She had been waiting for this person, which was odd because her real subconscience knew that no one had been expected to show up. She was in the middle of nowhere, alone excepting her vulticus.

The leaves whispered of death; betrayel, long forgotten, rising to present itself when least expected.

And then she recognized him; Rory. The knife, however, was already naked in his hand, pointed at her heart. "I'm sorry." He said in the dream. "But I'm giong to have to kill you." And he stepped forward, blade raised.

Suddenly she was looking at Arc, hearing through his sharp ears the swing of his arm as the knife struck home. A single, broken howl shattered the night as Arc roared his pain, before his eyes slowly closed and he sunk to the ground.
Night woke with a start, her eyes wide. It was not yet daybreak; they wouldn't need to get up for at least another hour. She shivered, remembering the frightening dream, and turned to make sure Arc was still there. No need; he gave a loud snore in his sleep.
She sighed in releif, but couldn't help but be sad. The nightmares followed her, even out into the very depths of the wilderness. surely she should have been able to get some peaceful sleeping this far away from any reminders of her past?
But apparently not. With a stiffled sob, she lay back against Arc. Not daring to go back to sleep, she watched the cloads as they began to get an angry grey color, suggesting a heavy rain later in the day. Soon it would begin to rain; and then they would most deffinetly have to get up.
Night - January 11, 2009 06:06 PM (GMT)
When the skies finally opened and it began to drizzle pitifully, Night stood. She shivered in the slight cold, but didn't bother pulling her jacket on. It was nice and dry under the tarp, after all, and this way she would at least not stink. She nudged Arc in the ribs. Time to get up sleepy. She said, the fear masked by the sleeplessness in her voice. She wouldn't have to tell him about the dream; he probably already knew about it. Its weird how their minds worked like that; she wouldn't be surprsied if they had been having the same dream.

Arc scowled blearily. The suns just barely up! He complained, but once it registered with his tired mind that it was raining he grudgingly got to his feet.

The rain didn't bother either of them, really. It had been a few days now since they had been properly clean, Night being reluctant to slow their travels for anything. And it didn't matter, really; they were the only ones out there. At least for now, Night thought as she remembered her dream the night before. Another shiver, this time not from the cool wheather, shook her body.

Arc said nothing about the nights happenings. He knew that Rory was a fragile topic for the humanish; he had been there, after all. His eyes drooped in what could be tiredness, but was really pitty.

Night could feel it radiating off of him. If it had been anyone else feeling that sorry for her, she would have gotten mad. She didn't need anyones sorrow on her behalf! But Arc was different; he had been there. He knew. He wouldn't try to sympathize with something he didn't understand. Besides, she knew she needed him.

Neither was that hungry, but Night dug through the packs anyways and pulled a small hunk of the steak off for Arc and a peice of jerky out for herself. There would be no good in fainting on the way because they hadn't eaten anything. Then they were prone to getting attacked by animals.

She made sure the packs were wrapped tight in the tarp before levering half onto her back and the other onto her companions. She started to tie Arc's in place, but changed her mind and slid it off. I'm sure resting just a few moments more wouldn't hurt. Its just barely sunrise, after all. She told him, slumping to the damp ground. She should probably change her clothes; she hadn't yesterday, not wanting to dirty all of her wares without need.

Night got to her feet and hurridly changed, not worrying about someone walking in seeings how there was no one. Then she sauntered over towards the river they had been following south and dipped the already damp, dirty clothes in.

She gave them a thourough washing, without soup, and then hung them on a relitivly dry branch to dry. Now they would have to wait for the clothes to dry before they took off... Which shouldn't take too long, as hot as it was becoming even in the rain. They must be getting farther south than she had first thought...
Silver - January 12, 2009 08:35 PM (GMT)
It's wet. It's hot. I'm hungry.

Oh look. What is that over there. A river? Fresh cold water. Sounds good. Maybe I should go over there. Water is always good. Well, except this stuff falling from the sky. That's just annoying. My wings don't work so well when they're wet. It makes it hard to get around, and it's so dark and the sun is gone, and it's still hot!

Ah, to the water already? I'll just land over here and take a drink. I must be careful not to fall in, standing on this rock. I'm not a very good swimmer at all. It would just be terrible if I fell in. Why must I bend over to get to the water? Well, at least it's cool. Rather refreshing after all that flying, yes.

What is that? Maybe I'll go get a closer look.

It seems to be a tree. But those things hanging down, they are not leaves! How peculiar! Maybe I should go check them out! Yes, that sounds like a good idea. Hrm. They're soft to the touch, almost like the fur of a beast... but not. They're quite interesting indeed, despite being very wet. Well. I'm pretty wet too. Darn water from the sky...

Well... maybe I can stay here for a while. It doesn't seem to be raining in the soft things. Let me just... climb... in... here... aha! Just perfect! It's rather cozy in here, actually. I think this will make a very nice home, so close to the river and all. And, if I stick my tail out like this, maybe I can tell when it stops raining! I'm so clever.

Momma would be so proud of me!

So, there she was... a little Rascal Faeron... sleeping in the poor girl's underwear, tail hanging out and all.
Night - January 12, 2009 10:35 PM (GMT)
Night started as a strange scuffling noise started. She looked around, eyeing each bush and tree like it contained something potentially dangerous, until she came to the source of the noise. Her clothes?

Now that was odd. Now what do you suppose that is? She asked Arc with a grin. A small lump was moving around in the pile of clothes as it swung freely from the branch, a long purple tail sticking from her underwear. And that was the funniest part; the odd creature seemed to have curled up in her knickers.

Night stiffled a laugh, getting up to investigate. Teh way the tail was shaped seemed familiar, and moving the sleeve of her shirt asside so that the things head was revealed, she found herself looking into the eyes of...

A rascal fearon. Huh. That was... unexpected. She giggled, pointing it out toArc silently. Do ya think it belongs to anyone? She asked him. He shook his large head, scruffy hair falling into his face as he did so.

OUt here? No chance. Probably wild, most likely, though I supose it could have escaped... He made a shrugging motion. NO telling; this place is really strange. He finished lamely.

Night nodded, gently moving her finger along the little creatures head trying to wake it up. "Hey, little guy. You up?" She asked it, though mentally the pink color of its scales made her want to classify it as a girl. Darn, she wished now she had brough an extra ribbon of telepathy. Then again, she hadn't expected to need it, as the only one she had brought was Arc and he could already speak with her....

Arc scowled. Careful; how do you know its not some horrendous creature in disquise? He asked, casting about wearily and then stepping over to survey the little creature over her shoulder. Though it did look quite harmless, one never could be sure...
Silver - January 12, 2009 11:15 PM (GMT)
...Huh? What's... what's touching me?

Aaaahhh!

What the heck is that thing!? It's huge!

Should I bite it? No... that'll just make it angry! What does it want from me? It can't want my new house! It's too big to fit in here! Well, maybe I should investigate... but I don't want to leave my house... well, here goes nothing! Might as well peek my head out of here, to see what's going on.

What in the world is that thing? That wonderful beautiful thing! Why, it has gorgeous dark fur, and such beautiful wings! It... it's the most beautiful being I've ever seen! I... I must get a closer look! It will require flying past the other thing, but I just have to see this marvelous beauty up close! It will be a risk... but here I go!

Oh my! This four-legged creature is even more beautiful up close! I like him, yes I do! This must be what momma spoke about when I was young! This amazing creature, he is my 'prince'! I am sure of it! Momma told me that when I found my prince, that I would know it. Didn't ever say how, but she said I would know! I certainly do know! This beautiful creature is my prince!

"Greetings, My Most Dear and Beloved Prince!"

Yes, that is the perfect title for such an amazing, wonderful creature! Perfect. Just like his fluffy tail and soft coat and...


She seems to have completely forgotten about her new 'home', and the person 'invading' it.
Night - January 12, 2009 11:39 PM (GMT)
Night moved aside as the fearon pushed past, a puzzled expression on her face as it stopped before Arc. She could hear the conversation vaugely as he thought the words over in his own head, and couldn't help but giggle.

"Erm... Prince? M'am, I thin' ya got the wrong bloke." Arc said, his heavy burr hard to understand since he wasn't talking in his clear,mental voice. Both him and his owner had the leer of someone raised on the streets of London... He was trying to be polite. In truth, he wanted to laugh too; this... thing... what had Night called it? A fearon? This fearon had just called him a prince, and no one except Night and Isis had ever said anything remotely close to that. It made him feel sort of self conscience, like it was making fun of him.

But it was so serious... could this creature really think him her prince? "Though if ya really wan' me too, I could maybe try at bein' a prince. I don' thin' I'de be much good at't." He tried his best at a smile, though his vulticus side betrayed him and made it look much more menacing than should be normal. It looked friendly enough to be classified as such, however, when coupled with his words.

Quit flirting, Arc! Or have you forgotten your married? Night asked, glaring in his direction but unable to keep the delighted smirk off her face. This had been the first interaction with a wild creature they had ever had, unless you counted Sindri. But he had been relativly tame by the time they had even came to know him, so it didn't really count. Ask her what her name its.

Arc oblidged, though he couldn't help but keep the flirtatious twinkle from his eye. "Wha', may I ask, is your name, fair maiden?" He asked her, bowing his front legs and tucking one under in a semblance of a bow. It was almost cute, had it not been in such a serious manor. Arc was so terribly old fasioned, and thereby whenever he met a lady he acted as though the moon had been caught and lassoed by his very hadn and he were presenting it to her to wear on her cuffs. He did it was such grandour and elloquence that one couldn't help but wonder if he had been raised in some other age, one of knights and dragons. But in reality, he hadn never even set foot out of the country. He had spent all of his life with the humanish at his side, and planned to do the same evermore.

Night took a chance and grabbed her journal, flipping hurridly to an empty page and scribbling frantically. She was marking the time, date, and the conversation. She would never let Arc forget this one, and plus it was something she would want to remember simply because it was the first time she had ever seen a creature outside the labs and talked to it. The first she had seen up close, most certainly. Though how it got there... Aske her where she is from, too. She added as a rushed afterthought to her companion.

"And may I ask where such a fine lady as yourself calls home? How did you wind up here?" He didn't want to sound rude or anthing, though. He didn't know how she would take it, so he decided to put in his own explaination. "I would be delighted to see the place that turned out such a beautiful maiden." He winked at her, and Night rolled her eyes.
Silver - January 13, 2009 12:35 AM (GMT)
Wrong bloke? ...What ever is he talking about? Of course he is my prince! Momma said I would know who my prince is, and I'm sure this is him! Maybe he just doesn't know that he's a prince yet. Yes, that just has to be it. I'll have to make sure he knows. Yes, that's just it. I will make sure he knows how to be my prince. What a brilliant plan I have!

Not good at it? How ever does he think he'd make a bad prince? He's beautiful and wonderful and amazing, and he even called me ma'am! What else is there to being a prince? I've... never met a prince before, come to think of it. How am I supposed to make him a prince if I don't know what a prince is supposed to be? Maybe it wasn't such a brilliant plan after all.

Wait! Maybe that's it! Maybe not knowing how to be a prince is part of being one! Yes, of course that's it. He is obviously my prince, so this must be how a true prince acts! How silly of me to think I should change him!

Oh! That being. The tall one! She is making noise. I wonder what it means...

"Name? What is that...? I don't think I have one. Though, if you have an extra, I'd be honored if you shared! I would love to have a name from My Most Dear and Beloved Prince."

He talks in such a peculiar way. How wonderful. The sound of my prince, so perfect it is. I wonder if other people's princes speak in such an interesting way, too! Or, if they have beautiful fur like mine! Or... hrm, maybe I should ask someone some time. I'm sure they'd be just as excited as I to talk about their prince!

"My home! Oh, I have such a wonderful home! It's soft, and warm, just like your marvelous fur!"

Would he like to see it? Yes, maybe I should show him!

"It is over here!"

I wonder if he will like it. It is quite a nice place. Though, I do not think he will fit. That's okay, I'll just have to get a bigger one for him, too! With three amazing little holes, just like mine.

"I came here. From over there. By the river." I should point so he can see... "I was thirsty, so I had a drink, then I found this nice new home... and then that large creature over there woke me up! I'm so lucky she didn't eat me! Then I'd never have been able to meet you, My Most Dear and Beloved Prince!"

Oh, how marvelous! He called me his maiden! How lucky I am!

What an odd little creature... did all wild beings act this way?
Night - January 13, 2009 12:56 AM (GMT)
Arc tilted his head curiously. "Ah name 's somethin' ot'ers that ya talk ta would call ya." He said matter of factly. He had to wonder if names were something that they even had out here. What need was there for names when you lived alone? Really there must not be one. If you had no one to share a name with, then there would be no point. After all, you dont oftentimes takl in third person, and you wouldn't even have to know what that was if you didn't have a name...

It was odd, the train of though that the vulticus took whenever he spoke to this creature. It made him think harder than he often did. "I don' haf an extra name, tho' I s'pose I'ma have to tell ya mine. Acriculus Orion Aetherius, at your servous." He made the bowing motion again. "What do ya whan' your name ta be, my dear?" He asked. He wanted her oppinion, though she would probably accept anything that dropped from his mouth, judging.

IF your finished making a fool of yourself? Night snickered under her breath. So she doesn't have a name? Night confirmed. Arc nodded mentally, and she scribbled down some fast notes, a fascinated look on her face.

Arc watched as teh fearon flew over to Night's clothes on the tree, pointing them out as her home. Arc chuckled. "i meant more along's the lines ah where ya came from." He clarified. "An' Night? She won' hurt ya. She's with me; she's meh frien'. You'll like 'er." He cast another radiant smile in the fearons direction, still pondering a name and wondering if she had any that she prefered. He hoped that she understood what a name was, now....

Night wandered over, eyeing the fearon. Then, she tentivly held her hand out to the creature. "She jus' wants ta be your frien'." He translated for the creature before him. Then, finally, he came up with something that she would probably like. "Ya know, you look like a flower ta me. Or maybe something poetic... How 'bout Sulilique?" He asked, casting about in his mind for something interesting and that sounded nice.

Or maybe she had come up with something on her own. How was he to know?

Night Jotted a few final notes in her journal and then stood. So will your little girlfriend be accompanying us farther south? She asked Arc, a smirk on her face. He glared.

I dont know. he replied shortly.

"Would you like to accompany us on our journey, dear?" He asked her, a soft grin on his face.

Silver - January 13, 2009 02:10 PM (GMT)
Something someone would call me? Well, I have lots of those! Maybe my prince just doesn't know them. Maybe I should explain...

"Why, I have lots of names then! Momma called me 'baby' or 'daughter' and Brother called me 'sis', or 'pest'. And you called me 'Ma'am'!"

"Acrelous Ozoin Athorus?" That's an awfully complicated name. I don't think I'll remember it. "I think I will just continue to call you My Most Dear and Beloved Prince. Maybe sometimes just 'My Prince'."

My Prince sure is an interesting fellow. Maybe he has more wonderful things to teach me! Oh, that would be so nice. Learning all these things, like 'names' from such a marvelous, glorious prince! I'd be honored!

What do I want my name to be? That's an odd question. Everyone else has always determined what they called me for themselves. Didn't My Prince call me maiden, too? I thought that's what he wanted my name to be. Now I'm confused...

"I came from over there, by the river." Or was he talking about what Momma used to say, about me and brother coming from her. "Momma said I came from her. Brother too."

It didn't appear as though the little Faeron had a real grasp of the concept of 'home land'. Though, as a wild creature who's shelter changes quite frequently, it seemed that 'home' was a subjective word, used to describe whatever place she slept last.

"You're friends with the night! That's amazing! Are you friends with the day too? Or the stars?" Wait... do the stars and the night count as the same thing? They always show up together. But, they have different words, so they have different names, so they must be different! Though, I can't see why he's telling me that the night won't hurt me. I know that already. It's the things that creep in the night that get you!

He has such a pretty smile... woah! This thing... Momma called them dobads! It's moving again. Is it going to eat me? My Prince will protect me, right?! He wouldn't let one the dobad eat me, would he? Or even worse... take me away like they did Momma and Brother! I'd rather be eaten than captured and taken far away to that scary place that the dobads take innocent critters like me!

...Wait. Friend? The dobad wants to be my friend? Why does it want to be my friend? I don't think I've ever heard of anyone having a dobad friend. How weird. Well... My Prince trusts it. And, besides, he wouldn't let it hurt me, right? Heh. Dobad hands smells funny. Kind of like my new house...

"Soliloquy? Is that what you want my name to be?"

Wait! A journey! How exciting! If I travel with My Prince and his dobad, and his friends like the night, I'm sure they'll be able to keep me safe! And we can explore for nice things! Like one of those shinys I hear the dobads have!

"I would love to go with you!"

So, there the neurotic little beast was, sniffing the 'dobad's' hand, and fawning over the idea of traveling with her prince and his magical friends.
Night - January 15, 2009 03:19 AM (GMT)
"Indeed I did..." He chuckled at her bizzare enthusiasm, enthralled by her eagerness. It was as if she were trying to keep him talking just to hear his voice; maybe she was? He knew not. "And I suppose I coul' ge' used ta 'My Prince' pretty quick like...." He smiled at her again.

I think you should start calling me that. He said to Night, smirking in her direction. She scowled playfully at him.

What exactly are you the prince of, sire? Pigheaded-ness? She laughed at their playful banter, enjoying it even though they were supposed to be mock-fighting.

He decided he wouldn't grace her with his reply. Instead, he turned back to the fearon. It would be best to give up; she seemed unrelenting in her lack of the point. "From your mot'her? Really! I came from meh mot'her too." He said lamely, hoping to at least get a good chuckle out of it instead of a blank glance as he was probably expecting.

"Erm... 'er name's Nigh', the human o'er there." He motioned with his large head towards his companion, eyes twinkling merily. "Bu' I suppose, if ya want ta think o' 'er in tha' way, she could be teh Nigh'." He laughed. "Rat'er funny look'en time o' day, though, if ya 'as (Was) ta as' (ask) me." He nodded matter of factly.

"An' Sililoquy can be your name shoul' ya want it ta be." He grinned. "I thin' its pretty, myself. We coul' call ya Lilly fer short." He thought his over; yeah, it sounded about right. He liked names that were long enough to have a nickname, too. Like his! Only... well, his was a bit longer, really.

"Well, then, ya will have ta find a place ta sit on teh journey. I dou' ya want ta fly the whole way; it'll tire ya wings out." He smiled kindly at her, eyeing Night out of the corner of his eye to make sure she approved. She nodded and gave him a tiny thumbs up in response.

Good! But we'll have to get going soon, if we want to get anywhere before nightfall. She told him. He nodded understandingly.

"We'd be abou' leavin' soon. Ya sure you'll be goin' with us?" He said it hopefully; he would like another creature companion to accompany tehm, after all. He loved Night to death, but another creature to maybe act as a warning for what Night's pointed ears couldn't hear would be nice....
Silver - January 17, 2009 06:09 PM (GMT)
((From this point forward - the Faeron is assumed to be traveling with you, and Arc. Doing that quirky thing she does. In the future, if the situation calls for it, the staff may come back in to control her, but for now, she's just riding along for the fun.))
Night - January 17, 2009 06:41 PM (GMT)
Night wandered over to their packs, still where they had dumped them shortly before, and picked them up. Hers she slung onto her back accordingly, and Arc's she carefully buckled onto his back as she had a few times before. Then she pulled herself up, having to jump to get proper leverage, and watched the fearon settle on Arc's head. She stiffled a giggled, but said nothing; Arc was already feeling foolish, she wouldn't make it worse.

Which way is south? He asked her, moving his head carefully so as not to knock the creature from it. So that we dont get off track.

She had to stop and think for a moment, looking up at the sky searchingly. When she found the sun, she looked to see how far it had risen; it had been about an hour since daybreak, now. She turned Arc to where he was facing the south, a grin on her face; she was so ready for this.

She didn't know how long it would be until they reached the jungles, but it couldn't be too long now. HOpefully. didn't matter; it was worth the wait, surely. Especially if they found something that had never been discovered before! Her heart filled with butterflies at the thought, and if it were possible her smile grew larger.

South is that way. She pointed. Arc beat his tail back and forth, wagging it like an overexcited dog, and took the first step forward for the day.

Soon they were emersed in trees again, the outside world invisible behind all the folliage and such that surrounded them. Night pulled her journal from one of the side bags, already beginning in the mapping process. It wouldn't do to get lost on their way back, really. She did hope to eventually return to the labs.

She sketched the fearon on its page in the notebook, laughing under her breath at the conversation as it replayed in her mind. Arc would NEVER live this one down; she wondered if he would ever tell Isis. Probably not; it wouldn't be very nice to stress her out. Especially if she assumed her husband had more than just flirted. He hadn't though, so it wasn't that important really; good fora slight chuckle tough.

The trees were starting to become more unfamiliar. She had come from the north when they had migrated to the labs, and the underbrush and trees were more native to the harsh southern climates. It was interesting, though it would have been more so had there not been so many bugs.

Her own tail wagged in time to Arc's; both were more than prepared for what lay ahead.

The place was beautiful already; sub-tropical flowers grew all around, in varying colors of reds and purples. They stood out well against the green plants they were nestled in. NIght loved it.
Night - January 26, 2009 02:09 AM (GMT)
It was a very warm day. IT wasn't long before Night was sheding her jacket that she had doned in the rain, folding it in her lap and letting the fearon lay on top of it. For something that should fear people, it was awfully comfortable with them. Perhaps that was Arc's doing, however. Either way, it fell asleep quickly and there wasn't much fuss from it.

Arc was quiet most of the way, pondering the day so far. So, I'm a prince now right? He asked out of the blue after what must have been at least an hour of silent walking. Night snorted; sometimes Arc could be so full of himself.

Sure, sure. She replied, rolling her eyes all the while knowing he couldn't see her since his head was facing forward and not over his shoulder.

He could hear the sarcasm though, and imediatly began to pout. NIght endured it for all of five minutes before she finally appologized, earning her a smirk from the large vulticus.

She was beginning to think that Arc was too clever for his own good; he acted awfully human for a vulticus. But she didn't really mind; he was her best friend, and the more human he acted the less people looked at her strangely for having an animal as her closest companion.

The sun was becoming unbearable. They were deffinetly far south of the labs now, with how warm it was getting and the way that the plants seemed greener and more out of control.

Arc stepped around a rather large, spiny looking bush, eyeing it wearily. That's an odd looking plant. He pointed it out to his human, who promptly grabbed her journal and began describing the strange folliage so that she could draw it later.

It was large, with strange purple flowers and thorns all over it. Some kind of strange fruit grew off of it on the ground, and she pondered picking some to see if it was edible before deciding against it. Anything that colorful was no doubt dangerous, especially with all the strange spines and oddly shapped leaves. Best to not risk it.

They continued farther into the jungle, looking at all the plants and creatures that lay hidden in its depths. The way was getting dark now, even though it could be no later than mid-day. The trees, huge towering things, blocked out most of the light, and what little came through was a strange green color and made everything glow eirily.

Arc looked around. HOw do we know we arn't lost? He said finally with a gulp.

Night looked each way, looking closely at the map she had been illistrating and realizing... she had been drawing on it upside down. Uh oh.... We dont. She finally admitted.
Night - January 28, 2009 05:23 PM (GMT)
How are we LOST? Arc boomed, glaring at Night. She shrugged. She didn't think they were really actually lost... but they might be.

Lets look at this calmly. She said. We will be able to get back if we just follow the sun and stars directly north, right? She said. He nodded his head, but still wore a scowl. Well, we should be able to do the same thing going south... and we wont be lost? She said hopefully.

Arc snorted. Well, i supposed that would work. i still cant belive that you messed up teh map though. He grunted. She shrank back.

I just learned how to make them, Arc! She said angrily. Of course there are going to be mistakes! He just chuckled, starting forward again.

Through all this, the fearon remained silent. Night was farely sure that it had fallen asleep, though she didn't want to check in fear that it would wake up. She carefully sketched it, noting any differance there could be between this fearon and the tamed ones at home. She found none; that meant they had adapted to the labs without change of species traits. Perhaps this one could, also? It didn't seem that it was eager to leave any time soon. Perhaps it would come home with them. It would probably be much to Isis's chagrin, though... some other something hitting on Arc constantly. She stiffled a giggle at this, and he eyed her over his shoulder.

Whats so funny? He asked, stepping over a large plant that was in his path.

Your little lover and how Isis is giong to react if she comes home with us. She told him, grinning. His ears went back in embarrassment.

Thats not funny! And she's NOT my lover. He grumbled, tuning her our and walking onward. They would have to stop and make sure they were going the correct direction soon; the trees were making it hard to see the sun, and it was starting to grow dark though it could be no later than five o' clock.

Night sighed; she had neglected to think that somewhere with such heavy folliage coverage would grow darker sooner. Well, She tought to herself. Now you know.
Night - February 8, 2009 02:46 AM (GMT)
Night sighed, slipping from Arcs back as they came upon a clearing. It wasn't large, not nearly large enough for them to be able to move comfortably, but it was big enough for them to throw up a meager camp for the night.

Her tail swished as she picked leaves and damp wood from the spot she had picked for their resting place, then threw the scarce dry folliage she found into a rough pile a little ways away. It would have to suffice for tonight; darkness was falling quickly, and they needed something to keep beasts away while they ate and slept. NOthing like being ambushed unexpectedly and while your busy....

Is this where we're sleeping? Arc asked in slight disqust; he wasn't used to tight sleeping quarters, as he usually just took up the whole of Night's bed while he slept. It annoyed him when she nodded in response.

He sighed, plopping heavily to the ground and then closing his eyes resolutely. Your not going to eat? She asked. He scowled.

No. He answered, clearly annoyed with the way the day had been going and choosing to just go to sleep and end it. Night chuckled, trying hard not to let his bad mood spread to her through their odd link, and then laying down next to him to watch the pinpricks of stars she could see in between the leaves high above them.

Tomarrow, she resolved to herself, I am going to start searching for something new. She had to think for a moment. Maybe I'll go look for Sindri's tribe. She said, a final thought before she went to sleep.
Night - February 8, 2009 07:25 PM (GMT)
The morning dawned, bright and early and far to quickly for the likes of the travelers. The leaves of the trees swirled majestically in the wind, the sun shown hazily and fell onto the treetops as if it were dew falling from the clouds.

It was not as poetic, however, when it was six in the morning and you had gotten very little sleep from the crickets that chirped all night right beside your ear.

Night shifted, yelping slightly when a stick jabbed sharply into her sides, and sat up scowling. IT was a bad start to what was sure to be a good day, never-the-less. She remembered her promise to herself before she slipped off to sleep the day before, and grudgingly rolled from her makeshift bed and into a standing possition. Arc twitched in his sleep, and she shook him awake. His bleary eyed glare suggested that he had been having a good dream, up until she so rudely rose him.

The fearon, Lily as Arc had come to call her, was curled into one of the backpacks leaning against Arc. It was almost comical, the way once she knew he was awake she was flitting around after everything he did, clinging to his large form and making odd noises that suggested speech. Night was too tired at that point to try and listen in on the early morning chatterings of a lovestruck creature, however, and choose to just eat breakfast in silence.

Both the vulticus and humanish seemed to cheer up noticably as they moved to pack up camp, though. Night wore a broad smile, tail wagging feircly like an over excited puppy going for a walk, and as she threw the broad pack over her shoulder and fastened the other onto Arc's back, she hummed a song under her breath.

Today, She announced, though the large wolf-like creature had already caught on. We will be looking for the Dash-claw civiliaztion.

The vulticus beat his tail, hitting her leg in the process, and Night chuckled once or twice. Then, he stepped forward and off the careful path they had been following, starting to finally look into the depths of the wild surrounding them.
Night - February 8, 2009 08:03 PM (GMT)
Do you think we'll discover anything new? Arc asked out of the blue. Night smiled, pondering the question as he stepped over strange looking plants and such that now blocked their way forward.

They wern't heading south anymore; they had branched out a little, exploring the lands around them. Besides; it wasn't likely that the place they were looking for was exactly due south from the labs, was it?

I dont know. I sure hope so. Came Night's reply at last. She didn't want to get her hopes up too very much, seeings how it would only lead to dissapointment if it didn't happen, but still she could dream.

The fearon had curled up on top of Arc's head once more, and Night wished she could hear what was going on in its mind. She now wished she had brought that extra ribbon of telepathy....

But now wasn't the time for wishes. She spotted an imprint on the ground, and quickly slid from Arc's back. This caused him to pull to an instantanious stop, afraid she had fallen off and perhaps gotten hurt. But no; she was staring at the ground, hand roaming over something she had found there.

It was a large, clawed footprint. He gulped; whatever that belonged to, it was surely something they didn't want to run into when it was hungry. It looked slightly fresh, but then, everything in this forest looked as fresh as if it had been placed tehre seconds before. There was not telling, in a place like this. Hell, it could be days or even months old.

Well, surely not months, or else the constant fall of leaves and rain would have washed it away. But perhaps days....

Night looked up into his worried eyes from her possition on the ground. You recognize what it is? She asked, as if slightly doubtful.

Arc looked it over, seeing the familiar way that the fingers of whatever it was splayed whenever it stepped. He nodded, but noted the slight differances; well, surely not all Dash-claws walked the exact same way as Sindri?

There was no doubt in their mind of what it was. Now the question; was it one that was alone, or was it headed towards their secret 'tribe'? Was it far gone, or lurking in the shadows close enough to reach out and touch? Would they run into it, or had it slipped through their fingers, eluding them and making it impossible for them to track it?

There was only one way to tell. Night slid back up onto Arc's back, having to use a nearby rock for leverage, and settled back into a riding possition.

Well, I say we follow its trail. She said to the vulticus. He started.

Go AFTER a creature that could very well be hungry enough to eat us?! Why? He yelped. Night laughed.

Because, ya great dolt, its what we're looking for. Besides; maybe they can tell us about other creatures in the area. Maybe they'll point us in the direction of something new. She replied. That is, if we even find them....
Night - February 8, 2009 08:22 PM (GMT)
It was hard to keep up with the tracks. They seemed widely spaced, as if the owner had been running rather quickly, and some of them had been washed away by heavy rains.

Night was starting to doubt if they would be able to follow them or not. After all, it was already a strain on the eyes just to see the color that burst forth around them, helped along by the water constantly falling from the sky and the bright sunlight that filtered between the leaves above.

Not to mention the fact that they were constantly losing the trail. It was slow going, making sure that you found each track. After no more than a few steps, Night had crawled off of Arc's broad back to look for herself, as the vulticus was half blind and not really adept at finding the shallow tracks of the predator.

And shallow they were; the hunters seemed to be very light on their feet, for being so large.

They had traveled far from their beaten path now, stepping around obstacles and losing the tracks once again, retracing their steps, going the wrong direction. Whatever the dash-claw had been doing, it didn't seem to be very keen to get to where it was going very fast.

Or perhaps it had just been wandering, much as they had been until today.

It was at yet another time that they had gone back to go over their steps again that Night finally decided to stop for lunch. She crouched next to the nearest print, not wishing to lose it or let Arc step on it, and pulled her pack off to dig for sustanance. This is a bit more tiring than I thought, this tracking thing. She told her companion, tossing him a slab of meat. Neither had eaten the night before, and breakfast had been a rushed affair. Both were hungry.

I wish I could be more help...

Its not big deal. She assured, eyes twinkling reassuredly. Besides; its really just the fact that my pattience is wearing thin. I'll be a bit better by the time I eat something. She said, pulling a bit of food towards her and taking a bite, wondering if they would ever happen upon the creature they were seeking at the moment. Or maybe it would happen upon them; now that would be interesting.

And a big surprise, too. She twtiched her wolfen ears, making sure that she heard nothing coming up behind them. No telling what was hostile and what wasn't, out this far, and she certainly didn't want to be sneaked up on...

You know how weird that sounds? Arc asked, a smirk on his face. You worried that something hostile is going to find us when we're out here following the tracks of something huge and fierce?

Night grimaced at him. Well, I dont want to be snuck up on while I'm eating, thanks! She said, sticking her tounge out childishly.

Arc sneered, but went back to his meal.
Night - February 8, 2009 08:40 PM (GMT)
What do you think the others are doing? Arc asked wistfully, staring down at the parts of his meal he had yet to eat. He missed his kids, his wife, his pack... but it was nothing compared to the thrill of adventure that he felt, which must have been radiating out of Night...(Though if he had been telling himself teh truth, he would have know that he felt it himself, also.)

I dont know. I'm sure Zin is taking good care of the ones at the house, and the person I hired to look after the rest should be doing a good job... She thought of all the creatures, and how happy they would be when they finally got home....

She trusted very few people to look after her companions, and thereby it had taken months to plan the trip out with a majority of the time focusing on who would be watching her creatures. But, finally, she had found someone willing to watch them (And to put up with the really scary ones, such as Adonis and Torr)...

Torr was really quite the handful by himself. Maybe she should have hired two people, one to take care of Torr and one to take care of the rest... Though she had warned her temporary keeper not to enter Torr and Adonis's pen. With good reason, too.

But now was not the time to worry. They finished the rest of their lunch in silence, thinking their own and yet the same train of thought... it was weird how they managed to do that.

With a sigh, NIght levered herself to her feet. Time to get back to the search, bud. She said, biting back a yawn. They would have to go until at least sundown, no doubt. There was no room to be tired when on the hunt for something dangerous.

Arc groaned as he pulled himself up. I'm getting to old for our little escapeades. He whined, kidding all the same.

NIght gave a lopsided grin, knowing he was joking, and set off on their trail once more.

It took several minutes to locate the next track, it being hidden beneath the undergrowth that had taken over all the land. It was as if there were lush, green carpet growing on the ground, really, with millions of creatures hiding in its depths.

Twice Night started from some creature or another darting from the undergrowth, moving much too quickly for her to catch a good glimpse of it. But nothing turned out to be what they were searching so determidly for, and thereby they just kept looking. It could be no later than one o' clock, at the latest; they had at least four more hours to search tonight alone.

And if they didn't find what they were looking for tonight, they would continue tomarrow. Night was NOT one to give up.
Night - February 14, 2009 08:38 PM (GMT)
Night grumbled to herself. Where had the tracks gone?! They had been here just moments before.... and now she couldn't find another.

Perhaps they knew that they were being followed? YOu dont think....? Arc shuddered.

I sure hope not. He allowed, almost flinching at the thought. If the dash-claw knew that they were following it, it would almost surely attack... wouldn't it?

Maybe we should give up. The vulticus suggested. Night glared at him; that wasn't even an option, and he knew it.

Night sighed; what were they supposed to do?!

Then she finallly caught sight of teh next track. It wasn't much; it was lightly indented, barely visible. That must be why they hadn't caught it in the first place.... The dash-claw had been slowing down, most likely.

Night, I REALLY dont think this is a good idea. Arc whimpered, and Night could feel his indecission radiating off of him. He would never leave her; he would rather die than do so. And she knew that. But still, his fear somewhat irritated her.

Arc, we arn't going to just leave because they may or may not know we're here. She pouted, and he relented his arguments.

Fine. But... stay close, okay?

They continued onward, following the footsteps closely.

Night - February 15, 2009 05:19 PM (GMT)
Are you sure they are dash-claw tracks?

The thought came almost an hour later, as both stared down at a track that didn't seem to be fitting to what they were looking for.

Erm... I thought they were. She said, looking confused. Arc sighed, plopping heavily down so that he could lay his head on his forepaws. Night ran a hand irately through her hair, unsure where to continue from here.

Well, I think that we may have to turn in for the night. She said finally, noting that it was indeed very late and they seemed to have been following a falsely identified set of tracks for several hours. She lay down, leaning heavily on her companion. Tired? She asked him, eyes drooping already. She still had to build a fire...

It was, however, warm enough to sleep without the sleeping pack she had brought. She groaned, getting back to her feet and rumaging through her packs for a box of matches and some kindling she had thrown in there from their last camp site, last night. She found them, the kindling crushed at the bottom of the bag but still useable, and paced a few steps away to kneel and light it.

Then, it was time to find firewood. She had a hard time seeing in what was now almost pitch black darkness, though her nightvision helped quite alot really. She found a few branches, seemingly fallen from nearby trees, and lugged them back to the fireside to set in it. They didn't want it to go out in the middle of the night and have some creature wander up on them, really. Not while they were sleeping, at least.

Arc had already fallen asleep, clearly exauhsted from their days journey. They had traveled farther than she first would have thought today, stumbling after the animal tracks that they no longer could identify.

Hopefully it was a dash-claw, though she was beinning to have her doubts. It didn't really look like ANYTHING, really. Not anymore.

She lay down next to Arc, using him as a giant furry pillow rather than pulling her blankets from their bag. It would just mean more to pack up in the morning.

She closed her eyes, and yet couldn't fall asleep. She was tired; deffinetly. She just... something was nagging at her, keeping her awake.

Probably the promise of more nightmares. She never had been able to evade them completely. So she lay, eyes open, staring at the canopy of the trees high up above them and listening to the relentless chiruping of a nearby cricket.
Night - February 15, 2009 05:56 PM (GMT)
Maybe I shouldn't be out here. Night thought to herself, thinking that Arc was asleep and wouldn't hear her. He was, after all, doing a very apt job at snoring. That alone should be enough to keep the creatures at bay. I mean... I've already made two mistakes, the map and the tracks.... i dont want to get us in over our heads. She put her head in her hands, clearly stressed about the thought.

And if I mess up much more, we wont even be able to get back to the labs. She thought morbidly.

What are you muttering about? Arc though hazily, having been awaken by her constant babbling to herself. Its keeping me awake.

Arc... You dont think that coming out here was a mistake, do you? I mean... you've kept your head, but i'm just fumbling around in the dark over here. She looked up at him, barely abel to discern his shadow from the dark leaves behind his head.

Of course not! He replied, sitting up and looking her in the face. If I thought this was a mistake, I would have forced you into going back home by now! He set a paw on her leg reasuringly, having had to curl around her to do so. His voice grew softer as he addressed her. And you arn't screwing up; everyone makes mistakes. You havn't done anything that cant be reversed; those are the best kind of mistakes. He assured, hoping beyond hope that she belived him. They couldn't afford to be out here with half of their party doubting her efforts.

Night sighed. ITs just... I dunno. She said, watching the fearon curl closer to Arc. It had stayed pretty close to his side ever since they had set out, and was still hessitant to let her near it. Well, She thought. These things take time...

Maybe we should go home. She said miserably.

Arc scowled. Wasn't it you who got mad at me for suggesting so not even three hours ago? He said harshly, meaning to sound more angry that he was curious. We arn't going home until we find something amazing, Night! He added as an afterthought. You said so yourself.

Night rolled over so she wasn't facing him, closing her eyes like she was going to go to sleep. Yeah... She replied. I guess your right.

Still, though, the doubts plagued her. Arc smiled and lay back down, snoring once more withen seconds without Night's whispered complaints in his head.

Night, however, still couldn't sleep. So, instead, she made plans for tomarrow, thinking about what they would do and if they would continue following the now unidentifyalbe tracks.
Night - February 21, 2009 06:10 PM (GMT)
Night shifted as she heard a noise nearby; an intake of breath, followed by a relived sigh and the shifting of leather. Someone, or something, was nearby. She slid carefully to her knees, crouched by Arc. Arc, wake up. Someones here. She said mentally, prodding him awake. He understood the need to be quiet, at least until they figured out if it was something they wanted to try and befriend first. He rolled so he was not laying on his side, but instead crouching much as Night was only on all fours, and lay his wings flat to his side.

Night carefully reached into her packs nearby, noting that fire seemed to have gone out, and grabbed a flashlight. She turned it on silently, shining it right onto...

"Nyla?!" She gasped in surprise, jumping to her feet. The last person she had expected to see out here was her own sister! "What are you doing here?" She asked, moving around Arc to give the mammalian a hug.

Arc, too, got to his feet, tail wagging in welcome. He had heard much about Night's step sister, though hadn't seen her since that day so long ago when they were on the run. He had changed much since then - she probably didn't recognize him. First off, he was no longer a puppy. She may have identified him by his dark fur, but his wings had been hidden. Perhaps she had seen the tatoo, and that had tipped her off. However, he was full grown now, and great wings expanded from his shoulders, apparently drawn on with a pencil. They were, however, fully functional.

"Erm... as you can see, Arc's changed a bit since you've seen him as a pup." Night smiled at her sister, tail wagging profously. She was happy to have some semi-human company out in this stark wilderness; not that she needed anyone besides Arc. She leaned against the great canine, not sure what to do or say.

After all, it wasn't every day your sister came creeping up at one in the morning in the middle of a jungle.
Nyla - February 21, 2009 06:54 PM (GMT)
Nyla let out a small squeak of surprise as a bright light was son into her eyes, and a shape flung itself at her, yelling her name. "Whaa...? Oh, Night! I thought you were asleep. It's good to see you!" She hugged her sister back, blinking light spots out of her eyes, and then disentangled herself. She was tired from walking all day, and she wanted to sleep. Then she caught sight of Arc. He was huge! She walked around him, wide eyed. "He's a bit bigger than last time I saw him," She said stupidly. She reached out tentetively to stroke his wings, a bit surprised when her hands didn't go right through them.

Kizar was not impressed. He sat, eyeing the vulticus warily. Was he going to eat Nyla? He'd better not. No one was allowed to eat Nyla except himself. Well, not that he would eat Nyla. Unless she didin't feed him. His tail flicked back and forth. carefully he stood, doing his best to hide the pink ribbon around his tail, and stalked foreward. For a moment, he just stared at the ig black canine. Then he asked flatly, Who the hell are you?

After the initial shock of seeing Arc had worn off, Nyla went back to unpacking. She wanted to get some sleep before the sun came up. Then she remembered something. "By the way, Night, are you aware that you're heading Southwest? South is that way." *she pointed. "If you keep going this way, you''ll run into the plains." She had examined the map in the ranger's station very thoroughly before heading out. She tugged the sleeping bag out, and spread in on the ground. "D'you mind if I get some sleep? I've been walking all day trying to catch up to you."
Night - February 21, 2009 07:10 PM (GMT)
Night smiled kindly, releived that Nyla wasn't some huge creature coming to eat them. That would kid of suck...

"Its good to see you too!" She said politely, still not quite sure how Nyla had found her. She was in the middle of nowhere, for peats sake! But she would ask tomarrow; it wasn't really that important right now. She watched as her sister caught sight of Arc.

Arc tensed slightly when the mammalian came towards him, walking around him, and his good eye followed her as best as it could without twisting his entire head around. She touched one of his wings, and he was careful not to move. He knew that Night wouldn't forgive him if he snarled at her sister. What is she doing? He asked her curiously, eyeing the large gallor that was on the verge of confronting hiim. She's just looking at you, dear. Came the answer in Night's livid internal voice. He cracked a smile, or as much of one as his muzzle allowed.

Then there came the inevitable confrontation of the other pets. Arc glanced over the gallor; there was no doubting that he was a cocky thing, and also younger than the vulticus. Arc had been aroud almost as long as Night; he was a war vetern. He had seen death, mahem, and chaos. He had been chased, branded, beaten to the point of almost death by his best friends parents. He was NOT scared of some creature that thought he was some great hot shot. "I'm Arc." He replied in his hasty british burr. "And I belive it'd be in your bes' interes' to not do tha'." He said carefully, noting how the creature was trying to shove himself into his face. "I may no' look like much, but I'm not the bes' person to ge' off on teh wrong foot wit'. And who woul' you be?" He asked, folding his wings behind him so it wouldn't seem as though he was threatening the creature.

The fearon, Lilly as Arc had so taken to calling it, peaked over the top of his head from on his neck, where it had settled. She didn't exactly seem happy with the goings on, more especially the arguement that was seemingly taking place between the two creatures. But she stayed silent, for the moment, stroking her prince's ears and watching.

Night smiled. "I know I'm not right on track anymore." She stated. "I'm looking for the dash-claw civilization... or maybe the temples. I hear that both are around this area somewhere." She nodded, as if agreeing with herself, and tucked her tail around her legs. "And yeah, go ahead. I was settled down, myself... I jsut couldn't get any sleep." She nodded to the place they had been laying, walking over and sturring up the dying embers with a stick so as to light them once more. Then, she threw a bit of extra wood on there so as to keep the light going. "See you in the morning, then?"
Night - March 7, 2009 02:26 AM (GMT)
The next morning, Night awoke to a quiet pre-dawn atmosphere. She yawned and stretched, prodding Arc in the side to wake him. He grumbled about the late hours the night before, asking blearily why they had to wake so early in the day if they had gone to sleep so late.
Because, we need to get going.
Night replied, brushing off her clothes and changing quickly. She rustled in the sacks, pulling from it a peice of salted beef for Arc and a little bit of what was perhaps dried cereal (a ration bag, no less) and tossing the first to her companion. He nibbled on it, watching as she scampered about the camp packing various items that had gotten scattered about in the night. She picked up trash here and there, wadding it into the bottem of one of the bigger packs so as not to litter.
Then, Night seemingly noticed that Nyla was still asleep.
Should we wake her?
She asked Arc, eyeing the sleeping mammalian warily. She had gotten there so late in the night, not to mention that she deserved rest. \
Maybe we should just continue on without her... but leave a note?
He rattled off an idea from the top of his head, hoping it sounded good. Night smiled, nodding as if she were agreeing but still wearing a thinking expression.
Finally, she grinned.
Sounds good to me!
She said happily. She bounced over to the already-bulging packs, pulling out her journal and tearing a page from the back. Then, she hurridly scribbled a note.
Dear Nyla,
Arc and I have gone up ahead. When you read this, if you read this, then don't hessitate to come catch up. We shouldn't be far; we're following some tracks, and you followed us all the way here so it shouldn't be hard to figure out where we headed. Hope you slept well!

~Night Starr & Arc
((In other words, if you still want to rp with me then post, but I'm going ahead. >>))
Night - March 7, 2009 03:16 AM (GMT)
The trail was cooler today - it had the same sort of calm that came just before a rainstorm. Not that rain would be unwelcome; it would just slow their travels quite a bit. And would also probably wipe away the tracks they were following....

That wouldn't be good. They quickened their pace on the trail, hoping that they could beat the rain out and find whatever made the tracks. Arc huffed along, sides heaving as they hurried through the dense forest as if running from something. Night squinted against the wind they were making, going so fast, trying to see the trail before them.

The leaves brushed against legs, scratched against exposed arms, and made you squint even more to prevent something from poking your eye out.

Finally, they began to slow, Arc panting in the still warm climate. They could hear the rain behind them, slowly beginning to close in on them. They couldn't outrun it forever, after all. As the first sprinkles of rain began to hit Arc's coat, they met a split in the tracks. Obviously the path had been traveled more than once; a set of tracks scrambled in each direcion, barely visible farther than a few feet because of the dense folliage.

And it began to rain harder.

Maybe we should cover the packs and rest for a bit? NIght suggested, slipping off Arc's sweat and rain slickened back. She drew the tarp clumsily around the bags, hurrying so that they didn't get soaked. She finally managed to get it securely around the things, leaning them against a tall tree that sheilded a good part of the rain from their heads.

The fearon had taken cover beneath Arc's belly, glowering at the rain. Her frail wings fluttered, trying to keep the humidity from accumulating on them and leaving them soddon and useless.

Arc, too, stared off into the rain, thinking of his brother and hoping that when they got home, they would still have a home to go to.
Night - March 15, 2009 06:09 PM (GMT)
The rain did not let up for the rest of the day. Night and Arc, accompanied by the odd little fearon that had adopted them, tried trecking through it with no such luck. It was becoming muddy and slick, not to mention they were all soaked from the heavy folliage dripping on them from all sides. Finally, they gave up and nestled beneath the biggest tree they could find, hoping that the huge leaves would keep them relitivly dry.

There's no point in even trying to start a fire. Night mused to Arc, who nodded his agreement. The movement sent small dropplets fo water shooting in all directions, making Night scowl. You could have just agreed without the head shaking. She sputtered at him, causing him to grin innocently.

The fearon clung to Arc's foreleg, peaking out at various points to survey the area around them. She had refused to leave the large creatures side ever since she had declared him her "Prince," whatever that implied. Night had assumed that it meant the smaller animal had fallen in love with Arc, and to this point it didn't seem like that was a wrong assumption. The little thing looked up at him with such an adoring look that it was almost comical; or it would have been, had anyone been in the mood to laugh.

As it were, the dampness of their situation and the generally overcast atmosphere put everyone in a bad mood. Night leaned herself against the trunk of the tree they had come to rest under, staring up at the canopy of leaves above their heads and becoming seemingly oblivious to the droplets of water that had begun to leak through their makeshift shelter.
Nyla - March 23, 2009 03:02 PM (GMT)
((My muse has died. I can't seem to get even one last post >.o Therefore, Nyla is leaving the beyond.))
Night - April 11, 2009 09:25 PM (GMT)
She must have fallen asleep; that was the only explaination for her waking with a jolt to the silence that was nighttime. Night yawned, stretching herself and realizing she was soaked; the leaves had finally abandoned all attempts to provide shelter long before.

At least its not raining anymore. She thought, feeling around for Arc. He was snoring at her side, huge wings folded in a way that prevented his ears from getting wet. He wasn't that fond of having water all over his face, really.

Night twitched her tail, thinking to herself. There was no point in starting a fire; it was far to late already, and she could hear nothing lurking close enough that they would have to scare it off with the foreign element. So, what did that leave? She wasn't tired in the least; her little afternoon nap had taken care of that. She silently cursed the loss of time. No doubt it would be another few days before they stumbled across anything, and now that would just be delayed that much longer...

The vulticus mumbled something incoherent at her in his sleep before rolling over, flopping onto some ferns. Poor plants. She thought. They never had a chance. The weight of the great, winged cave would no doubt crush them beyond fixing by the morning. She laughed alloud, liking the sound it made as it echoed away into the trees.

The fearon was no where in sight; no doubt nestled down somewhere, probably her underwear. It was a strange little being, it was...
Night - April 26, 2009 04:35 PM (GMT)
Due to situations beyond my control (The need to train like no other) i'm leaving the beyond.... Will return at a later date, when the bugs are fixed. x.x