Title: River Rats
Description: much victimization abound
Kitzu - May 2, 2011 03:58 AM (GMT)
QUOTE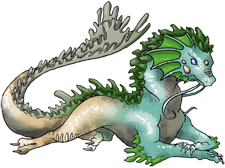 Name: Lukenze
Gender: Male
Level: 17
Loyalty: 90
Crawl: Yes
Leap: No
Flight: No
Swim: Yes
Burrow: No
Intelligence: 7
Size: 3
Stamina: 4
Strength: 3
Resistance: 2
Dexterity: 5
Mentality: 6
Abilities: Water Immunity
Moves: Dodge, Deluge, Illusion
Breath: None
QUOTE
Level: 5
Loyalty: 5
Stamina: 8
Strength: 4
Resistance: 2
Dexterity: 3
Mentality: 3
Special Abilities: Blubber, Amphibious
Moves: Blow Bubbles, Nip, Scamper




"I don't see why you're being so stubborn about this. Plenty of people learn."
"Yeah, and plenty of people get along just as well their whole lives without ever learning."
Two figures walked down one of the more forgiving slopes of the Canyon, close enough that their legs brushed. The significantly smaller of the two, a young humanoid, rested her hand on the back of her companion, who while still on the small side as far as Draconics went, could have carried her without too much trouble to himself. Her touch, for the moment, was light- barely grazing the scales on his back- but when the going got difficult she could be seen leaning on his sturdier frame. Still, she got along very well, being lightfooted and familiar with these parts besides.
"I'm just saying, it's a useful skill to have! You want to go on adventures, don't you?" The Draconic's voice marked him clearly as male, though it was not deep, being rather light in its tone and not terribly different from a humanoid's, except perhaps for the tendency to echo just slightly. He sounded exasperated. "Just think of the trouble it would save you."
"Nope, still ain't worth it. I can avoid those places when I go, and no amount of trouble it'd save me is worth the trouble of learning." The girl's voice was much as one would expect, high like a child's, obstinate and a touch petulant. She shook her head for emphasis, and the Draconic sighed.
"We'll see," he muttered, and while the girl looked as if she had something to say about it, she withheld audible judgement. She was beginning to tire of the argument, and if he shut up, then all was well.
Onward to the river.
Kitzu - May 5, 2011 07:43 PM (GMT)
Though the girl travelled down the slopes with a sure-footed deftness, for once she was less than certain of their destination. It had been a while since she and Luke had gone fishing together, despite promises on her part to do so 'soon' on many occasions. Life had simply gotten in the way, and though he was understanding, she could see that it hurt him- Luke had always been something of an unfavorite in his family, and it made him especially sensitive to abandonment, real or conceived.

So as a token of her apology, she allowed him to pick their location today, no questions asked. She supposed, in retrospect, that it may not have been an entirely sound idea; he immediately got a sort of smirk on his face, not quite mean nor devious (he wasn't capable of that) but a little crafty. Oh well, she supposed, she owed him anyways.

Unfortunately, Luke was a Draconic with ideas. "We're almost there," he called presently, with too much cheer for her current mood of petulance and apprehension, because she knew their argument wasn't over, oh no. Her suspicions were confirmed when she laid eyes on what sort of location he had chosen: a sandy bank where the waters in the river grew shallow and sluggish, at least as much so as a river that had carved out the Canyons themselves ever became. On second thought, 'bank' was perhaps too generous a word; it was barely a strip of sand at the water's edge. She couldn't stand upon it without the water lapping at her toes.

"Oh, no," she said, shaking her head slowly. "No. Luke, no." He was already in the water, grinning up at her as she stood on a last, small ledge. But they both knew that she would give in sooner or later. Luke would inevitably pull the guilt card if she didn't, and then she would be helpless to argue.
Kitzu - May 9, 2011 03:28 AM (GMT)
"Just the water, Kitzu. Come on. Dip your toes in or your tail or something, if that makes it easier." His tone was soft, soothing, the way he talked to Zair when he'd skinned something, playing on the rocks; the way he talked life back into Zeth's eyes after a nightmare. He, of course, was already deep into the water, its edges lapping at his neck like something hungry, she thinks. But no, water would always be his mercy, not his killer. Luke was more than anything his father's son, same gentle eyes and same sleek swimmers' bodies, and he'd learned to paddle around before he could walk.

"Nuh-uh," she said, with a last stubborn shake of her head, eyes widened in exaggerated fear. She'd never liked water, but she wasn't terrified of it... Scared, maybe. Something about the way it surrounded her so totally, the cloying dampness, the suffocation that came of being submerged... It set her skin crawling. The way it clung to her fur long after she'd extricated herself from it did not help matters.

Luke knew this. Luke knew her just as well as she knew him, and still, he beckoned.

"If I tiptoe in, the water'll just soak up my fur, and then I'll be damp and miserable before I'm even submerged," she argued, but he grinned.

"Then just jump right in! Cannonball! Come on, you'll get it over faster that way. I'll catch you, even." He rocked back, balancing on his hindquarters and tail, holding out his forelimbs wide as if to welcome her into an embrace. She hesitated.

"Please?" He pulled the Bambi Eyes, which looked completely out-of-place now on his adult face, but she sighed.

Oh well, let's get this over with then, she thought, echoing his words. She took a few steps back, then ran up a different, higher ledge and jumped off before she really knew what she was doing.
Kitzu - May 11, 2011 02:16 AM (GMT)
It was barely a jump. More of a step, really; she'd simply run onto the ledge and then turned slightly, so that she kept running even when there was nothing to run on. She was sure she looked ridiculous in those few, fragile moments, legs still flailing in mid-air, eyes shut and just about everything else held tight. She didn't even know whether she was running in the right direction to be landing into Luke's arms.

And then she hit the water.

The breath was knocked out of her in a burst of bubbles as she felt the cold snap into her like something solid, but then the water gave with its hideous, engulfing ease, and shortly there was no part of her that was at all dry. The calm, mindless chill settled into her bones, despite her best attempt to keep it out by huddling into as tight a ball as she could. Though she was sure she'd only been under a few moments, her lungs already felt like they were burning.

She had little idea of what to do; it wasn't as if she hadn't encountered water deep enough to swim in before, but then she'd only flailed around, keeping her head more or less just above the water, and collapsing in a heap as soon as she found shore or, failing that, whatever dry elevated area was close at hand. But she didn't feel like doing that today. Instead, she shut her eyes tight, flattened her ears, and otherwise went limp. She could just die here. She could die, and then where would Luke be? Not looking all smug, certainly.

But then she felt his strong forearms encircling her, lifting her drenched huddle above the water into the clean air. Though she was tempted not to, with the allure of the warm summer atmosphere and the way the pressing in her chest nearly flooded her with the panic of a real threat, it was impossible not to breathe. She took a desperate gasp.

"See, told you I would catch you," Luke said, smiling his easy smile and looking not the least bit remorseful. She said nothing in return, only panting and glaring daggers at him. He laughed in the face of her scrutiny.

"Alright, alright. Let's make a deal, okay?" He was trying to placate her, to get her to accept his terms and give in. She kept her ears flat and her expression the picture of hurt dignity (or as close to that as she could affect), but she supposed as she was in the water, she'd already consented anyways. He continued. "If you promise to try your best not to die, then I'll try my best to make it as easy and quick for you as possible. Learning to swim is fun, I promise."

She gave one last, miserable shudder through her hide, a reflexive attempt to shake off the water despite still being half-submerged, and then nodded.
Kitzu - May 12, 2011 02:10 AM (GMT)
Trying not to die. That seemed easy enough, except that it did require some effort on her part, which was going to be just wonderful... She looked back on her scant memories of flailing in the water and sighed, already tired of this. Of water. Of swimming. Of a lot of things. She gave her fishing equipment on the shore one last, wistful glance, and then turned to Luke, who still held her in his arms, trying not to look terribly miserable.

"So, what do I do?"

Luke seemed to consider her question for a minute, though she knew him to have easily enough wit to have a plan worked out already. Otherwise, he wouldn't have offered, now would he? But eventually he did smile, chuckle a little even. "Now, if I set you on the shallows, you won't run away, will you?"

Kitzu managed a smile of her own and a wink. "What do you think?" To which Luke laughed, and shook his head.

"Well in that case, you can stay on the deep end, then. Sink or swim, so to speak. Do you know any techniques?" He began at once to let go. She could already feel her lower half sinking into the deep blue.

"Okay, okay, I won't run! Luke? Hey, don't swim away from me!" She was hanging onto his forearm, and then his tail, as he was moving and she'd startled and by the time she had the sense to grasp for him again (which, to be fair, was only a moment later) he was already almost completely submerged.

He resurfaced with another rumbling laugh, and shook his head, splashing her, the heartless lizard. "Alright, then just hold on til we get there, and we'll take it from there." She did as she was told in silence. He patted her shoulder in a reassuring gesture, but she refused to be reassured.

"You know, you'll float. It isn't saltwater, but you won't sink if you just lie back... Come to think of it, try that." Lie back in the water? Like a dead man? Oh, he must be joking. She shook her head mutely, watching him with wide eyes that doubted both his sanity and good intentions.

She might have imagined it, but she thought she heard him sigh too.
Kitzu - May 13, 2011 12:59 AM (GMT)
"Kit..."

"What?"

He was looking at her with a pitifully doleful look on his face. She could see him getting a little tired with her too, beneath that mask of playful manipulation. She held out for another moment, her expression the picture of resolute indifference. He would try a line soon, she just knew it. The right one, too, designed to break her heart into tiny little pieces. There, she could see him drawing breath. Any moment now. "Don't you trust me?"

He even threw in a wobble of his lower lip, the ham. She threw up her hands in defeat, feigning annoyance. "Alright, alright! But if you let me drown, Dai WILL have your hide," she threatened. He smiled, completely unconcerned.

Okay, just lower yourself into the water. Don't worry," he said, as he felt her tense, "I'm right here, and it's shallow enough here for you to stand if you start to go under anyways."

"Hey, you said I wouldn't go under." She craned her neck so that she could fix him with an accusatory glare.

"Well, yes, but you didn't believe me." Well, she supposed he had her there. She turned back to look at the sky, arms crossed over her chest. He used one claw to gently pry these apart, laying them at her sides. Probably she would float easier if she was all spread out. Something to that effect.

She supposed she had to get this over with sometimes, so she let herself fall gently back and let her feet leave the ground, leaning back on Luke as he began to let go slowly, ever so slowly. At first, she felt some dread in her stomach as her feet and hands sank, but her chest and head stayed just afloat. The feeling of water lapping at her neck and face was unnerving, but she never did sink, and eventually she relaxed. It wasn't that bad at all, really, just staring at the sky like this... In fact, it was sort of... relaxing.

"This is nice," she said to Luke. He peered down at her, and cracked a grin.

"Good, because that's just the beginning."
Kitzu - May 29, 2011 11:38 PM (GMT)
"Next, we'll go underwater," Luke announced with a nod. The Nanaiyesh looked wholly unpreturbed by the prospect, despite the look of growing horror gracing Kitzu's own features. Of course Luke wouldn't care, he being a water creature by nature, all this as innate to him as walking, as breathing itself. But Kitzu, with her fur waterlogged and her breathing already shallow and nervous for fear of the water lapping about her face, the idea of ducking under was more than a little terrifying.

"Why? Can't you teach me to swim first?" she inquired, half out of curiosity and half looking for an excuse to postpone this next bit of unpleasantness. Luke, setting her upright once more so that her feet touched the shallows, shook his head.

"Your head will probably go under quite a bit at first. Everything else is much easier if you know to hold your breath," Luke said gently, his voice calm and reasonable. Kitzu still held his gaze with her own wide, fear-flecked eyes for one long moment before consenting to crack a very, very slight smile, the lines of her body still shot through with uneasy tension. He smiled reassuringly back, and to her relief, did not move to a deeper part of the water.

"When I count to three, duck your head underwater and blow bubbles out your nose. That will prevent the water from getting in," the Nanaiyesh instructed. "I'll go along with you to make sure you're okay."

"When do I resurface?" she asked immediately, her voice made quick with anxiety.

"I'll tap you on the shoulder," Luke replied easily. "Don't worry, we'll work on your breath later. Right now we just need to get you used to having water over your head, so you don't panic and start drowning yourself."

He waited patiently for a sign from her that she was ready, saying nothing more as she steeled herself quietly, and finally nodded, just a slight movement of her head. Luke counted to three without any further theatrics, and though she thought for certain that she wouldn't be able to do it, she ducked under the water. Probably for fear of disappointing Luke, and the knowledge that he wouldn't let her come to any real harm.

The darkness was terrifying. She was afraid to open her eyes to the water, and so she crouched suspended for a moment under the torrent, perfectly still, before remembering Luke's instruction to blow bubbles. It felt strange to feel the pockets of air swirling around her face, but it did help against the feeling of the water pressing into her nostrils, threatening to pour down her lungs.

She distracted herself from the discomfort of the whole affair by wondering whether this was how her own creatures felt when they were being trained- apprehensive and not exactly pleased, but willing enough to comply for love of her, for trust. If that was the case, surely she could be braver than she had been, and protest a little less.

After an impossibly long span of time, Luke tapped her shoulder and she rose to the surface, the wonderfully close, airy surface, gasping down a gulp of the glorious air. "That wasn't so bad, was it?" Luke cajoled as she pawed water out of her eyes. She sighed and shook her head.
Kitzu - June 6, 2011 04:39 AM (GMT)
Luke was, she admitted, slightly more lenient that she might have been. He allowed her some rest before trying again, knowing as he did how difficult it was for her to do all this. It was hard to pinpoint why exactly she found the water so unpleasant, but she did. It wasn't so much a phobia, and she was reluctant to admit that it was a fear... She simply felt... felt as if it might take something away from her. Like it already had, in fact. But that was irrational; she'd never had any bad experiences with water, save maybe being shoved into the shallows once or twice by Daimon when she hadn't expected it. Nothing to give her any such deep, lasting unease.

"Luke... Has something ever happened to me?" she asked before she could think better of it. Luke looked up from where he was watching the swirling currents of the river, his pale blue eyes confused, searching hers for answers.

"Something... happened? What do you mean?" Luke swam over to her side, his expression concerned. It was a strange question to ask, so out of the blue, and Luke wasn't yet sure how to respond. That strange, far-away look lingered in Kitzu's gaze, so that she seemed not to be looking at him but throug, at something only she could see. He touched her shoulder gently, and she started.

"I mean," she started hesitantly, not quite meeting his eyes. "... I mean, well... The water, it just... I feel like I've lost something, whenever I look at it." When Luke still looked baffled, she tried again, struggling to condense her half-formed thoughts into words. "You know how... How I can never remember anything before about two years ago?" Her voice was very small now, and Luke nodded patiently, waiting for the rest. "I think water might have something to do with it. It's always the same feeling."

When she fell silent, Luke pulled her into an impromptu hug. His hide was surprisingly warm and soft, for all that he had scales and not skin or fur; the damp slid off his hide easily, so he was not wet like she'd expected either. She sighed, relaxing at last, slightly at a loss as to what to do.

"Don't worry," Luke said, and she could feel his words resonating through his chest and long, curving neck. "I won't let anything happen to you in the water, okay? Trust me." He broke the embrace to smile at her, and reluctantly she smiled back. "Besides," he continued, "that's the whole point of learning to swim. Nothing will happen to you if you know how to keep yourself safe."

She nodded, still reluctant to speak but feeling much more reassured at least for his protective presence, so when he asked, "Ready to go underwater again?" she nodded, and let him count to three.
Kitzu - June 8, 2011 10:13 PM (GMT)
With Luke's steadying presence and constant repetition, her fear of the water rising over her head slowly abated. The bubbles remained, an ever-present tickling sensation keeping the threatening blue from flooding down her throat; in time, she learned to pace their release, slowly and evenly. She liked to think that her breathing capacity had improved too, but she wasn't entirely sure on that one.

"That's good," Luke said, looking thoughtful. "Why don't you try opening your eyes?"

"But won't it sting?" Kitzu said, looking at the water dubiously. Yes, it was perfectly clean, but... What about sand and debris? And didn't it always hurt when she got water in her eyes in the shower?

"You cry, don't you? And it's not comfortable when your eyes dry out. It might take some getting used to," the Nanaiyesh added after some consideration, "but I think you'll be fine."

"Well, I don't cry all that much anymore," Kitzu said, faking a sullen expression. It was true that she didn't cry much, and she suspected she must have done so qith great frequency as a baby, but other than that... Well, no, there would be no dwelling on that. She had no nightmares, which even people who'd conciously forgotten things were prone to having, so her past must not have been so unhappy.

Luke smiled, withholding comment, and counted to three once more. She counted with him in her mind, knowing him well enough to easily gauge the pacing of his words, and on three she ducked under.

At first, her eyes were closed, as was her usual wont. Entering with her eyes open... Somehow it was too unsettling a notion to even consider. She opened her eyes a crack then, and though it was not exactly comfortable, it wasn't painful as she'd expected either. Luke had been right in that regard. She looked in wonder at the world beneath, forgetting for the moment to breathe bubbles, and nearly (but not quite) gasping in amazement.

The watery world beneath was tinted green-blue, with a golden stretch of sand beneath, and vibrant green weeds swirling up toward the surface. Sunlight shone down in great pale streaks, and shadows of small fish marbled the bottom. Luke grinned at her, directly in front, inclining his head in greeting. Reluctantly, she smiled back.

Only then realizing she was out of breath, the feeling in her chest finally becoming pressing, she closed her eyes and surfaced again, shaking off the water. Luke popped up next to her a moment later.

"What did you think?" he prompted, watching her expectantly.

"We have got to do this more often."
Kitzu - June 13, 2011 01:29 AM (GMT)
"Now that that's done with, we can work on the fun stuff," Luke said, a hint of a jibe in his voice, but genuine enthusiasm lighting his eyes. Though privately apprehensive, Kitzu shoved down her discomfort and made a face.

"You mean that wasn't fun?" she said, voice dripping with sarcasm, and managed to work a laugh out of him. She smiled wryly in reply, wondering just what he had in store next for her. Despite her continued discomfort with the water, this was Luke, whom she'd known since his hatchling days. They'd simply gone through too much together; she trusted him beyond even a member of her family. The nature of their bond was a little difficult to explain. They weren't soul-bound, but it was considered amongst the others only a matter of time.

"You get to learn how to get somewhere," he began, breaking her out of her thoughts. "I'm not as good a teacher as I could be- I'd heard that humans had strokes and such that they used- but your build isn't totally unlike mine. I think I could make it work," he said, looking sheepish and considering all at once. Kitzu only nodded her assent and waited.

"Let's see... Do you know any ways of swimming already?" he inquired methodically, but she shot him a look. Still, under the encouragement of his gaze, she reluctantly lifted her feet from where they rested, on tip-toe, on the riverbed; immediately she began to flail in earnest, and a dismayed Luke begged her at once to stop. "I'm sorry," he said when the water had calmed, "that was stupid of me. Of course not." There may have been just a small sigh after that. She couldn't be sure.

Luke scratched at a spot on his unblemished hide, contemplating. "Perhaps you could... Yes." He held out his forearms. "Face me... That's it. Now grab onto these, I'll keep your head above the water. Lean into me, pick your feet off the ground, and kick," the young Nanaiyesh instructed, his voice clear and professional. Still dubious but willing to try, she braced herself on his forearms and kicked off. At first, it didn't work; her motions were violent and she had no rhythm. But after a few corrections from Luke, she began to grasp the idea, kicking with first one foot and then the other, alternating. He even hummed a song for her to kick to, its tempo helping keep her steady.

"Yes, that's it," he said encouragingly, nodding his head. She grinned tentatively, but he continued. "The kicking's the most important part for you, as your tail won't provide as much power as mine... And your arms don't really look structured to propel you either. Hmm. Why don't we try something? You know how to kick, and the water's calm here, so try just moving around in the water on your own. We'll see how you move, and go from there."
Kitzu - June 14, 2011 01:30 AM (GMT)
Kitzu wasn't really sure at this point what she wanted to do anymore, but she was glad for the chance to do something on her own now, instead of small exercises designed to teach her the fundamentals. She supposed these were important, but the point was to get her to be able to explore in the water, wasn't it? So it was with at least more eagerness than before that she ducked into the water once more on his count of three, pulling her feet off the ground and opening her eyes slowly to the watery world around her.

Luke was right; she soon found that she could propel herself along quite well simply by kicking. In the calm waters, it was with almost effortless ease that she did so, levelling out her body as she moved only to coil it more horizontally once more when she had stopped. Her arms flattened instinctively against her side when she moved to reduce their impact on her progress, but fanned out again much like her fur and hair once she'd come to a standstill. She explored the water this way, moving about with a mix of new ease and old awkwardness to investigate anything of particular interest, until the need for air forced her up once more. Luke, looking deep in thought, bade her try once more, and eagerly she did so.

When that, too, was done, Luke finally announced something. "Your anatomy is... radically different from mine, so I don't think I have a complete grasp on this... I'll consult my books, and Father's too, perhaps, but for now... Do you suppose you could paddle with them, as I do?" As he said this, he moved closer, prodding at her arms or simply studying them.

"I guess," she said. "How do you paddle?"

"Lift your arm for me?" Luke requested instead of answering. "Bend your wrist? Ah, yes, I see. And if you were to rotate your...? No, elbows don't work that way, do they? How about your shoulder?" Kitzu swung her arm in a wide forward arc obligingly, and he seemed pleased. "Yes, that should do. Now watch me," he said, and dove into the water. At a loss as to what she was supposed to be watching, she shrugged and submerged. There, she saw Luke speeding through the waters with almost effortless ease, and though it was obvious he was trying to slow down so she could see, he still passed by more quickly than Kitzu could hope to swim in a long time.

As he'd instructed, she kept her gaze fixed more or less on his forelegs, which churned the water as if he was walking, the claws curved as if cupping the water. When he changed direction, they pushed hard in the opposite direction to the one he was headed to. With these details in mind, she surfaced, gasping for breath and with new thoughts forming in her head.

"So, I do this with my arms, right?" She tried to mimic what he did, keeping her upper arms close to her side and paddling the air with her forearms. He stared at her a moment and then laughed.

"Oh, heavens no! Your forelegs- er, arms aren't quite like mine... I think it's best if you use your whole limb," he instructed gently. At her nod, he dipped his muzzle toward the water. "Try it, and see how you do."
Oshi - June 14, 2011 03:05 AM (GMT)
Random Event!
Small bubbles came up to the surface around the the surface of the water, in multiple spots. At first you think that some fish must be coming to get themselves something to eat, but instead the bubbles become larger and larger, and eventually dissapear into the water once more. Nothing's biting right now, it seems.

(Nothing of significance happens)
Kitzu - June 17, 2011 01:03 AM (GMT)
With a nod, Kitzu waited for his count to three. He did so, and she ducked underwater, kicking with her legs and rotating her arms. She rose quickly to the surface, and was able to make her way around more quickly than before, though her progress was now ungainly. While it travelled well, she didn't have time to see or explore, and she had to come up for air quite often, as she was face-down. After the initial awkward attempts, she soon worked out a system of tilting her head up sideways every three arm-strokes.

Luke, swimming beside her with considerably more ease, stopped her with a tap on the shoulder. "That was interesting," he said, "with the rhythm you had there. I hadn't thought to anticipate that."

"Well, I had to breathe, didn't I?" she replied with a laugh. "But man, that sort of swimming really isn't any fun. It's fast, I'll admit," she added hurriedly, seeing Luke's crestfallen expression, "but I like exploring better."

"Then see how you move naturally underwater," Luke suggested. "Oh, and cup your hands! Yours aren't webbed, so if you splay your fingers, it's not nearly as effective." Kitzu didn't see how any more or less surface on something so small as her hands would make much of a difference, but she nodded anyways, as she was clearly not the expert here. He counted to three, and down she dove.

They continued this way for a while, trying to work out between Luke's innate understanding of movements in water and Kitzu's instincts as to how she wanted to move and what was comfortable for her, they slowly patched together a system of strokes, techniques and ways for her to swim. At one point, they attempted to have her swim on her back, but she complained of the discomfort of being unable to see where she was going, so they ditched that attempt immediately. After hours had passed, and the two had gone from honest experimentation and learning to little more than frolicking and water-fights, they eventually came to float on their backs in the shallows, doing nothing at all.

"It's not so bad after all, is it?" Luke said, grinning. Kitzu glanced at him, a question in her eyes. He shrugged. "Water. Swimming. Remember? I recall you were quite reluctant, at first."

"Yes, it's terrible," she drawled, making a face. "That's why I stuck it out for, what, two or three hours with you?" He had to chuckle at that, and she gave him a wry grin in return.
Kitzu - June 18, 2011 05:17 PM (GMT)
"I'm hungry," Kitzu announced, rolling to her side and breaking the floating position, so that her feet touched the ground once more. Luke didn't follow suit just yet, but watched her, waiting for a cue. "I don't suppose lessons are done for today?"

"Oh, I don't know," Luke teased, "you still have a long way to go before you stop looking like a drowning monkey." He laughed at her indignant, sputtering expression, but Kitzu looked at herself; it was actually not entirely untrue. Her sodden fur clung to her skinny frame and her hair, from what she could see of it in reflections, was a messy tangle. Her long tail, her human hands... The only thing saving her was, it seemed, her marten's ears and face. Otherwise, she really would be the picture of a Puff Rayzor given an unwanted bath. The girl sighed.

"Well, I know how to swim now, at least," she said, caught somewhere between tones sarcasm and a whining child. "Isn't that what you wanted? Besides, you can always drag me back here another time."

"I suppose..." Luke stroked his whiskers, as his father often did, more as mockery than homage. Kitzu's tail lashed as she waited impatiently for his verdict, fighting the urge to break out into full-on whining. At last, he consented, eyes closed and head held high, to the barest hint of a nod.

"Yes! I am starving," Kitzu exclaimed, dashing out of the water as if stung. Luke chuckled and followed after at a much more reluctant, dignified pace. The day had been fun, despite Kitzu's initial protests and minor difficulties, and while Luke knew that they would have such days again (it was Kitzu; of course they would), he still felt the pang of one leaving what he knew would be a most fond memory.

"Hurry up, Luke," Kitzu called from higher up the cliffs, waving her arm and beckoning before turning to scramble up the slopes like some sort of oversized squirrel. Shaking his head and smiling, Luke broke into a trot.

(exit)
Kitzu - September 7, 2011 12:21 AM (GMT)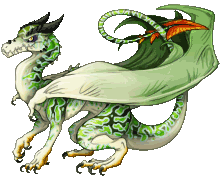 It was the dredges of summer now, and Kitzu was eager to go down to the river while she was still easily able, unencumbered by the weight of too many jackets 'for her own good'. It was wretched, being like that, and still managing to wind up with a cold anyways despite all of her precautions. It frustrated her to no end, but she didn't want to think about those days for fear of ushering them in sooner than she had to, and for now she happily ran and skittered down their path from their canyon home to the river that wound through the gorgeous, airy landscape. Somewhere overhead, a shadow passed.
"What
is
that?" Luke inquired, peering up at the form and squinting his eyes against the sun. Avander was a little difficult to make out for his pale belly, but he was not blue after all, and the hints of green in his hide gave him away. Kitzu could not suppress a grin.
"Avander," she replied. "A Sarane. I've been working with him recently, and thought he might take a break here. You don't mind, do you?" Luke shook his head, but she'd expected no less, really. Luke was an accomodating individual if ever there was one, and she could tell that such a thing was not something that would bother him much, if at all. In fact, Luke looked much more curious than preturbed, studying the flight patterns of the Sarane avidly.
<Avander: 28/29>
Kitzu - September 7, 2011 12:38 AM (GMT)
Kitzu watched Luke for a moment, but then she shrugged and made her way down to the water, watching the flow and twist of it, sluggish here but quicker farther down. When they didn't fish, she and Luke came here for walks, especially in the evenings, and they'd explored quite a good stretch of it by now. It was quite expansive, and big enough to support sharks if the rumors were to be believed, so it was practically one huge playground. They'd discovered marshy bits, rapids, and the occasional small branchoff or tributary, amongst other things, and the idea that there was still more to discover was always heartening.

However, they were in their familiar fishing spot. It was difficult to get lost going to and from there, and besides, they'd once landed a Sea Pony, so the two of them shared a mutual belief that it had to be lucky. So they'd been coming back here ever since, half-hoping that maybe someday they would land a shark too.

Once she reached the bottom, she cast another glance up at Luke, who chose that moment to break his reverie and notice that she'd already made it down. A little sheepishly, he began picking his own way down at a slower, more careful pace. Overhead, Avander circled like a bird (if a large, oddly-shaped one) and on occasion the two below would spare a look up.
Kitzu - September 7, 2011 12:55 AM (GMT)
When Luke finally made his way down to her, Kitzu began to take the stuff out of their bag. The rod was cumbersome and had to be carried by itself, but everything else was conveniently located in a box with many small compartments for their lures and hooks and whatnot, carried on Luke's shoulders and tied on with a small light harness. At first, it had been difficult to figure out which piece did what, and what one was supposed to do with the rod, but between Kitzu's books and Luke's inherent intelligence and ingenuity, they managed to work out a good system. Now it was all habit and whim, for they had no real goal here except to relax and to get away. That was what fishing trips were supposed to be about, right?

"So, what are you training him for?" Luke asked, casting his gaze up to the winged form once more. "And you have to tell me more about these Sarane. I haven't heard of them; are they new on the scene?" Luke had a good understanding of how the Labs worked, despite never having gone there himself, worked out from stories and fragments and the occasional explanation given to him by Kitzu. And while his father and the older Dracs of the Canyons were immovably opposed to the Labs, Luke was young and willing to accept that things were not all bad, even if he did see their point about certain cruelties.
Kitzu - September 7, 2011 01:03 AM (GMT)
His father had told him stories about the things they did, which Luke now knew mostly for untruths and rumors, but... There were rumors that spoke of other things, more real acts of heinousness, that while he knew nothing about, made Luke cautious. But Kitzu had come from the area surrounding the Labs, reeking of their creatures, bright-eyed and cheery and as childlike as they came. And if she lived there, and was able to smile all the same, it couldn't be completely wretched over there... It just couldn't be.

Kitzu began to speak, and the sound of her voice snapped Luke out of his thoughts. "Well, um... Yes, they're new. Sort of. I just haven't visited in a while, I guess... The males fly, but the females don't, and there's a lot of other differences too." She watched Avander out of the corner of her eye as he lit upon the top ledge of a canyon, watching them smugly from his lofty perch. Neither of them could get up there without lots of climbing equipment, but Kitzu wondered if the Drake had already forgotten what she told him: that there were plenty of Draconics who could fly, even if Luke was not amongst their number. But wouldn't it be funny if he got startled off by a Kitava or a Lashak? Kitzu was already smiling at the thought.
Kitzu - September 7, 2011 01:10 AM (GMT)
"Oh! And I forgot to tell you about the breaking. That's important!" Kitzu looked lost in thought, as she often did, as she stared at the 'Sarane', but she snapped to attention after one particular thought jolted her back to reality. Luke, sensing her mirth, had at least an idea now as to what direction the things in her head went in, if not the actual specifics, and waited patiently for her to explain. Though the term 'breaking' sounded a little... barbaric, to be honest. "Um, see, Avander there's a Drake, 'cuz he can fly and he's bigger and stuff. Hens're shaped plenty different, and you can always tell one from the other even at a distance, which isn't true for a lot of other creatures... And so, because he's a Drake, when he's a hatchling he's nice and all but he'll try to kill you when he grows."

At this, Luke's eyes widened in alarm and immediately he coiled himself around her, looking at the Sarane suspiciously, then turning a worried expression to her once more. "Is that why he's in the distance right now? Is he going to attack? Oh, why did you bring him here? Why are you training something that wants to kill you anyways?" He didn't seem quite able to decide whether he ought to be accusing her or just plain freaked out, and naturally came across as a mix of both, but Kitzu patted his shoulder reassuringly.

<Luke: 4/77>
Kitzu - September 7, 2011 01:23 AM (GMT)
The spike of negativity made her wince slightly, but she said as calmly as she was able, "I'm getting to that. That's what breaking's all about." That at least placated Luke a little, but she could still feel the edge of his concern pressing in, and spoke more quickly than she would have in an attempt to reassure him and alleviate the pressure. This would take some getting used to. It wasn't like with Daimon, who was usually stoic and mellow and unpreturbed by life; Luke was not flighty, perse, but he was young and prone to strong emotions. She supposed she must be just as much of a nuisance, but she liked to think that she worried a lot less, at least.

"They only hate you at the beginning. They just kinda lose their minds, is all. You get a whole bunch of equipment from the store and take 'em to the Fighting Pit, where you try and ride them... If they fling you off, that's that, but if they tire themselves out trying, then you win and they're fine from then on. And Avander's broken," she added hurriedly when Luke's expression didn't soften. "I dunno why it's liken that, but it is, and he's perfectly nice now... Well, maybe not perfectly, but you get my drift." She shot Luke a hopeful smile, and the intensity of the worry did ebb, though she could still sense his disapproval.

<Avander: 29/30>
Kitzu - September 7, 2011 01:40 AM (GMT)
"Look, why don't you meet him? Hey, Avander!" She called in the general direction of the Sarane in question, and Luke aighed.

"You know, he won't be able to hear you," Luke chided, but miraculously the Sarane's head actually turned toward them, perking up almost as if... as if he really did hear? Were the senses of these creatures so accute? Luke looked at Kitzu incredulously, then back at Avander, with newfound puzzlement and a begrudging respect beginning to form. But then Kitzu turned to him, shook her head, grinned and held up her arm. Seeing the lack of comprehension on his face, her expression faltered, and then she spoke again.

"I forgot not everyone knows what these are or what they do... These are Ribbons of Telepathy, from the Labs. Or... Alan. Or something. I don't know where they come from... Anyways, no, he can't hear me, but I can talk inside his head and he can talk inside mine, so I guess in a sense he can hear me too. That's how I'm talking to him." All of this was babbled in a rush, but Luke noticed that there were multiple of these hanging off her arm.

"Are all of these for him?" he asked, trying to squint at the distant image of the Sarane to see if he had a corresponding set. He was surprised to hear Kitzu laugh, as if she was surprised, and shake her head.
Kitzu - September 7, 2011 01:59 AM (GMT)
"No, of course not! You only need one ribbon, cut in half, to connect yourself to one creature; otherwise I'd be broke. They're not cheap, you know. This one's his," she added, tugging on a purple one. Luke wondered if tugging the ribbons did anything in particular, but Kitzu didn't seem to be too concerned, and upon inspection, Avander didn't seem to have a reaction either, so he supposed not. Then something else occured to him.

"If this is telepathic, then... Why did you say the words out loud? Do you need to?" he asked, blinking curious blue eyes at her. He didn't know it, and neither did she, but that particular expression of Luke's mirrored Kitzu's own, as much as it was possible between two such differently-structured faces. It made sense, after all; Kitzu was the biggest figure in Luke's life from his hatching to his adulthood, so it was natural that some of his mannerisms mimicked hers. But one could really see the family resemblance when one of them had a question on their mind.

"No, actually, I don't... I just do that 'cuz it's a little easier, and keeps me in the habit of talking. Here." She had a look of slight concentration on her face for the next moment, and Luke could see Avander shift again, wings mantling to take flight as Kitzu broke out in a grin.
Kitzu - September 7, 2011 02:06 AM (GMT)
Obviously the two had just had a conversation, and Luke's eyes widened in amazement. "What's it like, being able to talk to each other inside your heads? Who're the other ribbons for? Can you understand them, or do you have to learn to interpret for each one?" Luke was suddenly launching a flurry of questions at Kitzu, who laughed a little sheepishly, trying to figure out which question to answer first, and how. Meanwhile, Avander had lifted off, and was now making his way towards them. He was quite quick in the air, fadter than he could ever have hoped to be on land, Luke imagined. After observing Avander and his more deliberate flight for a time, he turned back to Kitzu with a look of expectation.

"It's like having a conversation normally, I guess, between us, like. Only you hear the voices in your head, so... Ever had a ringing in your ears? It doesn't sound like it's coming from anywhere, right? That's what the voice sounds like, coming from nowhere. But they don't sound so much as they're just the idea of sound... And I figure that's because your brain translates it that way, since that's easiest for you to understand," Kitzu mused, answering at least the first question. It took a lot of words and even more thought, for Kitzu had never had to think about it too much before. A good portion of the Labs had ribbons, and most everyone knew of them, and nobody wanted specific details...
Kitzu - September 7, 2011 02:18 AM (GMT)
"Oh... That sounds bizarre," was Luke's reply, and Kitzu had to laugh at that too. It was strange to have an outsider's perspective on things like this, where they greeted something she took for granted with incredulity and wonder. Kitzu tried to imagine Luke in the labs, and couldn't quite manage; Draconics didn't really venture there, or at least not to her knowledge, and she knew that there was some sort of low-key animosity between the two groups and areas... Luke himself seemed unbiased so far, but she did wonder if it would be possible to take him at all. If not, she vowed to bring more wonders to show him; it certainly would be interesting to see how he reacted to the goods of the Labs.

Meanwhile, he had other questions, and Avander was fast coming in for a landing. "The other ribbons are for other pets I trained up and trust. Daimon's got one, and so does Azalea, and I mean to give one to Grunty soon, but that's about it right now. Might wanna move over, Avander's coming in," she added, not missing a beat as she walked calmly back. Luke looked up to find the Drake surprisingly close already, and hurriedly cleared out of the way. The Drake was much bigger up close, almost his own size, perhaps a bit taller... Lighter too, but then Luke supposed that was part of the deal when one was built for flying.

<Luke: 5/78>
Kitzu - September 7, 2011 02:28 AM (GMT)
That was a damned long flight over here, Avander said blandly, snarky as ever, immediately after he landed. The scenery's nice, I'll admit, but this is a ridiculous distance to go for a view, don't you think? He stretched one of his wings out and looked at it contemplatively, trying to calculate how sore he would be after they made it home, for he was sure he would have to fly back too. The things he did for one crazy little girl... Sometimes it made him wonder why he bothered. What's he staring at? the Drake added, noticing that he was under the scrutiny of the strange creature accompanying Kitzu. It looked a little like himself, but with an entirely differently shaped head and a stockier body structure, amongst other things. And that absurd seaweed mane... He hoped that it wasn't a fashion statement.

"This is Luke, Avander. I've told you about him," she prompted, and now it was Avander's turn to be surprised.

You're not serious? When Kitzu didn't reply, he went on. The way you talked about him, I assumed he was human... You made him sound awfully human, he added, as if trying to justify his confusion, but Kitzu only nodded and smiled apologetically. It wasn't like her not to try and argue a point.

"Well, he is, more or less. He's smarter than me, and he can speak Common perfectly well, so he fills the same role more or less, just with a different body shape."

<Avander: 30/31>
Kitzu - September 7, 2011 03:42 AM (GMT)
Oh, Avander said, as if to say, 'is that all?' It wasn't terribly impressive to meet another human, so why should it be anything more to encounter a human in the guise or form of something else? Kitzu herself wasn't exactly human, being of the Mammalian race, but she was darn close to it and Avander didn't think to differentiate between them at all. Kitzu was a little puzzled; the sight of Draconics were rare in the labs, and Avander certainly had never seen one before, so to see him so underwhelmed was not something she expected... But then, she supposed it would be a bit awkward if she went around stringing Luke along as some sort of a freak, a novelty on display. Thinking of it that way, she felt slightly guilty, and decided to change the subject by answering the last of Luke's questions.

"The ribbon interprets for you, more or less... Translates thoughts into a form you can understand. And no," she added when she saw Luke's mouth open, another question on the tip of his tongue, "I don't know how it works. In fact, I'm not sure that anyone does, except for the creators, and possibly that guy who sells them..." But she wasn't curious about it simply because it was the sort of thing that would go over her head, and if Luke wished her to ask these people, he could do it himself, if not in person then by writing a letter.
Kitzu - September 7, 2011 03:56 AM (GMT)
She wasn't going to talk to the shopkeep at Traveler's Emporium... Allen, was that his name? Al-something? All she knew was that the guy and his demeanor didn't sit well with her, and she was perpetually uncomfortable and nervous around him... Not in the good way that seemed to be in every single book, regardless of genre, but in the way that an Izer chick is uncomfortable upon spotting a Salaves. She shuddered at the thought, and drove it from her mind as quickly as she was able, turning her mind to happier topics, like kittens and sunshine and spending time with seriously powerful, awesomely lethal creatures. The lattermost should not have been comforting, but Kitzu had a bit of an odd childhood, and as a result, rather odd tastes to go with it.

A thought occured to her just then, and she voiced it, asking Luke, "Would you like to try, actually? I'm sure Avander wouldn't mind." She smiled at Luke and ignored Avander's querry as to what he wouldn't mind exactly, having tuned into the conversation too late to discern the subject. Luke's eyes lit up and he glanced at Avander, rather like an eager child who was still uncertain as to whether he had any right to be.

"Can I? Oh, this is so exciting... And you're sure he'd be okay?" Kitzu smiled and nodded, then proceeded to untie the purple ribbon, tuning out the last, insistent questions from Avander and tying the thing around Luke's wrist.
Kitzu - September 7, 2011 04:15 AM (GMT)
I suppose you want me to say hello, don't you, Avander said in his customarily bland tone as Luke stared at him like an eager puppy. Yeah, this idiot was part of Kitzu's family alright... He couldn't see much physical resemblance, but that look and disposition reeked of Kitzu's own dead-to-the-world, happy-go-lucky ignorance, and though Luke was usually more grounded, Avander had no chance to see that. As far as the Sarane knew, this was some twit inclined to gawk at him simply because he'd never seen a Sarane before, and if it wasn't for his fondness for the other twit with them right now, he would have slapped Luke a good one upside the head. As it was, the option was sorely tempting, but Kitzu wouldn't like that.

"Oh. Oh." Luke's eyes really couldn't go any wider. Kitzu would have said they looked like plates; Avander was less cheritable and would have chosen a different hyperbole, preferably something with potential as a snarky jab, like 'if you keep doing that, your eyes are going to fall out of your head' or something. As it is, neither of them said anything, Kitzu because she didn't want to miss this and Avander because it wouldn't be appreciated. "It really is just like you said," Luke exclaimed to Kitzu, who was beaming for some reason, as if the whole thing benefitted her somehow or went just according to her plans...
Kitzu - September 7, 2011 05:23 AM (GMT)
But what kind of plans would she possibly have concerning this? Nor could he discern anything she could gain from it, besides a little satisfaction at having shown his friend something cool. He remembered that, discovering a neat new hiding spot or a shiny pebble, and showing it off to all the other hatchlings, though for the most part that lot had not been very appreciative... He supposed, for the sake of that kind of spirit, he would have to be a good object of show and tell. Very well, maybe he will try and keep a civil tongue in his head, so to speak, but he will not enjoy it...

"This is fascinating," Luke was saying, and doing on and on about how it was a wonder how Kitzu managed to experience this every day, with multiple creatures, and not even think too much of it. "But just how do you manage to keep them all straight in your head?" the Draconic asked, and Avander was beginning to get tired of being treated like a particularly juicy anomaly or experiment. But then Kitzu spoke, and he noticed something odd.

"Well, they're usually not talking at once," Kitzu began, and that was when Avander first noticed that he could understand what she was saying. It shouldn't have been possible, as he hadn't understood Luke when it was Kitzu wearing the ribbon, but...

<Luke: 6/79>
Kitzu - September 7, 2011 05:32 AM (GMT)
Well, sometimes Avander did hear echoes of other creatures' voices in Kitzu's head, when she wasn't actively blocking them from individual to individual... The effect was especially prevailent when one of the other individuals with a ribbon was close by. What he heard of Kitzu's thoughts sounded more or less the same, except it was her distinctive voice, which he was so used to by now that he didn't notice at first. But Luke didn't seem to be wearing a ribbon... How puzzling.

Meanwhile, after an avid discussion with Kitzu, Luke looked up a bit guiltily at Avander, who did his best to look bored upon noticing the scrutiny. If you don't mind, I'd like to have my ribbon back where it belongs, please, Avander said dryly, with a touch of entitlement in his voice. Luke ducked his head, sheepish at having come off as rather rude, first making a whole spectacle of something that the other two found quite mundane and then ignoring the one he was given the opportunity to converse with when it was offered to him.

"Y-Yes, of course," Luke said, and shortly the ribbon was back where it belonged. Whether Kitzu heard Avander's voice or simply infered from Luke's forlorn expression, the Drake didn't know, but he was on the receiving end of a glare when the handing-back was complete. However, refusing to be rebuffed, Avander went and asked anyways.

You wouldn't happen to have any sort of ribbon subsitute on this Luke fellow? One for, ah, his kind, perhaps?

<Avander: 31/32>
Kitzu - September 8, 2011 01:13 AM (GMT)
Kitzu was baffled by Avander's question, and shook her head dumbly. A ribbon for Luke? No, it was absurd; she could speak to him perfectly well without one, so there had never been a need... Where had Avander gotten that idea? She thought he would have been able to see that they were communicating by speech... "Avander, we don't use ribbons to talk since Luke speaks Common," she told the Sarane as patiently as she could, trying not to sound condescending. It was difficult, as she really had thought he was brighter than that. "We don't need one," she added, just to be clear. But instead of looking as if he understood better now, Avander shook his head, clearly frustrated.

I'm not a twit, you know. I know all that already! he shot back at her, frustration lacing his voice with a bitter edge. Kitzu flinched back from that, and immediately Luke was at her side, ready to interpose himself between the two. The Nanaiyesh was still not fully convinced that this Sarane creature wouldn't try to hurt Kitzu again, and he would make sure that such a thing didn't happen... And now that Avander looked to be getting more volatile, he had to be ready to react quickly. Ironically, this show of protectiveness towards the girl only further irritated Avander, who liked Kitzu perfectly well; the idea that she would need protecting from him... Luke was growing more detestable by the second.
Kitzu - September 8, 2011 01:22 AM (GMT)
However, Avander tried to get his anger under control, clenching and unclenching his claws to try and regain some measure of calm. Luke saw this and grew more disconcerted, but Avander paid him no heed, concentrating within. Somewhat stereotypically, he tried happy thoughts, but he was a cynic at best and didn't really believe it, so when that didn't work, he simply thought of nothing instead. After a time, he opened his sharp golden eyes and said, mocking Kitzu's own slow, patient tone, I can't understand him when you have the ribbon on. I shouldn't be able to understand you when he had it either. But I could understand you, and for some reason I can comprehend his words now too. He paused for a moment to let things sink in, and noted that Kitzu was now listening to him, at least. She looked as if she was thinking, too. And then Luke's eyes widened as if he realized something.

"He's right; I can hear him... Your, uh, Sarane was it? I started hearing him a little bit in my head too, once he passed the ribbon back. I tried concentrating just now, and I could make out most of that." Avander mulled this over too; the evidence was just piling up, but he couldn't help but think of how curious an occurence this was.
Kitzu - September 8, 2011 01:30 AM (GMT)
Kitzu looked a little puzzled as well, and the crease between her brows only deepened at this new tidbit. It was then that Avander stepped in, having already come to a conclusion; this was the entire reason he'd first spoken out in the first place concerning this recent anomaly. He could be telepathically connected to you anyways, Avander said reasonably, trying to look calm and intelligent and worthy of a listen. I hear him the same way I hear Daimon sometimes when she's close and speaking to you. There's enough evidence for that to be a good possibility, don't you think? He hoped, at least, that she wouldn't dismiss it immediately as she was inclined to do at times, but thaknfully she remained silent. While it wasn't accepted necessarily, he wasn't immediately shot down either. Luke nodded along with this, and although Avander didn't like the idea of the Draconic tuning into their conversations, he supposed it did concern the Draconic, and so Luke had a right to that just this once.

"That does seem likely..." the Nanaiyesh broke off from whatever he was going to say next at this point and had a look of concentration (or was it constipation? It looked like both) on his face, and Avander could hear the same mind-voice he'd heard before during the transfer of the ribbon starting to edge its way into his mind.
Kitzu - September 8, 2011 02:31 AM (GMT)
Kitzu's first inkling of this was a small voice snaking its way through her mind, calling incoherently. It was strange, for she'd never heard the voice before, but it sounded awfully familiar... As if she'd known it for quite some time, in fact. There was no doubt in her mind that this was Luke, somehow having acquired telepathy, trying to speak to her in his mind. But it was not a practice that he was used to, and Kitzu had to encourage him a little. "Try speaking aloud, Luke. It often helps project; it's why I do it, at least." Luke opened his mouth, and then closed it, frowning. When he opened it once more, it was to voice a querry.

"But wouldn't that defeat the purpose? The whole point is to talk to you mentally as opposed to verbally..." Kitzu shook her head at that, though.

"The point is actually that you can't use telepathy too well at the moment, so every bit of practice helps. Focus on the words as you say them, too. It's not necessary to speak mentally now, since I'm right here, but it does let us keep in touch over long distances when I'm away..." Kitzu paused once more to think, which she'd been doing repeatedly over the course of their recent conversation. The matter was a bit strange, and she didn't know what to make of it...

<Luke: 7/80>
Kitzu - September 8, 2011 02:37 AM (GMT)
Could it have been the ribbon? They didn't transfer their abilities like that, did they? And Luke hadn't been connected to her, but Avander... No, she dismissed that idea immediately. "At any rate," she said to Luke, "there's no hurry for you to master this... And as far as I know, it doesn't depend on the distance, so you can try even when I'm not around. Just think at me." She laughed then, but realized something and spoke quickly to ammend it. "Actually, I might be busy... So try to keep it to evenings, will you? Otherwise I might startle and mess up in training, and that'd be a disaster if I was with, say, Duchess..." She shot him a sheepish grin, trying to apologize for her unavailability with the expression, and trying not to put too much stock in Luke's slightly downcast expression.

Avander, meanwhile, was in fact feeling smug. I was right, the Drake tolled distinctly in Kitzu's mind. Okay, well, maybe he didn't have a ribbon, Avander conceded when Kitzu gave him a look, but he'd gotten to mind-speak with you! So maybe you should listen to me next time. Finishing on a self-righteous and rather victimized note, Avander lashed his tail for emphasis, and Kitzu made a derisive noise at the back of her throat that Luke thought was very unlady-like. But then, he supposed he oughtn't be surprised; Kitzu was not always the most... feminine of girls.

<Avander: 32/33>
Kitzu - September 8, 2011 03:34 AM (GMT)
"Oh," Kitzu said suddenly, looking up at the sun's place in the sky and then glancing back down at her watch. "Oh. It's getting late, isn't it?" she said, somewhat sadly, not wanting to leave the river. They didn't have a lot of time to spend here at the moment, what with trying to prepare Avander for the tournament, but what she had of their stay was nice… It was good, at least, to have spent some time with Luke again, which she hadn't done in a while between training and taking care of everyone back home and the general daily hustle and bustle of life in the labs. She didn't often have much time regardless, but now she had less opportunity than ever to visit her canyon-side hideaway and spend time with Luke or the rest of the Draconic family, for that matter. But it was mid-afternoon now, ans if they didn't start moving, it would be too late, for the trip was a long one and they wanted to get started on it before dark. The Labs weren't a dangerous area, but she was only ten, and Avander couldn't see so well at night.

"I guess you have to go, huh?" Luke smiled sadly, looking reluctant but knowing he had little choice in the matter. She had other obligations, and he couldn't be too selfish about this, so he raised no protests.
Kitzu - September 8, 2011 03:35 AM (GMT)
Avander, meanwhile, was quite eager to try and return home, and he perked up immediately when Kitzu mentioned it, making no secret of his sentiment. He didn't say anything, exactly, perhaps sensing that it would not have been appropriate or appreciated, but he did pace and prance in place a bit, fanning his wings or mantling them, and generally rustling the leathery skin, lest Kitzu lose this train of thought in talking to Luke. He didn't want to nag, but a fresh bed, food, and no more of this Draconic business... Luke wasn't detestable, but nor did Avander enjoy his company, and would much rather simply lounge around and rest in a place that was comfortable for him. The training he'd had to endure recently was not exactly his idea of a good time, and he felt he earned any rest he was likely to get.

"Yeah," Kitzu said presently to Luke, reaching up a hand to pat his neck. "Sorry, buddy... Promise we'll visit again soon, okay?" She tried a smile of her own, and Luke made a point of looking buoyed slightly by this, but he knew the truth to those words. She'd said them often during the course of his life as a hatchling, and visited exactly as often as her schedule allowed, no matter how much she promised.
Kitzu - September 8, 2011 03:35 AM (GMT)
But he couldn't quite bring himself to accuse her, or to make demands, for he was a mature and thoughtful individual and knew of reasons and consequences. There could be no sound justification or solid grounds for arguing that she stay, that she visit constantly, and he could not bring himself to behave like an implacable drama queen as his sister might have done in his situation. It was sorely tempting on occasion, however. Very, very tempting indeed. He sighed at that; it was a curse to be mature, for everyone would always expect it of you from that point onwards, and one cannot really go back after having proved oneself capable... The bar was simply raised. So he nodded to her and said nothing, but helped pack away their fishing supplies, trying not to think about things and brood about them. Kitzu could feel that now, he reminded himself, and if she caught wind of this deeper discomfort, it would be inconvenient for everyone.

The Sarane had no such consideration to be had; he was aloft immediately, and circled once more before starting over to the ledge where he'd perched before. Suddenly thinking better of it, he stooped in and landed again in a great dusty fanning of wings, raising a considerable cloud of dust and causing both Luke and Kitzu to cough in fits.
Kitzu - September 8, 2011 03:37 AM (GMT)
Looking smug as ever and now satisfied as well, seeing as their departure was pretty much set in stone, Avander began to make a nuisance of himself, pestering Kitzu and fanning his wings on occasion, without warning, nearly knocking over her or Luke several times as he did so. She suspected the latter cases were at least a little intentional, but did not bother to bring it up, for fear of delaying their departure. In her case, the need for hurry was not anticipation and apparent glee at the thought of going home, but of the urgent need to set off on time in order to arrive on time as well. There were creatures relying on her for food and whatnot; she could not fail them. If Avander was the only such creature, he would have stayed longer, certainly; commodities were not scarce in the canyons, after all. The only issue was its distance from the Labs, really.

After a while, Kitzu finally got tired of Avander's interfering, knocking things over and nearly knocking the pole into the water and raising dust clouds and being entirely unproductive. "If you're not going to help, then beat it," she told the Drake callously, waving a dismissive hand at him and then resorting to a very pointed glare when he tried the wounded gazelle gambit. "You're not nearly as pitiful as you think, and you don't got big watery eyes like Faber or Hika either, so go on. Get."

<Luke: 8/81>
Kitzu - September 8, 2011 03:37 AM (GMT)
Thus rebuffed, Avander slunk off with a slightly wounded ego, most of the damage coming from the way Kitzu shooed him as she would a common stray. At least he did keep himself out of their hair for a while, during which Kitzu finished their packing and took one last survey of the river before she had to leave. "You know, for a fishing trip, we didn't even do any fishing," she mused, smiling dryly to herself as she said this. Luke paused for a moment to stare at her, and then laughed as if he was surprised by it.

"You're right," he said between laughs, snuffling in an attempt to stop the chortling and resume a more dignified look. He didn't have much success on that front, and only ended up looking sillier, which Kitzu gladly pointed out to him by immitating (and thereby exaggerating) the expression. They both had a good laugh about that, but then Kitzu remembered once more that time was wasting and waved a hasty goodbye.

"I really do have to go... Take care, will you? And tell everyone I said hi?" Luke nodded and waved her away with a smile, not trusting her to end the conversation, nor himself either if he was being entirely honest, if he said anything more. He watched the shapes of their receeding backs until he could make out nothing of either of them.

<Avander: 33/34>