Title: [2007.05.22] HuGe Almost Recovered from Accident
Winks - May 22, 2007 04:21 PM (GMT)
[2007.05.22] HuGe Almost Recovered from Car Accident Injuries; Returning to ¡°LOCH¡± in June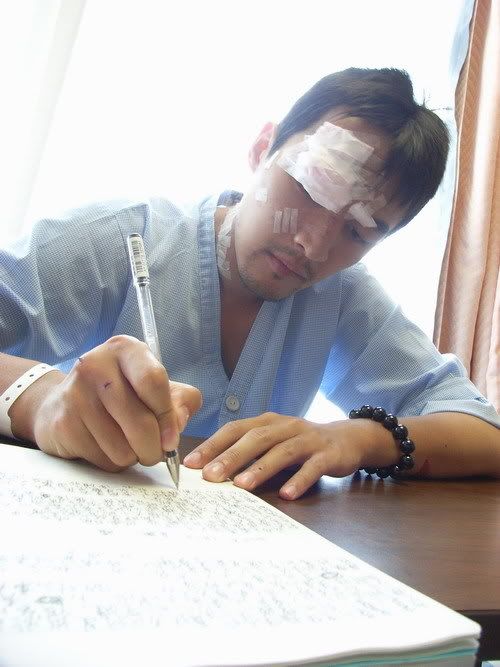 Mainland (China) male star, HuGe, met with a traffic accident while filming ¡°LOCH¡± in August last year, and was severely wounded above the right eye. He was in Hong Kong for skin grafting operation in September last year. After a recent trip to South Korea for skin graft corrective surgery on his right eyelid, recovery was almost 90%. Yesterday, manager, CaiYiNong, expressed that HuGe will make an official comeback on 22 June and LOCH is anticipated to re-commence production in July.
The new version of ¡°LOCH¡± casted HuGe as GuoJin, and Ariel as HuangRong, and filming was inevitably stopped after HuGe¡¯s car accident. HuGe¡¯s medical expenses since the traffic accident last year to date has already exceeded NT$4.5 million. Ariel is currently speed-filming GTV¡¯s idol drama ¡°ISWAK Sequel¡±. The imminent re-commencement of LOCH production will run into ¡°ISWAK Sequel¡¯s¡± planned schedule. Ariel said: ¡°These two dramas are very important to me, and which I will not give up.¡±
HuGe maintained a low profile for almost 10 months because of his injuries, and he¡¯d ever thought of giving up, changing to work behind the scenes or to go for further studies. His management company, relatives and friends, however, continuously encouraged him, and CaiYiNong has never even thought of replacing him from beginning to end. When she renewed the contract with JinYong at the beginning of the year, she even said: ¡°Although the contract is renewed, if there¡¯s no HuGe, I¡¯ll rather not film.¡±
Yesterday, CaiYiNong openly said that although HuGe¡¯s comeback is on 22 June, if his injury has yet to be fully recovered, further operation would still be required, and the skin grafting area will also leave a mark. HuGe is already psychologically prepared. He laughingly said: ¡°So what if there¡¯s a scar, the road to acting will be even wider.¡±
In these 10 months, apart from learning to sing and dance under tutelage, HuGe has also been composing articles. Hence, his first step towards returning to the entertainment circle will be the upcoming publication of his new book ¡°Blessed Survivor¡±. The book documents his psychological journey after his unfortunate traffic accident experience. All royalty proceeds will be donated to charity.
Translated by: Winks
Source: ÐÂÀˊʘ· (http://61.129.65.8:82/gate/big5/enjoy.eastday.com/e/20070522/u1a2852346.html)
di-dar - May 23, 2007 03:54 AM (GMT)
This is a great news... winks!

First I want to say that I love both pics.. Hu ge is so shuai in the first pic!! I think he's getting more and more handsome...

I'm glad to know that there are so many supports for him!! I'm looking forward to see him again!!


Winks - May 23, 2007 03:29 PM (GMT)
Looks like the 1st pic was taken when HuGe was in the hospital after the accident. He looks like an "A-Bin Ge" (army soldier). Yup! Still as dashing *melts my heart*. Hehehe. Anyway, I'm sure he'll be sporting a different hairdo now. Can't wait to "see" him again. :)
di-dar - May 23, 2007 07:26 PM (GMT)
Are you sure? Wow.. I really think he looks really shuai in that pic.. reminds me abit of Jang Dong Gun..
swimfishyswim06 - May 24, 2007 05:40 AM (GMT)
Winks, thanks for the news!! Aww, I see what you mean. I got all choked up when I saw the pics and read the article. Wow, he looks so good, even with all of the bandages on. As always, I love his positive attitude and work ethic. Oh boy, oh boy, I can't wait for his return… and for LOCH!!

di-dar, I agree, Hu Ge looks shuai in that pic. Can't wait to see how he looks now… maybe when he and Ariel meet up for LOCH, they'll *both* tease each other with, "Hey, looks like you put on some weight!" ;)

kid246810 - May 24, 2007 06:53 PM (GMT)
that is great to hear.
I hope this will not affect Hu Ge apperance.

i can't wait to see LOCH

di-dar - June 8, 2007 02:33 AM (GMT)
Yay!! Hu Ge is going to return soon...

Just 14 days to wait!!
swimfishyswim06 - June 8, 2007 10:34 PM (GMT)
di-dar: I know, can you believe it's only 2 weeks?!! Remember when it was over a month until his comeback? Wow, time's really flown. Hee hee, and that means it's getting closer to LOCH!!! :woot: :woot: :wink:
di-dar - June 9, 2007 02:53 AM (GMT)
haha.. I know.. swim.. so happy that we can see him real soon!! Yay!!
and yes,.. LOCh is getting closer.. really hope Ariel can join the LOCH team ASAP!




swimfishyswim06 - June 9, 2007 05:37 PM (GMT)
Mwahaha, yes, and then they can greet each other with "Hey, looks like you put on some weight" *wink* (and then Hu Ge can say "Are you serious??" with a shocked look) haha.

yay, so soon for our shuai ge to come back! ooh, hmm, I just noticed, is that a "healing" bracelet that Hu Ge is wearing in the first pic that Winks posted? (the beaded one on his left arm)
di-dar - June 10, 2007 05:43 AM (GMT)
haha.. yes.. you're right... it's time for ariel to say those words.. and HuGe to give his shocked looks.. LOL.. it's so funny.. swim!!

I know nothing about "helaing" bracelet.. but I think you're right..




kikkiko - June 10, 2007 07:03 AM (GMT)
hi hi
wow, i see some familiar people here :)

Hi winks! Thanks for the translation.

Yay, I'm glad Huge is expected to recover and return to filming soon :)
I like his optimism about his scar. :lol:
swimfishyswim06 - June 10, 2007 07:55 AM (GMT)
di-dar
, you mean like this?
ARE YOU SERIOUS?
(Credit to linyichen.com)
Haha, Hu Ge has the best expressions! Yes, I can't wait to hear more of his witty comments and see more of his funny, adorable expressions.
Kikkiko
, I'm so glad you joined us in here! I agree, I like how Hu Ge puts a positive spin on things and tries to boost his fans' spirits and encourage *us*, even when he's hurt/worried/nervous himself.
hilaria - June 13, 2007 11:37 AM (GMT)
haven't been here for a while
yesss hu ge's come back just a week more days
thanks winks for the translation

hu ge's shocked face is very funny, thanks to swim for the pic.. love it :woot:
want to see more :rolleyes:


swimfishyswim06 - June 14, 2007 11:08 PM (GMT)
hey hil, glad you're back!! wow, yeah, just 8 days til Hu Ge comes back! :woot: YAY! you're welcome for the pic... I'll post another Hu Ge funny face here when I get back to my room (I'm temporarily locked out 'til my roommate gets back).
di-dar - June 17, 2007 04:28 PM (GMT)
Hi kikkiko and hil
nice to see you both here..

LOL... yeah swim... his expression was so funny.. he has nice expressions just like ariel.. haha..

Thanks for the pics..
arsenal6 - July 26, 2007 12:56 PM (GMT)
lol that picture really doesn't look like him...even thou it is =P