[20070901] LOCH Filming Resumes After HuGe's Traffic Accident; Hinted That Li YaPeng Acted Silly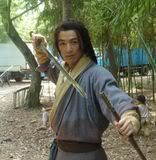 HuGe's valiant image.
On 31st, the production team of LOCH, produced by Chinese Movie and Television Co., resumed full-scale operation in HengDian. NetEase Entertainment personally visited the production team at work. HuGe and main casts, etc. attended a back-to-work dinner/banquet on 30th evening, and held a grand prayer ceremony early the next morning, officially recommenced filming. During filming breaks, HuGe and the media chit-chatted leisurely, in the course of which there were considerable traces of after-hardship-encounter-transformed-maturity in his speech.
HuGe at site of filming.
Back-To-Work Dinner Moved One's Countenance
On 30th evening, the production team of "LOCH" held a boisterous back-to-work dinner/banquet in HengDian Movie and Television City, the entire staff of the production team and main actors/actresses, HuGe, YuanHong, Liu ShiShi, etc. all attended. During dinner/banquet, the morale of the whole production team was high; this one year wait seemed to have brought about greater unity among staff in the production team. HuGe, recovered from injuries and back into production team, was in very good condition as well. Further, at the scene of the dinner/banquet, the film department of Chinese Movie and Television especially broadcasted a segment of "LOCH" special highlights, documenting all of "LOCH" developments from its startup last year, filming in Mongolia, HuGe's traffic accident, and the operation recommencement of the production team. This recording part rather moved/touched the media and staff present.
The production team arranged for HuGe, YuanHong and a few young actors/actresses to join the production team in advance to engage in special training. Apart from learning acrobatic fighting actions, physical fitness training, also watched episodes of last year's shots, to be sure that on filming recommencement, they'll command their roles more accurately. HuGe also expressed, "when leaving the production team a year ago, didn't think that returning would take a year later. After experiencing happenings of this one year, have grown up and matured a lot, really very happy to be able to return to "LOCH" production team."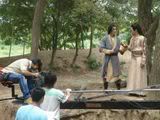 Site of filming.
Li YaPeng Acted Goofiness; HuGe Acts Chivalrousness
At about 11am on 31st, the production team held a prayer ceremony for "LOCH" filming recommencement startup. Thereafter, the entire staff headed for the filming site of the first scene. With regards to the role of GuoJing, Li YaPeng's edition brought out his silliness, but HuGe felt that GuoJing is actually not silly, just that everyone's portrayal has different planes of emphasis. "Li YaPeng might have distinctly acted out his simplicity, honesty and sincere but inarticulateness", but I'll like to showcase his air of chivalry and noble aspirations for the good of his country and people.
Talking about Taiwan No. 1 actress, Lin Yichen, who'd yet to join the team, HuGe remarked, "she is the female actor with whom I have the most tacit understanding. Not because we've worked together in two dramas, mainly is because during work, Lin YiChen is exceptionally professional, her personality is also good, leaving a deep impression on me." Both were very comfortable when acting opposite each other, giving HuGe extreme inspiration during acting. HuGe even smilingly said, familiar with one another, outside filming they would also mutually imitate the way the other party talks.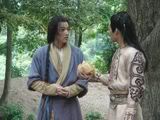 Acting opposite an actor.
Thinking Of Changing Image After "LOCH"
Looking at HuGe, who made a comeback post recovery from injuries, the media is concern whether he could endure the heavy load of rushed day and night [round the clock] filming. Talking about physical condition, HuGe indicated, "after a few days of acclimatization, already don't feel very tired." He also repeatedly said, after a year could return to production team he felt very excited, "encountered many things in one year, had surgeries, saw doctors, made choices, underwent mood fluctuation, once thought of giving up halfway as well, able to walk/move on till today was truly not easy." Preparation work before filming recommencement was also imperative and difficult. Prior to this, HuGe went to South Korea for an eyelid restoration surgery, now on the whole does not affect filming, and after filming for "LOCH" ends will still go to South Korea for another one to two surgeries, the aftereffects of the surgery could achieve a before semblance of 90%. After the physical fitness training of the production team, several motions that were hard to maneuver in the past, such as back flip/somersault, side flip/somersault, pivoting, etc. HuGe could now execute effortlessly as well. HuGe even revealed that lead actress, Lin YiChen, as a result of turning plump after she'd returned to Taiwan, was worried that the shots will not sync. He, having acted in too many period dramas, also outspokenly said, after shooting "LOCH" would like to act in modern drama, would want to attempt the villain role as well.
Back to work prayer ceremony.
Expert In Holding Liquor Exposed; Has Trademark Phraseology After Intoxication
During convalescence this year, HuGe would usually sing, write his book. He expressed, compared to a year ago, his present self knows better to cherish, "past experiences were too plain sailing and fortunate". And as a University mate for four years with HuGe, YuanHong has all the more been continuously supporting HuGe this one year. The two of them, who get along very well, mutually exposed each other's drunken jokes at filming site. HuGe said, "Although YuanHong holds his liquor well, but the moment he's drunk he'll lose his memory; once when drunk even took up the phone to wear on his foot." And YuanHong divulged HuGe's stuff and said, his [HuGe's] current capacity for alcohol is getting better, also admitted that his own liquor grade/level is not as good as HuGe's, "HuGe's trademark when drunk is that he'll say: 'I'm very happy today'."
Translated by: Winks
Source:
http://ent.163.com/07/0901/09/3N9V35G000031H2L.html