Title: War One : General Info
Description: - The List of Entries -
Kolox - April 4, 2012 07:30 PM (GMT)
- Renegades -

Reinard-fox : Lina
Lionhawk : Zaran
Kaiserkreuz : Alerian
Exar - Suraya
Sapphire - Lacey
Xenotime - Ines

[NPC Help]
Mr. X
Mr. X Courier

- Organization -

[Rank 20+]

The Eye : Yammet
The Hand : Meredith
The Shield : Siegfried
The Voice : Arc

[39-20 Rank]

Runners : Runeska
Trainers : Elvira, Cattleya
Trackers : Faust

[40-50 Rank]

Grunt : Ellizia, Diana, Vervania, Viria, Evelyn de Sonnac, Talos

[Reinforcement NPC] [After 12th turn, 15th, 18th e.t.c]

Old Rank 18: ''Smiling'' Valentine
Old Rank 22: "Hurricane" Roxanne
Old Rank 26: "Howling" Madalleine
Old Rank 26: Dante
Old Rank 27: "Whispering" Mara

- Wild Card -

Arcis [+1 point for every eliminated player]
Yoma [amount of them is 50-Voice CHA]
Mr.X [Gives loot - Loot value is determined by terrain difficulty + renegade with highest CHA]
Bandits [50-L.Renegade CHA]

- Setting -

Renegades decides

- Hour -

Organization decides after Renegades decide on setting

- Mr. X item -

Mr. X leaves an item for renegades to fight for - the more difficult the setting, better items. Who is Mr. X ?

- Handler -

Shall be assigned by GM after Setting

-Shop-

Will be available for Organization after they decide on hour and positions. Each member can either take secondary weapon or a pill.
Kolox - April 6, 2012 02:28 AM (GMT)
Rules :

Game is split by turns

- Turn 0 -

Org appears from decided sides of the map - east, west, north, south -
Org can split up to 4 teams, each needs to have at least one Major title character

Renegades have 4 central spots to choose from the map

AB decides where he resides as trap. He also sets yoma.

No movement yet

- Turn 1 -

First movement. Renegades are given location of Mr.X loot. Renegades move first.

After Renegade move, Organization moves

- Turn 2 -

Repeat...

[Encounters]

Anything you do in a hex costs you a turn - combat, investigating buildings, searching for loot or longer interaction that cannot be performed during movement.

[Moving through map]

Renegades can move separately

Organization moves with team. Team can only split on MAJOR TITLE order. If it won't split, team moves with the speed of the slowest character.

Terrains required points to get through - Forest 2, Plains 1, High Mountains (on border of the map) 10. Organization can decide if they start under the mountains or on the mountains (on the mountains there is a bonus to observation)

[Roles of Titles]

VOICE : Commands the whole team. Even other major titles cannot decline VOICE orders. VOICE cannot be outranked. VOICE gets additional points for surrounding the renegades.

EYE : Scans the terrain and sends the signal. No one but VOICE can order the EYE. EYE must have at least one runner on his side. EYE, by Organization regulation, can only have runners on his team and at least one runner. Leaving with EYE units other than runner will result in negative points at the end of the mission. EYE gets additional points for never losing renegades of his sight.

SHIELD : Shield protects handler. SHIELD cannot be ordered by anyone but VOICE. SHIELD has no obligation to listen to handlers request, he takes his safety above his curiosity (it's the only class that can justify not listening to handlers). SHIELD gets bonus points for each time he defended the handler.

HAND : HAND can go completely solo - he is the only who is not obliged to take care of his team. HAND cannot be ordered by anyone but VOICE. HAND job is elimination of renegades by any means necessary - he is pardoned of killing humans and killing members of Org if he justifies his action by attempting to kill a renegade. HAND gets points for personally defeating a renegade.

Runner : Runners are units with highest mobility on the map. They are additionally equipped in special covert armour and maps to maximize their mobility. Runners are given points for never failing in given tasks by EYE or VOICE.

Trainer : Trainer are units that are responsible for GRUNTS. Each grunt under a trainer gains +1 to moving on map as long as they travel together. Trainers are also carrying med-kits that allow to revive fallen characters but rarely they can get them back to fight. Trainer gain additional points for not losing any of grunts under their care.

Tracker : Trackers are units that set traps and use their high skill of observation to identify if enemy occupied that hex before. Trackers can perform such action without wasting a turn. Trackers gain additional points for successfully using a trap.

Grunt : Characters whose ranks are not high enough to assume role. Grunts gets +1 to award for surviving alone.

[Rewards]

Renegades : Hard objective points + any item they obtain for keeps + Infamous Survivor perk lv.1 [+5 to intimidating ORG]

Organization : Rank-up, +3 to main stat, Perk [Title Perk + Comrade with XXX], +1 to main stat if succeeds in additional requirement
Kolox - April 6, 2012 07:57 AM (GMT)
Just to speed things up, if every player could post their map bonuses so I can check them later, I would be really grateful.

MOVEMENT ON THE MAP : AGI/10+MOV/10=number of points
SENSING RANGE : (PRE*20)m/400m = number of hexes (one hex, 400 meters)
PRECISE SENSING : PRE/10=number of hexes

[The Sensing Range formula is also just Sensing Range/400m - value for your sensing range you can find in your duel calc in your personal area]

As for Skill bonuses and Perk bonuses, everything that is only combat does not interest me.
Perks and skills that increase observation decrease chance of missing someone in occupied terrain.
Some perks can decrease the difficulty of the terrain (Geography, Athletic) by one from distance of 5 hexes of his starting position.

Propose the bonus and I will check them.

Thanks.
Kolox - April 6, 2012 12:38 PM (GMT)
[spoiler=map]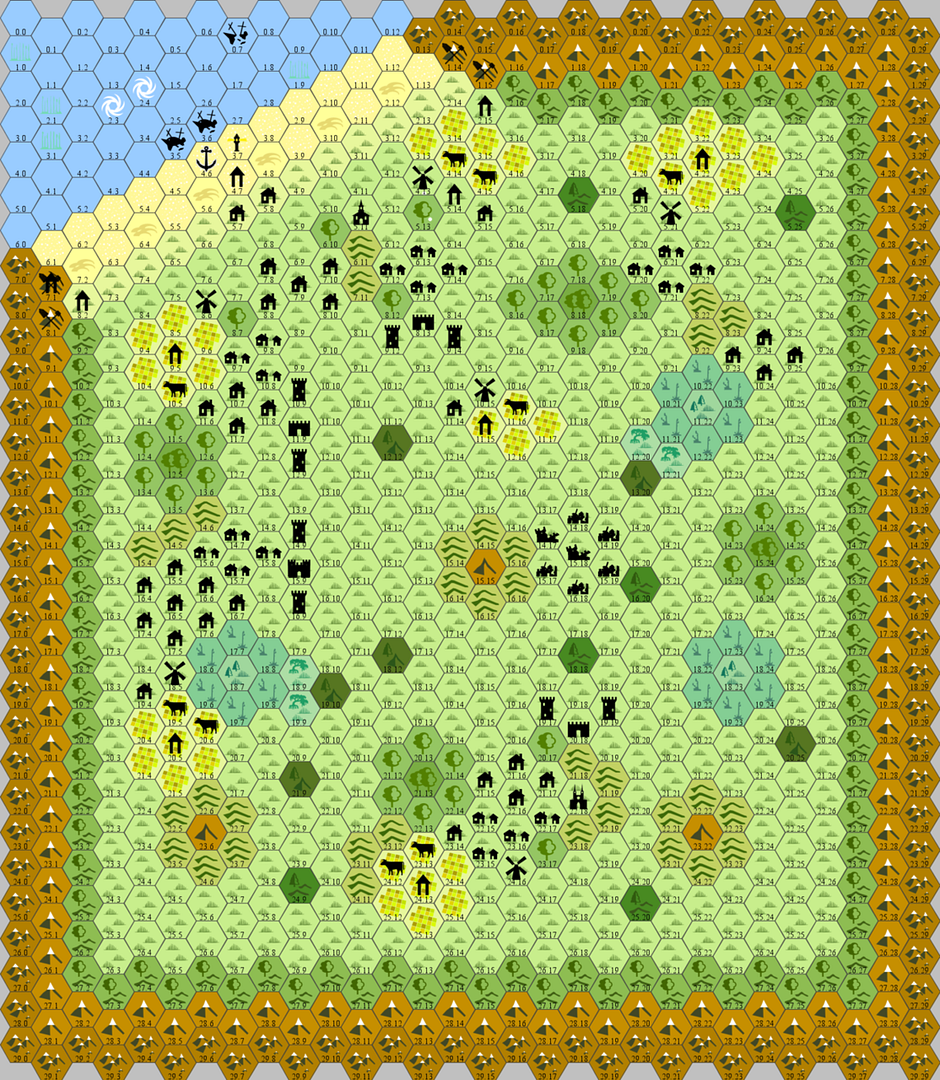 [/spoiler]
Legend :
0.13~0.29 - High Mountains - 10
1.14 - 1.15 - 7.1 - 8.1 - Mountains (8) + Mines [Hiding]
3.14 - 3.15 - 3.22 - Wheat
4.22 - 2.15 - Farmhouses
4.15-4.14-4.21 - Ranches
5.20 5.15 - single houses
6.21 - 7.20 - 7.21 - District
15.18 - 14.18 - 15.19 - Ruins
18.22-18.23 - Swamps (6)
All building add +1 to terrain dificulty
Kolox - April 7, 2012 12:23 PM (GMT)
For all players that I did map bonuses - please check your sensing range and everything else if it's correct - since I did it before the implementation of duel calc 6.2 and because I want to have less work to do ;p
Kolox - April 7, 2012 08:14 PM (GMT)
Renegades chose urban area and Organization already chose time of attack (more or less). When ORG will decide how teams split, we can start.

There will be three threads - main thread open for everyone will talk about random shit like weather, what hustling in the grass e.t.c.

Two other are obviously for ORG only and for REG only. They will be RPG styled posts with OOC mentioning direction players go.

Each post will have a 'deadline', so if someone won't make it or decide not to post, he will move with his team or by orders of higher ranked character. Same goes for renegade.

Deadline is 48 hours since beginning of the turn. May vary depending on..me ;p
Kolox - April 12, 2012 03:33 PM (GMT)
I shall officially state that in Saturday, the first post for reckoning shall be made and the game will start.

Due to staff which were explained on IRC, Elcura has moved for other character. Siegfried shall be NPCing for Shield till Blue comes back and Meredith is Organization hand. I also added reinforcement NPC for organization to even stuff out with Ines.