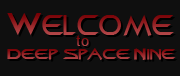 This is an alternate reality text-based, play-by-post roleplay based on the 1993 television series,
Star Trek: Deep Space Nine
. Both original and canon characters are accepted. The board and its owners are not affiliated with Deep Space Nine or any of its actors/writers. Please register under whatever username you would like. The staff will change your username to that of your character once he/she is approved.

Rules: Please be courteous to other members in the shoutbox. Do not spam, flood messages, advertise, or talk about/post pornographic or illegal subjects/links.