View Full Version: Alicia
Title: Alicia
Description: Alicia
Raikiri - February 3, 2008 11:09 PM (GMT)
Name:

Alias: Alicia Sansuelo (Ah lee cee ah)

Age: 19

Personality: Alicia is shy and reserved until you get to know here, then her true personality emerges. She loves to talk, laugh, and is full of energy. Alicia enjoys reading and dancing, and can be found doing one or the other at one time or another. One of Alicia's negative qualities is her trusting nature. For her, everyone is trustworthy until proven otherwise.
However, Alicia not too confident here in Japan because of her language skills; Japanese is her third language after Spanish and English, and she speaks all three with a Spanish accent. When she is angry or excited, she may lapse into Spanish for a few minutes, or not speak at all. She also has a habit of slipping in Spanish words to substitute for words she doesn't know.

Appearance: Alicia stands at 5'4". With her long, curly, black hair, green eyes, and light brown complexion, she is an exotic sight in the streets of Japan. Her hair is usually in a French braid or completely down, very rarely in any other style. Her eyes are large and almond shaped, with long dark eyelashes. She often wears the same clothes she would on her tropical island, which may be considered "revealing" at times here in Japan. Her favorite accessory is a silver charm bracelet with charms from different countries. Here's a pic (but use your imagination and make the hair black :P)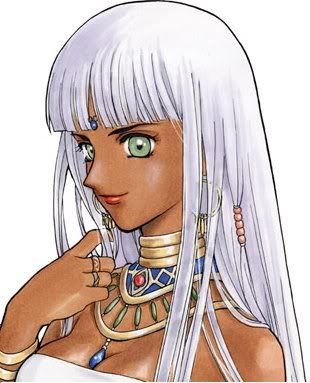 Character type: Human


Housing: Alicia lives in a large condo with a "cousin" whom she has known since she was a child. This cousin has been in Japan for a few years more than Alicia

Item list: At home: A large collection of book on different mythology and folklore, laptop computer, house phone, pictures from her travels, and her cousin's large orange tabby.

In her purse: cell phone, gum, electronic translator, map, pepper spray, book of poetry, and a few yen at all times


Biography: Born in the Dominican Republic to parents with affluent high government positions, but Alicia never was interested in politics. She is the 3rd of four childern with 2 older sisters and a younger brother. As a child she was trained to be a dancer, but those plans soon changed. Although raised in a religious household (and still practicing) she has always loved the mythology of other countries and the legends of her people. She has traveled to many countries and is now in Japan as a foreign exchange student at To-ho University majoring in mythology
One of the most traumatic experiences of Alicia's life happened when she was 16 and staying in New York. During an attempted coup, Alicia's parents were some of the hostages taken. They suffered beating and other mistreatments, but were eventually freed through nagotiations. As soon as initial shock wore away it was replaced by bitterness for her countrymen. From then he traveled as far away as she could, never staying the DR for more than a month. Even so, she misses it constantly despite her feelings of betrayal.

She does keep in touch with her family and haves them visit whenever they can. She is especially close with her dad because he is the one the introduced her two loves-dancing and history. She and her mother have a different relationship, though equally as strong. Because of their similarities (particularly in quick temperedness and stubborn nature) they often argue.

As for her opinions on Kira, Alicia thinks it's wrong for a mere mortal to judge other mortals and play with lives, but she would rarely say this out loud. However, the aspects of this case are fascinating to her since they are strikingly similar to mythological stories she has read.
Hosted for free by zIFBoards