Title: Coming of Age
Description: The Dancer Season 2 Episode 1 2.0
The Dancer - April 14, 2010 02:06 AM (GMT)
Coming of Age Version 2.0

The next season of The Dancer will begin eighteen months after the events of 'The End of It All Pt.1'.

In the past year-and-a-half, The Dancer has traveled the very edge of the Rim, doing jobs through the contract they won from Fanty & Mingo. Peace has dominated the time, and The Dancers have come to know a life without the threat of constant oblivion.

For crewmembers, please PM me with suggestions and plot ideas for your characters. How have they changed? How haven't they changed? If you have a relationship with another crew member, consider what the time progress means for them.

New crewmembers, I will be helping you establish 'connections' with the rest of the crew and begin to build possible flashback scenes.

This is an experiment, kids...lets have some fun.

(Preview Text will be replaced when the Season officially launches)

Time marches on...
The Dancer - April 14, 2010 02:16 PM (GMT)
You are all my children, my loves eternal.

Joined forever, we are incapable of existence apart, and a song that never ended plays still, calling us to return.

The time has come round at last, my beloved children.

The time has come to tell legends left unpenned.

The time has come to behold the faces of family.

The time has come to return home.

The time has come to dance.


The Dancers

Captain Gwyneth Paul

Synthia Lyndon Heller

Jax Malone

Imza Tsenko

Wentworth Reed

Marcus Deckard

Rollo McGuffin

The Accountant

Elizabeth Brannigan-Heller

'Round' Jack Brannigan


A detailed PM will be coming sometime soon to explain how things have changed and how things remain the same. If you have questions/concerns/desires for your character, please PM me or wait and respond to my PM. Former/current Dancers need to let me know very soon, if they want to dance again.

-Till the end of it all
Elizabeth Heller - April 16, 2010 02:48 PM (GMT)
(*The following is dedicated to my sister)
Head nestled against her knee, the young woman bent into the stretch, feeling the familiar release of tension along her hamstring. After several rounds of hold and release, she removed her right leg from her barre and replaced it with her left, repeating the stretching routine in perfect detail. As her mind wondered, she spared a thought of thanks for Imza and her wonderful job of welding her ballet bar to the back wall of The Dancer's cargo bay.
Thrust into twilight, the large freighter was illuminated only by the low level fluorescents used during the 'night' cycle of the great Grendel. S.S.T. (Standard Ship Time) hovered around one in the morning, but the young woman had foregone sleep, enjoying more the stillness that reigned in the evening hours. No one walked here-and-there on the business of the ship…no voices interrupted her private time.
Just The Dancer and Elizabeth Heller…mother and child.
With a smile, the twelve year old activated her Digital Symphony music player and dropped into second position just as the tune started, a lighthearted affair filled with flutes and violins. After a few high revolution pirouettes, she twisted the length of the Cargo Bay in rapid-fire chaines turns. Halfway through her impressive display, Elizabeth took flight in a perfect attitude leap. Her working leg extended in front of her slightly bent, while her support leg trailed behind in proper demi pointe position.
Outside among the stars, The Dancer mimicked its child's movements, weaving through the Black in an eternal dance. Happier than at any other time in her long existence, the Grendel returned its attention to the child born from her and growing in her…and she was
proud
.
Back in the cargo bay, the young woman floated, displaying a prowess well beyond her dozen years. On various worlds, her peers split their time among a number of pursuits: from playing sports, to academia, to finding true love, but sequestered as she was on a space freighter, Elizabeth spent her time honing the dance and basking in the glory of
family
. She thanked the universe everyday that fate had brought her to The Dancer, and she felt blessed as more and more of her memories from Persephone's streets left her mind…replaced by her loved ones.
Her mother, Synthia Heller, quite simply put, was Elizabeth's world entire. Her birth parents were unknown to her, but when her hair began to lighten, she thanked those strangers…thanked them for making her more like her
real
mom.
Her father, Round Jack Brannigan, though fighting a losing battle with Time still represented everything bright in her world. She spent at least an hour with him everyday, just talking and preparing food in the galley. Elizabeth didn't know it, but her time in Jack's galley would be some of the happiest memories of her life, and in the years to come when life's troubles darkened her soul, she would recall the galley of Round Jack Brannigan…and she would know peace.
Then there was Gwyneth Paul, The Dancer's captain and her sifu. Gwen had taught her everything about the dance, painstakingly mentoring her on every nuance of the art. For years their relationship had been very special because as much as Elizabeth needed the knowledge and companionship the Captain offered, the young woman knew that Gwen needed their relationship even more. Through Elizabeth, Gwen could live a life she thought long dead and be something she had thought impossible…a teacher.
She had her surrogate mother in The Incredible Imza Tsenko, the gypsy mechanic that possessed more than a bit of mockingbird. From her, Elizabeth had learned skills and lessons that would have shamed the curriculum of a New Oxford professor. A master of machines and men, it was at Imza's feet that Elizabeth discovered the world of mechanics and
procurement
. However, Imza taught her much, much more about life in general...more than any single mother ever could. The gypsy would help to shape her into what she would become…a hero.
Then there were her fathers: Jax Malone and The Count.
Like the women in her life, these men also provided her with priceless knowledge, but more than that, through their actions and character, they taught her about the mysteries of men. Because of The Count and Jax, Elizabeth knew concepts like honor and loyalty were real, and she also knew that any man that would ever seek her hand would have to measure up to the models of her two foster-fathers…a nearly Herculean task.
Finally, there was Wentworth Reed…she would've thought more on The Magic Man, but the heat from her blush threatened to distract her too much.
When her slippered feet returned to the decking after her latest leap, the music from her Digital Symphony shifted in style and tone.
As the last notes of the flute vanished, a modern beat filled the space…a
cover
an ancient Earth-that-Was song performed now by the band, D.I.Y.A. (Died In Your Arms). The colorful t-shirt she wore depicted the band's latest tour dates on the back, and the front held the image of a twenty-something male with absurdly high hair and the bluest eyes, crooning in a frozen pose of tween-age worship.
Hugging the shirt to herself, Elizabeth spun into a new dance…one of new beginnings and passion…the undisputed domain of the adolescent female.
In perfect unison with D.I.Y.A.'s frontman, Adam LeBon, Elizabeth sang each syllable with all her heart, but not once did she stop the twirl of the dance.
"Slow…slow…quick, quick…slow

Slow…slow…quick, quick…slow"
With a dramatic flash identical to Adam's, she brought her
microphone
down to her lips,
"Countdown it's getting near the flight time
Night stars are shining in my eyes

My mind says I'm gonna be the first one
To dance the bebop in the sky"
In a perfect imitation of D.I.Y.A.'s backup dancers, the future captain kicked her leg over her head, sidestepped, and shimmied her shoulders…a sequence she repeated several times throughout the chorus.
"Dancing in heaven I never thought I'd ever get my feet this far
(orbital be-bop)

Dancing in heaven I never thought I'd ever get my feet this far
(orbital be-bop)

Kick it out!

Slow…slow…quick, quick…slow"
Arms over her head, legs pumping against the grating of the deck, and hair flying free of her ponytail, Elizabeth gave herself to the dance, the song, and the pouty lips of Adam LeBon,
"I'll be the first to bossa nova
Ten thousand miles above Shinon

Boogie my way beyond the radar
I'll bring the jive to outer space

Dancing in heaven I never thought I'd ever get my feet this far
(orbital be-bop)

Dancing in heaven I never thought I'd ever get my feet this far
(orbital be-bop)"
Acting out each line with exaggerated arm movements and middle-school theatre quality expressions, Adam LeBon's song took on a new life, as seen through the eyes of Elizabeth Heller.
She pointed to herself,
"Hey, here I am!"
Using her other hand she cupped her ear,
"I hear the universe sing
The celestial Swing"
She spread her arms wide, as if to include an invisible entourage,
"I…I'm not alone!

Are you receiving me clear?
There's others out here."
Her hair whipped around her, as she dipped, twisted, and spun.
"Dancing in heaven I never thought I'd ever get my feet this far
(orbital be-bop)

Dancing in heaven I never thought I'd ever get my feet this far
(orbital be-bop)"
Throughout the song, Elizabeth dreamed of dancing with D.I.Y.A.'s Adam LeBon; perhaps at a grand ball on Londinium. He would hold her hand and introduce her as his girlfriend to everyone they met…and he'd smell nice, like The Count. Their captures would be all over the Cortex, and the whole 'Verse would envy her. When the ball was over, Adam would bring her home and ask to give her a goodnight kiss…very polite, like Mr. Jax.
She would say 'yes', of course, and he would close his eyes and lean toward her.
In the cargo bay, Elizabeth stopped dancing, and instead gave herself to the fantasy, going so far as to close her eyes and stand on her tippy-toes…presumably to reach the lips of the much taller Adam LeBon.
Just before their lips touched, Adam's eyes opened, but instead of his deep blue gaze…two orbs of limitless color flashed in a hectic kaleidoscope.
Elizabeth smiled and whispered,
"Selkie."
Suddenly the song ended, and Elizabeth's daydream faded. However, with her return to the
real
world of The Dancer, she became aware that she had an audience, a lone silhouette stood in the lower doorway…and she had no idea how long he'd been there…how long
Wentworth Reed
had been there. Inhaling deeply, Elizabeth's mortified mind became a demolition derby of embarrassment and horror, and she did the only thing she could.
She screamed; high pitched and filled with angst. It was a scream of finality…because how could anyone expect her to continuing living on The Dancer after this humiliation?
With Elizabeth's shriek came something quite unexpected. Wentworth Reed taken completely by surprise joined in the festivities and cast forth his own yell.
And there aboard the greatest Grendel to ever sail the inky Black, Elizabeth Heller and Wentworth Reed shared a moment neither would ever forget, and, in so doing, heralded the next chapter of The Dancer's legend.
Welcome to The Dancer Season Two!
<<Went GM'd with oath's permission>>
<<Dancing in Heaven (orbital be-bop) by Q Feel...greatest 80s song ever>>
<<Hold for General Posting>>
Mild Bill - April 16, 2010 06:44 PM (GMT)
Jiangyin - the town of Elysium


A bit longer in the tooth than your typical boom-town but still a toddler to the cities of the Border worlds, Elysium met each afternoon with a high chin and an attitude of inclusion. Jiangyin might be seen as a backwater Rim moon, filled with bumpkins, mud farmers, and weathered ranchers, but each of those that split her soil or drove herds over her plains knew the planet for what it really was…Heaven.

The townsfolk favored outerwear with a brownish hue and along the outer ellipsis of the Georgia System, they seldom, if ever, had to have a political debate with a neighbor that leaned toward Unification. They weren't looking for a fight or waiting for the first shot of another war, mind you, but they weren't quite ready to suffer the edicts and impulses of the Core either. Elysium, like many other Rim towns, would see its attitude dulled by the passage of time, as generations decided that the beliefs of the past were too hard to maintain.

But the future wasn't there yet.

Elysium was the Rim. Good folk were the majority; hardworking men and women that wanted their children to have more than they did, but light could not exist without darkness. Evil claimed some of Jiangyin's dirt, and those sinners needed a home just as sure as the saints.

Welcome to Elysium.


-------------



Golden light from fable's excesses illuminated the town of Elysium, lending considerable credence to its choice of moniker. There on that patch of God kissed earth, just one street of wooden storefronts marked the only hint of civilization for near 200 kilometers. Men, women and children hustled along this solitary thoroughfare conducting the affairs of hardworking families. The General Store saw the most business, as people shopped for staples and luxuries alike. The near constant dry heat of Elysium meant that those that traded in cool drinks and ice planets saw a lucrative business the entire solar year, and since only The General Store and The Well offered refreshments of those types, they alone reaped the benefits of the climate.

The rest of Elysium consisted of The Grand Hotel, named by a rather ambitious proprietor, Sheriff Sayah's jail, the Tack and Feed store, the Bank of Jiangyin, Smith's Repair Shop, and the steepled church of St. Augustine's. Straightforward and honest, the shops, along with the townsfolk, were what they appeared to be; utilitarian buildings for utilitarian people.

All save The Well, Elysium's only saloon, and her owner/operator, Mild Bill.

While the townsfolk of Elysium concluded their day with the setting of the sun, Mild Bill was just starting his. The Well wouldn't get filled until later, when the supper crowd and the drinkers descended on the town's only bastion for entertainment. Until then, he had a chance to indulge himself with his only real vice, music. Accompanied by his childhood friends, Bryan and Jason, Mild Bill, wearing only a pair of shorts and a plastic flower lei, joined his guitar wielding brothers with his bongo drums and his voice.

With impeccable harmony, The Buckets played for the currently empty bar, but their song escaped through the open front doors of The Well and found the ears of many of the townsfolk.

As the boys plucked their strings and Bill patted his drums, they built toward the next stage of their tune.

Bill's voice began quickly accompanied by Bryan and Jason,
"Chestnut brown canary…"

"Ruby throated sparrow
Sing the song, don't be long
Fill me to the marrow."

Falling into the song the three bobbed their heads and tapped their toes to the beat. Bill's curly mane draped over his eyes until he snapped his head up and sang,

"Voices of the angels…"

Ring around the moonlight
Asking me, said she so free
How can you catch the sparrow?"

Back into the bones of the song, the band explored the harmony of their lives with each beat and strum.

"Lacy, lilting, leery…"

"Losing love, lamenting
Change my life, make it right
Be my lady."

Leaving the bongos, Bill tucked two maracas into his waist band and moved between his two seated brothers. Clapping his hands together twice to start the harmony, their three voices became one,

"Do Do Do Do Do…DO, do do,do,do,do
Do Do Do Do Do…DO, DO do,do!"

Repeating the run several times, Bill accompanied them with his maracas until he could take it no longer and broke off on his own, while his brothers continued the cadence,

"Que linda me la traiga Cuba,
La reina de la Mar Caribe.
Cielo sol no tiene sangre allí,
y que triste que no puedo vaya,
Oh va, oh va, va!"

"BILL!"
The shout broke the magic of the music and the three players stood in shock as the rhythm vanished into the ether. Finally Mild Bill turned to address the leader of the five men that stood in the center of The Well,

"Sorry 'bout that, Mr. Milton, we don't get many customers till later…leads us to getting' carried away a touch," Bill's accompanying smile was not reciprocated by the huge man.

"Where's Pat Meeks?", Milton asked bluntly.

Not flinching an inch, Bill looked around at the empty bar and shrugged his shoulders,
"How the Hell should I know, John?"

Milton's eyes flashed a chilling blue,
"Watch your mouth, Bill…we didn't come into this piss stain for lip from the likes of you."

Forcibly calming himself, Milton continued,
"Word around town is that he's got his family hold up in one of your rooms."

Tucking his maracas back into his waistband, Bill jumped from the stage to the wooden floor of the saloon and matched the strength in Milton's gaze with his own,
"You've been hearin' bad words, John, cause Pat ain't here."

"You bring him out here right now," the larger man's hand drew back his fine duster to reveal the pearl handle of a pistol peeking from an engraved leather holster.

Bill's eyes never left Milton's,
"Why would I lie, John?"

The men stood staring at one another, as Jiangyin's sun finally set outside.

"You won't mind if we check in back then?"

"I'd respect you more if you didn't."

Bryan, a massive man in his own right stood up on the stage and pulled on his weathered Stetson,
"You want I should get Sheriff Sayah, Bill?"

Milton and his men starting laughing, but regained their composure quickly,
"I like you, Bill…I have no idea why though. If you happen to see Mr. Meeks, tell him we came calling."

Mild Bill nodded,
"Now that I can do," moving toward the bar, he continued, "Let me get you and your boys a drink, John."

Milton wore what might loosely be defined as a smile,
"Thank you, but no…God only knows what we would catch."

The pack of men laughed as they quit The Well.

Bryan moved beside Bill,
"I hate that rutt-wad."

Bill shrugged,
"I won't give him the pleasure of hatin' him, bro…in fact, I ain't gonna think about him at all…especially for tonight."

Bryan and Jason both smiled and nodded.

Bill continued,
"Nope, boys, we ain't got time to hate or mope or flirt with melancholy cause The Dancer'll be here in a few hours."

Spinning toward the kitchen, he yelled,
"Consuela, did Mark bring by the packages I wanted?"

A comely middle-aged woman emerged from the noisy kitchen, wiping flour on her apron,
"Si, William, I had him put everything in your office."

With a hoot of joy, Bill leapt over to Consuela and started dancing,
"And you have the menu I gave you?"

The woman laughed as the bar owner dipped her low,
"Si, William, I'm cooking everything you wanted."

Bill's nose rested just in front of hers and his brilliant white grin filled the woman's world,
"Alright, alright, alright."

Rubbing her nose with his, Bill spun her back up, draped his arm over her shoulders and turned to his two friends,
"I got word that the Twins are sendin' us two more for this little soiree…should get here before The Dancer, so keep an eye out. Send someone to check on the dandy too. I'm sure he's got some kind of gripe…Hell's Bells I'll be glad when that one's splittin' sky. Let the regulars know that Jack and The Count will be lookin' for a card game and let Mary Ellen know that the new doc just got here…best to get that baby in her belly looked at by a real medical type as often as she can. Now, lets clean up the guest rooms and bathroom for the crew. I want everything pretty as a capture."

"You got it, boss," grinned Bryan.

Jason and Consuela simply nodded.

However, Bill's face fell and his grin faded. With a glance at the front doors, he whispered,
"Tell Pat to stay put…tell him help's comin'…comin' soon."




<<Mr. Milton played by Daniel Craig
Bryan played by Toby Keith
Jason played by Keith Urban
Counseula played by Rita Moreno
Song by Crosby, Stills and Nash>>

<<The character of Mild Bill is dedicated to my friend Mike Fezzie, my brother, Glenn, and Andy Hallett>>

Zachariah - April 16, 2010 06:47 PM (GMT)
Jiangyin - a farm outside the town of Elysium
"ZACHARIAH!!! ZACHARIAH, YOU GET BACK HERE THIS INSTANT!!!"
Hightailing it to his farm's outbuilding, the boy politely ignored his mother's orders and ran like the devil himself was in pursuit. Waving his hand above his head as he sprinted, he yelled back,
"No time for supper, Momma…they's a comin'!! The Dancer'll be breakin' atmo any second!!"
Short for his age and cursed with a 'baby face', Zachariah appeared much younger than his thirteen years, but he worked as hard as his body would allow and kept a demeanor more befitting a man of responsible than a boy of whimsy. His dirty blond hair was kept short so as not to create a bother, and his typical dress consisted almost entirely of cotton t-shirts and denim. In appearance, Zach was just a typical farmboy, but as was the case with heroes, appearances tended to deceive.
His mother's continued shouts fell away, when he darted into the gloom of the barn.
A stranger would have required some manner of illumination to navigate the packed building, but Zachariah knew every centimeter of the space and slipped through the darkness to the rear of the structure. This was his real home…the one place in the whole 'Verse where he knew exactly who he was. Every man finds a space that he occupies as his and his entirely. It becomes his sancta sanctorum, where the world's responsibilities take seat behind the toils of hobby. There in the back of the barn, Zachariah Cooper, had established a workshop…a workshop with one purpose and one purpose alone.
The resurrection of Aslan.
Lighting a gas lamp, the thirteen-year-old smiled a lopsided grin and regarded the shrouded object revealed by the glow. With not a moment to spare, he slipped out of his workshirt and pulled on the weathered footballer's pads that hung from a nearby hook. Strapping them into place, he then donned a large fur lined leather jacket, similar in design to the old fighter aces of the ETW. Leather goggles, leather gloves, and an old Independent military helmet followed the jacket until Zachariah stood ready…a pilot in name if not in deed.
But that would all change tonight.
Leather wrapped fingers grasped the dirty sheet covering the object and pulled, bringing Zachariah's prized possession into the orange glow of the gas lamp.
Aslan, the golden rocket bike, greeted its pilot with a gleam of confidence. As it always did, the sight caught Zach's breath and moistened his eye.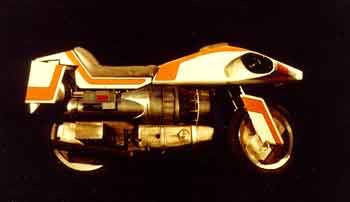 The bike had been left on Jiangyin by its former owner, Zach's brother, Ike. Ike had left for a life in the Black, and because Aslan no longer flew, it wasn't worth the cost of transport…so he had given it to Zachariah. Aslan could still hover close to the planet and maintain a quickness, but his ability to ascend into the clouds had been lost some time ago. For years Zach had been reading everything he could on the Cortex in an attempt to repair the flight controls of the bike, and he believed he had finally succeeded…just in time for The Dancer's arrival.
Yes, he would meet them in the air, and Lizzie would finally see more than a farmboy…she would see him as a man.
Moments later, Aslan's cold bulk rested between his legs, waiting for the kick-start that would give him life. Pulling down his goggles, Zachariah blessed himself with the sign of the cross and kissed the embroidered crucifix on the sleeve of his leather jacket. Then, he illuminated Aslan's display panel and triggered the head light halogen.
His shaking fingers patted the bike's body and he whispered,
"To the skies, Brave Aslan."
Send me on my way
Standing in the seat, he closed his eyes and stepped down on the starter…
Send me on my way
Aslan roared to life.
Send me on my way
Zacharaiah strapped himself in and swung the bike toward the open barn doors.
Send me on my way
Beneath his leather goggles, the farmboy's white smile split the night.
Send me on my way
Brave Aslan exploded from the Cooper Barn, with his valiant rider, Zachariah yelling into the new night,
"YEEEEEEEEEEEEEE HAAAAAAAAAAAAAAAAAWWWWW!!!"
Autumn Cooper watched from the porch as her boy sped off, and she kissed the cross around her neck, offering a prayer to her departed husband,
"Oak, you watch over that boy."
Send me on my way
Maneuvering over the rolling fields, Aslan began picking up speed…speed needed for his jump into the sky. The warm wind whipping around him, Zach kept one eye on the readouts behind the handle bars and the other on the sky overhead…somehow hoping to catch sight of the descending Grendel.
Everything stayed in the green…just another couple hundred meters.
I would like to reach out my hand
I may see you, I may tell you to run
You know what they say about the young
The boy and his steed blistered over the plains grass, leaving a transitory canyon of dust and straw in their wake. He could see it now…he would escort The Dancer to Elysium, and Lizzie would be watching him from the bridge. She'd wave to him, and he would wave back, giving her a thumbs up…or something equally swai.
Tears threatened to blur Zachariah's vision. Aslan was going to fly!
Well, pick me up with golden hand
I may see you, I may tell you to run
You know what they say about the young
"Engagin' sky drive in ten seconds, Aslan!"
, Zachariah shouted.
The Cycle roared and the panel stayed green…this was it!!!
"Ten…nine…eight…we've reached launch speed!...seven…six…,"
the bike started to hum underneath him eager to reclaim the skies.
Sensing his mount's desire, Zachariah, his tears now streaming from his eyes, nodded in agreement,
"Five…four…mega-thrusters are go!...three…two…To the skies, Brave Aslan!!!...ONE!!!"
I would like to hold my little hand
How we run, we will, how we will crawl we will
Send me on my way
<<Music by Rusted Root>>
<<Autumn Cooper played by Stevie Nicks>>
Autumn Cooper - April 16, 2010 06:50 PM (GMT)
Jiangyin - the Cooper farm outside the town of Elysium

Seeing her youngest son rocket into the night sent a shiver of dread down the widow's spine…a gnawing concern that he would meet the same fate of his father and fall prey to some fatal accident. But it was the feeling below the fear for her child that drew her attention and made her physically sick at its very existence.

Concern…concern for herself.

One by one, all of Autumn's men had left her. First, Oak had died in the mine explosion, and Dade, blaming himself, had left for the Stars. Ike had gone to war, and the conflict had greedily accepted his young life…like it had so many other sons' and daughters'. She knew it was only a matter of time before, her little rock, Zachariah, left Elysium in search of his own path…a path that didn't include his mother…a path where she could not protect him from the evils of the 'Verse.

It wasn't that she selfishly sought a caretaker; no, she feared the loneliness. Nights spent alone, when the comforting sounds of the farm would morph into the creeping of killers and the hunting of beasts. A single mother wasn't supposed to have fear, not for herself anyway, but though she hid it well, Autumn recognized that she was all too human…and even Mommies screamed at nightmares.

But Zachariah had been right about one thing, The Dancer was indeed coming, and with it came her only true friends. Her long sleeved black dress caught the wind and billowed around her, encouraging her to take the first step toward Elysium and a night filled with the company of loved ones. At the thought, her beautiful face broke into a sigh and with a mighty effort, Autumn slid her forearms into the cuffs of her canes and moved at her best possible speed to the old hover-carriage that would carry her to town.


<<GENERAL POSTING will begin with the next post!>>
Elizabeth Heller - April 17, 2010 08:56 AM (GMT)
They say all legends worth the remembering begin with a 'bang'; loosely described as a triggering event that sets a new course for the beings involved in the tale in question. Presumably everything that occurred before the proverbial 'bang' was not of merit, and everything after demanded notice. However, certain tales needed no grand event to begin…they simply arrived.
But a big damn bang never hurt.
With a massive sonic-boom, The Dancer entered the warm hug of Jiangyin's atmo and rocketed through the day time sky of the Rim planet.
It's in the rhythm of The Dancer
In every standard flag unfurled
It's in the bride's eternal answer
And every child across the worlds
For a few moments, The Dancer's pilot, Captain Gwyneth Paul, allowed the large Grendel room to slice through the air, gliding with the warm breeze so absent in the cold oceans of the Black. On the Bridge, sunlight bled along the beautiful woman's face just as it did the ship she steered, and a relaxed chaos surrounded both, even as the boat plummeted through the atmo.
Heart and Soul
Heart and Soul
It's in the rhythm of The Dancer
The massive Grendel rolled lazily, as she crossed the horizon and entered the Jiangyin night. Graceful as her namesake, The Dancer shamed her backdrop of stars…and stole the spotlight of the sky's stage.
In all the words that's ever sung
Sweetly from the honest tongue
With music there to melt the snow
Rising from the fiddle bow
Captain and craft melted into one being…a pair of lovers envied by everyone on the world below. The expanse of the great sky became their floor, and together the two spun and twirled, reminding any witness that pure love, once found, never really died…no matter how cold the Black seemed. When the thrusters finally fired, it seemed almost an afterthought…a necessary conclusion to the joy the two were sharing.
Heart and Soul
Heart and Soul
It's in the rhythm of The Dancer
The Dancer's descent fulfilled every nuance of the definition of 'normal'; no bumps or mechanical glitches, no weather events or flock of errant birds, not even a farm boy on a golden rocket-bike. For ship and captain, nothing out-of-the-ordinary occurred.
In the Co-pilot seat, Elizabeth Heller, The Dancer's youngest child, watched in fascination as Gwen brought the big craft in for a landing. Even though the Captain was not as fluid or effortless as Jax, the young woman's sharp mind recorded the various sequences and segments of the process, determined to replay them over and over in her mind until she could 'see' them like one of Gwen's dance lessons.
From their seats the two Captains, one present the other future, felt the love of the ship surrounding them. The Dancer was theirs, and they were hers; no priest or shepherd on any world could have created a stronger union.
Glancing over, Gwen nodded, giving Elizabeth the go-ahead to begin her role in their arrival.
Flipping open the wave channel to Elysium, the young woman gave herself license to use her 'mother-voice', a manner of speech eerily similar in cadence and carriage to one Synthia Lyndon Heller,
"Elysium, this is The Dancer requesting permission to land."
A second later a cheery reply erupted in her headphones,
"You know you don't have to ask, little one, just get your tails down here. Bryan is waiting in the south field to help you unload."
Elizabeth's face scrunched up at the last, prompting her to continue,
"Bryan? Counseula, where's Zachariah?"
"Off doing whatever it is that teenage boys do. When it got late, Bill was more than a little put-out that his best hand hadn't shown up for work, but like I told him, Zach's always been his hardest worker. If anyone deserves some slack, it's that one."
Elizabeth nodded, though she knew the woman couldn't see her,
"Thanks, Counseula…we'll see you soon."
"Come straight to the Well, little one…we have a surprise for you."
"You didn't have to…"
, Elizabeth stopped and smiled, when she realized the wave had been terminated from the ground.
Seconds later, Gwen brought the great ship down into the open field south of Elysium, with only a light 'bump' marking her arrival on the planet.
Gwen grabbed the comm and once again her odd mixture of Rim-dipped Slavic filled The Dancer,
"Passengers and crew, please meet me in the cargo bay before lightin' off for town. It won't take but a short span…cause even I ain't fool enough to get between you all and a little 'land time'."
Elizabeth kept her eyes from rolling in her head and instead turned to the captain,
"Thanks again, Sifu. It…it means a lot to me to watch you fly."
Elizabeth pulled her long dirty-blond hair back into a ponytail and winked,
"Wanna race to the Well?"
Welcome to Season Two of The Dancer!!!
<<Zach is the young boy that works as a laborer for Mild Bill (see earlier post)>>
<<Bryan and Counseula work at the Well for Mild Bill>>
<<Mild Bill helps broker jobs for The Dancer and is a great friend of the ship and her crew>>
<<For her latest job, The Dancer is carrying a dozen horses and two families to Elysium>>
<<lyrics by Wolstone, Heart and Soul, The Dancer's theme>>
Imza - April 19, 2010 03:34 AM (GMT)
Imza Tsenko, gypsy in spirit, Dancer in soul, finalized the engine shutdown sequence with loving motions, gently settling her baby in for a dirtside nap. Giving the still hot metal a final pat, she turned away from the engine and towards her living area. Technically, she still had a bunk in the passenger quarters, but since Preston had gone, she had found more comfort in the heartbeat of the great ship. A small cot graced one wall, above it hung a small mirror, and a small shelf welded in held what possessions she kept there.

Splashing a bucket of water directly from the processors, she sluiced the cold water over her face and wiped away the grime of the day. She could get a real bath tonight in town, hopefully a hot one. Hopefully one... not alone.

"Passengers and crew, please meet me in the cargo bay before lightin' off for town. It won't take but a short span…cause even I ain't fool enough to get between you all and a little 'land time'."

The Captain's call quickened her heartbeat, and her movements.

Yanking out a weeks worth of tiny hard braids Imza doused her whole head, springing up to shake like a wild untrimmed poodle. Her dark curls sprang back to natural life and framed her wide eyes. A quick glance took in a face that she mostly still recognized, if it seemed a little harder and more lean. Without the constant demands of performance, she no longer trained as hard as she once did, only barely keeping up with the dynamic demands of the younger, more energetic Elizabeth. A few minor injuries here and there; a twisted ankle, a sprained wrist; had tamed the gypsy performers headlong dive into life, but had by no means slowed it.

For a long moment she stared into her own eyes, trying to hear the feelings that roiled and bubbled, like a pudding left too long on the fire. Ten parts anticipation to three parts frustation, with no small amount of fear... What if he'd already met someone else? What if he'd changed his mind? What if...

And what if she just went into town and saw Consuela and Autumn and Bill and the whole gang? What if she drank too much wine, and danced all night with Jason and Bryan and a dozen other cowboys looking to touch The Dancer in person? And if he was there, and if she saw him...

And if he saw her...

Shaking her head until her still-wet curls sproinged splashes that steamed when they hit still-hot metal, she allowed only the anticipation to surface, forcing the rest all down to the darkness. Struggling into purple balloon pants, Imza laced on a yellow peasant blouse and tugged on matching yellow suede boots. Buckling her everpresent toolbelt back on, Imza glanced at her reflection in the little mirror.

And grinned!

Grabbing up a couple little parts that she needed to run by Smith's Repair to see if she could borrow their precision lathe, (or sweet-talk Smith into doing it for her) she tucked them into her toolbelt and ran up the corridor.

The diminutive gypsy did her customary cartwheel into the galley, springing lightly to land on her toes beside the table, calling cheerfully, "Jack! Oh, Brave Knight Jack! This fair maid seeks a champion! Wilt thou cast off thy apron and escort me to yon village?"
Round Jack Brannigan - April 20, 2010 08:00 PM (GMT)
Five hundred and forty-five days ago, he had died.
A man had shot him, and he had died…simple really, and more normal than the civilized Alliance would have its citizenry believe.
But love and memories are strange bedfellows. They comfort in times of sadness, strengthen in times of weakness, but on occasion they serve their own interests. He had felt peace in his passing but the memories of the children he left behind and the love he held for them reminded his stilled heart that he had a job yet to do…a job only he could do.
Round Jack Brannigan had found determination beyond a simple stubbornness to live; he had drawn from the limitless oceans of his girls and reached a treaty with the Reaper…what else was a father to do?
And so he had come back.
Back to the Love.
Back to the Memories.
Back to his family.
Back to The Dancer.
****
The Galley - The Realm of Round Jack Brannigan
Although by its very definition The Dancer's Galley was a place of preparation, it was decidedly not a place to prepare oneself. Jack, his substantial bulk growing by the day, tried his best to negotiate the space without staining his outfit with the errant ingredients of his craft.
Dressed in his best black boots, tailored black pants with red trim, white button down shirt and red paisley vest, the old giant seemed the very soul of the frontier patriarch. His gunbelt was absent, as it had been for nearly a year, but its exclusion did little to lessen the
potential
of the massive man. He still seemed a creature of two worlds: one captured in the sheer joy of his smile and booming laugh and the other the being beneath the surface…the one that laughed at monsters. Fathers needed to be many things, but none had ever been
everything
…still, it hadn't stopped Jack from trying.
Knowing that the crew would likely be eating in Elysium while on the ground, Jack had busied himself with the preparation of muffins, stew and other off-meal snacks, so any Dancer could find a full belly despite the absence of a formal table. These things were set in familiar places where each and every one of his children could find a treat from their father should their stomachs rumble.
At that moment, Imza, soon to be his smallest daughter, if nature didn't halt Elizabeth's growth, flashed into the Galley with her typical carnival flair,
"Jack! Oh, Brave Knight Jack! This fair maid seeks a champion! Wilt thou cast off thy apron and escort me to yon village?"
Jack smiled and laughed, but his nerves still floated across his features. Nerves that had been growing with each mile The Dancer ran toward Elysium…nerves that had found him wearing fine clothes in his Galley…nerves that had him thinking of a certain farm woman more than he dared to admit.
Trying his best to put on a brave bearded face, he bowed to Imza,
"Would be an honor to lend an arm to a beauty such as yourself! They wouldn't dare s…stop…"
Jack's façade failed, as he looked at Imza. He had never been able to lie convincingly to his girls, and he wasn't about to begin now. Squaring his broad shoulders to the tiny woman, he placed his right hand on his belly and used his left to smooth the fabric around his pant's pocket. Failing in an attempt to draw in his stomach, the giant instead puffed out his massive chest, and with the voice of a school child, he asked his daughter for the honest answer he knew she would give him,
"How…how do I look?"
Synthia Lyndon Heller - April 20, 2010 10:22 PM (GMT)
"Is this recording?"

"Sure, it's on . . .I can see the little light there. Move on back here now, you're fillin up the screen!"

I took my love and I took it down.

The images flickered across the cor-pad screen; images recorded in the same room long before. Recorded on a bunk that had long since exploded, of a girl no longer quite such a child.

I climbed a mountain and I turned around.

"Good evenin' . . .I'm Synthia Lyndon Heller with Blue Sun News, bringin' you all the news type stuff the Alliance is gonna let you know . . . Now, we're here with Elizabeth Brannigan, who has been put in charge of takin' a very important secret package to a very rich man who lives in a floatin' house on Bellerophon. Now, Elizabeth, what do you suppose is so important in that package to a man lives in a flyin' house?"

*giggling* "I's don't know, it's secret!"

And I saw my reflection in the snow covered hills, 'til the landslide brought me down.

When you're Elizabeth's age, time is taking dynamite to your landscape. The work of a year or two blows the past away. Top thirty, and time works like a trickling stream. A year or two slip by, and there's no real difference to notice.

"You heard it here first, folks, the secret package is a secret. But if you were to take a guess on that secret, what do you think is in that package? People watchin' the news want to know that secret, so's they forget about all the bigger secrets we ain't gonna be tellin' 'em."

*giggle* . . . It's a radio that talks to ghosts."

Oh, mirror in the sky, what is love? Can the child within my heart rise above?

It's only when those years start adding up that you find yourself asking "Where did that river come from? Didn't I used to splash across that and barely get my pants cuff wet? How did it get so deep and wide?"

Can I sail through the changing ocean tides? Can I handle the seasons of my life?

She was pretty sure Jax couldn't see any real difference between the Synthia that stood in front of the mirror now and the one he first laid eyes on. Maybe Gwen could detect the passing of time if she stopped and thought about it some. But she could look back and remember when she was where Elizabeth was now. She knew how much that river had widened.

"I can't wade it anymore, but I can still swim it." you think. Until the day comes when you find yourself wondering just when the currents got so fast, when the water got so cold. You look back at your younger self, playing on the far bank and wonder how she ever got so far away.

"Well, this reporter thinks that makes sense. Rich men usually have a lot of ghosts to be talkin' to."

*giggle* That man was crazy! *giggle*

"You heard it here first folks . . . talkin' to ghosts is crazy! This rich man on Bellerophon is obviously playin' a few cards short of a full deck! But, now . . . it's time for a word from our one and only Blue Sun Sponsor . . .Sponsorin' the news, that is, not the Alliance. That's one 'a those secrets you don't get to hear tonight. So run to your cupboards and enjoy . . ."

Well I've been afraid of changing 'cause I've built my life around you.

Synthia switched off the cor-pad. Good Lord, the Blue Sun commercial? If there weren't so many memories riding on it . . . when did they ever think to do something that ridiculous? And those pillows? Impossible to imagine today's Elizabeth sitting still for something so childish and undignified. Did she even laugh that way anymore? Sure, she laughed, but like that?

But time makes you bolder, children get older, I'm getting older too.

She had her gunbelt buckled on, not because she thought she'd need it, any more than she needed it any time she'd worn it going on a couple years, but because the day might come again, and it likely wouldn't do her the courtesy of sending a wave to announce it's arrival.

It didn't feel heavy, even though it was, because it was a weight she was used to. But the day would come when it would start to feel heavy. A day when time would paint grey into her platinum hair and start hanging lead weights on her limbs and taking sandpaper to her joints. If a bullet or a blade or a blast in The Black never caught up with her, she'd grow old. Day would come, she'd be old, and Elizabeth would be where she was now. Maybe there would be a young girl looking up to her, and she'd be gazing off across that wide river with her eyes asking "Is this what it was like for you?"

Lord knows she asked her mother's memory that often enough.

Before she left, she went to pick up what she had actually come in for. The case was roughly triangular, sewn from heavy sheepskin, the fleece to the inside, with a long zipper along the side and a leather handle and shoulder strap. inside was the solid body guitar she had carved out of wood from an old fireplace mantel that had been salvaged from a house that had burned badly enough that the intact parts were torn down. It was a 4 stringed fretless instrument, like the cigar box guitars of the early ETW folk and blues players, with a fingerboard made from a strip of carbon fiber that served some purpose in an engine before being replaced, and a hand wound magnetic pickup housed in an old, decorated metal candy tin, all constructed and wired up by Imza as a spare time project. the blonde finished wood was already marked by the scratches of playing, steel fingers being rough on wooden surfaces. She had played as a girl, and had an acoustic instrument on board already, but the quieter pace had given her more freedom to pick it back up and experiment a bit. A pocket inside the case held a cord, picks and a bottleneck slide. The small amplifier Imza had built from various components into an old wooden crate came along with it.

With the case slung over her shoulder and the speaker mounted crate carried by its leather strap handle, she headed for the cargo bay past the galley. Hardly a direct route, but it wasn't as though there was any hurry. She could hear Imza's voice from just down the hallway.

"Jack! Oh, Brave Knight Jack! This fair maid seeks a champion! Wilt thou cast off thy apron and escort me to yon village?"

Well I've been afraid of changing 'cause I've built my life around you. But time makes you bolder, children get older, I'm getting older too.

She had never seen her own father grow old, although, like all adults to a child, he had seemed plenty old back when childhood years seemed to creep along like decades, freighted down with all the changes they had to carry. Thirty seems way up on a mountain until you reach it and discover it's nothing but a foothill to the snowy peak ahead.

So take my love, take it down. Oh, climb a mountain and turn around. If you see my reflection in the snow covered hills, well the landslide will bring you down . . .

Jack was old, older than when she had first met him, and heavier too, but was he really old yet? Sure, he must've been stronger once, faster, fitter. But he wasn't done yet. He still had it where it counted. Getting older comes with life. Years get heaped on no matter how you live, bodies change; but growing old is optional. Stay young inside, and people will see it, even if the outside is old, fat and grey.

Some day, when she reached that age, she really couldn't wish for much better. That, and family by her side.

And if you see my reflection in the snow covered hills . . .

She set the wooden crate amplifier down by the galley door.

"Y'all about ready to head on out?" she asked, smiling.

Well the landslide will bring it down.

Oh, oh the landslide will bring it down.



Landslide lyrics by Stevie Nicks. GM of past actions permission given by Ertia. The cor-pad recording in question is actually on Synthia's cor-pad, if you look for it in the old Dancer Season 1 stuff.
Harper Lee Thomas - April 21, 2010 12:27 AM (GMT)
The Well: Elysium
A charade…the whole rutting thing, a charade.
Though not intoxicated, Harper's head rested on the bar of The Well and her finger traced the moisture collecting along the outside of her beer mug. Beneath the chatter of the pub's crowd and the music meandering from the place's speakers, she could hear the faint pop of gunfire, the crackle of burning buildings…and bodies, the pleading shrieks of the overrun, and the last breaths of friends; the white noise that haunted the thoughts of every veteran soldier.
Another frosted beer mug appeared in front of her face followed by a spotless shot glass. Harper's brown eyes rolled upward but her head maintained its spot of leisure against the treated wood of the bar. Mild Bill, shirtless and wearing three multicolored leis, smiled down at the gunwoman,
"Whiskey?"
"Sure,"
she smiled back.
The barman nodded toward a man sitting at a corner table where he appeared lost in thought,
"What's his story?"
Finally lifting her head, Harper glanced over her shoulder, and her eyes softened as she beheld the tortured form of her current partner. Pain didn't have an official place in the spectrum, but it muted the hues of every rainbow with its honorary status of faded loss. The man in the corner seemed draped in it…maybe even born of it, but more importantly, he appeared at home with the Pain.
"You'd have to ask him,"
she turned back to Bill and gave him her too wide grin of false mirth.
"So what's your story?"
Harper watched as he filled the shot glass with the amber fire of his house whiskey,
"What are you some kind of reporter?"
"Sort of. I'm a musician,"
Bill returned the shot glass to its spot in front of Harper.
"Fanti and Mingo feel comfortable with a musician as a broker?"
she snorted.
"Of course,"
he gave her a mysterious grin.
Bill poured himself a shot and raised his glass to Harper. She responded by lifting her own and touching his glass with a clink,
"You must be one hell of a broker."
Bill shook his head,
"Nope…I'm one hell of a musician."
An honest smile lifted the corners of her mouth and with a nod of respect she downed the shot.
Silence reigned between them for a few moments, and the sounds of the bar…and the haunts of years gone-by returned to her awareness. Finally, the barman got back to the business at hand.
"Dancer crew will be here soon."
She nodded,
"I'm looking forward to it."
"So how do you know Malone?",
inquired Bill.
"The war."
He nodded respectfully,
"You two serve together?"
Harper's eyes drifted to the mirror behind the bar and weighed the measure of the woman staring back at her,
"You could say that."
"When was the last time you saw him?"
Her head returned to the bar and her finger resumed to its travels along her mug. She smiled; lost in a memory,
"You never see Jax…never, but he's always there. Might be ten paces…might be a mile, but he's there, watching from the night."
Bill's brow furrowed as he tried to understand the statement. Leaning in close, the barman put his elbows next to Harper's head and spoke, lower than before,
"Christ, darlin'…sounds scary."
Harper's eyes met his, and Mild Bill nearly pulled back from the strength in her gaze. Her voice held a similar power…one that removed any doubt to its sincerity,
"Not at all…safest I've ever felt."
And with that simple statement, the sounds of war in her head quieted.
Jax Malone - April 21, 2010 05:52 PM (GMT)
The huge Grendel breaking atmo did nothing to disturb the walking multi-tool lounging in her catwalks. Jax merely stretched out either hand, finding purchase on the vertical railing supports he sat between, and kept himself stable. Far too used to life on-ship, the scent from the cargo bay brought back other memories of other times, other homes. Continuing to twist the minuscule bit of wire between his fingers, a soft cloth on hand to polish his latest miniature metal masterpieces, he bent each of the thick twists of wire easily, turning them into galloping legs. If the two families settling chose not to take what he was making, he wouldn't be offended.

As usual, sheer boredom had prompted these creations. Well, not just boredom. Inspiration had to be a part of it, always, and the cargo of shuffling horses below had offered plenty of inspiration. Setting the small metal herd down beside him after checking that they were still welded together, he picked up the second creation - a single horse's head slightly larger than his palm, its mane flowing as if caught in a breeze. The entire thing had been meticulously carved and pieced together, the metal now ready to be polished until it gleamed. As the rag moved in slow circles, Jax smiled, his gaze a million miles and a dozen moons away, back home on Kerry.

The horse's hooves had run Kerry's red soil for generations, more than any living could accurately count. Now, they ran again, obedient to their riders or the dogs snapping at their heels. A whistle held the lead dog up short and sent the others in different directions, the motion of the horses curving to the left. Another whistle acted as a summons to the dog, who trotted, uncaring, past the still-moving horses, trusting the other dogs to keep the equines back. Padding to her master's feet, she settled back on her haunches, licking his offered hand. Jax smiled, squinting into the sunlight as it shimmered off of the multi-hued horse hide. "Good dog," he whispered, the sound of one content with his work even before the day was over.

The calm light of the setting sun remained unbroken as the large black stallion broke ranks, his rider holding the same peaceful look as he started up the hill, pausing at his brother's side. "Amazing view, isn't it?" Like Jax, Damian's eyes stayed on the herd as they were expertly moved into the northern field. At his whistle, the pack made their way to the two men, settling one by one onto haunches, then bellies, tongues lolling amongst the younger dogs. "Good dogs." As before, Jax's praise was simple, adoration undiluted in the eyes of every member of the pack. Damian dismounted, holding the reins as the horse's nose moved to drop over his shoulder. The setting sun stretched long fingers across the back of the calming horses as their watchers settled in for the evening ahead. As the brothers stood side by side, a tradition was carefully fulfilled.

"Hey, di-di?" Damian spoke first, his voice tender, eyes still combing the herd, stance relaxed.

"Yeah, gi-gi?" Jax shifted his weight subtly, unconsciously mirroring his brother's relaxed pose, arms at his side, freeing the dogs to lap at his fingertips. The two still had not looked at one another.

"What's your favorite part?" The smiles came slowly, expectant and challenging as Damian's gaze cut to his brother. Jax was waiting, smile growing, warming, as he looked his twin in the eye. No matter the situation, no matter who spoke first, the question was always the same, anytime they were doing something together or sharing stories after time apart.

"This." The single syllable was warm, heartfelt. Jax reached out, tapping his brother's bare bicep with his fist. What could be better than this, being with your twin, your other half, after time apart, even a few hours? Damian returned the tap before ruffling his brother's hair, both of them laughing, solemnity gone. When Jax spoke next, his eyes gleamed with curiosity. "Is it really like flying, D?"

Damian's answer was a smile of invitation. "The herd will be fine alone for a few hours. Want to see?"

Jax whistled once, a long, complex sound that sent the dogs scattering like leaves in the wind, each moving to its place in the circle around the settled herd. If anything happened, the dogs would raise an alarm and fight the threat. Damian had already mounted up, offering his hand. "Come on." In minutes, Jax knew it was true. He felt every movement, his brother's bare heels digging into the horse's flanks, the animal's muscles flexing as the ground raced beneath them, no more than a green-red blue. Heart in his throat, he could do nothing but hang on as he realized, not for the first time, that his brother had been right. It wasn't exactly like flying, but in many ways it was better.

That had been one of the few times Jax ever found himself astride a horse. Two years later, six months before he'd enlisted, one of the family's many project horses, the troublemakers they had to specially train before they could attempt a sale, had thrown him. As he'd heard it when he woke up, Damian had been furious with everyone for putting his brother on one of the un-broken fillies. He apologized constantly to his brother, made demands of the elders that went largely unheeded, and even went so far as to approach the council. Nobody cared, of course. If Jax had been stupid enough to agree to the job, what were they supposed to do now that he was already hurt? Since then, Jax stuck with his dogs, maintaining order amongst the pack. Now, the cargo of horses was bringing it all back. Though he had never lived there for any significant length of time, Jax was missing Kerry, his brother, his family, his home.

"...cargo bay before lightin' off for town. It won't take but a short span…cause even I ain't fool enough to get between you all and a little 'land time'." Gwen's voice cut into his thoughts just in time. Blinking, willing away the memories, Jax examined his work. Both creations - the hodge-podge herd cobbled together, perfect in its quirky artistic look, and the single horse's head, artistic in its perfection - were complete. Content, he rose and stretched, back and neck both popping - how long had he been sitting up there?

Pocketing his tools, taking one creation in each hand, he headed slowly down the stairs towards the cargo bay, examining the grease stains on his hands. Oh well. It wasn't likely water would do much for him unless he wanted to rub off a few layers of skin. The mess wasn't all that bad. Besides that, shore-leave meant food and baths and privacy, freedom from the routine of life on the Dancer. Only wearing one gun-belt, more out of habit than necessity, Jax leaned against the wall, keeping his distance from the horses though he didn't look away from them.

As he waited for the others, his mental eyes saw only one thing - a figure that was both powerful and gentle, with the palest blond hair and a cybernetic arm. Memories of home were completely eclipsed by plans as well as fantasies, every nerve ending and muscle aware, waiting for her to walk into the cargo bay just so he could see her, kiss her in greeting, wrap his arm around her waist, and show off his latest work before the two of them headed to town and found some quiet place to lay down their burdens, to be alone, to not act as guardians of The Dancer or her crew. Jax waited, content to live in the moment, to live anywhere as long as Syn was at his side.
Cpt. Gwyneth Paul - April 21, 2010 06:17 PM (GMT)
The Dancer's Bridge
"Wanna race to the Well?"
Her hair, much longer than she had worn it in the past, found itself gathered by the scarred hands of The Dancer's captain and pulled tightly into a ponytail. Still working on her mane, Gwen placed a leather hair-tie in her teeth and answered her student,
"Ain't no one racin' anywhere till The Dancer's sleepin' and the cargo's cared for."
Partially satisfied by the answer, Elizabeth continued,
"How long do you think we'll be here, Sifu?"
Removing the tie from her teeth and securing her hair, Gwen decided to play with the girl a bit,
"Can't rightly say till I sit down with Bill. Durin' their last wave, the Brothers told me they found a doc and she'd be waitin' for us in Elysium, but they didn't mention no other jobs."
Elizabeth's face lit at the prospect of a longer stay in The Dancer's adopted home.
Recognizing the girl's elation out of the corner of her eye, the captain found herself incapable of leniency ,
"Still…"
, she began dramatically,
"That wave was a few weeks ago. We might be here just long enough to refuel and resupply before we mosey on along."
Elizabeth leapt up from the co-pilot's chair; her face, caught between childhood and adolescent, possessed a war of disappointment and indignation,
"THAT's MOONBRAINED! WE'VE BEEN SAILING FOR WEEKS AND WORKING LONGER STILL! WHO DO THOSE TWINS THINK THEY…"
Gwen in the act of retying her bootlace broke down and started laughing.
Too engrossed in her outrage, Elizabeth failed to notice the change in her captain's mood,
"…ARE!!! JUST CAUSE THEY PAY US DOESN'T MAKE US INDENTURED!"
While pausing to inhale, the girl finally recognized what had happened and narrowed her eyes at Gwen,
"You! UGLY OLD WOMAN, you!"
Gwen devolved into hysterics at Elizabeth's sarcastic outrage, going so far as to pull her long legs into her chest and rock back and forth.
Elizabeth couldn't help but smile and join in her predecessor's merriment because the girl remembered a time not long ago when Gwyneth Paul was a castle on a hill…one with high walls and devoid of joy.
"We should be here a bit, Elizabeth,"
Gwen said wiping the running tears from her eyes and cheeks,
"Do you have any reason other than just bein' dirtside backin' your passion?"
"No,"
the girl lied, glancing at her shoes in a classic 'tell'.
Gwen smiled, having already divined the answer from information she'd heard during their last trip to Elysium nearly two months ago,
"We should be here for the dance…case that makes a difference to you."
Tracing an invisible line along the armrest of the co-pilot's chair, Elizabeth shrugged, not wanting to give Gwen any more ammunition,
"Whatever…not like its real dancing anyway."
Gwen stood and stretched; her hands folding at the elbow to accommodate her height on the Bridge. Two steps carried her beside her student, and she placed her hand on Elizabeth's shoulder,
"Its as real as you want it to be."
Still walking her finger along the armrest, the girl shrugged,
"I guess if we're already going to be here…couldn't hurt to go."
"Couldn't hurt,"
Gwen repeated with a wink.
Taking a second to power down the Bridge, the Captain finished and moved to the door,
"Head down to the bay and help Bryan with he cargo. Once your Mom and Imza give you the 'go ahead', you're free to run all the way to the Well."
Ducking through the door, Gwyneth Paul's accented voice floated back from the hallway beyond,
"Me…I'll be ridin' the U-Trek, thank-you-very-much."
Elizabeth Heller - April 21, 2010 07:51 PM (GMT)
The Dancer's Bridge
"Head down to the bay and help Bryan with he cargo. Once your Mom and Imza give you the 'go ahead', you're free to run all the way to the Well...Me…I'll be ridin' the U-Trek, thank-you-very-much."
Away from the greenish-blue detectives in Gwen's gaze, Elizabeth's face exploded into a broad grin, and in lieu of a vocal exclamation that could still be heard by the nearby captain, she twirled tightly on the darkened bridge.
"A real dance!!! With real people!!!," her mind cheered.
Grabbing her jacket, she spared a moment to dance with her impromptu partner, imagining once again the arms of Adam LeBon and not her weathered garment. In her euphoria she punched her fists into its denim sleeves, jerked her jacket up over her shoulders and slapped on her battered red ball cap.
Normally, she would have dressed up more for the occasion, but she had spent the last several hours on the Bridge and to delay now would be ludicrous…even for fashion's sake.
However, in the twilight of the powered-down Bridge, Elizabeth found something truly worth a pause. As excited as she was, Elizabeth's touch remained soft as her hand lingered on The Dancer's controls. Using the tips of her middle and index fingers she 'walked' down the comm station, passed the dark navigational displays, and to the pilot's chair.
Her eyes darted over her shoulder, and her ears searched for the telltale sounds of nearby crew.
Nothing.
With no small amount of reverence, Elizabeth lowered herself into the chair; its seat still holding Gwen's warmth. A slight tremble washed through her hands as she grabbed the flight stick and the thrust control.
Blue eyes filled with the untarnished longing of youth, looked out the Grendel's forward window…out and
up
. The stars twinkled, mirroring the electric anticipation inside the girl. Recalling the firing sequence that Jax had taught her, she pretended to ready The Dancer for launch.
In the veil of fantasy, everything was ready, and she looked back to the stars above and sang in a heavy whisper,
"Countdown its getting near to flight time…night stars are shining in my eyes…my mind says I'm going to be the first one…to dance the bebop in the sky."
Her hand caressed the gleaming metal of the thrust control, and with the light of the Black twinkling in her eyes, the girl heard the mighty Grendel answer her whisper with one of its own.
Soon.
Sparing just one more moment for the boat she loved, Elizabeth left the bridge in body but stayed firmly seated in spirit.
****
Moments later she heard voices from the Galley and crept up behind her Mom. Unsure if she was interrupting, she instead drew close to Synthia Heller and wrapped an arm around her waist. Leaning her head against her Mom's shoulder, she whispered,
"Gwen says I can go straight to the Well after I help Bryan...unless you and Imza have something for me to do."
With all the magical manipulation available at an adolescent girl's disposal, Elizabeth made sure to allow just enough longing to enter the first part of her statemen…and just enough
dread
to cloak the second half.
Imza - April 21, 2010 11:32 PM (GMT)
"Would be an honor to lend an arm to a beauty such as yourself! They wouldn't dare s…stop…"

Imza's eyes widened as Jack's words faltered, his head ducking slightly. She wanted to throw her arms around him, promise him that it was true. Nothing would dare stop them, ever.

"How…how do I look?" As the huge man continued, wearing his heart well beyond his sleeve, the realization dawned that it wasn't HER opinion that mattered.


"Hmmmmm." Mischief rode in the singsong syllable, drawing it out as she piroutted around the massive man, pretending to study his bulk, "You looooook..." Her fingers deftly straightened collars that weren't amiss, tugged down the hem of vest that already lay flat against his broad back, patted an imaginary speck of dust from his sleeve. She bounded to a stop before him, squatting swiftly to swipe a last brush of one of her scarves over his already shiny boot. Then the gypsy straightened, raising her face to Jack, grin and singsong falling away as she met his heartfelt gaze with intensity to match.

In tones that threatened to break her own heart, her dark head shook side-to-side, slightly chiding him for his self-doubt, as she whispered, "Like a knight in shining armor. There's not a woman walkin' on any world wouldn't be proud to have you on their arm," Her face slipped back into it's familiar grin, "Mister Jack Brannigan."

"Y'all about ready to head on out?"

Synthia's voice broke the moment, and Imza turned gleaming eyes towards the beautiful warden of the Dancer. Catching a glimpse of Elizabeth arriving, Imza tucked her arm through Jack's and nodded, "Ready and eager! Where's that man of yours? Are we all ridin' in together on the Trek? Or should we hitch a ride with Bryan?"
Consuela - April 22, 2010 05:40 PM (GMT)
Elysium -The Well's Rooms

Exiting The Well's saloon through a door in the back, Consuela crossed into the cool of the Jiangyin night and into the Old Spanish styled courtyard of the establishment's rented rooms. Two levels of twenty rooms faced the interior space, providing visitors with a respite from all but the midday sun and a place to congregate in the crisp hours of evening. Normally, benches and potted succulents and flowers decorated the pristine area, presenting guests of Mild Bill with a window to a simpler time and a devotion to culture and community long thought lost to the 'Verse. However, at present the courtyard was being dressed for the Solstice dance the next night and cheap twinkle-lights achieved priceless status with the magical quality they bequeathed.

Admiring the transformation, Consuela, followed by Jason, carried her tray of cheese and crackers up the nearest flight of stairs, knocked lightly on the first door she came upon, opened the door and backed into the room, "Buenos noches, senor."

Jason remained just outside, leaned against the wall and lit a cigarette.

Placing the tray on the nearby table, Consuela produced a small bottle of white wine from one of her deep apron pockets, uncorked it, and placed it beside the tray. Finishing the impromptu setting with a cheap but clean wine glass from another of her pockets, she turned to the rooms only occupant, "Compliments of the House...for your patience."

Making sure everything was perfect, she continued with a smile,"The Dancer has arrived, but William wants me to remind you that you will not be allowed to see them until they are told of your presence."

Consuela shuffled nervously for a moment before continuing, "He also wishes me to convey his strongest measure of disappointment should your tale prove false."

"On a happier note," her face brightened, "which of The Dancer's crew would you like me to approach in regards to this matter?"

Placing her palms on her apron, Consuela awaited the man's answer.
Cpt. Gwyneth Paul - April 23, 2010 06:42 PM (GMT)
The Dancer's Cargo Bay
Gwen finished shaking hands with all the Dancer's passengers and wished every member of both families well in their quest to start anew in Elysium. After that she punched the control that opened the Grendel's massive cargo bay door to the sights and smells of the Jiangyin countryside.
No sooner had the metal touched the soil then Bryan's massive form marched up the ramp, tipping his hat and shaking the hands of the passengers, as they readied themselves to depart for the nearby town. Shadowed as he was, Gwen's focus wondered for a second and instead of Bryan, she saw the Jack Brannigan of her youth walking toward her, but when the bay lights illuminated his face, any similarity, thankfully, fled.
"Ah'm here to scoot the twelve head to the corral, Captain, so you and yours can get to The Well for drinkin' and relaxin',"
the big man's smile renewed his comparison to Jack, if just for a second.
Bryan shot out his hand, and Gwen grabbed it and allowed herself to be pulled into the man's shoulder, where he wrapped his other arm around her,
"Damn good to have The Dancer back in town, Gwen…damn good."
She couldn't help but smile and smacked Bryan's granite shoulder,
"Good to see you too, Tiny."
Bryan laughed and entered the bay moving toward the horses to get them ready to drive. Noticing Jax, he waved his gloved hand in greeting,
"Damn glad to see you too, Malone!"
With that Gwen watched Bryan go to work, as she waited for the rest of her crew.
<<Bryan played by Toby Keith>>
Rollo McGuffin - April 24, 2010 05:18 PM (GMT)
Rollo McGuffin gazed out the windows of the modest saloon, a pensive expression on his face. Ever since he had left the Dancer, Rollo found himself lacking his usual streak of good luck. The rogue had made his way through the 'verse for many years through a combination his own personal charm and a knack for storytelling greatly improved by his very casual relationship with the concept of honesty. However, lately things just had not been going Rollo's way. His fine red shirt was still made of high quality synthsilk, and his brown pants were made of the softest leather, but his wardrobe was not as extensive or as fine as it had once been. Much to the fop's dismay, he only had a dozen different versions of his wide-brimmed hat, though he had at least retained an appropriately diverse collection of feathers to decorate his depleted stock of hats with.

Much to the fop's occasional distress, since leaving the Dancer he had begun to encounter serious difficulties in his normal lifestyle charming young heiresses and wealthy war widows. The 'verse's supply of war widows was beginning to dry up as the years passed and Unification War faded further and further into memory, and Rollo was not about to risk a repeat of what happened the last time he had gone hunting an heiress. Getting dragged through a toxic wasteland into a den of heavily armed slavers by the woman he planned to woo was bad enough, but going through all that trouble just to find out she was sly made it twice as bad. Life on the Rim had given Rollo some capacity to deal with the threat of impending death, but he generally dealt with it much better when there was money and the adoration of a beautiful woman involved.

Rollo still was not entirely certain how he wound up on Elysium, waiting in a modest but still reasonably nice saloon for the Dancer's arrival. Perhaps the fop just wanted to go back to the one place where he had been able to settle down and find a measure of normalcy and acceptance. Rollo almost constantly projected an image of himself that did entirely match the reality; his collection of wild stories he used to impress the young and foolish, while now sprinkled with one or two bits of truth, for the most part remained blatant lies. Rollo had to make a constant effort to project the image he wanted the rest of the 'verse to see.

On the Dancer, Rollo never needed to do that. The crew of the Dancer saw the fop for what he truly was rather than the outlandish image he projected, and yet they still accepted him as one of their own. His introduction to the Dancer had occurred under circumstances that were anything but ideal, and yet in his time on the ship Rollo found himself bound to the ship and its crew as they ventured through blood and fire. Rollo had fired gun in anger for the first time in his life to defend Round Jack, and he had gone into battle against an Operative of Parliament to help Gwen, things he never could have imagined doing before. When he had nowhere else left to turn, it was only natural that Rollo would seek the ship out once more.

Consuela's arrival tore the fop out of his musing, and he favored the woman with a charming smile. Rollo poured a splash of wine into his glass, and took a light sip before he answered. "I entirely understand the reasons such security measure are necessary, so do not trouble yourself on that account." Rollo claimed one of the pieces of cheese and took a bite out of it, savoring the way the sharp flavor of the cheese contrasted with the wine. "As for which member of the crew you should approach, I think it would only be proper to speak with the captain; my business will ultimately be with her in any case. If she is otherwise occupied, then please contact Mr. Brannigan. Ms. Tsenko or Ms. Heller would also be acceptable."
The Dancer - April 26, 2010 04:32 PM (GMT)
Narrator Post

Elysium dozed in the early evening hours; its denizens either concluding the labors of the day or beginning the merriment of the night. The glow of solar powered street lamps bathed the small town in the warmth of a time long forgotten, where folk scrapped soil, loved and lived, and cared not about the cosmopolitan. In the darkness, the paint of the storefronts seemed more vivid, the sun's bleaching rendered impotent in the starlight, and though the dust of locale and labor seemed to cover everything, it bore more of a resemblance to a trusted cloak than a plague. This place of paradoxical simplicity toyed with the human condition of every visitor that entered her embrace…promising both a life less ordinary and an escape from 'Versal complexities.

Inside Mild Bill's Well a crowd, beyond a normal nights allocation of thirsty farmers and ranchers, had started to fill the space, hoping to find a respite to the day's labors and rub shoulders with the crew of The Dancer. Each table glowed with a small yellow solar globe and the bar area was bathed in a healthy amount of low level lighting designed to aid the bartenders in the completion of their duties. However the vast majority of The Well remained shadowed, as was the habit of magical places. A cathedral to the common man, the saloon eased each of humanities five senses with a time-honored blend of common sense and fantasy…traits usually employed by the divine beings known as Mothers.

Harper Lee Thomas remained on her stool at the bar, still lost in the thoughts of a war cast adrift in the nebulae of History. Her partner held his station among the shadows, sitting at his table…with friends no one else could see.

Mild Bill walked among the tables, slapping shoulders and signaling for drinks from the attentive wait staff. The cool of evening had finally bested his bare chest and a clean white cotton t-shirt hugged his muscled frame, while faded jeans of the palest denim covered his legs. Still, his feet remained free of confinement, reminding any that had forgotten that independence was a fulltime job.

In addition to the townspeople and the aforementioned, a twenty-something woman, another first-time visitor to both Elysium and The Well, waited too; anxious to begin the next chapter of her young life.

<<OOC Marcus and Ayden are cleared to post. Initial placement done with players consent>>
Ayden Richter - April 27, 2010 08:11 PM (GMT)
Ayden sat at the bar, pushing the dinner she ordered around with her fork, only eating what she had to. The meal wasn't unpalatable; it just lacked inspiration.

If only they added some tarragon. Just a smidge, not a lot. It would've awaken a multitude of flavors and made it a more enjoyable meal, she thought.

She sighed a bit and made herself eat the rest. In the past, she might've tried to give the staff at a place like this some of her advice, but that was a long time ago. Now she only knew that it caused most folk out on the rim to just give her that blank look of ignorance. Hence the discovery that a Core degreed chef was of little importance out on the rim.

So a medic she became. Everyone could always use a medic. Someone was always sick or injured. But she always worked dirtside. Her new place of employment was on a ship. A freighter to be exact. A Grendel named The Dancer.

The thought of being stuck on a ship in close quarters with a bunch of strangers didn't make her excited. In fact, she dreaded that portion of the experience. She wasn't a people person; at least not anymore.

But she needed the job desperately and there wasn't any way around it. She pushed her plate away from her and took a drink of her iced tea.

Just a splash of lime would make this… she started, but just ended up sighing. Never mind. A different time. A different life. And one you shouldn't dwell on.

Now she just needed to find her new employer.
Consuela - April 28, 2010 04:37 PM (GMT)
Elysium -The Well's Rooms
"As for which member of the crew you should approach, I think it would only be proper to speak with the captain; my business will ultimately be with her in any case. If she is otherwise occupied, then please contact Mr. Brannigan. Ms. Tsenko or Ms. Heller would also be acceptable."
"Si, Senor, I shall let them know. Shouldn't be long at all now,"
her Spanish accent added to the motherly quality that seemed to cloak the woman like a valley fog.
Leaving the food behind, she collected her tray and returned to the open door,
"If there will be nothing else, Senor..."
Just out of Consuela's line of sight but not earshot, Jason snorted and a cloud of cigarette smoke drifted in front of the doorway.
Rollo McGuffin - April 28, 2010 04:59 PM (GMT)
"If there will be nothing else, Senor..."
"That should be more than enough, thank you."
Rollo dug into his pocket and provided the woman with a generous tip; she certainly deserved a bit of a reward for the exemplary service she had provided thus far.
"By the way, the food and wine is quite excellent."
With that done, Rollo settled down to wait for the Dancer's emissary. The fop nibbled on the crackers and cheese, and had a few more sips of wine, but made an effort not to indulge too much in his fine snack. After all, he wanted there to be plenty left over for whoever arrived from the Dancer.
Synthia Lyndon Heller - May 1, 2010 04:28 AM (GMT)
Synthia arrived in the cargo bay with Elizabeth, Imza and Jack, setting her burdens down and stepping to the catwalk railing over where the horses were waiting, milling about in the Jiangyin breeze that had replaced the old cargo bay air.

"They sure look ready to head on out!" she called down to Bryan. "I hear 'Lizabeth's s'posed to be helpin' y'all, so I'll come along to, you don't mind."

She turned to Elizabeth, smiling.

"Go faster, that way." she said. "Besides, it's a chance to ride 'afore we head on out to The Well, an' when've I passed that up?"
The Dancer - May 3, 2010 04:43 PM (GMT)
Carved stone rubbed smooth by the eternal tides of Jiangyin's breeze, Bryan seemed a hero written by a poor writer. His smile was infectious, his arm strong, and his actions noble; his was an existence both of and in the moment.

Syn's words brought forth a deep laugh from Bryan's throat, for no other reason than it tickled him to find a being favoring work over relaxation, "Well then lets get to gettin' and then," his eyes lit on Syn's instrument, "lets git to playin'!"

****

Syn and Elizabeth rode off with Bryan determined to bring in the horses in as dramatic and memorable way as possible. As the two Dancers rode off and the night transformed their bodies into silhouettes, a witness would be hard pressed to differentiate mother from daughter…present from future.

For the rest of the crew, the cheers of greetings and happiness began as soon as the U-Trek entered the main street of Elysium. Farmers and Ranchers in every direction knew the crew of the mighty Dancer and knew that Elysium had a friend in the powerful freighter. Commerce and trade flowed through the Grendel's cargo bay bringing needed goods and settlers to the town, so to the people that lived in or near the settlement, The Dancer was a blessing near in power to health and good weather.

The vehicle pulled forward in front of The Well and The Dancers turned as one to face the inviting doors of the saloon. From the swinging portals, warm light and warmer music welcomed them to Elysium.


Time marches on...


((OOC Jax, Gwen, Imza, and Jack have arrived at The Well. Syn and Elizabeth will arrive shortly…Dave feel free to enter whenever or drop a post detailing the work. The Accountant and Wentworth Reed have not been forgotten or progressed through. They are…well, you'll see.))
Consuela - May 3, 2010 04:48 PM (GMT)
Elysium - The Well

"They're here!", Conseula clasped her hands to her chest and contemplated leaping the massive wooden bar before her. Instead the small woman rushed around its girth and moved toward the front doors of The Well.

Several of the other patrons turned anxiously at the imminent arrival of The Dancer's crew, but on stage, Mild Bill and Jason simply smiled and continued their song, as was the way of the entertainer.

Sitting side by side in the middle of the small stage on two hand-carved stools, the pair filled the void of the absent Bryan with an acoustic set designed to transition the audience from 'working' day into 'leisurely' night…the set they fondly referred to as 'Twilight Time'.

Jason's fingers plucked at the twelve strings of his guitar in a dexterous display of skill and soul. Wearing his customary black Stetson with a band of leather holding the silver emblem of his cavalry unit, the cowboy rocked forwards and back on his stool in time with the beat of Bills bongos, riding the spirited bronco of note and tune.

Beside him, Mild Bill, his shorts traded for a pair of faded denim jeans and his muscled chest finally covered by a plain white t-shirt, curled his bare toes around the lowest rung of his stool and sang…his voice immaculate in The Well's moment of pregnant anticipation,
"You are," the singer closed his eyes as his voice lengthened the last word, "everything I wanted."

Consuela stopped and turned to Bill, entranced, as always, by the man's beautiful gift.

"The scars of all I'll ever know."

Nearly bursting with happiness, the woman exploded through the front doors of the Well, opened her arms, and hugged the first Dancer she saw.


<<lyrics by Cary Brothers 'Ride'>>
<<Consuela will hug anyone. GM her at will.>>
<<Jason played by Keith Urban>>
Harper Lee Thomas - May 3, 2010 04:53 PM (GMT)
"They're here!"
"You are everything I wanted
The scars of all I'll ever know."
At the bar, Harper Lee's head rose and hands, steady through the darkest days of war, trembled. She didn't check her hair or straighten her rumpled blue flannel shirt; instead she stood and faced the entrance of the saloon.
"If I told you you were right, would you take my hand tonight?"
Images of an abandoned cottage, a roaring fire, and flesh slipped from the worn corners of her mind. Absently her hands crept up around her elbows, until she was hugging herself tight. She had forgotten to breathe.
"If I told you the reasons why, would you leave your life and ride? And ride?"
The lights of The Well were dimmed during performances but the bar area always remained bathed in the yellow glow of its running lights, so the bartenders could cater their craft. Harper was vaguely aware that she was the only one standing; with his eyes, Jax would see her as soon as he entered.
"You saw all my pieces broken
This darkness that I could never show."
Pulling herself to her full five feet six inches, Harper readied herself for the emotions ahead, and she prayed that maybe just once, Fortune had found another to fool.
Elizabeth Heller - May 5, 2010 06:46 PM (GMT)
Outside the town of Elysium
With the night at their mercy and the wind at their back, mother and daughter rode horses wild in spirit in a country wild with promise. Beneath her, Elizabeth's mount shivered with pleasure; its legs weak from the journey but its strength returning with each step. Though the young woman was capable of riding bareback, an old 'quick' saddle allowed her to better control the large beast beneath her, and in defiance of her denim clad frame, a blond ponytail slithered from the back of her red ball cap, bouncing in time with the ride…a metronome to the song of youth.
Try to make it last,
Nothing you can do,
In a photograph,
The innocence you left behind is staring back at you
During the past year and a half, the horrors of Reavers and Operatives…of death and loss had thankfully bled into the recesses of Elizabeth's mind, where Youth wielded recuperative powers far greater than its older counterpart. There with the trials of her earlier years on Persephone, the dark times resided, too weak to darken her buoyant soul…but also too weak to
warn
.
Young hearts beat fast
Driving down the road
Rubber, plastic, metal, glass.
Why did you have to go?
Young hearts die young,
When they are all alone and there is no turning back now.
Away from the 'bustle' of Elysium, horses and riders had only the bright waxing moon to guide their way, but its silver light was strong enough, allowing greater speeds than a darker night would have provided. Elizabeth looked over at her mother and waved, her brilliant smile shaming any celestial body in Elysium's, or any world's, sky.
There is no turning back
If Elizabeth hadn't glanced Syn's way at that exact moment, she would have missed it…the glow of light where none should have been. Just then the breeze shifted, carrying not the aroma of burning leaves or wood but the scent of fuel. Something inside her razor sharp mind whispered, '
notice this
'.
There is no turning back
Wheeling her horse to the left she shot off perpendicular from Bryan, Syn and the herd. At the top of the closest rise, the smell grew, as did the light. A group of men, six in total, circled what appeared to be a smoking vehicle. Some of them rode on horseback and carried solar torches, while others went about extinguishing errant fires in the, thankfully sparse, field grass. Straining to see more, Elizabeth drew closer and began to descend the small hillock.
Knowing where you're bound,
It's coming in to you.
Then you turn around,
The innocence you thought you'd lost is now caught up to you.
The closer she crept the more she could deduce from the scene. Several of the men were laughing and kicking at the wrecked vehicle, while a few others stood around something just out of Elizabeth's eyesight…they too were laughing. Suddenly, the glow of Elysium's moon and the shine of the solar torches touched the metal of the smoking vehicle and what had here-to-fore been colorless…shined gold. On the ground away from the vehicle, the
rocket bike
, a thin pale arm reached up, seemingly begging for help. Elizabeth's eyes widened in shock and understanding, and her hand fumbled into her satchel…pulling free Round Jack's trustworthy Grizzly.
Young hearts beat fast
Driving down the road
Rubber, plastic, metal, glass.
Why did you have to go?
Young hearts die young,
When they are all alone and there is no turning back now.
"MOM!!!"
, screamed Elizabeth, as she dug her heels into her horse's side, causing it to lurch forward in a mixture of trained muscle memory and surprise.
Several of the men reacted to her yell by offering a surprised shout of their own, but a few of the more seasoned among them reached for holstered pistols and lashed rifles. However the Dancer's Daughter was already among them, her own pistol gripped in two unsteady hands. Keeping the group in front of her, Elizabeth saw the broken and bloody form of Zachariah Cooper.
Fury welled within her young frame and even as one of the men moved to say something, Elizabeth screamed…using words she had heard a long time ago,
"Turn him loose…or so help me God, the Devil, himself will weep, when he sees what I've done to you!"
Time enough to live,
Never time to die.
All you had to give,
Taken by the one you loved and given to a lie.
Why?
((OOC Syn and Elizabeth progressed to this point per Dave's last post.))
((music by The Commuters from the Karate Kid soundtrack))
((Elizabeth's final line originally delivered by Round Jack in Prime Numbers))
Imza - May 5, 2010 08:14 PM (GMT)
Meanwhile Back at The Well


Unaware of the darkness and dangers happening only a short distance away, Imza alighted from the U-Trek in a flurry of color, staying close to Round Jack and Jax, her imagination painting them as the handsome knights in a fairytale of returning to the palace, where light and sound and music and the scents of warm food and cool drink beckoned them home!

"We're here." She announced to no one in particular as Consquela swamped her in a warm motherly hug. The acrobat had to bounce on tiptoe to kiss the woman's cheek, then slipped back to give her room to greet the others.

Taking a deep breath, she stared hard at the doors for a breath then burst through them with exuberance, eyes of melting chocolate sweeping the room for familiar faces, filling with tears as she was engulfed in the beauty of Bill's song. The palace wasn't quite warm enough, somehow, and although her eyes still hunted for his, Imza found herself waving back over her shoulder to beckon the others in to share the moment with her.
Synthia Lyndon Heller - May 10, 2010 01:41 AM (GMT)
Synthia brought her horse to a halt, lightly dismounting and moving forward to stand beside Elizabeth. If there was shooting, if she had to face that many guns in the open, staying mounted would probably end in her horse shot out from under her, which would be a pointless tragedy as well as a possibly fatal tactical disadvantage.

"Elizabeth . . ." she said, keeping her eys on the men around them. "Go on over an' see how bad he's hurt. Ain't no one gonna bother you none."

She brushed her browncoat aside, clearing the big handgun holstered on her hip and the machine pistol in her shoulder holster.

"Someone wanna tell me what's goin' on here?" she said. "Ain't never drawn a gun in anger on Jiangyin 'afore, an' I wasn't plannin' on it tonight."

There were a good number of men there, and spread out; hard to engage them as a group. A lot fewer than the reavers on Hawthorne, but these men wouldn't be hampered by the deadly but sloppy fighting tactics that led reavers to negate the advantage of their own numbers against a skilled foe. The tactical situation was terrible, nothing a good soldier would choose for themselves if they could choose the ground, but the dice were already rolled. Hopefully, they would all realize the one thing that was most likely to keep the guns quiet. They might have the numbers, but even if they shot her down with those numbers, the first man to try to draw his gun wouldn't be celebrating the victory with the rest. Hopefully, none of them would be willing to risk being first. Hopefully, if one of them did turn out to have been planted down on Jiangyin with little enough sense, Bryan would be able to get Elizabeth clear of the shooting while all the guns were aimed at trying to keep their owners from being shot down by her.

Probably not a place she'd survive being in. Even with body armor, a big enough swarm of bullets is like to land one or two in the head. Didn't matter though. The dice were already rolled, the ground chosen. Show fear, and the mob will smell blood. Someone would do something stupid.

"None a' you are lookin' to be stupid twice tonight, are you?"
Jax Malone - May 16, 2010 07:15 PM (GMT)
While Consuela greeted the others, Jax sidled past her ad moved into The Well - a move he was sure to get some minor grief over later. It was all in fun, of course; the gunman was doing his job, no matter how futile it was. Here, The Dancer's crew was amongst an established group of friends. It was getting to the point that Elysium felt like a home away from home, a place of safety in lieu of the Grendel's walls. Still, Jax stopped just inside the door, scanning the room soundlessly.
The sniper's eyes moved fast, long-finished training allowing him to remember the most miniscule of details after the briefest look. Jason and Bill kept up their playing; if they noticed Jax's examination, neither showed any concern. Was it his imagination or were they playing louder, trying to ease his watch? Behind him, the sounds of greeting continued, but they had become white noise, unimportant as his eyes moved to the well-lit bar area.
If I told you you were right
Would you take my hand tonight?
For three seconds, Jax forgot how to breathe. Was his heart even beating anymore? His eyes, better trained than his lungs, continued their roving, moving past the object of interest as if it didn't exist. Slowly, automatically, his lungs resumed their work, each breath suddenly shallow, hardly enough to make his chest rise. Don't ever show fear; don't ever show uncertainty. Show it and you die.
If I told you the reasons why
Would you leave your life and ride?
And ride?
The battlefield tactics came un-summoned as the motionless gunman slowed his breathing, dropping his heart rate. Had he been standing anyplace but a door, somewhere with more of a crowd and more shadows, Jax woud've vanished in that moment, blended in with the rest. While his body handled the arbitrary tasks of breathing and observing surroundings, his brain spun out, struggling to make sense of this unexpected discovery.
You saw all my pieces broken
Harper was here, was looking right at him.
This darkness that I could never show
A full five seconds from the moment he'd seen her, five seconds spent as still as humanly possible, Jax had weighed his desire for a drink against his desire to see her. Memories playing behind his eyes, his expression unreadable, the gunman moved away from the entryway and headed for the bar. His breathing stayed shallow and steady, lowered heart rate preventing the heat that might have flooded his skin. Heat...that night in the cottage there had been so much heat, sweat rolling down his back, down his chest. So close to the fire. Now, as he strolled towards The Well's brightly lit bar, he felt ice cold.
If I told you you were right
Would you take my hand tonight?
Once the Mudder's Milk was in his hand, he forced himself to sip, to take it slow rather than down the whole thing as fast as he could. The booze helped, gave him something else to focus on. Mudder's Milk in particular, which could be a gorram solid if it wasn't brewed properly, was an acquired taste the gunman's taste buds suddenly longed for. Tempting as it was, he reminded himself while taking another pull at the bottle, there was no need to get drunk. God, would that ever be asking for trouble. Drink in hand, facing the room as he leaned against the bar, Jax shot a look towards Harper, determined to keep his tone level, unreadable as his face.
"Didn't expect to see you here."
Understatement of the year...
If I told you the reasons why
Would you leave your life and ride?
And ride?
Harper Lee Thomas - May 17, 2010 06:54 PM (GMT)
The Well - At the bar
When he moved beside her, Harper's fingertips slid on their own, climbing Mild Bill's invisible notes through the air, until they rested an inch from Jax Malone. So long she had made this moment a day dream, a wish drenched in the immateriality of hope, that she continued to treat him as such, and Harper dared not touch him for fear he would vanish like a specter.
"Didn't expect to see you here."
With the statement, two tears that had been welling within her eyes bled to her jaw and fell to the floor boards of the Well, where it joined the thousands that had fallen before it…some shed in sadness others in joy, but tears all-the-same.
Unused to the vulnerability she currently felt, she tried to answer him as nonchalantly as he had addressed her,
"'Jax Malone, I do believe that's the understatement of the year,"
feeling stronger with each syllable, she barreled on…unaware her hand still floated above his arm,
"Expectation will always let you down Malone. It'll disappoint you with too much warning and overwhelm you with too little."
Finally, Harper pulled her hand away and reached for the bottle of beer behind her, finding a touchstone in the moisture slicking its surface. Mimicking Jax's pose, she drew from her bottle, smiled and said,
"So, Malone, I guess the real question is…are you disappointed or overwhelmed?"
Round Jack Brannigan - May 20, 2010 02:55 PM (GMT)
The Well - just outside
Jack embraced Counsuela, and nearly lifted the small woman to the stars, with a bellow of laughter.
The barwoman cackled like a school girl of ten summers and planted a kiss on each of his full cheeks, leaving a hint of red behind,
"And how are you this evening, Round Jack?"
Squeezing her tighter, the old giant's words found root in the emotion of the moment,
"I am alive, Connie...very, very alive."
With another kiss for his bearded chin, the woman departed, moving her warmth of spirit and soul to Gwen.
Jack, in turn, made his way to the door of the Well just as a weathered and quite familiar hover carriage floated to a stop beside the U-Trek. Without thought, his massive hand combed the Jiangyin atmo in a youth filled wave, and his blue eyes glowed at the sight of the driver. Unconsciously, he smoothed his pants for the thousandth time and removed his great Stetson from his head, revealing a meticulous organization to his thick gray locks.
Autumn Cooper exited the carriage before Jack could help her and moved as fast as her canes would allow until she was in the giant's arms. With the tenderness of a father of daughters, he turned her face up to his and saw the tears she tried to hide.
Before he could ask, she answered his unspoken question,
"Just happy, John…just real happy."
Jack nodded in complete understanding and together the star-coupled pair entered The Well.
Elizabeth Heller-Brannigan - May 25, 2010 04:41 PM (GMT)
Outside the town of Elysium
One of the men stepped forward with his hands facing mother and daughter. His hair had either gone gray prematurely, or he was much older than his youthful face conveyed,
"No need for arms, we w…"
"QUIET!"
, shouted a another man, standing closer to Zachariah,
"No one gave you leave to talk, sergeant!"
The first man retreated a step and his back instinctively straightened,
"Apologies, sir."
The second speaker moved closer to Syn and Elizabeth, and his head cocked to the side weighing the pair. Though he wasn't dressed in any definable uniform, his common clothes and boots seemed pressed, laundered, and polished, as if they were. His Londinium accent seemed uncomfortable with the Jiangyin air, riding quiet on the breeze,
"We don't take orders, Miss,"
his eyes dusted over Syn,
"Especially from BC scum."
Elizabeth's heart threatened to explode from her chest and Round Jack's Grizzly, a gun she had kept in secret since her foster father had given it to her, jumped around in time with her accelerated pulse. She knew she should join her mother on the ground, but she didn't trust her legs to hold her up. Sensing her anxiety, her mount pranced slightly kicking up a few lungfuls of dust.
"Now, get back on your horses and ride your cute little asses out of here before we put those backsides to better use."
, the leader finished and a few of the other men chuckled.
In the distance, Bryan's Mule could be heard turning around, but it seemed very, very far away. A cold damp sweat covered Elizabeth's whole body, and she tried very hard not to cry. Her mother needed her. Zach needed her.
As if on cue, Zachariah Cooper's weak voice rode on the night wind, flying in the place of the shattered rocket bike,
"THEY SHOT AT ME, MS. HELLER! LEAVE ME AND GET LIZZIE CL…"
"SHUT HIM UP!"
screamed the leader, but before any of the other men could react, Zachariah had quieted on his own.
Unable to catch her breath, Elizabeth poked the barrel of the Grizzly toward the leader, just as two tears rolled from her eyes. Her lip trembling, she half-sobbed, half-pledged,
"I'll k..k…kill you."
The wind howled.
Synthia Lyndon Heller - May 26, 2010 02:08 AM (GMT)
Synthia regarded the leader of the group coolly, doing her best to keep track of the others. The tactical situation was terrible for her, and if he had any idea what he was doing, he'd know it. Her best shot was to make it worse for him.

"You can call me eleven dif'rent kinds a' saobi and it won't bother me none." she said. "And I don't need to give out any orders. Just lettin' you know what the consequences a' your actions are gonna be. So here it is. That girl there is gonna look over the boy on the ground, an' if he can be moved, she's gonna ride him out a' here. Now you could have your men try to stop her, but if you do, I will kill you. Even if your men cut me down after that, you will not be alive to see it happen. That is a promise. It will happen. So you need to ask yourself if what you're doin' here is worth dyin' for. For you. Right now. That's what will happen."

She raised her right hand, pointing for emphasis. If she did have to carry out her threat, she'd put a round through the leader's head with the hidden single shot in her mechanical arm. Then she'd use the momentary shock and hesitation of hearing a shot and seeing him fall without seeing her draw first to clear leather and burn down the ones who were in the best position to hurt Elizabeth and hopefully send the rest diving for cover instead of coordinating a counter-attack.

"It's up to you to give the order." she said. "Just make sure you give one you can live with or one you won't mind bein' carved on your stone."
The Dancer - May 26, 2010 04:52 PM (GMT)
The leader looked behind him and then pointed to his own chest,
"Oh you're talking to me. My pardon, Miss,I thought that maybe the village idiot had wandered in from Elysium, given the basis of your threats."

The false smile bled from his face, and he took a half step forward, "You want absolutes, lets talk absolutes. Promising to kill me, even with your passion, is still just that…a promise. One you have to keep. So you can throw your 'wills' around with abandon but they ring hollow. Now for some honest-to-Christ facts. You might act the hard huen dahn with your rhetoric, but that little girl on the horse called you 'Mom'…and that changes the field a smidge."

His hands rested on his gunbelt, and his fingers tapped a leisurely tune along the leather, "You don't ride out of here, now, and one of us will kill your daughter. I might fall. You might fall. Hell, you might be able to back up your talk and drop us all, but that's a longshot. Your daughter dying; well, that's an absolute. Now do you see the difference?"
Synthia Lyndon Heller - May 27, 2010 12:00 AM (GMT)
"Even if I was willin' to leave the boy behind at your mercy, it wouldn't end that way." Synthia thought. "If I backed down, those men'd start gloatin' an' grinnin' like bullies always do when they see themselves winnin', an' Elizabeth would pull that trigger. Maybe hit something, maybe not, but once she did, every gun would be out an' blazin', a few right at her. Hell, ev'ry moment I'm talkin' here's another moment her horse might step wrong an' make that gun go off in her hand whether she chooses it or not."

Synthia took a step back beside Elizabeth's horse, raising her hands slowly, her eyes locked on the leader.

"Yeah." she said. "I see."

With her hand raised alongside the horse's head, she flexed her fingers, extending the stubby barrel past the surface of her metal hand's palm by about a half inch, tenting out the leather palm of her glove and firing the single 8mm round at the leader's face, keeping her hand and wrist relaxed so the slight kick would show as a sudden movement across the horse's eye to go with the sudden bang.

The horse would rear back, she knew, and throw Elizabeth. It would hurt, maybe even break something, but any girl who's going to spend time on horses is going to be thrown, and thrown hard, at least a few times. She could recover from being thrown, and it would put Elizabeth down on the ground fast, on the other side of the horse from the men with the gunbelts, and below the point where attention would be focused; on her, the leader and the frightened horse. Even if they were cold blooded killers, none of these men looked like they'd have the presence of mind to track her fall and try to kill her over every other priority they'd find themselves faced with. None of them except maybe the one who'd hopefully have an extra hole in his head.

Even as the gun went off, her left hand was sweeping down for her father's big fifty on her belt holster. If the holdout hadn't done the deed, it would at least buy her time to clear leather and finish it that way.

Her mind was already preparing for the next most important kill.

Gorram you for shooting down that boy. Gorram you for making me give your family a funeral.

Gorram you for making me do this in front of her.
Marcus Deckard - May 27, 2010 01:16 AM (GMT)
Sturges: A dead system comprised of a half-dozen black rocks twisting through the void, trapped to a single brown dwarf star.

Sturges: A twisted expanse comprising the warped and shredded skeletons of warships and freighters drawn into cohesiveness by sheer mass…a violently radioactive monument to the most indefinably unique facet of the human species of needing to kill each other for reasonless reasons.

Sturges: Home to a scattering who scratched a life on the few cobbled together skyplexes and hidouts carved from wreckage. These few dodge reavers and the occasional alliance patrols for reasons ranging from simple desperation to the privacy afforded there from the rest of humanity…
Time: Two months earlier.

Location: Sturges Debris Field, outskirts of lethal radiation zone.
The Banshee-Class Deep Raider
Howler
drifted gently along the thermal currents of the wastes. Its outer paint, once a brilliant shade of parade white, had eroded over the course of time to a dull grey-black, dotted here and there with brighter pieces of her hull marking careful replacement and repair Howler's owner. Still an air of exhaustion hung about the vessel like a shroud, permeating through to every plate of armor, weapon, and electronic in the veteran warbird.
This was helped none by good deal more recent in design, yet mostly destroyed vessel that drifted as a companion alongside the old Banshee. The ship in question was a Loki-class transport bearing the title
Scorpio
, a stout heavy freight vessel augmented in toughness further by retrofitted armor plating and several light turrets, though the places of those weapons were now only blackened craters and charred debris along its hull, which itself was easily five times the size of
Howler
. Gouts of oxygen-fueled flame still intermittently escaped from the perforated bridge and engines of the machine, pouring an angry red light to the otherwise dead world of the debris field, easily competing for the immanence of Sturges' own poor excuse for a star.
The two had been drifting together now for several days, showing no sign of life. Until, as though to announce that it was still possessing of crew, Howler unfolded a long range communications dish. The shining apparatus blossomed as a flower in spring and proceeded to orient itself in a rather particular direction…
Captain Marcus Jericho Deckard leaned forward at the cortex screen in his quarters. As he waited for the comms to cut through the radiation, the pilot scrabbled at the caked blood on his hands, with one hand on the other then the reverse in repetitive motions. His current appearance would have taken a close inspection to recognize that this was the same man who had saved, and almost killed, the crew of the Dancer on occasions long past. Lanky streamers of uncut hair framed a now grizzled face which had seen too few meals and even less rest since those better days. His holster was there too, but where the elegant lines of Ivy had been there was now the heavy rosewood butt of Vee, a weapon to better mirror the
viciousness
Marcus had let his life become. A blizzard of static continued to light these features as the pilot ramped up the power output to cut through the dead soup of his spatial reality and back into the worlds of men. Finally he succeeded and a connection formed, albeit a tenuous one.
The face that appeared was hazed in static, and was only just recognizable as that of an attractive young woman in a skimpy outfit.
"Maidenhead Appropriation Services…Sir, your transmission is breaking up, please boost your signal."
His rasping voice had and noticeably worn and even more noticeably cold note to it
"It is as clean is it will get. Connect me to The Twins."
Despite the difficulty of getting bored disdain through the distortion, the secretary managed it well.
"Sir, my employers are very busy and do not wish to be disturbed at the mom-"
He cut her off.
"Irrelevant. Tell them it is Captain Deckard, they will respond."
The look on her face shifted to mild glee no doubt in anticipating the cutting him off at her employer's behest in a moment.
"Hold please."
Deckard counted to a total of eighteen seconds before the woman's face popped back into view, looking nonplussed.
"Transferring you now…Sir."
The holding screen was much briefer as it switched to an encrypted line before a familiar face swam into view.
"Well, well, well, Captain Deckard."
He smiled simpering.
"It is Captain Deckard I am speaking with at the moment, isn't it?"
Marcus did not bother responding to the taunt. The schismatic parts of him were under control at the moment, as he had planned for them to be during this exchange.
"If you wanted to contact us, you could have sent a wave instead of disclosing my location to bounty hunters, Fanti."
"It's Mingo, precious. Fanti is out."
"Irrelevant. What do you want?"
"To muse honest, we did try to wave you, precious. But we never got a return. So, Fanti an' me figured this was a good way to get your attention, and what with that big fat bounty on your head your brother put out-"
Marcus felt anger seethe.
"Do not mention him in my presence again, or this conversation ends now."
Again with the smile.
"Fair enough. By the by, how was it you knew t'was us who let slip where you hole up these days?"
The ex-alliance soldier glanced at his hands.
"A survivor who is not one anymore. Get to the point."
Mingo, if he was telling the truth about which twin he was, laughed.
"Still ever the cheerful gent, hmm? The point then: How would you like to do some honest-like work again?"
His voice became flat again.
"Why me, why you, and why have I not already cut off this transmission?"
"Here's the carrot of things, Captain. Fanti an' me have managed to get in a friendly nature with a pharmaceutical type who happens to have a line of rather hard to find drugs…the kind a bloke might pirate a medical transport to get their hands on, if you follow me."
Deckard felt his features tighten.
"Go on."
"In return for doing the occasional work for us, we can set you up with a playdate with this fellow's stocks as payment for your services rendered. Sound-"
The screen began to fade out into static. Marcus adjusted the gain, but to no avail. In frustration, his boot lashed out and kicked the underside of the terminal.
Immediately, the screen cleared up to show Mingo again.
"-you still there Deckard?"
"I am."
Marcus leaned forward.
"I will consider you proposal and contact you within the week."
"You've got two days, and think hard, 'cause I can't imagine another offer like this coming up anytime soon from anyone else, Marcus the Murderer. Ta."
The transmission link severed.
***
Time: Present

Location: Elysium
Marcus Jericho Deckard's figure sat, slightly slumped in design, in a corner table of The Well where the warm light of the bar barely reached. A mostly drained glass of clear liquid was in one hand while two other empty cups awaited the arrival of its colleague. Though his face gave little recognition to the external world, on occasion slightly glazed eyes would dart quickly around the room, scrutinizing everyone in it, before returning to staring at nothing.
The circumstances that had dragged Marcus back from a place that made this world look like a bastion of heightened civilization continued to infuriate and confuse the pilot. The twins had said this was going to be a simple transport and baby-sitting job, but had neglected to mention just exactly
who
he was going to be working with until the last minute. Alternative possibilities, the vast majority of them violent, continued to run in barking circles, trying their utmost to convince him to any course of action besides
keeping his word
. But the payment Fanti and Mingo had promised forced the pilot to keep his…selves…in check, at least thus far.
The door parted widely and a face, attached to a body no less, came through the door. Deckard winced faintly at the recognition of The Monkey and his free hand brushed Vee before deciding to gently play it off by sliding into the vest pocket of his jacket, instead. It reappeared a moment later with several pills of varying size, color, and shapes. Picking two from the menagerie Marcus chased them down with the remainder of the poison in his glass before signaling for another from the bar. More faces of recognition filtered into the tavern: The Sniper, The Bear…memories flashed kaleidoscopically at these sights, but bore minimal interest in Marcus' priorities, as the one face he was really looking for had yet to appear. Marcus leaned back further in the shadows to help keep from being noticed for the moment as his next drink arrived. Deckard was not sure what would happen or what he would say when he saw Gwen again…
He figured loads of alcohol and antipsychotics could only help, though.
The Accountant - May 28, 2010 11:31 PM (GMT)
Some distance from Elysium, in the dusty plains where only the blood, sweat, and tears from generations of tireless farmers could coax anything to grow from the burned soil, a lone tree defied both nature and the scorching sun by standing tall and green when it should have withered and died in the numerous droughts over the years. At only ten feet tall, with a twisted gray trunk that finished in a small peppering of spiny green leaves, the rider adjacent to the tree easily towered over it. To be fair to the struggling plant, both horse and man were unusually large specimens of their respective species. The Accountant, a peculiar sight in a two piece suit mounted on the biggest steed he could find to rent in Elysium, visited the tree every time the Dancer came home.

In his various trips to the moon, he'd seen and learned many things, but his core fundamentals remained unchanged. He still couldn't attribute any combination of evidence as to why people continued to live where they were when the ground would not sustain life without immense effort; to continue to live when, even on this very moon, there were more fertile, and more profitable areas to habituate. The attachments people formed with a simple patch of earth were baffling to one who had spent the past decade on the move.

To curb his constant desire to preach and advise the town's economic policies, he rode out on a rented steed and visited the tree whose stubbornness to live in unliveable conditions rivaled that of Elysium's citizens. It didn't make him understand, or change his opinion on matters such as opening a spaceport to increase trade commerce, but the perseverance was admirable, and both had earned his respect.

"Stay strong, little tree," he said. Both man and horse stood still for a moment more, stoic silhouettes on the sparse horizon of Jiangyin, before the tree was once again left standing alone with nothing but the dry winds as company.


Later…

Night eased over the plains as The Count crested a hill, almost ready to head back into town and relax at the Well, when he saw a group of people, six men, some mounted, confronted by two riders who he recognized instantly with no small amount of trepidation.

Before he could register the scene, a shot rang out. Treating the discharge as if it were the starting pistol of a race, The Count and his mount exploded down the slope. There was no time to analyze, to account for all variables and quantify the risks and formulate a strategy. In a rare moment of spontaneity, The Count didn't think, he reacted.

Man and beast rode in from the group's periphery. Had they not been so focused on the confrontation, or had it been the sun at his back rather than the moon, he may have been shot dead in the last hundred yards. As it was, the fortunate unison of time and angle of attack granted him a limited amount of invisibility.

The thunder of his steed's gallop echoed across the plains like the war drums of a charging army, and he wondered why they didn't turn at the sound. Maybe the threat of immediate death was more pressing than the rumblings of a distant storm, but to The Accountant it felt as if the very earth shook beneath him, his horse tearing up the ground like a fissure splitting the plains in two.

Or maybe they did hear it, but all the sound did was provide the soundtrack to their battle; the rhythmic pounding of death's song. Or perhaps they thought it their own heartbeat thundering in their chests. In any case, at the edge of the group one man on horseback did turn to face the sound, and would never forget what he saw for the rest of his life

In the tale of the Dancer, the Accountant had started out as the one on the outside looking in. The crew shared so much history with each other that it was hard to feel like he wasn't missing out on some integral piece of the Dancer puzzle. Over the past year and a half he'd maintained a certain level of professional disconnect, or so he thought, scolding overeaters, consolidating the cash flow and essentially smoothing out the ship's workings like he would a business. He certainly didn't view himself as the father figure the crew placed Round Jack in, but perhaps an entrepreneurial family friend with a flair for politics and terrible accounting puns.

For sixteen months he'd been waiting for that moment, not of acceptance, because he was sure they'd already done that, but of knowing. Knowing that he was, and always would be, a Dancer.

Crouched like a lion prepared to leap on its prey to tear it asunder, coiled in an impossible position in a state of balance that would have made little Imza proud, atop a galloping stallion of monstrous size silhouetted by silver moonlight, and screaming - he realized later the screaming is what finally got the gunman's attention - like a number-crunching accountant from hell, was not that moment.

No, he was not yet truly a Dancer, but gorramit if he didn't fly like one.
Cpt. Gwyneth Paul - June 1, 2010 03:27 PM (GMT)
The Well - Just Outside
Faded denim painted on by exercise and genetics covered the long instruments of The Dancer's captain, and an equally faded flannel shirt of red and white punched the natural hue of her hair, defining it in even the pale light of Elysium's streets. Gwyneth Paul wore no visible weapons; unless one were knowledgeable enough to count her hands, elbows, knees, feet, and every other surface of her warrior's frame.
But talk of defense and attack wasn't the talk of Elysium or The Well. Instead, peace and comfort dominated her thoughts; with even the promise of business taking second fiddle in the Captain's mind.
Jack greeted first Consuela and then Autumn Cooper with hugs, as great in feeling as they were in form, but it was the latter that brought a twinkle to the old giant's eye; one lost so many years ago.
"Here, child,"
Consuela had appeared beside her and held a white handkerchief aloft.
Unaware that her reverie had produced tears, Gwen waved off the courtesy, smiled and wiped her cheeks with the rolled sleeve of her flannel.
"The air is bad this season…dusty,"
the barmatron covered for her.
"Nonsense, Consuela, I was blubberin' like a tit-fed toddler,"
Gwen smiled at the confession, one that would've seemed
weak
in the past.
The older woman returned the smile and drew close into Gwen's confidence,
"There is a man here to see you."
Gwen's smiled bled from her face, and her hand reached for Defenders that were holstered and stowed in the footlocker in her bunk aboard The Dancer.
Seeing her reaction, Consuela quickly continued,
"No, no it is not the bald man or the dark man you warned me about, but he does say that he knows you. He calls himself McGuf…"
"Rollo,"
Gwen nearly gasped in relief.
"Si, Rollo McGuffin, he is in the first room at the top of the stairs. He has been very sweet,"
Consuela added the last with a smile.
"Yup, that's Rollo,"
Gwen snorted,
"Let Bill know I'll be with him in a short span."
"Si, Gwyneth, and welcome home."
Gwen's smile grew,
"It certainly is at that."
****
The Well's Rooms
Moments later, Gwen had passed through The Well's main room, nodding to friends and waving at Bill and Jason as they played. She didn't notice the longhaired man at the table in the corner. Shadows of light and memory further camouflaged the face of Marcus Deckard and delayed a moment that had been years in the making.
Returning to the Jiangyin night through the rear exit, Gwen climbed the stairs two at a time and knocked on the door Consuela had noted.
"Rollo McGuffin, open the door or I'm comin' in! I got three farmers out here that have a few questions about their daughters!"
Jax Malone - June 1, 2010 04:24 PM (GMT)
The Well - at the bar
Harper's fingers hovered like specters, the hair on his arm moving as if a current ran from her fingers through his skin. It had been years, but there were so many faces Jax would never forget. As the tears appeared, the gunman continued to monitor his breathing, keeping his heartbeat low. Captain Li's voice hissed in his ear, another memory.
"Browncoat snipers do not get caught.
Now, at The Well's long bar, Jax was caught as surely as a mouse in a trap. The only advantage was that this trap didn't cause as much physical pain.
She was putting on a show, false bravado, and the mask was hard to see through.
"'Jax Malone, I do believe that's the understatement of the year. Expectation will always let you down Malone. It'll disappoint you with too much warning and overwhelm you with too little."
She was adjusting, growing more comfortable in her performance of nonchalance. She was hard to read, irritating byproduct of spending years apart.
What Jax's eyes couldn't see, his muscles recalled only too well. As Harper reached behind her for the bottle of beer, the gunman's weight shifted infinitesimally closer to the room, away from the bar. When one team member was distracted, focusing on something, the other watched their partner's back. It was the whole reason a sniper team consisted of two and though Harper hadn't always been his partner, the rule didn't change.
"So, Malone, I guess the real question is…are you disappointed or overwhelmed?"
He took another slow drink, deciding after this to switch to beer or something harder - something his throat wouldn't have to work so hard to swallow.
"Neither. You know I'm rarely overwhelmed and to be disappointed implies expectation."
His voice was soft and low, the same neutral tone he'd use on a job to keep the enemy from knowing he was out there with one eye to the scope, one finger on the trigger.
"It's been a long time,"
he noted, smirking at the cliche, a hint of warmth slipping into his voice.
"What brings you here?"
That was, currently, the heart of the matter. The answer to that question could either relieve all his doubts and questions or make them multiply. Knowing Harper, Jax expected a swift multiplication of concerns to come at any minute.