Title: taibhse
taibhse - August 20, 2009 08:03 PM (GMT)


An explosion had ripped her very soul apart, but still she hung, suspended in space. Heartbeat lost in the frigid Black, she yet held purpose.

Her corridors hung with dark and terrible secrets, her world a silent and bastardized version of her previous self. The once mighty Hannibal class carrier throbbed with new rhythms, with new purpose. Where laughter and catcalls had hunted her halls, thick boots tromped, crushing delicate electronics under foot.

Heavy plates welded without precision resealed her gaps. Minimal support, air and gravity, restored by grime and filth ridden hands, but not life-giving heat. Ice winds, cold as the Black echo through the huge ships layered decks.

A deep space storage, a waystation, a stepping stone between shipping lane and far reaches of the 'verse where an army of destruction may hide.


For the mighty ship herself, life was gone. All that remained was the faint whisper of impression upon the surface of the conscious.


A taibhse, the ancient ones would whisper, in tones of darkened reverence, and no small fear. Taibhse was all that remained when what was human had gone...




taibhse - September 3, 2011 04:56 PM (GMT)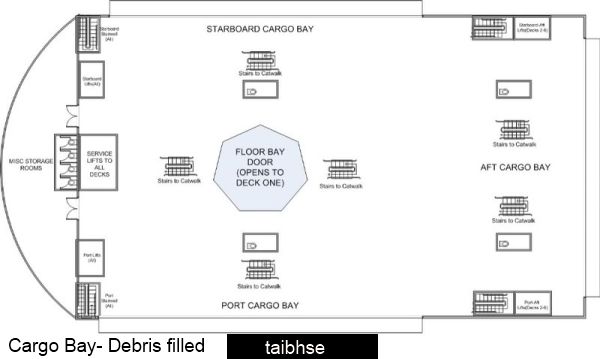 LOWER DECK: Ghost Deck:

NO IMAGE:


(The original Titan mage is gone. However- This is where the explosion happened that destroyed the Titan and left her drifting. The back half of this deck is gone, open space beyond the mid-deck bulk-head seals. This deck has no heat, minimal life support. It is a danger zone. This is where Monty and Sancho died trying to stop the explosion.
I am taibhse.
I am what remains when all that is human is gone.
I am a ghost in the Black.
There is no love here, there is no solace.
There is no comfort. There is nothing but emptiness.
Lives are spent here, lives are lost,
and still, I am empty.
Come. Find me if you can.
Return humanity to the inhumane,
Return life to the unliving.
I am taibhse.
Bring me back to life.
The word means
ghost
in a language all but forgotten, except perhaps on Kerry, where the old Irish still holds place. She was once the Mighty Titan, filled with laughter, love and decades of flight, but those days are gone now.
In their place is a ship of need and hunger and sorrow. They were promised a new life, promised a new order, a chance to be someone, to earn their way by the sweat of their brow and the strength of their hands.
They were promised many things.
And this is what they have found; nothing but darkness. Ghosts in the Black, raiders in the silent lanes where ships barely dared any longer to sail, they all were once someone's father, someone's child, someone's sister. They all were once bright of eye and light of step.
Can they become those things again? Can what is lost ever truly be found?
It's time, at long last, to find out.
Ertia - September 3, 2011 05:23 PM (GMT)
ADMIN NOTE!
PLEASE READ CAREFULLY!!!
Think of taibshe not so much as a ship anymore, but as a multi-leveled Dark-Age village.
There are
thirty-five
Unity Life Cult Members onboard The Titan. There are TWO ships- an older Eider class and a Jayhawk 14 with another ten each crew onboard. The Eider is currently docked in the docking bay, the Jayhawk is patroling around taibhse.
In Addition: There others living in taibshe.
> There are innocent victims of the ULC attacks on other ships hiding and trying to survive while finding ways to escape.
> There are actual Reavers, captured and kept in the brig for study by the ULC members so they can try to become more like them. They are not loose running around the ship unless someone lets them loose, dong ma?
Lastly:
ADMIN DECLARATION:First-
Regarding technology: You will have what technology is provided in-thread, and nothing else. There will be no sudden whipping out of com units, corpads, sonic screwdivers, tri-corders, telephone-shoes, etc. Unless your character has specifically mentioined their tech previously, it cannot be created on the fly. I promise that I'll be very clear and specific about what is available to you where. If you have an idea for something regarding the available technology, pm me or Zira and we'll be happy to yay or nay it.
REMEMBER THAT still ONBOARD is Pew's ROBOTICS/TECH lab, and Jeeve's TECH-LAB room. If you can get to them, they are all yours. ;)
Second-
This is Do or Die.
Every
character is vulnerable, and every character is
mortal
. Every move you make, every play you run, will have consequences -good or bad- not only for your character, but for other characters as well, and those consequences just might be deadly. YES, YOU CAN DIE IF YOU ARE STUPID, (OR get someone else killed...)
As with Nihalchi, there are TWO immunity charms- if you can find them, (and I'll lay better clues this time) you are invulnerable. :) If someone picks one up in the process of play, I will pm you immediately to let you know.
Third-
Both Zira and I will be running NPCs in this episode. (Waves- Hi, Z! ;) ) We're going to shuffle who we're playing when so that you do not know who you are up against at any given time. Just to shake things up. Godmodding WILL be allowed with
unregistered
NPC characters- for example, feel free to find a survivor hiding onboard, or have a fight with a random ULC member.
Fourth-
in case Second didn't say it clearly enough-
YOUR CHARACTER MIGHT DIE.
If you want to make a move but are worried that it's too dangerous, let Zira or me know and we'll be happy to work with you.
Also- if you're looking forward to killing your character, that, too can be arranged. PM me OR Zira (Not both! One of us at least wants to be surprised. :unsure: )
Caleb Hall - September 7, 2011 03:34 AM (GMT)
Caleb's Hammer

The shuttle drifted slowly through black emptiness, coming ever closer to the wreck that was to be its temporary new home. Caleb didn't envy the craft; the hulk looked dodgy at best, like a complete and utter death trap at worst. And it was his job to navigate the shuttle into that death trap. That did not make the man happy. The shuttle was his. In just a short while, Caleb had become very attached to the smile pile of metal he was currently piloting, and was reluctant to force it to go somewhere as seemingly unsafe as the dead Titan. Unfortunately, he didn't have much choice. If they wanted to rescue Cade's sister, they had to get to the ship, a task which was his to perform.

Really though, as much as he might say that he was piloting the shuttle to help on Cade's rescue mission, he honestly didn't give a rat's pigu about the whole thing. He didn't trust Cade, and saw no reason to risk both himself and his baby (for that's what the shuttle was) for "the captain." The only reason he had accepted his task with no complaint was that it let him pilot the shuttle.

Here, his hands at the controls, the ship flying where he told it to, listening to him and responding in turn, he felt completely at peace. Here, he wasn't Caleb Hall, former slave; instead, he was Caleb Hall, shuttle pilot (and, if he wanted to feel even more important, he could think of himself as Caleb Hall, the person responsible for the success of the entire mission. After all, someone had to get the landing team to their destination). He'd have to convince Cade to let him take the shuttle out in the future. It would be nice to fly around the Black without having to worry about who he was transporting.

Speaking of that…Caleb's senses were focused on his flying, but he did manage to hear snatches of conversation. Carter was waxing poetic—something or other about Hell and the Devil—and Wildback was speaking to the stranger on the shuttle, Cade's other sister. In short, nothing that mattered to him.

When Liberty started shouting, though, that mattered a great deal. It was distracting. Irritated, the man spoke without bothering to turn his head. "I would appreciate it if you would not yell while I'm trying to fly the shuttle, thank you." That done, he refocused on the task at hand. If Liberty wanted to yell, she could do it once she was safely on board Titan.

Soon enough, Caleb found himself staring into an abyss, which apparently was a good thing. At least, it was where he was supposed to go, even if he didn't want to. Reveling in the silence of the moment, dreading the battle to come, he slowly moved his human cargo into the black within the Black, a sigh escaping his lips as they entered the cavernous maw.

The shuttle touched down with just a slight bump, and Caleb finally let himself smile, just slightly. "We made it," he whispered to himself, to the shuttle, to the dead lump of metal that encased them both. He raised his voice then to address his passengers. "All those getting off, here's where you do it. Miss Vass, I guess you're staying with me." His eyes wandered over to the Companion, something in them letting the woman know that whatever happened next, she held his life in her hands. He hoped she took good care of it.

Claudia James - September 7, 2011 04:43 AM (GMT)
Caleb's Hammer

Claudia paced. Back and forth. One, two, three. Turn. One, two, three. Cradled in the crook of her left arm was her CorPad. The fingers of her right danced across the surface, checking. Re-checking. Making sure everything was arranged just so. Important. That was important. Having all the software she had loaded into the CorPad within easy reach. Could be the difference between life and death. Her. Claudia James. With computer skills that were limited to data mining. The difference between life and death. Hah!

She wasn't as scared as she would have thought. Probably the Edge she had taken helped that quite a bit. The same drug helped her ignore the pain that still bothered her shoulder that had been cut to pieces by an Amazon on Nihalchi. Even the armoured vest she wore wasn't any kinds of uncomfortable even though it was tight-fitting and heavy. Unlike Nihalchi, though, this time she was armed. One of Brun's 9mm pistols hung at her side and in the pockets of her dark green jacket were extra clips of ammunition. A proper knife with a sharp blade. And a stun-baton. The stun-baton was important. The creatures that now inhabited the Titan had once been human. Perhaps they could become so again.

One, two, three. Turn. One, two, three. She ignored Carter's philosophising. Ignored Wildback's joking. Ignored Liberty's shouting. Ignored Caleb's demand for silence. Just kept focus on what she had to do. Guide them through the maze that was the Titan. Guide them to the bridge. It was all there on her CorPad's screen. The route mapped out in bright green with a red line from A to B. But she couldn't be sure that the specs, the blueprints, the maps were all up to date. Couldn't know that there weren't obstacles in the way. But it was all she had. That, and Carter. And Wildback. And Liberty. And, she hoped, Moll would be there too...
Saskia Vass - September 7, 2011 11:27 PM (GMT)
Caleb's Hammer

She tried to speak, tried to get one word out before Hunter completely destroyed the fragile peace of the shuttle, but nothing came out when she opened her mouth, a thousand different things coming to rest in the back of her throat. Saskia was still staring at her, still looking at Liberty like she'd never seen her before in her life, then something passed over her face, a flash in her eyes that could not be read.

Before she could think better of it she stepped forward, into Liberty, and pressed a swift kiss to her forehead. She leaned in, fingers tracing over skin. And she whispered to Liberty, words she barely remembered how to say, promises she knew she wouldn't be able to keep, things of gods and family, things she knew Liberty wouldn't understand or believe even if she wanted them to be true. "Peace, Liberty." Her voice was harsh, but she ran a hand through her own hair -- an anxious, agitated motion -- and actions once again speak louder than words. "When you look for us, we'll be beside you."

Her gaze passed over the others --new and strange folk, these, who would risk their lives for strangers-- to Carter Goodspeed. She had never truly understood this man, but in these last hours, she thought she was beginning to. The gods weren't speaking through signs and portents. They didn't need to. They spoke through him. And she was finally listening. Her hands twisted in the air in what could have been a wave, but was not.
Carter Goodspeed - September 8, 2011 07:33 PM (GMT)
Caleb's Hammer

Moving to the front of the shuttle, Carter placed a hand on the shoulders of both pilot and newly minted gunner,
"May Caleb's Hammer find plenty of nails," his smile became epic, "I will see you both after. Be sure and take pictures."

Returning to the main compartment of the shuttle, the imp appeared unaware of Liberty's explosion, seemingly incapable of processing anything negative. Instead he looked at the three that would be joining him on their quest to topple the throne of Hell. Each face he beheld was given a smile and a wink, but beneath each was an unspoken promise, one that simply said, "To die would be an awfully big adventure…an adventure for another day."

As was his way, the thief lit his torch of hope with the flint and steel of song.

"When people keep repeating, that you'll never fall in love," his voice, strong and fearless, seemed to threaten the integrity of his Cool Suit with the swell of suicidal bravery, "When everybody keeps retreating, but you can't seem to get enough…"

His fingers slipped into an invisible enclosure along his thigh, and removed a device that resembled a stem phone. A second later he opened the Hammer's floor hatch and stared at the cold, closed top air lock port of the shattered Titan.

Licking his lips, Carter placed the produced device against the lock's external command dock and depressed the lone button on his Cracker.

While he waited, his voice continued his tale, and with a glance over his shoulder, he engaged the gaze of Liberty Quinn,
"Let my love open the door…"

A LED lit along the outside of the Titan's airlock, one of three.

"Let my love open the door."

The second light lit.

"Let my love open the door."

As the third lit, he looked back at his work, causing a trio of new stars to appear in the glittering eyes of Carter Goodspeed. A dull click sounded from the lock, a crack appeared along the portal, and the hiss of combining atmo whispered medieval ballads to all that listened. The hatch fell inward on neglected hinges, but he guided the bulky metal to a silent rest and stuck his head into the breached boat.

Lightning quick, Carter replaced the Cracker in his Suit, donned his full form-fitted mask, and turned to the others, a modern Ali Baba,
"To your heart."

With a wink to Claudia, Liberty and Wildback, the thief dropped through the floor of the shuttle and through the ceiling of the Titan's upper deck to land silently in the shadows.

Carter landed in an impossible crouch, crawl, where his entire body was less than two feet above the grating of the former ship. Eyes, long thought to have seen all the 'Verse had to offer, glowed with excitement at his new surroundings.

Torches, spewing surprisingly little smoke, cast visions of bridges over trolls and thimbles that produced eternal sleep. The old Titan had become a place outside of time, one that lived still in the ancient world of faerie.

Carter Goodspeed had come home.

In the space between heartbeats, the thief had disappeared down the hallway…his mind on goblins, traps, and magic most foul.
Hunter "Wildback" - September 8, 2011 08:15 PM (GMT)
Caleb's Hammer
Just like that, Liberty blew her lid. The long and short of it she called him some mildly deriding names, insulted the size of his man parts, then threatened to chop them off. That was the part that irked him. His balls, really?
Of all the things you could go for, you pick my balls? That's real intelligent . Does she honestly think I'm some sort of psycho?
He was going to respond with something clever and mature, like, "While at least I can take a joke", or, "Well I didn't have to get surgery for my bits to be this big", or maybe the old cliche of, "I'd like to see you try." But Caleb's command,
"I would appreciate it if you would not yell while I'm trying to fly the shuttle, thank you,"
shut him up. Even if he didn't like Liberty(an opinion fast forming) he'd decided long ago he liked Caleb. Besides that, despite all his arguments to the contrary, deep down he rather liked being alive; causing the shuttle to explode wouldn't help him in that regard. So fighting down his impulses to snap back at this crazy Po fu, Hunter bit his lip.
How the hell does she think we're gonna get said kid sister? Walk up and ask? Its not like they'll be like, "No, that's okay, you take these two cultists away and expose all our dark secrets to the 'Verse. We don't mind." Hell, if that happens I'll let Liberty hit me, flat out, right in the face. Somehow I doubt we're getting anywhere without bloodshed. Why does she think...
Then Hunter took a good look at her posture, back straight, nose slightly aloof, that posture that says "I think I'm far better than everyone else," and he knew. Alliance. A purplebelly and proud too.
Did I look that smug at the academy too? I sure hope not, the nice uniform isn't a decent replacement for morality.
His first thought went along the lines of,
I don't want a stinking purplebelly watching my back, lady or no. She gets half a whiff of my desertion rep and I'm dead, she'd just shoot me. Besides that, I have standards and principles.
But then he though of Cade again, the man who saved his life a couple of times, the man who pulled him out of the gutters of alcoholism and gave him a chance to make something of his sorry washed up self. A man he wasn't going to let down today, no matter what. So for the second time Wilds bit his lip, it was starting to hurt, truth be told.
Saskia came over and did her little ritual with liberty, which caused Wilds to experience a very interesting set of emotions, ones he'd have difficulty explaining, not to mention were far from PG. The shuttle docked followed by Caleb's voice,
"All those getting off, here's where you do it. Miss Vass, I guess you're staying with me."
Clasping his hands over the pilot and gunner's shoulders Carter gave them some sort of inspiration. Hunter really couldn't make out what he was saying. Something about nails. With that accomplished the thief returned to the main shuttle, smiling and winking at each member of the landing party.
Leaving the thief to do his bit, Wilds headed up to the cockpit.
"Thank you Caleb,"
he told the pilot honestly enough,
"That was one Da shing la se la ch'won tian, tricky landing to make."
In his experience it never hurt to thank your pilot; you wanted him on your side come evac time.
A quick glance over at the rest of the party showed that Mr Goodspeed was still involved with his lockpicking ritual, which seemed to involve copious amounts of nonsensical poetry. Well to each their own, if Goodspeed got them in, it didn't matter if he sprinkled the lock with holy water and sang Mary had a little lamb. Figuring now was as good a time as any, Hunter double checked his weapons and armor, loaded and ready to go. Glancing up, he saw Carter give one more wink, then drop down through the now open door, into the old wreck below.
Walking up to the hole himself, Hunter breathed in once, then jumped down, leaving the relative safety of the shuttle for points unknown. His landing was far less graceful than Goodspeed's, almost spraining one of his ankles and falling on his face. He might have stayed on his feet, but he'd made a decent amount of noise doing so. A quick glance around confirmed that nothing had heard him. That was somthing at least.
It was dark on that old ghost ship, really dark, except for a few torches, honest to God torches, burning. Said torches prompted the ex-coat not to fire up his flash light. If anyone was hiding in this old bay the last thing he wanted was to paint a gorram target on himself.
Leaning his head backwards to address the next person coming out of the shuttle, really hoping it was Claudia and not Liberty, Hunter whispered,
"This place is giving me some serious hebbie jeebies."
True enough, the hairs on the back of his neck were standing straight up and a trickle of sweat chased its way down his brow. Shaking his head to clear it Hunter got into battle mode.
Right then, take the bridge, take and hold the bridge, we do that, easy in, easy out, that doesn't sound so bad.
But his gut told him different, that it would get very bad; very fast.
With one final glance the soldier followed the thief into the darkness.
Cassie Quinn - September 24, 2011 08:48 PM (GMT)
Lyrics: Darren Hayes - "Covered in Darkness"
http://www.youtube.com/watch?v=yIZ0f0ULVew
Somewhere in the Bowels of Taibhse
Cassandra moved through the corridor with eyes shaded from the glittering flashlights and lamps, preserving her night-vision. Her formerly blond hair was knotted in dozens of small braids, stiffened with black engine grease taken from the heart of taibhse itself. Each braid dangled with a war-trophy; a button, a thread, a bit of bone, far fewer of human origin than one might suspect.
been spending so much time underground,
i guess my eyes adjusted
to the lack of light.
i got covered in darkness.
From her eyebrows and cheeks small spikes protruded, blackened steel, tarnished and cold. The knotted rags she wore were covered by a canvas cloak for warmth. Over her shoulders, makeshift harness held her blades close, wrapped over her breasts to compress her woman's body into as lean and hard a machine as a human with estrogen could become. Pausing, she sniffed the stale air. Her tongue ran over her filed canine teeth, touched the steel knobs of the piercings inside her mouth, tasting salty iron.
i was waiting for something new
happiness always ending,
in the blink of an eye.
there was no one intended
no one intended.
In the wide corridor, canvas and rags hung here and there, tied into rough shelters in the cavernous depths of the darkened wreckage. Lights flickered, affording shadowy glimpses into the lives of taibhse's inhabitants. Huddled in rough blankets or furs- whatever they had brought from Nihalchi or stolen in the days since, some slept, some rutted. Still others nursed wounds that no doctor would heal. There was no healing on Taibhse.
it doesn't really matter where it all began,
all i know
i got covered in darkness.
She paused beside a man, years barely numbering more than boyhood, hunkered in the shadows, ghastly grey palor testifying to the fading lifeforce. With a shrug, she dropped him a parting gift, a bead of bone tugged from her hair. He clenched it in his fist a moment, before weakness let it drop unheard to the floor.
Trager was ahead of her, nearly to the stair.
"Salt."
He whispered her name, the only one she had left.
Salt,
stinging in a wound, bright and alive on the tongue, a live-supporting element and a weapon of torture. The low harsh word whisped it's way around and through the moans of pain and grunts of pleasure that issued from the living wards of the tent-city, and she hastened her pace, darkened eyes catching his gaze for a second, then glancing away again, watching for threats in the shadows.
every wonder why i never really truly connect,
while my eyes are open,
i can hold your gaze
but i'm never connected.
never connected.
She had been with him since Nihalchi, fought both with him, and beside him. Was it symbiotic or parasitic, this touch they shared, these bite marks that laced both their bodies, possession as the whole of the law. Symbiosis. Parasite. The words were in her mind, but they belonged to another time, another woman, one she crushed down with every stomp of her thick-soled boots. Salt didn't try to quantify what defied reason. Trager relied on her, and she on him. They fed from each other, ate each other's rage, shared their greed, their hunger, their pain, screamed it out together. They were stronger for being two, yet meeting his dark eyes in the corridor, she felt nothing for him.
I am famous for my generosity,
they say i am the kindest
it easier to give than receive love.
easier to give than receive love
There was no order here, no system. No one was in charge, no one responsible. There were skirmishes daily for control, but everyone did as they wanted at any time. Some tried to form gangs, only to be cut down before they could gather a force. Some boarded shuttles and tried to leave, only to discover that the fuel ran out and the only rescue was to return. Others fought for control, and died, their bodies committed to feeding the fires or added to the debris that drifted frozen in the vacuum of space. And always, they fought; fought for supplies, fought to join a raiding party when one of the ships left, fought for trophies and for sex.
Nothing was as they'd been promised. Nothing ever would be.
it doesn't really matter where it all began,
all i know is i was covered in darkness
covered in darkness
So she moved now with Trager, their plan hatched, their future becoming set in stone with each step upwards that they climbed. tsaibhse was a city without a future. If they wanted to survive, they had to make their own future, and that meant carving a path through the randomness.
turn a page
it's over
run away to nowhere
and it's hard to take control
when your enemy's old
and afraid of you.
Mercy was for the weak. To control the masses, you had to have what they feared, and fear, a shortcoming despised on Nihalchi, was a far and foreign creature in this forgotten place. What a sane man might fear, one in darkness might embrace. They had tried to embrace the Reaver, tried to find it in themselves, and all they had found was terror.
you discover that the monster you were running from,
is the monster in you.
So terror was what they had embraced.
Trager caught her arm, pinned her back against the wall, bumped his forehead to hers none-too-gently. His mouth moved in urgent fired words,
"We'll only get one chance."
She smiled against his mouth, feeling the cruel curve of his sharpened teeth on her raw lips. Her voice was raw and old, far older than her years,
"That's all we ever get. Let's go."
it doesn't really matter where it all began.
all i know is i was lost.
i feel lost.
Brian Wall - September 24, 2011 11:47 PM (GMT)
Deck One
Empty Galley Dry Storage Closet
Day Three of this God Forsaken Nightmare

He'd almost fallen asleep when he felt the roof of his hopefully temporary stronghold connect with something larger than normal space debris. Not that he was complaining, though. Sleep was the enemy, and whatever had made the thud had probably saved his life.

Thoughts from his life, the one he was praying to get back to sometime soon, ran through his head.

"Small-ish shuttle, probably no more than a ten person model, judging by how lightly the pilot had managed to set her down. Wonder if she's staying. Could be my ticket out of here." he thought, rolling out of "bed", which consisted of a small floormat on a low shelf.

His feet hit the floor, boots making a soft thud on the deck. Not as soft as he'd like, but soft enough. He reached quickly for his tool vest, slinging it around his shoulders, and began checking his tools by touch. Six adjustable spud wrenches hung from his torso, two larges at his waist, two mediums at his ribs, and two smalls over his lungs, their pointed edges filed down to near needle sharpness, a long leather cord tied securely around each. His multi tool was still in its holster at the small of his back, and on either side of that were claw hammers, their handles also wrapped in leather cord. Zipping the vest closed, he snatched up his hard hat, checking the charge indicators on the flood lamp and the strobe, which had been cobbled together from a few other items. He settled it onto his head, tightening the retention strap.

He took a deep breath, and began mentally talking himself into doing what had to be done. It wouldn't be easy, but he could do it.

"It's just outside, Wall. Just outside. All you need is a quick peek. The 'Quest' is all the way on the other end of the ship, docked in the cargo bay where it can't hurt you." he thought, moving heavy items away from the door of his closet. "Most of the crazies are decks below you, doing that 'crazy in the head' thing they do, and you'll only be outside long enough to take over the shuttle. The atmofeed runs strong here...mostly. You've got all the access tunnels to escape to if you need them. You'll be just fine.

He cleared the doorway, and stood back, checking the cargo pockets of the gray coveralls that were tied around his waist for his electronics kit, and the handful of dry rations he had left. He slid his two medium wrenches out of their retaining straps, looping their cords around his wrists, and holding them point down. As he opened the door, he tried very hard not to think about the last time he'd had to use them on something other than a bolt, or just how un-rustlike the brown stains on their sharp tips were.

He heard scuffling towards the aft end of the ship, back near the crew quarters. He gently drew the door closed behind him, and started towards the noise, praying ever harder that he wouldn't have to meet any more of the walking nightmares aboard the ship as he made his escape, or at least tried to. He came to the white scratch marks on the floor that indicated where the atmofeed got tricky, and slid into a darkened recess in the wall to quietly lie in wait and hopefully not have to stab whomever passed by.
Row - October 5, 2011 07:30 PM (GMT)
In the Brig:

Shadows flickered over the welded bars, the torches igniting illumination that revealed the monsters beyond in parts: a glimmer of tooth here, a flash of blackened skin there. The keepers had gone and in their place Row had come, watching with darkened eyes. Row was a tall, meat-boned man, if only a man by comparison of the monsters caged before him. Thick black hair was lank and square-cut around his face, rough-shorn by as rough a blade, eyes were pitted brown like uncut wood in nighttime forests. They whispered, those eyes, of satisfaction in worlds gone mad.

Shoving Ula forward, huge hand wrapped around the back of her thin neck, he held her to the bars. Her scream split the air, as her hand was snatched from within, her arm scraped by blackened nails, blood welling up. Its smell was sharp in the air as Row pulled her back from the bars again and he laughed at the taunted monsters as they howled in displeasure, their food, nay toy, torn from their grasp.

Cast from Catholic grace at a tender age, voted irredemable by those in the Church's favor, he cast off the name 'Michael Patrick O'Donnel' in favor of a crude nickname and a tattoo. Row had spent years hunting for the place he belonged. Nihalchi hadn't been that place. Dolenz was an idiot. He thought he'd built the perfect head-game, but Nihalchi was just a crude Cortex game show. This... taibhse... this ghost in the Black was the real thing.

Row hadn't gone looking for future that ULC promised. He'd never been that sort of man. He thought he was joining a creed of faith in order drive havoc, to seed disruption and fear amongst those who believed. To his everlasting glory, in the compound on Nihalchi, Row had found a chaos to match his own.

He hadn't graduated from Dolenz's university of madness- instead choosing his own destiny by breaking out of the camp, slaying the pilot of the transport ship and piloting it himself. Violence was his pulse, anger was his heartbeat, madness was his blood.

Laughter and howls mingled, ripped down the corridor and up the hallway, haunting hunting sounds. Row abandoned it to run his mouth down the long streaks the Pets had left behind in the smooth tanned skin of his prisoner's arm, slathering his tongue with her blood. Ula, so little and dark and frail, cringed but didn't cry. She'd stopped doing that weeks ago.

A glance down and he felt the thrill all over again. That moment he'd first seen her, trying to lock the door between them, her terrified face as she heard her fellow crewmembers screaming, smelt their burning flesh. Her weakness was water to his drought-strained soul, flowing and fast, and he drank on it, as much now as he had then. Grabbing her chin, he twisted her face to his for kissing, her own blood staining her skin.

"Should I feed ya to 'em?" He jerked his head towards the eager and hungry monsters behind the wall, "they're soooo hungry, can't you feel 'em? The way they want you?"

Row thrust her towards the bars again, her high tiny breasts against the iron for the Pets to grasp at, teasing, "They wanna eat you, Ula..."

He wouldn't. Wouldn't waste her on them. He yanked her back to relative safety once more, hand passing over the dots of blood through the tears in her blouse their claws had left behind. In a world where belongings were transient, where little was not owned by another, passed on in time, she? this creature of fear? she belonged to him. To Row, and to Row alone. And when one lived a transient lifestyle, he mused, you needed to value your valuables.

She hadn't screamed that time, so he knew she'd had enough. Scooping her up, he hooked her pelvis on his hip, carrying her like a toddler, solid muscled arm around her waist, pinning her to him, "Won't feed you to 'em," He muttered, "Wanna eat you myself..."

She put her arms around his neck to keep from falling, and buried her face in his shoulder. Eager now for a different kind of fun, he twisted around and headed back towards his lair in the mid-decks.

Salt and Trager trickled past them and up the stair, neither looking towards them. By his very size, he would never be anything but obvious, but he was no threat to Trager and Salt. Not yet, at any rate.

Salt and Trag were up to something, but he couldn't bring himself to care. Taibhse's rhythms were his own. Leaders rose and fell, plans came to fruition or died in the trying, and he remained. While the clustered uncivilized wall of the old Titan were his home, it was the raids that he lived for. Whispered signals that a ship was in the lanes, unsuspecting and alone, amped his heartrate, made him feel alive...

There was a squeak in his arms and he flexed his wrist, automatically dropping Ula to her knees at his side with a growled, "Sht."

"Can't you hear it?" She whispered, her eyes wide and dark, focused not on him, but above his head.

"Dockin' clamp." Row considered as he listened. Someone was docking a level up, on the bridge. "Ain't our concern. Yet."

But his dark eyes flickered up and he shimmed his favorite blade free, just in case. He was still riding the adrenaline of his game, and while he'd welcome a fight, he wanted Ula even more... Reaching down, he twisted his fist into the leather thong around her neck to pull her up. The worn leather was too weak for his powerful fist and snapped. , but she was already rising as he cast the twisted strand with it's initialled silver disk to the decking. She was so small, he could lift her with one arm. "We better head up, just in case Lodi's takin' a siesta."
Carter Goodspeed - October 19, 2011 07:06 PM (GMT)
Hanging upside down from the ceiling of the dead Titan's hallway, Carter Goodspeed surveyed the stage before him. The corridor he occupied intersected with another, creating a larger space that seemed to be a home of sorts for some here-to-fore unseen denizens. Savagery cloaked every aspect of the scene; from the portable space heater placed in the defacto 'campfire' position to the smears of paint, or some other fluid, that decorated the spot...in all, it seemed that the Dark Ages had returned inside a drifting spaceship.

Among his many questions, one certainty presented itself; the horrors of Nihalchi had lived on, lived on and evolved.

A low shuffle of movement floated down from one of the other halls, and dancing, torch-born shadows heralded the approach of unknown creatures. The situation seemed cut from the cloth of terror and stitched with anxiety's lace, but Carter only smiled, smiled and remembered one of his earliest adventures.


—————


"Where is he…where is PAN!?!", Captain 'Edward' Hook's question came accompanied by a violent shake of his gleaming appendage.

'Tiger Lily' smiled coyly, expertly and spread her robed-arms wide revealing nothing but an empty bath-chamber, steaming with a freshly drawn tub, "'Hook' is it?"

Before she could continue, the eleven-year-old boy in front of her hissed a nearly silent plea, "Captain…It's 'Captain' Hook, Ms. Lei."

'Tiger Lily', also known as the prostitute Lei, bowed in a solemn sign of deep apology, "Forgive me, Captain, but the one you seek, this 'Pan' is not here. Perhaps he heard of your approach and fled before your arrival?"

With her participation, Edward Hightower, playing the villainous Captain Hook, was returned completely to the excitement of the role-play, "No not him…not Pan," he spat the last word from beneath his false mustache, causing it to jump comically.

Pacing the whorehouse's bathroom with his 'hook' in one hand and his wooden sword in the other, Edward fell completely into his character, "He fears nothing that one, though he'd be wise to shake at my approach, but that's just it, he lacks even a baby's wisdom."

His heel turn was as flawless as his 'pirate-speak', and Hook moved to quit the bath-chamber and the beautiful 'Indian Princess'. However, he presented one last 'threat' before he departed, "If your path crosses Pan's, Tiger Lily, you tell him Hook is coming!"

Bowing even deeper as Edward raised his 'hook' for emphasis, Lei spoke in a hush, "As you command…Captain."

A sneer split from beneath his mustache, and the vile pirate left.

A second later, Edward Hightower peeked back around the door and whispered, "Thanks, Ms. Lei."

"My pleasure, Edward, but, if I may, you are not suited for the hook," the woman whispered back and her lips rose in a rare, genuine smile, "You play him well, but a knight, no matter their talents, can never truly be the dragon."

Eddie returned her smile from beneath his dark mustache, "I know, Ms. Lei, but…well, there can only be one Pan."

"As there is only one Edward Hightower," she stated proudly before returning to her reflection in the room's great mirror.

Slapping the doorframe, 'Captain Hook' left in search of his nemesis.

A few moments passed and Lei prepared for her bath. Pulling her long, dark hair into a bun and securing it with a bone-white clip, she started to undo her robe, working the knot from the pseudo-silk belt around her waist.

Unbeknownst to the beauty, a 'fin' appeared, in the steaming tub behind her, and began to circle like the sharks that harrowed the 'real' Tiger Lily. The triangle grew until it became the tip of a wooden sword…and the sword became the extension of none other than the one-and-only Pan.

Wearing only a pair of green underwear and a smile, Carter Goodspeed emerged from the large tub and placed his hands on his hips in the iconic pose of Peter,
"My thanks, beautiful Tiger, without your calming presence I would have been forced to battle that smelly pirate."

"Do you fear Captain Hook so that you hide from his wrath?" Lei turned to regard the thirteen-year-old in her tub; her shock at his appearance hidden behind her practiced poker face.

Glittering with the magic of faerie tales, Carter's eyes answered before his words left his throat, "Nay, fair princess, I have never made Fear's acquaintance, and merely wish to protect the good Captain."

Still playing along, Lei shushed the soaking teen from her tub but continued the game, "And why would you wish to protect your enemy? Why would Peter Pan protect Captain Hook?"

"It's not his fault that he's a smelly pirate, Tiger Lily; just as it is not my fault that I am Pan."

"So you wish to protect him from his nature?"

Carter moved close to Lei, took her hand in his, and with his lips, placed a 'thimble' in her palm. Returning his dark eyes to her gaze, he winked,
"No dear, Tiger Lily, I wish to protect him from my nature."

—————



A creak in the great ship brought Carter back to the present, but his smile, the smile of the one-and-only Pan, remained, marking him forever and ever as the Lord of all Neverland. When he noted movement from below and behind him, he paused one moment longer and stretched his smile higher in honor of Edward 'Hook' before turning his full attention to the adventure at hand.

Swinging from his knees, the master thief appeared, inverted, before the face of his arriving companion, Wildback, and with the theatricality of the mad, he raised his finger to his lips and, with a gesture to the intersection beyond, informed his friend of their imminent company.






(Wildback GM'd with permission)
(The Pan, Hook and Tiger Lily on loan from Mr. Barrie)
(Edward Hightower was a character aboard The Ares Shield, now deceased)
(Edward and Carter were child hood friends on Persephone)
(Edward played by Tom Whelling)
Claudia James - December 2, 2011 06:03 AM (GMT)
Watching as Carter, then Hunter disappeared from sight into the dark of the Titan, the smell of smoke and other things already drifting into the hold of the shuttle, Claudia swallowed a lump in her throat. She didn't want to go into that dark pit, knowing that death and things worse than death lurked right around every corner. But what else was there to do? Hide away like some coward? Let Saskia take her place? Put Brun's gun to her head and fire before the people on the Titan could do the job for her? 'Just get yer bloody arse movin' 'fore the others get too far 'head 'n quit worryin' over things tha' ain't happened yet,' said that voice in her head that had kept her alive back on Nihalchi when it had all seemed hopeless. A voice she welcomed, though it now drove her to enter the Titan, feeling resolve and strength building as Moll slowly took Claudia's place.

Into the dark she went, dropping down from the shuttle to the deck of a corridor, landing with her knees bent to take the impact, then moved out of the way quickly to allow space for Liberty to follow. Without realising it, she had a hand on the pistol at her side, loosening the strap that held it in place in its holster and almost had it out before she became aware of her movements. While the gun was loaded with rubber bullets, it might not be the best weapon for the situation. If they were discovered, the shots would still be loud and resound throughout most of the ship, bring others here. But was it worth it to use the stun-baton instead? She had seen what the creatures from Nihalchi could do if and when they came too close to you. In the end, she compromised, putting her CorPad away, taking the stun weapon in her left hand, while still keep her right closed around the pistol.

Following the shadow that was Hunter, she kept the wall, remembering some of the lessons she had learned from her boys to do so when heading into unknown areas in a building or on board a ship when there were known enemies in the vicinity. The dimness of the corridor made it hard to see where she was going. She stepped in something sticky and viscous that she prayed was just some oil leak, but deep down suspected was something rather more bodily in nature and was suddenly glad of the darkness. Glancing over her shoulder, she turned back again just in time to see Carter swing down from the ceiling upside down. In the split-second it took her to start to ask a question, she saw the thief put a finger to his lips and instead of speaking out loud, she mouthed the word instead. "What?"
Brian Wall - December 2, 2011 06:30 PM (GMT)
He lay stock still for as long as he could, before he peeked his head out into the torchlight to get a glimpse of his potential salvation. It was all of thirty seconds he'd been hidden, but it had felt like an eternity. The light flickered and danced, and was unreliable at best, but it was there. Wall intentionally kept his eyes shielded against it most of the time, so as to preserve his night vision, but this time, he had to look past two widely spaced torches to get a view of the entering crew.

People! Normal people, praise be to whichever gods would listen. Not like those crazy people downstairs and hiding in secret places to grab you as you passed by. Sort of like he was doing at right that very moment. The difference was that he wasn't crazy.

At least, not entirely so.

Spending so much time in a place was likely to make anybody a little bit squirrely, and this was by far the squirreliest of places, but he wasn't about to start cutting on himself or eating and raping people. Nope. He just wanted to leave. To get the hell off of this ghosty ship and as far away from The Quest as he could before it killed him like it'd killed his father.

He had two ways to go about it. He could either talk, or fight. He was feeling light on energy, having been eating less and less as the last week had gone by, but he was still fast, and plenty scrappy. He'd probably be able to take them in a fight, if he was careful and chose his moments precisely. A wrench to the back of the head, a spike to the lungs or heart, and a person would go down. Best part was, his weapons, such as they were, they had straps on them. He didn't even have to be within reaching distance to launch one of the sharpened wrenches at someone, and he'd be able to take it back when he was done.

He watched the group, carefully, methodically, as they entered the ship. A dark skinned fellow first, who moved like the shadows around him. A nervous man next, who kept glancing into the darkness that hid things so very, very well. A woman third, staying smartly against the wall.

It didn't look like their party was over, and he could just barely make out the fact that at least the woman was armed. That pretty much killed the fighting option right there. He might be good, but three people, maybe more, with maybe more than one of them armed with pistols, among Lord know's what else, was bad odds. Terrible odds, really. He'd get one for sure, maybe two, but three? Unlikely in the extreme.

He supposed he'd have to talk his way onto the shuttle.

With a soft sigh he slid his wrenches back into place, but kept the thongs around his wrists so that he could recall them if needed. He slipped as quietly as he could, and made his way towards the group, being mindful of the marks on the floor so that he didn't get to them and then pass out. He made sure to place himself in the light, so that his approach wouldn't be a surprise to any of them. His hands were out to the side, away from his weapons, though he was ready to hit the strobe to blind them at a moment's notice.

He hissed softly, to grab their attention, and motioned for them to stop.

"Easy. Don't move. Atmofeed's tricky here." he whispered. "Stay there. I'll come to you."
Hunter "Wildback" - December 15, 2011 03:40 PM (GMT)
How the hell had he gotten here?
Not here in the physical sense. Hunter knew full well how he'd gotten involved in this rescue mission, he'd volunteered for it; but here in the philosophical sense. How'd he come to this point in his life? He'd once been a soldier, a good one. Now he was an alcoholic mercenary on a rescue mission with a woman who'd turn him over to the Alliance if she knew his rap, a somewhat insane thief and a quiet techy. It would've been almost funny except for the part where Hunter had to go up against the one thing he feared most.
Reavers.
The comments and laughs when he'd discovered they weren't true Reavers on board Kassern seemed so small now, seemed so worthless. The confidence he'd felt in the mission's success, the strength of Cade's commitment, they didn't matter with the darkness closing in around him. The monsters could be anywhere, watching, waiting. The collar of his Browncoat was damp against his neck with sweat, his fingers would have been shaking horrifically had they not been gripping the handle of his SMG to the point of pain. Hunter couldn't honestly remember being this scared since the incident. Since he'd been a boy.
It seemed comical, here he was a grown man armed to the teeth and he was frightened of a few poorly dressed folk armed with spears and knives. Of course, thanks to that Alliance Po Fu he couldn't even shoot them, not lethally anyways. Rescue missions, oh how he hated them. What was it he'd told Tara those years back?
"The day I preform a rescue opp is the day I buy you a drink."
I guess I owe you that drink darling. Wherever you are I pray it's better than here.
He crept along as silently as possible, trying to keep Carter in sight and watch every possible angle for movement. Not an easy task. It took him a few seconds to realize he'd lost track of the thief in the darkness. He considered whispering after him, but decided against it. The former 'Coat wasn't sure what to do next.
Then Carter hung down from the ceiling right in front of him, grinning like a damn manic. Hunter had his sub-machine gun halfway up and aiming before he realized it was Carter.
"Tah mah de!"
He hissed under his breath at Carter before the thief's finger covered his lips. Silence.
Tsao gao.
Straining his ears against the ship around him Hunter listened intently for the sound of movement. Nothing. They were safe.
"Easy. Don't move. Atomfeed's tricky here."
A voice whispered from the darkness around the four; a voice the drunken mercenary didn't recognize. Hunter pivoted in the direction of the voice, fully raising the sub-machine gun this time, aiming it intently in the direction of the voice.
"Stay there. I'll come to you."
The voice was male and relatively young, but Hunter hadn't been able to get a good look at whoever had spoken those words. Reavers couldn't or wouldn't talk but that didn't mean this guy was a friend. Resisting the urge to ask this newcomer exactly, "Who in the hell are you?" Hunter glanced behind him at Libby and Claudia.
"What now?"
He whispered under his breath.
Much easier to be a follower than a leader, let someone else make the decisions. Besides, if this guy turned out to be a threat... Hunter felt the comforting weight of the blade tied to each arm; the 'Coat didn't think this fellow's odds were in his favor.
Liberty - January 6, 2012 05:09 AM (GMT)
Carter disappeared into the darkness.

Liberty stood back and let Claudia go ahead before dropping down to follow them, weapon at ready.

She kept her back to the others, taking rear guard. Against logic, sje narrowed her eyes until they ached and the shadows flickered at the edges of her impatient glare, trying to see the unseeable.

So focused was she on what was behind, that she startled when the unfamiliar hushed whisper came from ahead. Air gasped in her throat and, whipping her head around to face the newcomer, she kept her tranq rifle aimed down the corridor behind. But there was no denying that the man approaching didn't look much a threat. Could always be a decoy, but then why warn them about the atmo-feed?

"What now?" Wildback's whisper followed, and she relaxed a fraction, knowing that that the soldier with the big tools wouldn't hesitate to use them.

She wanted to smile. The guy could likely hear anything they said, and they didn't exactly have a secret strategy worked out for folk coming up just to chat, did they? One bright blue eye returned to the shadows and the line her weapon made into them, essentially turning her back on the newcomer. A show of trust. Or not so much, seeing as Wildback would likely kill the guy if he breathed wrong. A pale whisper, less than a lover's murmur, tripped from her lips, "In polite society, we'd offer tea and ask his name, but I didn't bring tea with me."

Raising her voice barely to a full whisper, Liberty took the lead, though she was ready to relinquish it to any of the others at any time, "We're..." Not Allied Officers... "- here to help. You help us, we can help you."

Negotiating with crazy cultists on a leaky rustbucket. When had her life gotten so upside down.
Brian Wall - January 6, 2012 04:25 PM (GMT)
"What now?"

The man with the machine gun pointed very directly at him spoke softly, to the last member to enter the ship. Whether or not she was the last member of the landing party, Wall didn't know, but he was glad nobody had shot him yet. That seemed like a pretty decent sign.

"In polite society, we'd offer tea and ask his name, but I didn't bring tea with me."

Under normal circumstances, Wall might have smiled, maybe even given her a mirthful chuckle, but for now, he kept his face serious, if a little nervous.

"We're...here to help. You help us, we can help you."

He didn't like the way she paused. She was carefully picking her words, which probably meant that she either had something to hide, or was lying. Either way, this group was worlds better than the others he'd run into so far.

"I'll do anything you want if you take me with you when you leave this gorram monster of a ship." he said, briefly gesturing to the white chalk marks on the floor. "Don't put your face over the lines. Atmofeed on the other side is iffy. Might be there, might not. It cuts in and out."

He moved back towards the galley, carefully, slowly, so as not to lose them or make any sudden movements. It also kept their collective noise level down, so they were less likely to attract any more attention than they already had.

"Come on. We can't talk here. Galley's right around the corner. It's slightly more defensible than the hallway." he said. "It's got doors and everything."
Hunter "Wildback" - February 24, 2012 01:05 AM (GMT)
In Hunter's not so humble opinion, Liberty Quinn wasn't taking this threat nearly as seriously as she should. She'd cracked a few jokes which did nothing to change the fact that Hunter was terrified and she didn't give him the "Shoot this guy somewhere harmless, like the knee," command he so craved. So instead, the drunk stood his ground, both hands wrapped around the SMG even with the barrel pointing at the deck. If this guy made a move, he'd regret it for the rest of his very short, very painful life.
"I'll do anything you want if you take me with you when you leave this gorram monster of a ship. Don't put your face over the lines. Atmofeed on the other side is iffy. Might be there, might not. It cuts in and out."
The mysterious baldly said that he gestured to some lines drawn on the floor of the hallway. So on top of the killers now the atmo was on the fritz?
Great. Just gorram great.
The man was moving now, slowly so the party wouldn't lose sight of him. Well he obviously wasn't a Reaver then. Those bastards wouldn't let you see 'em if they could help it. They'd have blades at your throat and teeth in your shoulder before you knew it. After that... Well Hunter remembered that day so very long ago when all those people begged for death, cried out for it. Yet the Reavers had no pity.
They were monsters, demons out of legend and this party want to rescue some of them? There was a word for that. Fei hua, in the Mandarin. Sure these people weren't genuine Reavers but that didn't matter. If they wanted to be like those monsters they deserved the same treatment. A bullet to the head.
"Come on. We can't talk here. Galley's right around the corner. It's slightly more defensible than the hallway. It's got doors and everything."
The man spoke again, shaking Hunter out of his thoughts. Instinctively, his fingers tightened around the handle of his weapon.
Better not let this guy know how scared you are. Fall back on some classic Wildback sarcasm.
"A door? Truly a marvel of technology."
Hunter phrased the words in mock awe.
"Will the wonders never cease?"
Still, he didn't move, waiting on Liberty Quinn's orders. She was, after all, the leader of this team and he'd certainly pissed her off enough for one day.
Liberty - March 3, 2012 09:27 PM (GMT)
"Come on. We can't talk here. Galley's right around the corner. It's slightly more defensible than the hallway." he said. "It's got doors and everything."

It was on the tip of her tongue to refute the offer. It stank of trap, although why this guy, so seemingly normal, if thoroughly unbathed, would trap them, she didn't know. Except that all of Nihalchi had been a trap, a long laid, cleverly sprung trap that had already taken lives from Cade's crew and ship.

"A door? Truly a marvel of technology." Hunter phrased the words in mock awe. "Will the wonders never cease?"

Liberty tried to put the brakes on the smirk that touched her lips. Despite her extreme dislike for the guy, Hunter's sarcasm was welcome respite from his violent intensity, and it helped draw her clear of her musings and make a decision, "Galley? No. We don't have time for chat. One eye drifted back to Wildback's gun, readily held, a silent reassurance "We need the bridge control center. Now. If you want to help us, get us there."
Brian Wall - March 3, 2012 10:29 PM (GMT)
"A door? Truly a marvel of technology. Will the wonders never cease?"

Wall ignored the comment for the time being. The man with the gun (the obvious one, anyway) wasn't the one in charge, so really, he didn't matter. Only folks that could get Wall off that ta ma de of a ship mattered. He needed to be gone, and in a bad way.

"Galley? No. We don't have time for chat. We need the bridge control center. Now. If you want to help us, get us there."

He considered it for a moment. It wouldn't take too long to reach the bridge. It was only a few hundred feet away, though that few hundred feet was riddled with spikes and barbs and lord knew what in the dark. There were creatures on this boat, both Reaver and not, that could move as silent as shadows, and spring out to grab you from behind without the slightest whisper of a sound. To get away from all that, it was worth it to lead this group half a deck. If nothing else, he could always double back and try to sneak aboard their shuttle after they entered the bridge.

"Done. I don't give a go se about helping you, but I do want off this ship. Just keep close and keep your eyes open. We're only half a deck away, but there's no telling what is running around in the darkness." whispered Wall . "And promise me you'll consider letting me stow away at least as far as your next port of call, if we live."

He turned from the group, and started towards the bridge, careful to stay inside his white lines. They passed his temporary haven of the galley, and passed the official "common area" without incident. When they reached the corner of the common area, shrieks from below echoed up through the decks, bringing the sounds of terror and agony and rage from the floating and mostly pressurized pit of hell that some would call a ship.

The open area that led past the heads, and to the nearest bridge entrance doorway was blackness, where the light didn't reach. Wall thought he heard someone scuffling in the shadows ahead, but couldn't tell. In his experience, limited as it (thankfully) was, Reavers were either silent before the kill, or roaring with rage. Scuffling meant something else. He wasn't sure what, but he was sure he didn't want to find out.

He turned back to his companions and whispered.

"Stack up. Stay close. Be ready." he said, creeping carefully forward.
Saskia Vass - March 31, 2012 10:00 PM (GMT)
Caleb's Hammer

Saskia stared unblinking at the yawning deep beyond the door for some minutes, every small sound from the comm making her back itch between her shoulder-blades, a nervous twitch of muscle and memory that had her grabbing for her gun only to find Bitte Terry's hand there already. Their fingers tangled together. Bit smiled at her over them, more a crinkling of the eyes than any true smile, but Saskia felt relief and gratitude such that she found herself gripping those fingers tight, breath stuttering out between her lips in something like a smile and a prayer, joined. Muffled into the unbroken line of their joined fingers, it finally loosed into what it was.

She had eyes only for the door, ears only for the comm channel, but she needed neither, here, just as she no longer needed the bits and bobs and accoutrements of her faith to have faith. Incense to see with eyes unclouded. Words of prayer to a dozen gods tripped over themselves in her head, but she needed none of them, only the hot, tight press of Bit's breath against her ear and the comforting presence of Caleb at her shoulder as she turned, again, to the door and what lay beyond. It still waited, a dark promise not yet kept. Still, she did not pray, or ask the gods why this burden had fallen upon them. As with their gifts, when the gods sent you a trial, you didn't ask why it was sent. They would bear up under it, as they had so many things. They must.

She found herself, instead, whispering the words of a lullaby, in the hopes that it would bring lost souls home.
Kasern - September 8, 2012 05:42 PM (GMT)
BRIDGE

With the aid of their newfound friend, or perhaps not-yet-discovered foe, Kasern's technical wizards have found their Oz. From the tattered and worn remains Titan's bridge, they've captured control of the castle, or at least, it's gates.

"We're in." Cade's voice, low and cool over their earpieces, affirmed what the lights on the control panel told them, "Seal it up and get down here safe as you can."


DOCKING BAY

The huge open bay was quarter-filled with Kasern's tremendous bulk. Beside her, smaller but bristling with violent promise, The Red Queen settled on her haunches. As the doors of the bay closed and the pressure and atmo within regulated, the intruding ships simultaniousl slid open their cargo bay, leading the way into the silent darkness of the taibse docking bay.

Silent for only the time it took for the pressure to stabilize, then came the slither of hardened bare feet in shadows, the hushed clink of makeshift weapons, and the sullen and sure knowledge that they were surrounded by the denizens of the lower levels of the taibse.

Twenty souls, if souls can remain in such inhuman bodies, ripped bare by Dolenz maddened hands, circled near, staying out of the light that pooled over the grime-ridden floors. As the search teams emerged, the low breathing in the darkness merged into a low hum that grew into raging communal wolf-howls.

Cade and Red led their teams into the madness...
Cade Quinn - September 8, 2012 06:24 PM (GMT)
Just a quick reminder of the teams:
Queen Team
Alan Red
Brun Bradley
Galvin Scheuto
Jason Cunningham

Leaving from Kasern:
Z-Team
Zira Griffon
Rory Gene
Eli Hurin
Rhiannon

C-Team
Cade
David Miller
Riley Aimes
Princess Janes

Bridge Team:
Carter
Hunter
Claudia
Liberty

---------------------

Cade led the way over the ramp (raised at a slight angle, leaving a clean eighteen inch jump the floor) , staying to the left. From the corner of his eye, he could see Zira advancing down the right side. In his lungs, the air was smokey and thick with rot and dust.

In his left hand, Cade's old military 9mm, freshly oiled and bearing a twelve round clip, stayed low to his hip, and his right hand clasped a stun baton. He had no desire to kill them, but when you knock on strange doors, you never knew who might answer.

He could hear the low howl over the idling engines, wild things baying to a mechanical moon, and wished he'd thought to shut off the cargo bay lights, give everyone's eyes a chance to adjust to the darkness.

"We're here to help you." Cade called into the darkness, answering derangement with reason. His reply was a thick steel blow-dark that whisked past him, striking Kasern's door-seal and falling to the deck with a clatter. Blue eyes turned from inviting sky to ice steel, "Welp, had to try."

With a glance back to Riley and David, Cade dropped to the floor in a half-crouch, and instantly was attacked from the side by a bone-thin, hard-bitten creature that gnashed teeth at his throat. For the first time that day, Cade didn't think. He just fired his gun into the man's chest and watched him fall, mouth gaping for air, sunken eyes wide with surprise. He had forgotten firearms in this world where steel and fire were the weapons of desperate choice.

"Go!" Cade yelled to the other teams, and to his own, "We've got to keep them off the ships! Fight for the stairwell and get clear! Don't kill 'em unless you have to."

Which was lookin' pretty gorram likely.

Pick your fight and make your moves! If you need help or guidance, pm the E.
Riley Aimes - September 11, 2012 08:08 PM (GMT)
She didn't like the sounds around her. How could someone become so... primal? Become basically an animal. The strange growls and howls were unsettling. She could feel the goosebumps rising under her jacket. This was going to be interesting, she thought as she tried to adjust her eyes to the darkness around them. Until then, she used her ears to help her around. She was used to fighting in the dark. She used to practice with blindfolds over her eyes.

"We're here to help you."

She kept close behind Cade and occasionally glanced back at David to make sure he was there. She heard the dart whistle past them. Unknowingly, she held her breath, waiting for it to hit something, hoping it didn't hit any of their crew. She heard the clang of it hitting the door seal then another as it hit the floor. She released the breath.

"Welp, had to try."

By this time, Riley could see just a bit in the dark. She could see the natives of the ship standing around. She heard Cade's feet hit the floor and, as she was about to follow him down, she heard him rushed by one of the primal natives of the ship. Immediately, she reached for the gun hidden in her jacket and pointed down. But a shot had already gone off.

"Go! We've got to keep them off the ships! Fight for the stairwell and get clear! Don't kill 'em unless you have to."

Riley grabbed the knife from her jacket and jumped down behind Cade. She had no intent to kill, as Cade said, but she kept her gun tight in her left hand just in case it became a necessity.

There was a strange sound next to her and she kicked, her foot planting against someone's chest. The being grunted, stumbling back. Riley's hand moved as if to back hand the person, but, instead, the blade of her knife sliced the chest of her attacker. It was a shallow cut. He'd survive. He just might be hesitant about getting up.

She heard movement behind her, but wasn't fast enough to turn and stop them. She felt sharp pain spread over her left shoulder and she closed her eyes, stopping herself from letting out a pained cry. She reached for the creature's shoulder and made him bend toward her, forcing him onto her blade. She pulled the knife out, letting the body fall.

Riley looked at her shoulder. She'd been stabbed with something. A knife? Dart? Arrowhead? She couldn't tell, but she had to keep moving.

"Go se!"
Hunter "Wildback" - September 13, 2012 05:49 PM (GMT)
The Bridge

"Well I'll be damned; it's like Serenity valley all over again." Hunter told the surrounding darkness as casually as he could. Despite the levity he tried to raise with that jest, he knew it was a great deal worse than Serenity. Though his very soul had been scared and spirit crushed that day, his enemy was human, like him. They'd simply kill you; a few quick bullets and it'd all be over.

But Reavers weren't human. They were terror, evil given form and purpose.

Honestly, Hunter would rather put the purple back on then stand here, waiting to be tortured, raped, and finally eaten. But he'd given Cade his word, and he owed Quinn his life anyway, might as well pay up.

It wasn't just a debt though, it was honor on the line. All his life, Hunter had been a runner. He'd run from the massacre at the farm, he'd run from his career as an Alliance soldier, he'd run from the impossible odds and Serenity and he'd run from the guilt of his actions afterwards. He'd run straight into the arms of the one thing he always depended on to drown the guilt and shame away; booze. He'd drunk himself half to death in the years that followed, living under bridges and in gutters, simply waiting for his health to fail or for some punk to stab him for a five credit.

But Cade Quinn had found him.

Cade was twice the man Hunter would ever even dream of being, yet he wanted him. He'd armed him, trusted him, given him purpose. If there was one man Hunter was willing to face down the terrors of his youth for, it was Cade Quinn.

But that's bloody cold comfort right about now.

His hands were shaking furiously, despite every effort to calm them, his gun wobbling visibly even in the dull light, sweat trickling down his neck like a waterfall, soaking clean through his collar. Guard the bridge, that was the order. Guard the goddamn bridge.

"Whatever you say Quinn," the ex-'Coat murmured under his breath. "Whatever you say."

Moments ticked on by, maybe minutes, maybe hours, Wilds wasn't sure. Then he heard it, a scampering howling in the distance. Aiming his submachine gun down the hallway leading toward the bridge, Hunter steadied himself.

To hell with leaving these wannabes alive, if it comes down to them or one of my people they get the short straw.

Screaming out to the dark recessed of the ship and Hunter's mind, brandishing jagged blades, crude spears and rusty hatchets came several cultists. Appearing almost out of the dark itself, catching the bridge team completely by surprise. They frothed at the mouth, screaming and howling, looking more than intent on eating everyone hunkered down inside the bridge, after a fun round of torture of course.

If the Browncoat hadn't been aware that these weren't real Reavers he'd have been fooled; they looked pretty damn real to him.

"Incoming!" He screamed before opening firing with his weapon. The man didn't bother aiming, he just acted. Bullets tore down the hallway towards the onrushing mass of enemies, not even slowing the mob.

The 'Coat fell back behind the bridge's doorway, taking what little cover from the barrage of thrown weapons and blow darts he could. The cultists seemed to be pouring in from all angles, converging on the bridge. Hunter knew there was no way out other than victory. The moment of truth was finally upon him.

Do or die you lazy bastard! Do or die!

Kneeling behind the burned out remains of some old consol, Hunter took carful aim. He picked out the lead cultist, a bulky man covered in scars and a hideous moustache. Brandishing a spiked club over his head with both hands the cultists lead the oncoming rush with a ground shaking roar.

Letting loose a controlled burst of automatic fire, Hunter shot the pack leader in the knee, completely blowing it off the man's body. One leg suddenly half gone caused the fellow to collapse, slamming his face on the deck.

"See how I didn't kill him?" Hunter roared irritated at Liberty before ducking underneath his shelter as a throwing axe flew by. In an instant the cowardly drunk was gone, replaced by a stubborn soldier, one with honor and friendship on the line, one who wasn't about to go down crying. "If you've got Cade or Kassie on the line, tell 'em we've got a big gorram problem down here! Tell him we'll hold off as long as we can but they need to hurry. No coffee breaks, dong mah?"

Ejecting his empty clip, the drunk reloaded, slamming fresh rounds into place. He breathed out once, slowly, then stood up to unleash another volley.

These monsters wouldn't take the bridge, not while he drew breath.

OC: Lets rock and roll people.

Brian Wall - September 14, 2012 02:48 PM (GMT)
Brian lay on his back, staring up at the mess of wires that hung from the access panel beneath the copilot's console. He tried very hard not to wet his pants as he worked.

The monsters had arrived, and Brian was rightfully terrified. The only thing that might've frightened him more was if he was on the wrecked 'Hadrian's Quest', back in the cargo bay, unable to move, unable to flee, on that Eider class piece of go se, with monsters crawling in through every vent hole and entrance they could find or make.

He shuddered. Thoughts like that at a time like this didn't do him any good. They didn't do anybody any good. He had relatively competent (he thought) people watching his back, and a potential way off of the nightmare that used to be a cargo ship. Things were looking up from where they'd been that morning, but he could still end the day raped and eaten, so...there was that...

For now, he busied himself with restoring as much power as he could from beneath the console station to the left of the captain's chair. The least he could do was reroute some power to the lights...at least, the ones that weren't burned out. He stripped wires from the nav panel, and rerouted them from there to the main power input for the console, forcing the nav screens to flicker to life, casting an eerie glow onto the bridge, but it also lit up the panel from beneath, giving him more light to work with.

"Sorry, sorry." he muttered, fairly certain nobody could hear him over the howling and gunfire and shouting. "Should have that fixed in a second."

He kept his fingers moving, stripping wire with his teeth and crossing circuits left and right. He managed to get the main lighting to come on, though it was only about a quarter of what it should've been. The hallway outside the bridge, though, lit up almost eighty percent of it's length, giving them a nice clear view of the oncoming enemy.

Brian glanced down the hall as he moved out from under the console to see what other systems he could bring online, and wasn't sure if a good view of the incoming attack was a good thing or a bad thing.
Eli Hurin - October 17, 2012 07:10 PM (GMT)
Docking Bay

Squinting against the light, Eli pulled his balaclava up to cover all but his eyes, making the covering of black as complete as he could before heading down the other side of the ramp. He could hear Cade and Riley's first meetings with the natives, but he soon had his own problems. A growling hulk rushed him the minute his boots hit the deck of the once happy Titan. He dropped to a quick crouch and swung the butt of his rifle to the monster's crotch, following it up with a jabbed elbow to the lowered temple.

Not waiting to see if the fallen man was dead or just unconscious, Eli put his back to Kasern's hull and swept the docking bay in a smooth motion as he dropped to one knee. A second attacker got one of Princess Janes' silicone bullets in the hip; even through the rifle's silencer, it still had enough force to drop what appeared to be a woman. Maybe... used to be a woman. So little time for thought, suddenly. Hurt or kill first, that was all that existed for those first few minutes.

Stairwell, stairwell... where's the gorram stairwell! Eli screamed in his own head, ignoring the clammy feel of fabric against damp skin. So insignificant right now.

He spied a metal staircase that led to a catwalk above, then saw someone on the catwalk just a moment before that someone launched a projectile that glanced off his left arm, followed by more that banged against the ramp. Something blunt, but it hurt all the same. The catwalk assailant got a bullet in the chin, which sent a second one scrambling away. Eli didn't care where, because he had finally spotted one of the actual stairwells near the fore of the ship, right around the time the unmistakable echoes of a sub-machine gun traveled down that metal hell. Faint as the sounds were, Eli still sent a questioning look back at both Zira and Cade before he pointed himself at that stairwell again.

His rifle sights swept across the path from Kasern to the first mission objective, and the sound of two more silenced bullets brought first a grunt from the stark shadows, then a splat as the second missed its mark and encased a charred button that once would have called one of the lifts down to this level. He fell back on the old Browncoat hand signals to say he was moving toward the stairwell, then he scooted off in a crouch, counting on cover, hoping for the best.