The Big Damn Original Characters Application
Hey gang, It's Joss. Heres the skinny.
____________________________________________________________________
In your mind, you can picture your Original Character...now let us 'see' them.
If you could 'cast' the role of your OC, who would play the part:Sheri Moon Zombie
NOTE: Please check the OC Casting List pinned in the RP Applications Forum, your casting choice may already have been taken.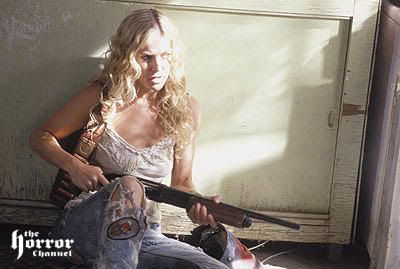 What BDV ship/location do want to be assigned to:The Heart of Gold/Security
Character Name: Madison "Baby" Braxton
Character Occupation:Security/Bouncer for Heart of Gold
Gender:Female
Age (the character, not the actor/actress):31
Detailed Physical Description (2 paragraphs): She stands relatively average at about 5"7. Her figure is more hour-glass than lithe, though the body of an athlete hides beneath that over worn blue-jeans and dusty wife beater ensemble. Blond, curly tresses are grown out past her shoulders, bouncing as she walks. Her eyes are blue and her smile is white and full, shallow dimples completing the picturesque innocence.
She dresses like her manner, blue collar. She's rarely seen in anything but a pair of jeans and a sleeveless t-shirt. She wears leather jackets on the occasion she's out on a cool desert night. A pair of aviators are perpetually seated on the bridge of her nose when she's outside. She's not quite a chain-smoker, but close to it. She keeps a piece on her at all times, usually holstered in a gun-belt or beneath her shirt and waist-band if she's going incognito. A pair of work-boots are always on her feet, seems to be the only pair she owns.
Detailed Personality(1-2 paragraphs): The first impression is a charming, albeit tomboyish, rim-world belle. She smiles often enough that people take her for friendly, which she certainly can be. She isn't well educated, but she's been known to dip into the deep stuff on occasion. She's lived most of her life by the edge of her teeth. She is a woman who takes in the world through the filter of instinct. She has a chip on her shoulder of some kind, though it might not be obvious at first. She won't show too much in the way of anger until it's explosive, which, incidentally doesn't take too long. She's quite foul mouthed when she gets this way.
Though rough around the edges, she's a self aware woman. She's been living the visceral life for a long while now and while it's been fun, she's finally grown into the realm of introspection. There are fundamental problems with her psyche, but she knows the whys and hows of it. Though she has some violent tendencies and they aren't always kept in check, she is pennant enough about it to try and be a normal citizen. She hopes the sedentary lifestyle will bring her some kind of peace, but each failure brings a looming question. One that topples her newfound principals and desire to function.
Why the hell aren't I dead yet?
Detailed History(2 paragraphs):Madison was born in ho-dunk, Regina. Like all the men in town, her father was a miner. Her mother died three years after Maddie was born of some terraforming plague or some such. Since her father had to keep to the mines and raise his daughter alone, he grew increasingly bitter and hateful. Not just of the Alliance, but of just about everything. Substance abuse seemed the best alternative, so he became an alcoholic and a frequenter of the local whore house. Madison raised herself more or less, usually playing rough with the rest of the miner's kids. She had an early fondness for guns. She practiced shooting cans out in the desert through her teens. She worked on the mules and mining equipment from time to time with some of the boys, hoping to get some kind of respect or notice from her father.
Eventually, her father grew a debt to the local pimp, Harland. One night in a drunken dispute, her father was killed by Harland and his crew, making an orphan of a now seventeen year old girl. She didn't morn her father as much as she felt she ought to, but neither did she have much of a chance to before Harland began pressing his demands on Madison to pay off her father's debt. She had no way of going about it, other than mining so dangerous it killed off five workers just last month. She became a whore at the house, reluctantly, to pay it all off.
Life in the whore house was barely tolerable. The women were beat on when they didn't bring in their quota and some were strung out on drops. This was to be expected of any whore house run by scum on the rim. Fear and brutality were the name of the game and for the most part, it worked. Thankfully, Madison's savior came along after a couple years of the mess. A client named "Jackie" hadn't been a regular or anything of the sort. She was a stranger passing through town 'on her way to nowhere'. Madison found herself strangely enamored with the client, being one of the only females she'd ever serviced. Jackie convinced her to leave the whore house, not only that, but kill off Harland and his crew.
The spitfire blonde then got the push needed to send her over the edge. With Jackie's help, they massacred Harland and his boys in one very surprising night. The two left together and quickly fell in love on the boat over to Jiangyin. Turned out Jackie had been robbing towns with her own crew and Regina was just a stop along the way. Madison joined up with their crew, the freewheeling lifestyle was like a new bastion of freedom when all her hope was lost. It wasn't long before the two became the 'verses new Bonnie and Clyde.
They traveled the edge, robbing security firms, alliance transports and banks alike. Grand theft of nearly every variety, stealing, killing, regardless of who it was from. Most of their targets were Alliance and other criminal organizations, but they weren't above stealing from civilians either. The two became well known in the fugitive circle and a man-hunt was formed before the war. The press called them 'Jackal and Baby', which suited them fine enough. After many years of chaotic, nomadic, decadent life, they were finally cornered in a bar on Lilac. The shootout went on for some time, but in the end, Jackie was killed in the fight. Jackie told her to go and with the aid of a high powered explosive, made her escape.
The war broke out soon after, soon the headlines filled with talk of Independence instead of the criminal element. The Alliance shifted their attention elsewhere, providing Madison the perfect opportunity to lay low. Heartbroken and distraught, she wandered the rim worlds for years. She did freelance work to keep food in her mouth. Eventually she managed to get enough cash to have a hacker slice up her record and give her a new life. Between the chaos and confusion of the war, a few missing files, even high profile ones, easily went unnoticed.
After years of drifting, she finally ended up in Burgess. It was a simple kind of place, simple enough at least. She saw a chance to start over, maybe live life like she should've the first time around. Her anger for the Alliance and core-worlders alike was a constant, embroidered on the grave of her lover. How long could she maintain before she got that familiar itch? Too many questions filled her head now in the quiet of Burgess, but she'd have to find the answers alone.
Strengths (1 paragraph): Madison is more than handy in a straight up gun-fight. She's handled all manner of guns, though her expertise lies firmly in pistols and shotguns. She's got cracker-jack aim and more than enough sand to push the trigger before remorse kicks in. She has no formal combat training, but she's quicker and stronger than anyone would ever take her for. She's been in plenty of brawls and she can take a punch as well as she can give it. A steel toed-boot to the face hurts about as much when it's from a 120 lb woman as it does a kung-fu master. She's skilled enough in thievery that she can take on electronically locked doors. She has minor skill in explosives, due to the many vault heists she's performed. She's no ship mechanic but she can fix and drive most ground vehicles.
Weaknesses (1 paragraph):
Violent Tendencies
She has to keep herself in check whenever engaging in violence, because the tendency is to go way overboard. If a fight is taking place, it's not uncommon for the congregation to have to peel Madison off of her opponent. This, coupled with a short fuse, can get her in an awful lot of trouble.
Prejudice
She hates Alliance, but really she just hates anyone from the core worlds. Pompous condescension from some hoighty-toighty civilized punk is more likely to set her off than much of anything else.
Foul Mouthed
She's terrible at formalities and proper speech. She uses obscenities liberally, without really considering it rude or untoward. Her table manners are also lacking.
Sample Post (3 paragraphs/Third Person Past Tense):
"Well damn, don't know why I bothered lookin' anywhere else."
Madison stopped the long-neck that was half-way tilted up to her lips. Her mouth still full of brew, she looked over at the puffed up looking cowboy who sat at the Heart of Gold's bar with an open incredulity.
The place was packed tonight, so there were more than a couple new faces. He was one of them. He kept talking after waiting a beat. Here it comes.
"You're one purdy whore, an I seen my share. Ya dress like you're goin' to paint a barn though stead-uh clean a fella's pipes."
He let out a hearty belly laugh that brought the acrid smell of half-digested piss-water to Madison's scrunched nose.
She forced a hard swallow of her own and tapped the bottle back to the bar.
"Look hoss, just cause I've got the goods don't mean I'm sellin' em', dong ma?"
She dropped her shoulders and went back to conspiratorially leaning over her drink.
But the man persisted, his dopey inebriated grin widened as he slid his elbow forward to lean on.
"Aw hell, think the credits in my pocket might make you drop to them knees for me huh?"
Madison leaned back and felt that familiar pang at the back of her head. Tick, tick, tick. It came on progressively louder, beats set apart like a metronome. Like a voice that kept talking till it was the only one she could hear anymore. It wasn't a game...but she was sure playing something. She lolled her head back and tilted it in his direction, her finger gently gliding along the curls normally stuck to her cheek. She offered a suggestively coy smile.
"You sure know how to bring color to a face, talkin' all pretty like that."
She easily purchased him with the statement, his eyes glazed over, typically that meant he was undressing her in his mind's eye.
"Hell woman, I got 'nuff pretty talk to make you a busy lil' whore till next sunday. Got a church meetin' then.."
He added with a shrug.
"Church meetin'? What you a friar?"
He bellowed another stupid horse laugh.
"Aw hell no, I handle the assets of the good lord though."
Madison managed fake giggle, leaning in a bit closer to him.
"Oh, well then I s'pose Jesus' accountant can still get himself a little reward for his good works huh?"
On that kind of salary, the man likely was skimming of the top of he could afford a whore house. Scum, yeah, but it was just a fact that made it a little more fun.
"Now you're gettin' the idea. So how bout that price? All I want is fer ya to go down 'ere and gimme a little oil change...fer a few days, hahaha!"
He slapped the table in a stupendous guffaw. His face suddenly turned sober and exhausted.
"Well c'mon whore, I got credit not the whole gorram night..."
He plucked a hard candy from the counter and crunched it between yellow teeth.
"Flirtin' at doin' the deed ain't what I came here for. Came here for that pretty mouth.."
Tick, tick, tick, boom.
"Y'could learn yourself somethin' from those girly dime-novels. Theres always time fer romancin'."
Her smile was consistent and genuine, even as she grabbed the fat accountant by the scruff of his hair and drove his face into the bar-top. Blood gushed from his face, between his fingers as he clenched his freshly broken nose.
"I'd tilt your head back some, could get the spins if ya don't.."
Madison cavalierly plucked a cigarette from her breast pocket and lit it up.
His face turned so red it was almost purple.
"What the rutting hell is wrong with you!?"
Madison sighed, Petaline was going to give her hell for this. She picked up her beer and finished it off, hopping from her barstool. The cigarette was replaced between her lips and bobbed when she talked.
"Damn fine question."
She popped her coin to the bartender after it dug two inches out of her pocket. A look to the broken man revealed a pair of eyes bulging out so far she could've mistook him for a shitzu. If she'd ever seen one, that was.
"You're lookin' me like I killed your ruttin' puppy. Got yourself plenty of the good lord's merciful tender, sure theres some girl who won't mind that mess on your face. Course you won't find her here, this is a classy joint."
Her smile finally dropped into a square-jawed snarl.
"So get your motherless fat piece of go-se-self out 'fore I cut your pecker off an' put it in a gorram collection plate."
Her intensity suddenly waned. She glanced to the bartender and back.
"Don't much care if you settle your debts with happy lil' Jesus, but less you want I should get wrathful instead, settle it at the bar."
She tightened the reigns on her anger and turned.
"Hey sugar!"
Her smile was back in a blink at the sight of one of her favorite girls. She acted as if nothing had even transpired, and taking previous acts of impulse into account, nothing had.