Title: Heart- Wild Horses
Petaline - July 1, 2008 07:53 PM (GMT)
[Dohtml]
<object width="425" height="344"><param name="movie" value="http://www.youtube.com/v/xc3PfNnMESo&hl=en"></param><param name="allowFullScreen" value="true"></param><embed src="http://www.youtube.com/v/xc3PfNnMESo&hl=en" type="application/x-shockwave-flash" allowfullscreen="true" width="425" height="344"></embed></object>
[/Dohtml]

Welcome, Ladies & Gentlemen, to "Wild Horses".

I'm gonna get sappy on y'all for a moment, so just hold with me, if y'all can.

When GrimJack an' Jonestein, long time ago, asked Ertia to come play at the BDV, she came and looked and read, and thought. And seriously wondered if she was good enough to hold her own here. Finally, she pm'd Jonestein, and said, "Yes, I'll come, but I want to play Petaline and run The Heart of Gold."

That long ago day, when she was rewatchin' "The Heart of Gold", thinking on where she wanted this story to take her and all of you, she never thought it was gonna go this far, or have this effect on her, or on any of you, for that matter. In fact, she figured no one was ever even gonna read this, let alone play along. Every time someone posts, to this very day, her heart soars that y'all playing along, and seem to be having a time of it!

One thing that she did have that long ago day was an inkling that she'd like to tell one of her favorite stories from inside of the Firefly Universe. She thought it would be fun to show the timelessness of her favorite tale by taking it forward in time five-hundred years and try retelling it in true Firefly fashion.

Full credit for "Wild Horses" goes to an old Australian poet name of Banjo Patterson and his poem "The Man from Snowy River" and to the brilliant screenwriters at Disney who turned that poem into one of the best horse movies ever made.

Thank you, all of you, for riding along this far. You are all my inspiration and my love and this ride, I promise you, will be the best one yet.

I hope y'all are ready! Welcome, folks, and just remember, you can try...Surely enough you can try...

but you can't hold back Wild Horses.
Medicine Hat - July 2, 2008 01:34 AM (GMT)
Out across the Jinye plains, where the Alamos Hills rise against the sky like the gnarled roots of storm-torn timbers, in a land still wild and free for all that man built it and keeps tryin' time and again to tame it, the world turns to shades of blue and grey. Cold-water creeks, steep-shale hillsides, rocky paths and deep thickets of sweet gum and scrub oak make up a world few in this modern age of rocketships and hovercars still remember how to survive.

On the Jinye plains, where the Alamos Hills break like waves, the Medicine Hat Stallion circled his herd, a good forty head strong and growin' every day, between the bad-broke ponies that ran to join the call of the wild and the little foals that gamboled and played amidst strands of high-summer grass. Now, good number o' them little foals were spotted black and white, with deep-set eyes that gleamed with ancient recklessness of their sire.

Feeling the hot summer wind that carried the promises of an entire growin' season to his flared nostrils, The Medicine Hat Stallion of Kree McCroy reared up like a colt half his age. Then he bucked his hindquarters with a twist no rodeo buckaroo would have been able to stay before breaking into a gallup just to feel the whistle of the wind between his ears, wild, free and joyful.

His herd. His family.

His Home.
Petaline - July 2, 2008 02:06 AM (GMT)
Heart of Gold: Comfort Room
Mid-Day

Two weeks have passed since Max left the Heart of Gold, and his wake, left a gap that discourages them all. Vitorria Tate is gone. Archie McMullen is gone.
Jordan Flynn and the mysterious Rey are gone, too, but both had clearly reassured Petaline that it wasn't to Los Alamos. Jordan had left with reassurances that she'd come back one day, but that there were things in life that she couldn't reach here on Jinye. Kazimir, too, moved on in his own way.

Jonah's absence, as the days go on, is less keenly felt by all, but Petaline still holds morning vigil at his graveside, and will until the day she can she be sure it's safe to bring him home. And it ate away at her a little more every single day that she has to continue her deception. But she will. Until she can be sure Jonah is safe, she will.

In the Comfort Room, going over the books from the night before,in spite of the heat from the mid-day sun, it seemed to Petaline that this was the coldest summer she'd ever felt. The loss of her baby, and then of her closest friends, and the financial strain that had barely been eased by the triumph of the poker tournament were taking their toll on the Madame of the Heart.

What Petaline didn't know, couldn't know, is that behind the scenes, thanks to Miss Tessa and her late night ride to save a man most folk wouldn't have minded hung, a force was moving to make changes on Jinye. A force that just might save them all.

Until then, it was just them- the Heart's family, the few that remained, loyal and steady, and the walls of the house that held them safely inside.

Behind the bar, Lijuan was setting up for the day. Jacky-boy and Dusty were cleaning down the counters and tables. Helen was checking the tills, making sure that the vaccination kits were stocked. Szatsu was out in the kitchen, at least Petaline hoped he was, otherwise somethin' somewhere was burnin' all on it's lonesome.

On the floor, like the one spot of sunshine through a dark forest of tall trees, Baby Evangeline was crawling, and getting better at it most every day. Her chubby hands scooted across hardwood, her giggle infectious and bright and her blue eyes, like crystal mirrors of the man Petaline half-suspected was her daddy, danced with curiosity at everything she saw.

The baby crawled up to McCade, grabbed his boot lace and tugged hard until it came loose enough for her to shove into her mouth, gnawing on the cured leather with a slobbery giggle.

Petaline just grinned, and watched, and waited. She didn't think McCade would shoot the little critter, but she didn't put bootin' the babe out of his way out of the question.

OOC: Heart of Gold is OPEN FOR POSTING! Have at, kids! I've got some expositin' to do over in Burgesstown.
Quentin McCade - July 2, 2008 03:06 AM (GMT)
Two weeks, fourteen days, a fortnight, etcetera, etcetera. No matter what you called it, two weeks was two weeks. To Quentin it meant fourteen days of his life had gone by. In that time he saw a few people leave. Some for good, some temporarily. While they would be missed, he would get by doing his job at the Heart as he always did.

Quentin looked down at the little tyke happily gnawing on his boot lace like a dog gnawing on its favorite chew toy. The cold gunslinger's gaze quickly softened into something friendly as Quentin chuckled, bent down, and said to the tot while trying his best to retrieve his lace from the confines of the kid's mouth, "Hey now, munchkin, that there ain't no chew toy. Best give me 'em laces back, ya hear?"


He didn't have any luck at first, as the little girl had a vise like grip on the thing. Every time he tugged at it, she would giggle and put a little bit more into her mouth. It was frustrating, but Quentin wouldn't, couldn't bring himself to smack a child. To him, hitting a child was a lot worser than hitting a lady.

Eventually Quentin decided to pick up the girl to see if that would relinquish his baby drool soaked boot lace. Sure enough the little girl started to cry as soon as Quentin picked her up. The girl had a set of lungs on her that could've put an opera singer to shame.


As he walked over to Petaline, Quentin said to baby Evangeline in his best soothing voice, "Now now, lil' one, no need to be fussin' like that. I'm sure Miss Petaline'll give ya somethin' better than an ol', nasty leather boot lace to chew on." Handing the girl over to Petaline, Quentin smiled and said, "Ain't that right, ma'am?"


Kneeling down to tie his boot, he kindly asked, "So what's on the agenda today? Reckon it'll be the same go-se, different day I suppose."
Petaline - July 3, 2008 11:48 PM (GMT)
"Hey now, munchkin, that there ain't no chew toy. Best give me 'em laces back, ya hear?"

Petaline tried, unsuccesfully, to keep from smiling, pretending not to notice the rough killer as he wrestled with little Eva. Only when he finally gave in and picked her up could she no longer restrain herself and gave out a small chuckle.

"Now now, lil' one, no need to be fussin' like that. I'm sure Miss Petaline'll give ya somethin' better than an ol', nasty leather boot lace to chew on. Ain't that right, ma'am?"

She took Evangeline from him, shaking her head, still smiling, "I don't rightly know about that, Mister McCade. I grew up chewin' boot leather, an' heaven knows what else. I don't seem to have suffered much from it."

"So what's on the agenda today? Reckon it'll be the same go-se, different day I suppose."

"Well now, " Petaline answered slowly, bouncing Evangeline on her knee until the girl giggled, (after which she promptly let the munchkin go to complete her afternoon terrorizing of the staff) "I'd like to be able to say nothing ever changes, wouldn't I? But I'd be lying."

She sighed, gestured the seat beside her, "Nothing special on the duty roster. It's payday at the factory tomorrow, so that'll bring the herd in, but for today... today it's just business as normal." Teasingly, she glanced up from her paperwork, "Don't tell me you're bored already, Mr. McCade? 'cause I imagine Tessa could use a hand if you're looking for an afternoons work."
Quentin McCade - July 4, 2008 02:50 AM (GMT)
"Well now, " "I'd like to be able to say nothing ever changes, wouldn't I? But I'd be lying."


"Reckon so, ma'am, but I ain't never one to call ya a liar." shrugged Quentin, as he watched the munchkin waddle over to one of the fancies. Turning his head he saw that Petaline was offering him a seat next to her, which he obligingly took.


"Nothing special on the duty roster. It's payday at the factory tomorrow, so that'll bring the herd in, but for today... today it's just business as normal."


"Figured as much." he said, stealing a glance at the kid, who at the moment was gnawing on the toe of someone's shoe. At the sound of paper crinkling, he turned his attention back to the Madame.


"Don't tell me you're bored already, Mr. McCade? 'cause I imagine Tessa could use a hand if you're looking for an afternoons work."


Quentin shook his head, "Naw I ain't bored, Miss Petaline." A beat passed and he changed his answer. "Well now that ya mention it, I am gettin' a tad boreder than a pigdog on vacation." He stroked his chin whiskers and mused, "Ya know ever since I began workin' here, I ain't never had to throw a man out fer harassin' one of the ladies or menfolk. Sure there've been a few scuffles an' some tiffs, but that stuff's startin' to get a might dull, don'tcha know?"


Getting up and stretching, he smiled at Petaline and said, "Guess I'll go an' help Tessa, maybe get her to laugh once or twice, get some color in that sad face of hers'. Where's she at?"
Tessa Saville - July 4, 2008 05:02 PM (GMT)
The Fields
As the last of the cattle meandered through the gate into the high field, Tessa's gaze dropped wearily, and for the first time since Jonah's 'death', she noticed the state of her body. Normally corded with muscle and tanned brown as a buck's hide, her arms seemed little more than bone and brown skin, where they appeared from beneath her white tank top. It was a two-fold shock in that she had lost nearly fifteen pounds but more disconcerting was the fact that she hadn't noticed till now. In a rare fit of self-consciousness, Tessa reached behind her, unpacked her denim jacket, and covered her withered frame. Vanity had never taken a hold in the young farmer, but Pride...well, Pride was still her favored sin. She couldn't have Petaline taking her from the fields, or one of the others causing a fuss that hampered her chores. Still, she would make certain to eat a little more at mealtime.
Atop her old grey Carthusian, Frost, Tessa lovingly combed the older horse's mane. Sire to her current mount, Kennedy, he had been the young woman's first mount, and together they had travelled the length of Jinye for twenty years.
With a nearly white face and impressive twenty-five summers spent riding the Jinye range, Frost had acted like a spring colt, when the horsewoman and thrown her saddle over his back. For nearly four years, Frost had been living a life of leisure grazing in the Heart's fields and setting to stud for some of the local ranchers, a task that he still performs at his advanced age despite the absolute shock of everyone save Tessa. However, he had literally jumped at the chance to carry his favorite rider one more time, while Kennedy's hoof mended.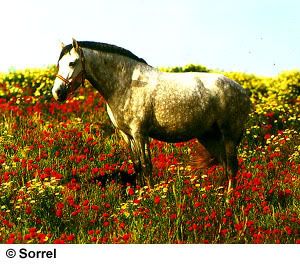 Frost
Whinnying contentedly, Frost moved into Tessa's touch and pranced in a semi-circle like a race horse ready for the gate. The first laugh in a long while split the farmer's lips as she watched him, and soon she was using both hands to scratch his grey mane vigorously.
A whistle sounded, causing Tessa to squint to her right. Victor, one of the newly acquired farms hands, motioned that he was going to ride for the lower valley, where MacKellroy's herd grazed. With a nod of agreement and one last scratch of Frost's mane, Tessa wheeled her mount around and headed back down the opposite side of the mountain…to do another full day's work.
Sincerity - July 11, 2008 05:49 PM (GMT)
Comfort Room

Sincerity pushed the remains of his lunch away and settled back into his chair with a satisfied sigh, pushing his flight cap down over his face with a showy little twirl that he'd practiced enough that it didn't look practiced.

He had a few hours 'fore he had to head back into town for the evening pick-up, but he had time to enjoy doing nothing for a while, espeially since he didn't expect to have much of an evening rush. It'd been slackening off this past week or so, and that probably wouldn't change today. It'd been pretty quiet, altogether, actually. The worst thing he'd had to do for the past two weeks had been towing Deschain's ship back to town, and that had been a cinch. Well, some of the ranchers may have helped with the heavy lifting. A little. But he'd been the brains behind the outfit- see, people underestimated the power of laziness. The thing was, the lazy are efficient. People like him marked the problem, looked for the least labor intensive and/or fastest solution, and got down to it. They just knew these things. Even the most horrific tow job could be completed in under an hour, two, tops, if you knew how to set it up right. And he did. Oh, how he did. He was world-weary veteran at this kind of stuff, and everyone else just had to stand back and be amazed.

Well... technically that wasn't really the worst thing that'd happened in the past few weeks. He may've been fine, but apparently things here at the Heart had been turned right on their ear, what with a few of the fancies running off to that new place in Los Alamos. He'd been meaning to check it out for a while, but, well, what with one thing and another he'd never gotten around to it. It wasn't all that grand, though, from what he heard. The best thing it had going for it was miss Vitorria Tate, may she rot in hell.

The Heart was having it's share of probelms, that was for sure, but that's how businesses were, right? Either high-ballin' it in the high life or eatin' rocks at the low. Not that he knew much about businesses or nothing like that, but The Heart has always bounced back before, no reason why it shouldn't now. Worse things had happened- granted, he couldn't think of much worse than the loss of a child, but it wasn't too hard to replace staff, right? They'd be okay.
Eric Batterly - July 11, 2008 07:51 PM (GMT)
Front Desk"Thank, Const."
A casual jeans and t-shirt clad Eric Batterly leaned back from the front-desk Cortex screen as it went black. Tong was on business, and Constance had no way to reach him. It just figured.
Tossing a five coin on the counter to pay for 'tex time, he headed back into the Comfort Room re-reading the info on his cor-pad again.
'Deceased. File Closed.'
Deceased. How? Where? Why? The official file was closed, no notation. No report. Just closed.
Without the boss's word to pull him off the case, his direction was pretty clear. His job remained the same until he was told otherwise. Find her, alive
or
dead. With a sigh, he glanced around the main room of the whorehouse.
It had taken him two weeks to trace his way out here to the whorehouse first recommended by Chari Carew. First he'd tried digging up the remains of the small cargo freighter out in the Los Alamos junkyard, piece by piece clue hunting. They didn't remember a woman, only a man- the man already identified as Darren Roberts. And any actual cargo was gone when the ship came down.
The thick, burly veteran who ran the junkyard had actually shuddered violently when Batterly asked about it.
"Blood, piss and shat over every inch o' that bay... Made me sick just tryin' to scrap it." The man had grunted, refusing to meet Eric's gaze, "Weren't no mech failure brought that down, and no mistake of it."
Intense blue-green eyes, shifting shades like the water in the pool out back, grazed over the Comfort Room's occupants. Questions roiled behind those eyes - Too many questions. And for the first time since he had started working for Vecto Ventus, he didn't quite know how to get the answers.
Someone here had to know her face, have seen her some time, if not the Heart staff themselves, then one of the clientele- this place serviced most of the county. Eric stared around him, then remembered something Bradley had told him about Jinye, gone on drearily at length about during a long-haul guard job, actually... and... What was the name again? Victoria?
With a smile, he made his way over to the Madame and the burly bouncer-looking man,
"Excuse me... Freind recommended a girl. I can't remember; think he said this was the place? A Miss Tate? "
Lou Caldwell - July 14, 2008 03:20 AM (GMT)
It had been a long morning for Lou Caldwell, what with the terrible shuttle service and baggage mix up. Four hours of listening to his friend and business partner, Gary Flick, complaining about every little thing that his beady little cynical eyes came across.

Separated at last from the abrasive little man, who had gone into town for unspecified 'supplies', Lou finally found himself at the Heart of Gold. Gary's constant bickering couldn't keep Lou's enthusiasm at bay about this place. Where Mr. Flick saw a third world desert moon full of slack jawed hicks and second rate whores, Lou saw a tiny slice of paradise.

It was a relief from the stress of work, a relief from dealing with the filthy low lifes his job forced him to associate with. A chance to let loose or relax at his own leisure in a quiet environment where he could focus on his true passion.


That was for the days to come, though, for now Lou would settle for a lazy afternoon of getting drunk and a healthy dose of gambling. Drinking had always helped him get through Gary's darker mood swings, and he hoped to be halfway to happy town by the time Gary got back.

Lou left the motel, where he had just finished unpacking the bulk of his luggage, and lumbered through the restaurant, not paying much attention to its occupants. For once in a good long while Lou ignored the smell of cooking food, though in honesty it wasn't hard to resist the pungent odor emanating from the kitchen.

Lou's massive form lurched into the main house and beelined to the bar, intent on getting as much alcohol in him as he could before the infuriating Mr. Flick returned. After dangerously propping himself atop one of the barstools, he offered the bartender a smile, "Afternoon, Ma'am. Shot of whiskey, please."

Yep, he had a feeling this vacation would be one to remember.
Lijuan Daiyu - July 17, 2008 03:48 AM (GMT)
OOC: Lou's words approved by Jeth.
THE BAR
Gainful employment; for Lijuan, it was water she didn't enjoy swimming in, much less needed to dive into. Hustling pool was getting boring (and the regulars seemed to be catching on) and the convenient exit of Jordan Flynn afforded a unique experience. And, not that Flynn would be here to see it, Lijuan would prove that tending bar was merely looking pretty and pouring bottles.
Right now, however, things were slow, sleepy, and
boring
. Now that she had more-or-less regular hours, she couldn't even bother Szatsu that much. Even that activity had lost its flavor. Szatsu had drifted inwards since Vittoria had left. When Lijuan tried to make inquiries he didn't say anything useful on the subject, instead gaining a quality to his voice Lijuan didn't like. This, of course, led to Lijuan becoming intensely irritable. To try and relieve this, she turned to drinking more, deciding it would be easier to bartend drunk. The logic in that decision hadn't raised it's bleary head since, probably because it was knocked out by the booze.
"Inexcessive excess,"
Lijuan thought with a dry chuckle.
God,
Szatsu.
He was just so infuriating nowadays...
"Afternoon, Ma'am. Shot of whiskey, please."
Lijuan looked up, eyes widening and narrowing at the sight before her.
Fat.
A thing to be despised, reviled, and occasionally concealed, the stuff was number one on Lijuan's long, long list of disgusting things. And here was a likely three hundred pure pounds of it, in all its horrible double-chinned, sweaty glory. Normally, she tolerated fat, but now...now, something in her just felt like snapping.
"Alright,"
Lijuan said, voice tight, eyes twitching,
"Just where the rutting hell do you get off, looking like that, you walking food crisis? Do your chins roll down into your gut, like some greasy waterfall?"
she said, voice turning vicious, cold, and quite slurred.
"Shot of whiskey,"
the fat man said, sounding quite wary.
"Please."
"No. No, you cannot!"
she half-shouted, slamming a fist on the bar, rattling several errant glasses.
"You cannot have a shot, you fancy fat sonofabitch, until you lose just one pound. Pound per shot, that's our new rutting policy, you slab,"
she spat.
"Whiskey."
Barrelling right past, Lijuan's voice picked up in intensity.
"You know, you upset me. Looking at people like you actually upsets me, makes me genuinely physically ill. It's like how you feel when you haven't recently devoured an entire pot roast. I cannot. Rutting. Take it."
Reaching behind her blindly, Lijuan snatched a bottle of Ancient Shenanigan, holding it up to the fat man's face, shaking the bottle conspiratorially, teeth bared.
"Sure you want this, Tubby McFatass? Huh!? Well, you'll ruttin' get it."
Striding angrily away with the bottle, a slight shakiness to her, Lijuan shouted,
"I'M OFF-DUTY, KIDS! HONOR SYSTEM!"
With fire in her eyes and the kitchen on her mind, Lijuan swiveled at the door, cocked her arm back, and hurled...
...the bottle straight into the floor with a resounding smash. Staring shrewdly at the shards and liquor for a moment, Lijuan shrugged, then made her exit with a backward shouted,
"LICK IT UP, FAT MAN! LICK! IT! UP!"
Now, time to deal with a certain Szatsu Niccolo...
Petaline - July 17, 2008 11:07 PM (GMT)
Comfort Room
"Guess I'll go an' help Tessa, maybe get her to laugh once or twice, get some color in that sad face of hers'. Where's she at?"
"We could all use a little cheer, Mr. McCade. This time a' day I reckon she's feedin' the cattle. You can take one o' the saddle horses out to meet her, if ya want."
Petaline closed up the books,
"Glad she hired on a few hands for the summer, but I'm worried she's runnin' herself raggedy. Come butcher time, we aughta call in some of the local families to help- factory men are always willin' to work in exchange for free meat..."
The guest who approached had Petaline eyeing him with two things in mind. The size of his wallet and the size of his ...
wallet.
"Excuse me... Freind recommended a girl. I can't remember; think he said this was the place? A Miss Tate? "
Wallet thoughts dashed out the window on the afternoon breeze and left Petaline staring coldly into the blue-green gaze of the stranger as she rose to her feet and straightened her skirt, a smile that she couldn't force feeling turning up to his face,
"Miss Tate doesn't work here anymore. I gotta a whole passel of girls twice as pretty and just as talented... Let me just introdu- "
She had looped her arm through his and started to steer him towards Emma when all hell broke loose, with Lijuan caterwaulin' like an angry calf after branding, and shattering glass bottles.
The scent of expensive whisky hit Petaline's nostrils as she whirled toward the bar. Batterly moved faster than she, clearing himself of Petaline's arm, stepping in front of her in a defensive martial stance, hand under his coat. Obviously prepared for "imminent violence", as Jayne Cobb liked to say.
Petaline spread both arms, gave Batterly's coat a tug,
"Whoa now! Everybody take a breath!"
The suddenly psychotic bartender was storming out, headed for Szatsu by the looks of it- at least he had a shot at calming her down.
"Dusty!"
Petaline tossed orders like a pro-ball player,
"Get a mop an get that cleaned up. Emma, darlin', this gent would like a word, and ..."
The Madame of the Heart of Gold slipped behind the bar, grabbed the last bottle of the best - a 75 year New Glasgow single malt - graced Lou with her most charmed smile, and poured him a double,
"On the house, sir, to apologize for Lijuan's ... manners. You'll have to excuse her- She just can't stand it when she meets a man twice as purty as she thinks she might be. Makes her a mite testy."
Leaning across the bar, ample bosum announcing itself loud and clear over the dark burgundy fabric of her third-best corset, Petaline winked at Lou,
"My name's Petaline, and if there's anything... anything, darlin, that can make up for this little ... hassle, you just whisper it real soft here, and I'll see what I can do."
Lou Caldwell - July 18, 2008 05:25 PM (GMT)
Psychotic. That was the first word that came to Lou's mind in describing the bartender, whom the recently introduced Petaline had referred to as Lijuan. The crudeness of the bartender's remarks were so sudden and unprovoked that Lou hardly had time to be offended. She also evoked a chilling sense of familiarity.

He couldn't help but smile at the woman who had made the smooth transition into the bartender's role. "No need, Ma'am, no harm done. Whatever issues she has, they're much bigger and far removed from my gut here," he patted his stomach affectionately, which was covered by a brightly colored tropical shirt, something Lou was beginning to realize looked extremely out of place. "Just my luck, too," he added, now pinpointing the odd feeling he had about her, "I came here lookin' to escape my critical, nitpicking partner, and it turns out the drunken" -psychotic- "female version of him is tending bar." He smiled, not wanting to sound too judgemental himself, "not that I have a problem with people who indulge themselves on the job. I was a cook once and, well, you can see how that turned out." It was a safe, harmless joke he used often. While he was perfectly comfortable with his size, the truth to the origin of his overweight body was something he avoided talking about.

He briefly wondered how the sometimes insufferable Mr. Flick would get along with the recently departed Lijuan. Two theories came to mind; they would join forces and destroy all who dared stand in front of them with their acid tongues, or they would turn on each other in an epic affront to which to no man nor woman have ever seen the likes of.

The mere thought of the two of them meeting sent a shudder down his spine, encouraging Lou to pick up the generous offer of free whiskey (while casting an appreciative glance at the other generous display) and knock it back eagerly.

Setting the empty glass on the table, and wearing that bizarre look of simultaneous disgust and satisfaction whiskey seemed to elicit, Lou introduced himself, "Lou Caldwell's the name, and it's a pleasure to meet you, Petaline." He nodded towards the bottle, "better switch to something cheaper. I know it's only the afternoon, but the sun's set where I'm from." Glancing at the pool tables, he wriggled off his seat and stood up on sandled feet, "I'll take the next shot over by the tables, if you've got any particularly skilled players lookin' for some competition, please send them my way." He felt the whiskey's burning sensation fading away. He reached into the pockets of his massive cargo shorts and set a wad of credits on the counter with a smile, "I'll start a tab."

Quentin McCade - July 18, 2008 10:30 PM (GMT)
Comfort Room

"We could all use a little cheer, Mr. McCade. This time a' day I reckon she's feedin' the cattle. You can take one o' the saddle horses out to meet her, if ya want."


Did she want him to ride a horse? Didn't she know that horses and him went together like battery acid and antique rugs? It was an act of God that he didn't fall off the last horse he rode or get trampled on, or kicked in the face again. The score was tied at the moment, but did Quentin really want to hand over another victory to horse just to help Tessa?


"The things I do fer the kindness of a pretty woman." he thought to himself, as he made up his mind. Standing up, he said, "All righty, reckon I'll do that."


"Glad she hired on a few hands for the summer, but I'm worried she's runnin' herself raggedy. Come butcher time, we aughta call in some of the local families to help- factory men are always willin' to work in exchange for free meat..."


Quentin froze as he was about to pull out a cigar from his duster and said smiling, "Ya know I could say somethin' naughty about that, but I ain't gonna on account that I ain't got anythin' dirty to say at the moment."


Tipping his hat to the Madame, Quentin left for the stables to fetch a horse and lend Tessa a helping hand.


Horse Stable

Quentin walked on over to a brown mare, carefully dodging the little land mines of dung that littered the surrounding area. The horse hesitated as Quentin came closer, snorting and shaking its head as he stopped and said, "Aw come on now, darlin', don't be like that. I ain't even done ya no harm an' yer actin' like I'm some big damn bully."


The mare snorted once more and moved a little closer, letting Quentin pat her head and run his hand through her mane. Quentin smiled at the horse and said, "See now? I ain't such a bad fella." Looking into the mare's eyes, he continued, "Now how about ya let me slap a saddle on ya and take ya fer a ride. Can ya do that fer me?" The horse snorted and shook her head again. Quentin frowned and asked, "Please? I'll give ya a nice juicy carrot fer yer troubles."


Another snort and a head shake told Quentin that he wasn't doing so great at being a horse negotiator. Sighing he pleaded, "I'll give ya two nice juicy carrots an' a sugar cube. How's that strike ya?" A moment of silence, then Quentin added. "All right I'll give ya two carrots an' all the sugar cubes ya can eat, but that's my final offer. Take it or leave it."


Quentin seemed to have passed Horse Negotiating 101, cause the mare didn't refuse his new offer. Taking that as a kindness on his part, Quentin looked around for a saddle, found one, and put it on as best he knew how. Taking the horse by her reins, he opened her stall, led her out, and closed the stall's door behind her.


A few deep breathes later, Quentin hopped onto the brown mare and said, "Okay, lil' lady, take me to Tessa. Ya know the cute girl in the cowboy hat, always takin' care of ya animals. The girl I'm supposed to be cheerin' up an' helpin' right now. Do ya know where she is?"


He didn't expect the horse to understand him, but the way she had acted towards him and her refusal of his initial offerings of food, told him that she seemed to know what he was saying or wanting. At least Quentin hoped so because the horse started to take him away from the stable and towards the valley.
Tessa Saville - July 25, 2008 02:48 AM (GMT)
Sweetwater Canyon (Land owned by The Heart of Gold)

Todd's herd didn't trust her. Hell, they probably didn't trust Todd either. Near as she could tell every head bore the brands of other ranchers…brands that had been cleverly superimposed with MacKellroy's own. As she and Frost moved among them, the longhorns skittered away, keeping a cautious buffer between themselves and the horsewoman.

Vic and the other hands had taken most of the rustler's herd farther down the canyon to water them before the day grew too hot. The two dozen head surrounding her would be integrated into the Heart's herd, with another dozen or two transitioning every other day. Prying eyes would just figure they were paying the bill of Jonah's blood with Todd's livestock, but in actuality, it would help immensely to have all the cattle in one group.

Removing her denim jacket, Tessa pulled a red bandanna from her pocket and wiped the sweat and dirt from her brow. Her other hand found her canteen dangling from Frost's saddle and brought the large container to her lips. As a few rivulets rushed down her sun bronzed chin and ran into her already damp tank top, she heard the crack of a fallen branch toward the tree line. Trading canteen for rifle, the farmer-bard squinted at the thick evergreens lining the edge of the clearing.

A few curses and a few more snapping branches preceded the appearance of Quentin McCade on the back of Old Buttercup.

Lowering the rifle immediately, Tessa couldn't keep the chuckles from her voice as she called to the professional gambler,
"What are you doin' all the way up here, McCade? There isn't anyone to play cards with or shoot."


<<If I GM'd you too much Pain, let me know>>
Quentin McCade - July 25, 2008 08:11 PM (GMT)
"What are you doin' all the way up here, McCade? There isn't anyone to play cards with or shoot."


Quentin looked around, then said as he moseyed his steed up to Tessa's, "No, Tess, I reckon there ain't." As Quentin's horse came to a halt, he smiled at the farmhand and continued, "But a lil' bird by the name of Petaline told me that ya might need a hand an' if'n I was bored outta my gourd." He tipped his hat to her, winked, and said, "So here I am, willin' an' able to give ya a hand in order to rid me of my boredom. I'm also here to cheer ya up if'n ya need it."
Sincerity - August 1, 2008 02:13 AM (GMT)
Comfort Room

Sincerity gave it a little while before he risked looking away from the half-eaten things on his plate that he suspected were taters and up at Lijuan's victim-of-the-day, forcing his eyes wide to combat the nervous prickle of a laugh at the back of his throat. No matter how accustomed he might be to Lijuan's unusual approach to doing, well, anything, it was like she constantly had that thing women talked about in hushed tones all the time, whadjamacallit -ah, PMS- and that was frankly terrifying. It was scary to think otherwise. What if she was like this naturally?

He shook his head to clear it--or pass out trying--of the mental image of that mad woman sharpening that tongue of hers on her ma's womb on the way out. "Sweet gal," he announced loudly, because really, what did he know? It might even be true. The cook tolerated her, didn't he? "Can't say she not memorable, though, huh? You'd need years of therapy to forget her." Laughing -not unkindly- Sincerity nodded at the guy with a grin and craned his head over to see Petaline.

"Figure I ought to head out now the fireworks are done," he said, slapping down money for his food as he rose, "'fore somebody hots the bus and goes on without me. Got any messages for the folks what you sent out the supply run while I'm goin', miss Petal?"
Eunae Ji-hye - August 1, 2008 05:43 AM (GMT)
Comfort Room

It wasn't entirely nervousness that made Eunae hesitate before crossing the comfort room, eyeing her boss where she flirted by the bar with mixed feelings. The prospect of horrible, crushing embarrassment at the madame's disapproval was one thing, but the prospect of not doing this, of failure, was another thing entirely, and that alone made her face go hot and then cold, and she almost gave up right then but something made her stay.

It wasn't because she had too far to give up now, or because she felt that she owed it to herself to continue on, or anything else like that because, frankly, she had been using those very terms to convince herself to do exactly this for days, since Vitorria and the others had left, and it had near driven her mad. Self-preservation had never been enough to move her, but pride... that had always spoken to the place that burned bright with Alvaro's afterimage.

It was pride that had kept her silent as everyone danced around her, not-saying the insinuations that hung heavy in the air, and it had nearly been too much for sure. She was not... not a fool, whatever they said of her when they thought she wasn't listening, and should she ever forget that, she had the face staring up at her from the paper she clutched between newly-healed fingers to remind her. He hadn't been there to pick her up when she fell, but he didn't have to be. It was enough that, knowingly or not, he had kept her going when she would have given up. She owed it to him to not give up now.

Now her face felt hot again. Great.

Her cheeks were already pink, but she blushed in earnest and ducked her head a little, eyeing Petaline through her lashes with a tremblingly shy smile until one hand went up subconsciously and tucked a bit of hair behind her ear so she wouldn't have to look at anyone else in the room as she passed the madame the piece of paper. It was a missing-persons poster -the first of many, hopefully- complete with a portrait of her husband, Alvaro, and a reward of 500 platinum pieces to anyone with information as to his whereabouts. That was almost all of the money she had saved up, but if this worked, she'd consider it a bargain.

Eunae nervously looked up at Petaline for a reaction, asking, no... pleading for approval. She needed this.
Petaline - August 4, 2008 03:25 PM (GMT)
"Lou Caldwell's the name, and it's a pleasure to meet you, Petaline. Better switch to something cheaper. I know it's only the afternoon, but the sun's set where I'm from. I'll take the next shot over by the tables, if you've got any particularly skilled players lookin' for some competition, please send them my way."

Well, a gentlemen to boot! Petaline found a slow smile creeping across her face. Most of her clientele would have taken the offer for all it was worth and still walked away annoyed at Lijuan's tantrum, "Mr. Caldwell, you do know how to charm a lady. You go on make yourself comfy and I'll keep the drinks comin' and see if I can't scrounge up a table-hound for ya."

She fired the burly fellow a wink as her left hand returned the good whiskey to it's rack and selected, not the house stuff, but a bottle a few plat up from it. Petaline had just poured out the next round when Eunae approached. She was actin' like a mouse again, all nervous shrugs and ducking glances.

"Eunae, girl? What is it?" But Petaline knew, even before she held up the poster.

Alvaro.

Petaline turned her head, pretending to follow Caldwell's movements into the Game Room, trying to compose herself before she looked back at Eunae. Her hopeful gaze, heartjerking in it's intensity, was too much for the Madame to bear. The bastared had abandoned her, returned to use and abuse her- actually critically injure her, and now she wanted him back.

"You see," Pearlmin scratched his head trying to find the words. "Miss Eunae's husband isn't coming back. Ever."

"Sweetie..." Petaline hesitated, storm-grey eyes finally raising to Eunae's face, "...I..."

Don't think this is gonna help. Don't think you should do this. Think you should just let him go this time. Think you need to get over him and find yourself a man who'll ....

"I think it's a beauty of an idea, Eunae." She found the words coming out before she could stop them, "If you hurry, I 'magine you can catch Sincerity and have him put 'em up on the shuttle."
Tessa Saville - August 11, 2008 05:48 PM (GMT)
Sweetwater Canyon

"So here I am, willin' an' able to give ya a hand in order to rid me of my boredom. I'm also here to cheer ya up if'n ya need it."

His friendly smile released some of her exhaustion and eased her turbulent mind.

Though the gambler seemed ill at ease on Old Buttercup, he had ridden all the way from the Heart…just to offer his help. Quentin's actions spoke of a hidden layer to the man…a layer that stood in opposition of the gruff exterior he so dutifully cultivated.

Normally she would've playfully joked with the man, but not today. Today Quentin was a horseman and a helping hand, which exempted him from her ribbing,
"Mister McCade, you are a certain smile for my lips and pleasant sight for sore eyes."

Conscious of her gaunt frame, the farmer bard once again donned her denim jacket before the gambler could see.

Pointing to MacKellroy's herd, she continued,
"If you could ride on this side, Old Buttercup will keep these ornery beasts in line, while Frost and I push 'em down the valley toward the rest of the Heart's herd. Shouldn't take us but a few hours to get 'em driven and fed," her brilliant smile shone against her tanned face, "I'll have you back in the Heart before Szatsu's supper takes the table."

Reaching up, she pulled the tip of her hat in a show of respect,
"Thanks, McCade…I owe you."
Quentin McCade - August 12, 2008 02:39 AM (GMT)
"Thanks, McCade…I owe you."


"Aww shucks, girl." replied Quentin, eyes squinting in the sunlight as he returned her smile. "Ya don't owe me nothin', but a smile an' 'em kind words of yers'. Yer company of course don't hurt neither."


His heels gently nudged his steed in response to get her moving down towards the herd. The mare was hesitant at first, but after another careful nudge and a reassuring smile to Tessa, Quentin's horse finally got the intentions that her rider wanted them to head for the herd.


As the two riders meandered their way closer to where they were supposed to be, Quentin turned his head towards Tessa and asked, "So how are ya doin' by the by? Seems like a spell an' a half since I've seen ya all chipper like ya used to be. Anythin' wrong? Or is it somethin' that ya can't tell lil' ol' Quentin?"
Eunae Ji-hye - August 13, 2008 05:35 AM (GMT)
Eunae blinked once, dark eyes going going immediately wide, and she searched Petaline's face for a long moment before the words finally registered, really registered, and then she nearly toppled the other woman over as she threw her arms about her neck, her entire face lit up with relief and a happiness that shone right out of her.

She finally pulled back enough to fix Petaline with an earnest look, grateful and relieved, as rushed, incoherant words of thanks tumbled from her lips between giddy, helpless laughter -she'd been worried that Petaline might disapprove, hadn't dared to hope, really hope- and gave one last impulsive hug before she turned and pelted out the door after the shuttle driver, beaming fit to split her face.
Scious - August 13, 2008 10:52 AM (GMT)
BAR"And be not drunk with wine, wherein is excess, but instead be filled with the spirit."
As Scious entered the rather garishly decorated establishment, he could feel more than a few eyes cast his way. To some he was an odd stranger, who seemed road-weary and in need of a drink... to a few more, he probably looked an ample mark for some act of brigandry... and to at least a few more than that, and the few who worried him most, he was the new shepherd in town, who had no business in a whorehouse.
Sauntering idly up to the bar, he straddled a barstool and hailed the bartender with money in palm.
"A double shot of whiskey, please."
Without so much as a word or curse, the shepherd downed the double shot of demon water, feigning callous disregard for the fiery wrath burning through his mouth and throat. With a smile and a generous tip, he signaled for a second shot, which he downed as quickly as the first.
With a satisfied looking nod, Scious meandered away from the bar in favor of a comfortable and quiet looking corner, lowering himself into a sitting position where he could watch the goings on of the room without attracting too much attention to himself. With the liquor coursing through his veins, pulsing from behind his eyes to the tips of his fingers and toes, Scious the Wanderer began to do what he truly loved doing most: he began to absorb the sights, smells and sounds of the people all around him.
Then I commended mirth, because a man hath no better thing under the sun, than to eat, and to drink, and to be merry: for that shall abide with him of his labor the days of his life, which God giveth him under the sun.
Quotes are Ephesians 5:18 and Ecclesiastes 8:13 from the King James Bible
Max - August 14, 2008 03:12 PM (GMT)
(50 Miles Away)
LOS ALAMOS: HI-LO HOUSE


Max stretched wearily as he emerged from his car. Another week on the road and he had little to show for it. Strolling into the gaudily painted red and gold Show Room of Hi-Lo House, he glanced around the place he and his partners had established.

It was shinier than The Heart. Cleaner. Brighter. But it was missing something. Something he couldn't put his finger on. Stealing Vitorria and Archie had been a definate coup in the battle, but where both of them had stood out, shined, at The Heart, here they seemed uncomfortable.

It was early in the evening yet, but two of the girls were down already. Lounging on corner couches, their bodies ornamented and painted, they should have exuded sexuality, offered promises with their glances. Instead, they looked, bored. And tired.

Max sighed again but was interupted by a client coming in the door.

"Where's my Miss Vittie?" The customer snapped, not even glancing to the others in the room, "She's the one I want."

"Sir?" Max interrupted the sturdily dressed, and not un-handsome fellow, "She's not on duty currently, if you'd like Marissa can..."

"Vittie's the only thing you got I want." The client grunted out, "An' I drove fifty miles in from Cold Creek to see her."

"Of course, sir. Let me see what's keeping her." Max moved directly to the stairs, raced up and pounded on Vitorria's door, letting his irritation with the stubborn client transfer to the whore, "Get movin, Vittie. There's a client for you! Not paying you to sleep all day!"
Dizzy - August 14, 2008 05:52 PM (GMT)
Over the shuttle's radio
"Heya, Sincerity- It's Dizzy here. You parked or road-wards? And which way ya headed? Over."
Vitorria Tate - August 15, 2008 08:08 AM (GMT)
Warning: explicit stuff ahead!
(50 Miles Away)
LOS ALAMOS: HI-LO HOUSE
Vitorria propped her elbows up on her knees and slumped where she sat, feeling the unfamiliar wood grains through the thin material of her skirt, numbing her cheeks and thighs after hours of sitting. She didn't look down at the used corpad she'd bought this Tuesday past in town, didn't look for any news about the Heart, about Petaline or Dusty (or Evangeline,
Evangeline
, oh, Lordy, she missed them all but she missed little Evangeline like she'd miss her own right hand), because she knew there wouldn't be any. They didn't put things like that up on the Heart's 'tex link. But there was still a part of her that hoped that there would be something there today, telling her what was going on and what she'd missed, and there was a part of her that hoped for anything but.
It didn't matter how far she'd gone inside her own head, she could still Max pound up the staircase and on her door. She'd been expecting it for hours.
"Get movin, Vittie. There's a client for you! Not paying you to sleep all day!"
Heaving a quiet sigh, Vitorria stowed the corpad under her bed and set off downstairs, brushing past Max without a word, shaking her head, not to argue with him, but… He was so angry these days.
It was hard to remember, sometimes, why she'd agreed to go with him at all. He scared her sometimes, because... because sometimes when she looked at him she could see the spread of this life she had chosen spread out before her, and she felt like she was going crazy, pulled in two different directions, like what
was
is facing down what
might be
. She could see the lie of it, the cowardice, and she didn't want to look into that mirror for fear of what else she would see. She knew that if she tried to force herself to look it would kill her.
So she didn't, and it was becoming easier day by day. Back home they would have known it for a lie the minute she pasted on that smile and tried to play normal, because there was nothing normal about it at all, but here no one knew what was and wasn't her face, and she could pretend. Sometimes she even believed it.
It occurred to her suddenly what a night on the floor could do to her appearance, but it was too late to fix anything- he'd already seen her. Her client could be nobody else, with the way his eyes had lit up with recognition or hunger or something else, some other emotion that made him hasten toward her. She hastily pulled up her brightest smile, backing it up with the body language she'd been getting better at faking, and she couldn't bring herself to feel disappointed. It was what she'd chosen.
Sincerity - August 16, 2008 03:27 AM (GMT)
Sincerity made himself stop staring and shoved his hands in his pockets, because if he didn't he'd want to reach out and rip Eunae's flier right up, maybe burn it, too, because the pretty nurse is looking at him, waiting for him to take it and hang it up where everyone can see it, and it leaves him rutting
pissed
, and Sincerity doesn't do pissed. Too much effort.
"Heya, Sincerity- It's Dizzy here. You parked or road-wards? And which way ya headed? Over."
Sincerity shrugged apologetically and headed back in the bus to respond, pathetically grateful that the radio had interrupted him before he could come up with some go-se line about feminism and abuse and Equal rights Among (Wo)Men, because it'd just come out all wrong and it didn't matter that he lied like a rug, because he hated refusing anybody anything. Just couldn't do it. Got him in a lot of trouble sometimes, too, and even when it didn't it was just plain old
annoying
, like when he told Aunty Thelma
you bet
when she asked him if he wanted green beans and he didn't even
like
beans.
"Headed out to that weird food place just opened up over in Los Alamos, actually. You like linguine, right?"
He smothered a snicker long enough to add,
"Why, you need me to ferry some stuff out to your house? I can be there in 'bout an hour, tops."
Actually, make that half an hour. Only one half of that hour would actually involve driving- the other half would be spent working himself up to it. It was incredibly taxing work, getting ready to work. Some days it took a while.
He paused thoughtfully, and after a minute he thumbed the radio back on.
"Diz, you don't have to say 'over'. I'm the only one uses this frequency, not like there's anybody to impress."
When he turned back around the nurse was still looking at him, a faint layer of uncertainty overlaying those fey features, and spit in the eye if he wasn't giving up the fight before he even knew it, bad idea or not, but the time to change your mind is
before
you jump out of the ship. So he kept going, clipped the flier on the big plastic rear view mirror over his seat and everything. Not like he used it anyway.
"Doodle me up some more, and I'll try and pass 'em out around town. Somebody's bound to have seen 'im."
Rats.
Rawhide Smitt - August 16, 2008 04:17 AM (GMT)
(50 Miles Away)
LOS ALAMOS: HI-LO HOUSE

"Miss Tate." The client didn't advance to her, kept his back turned for a long moment, grey ten-gallon pulled down low over his eyes. Finally, Rawhide Smitt turned 'round, real slow, boots tappin' the floor, the fading yellow sunlight reflecting off the windows and painting his white mustache in shades of gold. He made no move towards Vittoria, for all his fuss of gettin' her downstairs. "Girl, you're about givin' the folks back home the ko-nip-chuns."

He jerked one scarred, calloused thumb, stained brown from leather and lariat, towards Max, "You let that jerk-nobber talk to you that way alla the time?"

Without waiting for an answer, Rawhide pulled up a seat, and slapped the chair next him, "Settle yerself down here, girl. We got jaw-workins to do. Way I was figurin' it, thought Szatsu, or Dusty, or Petaline would be out here, but we all reckoned you weren't gonna have word for none of them. So, I got coin, I''m payin. An' all it's costin' you is words."

Rawhide grinned at her for a second, his teeth, the bottom front ones crooked from where a colt kicked him in a fit of high-spirits, surprisingly white against his suntanned skin. "All I want is you to tell me what it's gonna take to get you back home. Ain't talkin' about workin'. Ain't even talkin' bout the Heart if yer done with that life."

He pulled off his hat, dropped it on the table, and leaned on his elbows as he looked at her, "I'm talkin' about people who love you, care about you, and are sick to death thinkin' you hate 'em enough to leave." The horseman's dusty plain's voice whispered gentle as to a skittish foal, "Folk miss ya back home, Miss Vittie, an' not fer what you carry 'tween yer nethers."
Vitorria Tate - August 19, 2008 09:12 AM (GMT)
(50 Miles Away)
LOS ALAMOS: HI-LO HOUSE
Vitorria could only stare at Rawhide as the words sank in, and tried to remember how to breathe.
I can't
, she wanted to say,
I can't go back
, but she found herself sinking into the chair opposite him anyway, knowing Max was listening and unable to care.
"I'm talkin' about people who love you, care about you, and are sick to death thinkin' you hate 'em enough to leave. Folk miss ya back home, Miss Vittie, an' not fer what you carry 'tween yer nethers."
He said it kindy but Vitorria flinched anyway, horror, uncertainty and guilt chasing themselves across her face before her eyes jerked down to stare hard at the table.
"They-"
She swallowed hard when her voice cracked in the middle, and said in a small voice,
"They think I hate them?"
It hadn't even occurred to her that they- she hadn't
meant
to-
Oh...
Her mouth was too dry to let any words escape, and Vitorria brought her hands up and leaned into them for just a second. Breathed.
Breathe.
Lordy, she really hadn't thought this through. Any of it. It was like running away from home all over again, thinking about what she could do to make the pain stop, what she could do to keep herself from drifting, and she'd thought that leaving it all behind would be easier.
Christ, Ma and Poppa... They probably thought she was dead.
"I'm sorry,"
she said, voice tightening to a near-whisper. God only knew what must be in her face, her voice, but it really didn't matter what she said out loud, because Rawhide was watching her for what she didn't say, and- and-
I just wanted everything to be normal again.
Rawhide Smitt - August 19, 2008 05:14 PM (GMT)
"I'm sorry,"

"Don't be sorry, kiddo." Rawhide leaned back in his chair, giving her space. She'd always seemed him a spirited filly, dancin' the fields to her own music. The Heart had seen too much tragedy of late, killers and thieves, not to weigh a soul down, and some... Some just didn't take it so good as others might. "Be right. If'n you like it here," A steel eyed glance at Maximillian said how likely the tough old horseman thought that was, "And yer gettin' on fine, then just you say the word and I'm right on outta here."

"Just keep in mind," He paused for a second, "That there ain't no call to go shunnin' off folk who care when you're hurtin'. They're hurt, sure, and Petaline's blamin' herself. She's gotten right good at that of late, but you gotta do what's right by you. And them. I'll take back any words you wanna say."

"But, if you ain't happy here, you run grab your things and we're outta here in a wink." He stood up slowly, reaching for his hat, "Got the rig parked out front, if you're of a mind to head back home."
Dizzy - August 19, 2008 05:35 PM (GMT)
"Diz, you don't have to say 'over'. I'm the only one uses this frequency, not like there's anybody to impress."
Dizzy's chuckle crackled over the radio. Thom had drilled it into her early on, say 'over' so they know you're done talkin' and it's their turn
.
"Sorry, Sin. Old habits die hard, I guess. Listen, if you're headed in from the Heart, think you could fetch Dusty along? Seems Judy just can't along without that boy's help for ten seconds."
OOC: Tao, feel free to GM Dusty along back to Burgesstown.
Gurloh - August 19, 2008 05:55 PM (GMT)
Main House: Comfort Room

Gurloh and his gaggle stomped up the porch steps and into the Comfort Room, their boots leaving mud spots on the porch planks.

"He's gorram niusance is what he is." Gary was grumbling, "My pa says he lost two good geldings to that bunch already."

"Bad enough that the Cold Creek boys was stealin from us," Paul Parks agreed, the lanky cowhand shaking his head as he tossed his hat recklessly onto the stand, "Without that that stallion doin' the same."

"Maybe we aughta hunt it down." Gurloh suggested, careful not to say too much, "Seems like we got one spot of trouble go off and another crops up- might as well take care of this one the same way."

"The prairie herds, " Warren spoke up, the quiet one of the bunch adjusting his glasses on the end of his nose, "Are grazing mostly Burgess property. That makes 'em hers by the Settlement Code."

"Hell, boy? You scared of the old widow?" Gurloh pounded Warren on the back with a slap that sent the boy careening into a table before he regained his balance. Somethin' dark danced in the back of Gurloh's eyes, though, as he watched Warren pull out a chair and sit down.

The quiet one, the one Gurloh could never quite figure, just gazed up at Gurloh for a long moment, before asking pointedly, "Aren't you?"

Gurloh narrowed his eyes, grabbed Helen as she slipped past and deposited the blond on his lap, "Hell no. Ain't scared of any woman ever walked this moon. 'Cept maybe this one."

Helen turned around in his grasp, slapped his face, not quite playfully, said something sharply teasing before she disentangled herself and headed for the bar to fetch them a pitcher.

The burly cowhand laughed outloud, a deep belly-laugh, "See what I mean? Regular wild-one, Helen is!"

But something about the laughter rang as false as Warren's words had rung true. Crossin' Widow Burgess wasn't in Gurloh's best interest. But neither was having that herd running wild out there, not when he knew that sorrel pony had taken to running with the prairie brush with the Medicine Hat.
Vitorria Tate - August 26, 2008 12:42 PM (GMT)
(50 Miles Away)
LOS ALAMOS: HI-LO HOUSE

Vitorria bit back the first three response that came to mind and fell silent, staring at her fingers to avoid looking at Rawhide. She didn't know what to say. He was right, she knew he was, but if she admitted it...

She wasn't ready to do that yet. None of it. Because that would mean that she hadn't just just made the biggest mistake in her life.

Finally she took a deep breath and straightened in her seat, looked him in the eyes. "Everything I do is wrong," she murmered, hoping he'd hear and understand both the answer and the question in it, because she wasn't sure she did. How did anyone else know what was right? It was so hard to decide where she should to put her feet, even, when she'd rather run and hide."I thought I was stronger than that, but..." She stopped herself right there. Didn't matter what she'd thought. Could've been thinking that she'd done herself good, or about pokla-dot bumblebees, because the truth of the matter was this: despite all those pretty words about paths and god-knew-all what else, all it taken was a bad cook smiling at her in her garden over guns to make her run away again.

Hadn't even done her much good, had it? It hadn't made anything better- if anything, she'd made things worse. All she'd managed to accomplish was leaving everything important to her in the dust, and she was just realizing that, maybe, that had hurt their feelings.

...Lordy, how selfish could she be?

"I'm done," she said slowly, realizing it was true even as she said it. She was done. Sometimes you needed somebody to give you good slap to realize you're making a mistake, and she'd just had it.

She glanced over at Max, suddenly nervous again, but only for as long as it took to rise to her feet and repeat it, louder. Enough was enough. She was done with this place, done with Max, and, most importantly, she was done sticking her fingers in her ears and trying to whistle the world away. "I'm done, Max," she said in a clear, ringing voice, and she actually smiled, feeling the heavy weight in her chest uncoil for the first time in what felt like forever. "I'm going home."
Max - September 11, 2008 06:57 PM (GMT)
(50 Miles Away)
LOS ALAMOS: HI-LO HOUSE
"I'm done, Max, I'm going home."
Max smiled his million cred smile, even as he realized that she meant it. His star attraction was leaving.
"Now, honey, let's rethink this. How about a raise? Fifty-five percent? Plus two days a week off?"
"The lady,"
Rawhide drawled out, his hat lowering over his eyes,
"Said she's goin' home."
"And who the hell do you think you are?"
Max growled, his beautiful face darkening quicker than a late summer storm-sky,
"She's not yours to drag out of here!"
Rawide spread his legs a span, his left elbow catching his duster and pushing it back clear of the oak-handled gun at his hip,
"Nope."
He agreed, sandy plains voice calm as a springtime sunrise,
"Nope, Miss Vittoria's her own, to do as she pleases. An' if'n you gotta problem with that, mister, well, I reckon you got a problem with me."

"Miss Vittie, hon, you gather your things, and get on out to the truck."
Maximillian, fuming, could only stand facing down the armed man who was taking his shining hope for Hi-Lo House. He called over Rawhide's shoulder as Vittoria climbed into the front seat of Rawhide's battered ranch rig,
"This isn't over! We're gonna talk about this!"
He was still standing in the street as the rig rolled away, leaving a cloud of dust that flaked his fine black suit with grainy powder. Max brushed his hair from his forehead, grumbling after the truck,
"This isn't over."
The bland girls lounging about drinking his liquor merely gazed over him as he came back into the house and poured himself a whiskey. It was time to go back to the drawing board. Hi-Lo would win over the Heart's business,
whatever it took
.
Petaline - September 11, 2008 07:41 PM (GMT)
ADMIN PLOT PROGRESSION
TWO HOURS LATER9:00 PM
Dusty and Sincerity have gone to Burgesstown, with Sincerity promising to return for the 11:30 Back To Town run.
Will and Sasha have also managed to make it back to the Heart, the truck grumbling in with the hopeful promise of a new carburetor.
Inside the Heart of Gold, late dinner is still being served in the restaurant and the usual evening assortment of customers has filled the Comfort Room. In the Game Room, Lou has been dominating the pool table, taking all comers in Straight 8, and he's so jovial most don't mind losing to him.
Petaline swooped through the Comfort Room, her long skirt flowing as she played The Madame of the House. With Dusty gone, she was playing hostess and front counter, which at least kept her mind from other things.
It was just a role, she told herself, one she could slip into and out of easily as her blue satin neglige. It was a lie, though. She loved it, the heartbeat of the Gold at peak hours, the quiet murmurs of seductions from the corners, the raucus cries of winners and losers both from the Game Room, the scent of cheap whiskey and sweet perfumes that mingled together.
One of her regulars paused her and she leaned over him, teasing and toying as headlights illuminated the front of the house, a truck pulling in. She made a half-promise to her client, gestured Sasha to refill the mans drink and moved up to the door, anticipating greeting new clients and sizing them up.
Vitorria Tate - September 17, 2008 05:02 PM (GMT)
Vitorria had only managed a few steps away from the truck before a familiar shape moved to eclipse the light from the door and made her slow and stop her steps without thinking. She'd had words, long thought out apologies, but they'd all dried up quick as a puddle in the dry under Petaline's gaze and left her staring like her eyes were painted on, unable to bring herself to look away.

She lifted a shaking hand from its death grip round her carpet bag, but the rest of her didn't seem to agree with that idea, because she could feel herself hitching back a step into the warmth of the solid wall of rancher at her back, and he must have been the only thing that kept her from dropping to her knees to bow like Mama told her to when you apologized for being a po fu, because she could feel her knees quaking, ready to give out.

Vitorria forced her feet to move again, and then she was in front of her, and she was babbling, "I'm sorry, I'm sorry, I'm sorry," all in one breathless rush, and she was crying, she could hear it in the exhale, the sound of tears, and it only made her feel worse. Why was she crying? She was the one who'd left, not the one left behind, but she couldn't seem to stop.

She'd spent the past two weeks moving through a world of endlessly-renewing strangers, and no matter how hard she worked, no matter how many ways she'd made everybody else happy, it hadn't worked, it hadn't worked, and- And none of it had hurt worse than the tight, painful ball in the center of her chest right now.

"I'm so sorry."
Petaline - September 18, 2008 03:22 PM (GMT)
The figure emerged from the truck and stepped into the porchlight, blonde hair whispering behind her like angels wings, and Petaline felt her heart freeze.

The first emotion to gel was the anger, the bitter rage at having been betrayed and left. The second emotion was stronger, more wild and tempestuous than that first stab of fury, and Petaline stepped from the porch into the cool spring evening, eyes drawing wide.

Vittie stepped back, against Rawhide's chest, and seemed not to notice that he gently nudged her forward again, his eyes meeting Petaline's over her head, a silent warning.

"I'm so sorry."

It wasn't necessary. The second emotion that swelled in Petaline's heart, in her chest, was one of the strongest, most pure she had ever felt. She barely heeded Vittoria's mumbled and choked apologies as she swept towards her.

"Vittoria!" She started, but couldn't finish.

"She's been through enou..." Rawhide started to caution. Petaline barely found voice to shush him as she grabbed Vittie by both shoulders.

Torn between shaking her, and hugging her, Petaline's grey eyes brimmed over with tears as she held her at arms length, and her voice was the worn whisper of the wind through the old oak tree, "Good lord, girl... You came back... God be praised..." Petaline's arms wrapped around Vittie, tugged her into her chest, burying her tears in sweet scent of her shining hair, "Got no need to be sorry..." she choked out, "You're here and that's all that matters now."
Jolene - September 18, 2008 06:26 PM (GMT)
Ripple Ranch

Dinner at the Ripple Ranch was what it always was. Fresh beef, hothouse vegetables, fresh baked bread. And the brooding silence that had dominated most dinnertimes Jolene had ever had.

Finally, her father broke the endless rattle of cuttlery on plate and the muffled grindings of consumption to glance down the table at her, "Next planet-hopper arrives Tuesday. I already bought your ticket."

Jolene gently laid her fork aside. To show her frustration physically now would just set him further against her. "Papa," She started meekly, "How about if I just stay for a couple weeks? Just until the cattle are all up from the winter pastures? I know there's a lot of work to be..."

"I got men to do the work, Jo." And Copper's voice was as final as the snap of a noose at the final moment of the fall, "You belong at school!"

"I'm not learning anything there!" She snorted, "You need me here!"

"NO, I don't!" Copper snapped out, only too late realizing how it must sound.

Jo's face went still, and she slowly raised her napkin and lay it beside her fork. Silently, she stood from the table, the hurt of his words a stilletto blade in her heart. Why, oh why, had she ever come home?

"Jo..." Copper said her name lowly,but an apology, when he wasn't even sure what he was apologizing for, wasn't about to alight from his chapped lips.

"Never mind." She retorted coolly, starting to push her chair in neatly, her half-eaten supper congealing on the red-patterned china.

"Sit down!" He barked, more irritated with himself than her. But a man who had gone too long not saying the things that mattered wasn't good at just turning that on a half-plat coin, and gorram it, she was stubborn!

"No." Jolene turned from the table, long strides taking her to the doorway of the dining room before she glanced back, "You don't want me, I'm gone. You love that gorram horse more than me."

The lasts words were a dark mutter, a growl deep in her throat, before she stormed out, leaving Copper staring at his own food, appetite draining from him along with his anger. Far up in the top rooms of the house, he heard her door slam, and sighed. He'd talk to her in the mornin'.

An Hour Later

The moons had risen, double crossed light across the plains as a small figure crept from the house. On quiet feet she slipped past Ken and Rush, playing mumbletypeg as they waited out their watch.

In the stables, she loosed her old gelding, Job, and slipped a bridle over his head. A handful of corn kept him quiet as she buckled the saddle.

A handful of gravel thrown into the pasture sent the milk cows lowing and circling their calves, muffling the noise of horse and girl as they crept from the back of the stable. In the last stall, Diamond's Rue Freedom whickered.

Jolene's heart skipped a beat as she clipped a lead rope to the filly's halter, but anger burned deeper than the fear and she let it march her out of the stables and off of Ripple homestead.

"We'll see, Rue..." She whispered bitterly, crossing the back pasture. There she came to a halt, both horses looking at her wide eyed in the quiet Jinye night, "We'll see which one of us he loves more."

With a single click, the lead rope came free. Diamond's Rue Freedom kicked her heels up once, and then she took to her name, the sage-scrabbled plains absorbing her hoofbeats as the most valuable horse on Jinye moon disappeared into the darkness.

Jolene didn't look back, just reined old Job around and kicked him hell-bent for leather for the old cart-track that led as far from Ripple Ranch, and the man she called Papa as she could get.
Petaline - September 18, 2008 10:38 PM (GMT)
ADMIN PLOT PROGRESS
IT'S NOW THE FOLLOWING DAY, AROUND NOON-TIME
Copper Ripple - September 21, 2008 04:21 PM (GMT)
Ripple R. Ranch


Copper rode in from the calving pasture half-smiling. Two new calves born in the night, strong and healthy. He'd got the men to work on the new milking shed and now it was comin' on lunchtime. A good morning's work. If only he didn't have to face Jo yet.

As he dismounted and passed the reins off to young Toby, he gave another tired sigh at the thought of his headstrong daughter. She was just like her mother except in temperment. Where had that girl gotten such fire?

Boots echoed on the steps as he entered through the back door- May would holler an' whoop if he come through her kitchen without washin' up. To his surprise, he found the table set for only himself and for his foreman, Jack, who was already in from the barn. No Jolene?

"Jo!" Copper hollered up the stair, "Lunch's on!"

"She no come for braykfas', sor." May said softly through from the dining room, a bowl of fresh churned butter in her dark hands and a frown on her war-scarred face, her impeded speech straining the air with her worry, "I no' see her aw day."

Anger sent him charging up the stairs. So Jolene was mad at him. Fine. But stayin' in her room like a spoiled babe? And she wondered why treated her like a child! A fist pounded on her door, "Miss Jolene Ripple, You step out here this instant!"

No response but silence. "C'mon, Jo." He started a little more cajolingly, "Wake up and act your age!"

That should have sent her stomping before him in rage. But the only answer was silence. It seemed a mile from his hip to the doorframe for how long it took him to reach out his hand and push open the door. Jo's room was neat as a pin, just like the day she'd left for school. As though she'd never come home at all.

A thread of unease started to weave it's way through the toughened leather of Copper's chest, stitching together a thousand possibilities, each more frightening than the last. Storming back down the stairs, he ran stiffly to the stables.

Jolene's black and silver saddle was off it's rack. Job's bridle missing from it's hook. The big bay gelding was gone.

And so was something else.

Copper grabbed Toby by the arm, practically lifting the stable-boy off his feet, "Where's the filly? Where is she?"

"I dunno sir!" The teen's panicked voice was charged with a fear, "I thought you'd paddocked her when she wasn't in her stall this morning!"

"Paddock?!" Ripple let go of the boy to run behind the barn. Maybe Jack or Gurloh had seen fit to let the high-spirited horse have a bit of space... They'd have told him. They would have said. But maybe... just maybe...He came around the corner of the barn, the high rail of the back paddock coming into view. A glimpse of black through the rails, and Ripple felt a stab of relief, until the animal shifted, raising it's head, and he recognized Freya, Jack's old pinto mare, as the occupant. She whickered softly, glad for company and Copper swore long and loudly.

The world seemed to crash down on him.

"Get my horse." Was all he said to Toby. To Jack, who had followed him out, he snapped further orders, so simple but so complex. Find Jolene. Find Rue.

Moments later Copper Ripple was riding hard for Burgesstown.

Post continues in Burgesstown