Title: Promo Thread
JJJohnson - January 30, 2012 10:09 PM (GMT)
First PPV of the year,begin it as you mean to end it
Red_Punk - January 30, 2012 11:00 PM (GMT)
*The 6CWF arena is packed full of anticipated fans, the lights slowly start to dim, the volume going down with them. Green spotlights shine all around the arena, before all coming together on the stage. 'Can't Stop' is blasted out of the speakers, the crowd erupt into huge cheers and the riff kicks in and the crowd go absolutely mental as Zach Corchia steps into the spotlight. He is in jeans and a white vest. He stretches his arms out as pyrotechnics go off all around him. He jumps up, and then jogs down the ramp slapping the hands of the fans on the way. He runs around the ring, clapping all the hands as he goes, before jumping up onto the apron and over the top rope. Zach climbs up to the top rope in the corner and beats his chest before raising his arm in the air. He is thrown a mic, and he catches it before bringing it to his mouth as his music dies down. A shout from the woman in the crowd is audible; "I LOVE YOU ZACH!" Corchia can't help but grin a little.*

ZC: Sorry but there's already a woman who's caught my eye. A woman beautiful, intelligent, ambitious, brave...special. A woman who Visage, a sick man, a cruel and evil man, has taken away from her family, from her home, from her loved ones, from 6CWF and from me. I have barely got to know Christy, because that sick son of a bitch has taken her, and he has taunted me with her, and he has played his disgusting games. I made a promise to get Christy back, a promise I have no intention of breaking, a promise I have no intention of giving up on.

I am going to make another promise right here, right now. There are thousands sat in the arena right now listening, tens of thousands at home watching, and loads of cameras recording my every word who will hear this promise. Visage is going to pay.

*The crowd cheer wildly for Zach, who lowers the microphone, steely faced. He lifts the microphone back up to his lips.*

ZC: Whatever Visage has put Christy through, he will suffer ten times over, every time he laid a finger on her, he will get a boot straight to his skull. I will make sure the suffering Christy James went through, is still going through, will pale in comparison to what I will do to Visage when I get my hands on him. Mind games, or no mind games, Visage is still a man, still as susceptible as me. He still as bones to break and blood to spill. Redemption is a fitting place for what will occur.

I'm not an angry guy, but Visage crossed the line, he took away an innocent woman, a woman so special that she had a huge effect on me from the very seconds I laid my eyes on her. I don't know where the hell Visage came from, or what he is trying to achieve, but he will understand my aims, my goals. That is to get Christy back where she belongs, back on her feet, and to make sure I get revenge for her. Visage will be sorry that he ever touched her, he will be sorry that he crossed me.

Every week since I've been here, he's played some kind of game, some kind of trick. I've been trying to get on with my career, tried to push on to the real goal; championships. It's so hard when every time I close my eyes all I can see is Christy's eyes, pleading for help, and the smell of the gas fills my nostrils. Visage is an unwelcome interruption, something I could have never predicted I'd meet when I signed the 6CWF contract just a month ago.

But I'm not a quitter, no matter how hard things get, no matter what Bar Steward is in my way, I will keep on fighting, and keep on winning. I've faced bigger issues than Visage, and I will certainly go on and face bigger problems in the future. Visage is using fear, but I'm not afraid. I am not afraid of you Visage, there is no fear in my body, only detirmination. I want you to know that as you walk down the ramp and face me, I want you to think about that as you stand across from me in this ring, and I want you to feel it when I've beaten you. That I am not afraid.

Christy....I'm sorry. I'm coming for you, and I will not stop before I've got you back. I swear.

*Zach hangs his head, and drops the microphone as the crowd try to encourage him by starting a chant of: "COR-CHI-A! COR-CHI-A! COR-CHI-A!" Zach Corchia looks up and can't help but to smile a little bit, he raises his arm in the air and then his music booms out around the arena and he rolls out of the ring. He walks up the ramp, smiling at his fans as he passes.*
theflawlessone - January 31, 2012 02:25 AM (GMT)
Requiem for a dream plays out as Chris Guerra walks out wearing a Genesis T-shirt and carrying a microphone. The crowd boo loudly as he mockingly applauds the fans. He walks down to the ring and wipes his feet dramatically before entering through the ropes.

CG: Boo-freakin'-hoo people, so I joined the greatest alliance in the history of sports entertainment.

The crowd boo louder as chris smirks

CG: Not only that but I whipped that son of a bitch Daniel Morris' ass from here to Timbuktu...but wait...your all gonna say I lost my match...that Genesis cost me my flawless record.

The crowd laugh

CG: Well let me tell you something new folks...nu-uh that aint gonna work. You see, theres a rule in professional Wrestling that states that if you put something on the line in a match, the defender keeps his title if a result is decided by DQ...so you see, my record stands.

The crowd boo angrily

CG: Thankyou Mr. Walker for reminding me of that one. Now for the record, I didnt need Jack Frost to come out and give me a hand with Daniel, I had the match won, but Jack insisted on finishing some business. Which brings me to my next point, unfinished business. Now, Daniel Morris and Byron Williams, you both have victories over me that are of a flawed nature, you have yet to beat me legally, and the truth of the matter is neither of you are fit to clean my boots. So at Redemption, when we step in that ring, I'd Sky Plus that moment cause when me and Genesis are through, you'll be rewatching it over and over again to try and teach you how to walk.

Chris stands in the corner while the fans boo
Engel Harlequin - January 31, 2012 02:41 AM (GMT)
Two fans are stood in the foyer area of the arena having just bought tickets for Redemption. They stand looking at a poster

Fan 1: I wonder who the fourth man in team Liederman could be?

Fan 2: My dad says it could be Engel Harlequin, he says all the signs are there.

Fan 1: Oh you mean all the creepy stuff they are doing that would be so cool...

???: HEHEHEHE Hello kids...

The kids jump out of there skin and scarper and a security guard comes from off camera

Security: Engel Harlequin...some kids have great imagination.

The lights go off inside the foyer suddenly

Security: What the?

???: Time to play HEHEHEHE.

The screen scratches and melts away like a film reel melting and a mock up poster appears on screen advertising the circus of horrors coming soon
Johnny Lawless - January 31, 2012 02:54 AM (GMT)
Timothy Allen is backstage with Johnny Lawless ready to conduct an interview

TA: Hello there fight fans, here with me now I have returning superstar Johnny Lawless. Now Johnny, rumour has it that you are the mystery man fighting for Mr. Liederman, can you confirm or deny this rumour?

Johnny scratches his head and looks confused

JL: Honestly? It would be a honour to do just that but as of yet there has been no contact.

TA: But with no match lined up for redemption, surely your the best pick?

JL: Have you not heard the Engel rumours? Theres more than just me as prime candidates, and besides, I will make my presence known somewhere during the show.

TA: Will you perhaps be getting involved in the title picture?

JL: That would be telling Tim, but if Geoff needs my help, he knows where I am. Anyway I need to go get ready.

Johnny Lawless walks off camera leaving a rather confused Timothy Alan

TA: Johnny Lawless giving nothing away there folks.
yarmouth-blade - January 31, 2012 01:17 PM (GMT)
The crowd are full of excitement for the next ppv of 2012 which is Redemption of 6cw suddenly the titron flickers in to life and a voice over can herd coming from the loud speakers.
Voice over: Lady's and Gentleman please get ready for the ride of your life's as this is redemption.
The crowd goes wild.
Voice over: This is the place were hero's are made.
The crowd goes wild when they see Geoff Steel winning one of his title matches and is holding the 6cw title high in the air.
Voice over: This is the place were the villains come out to play.
The crowd start to boo loudly when they see Dopant Zero giving Geoff Steel a vicious beat down on last week's super show and Hidari getting the 1,2,3.
Voice over: This is the place were dreams come true.
The crowd start to boo loudly when they see Yarmouth Blade winning the TV championship.
Voice over: And this is the place were dreams are shattered.
The crowd cheer when they see Rapture defeating Blade at Born in fire for the TV championship.
Suddenly the crowd cheer when they see the 6cwf logo appear on the screen.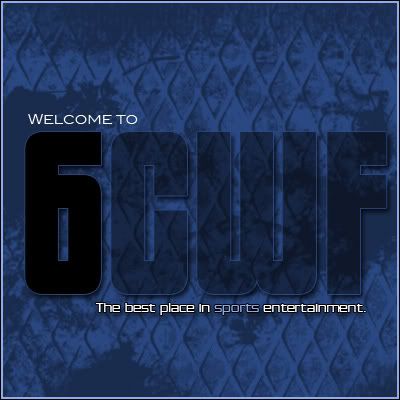 Voice over: Lady's and Gentleman, Please put your hands together and welcome your future Free weight and TV champion Yarmouth Blade and his Dad.
The crowd start to boo when the arena goes dark and a red spot light spans across the arena and then red and white pyrotechnics blast out from the top of the stage.
Suddenly Fear blast's out of the arena speakers and the crowd boo even louder when Yarmouth Blade and his Dad come from behind the curtain and swagger down the isle and they both ignore the fans hurling abuse at them from either side of the isle.
Blade walks up the steel steps with his Dad closely behind him and they both climb through the ropes and into the ring.
Dad then walks over to the ropes and collects a microphone from Mike Bird and waits for the crowd to settle and for the music to stop.
DAD: Lady's and Gentleman please put your hands together for your future free weight and TV champion Yarmouth Blade.
The crowd start to boo heavily towards Blade and his Dad as Blade climb's the top turn Buckle and is motioning his hands round his waist for the gold.
HL: These people really should show respect towards Yarmouth Blade.
JT: Are you kidding me, After all he did lose our TV title to a 6WF guy and you want to show him respect?
HL: Yeah but he gonna take Raptures Free weight title here tonight live on Euro sport.
DAD: Now last week my son asked my to stay in the back so he could concentrate on his match in the Interfed cup and I did what I was told and look what happened.
Dad point's to the titron and it shows high lights from last weeks match at the super show.
Yarmouth Blade is back up and he hits a variation of the spear that sends himself and Rapture sprawling through the middle ropes to the outside.They get up and Blade smashes Rapture's head against the announce table before big booting him to the hard flooring....in the ring Hidari gets up and he lifts Shadow up onto his shoulders....
HE:GEN...
Dragon rolls back into the ring and Hidari is forced to improvise by throwing Shadow at the feet of Dragon and then he dropkicks the knees of the Fresher's Ball winner before buzzsaw kicking him in the side of the head...
JT:Hidari dealt with Dragon there...
HE:But he might be about to get dealt with...
Shadow is on his feet behind Hidari and he is smiling evily as he waits for the 6CW superstar to turn around.Hidari obliges and Shadow clutches him by the throat...
JT:CHOKESLAM..
Blade slides back in and he hits a corkscrew roundhouse (Trouble in paradise) to the side of Shadow's head,knocking him off balance and allowing Hidari to scoop him up onto his shoulders...
HE:GENSHIN!
1..
..
..
..
..
.....2
..
..
..
..
...............3!
JT:YES!
The bell sounds and there is a mixed reaction as "Hood Hop" plays out of the speakers.Kenji Hidari has his hand raised in victory and he smirks at Yarmouth Blade before climbing from he ring and celebrating into the aisleway.
HE:It was some actual teamwork that got us that win jeff....I can't believe it...
JT:Well believe it friend....for just a split second Kenji Hidari and Yarmouth Blade were on the same page and look at the results it produced....huge win for 6CW and we are back on the front foot in the Interfed Cup...
HE:Brilliant...
Hidari is smirking as he backs up the rampway with his hand raised in victory.The Dragon is stood in the aisleway looking furious at what has just taken place and Yarmouth Blade is stood in the centre of the ring.
HL: Now that's what am talking about, Just for a split second, Yarmouth and Hidari were on the same page and they kicked 6WF's butt.
JT: And not only they that, They gained a valuable point in the quest for the Interfed cup.
Some of the crowd are cheering and some of the crowd are booing.
DAD: You see my son helped team 6CW gain a valuable victory in the Interfed cup and we have come one step closer to winning the whole thing.
Again there is a mixed reaction from the crowd.
DAD: Hidari will say that he won the cup all by himself but we all know the real reason who won that match don't we.
HL: I know, I know.
JT: don't tell me, Your gonna say Yarmouth Blade.
HL: Damn right I am.
JT: Oh brother!
They crowd start the you suck chant towards Blade and his Dad.
DAD: But tonight we have a four way title match for Rapture's Free weight tile and my son will defeat Mike hill, Big al Lusty and the church going freak that is Rapture and one again become a champion.
The crowd boo even louder and then start the arse hole chant.
HL: Hey the crowd can't chant that, This is a PG show after all.
JT: Are you gonna tell em to stop Henry?
DAD: Rapture you have got lucky before, But not tonight, My son will take care of you and win that Free Weight title and then he is going to go after the TV title and bring that belt back home.
And all so gain one more point for team 6CW and to prove once and for all that 6CW is the best sports entertainment company in world of pro wrestling.
JT: Can't argue with that point, Even the fans are cheering.
The fans start the 6c dub chant in the arena and Blade and Dad lap up the response.
Blade then grabs the microphone from his Dad who look's a little annoyed.
Yarmouth Blade: Listen up you moron's, I aint doing this for you parasites, I'm doing this for me and me alone, You have to understand that when you have gold you get the green and that's all I'm bothered about, For all I care you lot can get lost, You lot mean nothing to me, You can cheer me or boo me a could not give a flying..........
Dad grabs the microphone from Blades hands.
JT: Whoa a bit of tension in the Blade camp I think.
DAD: Don't you ever snatch a microphone out of my hand again, You not too big to get you over me knee you know, You will get the arse kicking of your life if you do that again.
Blade asked his Dad for the microphone and his Father gives it to him.
Yarmouth Blade: I am sorry Dad but these planks in the arena wind me up so much, Here have the microphone back.
Blade passes the microphone back to his Dad and they shake hands as the crowd start to boo loudly towards Blade and his Dad.
DAD: That's ok son I know they can get under your skin but after you win the Free weight championship from Rapture they will call you god.
JT: Is he serious? God, Oh some one get them out of the ring.
HL: Of course they should, Once he beats Rapture for the Free weight title he know's he can Beat him for the TV title.
The crowd start the arse hole chants towards Blade and his Dad as they give each other a high five in the middle of the ring and Fear rages out of the speakers as the fans then hurl rubbish in to the ring as Blade and Dad point to the fans as they laugh to each other.
Cable - January 31, 2012 05:22 PM (GMT)
Hidari Kenji RP
----------------------------------------------------------------------------------------------------------------------------

(The scene takes place backstage in a 6CW Arena.. The scene opens up with a man charging through security and knocking reporters one by one. The man is no one but Hidari kenji wearing his track jacet and underneath his Team Japan T-Shirt as well.. The man is rushing the crowd of security and reporters as one man approaches Hidari but is quickly knocked down by the fist of the Japanese Superstar.. )

Hidari- GET THE HELL OUT MY WAY! I NEED TO SEE HIM!

(A reporter is walking by Hidari...

6CW Reporter- Hidari what are your thoughts on Yarmouth Bl…

(Hidari cuts him off…)

Hidari- YOU WANNA END UP LIKE YOUR FRIENDS THEN LEAVE!

(Hidari suddenly unzips his Trackjacket revealing his signature sledge hammer…reporters start to run as he is occupied by security..Hidari forcefully swings his sledgehammer knocking down security officers after security officers.. Hidari finally is free of the security officers as he runs to the 6CW offices… He come across a door with Alex Walker's name on it as he proceeds to open it but its locked

Hidari- THAT BASTARD LOCDKED HIMSELF IN!

(Hidari smashes the door with the Sledgehammer as he breaks it open..Hidari pushes the door as he walks into Alex Walkers office with his sledgehammer)

Hidari- HERE'S HIDARI!!!!!!

(Hidari walks into a Alex Walker who seems to be pissed off at the Action Hidari just committed)

Alex Walker- WHO DO THE HELL YOU THINK YOU ARE HIDARI!!!! BREAKING MY DOOR! ITS CALL KNOCK!

Hidari- Oh I'm sorry I'm Japanese I don't know how to knock but me and you NEED TO HAVE A PRIVATE ONE ON ONE DISCUSSION ABOUT THE PPV CARD!

Alex Walker- Now I know what your about to say and I'm sorry!

Hidari- SORRY!!!?????

(Hidari smirks)

Hidari- SORRY IS NOT GOING TO CUT IT THIS TIME! YOU SEE WALKER I HAVE PROVE TO YOU PROVE TO GENESIS AND THE REST OF THAT WASHED UP TALENT 6CW HAS TO OFFER WHY I AM THE MAN TO BEAT AND WHY I SHOULD BE IN LINE FOR A TITLE SHOT!

NOT YARMOUTH BLADE!!!!!

NOT MIKE HILL!!!!!!

(Alex Walker looks annoyed)

Hidari- I know what this is now I can finally see the picture you don't want a Japanese Man running the company you really are scared that Team Japan will crush Genesis in its palm! Now I can see why you despise Team Japan soo much! It's funny because I'm the first man of 2012 to pin the WORLD HEAVWEIGHT CHAMPION!! I did your deed Walker I know that your trying to screw Jackson Black and to be honest I could give two hell about Jackson Black because I can kick his teeth on anyday of the week!

Hidari- I will get my title shot Walker and I will take over this sad excuse of a company like I said before! If you believe those other members have what it takes then your PPV ratings will flop why?? Because Hidari Kenji is not on the card!

Alex Walker- Its not like that Hidari!!!

Hidari REALLY??!!

COMING FROM A FAILURE I DON'T KNOW WHETHER YOU BELIEVE YOU OR NOT!

(Alex Walker face turned red)

Hidari- ALEX WALKER YOU ARE A JOKE AND YOU ARE THE MAIN REASON WHY THIS COMPANY IS IN THE S%IT that its in!

Alex Walker balls up his fist as Hidari raises his sledgehammer)

Hidari- I DARE YOU TO DO SOMETHING! YOUR JUST GOING TO STAY THERE LIKE A GOOD GM AND DON'T DO ANYTHING!

Alex Walker- Fine if Rapture retains the title at Redemption I'll think of something!

Hidari- GOOD BECAUSE IN CASE YOU MISSED IT WHO SCORED THE PIN FALL FOR YOUR COMPANY IN THAT DAMN INTERFED MATCH???????!!!!!

(Alex Walker just stares at Hidari)

Hidari- Your looking at him! Let's not have this discussion again! Turn on the tv I got something to say in the face of Yarmouth Blade….

(Hidari leaves as Alex Walker just stares in anger at Hidari..he then picks up his cell phone to call someone)

Alex Walker- Hello! Yeah he just showed up! That Thug thinks he can do whatever he wants threatening me with a DAMN SLEDGEHAMMER!!! HE HAS HIS NERVE! HE WILL NEVER ACHIEVE NOTHING IN 6CW ID HE DOESN'T FOLLOW GENESIS!!!! Find all the security you can and tell them to go to the ring before he hurts Yarmouth Blade!!!! Hurry!!!!!!

(The scene fades away)
Cable - January 31, 2012 05:51 PM (GMT)
Hidari Kenji RP
-------------------------------------------------------------------------------------------------------------------

(The scene takes place backstage in a 6CW Arena.. The scene opens up with Hidari Kenji running straight to the Arena to confront Yarmouth Blade…He walks up to the curtains and walks onto the ring as Yarmouth Blade's "DAD" continues to praise his son "Hood Hop" blast on the speakers as Hidari Kenji comes walking down the ramp full force as Security from all over the Arena comes swarming to cover and protect Yarmouth Blade and his "DAD" from Hidari as he smirks and waves his sledgehammer at the security…Security comes from behind Hidari to surround him as well.. The fans are going nuts as Hidari smirks and steps to the side…)

Hidari- Someone throw me a mic!

(Suddenly a referee comes to hand Hidari a mic he begins to speak… )

Hidari- WOW!! So this is the treatment I get for coming out to speak to Yarmouth and his dad? I gotta give Alex Walker credit he must really want his bitch in that ring to stay in shape for his 100th title match that he will soon lose at Redemption!

(The fans cheer as Yarmouth Blade's "DAD" begins to speak…Hidari cuts him off)

Hidari- SHUT THE HELL UP OLD MAN! I'M TALKING TO THE BABY BOY!

(The fans cheer)

Hidari- Yarmouth…Yarmouth..Yarmouth you don't know whats going through my mind right now as I look and see that you receive yet another opportunity at championship gold but I a Japanese Man who's been dominating this damn Interfed Cup! Who has been dominating this damn company gets to sit back and watch as you fight for Rapture's 6WF's title! It's a real sad story you come out here and say you're a Future TV and Fetherweight Champion but you already lost your chance at the TV Championship back when you had a match against Rapture and STILLL LOST!!

(The fans chant "You Suck")

Hidari- Yarmotuh Blade I know you you don't take the opportunity like I do if a shot was giving to you you won't take it because you don't have what it takes to take the opportunity! Yeah I haven't won a title yet well because I'm Japanese Alex Walker refuse to see a Japanese Man rise up in this company but mark my words Alex Walker and this is for you two as well in the ring after I squash The Dragon, Shadow and Shawn Styles and put more points in this Interfed Match I am coming for Rapture's TV Title like it or not because we all know that you YARMOTUH Blade don't have the skills to defeat Rapture!

(The fans give off a mix reaction)

Hidari- Your "DAD and I both know that you are a failure as as wrestler Yarmouth Blade why do you think your "DAD" is helping you out anyway! He feels sorry for you boy he is ashamed to have such a son as a failure!

(The fans give off a mix reaction)

Hidari- I won't be here this week but I guarantee you that Yarmouth Blade won't be winning that 6WF Championship Belt because he doesn't have what it takes! I kicked your son's ass numerous of times but this company won't acknowledger a Japanese Man to become champion! I did something that Yarmouth Blade will never do and that's pin Geoff Steel!! I will be in 6WF and I will kick the Dragon's teeth in once again! Watch!

(Yarmouth's Blade "DAD" grabs the mic)

"DAD"- Are you finish BOY!!! Security take that low life away

Hidari picks up his sledgehammer as the security rushes Hidari until they have him in handcuff's

"DAD"- Get him away from my son

The security has Hidari in handcuff's as they pull him away from the Arena….Hoop Hop blast on the PA as Yarmouth Blade and his "DAD" looks on amused…Hidari just smirks as he follows security order and proceeds to walk with the handcuff's behind his back)

(Scene fades to black….)
yarmouth-blade - January 31, 2012 07:50 PM (GMT)
The crowd cheer as the security men throw Hidari out of the arena while blade and Dad just laugh in the middle of the ring.

DAD: Well, What an idiot he was, Does he think he can come out here and threaten me and my boy and get away with it?

That boy really needs to brush up on his English the Fetherweight Championship, Oh my god, No wonder MR Walker doesn't want to give him any title shots!

It's the Free weight championship dumb ass.

The Crowd laugh along with Blade and Dad.

DAD: What a duchy, Good riddance to bad rubbish, What was it he said? Oh Yeah, I am the only man to pin Geoff Steel, Yeah after a beat down from team Japan, This guy really is a numpty.

Blade is seen laughing in the back ground.

JT: Really, What the hell is this now? Taking the Micky out of our Japanese super star.

HL: Well that team didn't stay together for long did it, So much for getting on the same page.

DAD: And as for my son getting the title shot's, May be it not cos of your race but may be because MR Walker see's that my son is the better wrestler than what you are, You Hidari are just the man that does what Mr Walker tells him to do and you go and do it.

You don't barge in to his office demanding a title shot, Just bide your time and the title shots will come, But noooooooooo not you, You go in all guns blazing and beleave me MR Walker will have some think to say about that my friend.

HL: Dad is right you know, MR Walker want stand for Hidari knocking down his door.

DAD: So Hidari if you make it in time for your match at betrayal for 6wf, Which my friend is a very long way away, When you get back MR Walker will punish and punish you badly.

The crowd gives a decent cheer towards Dad.

DAD: I don't know why your cheering you idiots, Me and my son hate your gut's, You show us no respect and when my son wins the Free weight title, You herd that Hidari the Free weight title you will show me and my son the respect that we deserve.

HL: It's about time this crowd showed them the respect they deserve.

JT: Are you kidding? Blade and Daddy dearest need to look in the mirror they give stick to this crowd and they want respect, They got no chance in hell.

The crowd start to boo loudly at Blade and his Dad.

DAD: See this is exactly what am talking about no respect son, No respect at all, Now listen up gim balls, We have had enough of sharing the same breath as you animals, Come on son lets get the hell out of here.

The crowd boo loudly then start the you suck chants once more.

JT: what did Dad say, Gim balls, That's a new one on me.

HL: Well at least Dad can speaker proper English.

The crowd continue to boo as Fear rages out of the arena speakers and Blade and Dad start to walk up the ramp as the camera cuts to commercials.
theicon - February 1, 2012 04:05 PM (GMT)
Lex Hart is backstage in his dressing room with Dicey watching some of the in ring altercations from earlier that evening

LH " You seen this man??"
Dicey lifts his head barely acknowledging Lex

LH" We've got a crazy Japanese bloke running around, a guy wandering about with his dad, a man called Keith who claims he knows all the secrets of the world, explosions in the parking lot?????

Have I fallen asleep and woken up in a bad episode of Hollyoaks????
No no cos at least then we'd have some fit girls wandering around, what have we got ???? Christy James scared of her own shadow, and wait is that it???? At least 6WF have Clarissa and (Lex's face screws up like he's eaten a lemon) Miss Jessica

Dicey looks up " What about Beryl?"

Lex shakes his head and looks confused " Beryl???"

DR" Beryl , from the beer truck she may not have her own teeth but she can suck like a Dyson and those replacement hips , whoah"

Lex looks physically sick as Dicey smiles
DR" I'm kidding pinky , yes yes there are a distinct lack of Female charms in 6CW but what do you suggest, do you want me to give Lady Napalm a bell

LH" She was crazier than her fella and hit harder, no I'm thinking maybe now we are a team maybe we should bring in a valet, somebody who can take care of us, massages, extras and things??

DR" A valet?
We haven't even got a name and you want a Manager
Maybe you should watch that DVD of yours to remind yourself why having a manager is not all its cracked up to be!!!

Lex smiles

DR" On second thoughts no maybe that's not a good idea
I'll tell you what, let's concentrate on redemption and our opponents before we get ahead of ourselves, remember Lex that's why you ended up in that mess, you got to big for your boots, let's try walking in these shoes first

Lex looks disappointed
LH" I thought we were passed this Dicey
I'm a changed man, I was just thinking of our future as Champions, and Champions need hired help, somebody who will get your beer whenever you want, just think about it Dicey, imagine the opportunities

Dicey closes his eyes and smiles
DR" That does sound good
I tell you what if you promise to concentrate on Redemption then I promise that we can maybe look at bringing in some one, after Interviews of course"

Lex smiles
LH" Of course, anything you say Dicey"

Ekent123 - February 1, 2012 07:42 PM (GMT)
*A voiceover begins to play over a VT which is brought into life by an old moving image showing men drawing up diagrams and perimeters, followed by construction works*

V/O: Madison square Garden..for just under 44 years, this unique garden has played host to some of entertainments biggest music stars.

*The V/T shows Eminem rapping, Linkin park getting the audience on their feet and Beyonce wowing the audience*

V/O: This Garden over the past 44 years has also been famous holding its sporting events to a crowd of well over 20,000 people.

*The V/T shows Fraizer victorious over Ali, Michael Jordan playing his first game as a professional and the New York rangers winning the Stanley cup.*

V/O: But for the first time ever..6CWF will be rocking in the garden at a sell out capacity..

*The V/T quickly switches to John Liderman and Alex Walker staring each other down, Various superstars performing finishers, Genesis standing tall over the carnage, the rebels winning at Atonement and finally the crowd going wild*

V/O: 4th February 2012..we see the sinners being saved..at R..E..D..EMP..

*The V/T slows down and the speech becomes slow and cannot be heard. The V/T then begins to burn and simmer before evaporating into pitch blackness. The screen then reopens back to a crowd less Madison Square Garden. The Silence is awkward as the camera, pans around the empty seats, disregarded rubbish still yet to be cleared away and then finally shows the Redemption set. The camera then shows a figure standing in the ring, wearing a sophisticated long sleeve shirt and black jeans with smart shoes on looking around the arena*

"Madison Square Garden..so this is it"

*With a thoughtful stare, Kenty looks around the arena with no glint of emotion in his eyes*

Mr Kenty: One of the most famous Gardens in the world will finally play host to a 6CW event and the event which 20,000 people in attendance and millions around the world will watch is known as, Redemption.

Redemption is defined as the actions of saving or being saved from sin, evil or error. Josh Valour, Byron Williams and Dan Morris, Genesis are saving you from your sin, evil and error. Your sin of giving us sleepless nights, your evil of inflicting pain on men that are superior in all aspects of being called men and error of ever coming across Genesis.

Now down the years we have seen moments of unconfined joy from sporting events such as Hulk Hogan bringing in the golden age of professional wrestling known as "Hulkamania" the rangers winning the Stanley cup, the first ever WNBA was played in this very Garden and who could forget Eddie Gurrerro winning famously the World Wrestling Entertainment title infront of his family and peers.

On the 4th February 2012 at Madison Square Garden infront of 20,000 and millions watching around the globe unconfined joy will be shown and it will be shown from Genesis. Unconfined joy as Genesis cleanse the sins of Josh Valour, Byron Williams and Dan Morris. But we also will see another feeling and that is relief. That load off our minds those hands that are firmly wrapped around our throats gone..no more checking behind our backs where we walk and no more thinking before we speak..that will all be erased. On Saturday it will be a victory. It will be a victory for Genesis, but more importantly it will be a victory for the 6CWF universe, Genesis reigning supreme portraying talent as it should be under astute leadership and efficiency. This victory will go down into the record books as emphatic, explosive and excellent.

Valour, Williams and Morris. While your all groggy in the corner or lying face up on the mat, looking around for support from 20,000 people, sweat burning your eyes just reflect for a moment. Reflect what is going on, reflect what has led you here, to Redemption. Reflect on what you could have done differently and when you see deep down inside Genesis were right all along..just quit. Do the right thing..get up and go down with dignity and once its all over your sins will have been cleansed infront of 20,000 people and the world for that matter. And then..well that's your choice..a new beginning..fall into line. Or stand up again and come back crashing back down to earth. Its your choice.

Genesis are the past, present and future. Everything is for the greater good and on the 4th February 2012, everything will become clear and once the dust has settled Genesis will be standing tall in one of the most famous arena's in the world..Madison Square Garden.

*Turning his back to the camera, Kenty continues to look around the arena with no expression or a hint of emotion*

Cable - February 2, 2012 11:28 AM (GMT)
Dopant Zero RP
--------------------------------------------------------------------------------------------------------------------------

(The scene takes place in a 6CW Arena.. The fans are hyped and excited for Redemption as Breathe blast throughout the PA as Dopant Zero comes walking out the Arena ramps in the uproar off booes...Tsukasa and Kenzaki are viewing the fans as they walk down the ramp with their Japanese Flag symbolizing their country!)

Mike Bird- Please Welcome Future #1 contenders for the Undisputed Tag Team Belts.. Dopant Zero!

(The fans boo as both men climb up into the ring as Kenzaki sits the Japanese Flag near the ring post..."Breathe" dies down as Tsukasa begins to speak with a microphone)

Tsukasa- Please Alex Walker if you think if you can take put a restraining order against Hidari then guess again.. Just like everyone else you and Genesis will witness the rise of Team Japan! We are here to dominate and take ever opportunity you throw at us! Yarmouth Blade...Mike Hill and Shadow may be fighting for that Freeweight Title but the fact remains this... Hidari can beat each of those parasites with his hand tied behind his back! If you don't believe that then watch as Saturaday as he carries this sad excuse for a company 6CW to victory!

(The fans boo)

Tsukasa- Oh please Yarmouth Blade is no where near on Hidari's level! That man pinned a World heavyweight Champion!

(The fans boo as Kenzaki speaks)

Kenzaki- Oh please Tsukasa we were the ones that assist him, Hidari didn't beat Geoff Steel...Team Japan did!

(Kenzaki points to the Japanese Flag near the ring post as the fans boo)

Kenzaki- Enough about Hidari we have our own problems and we finally get another shot for the Undisputed Tag Team Championships! like it or not you people are look at your new #1 contenders for Genesis belts!

(The fans boo)

Kenzaki- We came this far not to take another step back and wait for another opportunity for a #1 contendership! We deserve this more than those other sad excuse for a tag team because unlike Orthrus/Cerberus we are not losers.. sick in the head and sadistic! Those idiots are insane and should be put in a stray jacket especially when he kicked out your Gutwrench Powerbomb last week!

(Tsukasa cuts Kenzaki)

Tsukasa- Don't bring that up! Its all in the past what really matters the most is the future and the FUTURE IS OURS!

(The fans boo)

Tsukasa- Cerberus you kicked out my Gutwrench Powerbomb but guess what it will be your last time once I Gutwrench Powerbomb you to that announce table by ring side! You think your tough huh? Well you haven't seen tough yet! I am the man to beat and you haven't beat me! I KNOW...I KNOW I CAN DEFEAT YOU! BUT YOU CAN'T DEFEAT ME!

(The fans boo as Kenzaki speaks)

Kenzaki- You 6WF Teams will realize that 6WF will alway be the second rated competition behind 6CW! Dicey Reilly you may have once again weaseled your way in our match and picked up the victory but now you going up against me and Tsukasa in a Tag Team Match!

(The fans give off a mix reaction)

Kenzaki- No one wants to see two old men fight Genesis for the titles and lose that will be boring! People want to see Japanese Men Team Japan's Dopant Zero the tag team that said that we were going to destroy genesis from the inside out....to do the job and take out Genesis!

(The fans chant for Dicey Reilly and Lex hart)

Kenzaki- Once you look at it Dicey Reilly its out with the old and in with the new! You are not the hard ass you though you were because I'm the alpha dog I'm the man thats going to be walking around this damn Arena wearing real gold and achieving something YOU AND YOUR WHOLE DAMN CAREER HAS TO OFFER AND THATS BECOME A UNDISPUTED TAG TEAM CHAMPION!

(The fans boo)

Tsukasa- Dopant Zero is the future...DICEY REILLY AND LEX HART YOU ARE THE PAST! IRRELEVANT AND NO ONE CARES ABOUT WHAT YOUR TWO TRIED TO ACHIEVE!

(The fans boo)

Tsukasa- AND YOU SHOULD ALREADY KNOW THAT!

("Breathe" blast once again on the PA as Tsukasa takes the japanese flag and leaves the ring...scene fades away....)
theicon - February 2, 2012 08:45 PM (GMT)
With Tsukasa and Kenzaki walking up the ramp there music suddenly cuts out

LH" Whoah whoah whoah where's the fire guys, why the rush to leave???

Lex Hart walks through the curtain he is dressed in his wrestling gear and a brand new Lex Hart t shirt

LH" I've been waiting for this opportunity for weeks and weeks but every time we think we've got you cornered you up and leave
I mean who comes out here calls out half the locker room and then does a runner before anybody has the chance to respond??

Anybody would think that you were just all words, that you can't back up your extra long sentences, sentences that I may add make no sense and seem to adopt a machine gun approach.
You look confused
(Lex tilts his head)

I mean you seem to think that if you string enough random English words together then eventually you will make sense
Well I've got news for you both, I've watched badly dubbed Bruce Lee movies that make more sense
Hell Jackie Chan is an ispired linguist compared to you two
Why don't you do us all a favour go back stage and find your selves a Mr Miyagi or Mr Fuji and let him do the talking for you actually why you're back there how about you find two replacements who can actually perform in the ring cos you two are like the two extras in the Karate Kid movies that get to cheer in the background but never get to fight
(Lex laughs)
You actually make the Brothers dim look good which is some feat cos they have ring moves like an injured Great Khali and a slightly gimpy Big Show

But hey I digress
You're probably wondering why I'm out here
Why I thought I could come out here on my own so close to the biggest match since I returned to this great organisation

(Crowd 6CW 6CW 6CW 6CW 6CW 6CW 6CW 6CW)

Well you see I've been running around backstage with Dicey we've been having fun and raising some hell but I feel I've been neglecting this side of the business
This is the bit I love, what happens out here
The excitement, the unknown

Lex takes a deep breath

Can you feel it???
It's in the air something exciting is gonna happen
Each and every one of these fans can feel that there is a change about to happen in 6CW
The old guard are rising and once we do this place will be shaken from its very core
Sure there will be room for teams like you
A development pool
House shows, stuff that doesn't make TV

All important don't get me wrong just not at our level

So I'm here to give you the opportunity to step aside now before it really becomes embarrassing for you
There is a sense of inevitability about Dicey and mines partnership, from the very beginning we were destined for greatness, for gold you must see that to???

So what do you say boys ?
Walk away
All expenses trip back to Japan?
Name your price
Just walk away believe me it is in your best interests

You really don't want any part of this!!!!!!!

Lex opens his arms and smiles as the crowd look on
Cable - February 3, 2012 12:59 AM (GMT)
DOPANT ZERO RP
-------------------------------------------------------------------------------------------------------------------------


(The scene opens back up to the steel ramp where Tsukasa and Kenzaki are in confrontation with Lex Hart. The two Japanese superstars stare at him as he waves to the crowd.. The crowd is all fired up as Tsukasa and Kenzaki just stare at him in laughter...Tsukasa is handed a mic as he begins to speak)

Tsukasa- You done?

(The fans boo as Lex Hart stares at the 6'7 tall man)

Tsukasa- You show yourself last minute just as we are about to leave funny and those assaults were cute who wrote those for you?

(Tsukasa pauses)

Tsukasa- Who are you again? Lex Hart? Right? Because Hart is not a name you live up to. You see when I hear Hart I hear Bret..

(The fans give off a crazy ovation for Bret Hart)

Tsukasa- Since we're using real wrestlers now...Owen Hart the most underrated man in business who never become a WWE Champion!

(The fans chant Owen's name)

Tsukasa- And the Man who started it all Stu Hart!

(The fans beings their Dungeon chants)

Tsukasa- So how about you change you gimmick, climb up a stage, slide down the ring and die! Bec...

(The fans cut Tsukasa off with booes as Lex Hart looks pissed as Tsukasa and Kenzaki just laugh)

Tsukasa- Because you all all people should know MR. HART THAT ACTIONS SPEAKS LOUDER THAN WORDS! NOW IF YOU DON'T WANT TO GET HURT LIKE GEOFF STEEL I SUGGEST YOU LEAVE!

(The fans give off a You Suck Chant as Kenzaki speaks)

Kenzaki- Yeah you claim we were all talk but who your the hypocrite to talk... Lex I don't care if your the long lost bastard child in the Hart Dynasty but realize this Sunday is where we fight.. We will see who is the best TAG TEAM AND WE WILL SEE WHO WILL BE THE NEXT #1 contender for those Undisputed Tag Team Titles.

(The fans boo)

Kenzaki- My English have nothing to do with our match!

(Kenzaki pauses)

Kenzaki- Comparing Tsukasa and I to downgraded Teams won't help you win the match!

(The fans boo)

Kenzaki- We back up in the ring! These idiotic parasites in the Arena and you tea drinking bar stewards know it well! We are the most dominate Team in 6CW.. Hell as Frosted Dice formerrr Tag Team Champions!

Tsukasa- We kicked their asses all over this company and you have the nerve to say what did we accomplish? Dicey Reilly is nowhere to be found. I would love to spit in your face and put you through a table but I'll just save it until Sunday...ACTIONS SPEAKS LOUDER THAN WORDS Kid!

Kenzaki- AND YOU SHOULD ALREADY KNOW THAT!

("Breathe" blast once again as Kenzaki pulls a small Japanese Flag and throws it at Lex Hart in disgrace.)

Kenzaki- Worship that!

(Lex Hart looks pissed as the scene fades away....)
Cable - February 3, 2012 05:08 PM (GMT)
From Dicey Reilly over on 606v2

Lex is about to go down to the ring when "Born to Fight" hits and the crowd erupt as Dicey walks out on stage with a t-shirt on that says "I just kicked your ass Many Thanks Dicey" and the top button on his trousers undone, he calms Lex down before picking up the Japanese flag and shoving it down the back of his pants and throws it back at Kenzaki.

Dicey: Cheers dumpling balls, they ran out of bog roll backstage but id wash it before you start waving it about again because I think there is a little Foo Poo on it.

Crowd/Lex: Laugh

Dicey: And as for me being nowhere to be found, obviously you havent been looking hard enough because where ever there is a fight Im usually in the middle of it and on Sunday you can bet your bottom Yen than il be kickin ass and crackin heads

Crowd: DI-CEY

Dicey: I love the way you guys come out here giving it the big one about us being passed it and we are has beens, look at yourselves, no really look at yourselves you are nothing that I havent seen before here, coming out throwing your weight around saying you're the greatest this and that and that you're the future and your gonna be walking around with gold around your waist soon…but your not are you, the only thing holding up those trousers are cheap knock off black belts that don't please and $parkle like this bad boy (Dicey holds up his Extreme Title) you see I am a Champ and weather or not you know, I am the most successful Champ ever to grace these halls, and the man beside me has won more gold than either of you…your running buddy or the entire Japanese Olympic team, there are only 2 guys walking out of Redemption as No1 contender for the Undisputed Tag Team Belts and if you open your eyes a little bit wider you'll be looking straight at them ….PINK….POTATO…..

Lex: That's not our name we discussed this earlier

Dicey shrugs his shoulders

Dicey: ME AND LEX…………
Cable - February 3, 2012 05:41 PM (GMT)
Dopant Zero RP
----------------------------------------------------------------------------------------------------------------

(The scene resumes on the ramp as Dicey Reilly and Lex Hart looks on as the stare at both Japanese Stars. Tsukasa and Kenzaki just stare without giving too much of a damn)

Kenzaki- BORING!

BORING!

BORING!

BORING!

BORING!

BORING!

(Kenzaki smirks)

Kenzaki- Kenzaki currently suffering from hearing stupid words coming out the mouths of Dicey Reilly... Currently Dicey Reilly talks too damn much and Kenzaki feels that he needs to put his money where his mouth is and put his damn Xtreme Title on the line if he got the guts!

(The fans are give out a mix reaction as Tsukasa pulls a UK flag and blow his nose at it and throws it in Dicey's Face...Dicey snaps as both men steps up to Dicey Reilly)

(Kenzaki approaches Dicey Reilly face to face as Lex starts to speak)

Kenzaki- SHUT THE HELL UP YOU ba$tard HART! GROWN MEN ARE TALKING!

(Lex Hart gets peed as he steps away.. Kenzaki and Dicey's are still looking on face to face)

Kenzaki- Last Week you caught me off guard when you put me in your piledriver and pinned me 1...2....3. You might have took advantage of the situation in a triple threat match but let's see how you do when your just facing me one on one! Your a joke Dicey Reilly just because you accomplish more in 6CW than I have doesn't mean I can knock you on your feet as we speak! I told myself that if you won I was going to forget all about the Extreme Championship but who exactly are you defending that title against huh? You put that title on the line against weak people that I CAN EASILY SQUASH IN THIS RING!

(The fans boo)

Kenzaki- So all the jokes in the world...black belt...chicken kung pao and us not opening up or eyes WON'T HELP YOU WIN THAT MATCH ON SUNDAY!

(The fans boo)

Kenzaki- You say we're like the rest of theses nobodies that runs their mouths each week well while you two jackasses are eating Chinese Food watching Brokeback Mountain together Me and Tsukasa are kicking asses and taking names! Get this one thing staright you and lex never faced us off in a tag team match.. I could care less about the handful of title reigns you had in your pathetic career but get this I'm Japanese...and I a man of my word when I say you will not become NEW UNDISPUTED TAG TEAM CHAMPIONS! Not as long as DOPANT ZERO IS AROUND!

(The fans boo)

Kenzaki- Your a hypocrite just like your Ba$tard friend over there... Dicey Reilly! I'll be damed it you too jokes win that match because no one wants to see two washed up ex champions fight Genesis and LOSE for those Undisputed Tag Titles!

(The fans boo)

Kenzaki- Noone wants to see tea drinking idiots I take that back since in the UK... Each and Everyone of you parasites would love to see Dicey Reilly and Lex hart become #1 contenders wouldn't you? Speaking of Tea haven't the tea around here lately been tasting a little spicy or I'm sorry I thought you guys enjoy that good old Asian Spice?

(The fans boo)

Kenzaki- Well get this! After we are finish with you two at redemption! We'll see who's really the joke because what me and Tsukasa are going to do to you will be worst than what did to Frosted Dice! We will kill the careers of Dicey Reilly and Lex Hart!

(The fans boo)

Kenzaki- Your careers will be assassinated while we will rise up and defeat you English speaking parasite!

(Tsukasa cuts Kenzaki and stares dead at Dicey Reilly)

Tsukasa- You should quit now while you still can because we're going to put you two in the nearest hospital in the emergency room!

Kenzaki- But as of right now Dicey Reilly I dare you to put that Xtreme title on the line! but my Tag Team Success is dwelling on me as we speak once me and Tsukasa take you two clowns out...

Tsukasa- STEPPING STONES!

Kenzaki- AND YOU SHOULD ALREADY KNOW THAT!

("Breathe" blast as the scene fades away)
Cable - February 3, 2012 08:59 PM (GMT)
from Mike Hill over on 606v2

*Mike Hill is stood backstage in the Madison Square Garden Arena, when Jack Reynolds approaches.

Jack Reynolds:Quite an impressive place hey Mike?

Mike Hill:It certainly is Jack, the most magnificent and iconic wrestling arena's in the world.

Jack Reynolds:Are you hoping to create yet another iconic moment for these fans at Redemption?

Mike Hill:I sure as hell am Jacky-boy. This is without a doubt one of if not the biggest stage in the world on which you can show your ability, and I figure that if I do that at Redemption, maybe people will stop with the "He's past it" comments.

They don't really offend me, they just irk me. It is frustrating that is all they consider be to me, despite the fact I have achieved more in a short career than it is likely that they ever will. Am I past it? Of course I'm not past it. I'm coming into my prime. I'll admit I haven't really kicked on, but there was a lot of reasons for that.

I'd won a world title 6 months into my career, there's only one place you can go from there and that is downwards. I had to go back and pay my dues in 6WF, and it took a lot longer than expected. I was a guy who just kept on getting overlooked, I was the go to guy for the corporates, they wanted someone to get over with the fans they'd come to me and ask me to team with them. La Pulga Loco, Solomon Riddick are both prime examples of this.

I became too generous for my own good, I became too much of a company man. I was working for Danny McGraw, he could trust me to do the promotional aspect and not say something that would result in 6WF getting sued. Coming here to 6CW really gave me the freedom I needed to express myself and I was feeling really good about things, I was in the best form of my life.

But then along came Alex Walker, Genesis and Jackson Black. They saw me as a threat, they saw that I was someone who would stand up and defend myself, rather than keep my balls in a purse and let them run riot over 6CW. They don't like being challenged, and they especially don't like losing the challenge.

I beat Black for the title, of that there can be no doubt. But again I have the odds stacked against me, and I'll admit the defeat at Born In Fire really hurt. It hit me for six really, but I think this interfed cup has given me a new lease of life. I've been performing well and now I have the chance for some closure, by winning the freeweight title I will know that I can still compete at the very top.

*Hill nods his head at Reynolds before walking off
Cable - February 3, 2012 09:00 PM (GMT)
from Fernando on 606v2

The camera cuts to outside the arena with Cerberus and Orthrus looking up at the night sky

People look up to the sky and wonder what the future holds for their pathetic existence of a life. We know our future because we control ours and everyone else's future and there's not a damn thing anyone can do about it.

Dopant Zero are just a minor obstacle in our plans for 6CW domination and they will be annihilated until all that's left of them is the blood splatted ring and the smell of flesh being burnt to be sent back to Japan where they never should of left.

Lex and Dicey are a sorry excuse of what a dominate wrestlers should look like wearing their pathetic pink shirts looking for adulation from the crowd like they've actually accomplished something by having them on their side but then again it's more then they've done in their pisspot careers so far.

And then theirs us the leaders of the anti-Christ, The masters of pain and suffering, We take what we want and when we want it and anyone who dares to get in our way will be beaten to within an inch of their lives and sent down to the depths of hell for all eternity.

Orthrus pulls out his flare gun and shoots it at a near by car that bursts in flames

The wreckage that lays before you now will be nothing compared to what will happen at the PPV as Dopant Zero and Lex and Dicey will be left for dead and all of you will all fall upon your knees looking to the skies above and prey that the devil have mercy on your souls or you will forever burn in hell.


Flaming stars start to fall out the sky as the scene ends
Lee - February 4, 2012 02:11 PM (GMT)
Udo is shown in a gym, all the equipment seems to be extra secured to the floors and ceilings.

He punches a bag and roars in German and the chains holding it up look ready to break but they hold.

Udo: perfekt!? PERFECKT!? Sie sind nicht perfekt! (Perfect!? PERFECT!? You are not perfect!)

Udo: Ich bin Perfektion Ich bin Udo Berg Ich bin der stärkste Mann der Welt! Ich werde dich zerschmettern Herr Jack
(I am perfection, I am Udo Berg! I am the strongest man in the world! I will crush you Mr Jack)

Udo spears the punch bag ripping it from the ceiling as plaster and debris falls around him he stands and growls

Udo: Mr Jack.... at Redemption, just like last veek, I vill leave you on the ground unconscious Unt then I...UDO BERG! Vill be known as Perfection! Unt then there vill be nothink to stop me!

Udo walks over to the gym ring and climbs inside. He stands still silently as if meditating as the Camera slowly backs away when Udo suddenly Roars...

Udo: TUN ODER NICHT TUN, GIBT ES KEINEN VERSUCH!!

The scene fades to black
Carlotso25 - February 4, 2012 02:57 PM (GMT)
The arena is bustling with over 20,000 fans, eagerly awaiting for Redemption to start, when suddenly the titantron flickers to life with S.W.A.G hitting the sound system, Dan Morris walking out to applause with a microphone

Dan: Tonight at Redemption, I'll be taking on Jack Frost, Michael Sweetwater, Mr Kenty and Chris Guerra with my good friends Josh Valor and Byron Williams.

Now I'm not an idiot despite what members of Genesis may say. Genesis is a powerful organisation, and i'm not gonna fill your head with this idea that Genesis will disappear when all is said and done. Currently we're outnumbered 4 to 3, and Valor is the only experienced veteran on our team. Suffice to say, things aren't looking good for us.

The Crowd boo and murmur, in disbelief of what Dan is saying

Although tonight is a night of Redemption. But for who? Genesis? Genesis aren't meant to redeem themselves. Genesis are far beyond redemption, and no matter how much we beat them up, they can't answer for the crimes they've committed against every other superstar in that locker room and every fan in attendance. Genesis has dug itself into the very core of this industry that guys like Valor helped to create.

No, it is US that need to redeem ourselves. Every single night in 6CW we have been trying to the greatest of our abilities to rid ourselves once and for all of Genesis and we failed to do it every time. Until now. Tonight is the night, where WE redeem ourselves! We will bring back 6CW to the true owners; EVERY SINGLE FAN IN ATTENDANCE HERE TONIGHT!

A wild and thunderous cheer breaks out

Crowd: 6CW! 6CW! 6CW! 6CW!

Dan: Because you see Genesis, no matter what you do to every superstar in that locker room, you can't beat the sparks coming off 20,000 6CW Fanatics tonight!

And those sparks just ignited a fuse! The question is, will I let it become a Live Wire? Or shall I D-FUSE it?

Dan drops the mic and then leaves to cheers and applause from the fans
ItsDaKillaNinja - February 4, 2012 03:50 PM (GMT)
Jeff Thaddeus is in the ring holding a 6CW microphone, preparing to speak

JT: Ladies and gentlemen, at this time, I would like to introduce to you.... JOSH! VALORRRRR!

Help is on the Way blares from the speakers as Valor runs onto the stage in a burst of adrenaline. Red, White, and Black pyro is shot out from both sides of the entire ramp as he makes a beeline for the ring.

Now Josh, I would first like to thank you for coming, but more importantly, the world would like to know. What are your thoughts on this?

*The camera is about to move into sight of the door as a huge explosion erupts from the production truck and debris sent flying.The crowd in attendance scream as flames burst up from the truck.

HE:OH MY GOD...

JT:We need medics out there now.....we need help for John Liederman...

*The action goes back to ringside and the crowd are stunned as Alex Walker is smiling.Keith Leone looks utterly astonished.The rest of Genesis are standing with smiles on their faces as they stop beating down on Morris and Byron.

HE:We need to get emergency medical teams out there for John Liederman...the truck just exploded,John was caught up in that...

Valor: That was sick Jeff. Pure insanity. What kind of man could even think of possibly doing that to another? Now this is the second time that Liederman has been caught up in this whole Genesis predicament, and quite frankly, I would be surprised if he bounced back after this one ladies and gents.

Crowd Chant: We Want Liederman! (Repeating)

The price paid in war is a dangerous one. John knew what he was getting himself into, as do each and every one of us Rebels. Mason knew it, Reilly knew it, and Leone's known it all along, but as long as we can all stand united, I guarantee that when this is all said and done. We will be victorious.

Crowd Chant: Leone's Rebels! (x5)

JT: That brings us to our next question. Josh, how do you plan to go about defeating your opponents that are Genesis this Sunday when you team up with Byron Williams and good friend Daniel Morris.

Valor: To be completely honest Jeff. I am sick of hearing that question. It's all I ever hear. Every time I face ANY member of Genesis I am asked that. It's always the same answer. I'm sure these people here are sick of hearing it to!

Crowd: Shut the F*** Up! (x3)

Woah! Woah Woah Woah! Calm down everyone, save that sorta language for Henry, Jeff's actually a decent guy! But to answer your question.... I will do what I always do. Go out there and give it a hundred and ten percent. Though this time I do promise. That by the end of the night... Only one team... Will be left standing.

Help is on the Way once again screams from the loudspeakers as Valor poses on the top rope and exits the ring as Thaddeus closes out the interview.

JT: Well there you have it ladies and gentlemen. Join us this Sunday as we see The Rebels Byron Williams, Daniel Morris, and Josh Valor take on Genesis's own Michael Sweetwater, Mr. Kenty, Jack Frost, and Chris Guerra! Until then, I'm Jeff Thaddeus saying so long from 6CW.....
Perfect Jack - February 4, 2012 10:13 PM (GMT)
I am Perfection hits the arena stage as Perfect Jack walks out onto the stage at a packed 6CW live show. The music on the stage dies down as he begins to speak.

PJ: Udo Berg, you've destroyed many before but at Redemption you face a challenge you have never faced before. You face the Perfect challenge.

The crowd chant Jack's name.

PJ: At Redemption I take another step forward to destroying Genesis by taking out the ice cold monster Udo Berg. Udo, you face a former world champion, a man with ambition, a man who has an objective and a reason for returning to 6CW. To destroy Genesis, save 6CW and take back what is rightfully mine, the 6CW title.

Crowd: Perfect Jack Perfect Jack Perfect Jack

PJ: The time has come, the perfect era begins at Redemption. Because we all know, you can't beat Perfection.

Crowd chant Jack's name as he back's out behind the curtain to his theme music.
Michael_Sweetwater - February 5, 2012 04:25 AM (GMT)
Jeff Thaddeus and Henry Lloyd are sitting at the announce table chatting during a break. Suddenly, "Numb" blares from the speakers. Michael Sweetwater starts to walk down the ramp dressed in black slacks, a white collared shirt, and a black vest with the words "Think Green" across the it. He's pointing to the championship belt on his shoulder and shouting at the crowd, who is savagely yelling and jeering. Some fans are leaning over the barricade and pointing fingers at him, shouting "You killed Liederman", but Sweetwater just slaps their hands away and blows them off.

"Well here comes a man who has no right to even set foot in this building," said Jeff as he looks at Henry. "This man should be convicted of attempted murder!"

""Well, in his defense, it was Alex Walker who blew up that trailer, but by the sounds of the crowd, you'd think he just murdered the Queen."

"Indeed, this crowd is vicious, malicious, and downright mean to the man who continues to poison those Tag-Team titles."

"The Parasite Killers had their chance at the 6CWF Supershow, but just couldn't capitalize."

"Yeah, and Frost and Guerra dipping their hands into the match didn't help, either."

By now, Michael Sweetwater had made his way around the ring and walked to the announce table. He reached behind a barricade next to the desk, pulled out a folding chair, and set it up next to the two men. After sitting down, he reached to the table and took a cordless microphone from on top.

"Hello there, chumps," he said as the crowd began to boo even louder.

"What are you doing here, Michael?" asked Jeff, also grabbing a cordless mic.

"Well, I was approached by Mr. Reynolds in the back, but I've had one too many of his shoddy, half-brained excuses of interviews, so I decided I'd try and find someone who could give me the honor of a good interview. Sadly, I couldn't find Miss Christy James, so it looks like I'm gonna have to settle for you two chowder-heads. Don't disappoint me, or else you two better be checkin' under your table for explosives, you know what I mean?"

Sweetwater begins to laugh sadistically as Jeff and Henry look uneasily at each other.

"All right then, Sweetwater," Jeff retorts, "how do want to respond to that completely uncalled for attack on John Liederman at the 6CWF Supershow?"

"Attack? We just wanted the show to go out with a bang!"

Again, Sweetwater laughs while the crowd goes ballistic, starting up a chant of "You suck".

"But seriously," he continues, "you think that attack was uncalled for? That man has the leadership skills of a grapefruit, and the brains of one too. If we left 6CW to him, this place would be in total anarchy. Luckly, Genesis is here to keep everyone in check."

"You can't be serious!" responds Jeff, jumping up from his chair. "Do you think this is a joke?"

Henry can be seen trying to calm Jeff down, but Jeff just pulls away and moves in closer to Michael.

"What you did isn't just your usual, run-of-the-mill, idiotic, animalistic Genesis tendencies! You could have killed a man! I swear to God, I can't wait until Keith Leone—"

Immediately, Sweetwater slaps the microphone out of his hand and begins to inch forward, pressing against Jeff who begins to back up behind the desk.

"What!? You can't wait until Keith Leone what? Beats us? Finishes us? Puts an end to Genesis? Now you're the one who's joking. You really think that poor excuse of a man could put us down? How many times has he had the chance, and how many times has he failed to deliver? Keith Leone is a waste of space, and hoping in him is a waste of time."

Sweetwater keeps pressing Jeff back to the ring and pushes him into it, following behind.

"Genesis is here to stay whether you like it or not, just like me and Kenty are the Tag-Team Champions, whether you like it or not. And this weekend, at Redemption, I'll show you and these "Rebels" that they are out-classed, out-matched, and out of our league."

Sweetwater drops the mic and delivers a quick kick to Jeff's gut and doubling him over. Jeff falls to his knees near the turnbuckle, and Sweetwater climbs to the top of it. While Jeff is on his hands and knees, Sweetwater jumps and delivers a Six Feet Under to his back, flattening him. The crowd hurls insults and cruel words about his mother as Sweetwater calmly walks to the table, takes back his title from a shaken Henry Lloyd, and heads back for the ramp. "Numb" begins to play again while he raises the title above his head, wearing a grand smile.